Tillandsia flagellata
Click thumbnails for full size, scaled to a new window.
---
Tillandsia flagellata
Ecuador, previously called T. lehmannii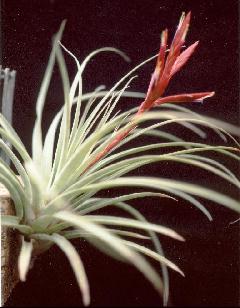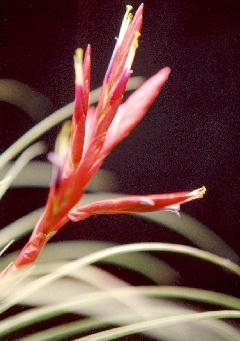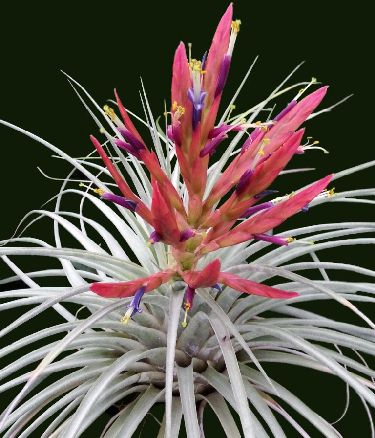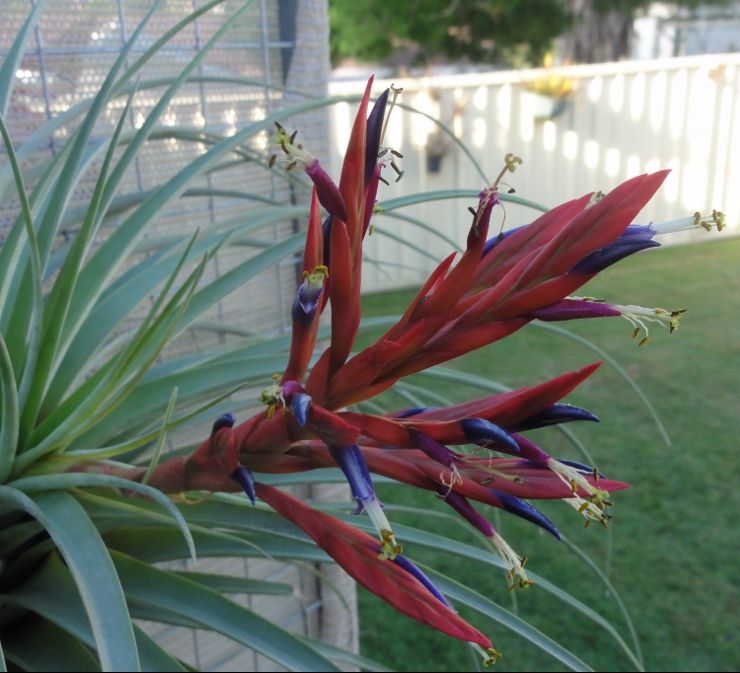 | | | |
| --- | --- | --- |
| Ken Woods 10/06 | Chris Larson 06/13 | Stephen Haines 04/15 |
Chris Larson ... "Ecuador, from 600-1000m alt means that this one is touchy in the cold."
Stephen Haines ... "very nice but doesn't stay in bloom long. This plant was close to 60cm wide."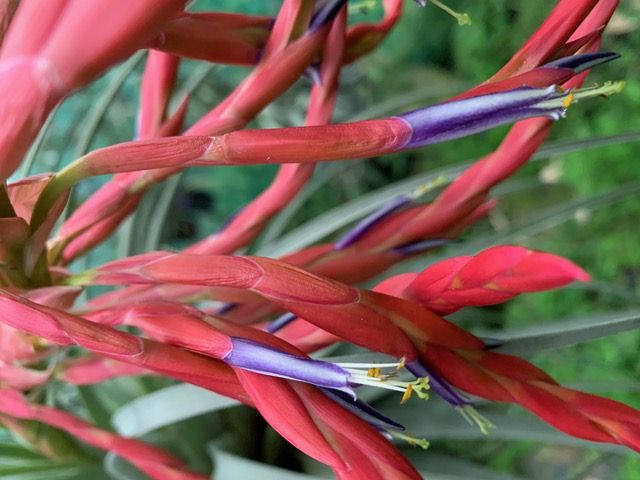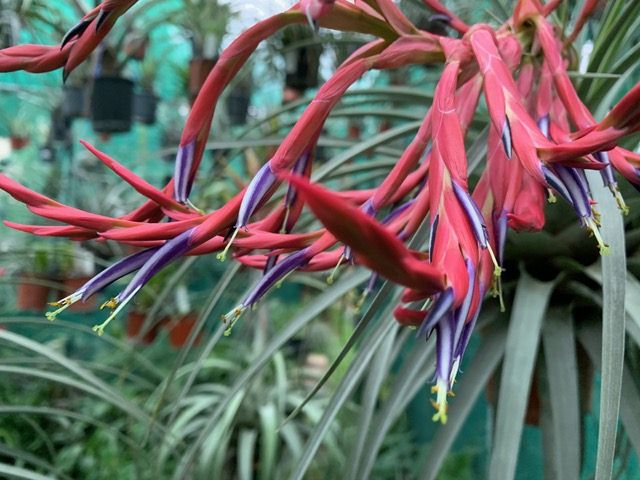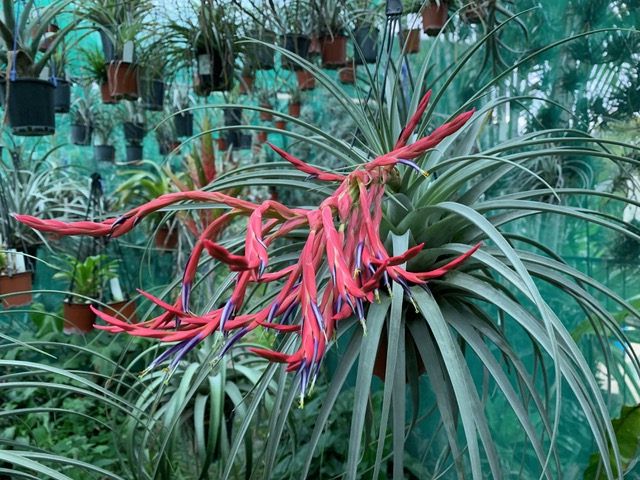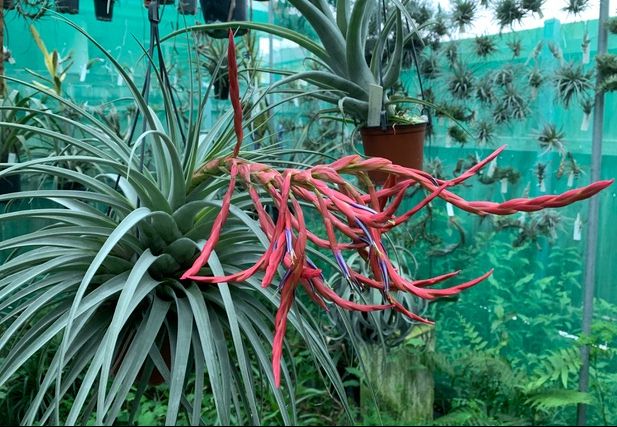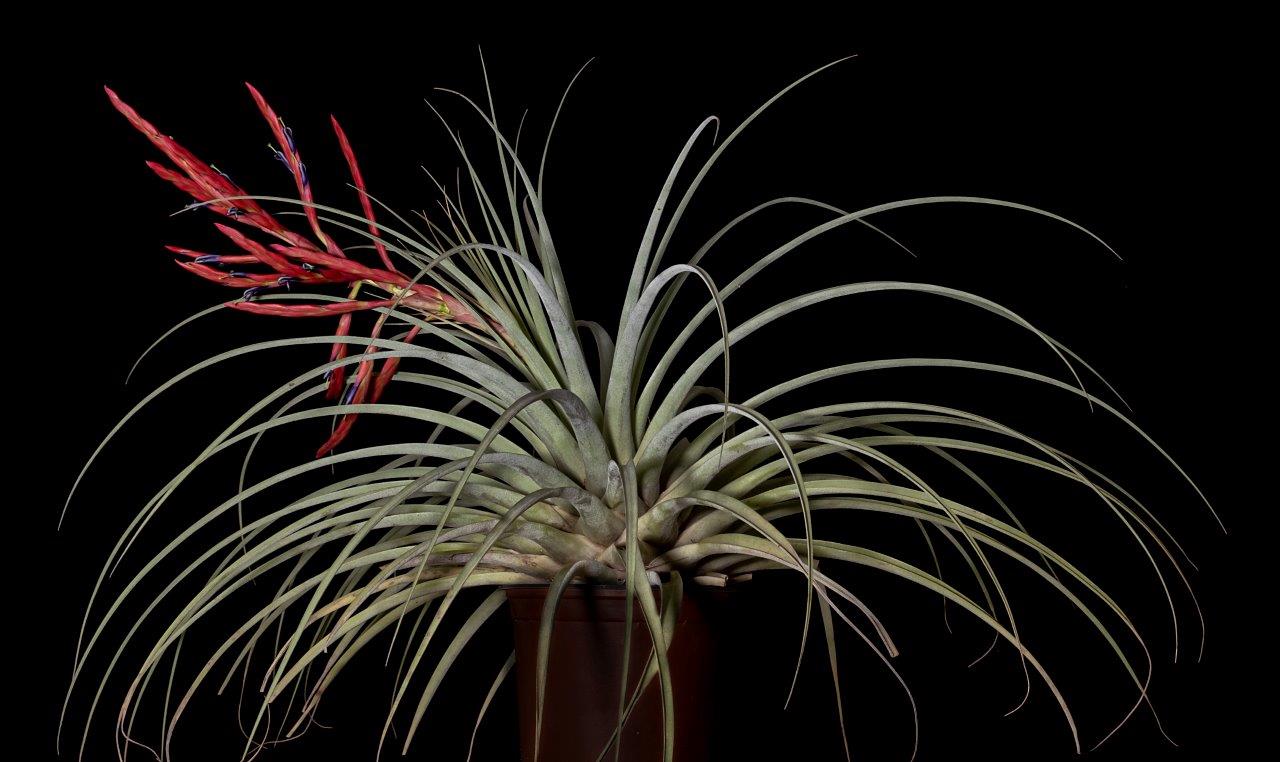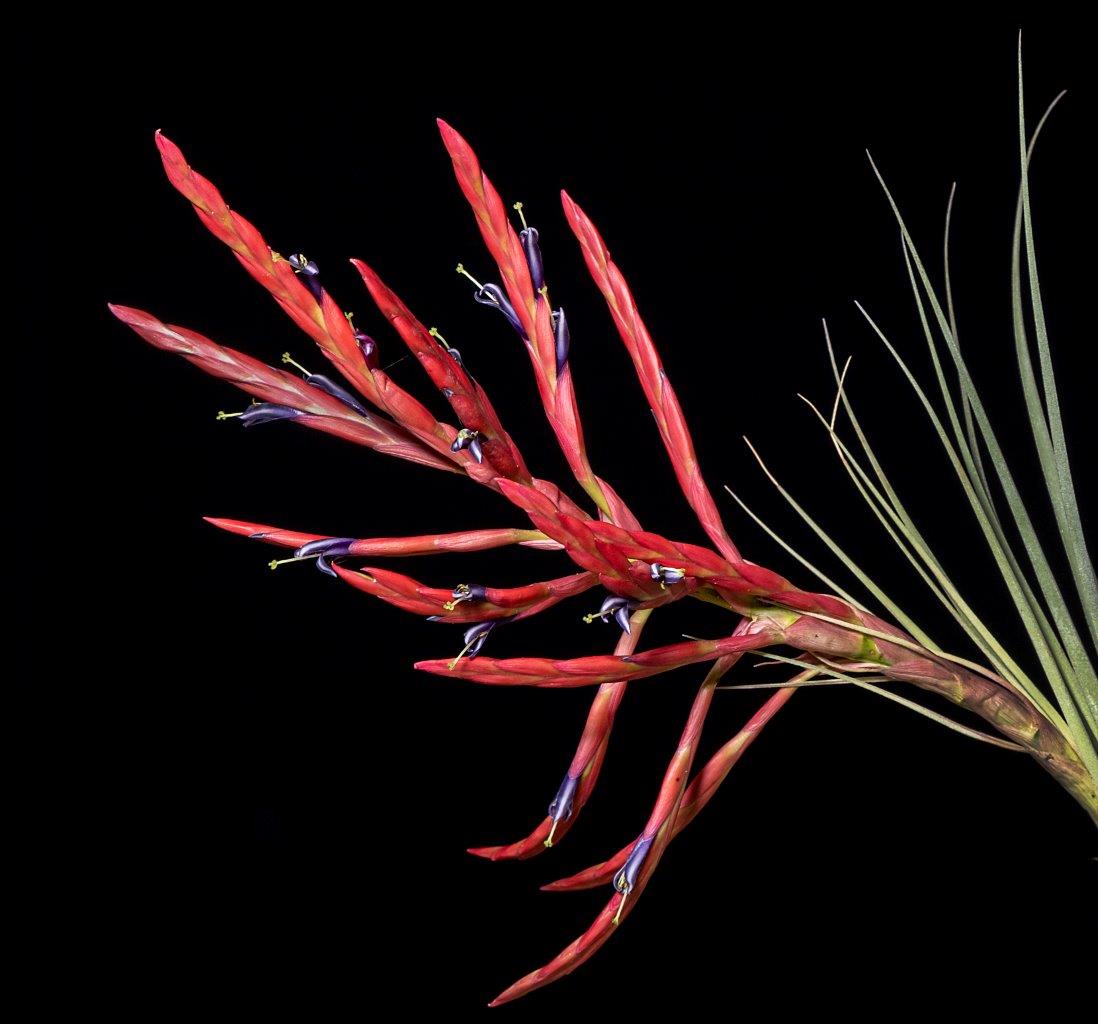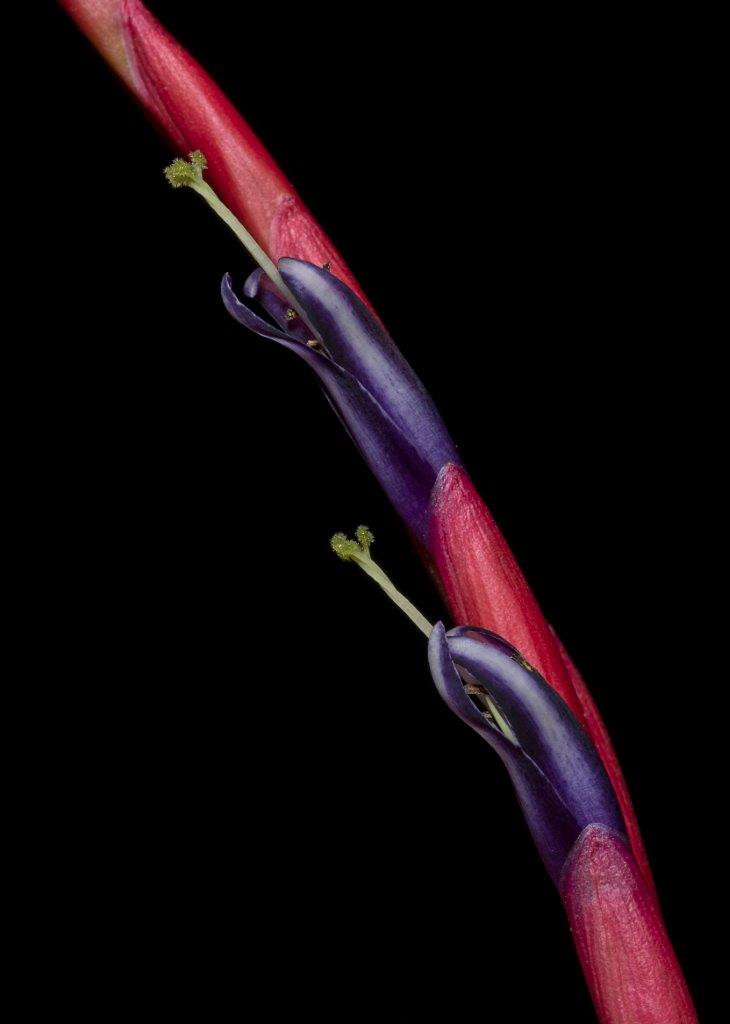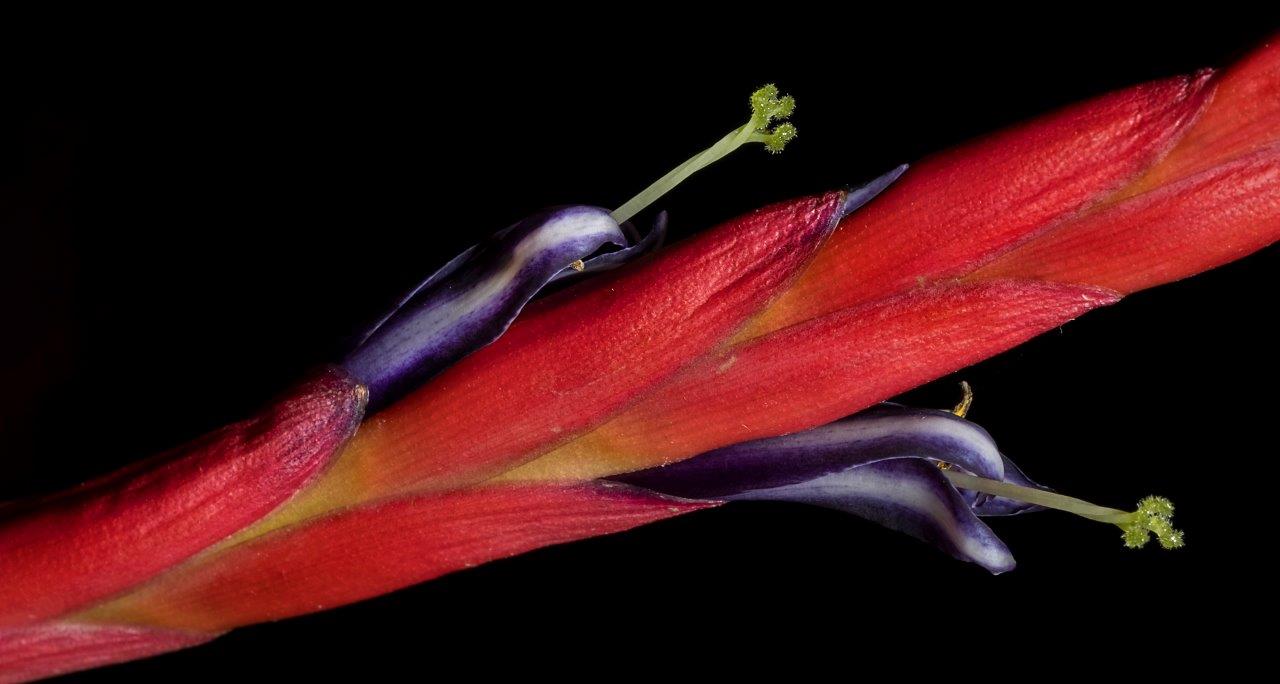 Rob Bower ... "This plant was just too small to flower last year so it grew to a good size. The striped metallic blue flowers are so attractive we got a bit carried away with the close pics."
Peter Tristram ... "Beautiful specimen. Are there any nectar scales on the flowers? Used to be called T. lehmannii."
Rob Bower ... "Do I need to dissect to see scales? I haven't dissected a flower for decades. There shouldn't be any right? I see lehmannii doesn't exist any more."
Ed. ... "Simple answer is that Vriesea have a nectar scale at the base of the petals whereas Tillandsia don't.
From Smith and Downs 'Flora Neotropica Monograph':
Tillandsia = petals naked; inflorescence of one or more distichous-flowered spikes or rarely reduced to a single polystichous-flowered spike or to a single flower.
Vriesea = petals bearing scales ("lateral folds" of Mez) on the inside of the claw, inflorescence as in Tillandsia except rarely of more than one polystichous-flowered spike."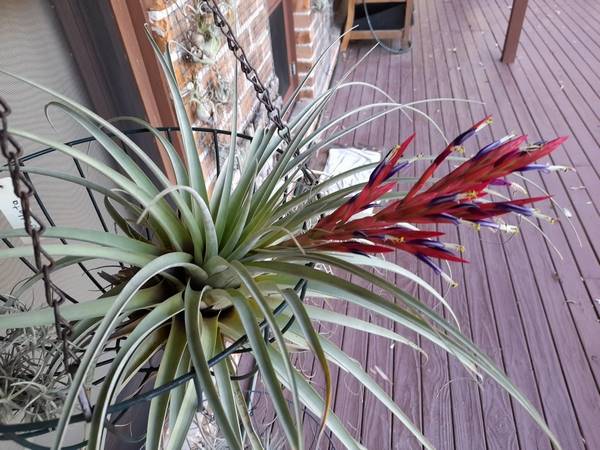 ---
Tillandsia flagellata L. B. Smith, Phytologia 6: 258. pl. 1, figs. 9, 10. 1958.
Tillandsia lehmannii Rauh, Akad. Wiss. & Lit. Mainz 1974(8): 15, Fig. 5-6a. 1974.
Desc from S&D p 761 Made synonymous with T. flagellata in De Rebus I 1994
Tillandsia flagellata L. B. Smith, Phytologia 6: 258, pl. 1, figs. 9, 10. 1958.
Desc from S&D
Plant flowering 25-30 cm high.
Leaves numerous, rosulate, 30 cm long, covered with fine subappressed cinereous scales;
sheaths suborbicular, 4 cm long, brown;
blades very narrowly triangular, filiform-attenuate, 15 mm broad at base, involute.
Scape erect or suberect, slender;
scape-bracts densely imbricate, suborbicular, 2 cm long, membranaceous, strongly nerved, lepidote, long-flagellate with contorted linear blades.
Inflorescence subdigitate from about 7 spikes;
primary bracts like the scape-bracts but with little or no blade, erect;
spikes divergent to spreading from the apex of a long slender erect sterile base longer than the primary bract, narrowly lanceolate, acuminate at both ends, 4-7 cm long, 1 cm wide, strongly complanate, densely few-flowered;
rhachis narrowly winged.
Floral bracts lanceolate, obtuse, to 24 mm long, exceeding the sepals, ecarinate, thin, strongly nerved, lepidote.
Sepals oblong-elliptic, obtuse, 16 mm long, ecarinate, even, glabrous, lustrous.
Capsule slenderly cylindric, 33 mm long.
TYPE. Hitchcock 21245 (holotype US, isotypes GH, NY), on tree, dry hill, Portovelo (gold mine near Zaruma), 600-1000 m alt, Oro, Ecuador, 30 Aug-1 Sep 1923.
DISTRIBUTION. Known from the type collection only.

Detail from S&D
Tillandsia lehmannii Rauh, Akad. Wiss. & Lit. Mainz 1974(8): 15, Fig. 5-6a. 1974.
Plant stemless, flowering ca. 40 cm high.
Leaves arching-recurved, 40-50 cm long; sheaths 5-6 cm long, 3-4 cm wide, brown-lepidote throughout;
blades narrowly triangular, filiform-attenuate, 2 cm wide, covered with gray, appressed scales.
Scape curved-ascending, ca 10 cm long, 6 mm thick, green, glabrous, slightly angled;
scape-bracts densely imbricate, subfoliaceous.
Inflorescence laxly bipinnate from 10-15 arched spreading spikes, 20-25 cm long, 12-15 cm wide;
primary bracts polystichous on the axis, erect, like the upper scape-bracts but with short or no blades, 2-3 cm long, shorter than the sterile base of the spike, green to reddish, glabrous or sparsely lepidote at apex;
spikes linear, 9-10 cm long including the erect sterile bracteate base, 1 cm wide, the fertile, complanate part spreading.
Floral bracts imbricate but narrow and exposing the rhachis at anthesis lanceolate, acute, 20 mm long, 12 mm wide, exceeding the sepals, faintly, carinate, even, reddish, lepidote at apex, otherwise glabrous.
Sepals free, acute, 16 mm long, 5 mm wide, ecarinate, thin, greenish, glabrous;
petals naked, linear, 35 mm long, 5 mm wide, the blade violet with white at base;
stamens exserted.
TYPE. Rauh 24195 (holotype HEID, photo US), dry forest, Macara, Loja, Ecuador, Jul 1970.
DISTRIBUTION. Known from the type collection only.

On the search for. . . TILLANDSIA LEHMANNII Rauh by HARRO HEIDT in Die Bromelie 1: 8-9. 1993
Manfred Haberle and I flew to Ecuador in April 89 to collect tillandsias and to look for this plant. According to Rauh it is known from south of Catacocha at about 1300 m. Actually, this place lay somewhat distant from our planned route, but for something so rare it was considered essential.
First, we spent one and a half days in Quito in order to acclimatize. For Manfred it was the first trip to South America. From Quito, we flew to Cuenca with TAME for about 20,- DM. A flight of almost one hour. Yes that was the price. For this sum you receive a suitcase-sticker similar to the one with Lufthansa. In Cuenca, there was first a long palaver with the man from the only car rental agency in the place. Because we did not have a credit card, he did not want to rent a car to us. Only if we deposited 580 dollars, would we receive a car, similar to our Opel Cadet. Unfortunately, it was without four-wheel drive. Even if you called in later, yes, there may be a chance. Supposedly, he had no other available on this day.
Shortly after Cuenca, the bitumen ends. What comes then, we can only describe as a catastrophe. The Panamerican only consists here of hole after hole. On a small stretch, we could only get into 3rd gear once. Otherwise it was 2nd gear where walking signs were given. Our overnight stay on the trip was Loja on the way to Saraguro. We only reached this small place after darkness fell. There was also petrol here. Since there was no petrol-pump, it was poured into pails. This was withdrawn by hose. The attendant sucks in to the top of the hose and then puts it into the small pot. The pail slowly fills, after the young man first spits out the petrol! Have you ever tried filling a petrol tank this way? Also as our filling up continued there was a quantity of petrol beside the car. No one worried not even the cigarette. When it burns, it just burns!
Our evening meal on this day consisted of two dry rolls, and for breakfast we had two of the same and finished with water from our canteen. We spent a few days in Loja then on we went. The road after Catacocha was first tarred, then gravel track. On this trip, we looked at a whole mountain of yellow flowering Oncidium. The flower branches were over 1m long and with an immense number of small flowers. I believe, orchid-lovers would be ecstatic with this sight. The weather, which was still good in the morning, had got worse in the course of the day more and more 15 km from Catacocha fog arose and then it started to rain. The trip on the gravel-track turned into a part slide. Now and then, we hit the oiltank, but our luck held as it remained attached. With a short pause, 7 km before Catacocha, I inspected trees on the lefthand side of the road. Different bromeliads were found on them. At the base of an old inflorescence I could identify T. lehmannii. The height meter showed 1850 m. As I collected some plants, I noticed that I had two forms. The other plant looked like T. lehmannii. It differed in its flower being in a sword.
The fog became ever thicker, and I had difficulties to find the right plants on the tree. About "lehmannii", I only collected flowered plants and took the offsets from them. These grew in contrast to the other plant with stolon. T. lehmannii was growing with T. disticha, floribunda and triglochinoides. All the other bromeliads were unknown me. The search in this wild area had to be curtailed because the fog became more and more dense, and we were in danger of getting lost.
In Catacocha, we slept in the hotel Nuevo Esperanza. The floor in our room had been wiped clean with petroleum in order to keep away the insects. We had to get accustomed to this smell. The only washing opportunity as well as toilet for the whole hotel was in the yard.
The next morning, we left when it was still almost dark. It had rained the whole night through, and our worry was that possibly trucks had been completely through the track making it impassable for our car. As we progressed, sometimes I had to push, with shouts and ohs.
On our way after Pasaje, we found T. lehmannii again. Also here with the same types of plants. Between Chaguarapamba (great name! You try to speak it once without hesitating!) and Balzas it grew at 1250 m. Here it was essentially drier than at the spot of discovery near Catacocha. Whole colonies of ants lived in the leaf axils.
Manfred, as a fan of T. recurvata, almost was beside himself, when once again we saw an exceptional clump. It grew on a steep rocky hillside. At the first attempt to climb, he descended with the half mountain. The second attempt to seek to reach this plant, also proceeded unsuccessfully. He did not give up however, and since only few centimetres were always rock-hillside were left between him and the plants, he screwed extra lengths to our manufactured poles. Finally, he held the desired clump in his hand. There was then however a big laugh. It was only a clump of similar looking lichen! We therefore named it T. recurvata var. lichen.
But then I still got my reward. Later in Quito I paid with a 100 dollar note instead of with a 100 Sucre note (Ecuadorian money). For this sum I could have travelled across the country in a taxi. Two days later I had an accident at the local market and for several days I could only hobble.
The final count of plants compiled on this trip besides T. adpressa, crispa and seemannii was good and ready for the move to Germany. I knew from earler trips how tricky the previously named tillandsias were and we had taken only a few examples of these types. Often those with offsets last to the time of flowering and then often end in a blaze of glory. Anything left remains small and perishes. The climate, in which they occur, we simply cannot imitate. I only know that there is a possibility of cultivation in the Botanical garden in Hamburg.
---
Updated 15/04/22
---