Tillandsia flabellata
Click thumbnails for full size, scaled to a new window.
---
Tillandsia flabellata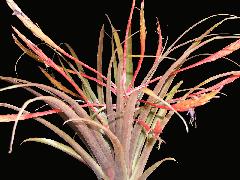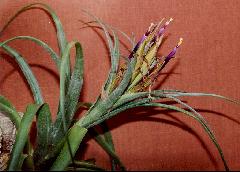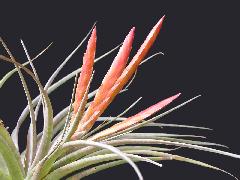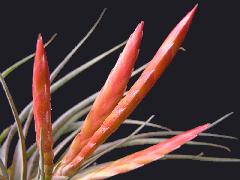 Ken Woods 10/06.

flabellata Hybrid
Ken Woods 10/06.

flabellata Hybrid. Ken Woods 01/09.
Bob Hudson thinks 'ROMA' 12/12.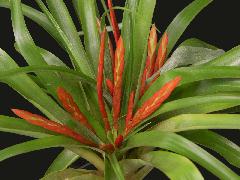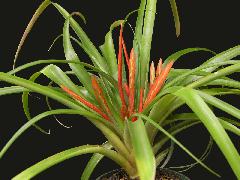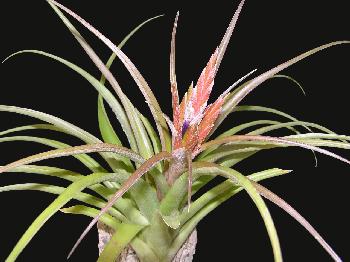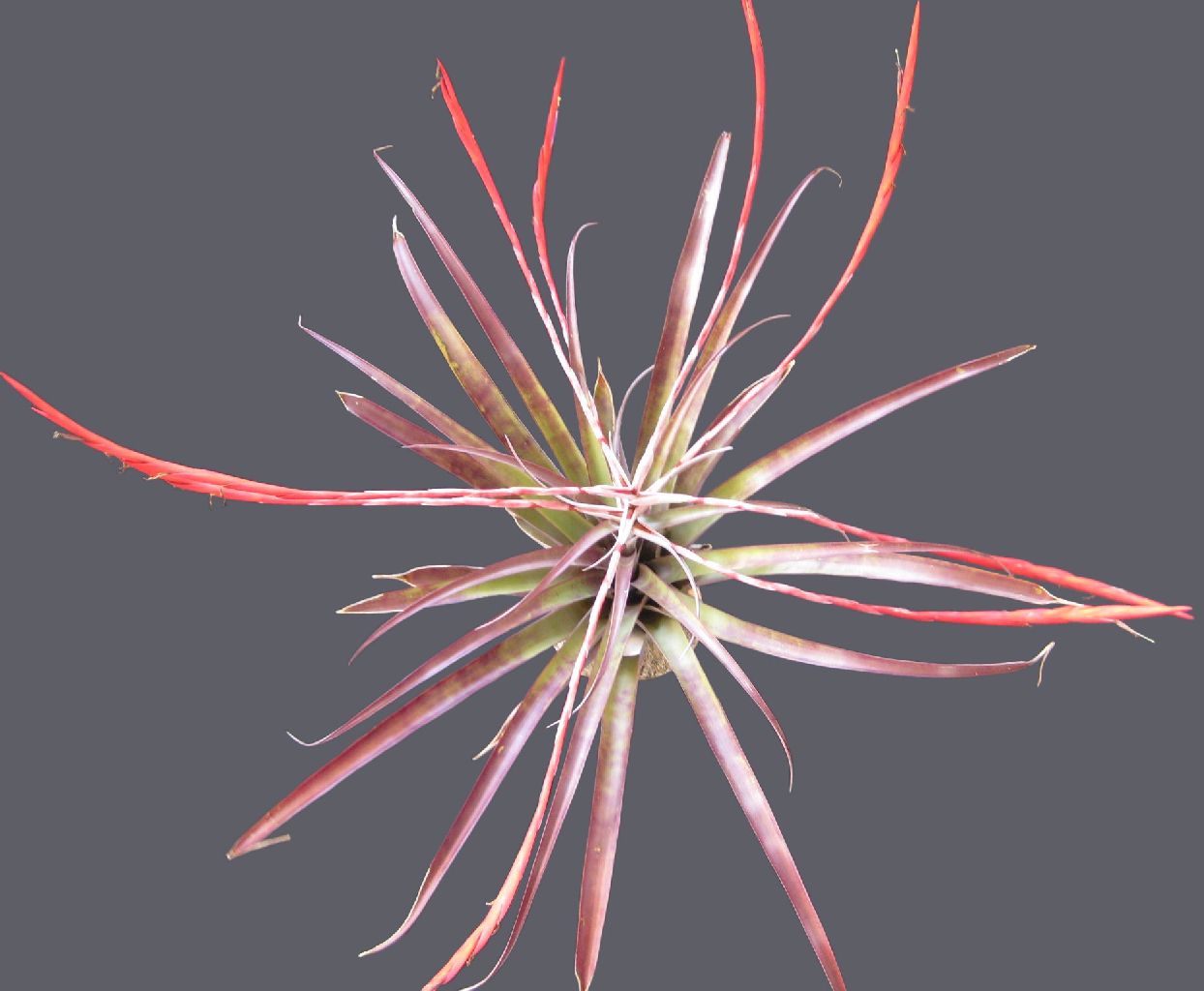 Ian Hook, 12/08. Labelled "Red form".

flabellata Hybrid
Ken Woods 05/11.

flabellata "Giant Red"
Bob Hudson 12/12.
---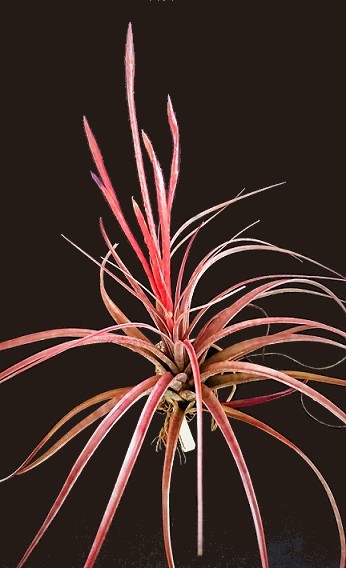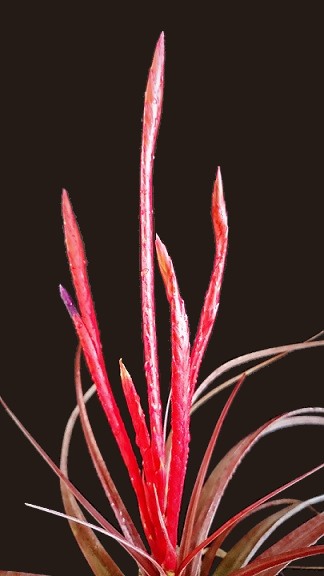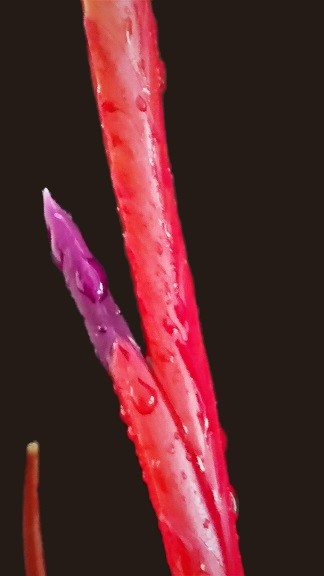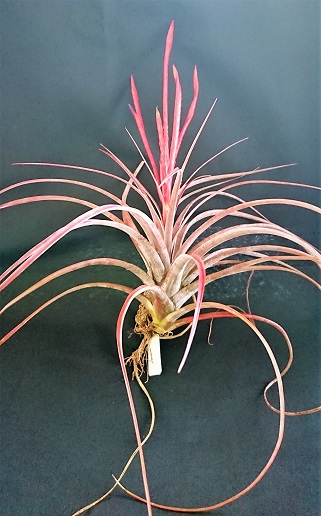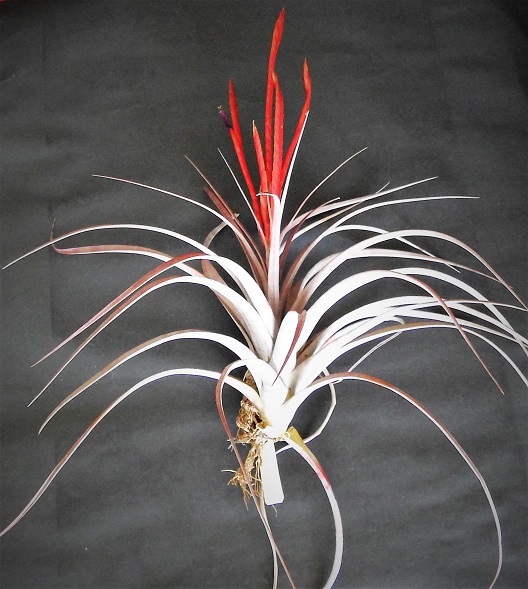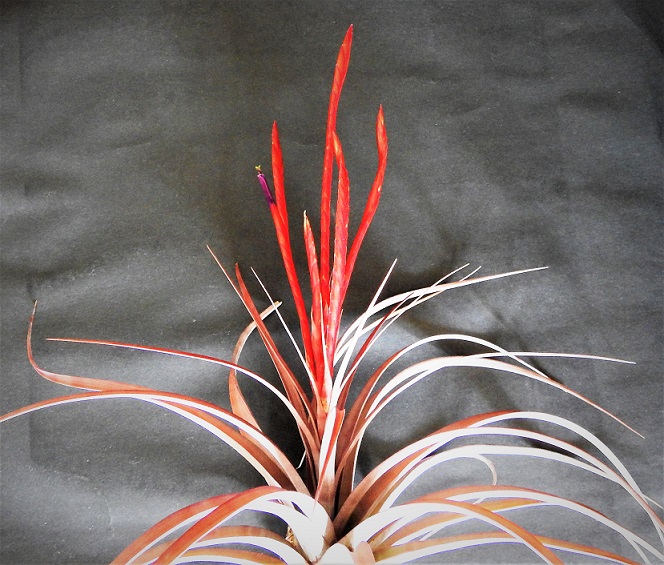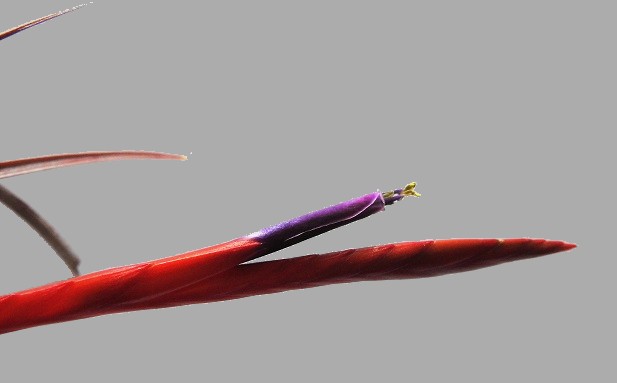 Steve Molnar ... "I have been waiting for a few months for this one to finally start flowering. The pictures don't do the plant justice, as leaves are a deeper red than what's shown.
I can only go off the BCR pictures, but I believe it could be either Tillandsia `Queen's Fiesta' (subteres x flabellata) or Tillandsia `Cooloola' (concolor x flabellata).
Hopefully someone will be able to confirm this one for me once and for all. We have been waiting very patiently for this one to spike and now even longer for it to flower, so we can put a name on it .
I will get some better pictures once the flowers fully open" (2nd group of 3 pictures).
John Olsen ... "My Cooloola plants stay green irrespective of how much light I give them. Could it be Roma"
Jenny Brittain ... "I'm thinking this beauty will need to be checked live. I'm not convinced yet. T. Roma that we have has much wider leaves and is very green and has been getting the same amount of sunlight as the T. NOID & T. Capitata Rubra. I've just taken a photo of T. Roma, 2 of the unknown beauty plus T. capitata Rubra for a little comparison, but this may not assist... The T. NOID with total shade remains green, the moment is see's light it colours up to a nice deep red/silvery red leaf and holds this colour, the flower spike has remained a brilliant dark and vibrant red. The first flower is tall and tubular. The T. NOID, as leaves age grow long and spiral underneath the plant. The smaller T. NOID has 2 pups growing at the base and this one had a bit of a holiday at the base of a shrub for a number of months and when found the tips of the flower spike had been eaten."
Peter Tristram ... "Is there any provenance with this plant? Or did I miss that? Hybrid greges can have amazing consistency, or the opposite, primary hybrids that is. Maybe some of our species arenít so pure. Then there is the labelling issue and, unless pollination is in a controlled environment (not at my place!) anything can happen. So whereíd you get it? If you donít know that itís all a guess."
Wendy Peske ... "Steve, did you get that red flabellata from me? If you did I've posted this one before and from memory I was advised to call it flabelata red form or flabelata hybrid. It wasn't decided if it was a hybrid or a form of flabelata."
Rob Bower 06/17

Steve Molnar 11/17
flabelata red form in centre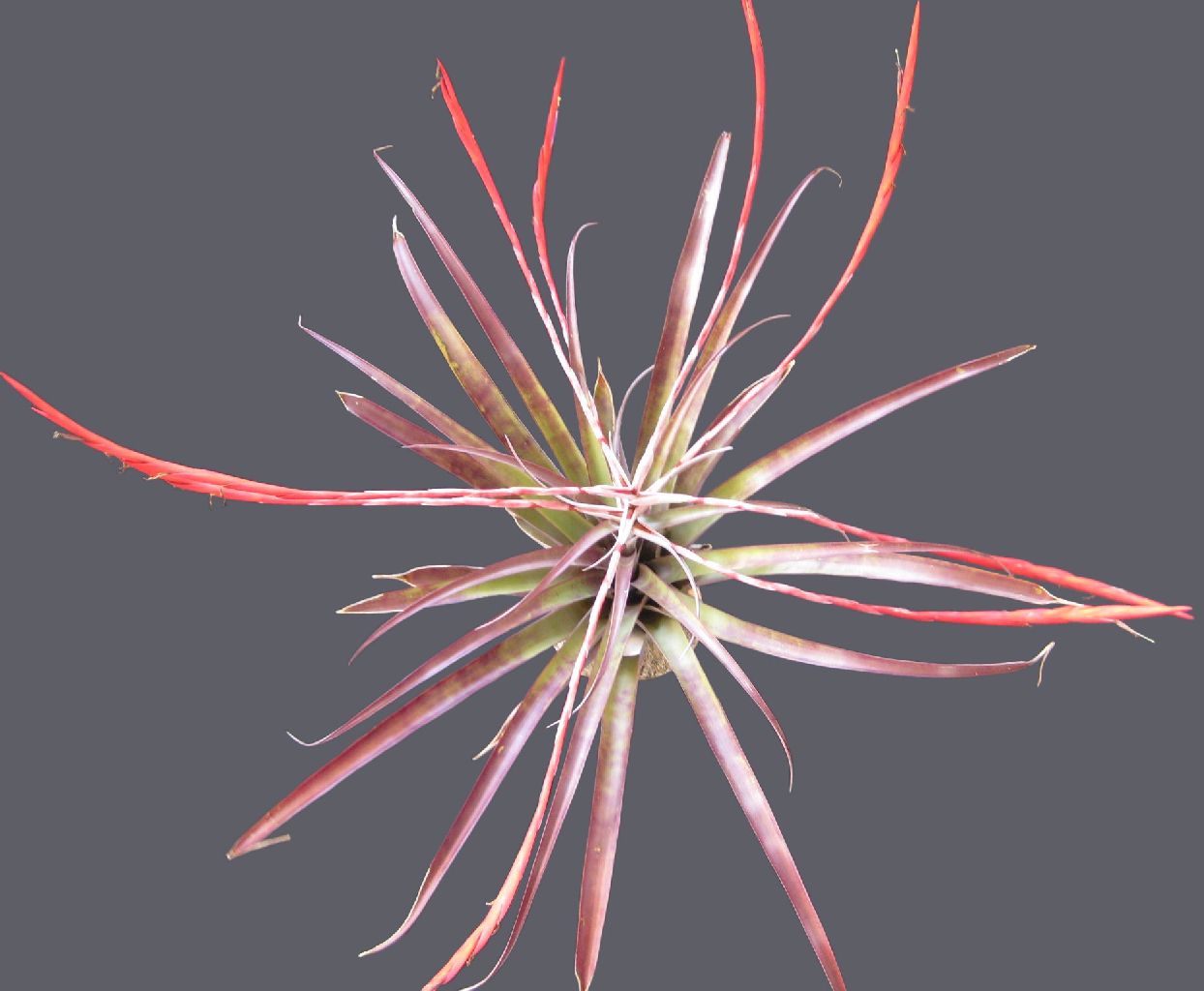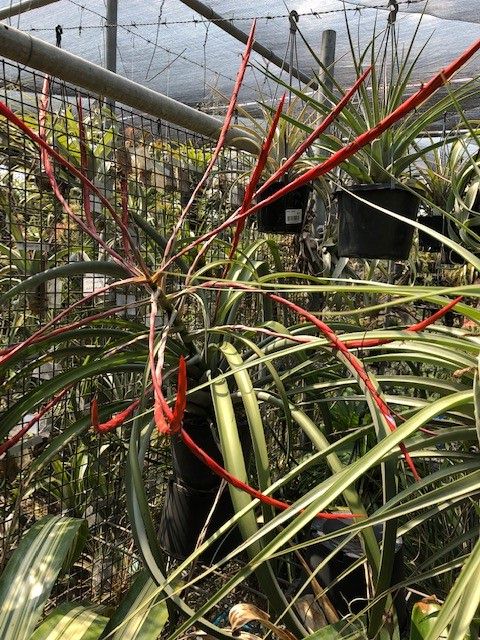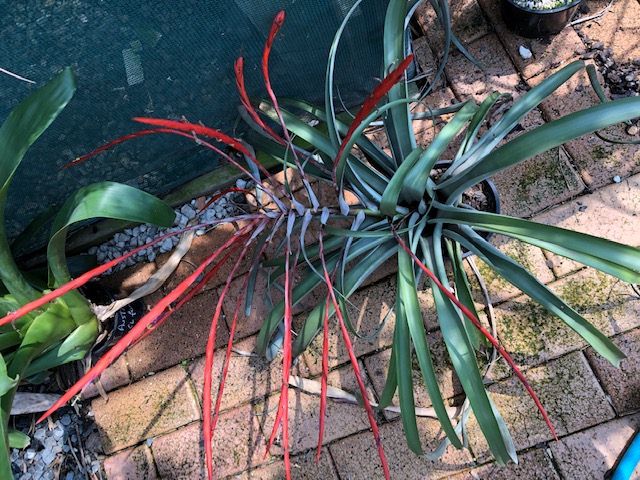 | | |
| --- | --- |
| flabellata "Giant Red" Bob Hudson 12/12. | "XL" flabellata John Olsen 12/19. "Straggly open inflorescence. |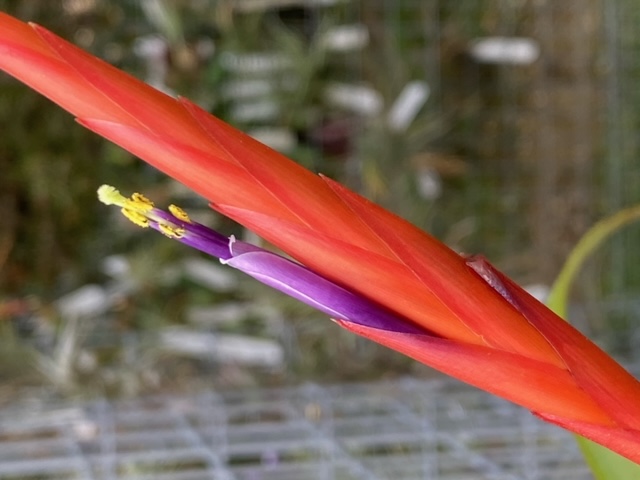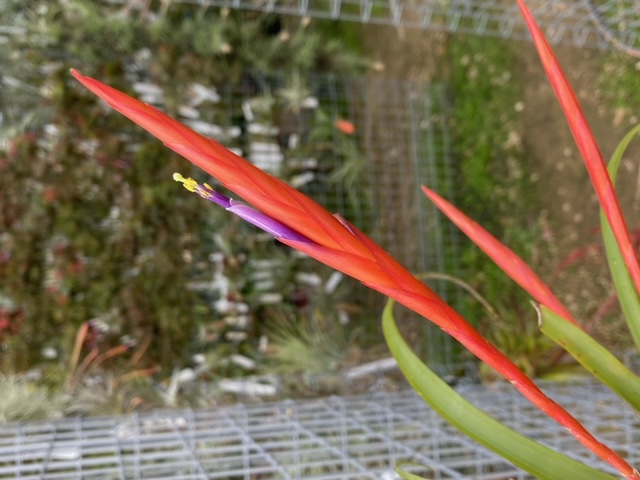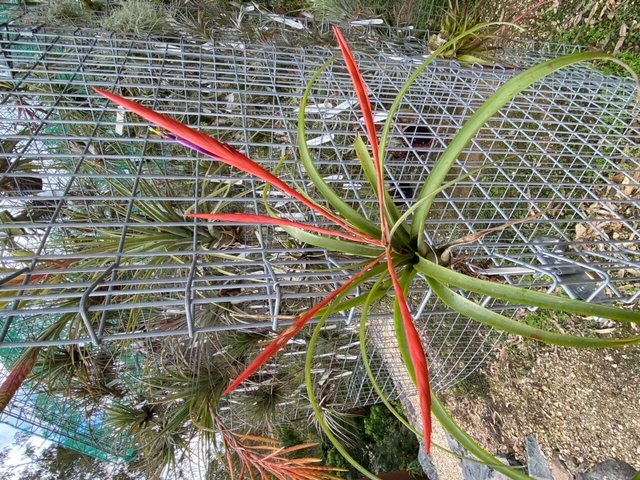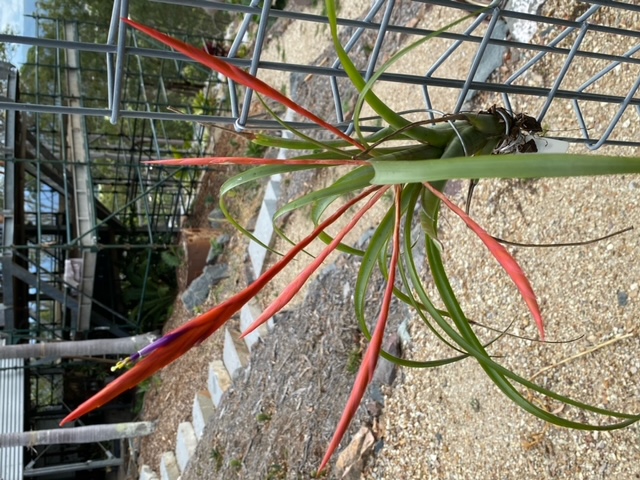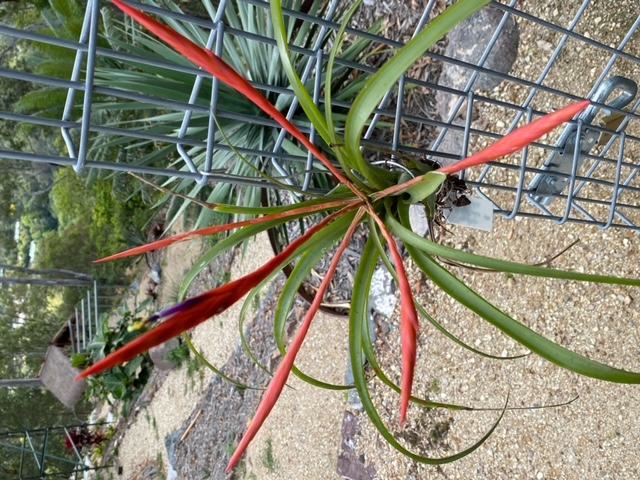 Dale Dixon 10/21 flabellata v. viridifolia
---

Tillandsia flabellata Baker, Jour. Bot. London 25: 242. 1887.
Desc from S&D p956-7
Plant stemless, 2-3 dm high.
Leaves many in a dense rosette, arched, spreading, inconspicuously punctulate-lepidote above, densely appressed-cinereous-lepidote below;
Sheaths broadly ovate, 4-6 cm long, distinct;
Blades narrowly triangular, long-attenuate, flat, 17 mm wide.
Scape erect, very short and so hidden by the rosette that the spikes look like separate simple inflorescences, slender;
Scape-bracts erect, densely imbricate, foliaceous, very large.
Inflorescence digitate from 3-8 spikes;
Primary bracts like the scape-bracts, their sheaths many times shorter than the axillary spikes, their blades nearly equaling them;
Spikes spreading to reflexed, very narrowly clavate, acute, strongly complanate, 15-22 cm long, the lower half or two thirds sterile and covered by imbricate bracts, these decreasing evenly in size from the floral bracts down, the fertile part linear-lanceolate, 4-9 cm long, 10-15 mm wide;
Rhachis straight, slender, angled, sulcate, glabrous.
Floral bracts erect, densely imbricate and concealing the rhachis at anthesis, three to four times as long as the internodes, lanceolate, acuminate, straight, sharply carinate, 25-35 mm long, 9 mm wide, chartaceous, strongly nerved, sparsely appressed-lepidote before anthesis but soon glabrous;
Flowers subsessile.
Sepals elliptic-oblong, obtuse, 15 mm long, thin, even or medianly nerved, glabrous, free, the posterior carinate;
Petals 4 cm long, violet;
Stamens and pistil exserted.
Capsule cylindric, short-beaked, 25 mm long.

Tillandsia flabellata var flabellata
Leaves red, to 35 cm long.
Type. Salvin s n (K, holotype, GR photo), Barranco Rondo, Volcan de Fuego, Sacatepequez-Chimaltenango boundary, Guatemala, Oct 1873.
DISTRIBUTION. Epiphytic in forest, 225-1500 m alt, southern Mexico, Guatemala, Salvador.
MEXICO. CHIAPAS: Siltepec, 9 Jul 1941, Matuda 4379 (LL); 13 Mar 1945, Matuda 5278 (GH, LL, US); Chicomuselo, 14 Jul 1941, Matuda 4510 (GH); Escuintla, 23 Jun 1945, Matuda 5994 (GH, US); Ocozocuautla, 11 Apr 1947, Moore 2564 (BH, US); Monserrate, 3 Mar 1950, MacDougall s n (US); Tuxtla Gutierrez to El Sumidor, 29 Apr 1952, Moore 6318 (BH, US); 6 Apr 1957, Foster & Van Hyning 2966 (US); Ixtapa, 20 Apr 1966, Laughlin 714 (US); 6 Nov 1966, 2726 (DS); Rio Jatate, Ocosingo, 8 Apr 1967, Breedlove 15635 (DS, US). GUATEMALA. SAN MARCOS: Volcan Tajumulco, 16 Mar 1940, Steyermark 37603 (F). QUEZALTENANGO: Volcan Santa Maria, 21 lun 1882, Lehmann 1703 (US); 31 Dec 1939, Steyermark 33260 (F, GH); Aguacaliente, 25 Jan 1908, Kellerman 7228 (US). ZACAPA: Zacapa, Oct 1940, Standley 74682 (F); Santa Rosalia de Murmol to Vegas, 19 lan 1942, Steyermark 42965 (F). GUATEMALA: Amatitlan, 29 Dec 1938, Standley 61392 (F). SACATEPEQUEZ: Alotenango, 9 Feb 1939, Standley 64955 (F). SOLOLA: Cocales, Apr 1930, Rodriguez 2124 (P); Volcan, Atitlan, 15 Jun 1942, Steyermark 47626 (F, GH). RETALHULEU: Bernoulli & Cario 691 (GOET). SUCHITEPEQUEZ: Patulul, 6 Jan 1939, Standley 62214 (F, GH); Mazatenango, 5 Mar 1941, Standley 8881 (GH); Volcan Santa Clara, 28 May 1942, Steyermark 46772 (F, GH); Tiquisate, 18 Jun 1942, Steyermark 47735 (F). ESCUINTLA: Mauricio, Mar 1886, Tuerckheim 911 (US); Santa Lucia, 3 Mar 1905, Kellerman 5282 (US); Las Lajas, 31 Jan 1939, Standley 63886 (F). SANTA ROSA: Cuilapa, 24 Nov 1940, Standley 78182 (F). SALVADOR. AHUACHAPAN: Sierra de Apaneca, Jan 1922, Standley 20211 (US); 20212 (GH, US); 20213 (GH, US); 20214 (GH, US). SANTA ANA: Hacienda San Jose, 1 Dec 1950, Rohweder 349-350 (HBG); Lago de Coatepeque, 25 lan 1951, Rohweder 352 (HBG); Finca San lorge, 26 Apr 1951, Rohweder 362 (HBG). LIBERTAD: Finca Los Angeles, 12 Jan 1951, Rohweder 351 (HBG); Los Chorros, 3 Apr 1951, Rohweder 353-360 (HBG); Santa Tecla, 7 Apr 1951, Rohweder 361 (HBG). SAN SALVADOR: San Salvador, Aug 1922, Calderon 1125 (US); Santo Tomas, 1922, Calderon 1295 (US). SAN VICENTE: Santa Tecla, Mar 1923, Calderon 1536 (GH, US).

Tillandsia flabellata var. viridifolia M. B. Foster, Bromel. Soc. Bull. 7: 70. 1957.
Leaves green, smaller.
Type. Foster 2898 (holotype US), on trees, between Coatepec and jalapa, Vera Cruz, Mexico, 1936.
DISTRIBUTION. Known from the type collection only.

Tillandsia flabellata Baker var. viridifolia M. B. Foster var. nov. Brom Soc Bull. 7:70. 1957
A var. flabellata foliis viridis differt.
Epiphytic in trees near Coatapec, Mexico, 1936
M. B. Foster No. 2898 (Type in U. S. Nat'l. Herbarium.)
Because of an incomplete description of the original material which gives no reference to the color of the leaves we believe that the type species, which came from the mountains in Guatemala, had red leaves. This is based on the premise that we have other material collected in the state of Chiapas, Mexico which also has red leaves.
This new variety viridifolia was collected by the author in 1936 between Coatapec and Jalapa. The plants are much smaller than the red leaf form, and as I have had them growing side by side for several years, the marked difference is quite obvious. Also, the construction of the inflorescence differs in that the branches of the typical form emerge from the scape in a dense form, while the branches from the new variety viridifolia emerge from one half to one inch apart on the scape.

From Mez 1935
77. T. flabellata Bak. in Journ. of Bot. XXV. (1887) 242. Ė
Vix ultra 0,2 m alta. Folia haud manifestius bulbose rosulata, ad 0,3 m longa, super vaginam usque ad 17 mm lata, inde in apicem tenuissime acutum sensim angustata, subtus plus minus incana. Scapus brevissimus foliis omnino celatus, foliis rosulae intimis normalibus obtectus. Inflorescentia submultiflora, digitatim e spicis 8--7, optime flabellatis, 6-8-floris, elongatis sed tamen quam folia manifeste brevioribus, medium usque sterilibus, erectis, complanatis, ad 60 mm longis et 12 mm latis, lanceolatis, acutis composita; bracteis primariis quam spicae permulto brevioribus; bracteis florigeris dense imbricatis, dorso glabris valdeque prominenti-venosis, membranaceis, acute carinatis, apice haud incurvis, longe acutis, ad 27 mm longis, sepala plus quam duplo superantibus. Flores erecti, ad 40 mm longi; sepalis aequaliter liberis, subhyalinis, glabris, laevibus vel secus lineam mediam carinatam minute venosis, anguste, ellipticis, subrotundatis. Petala sepalis ad 22 mm longiora, tubulose erecta, violacea, quam stamina breviora..
Guatemala: am Vulcan Fuego (Salvin), Vulcan de Sta. Maria, bei Puezeltenango (Quezaltenango ? ) (Lehmann n. 1703), bei Retalhuleu (Bernoulli und Cario n. 691), bei Mauricio, Dept. Escuintla (Turckheim n. 911).

From Baker 1889
79. T. FLABELLATA Baker in Journ. Bot. 1887, 242.-
Leaves densely rosulate;
dilated base ovate, 2 in. long, above an inch broad;
blade lanceolate-subulate, above a foot long, 1/2-3/4 in. broad low down, not rigid in texture, thinly lepidote.
Peduncle 3-4 in.long.
Spikes 6-9, peduncled, flabellate, dense, distichous, 2-3 in. long, 1/2 in. broad;
flower-bracts lanceolate, nearly naked, 3/4-1 in. long, narrowed gradually to the point.
Calyx 1/2 in. long;
sepals oblong-lanceolate, thin, glabrous.
Petals not seen.
Capsule cylindrical, scarcely longer than the calyx.
Hab. Mountains of Guatemala; Barranco Honda, alt. 3800 ft., Salvia! Volcan de Santa Maria, Lehmann 1703 !
---
Updated 27/10/21
---