Tillandsia filifolia
Click thumbnails for full size, scaled to a new window.
---
Tillandsia filifolia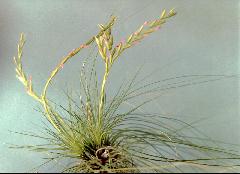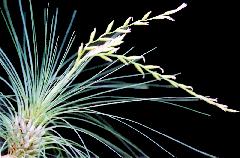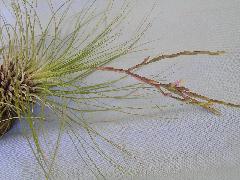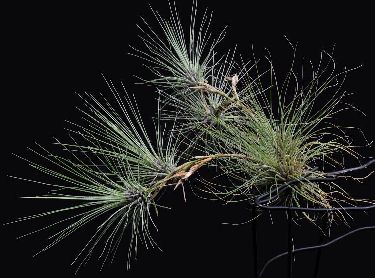 | | |
| --- | --- |
| Ken Woods 01/06 | Peter Tristram 07/13 with viviparous pups |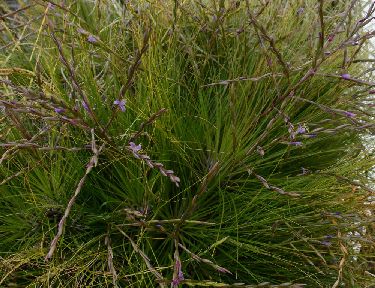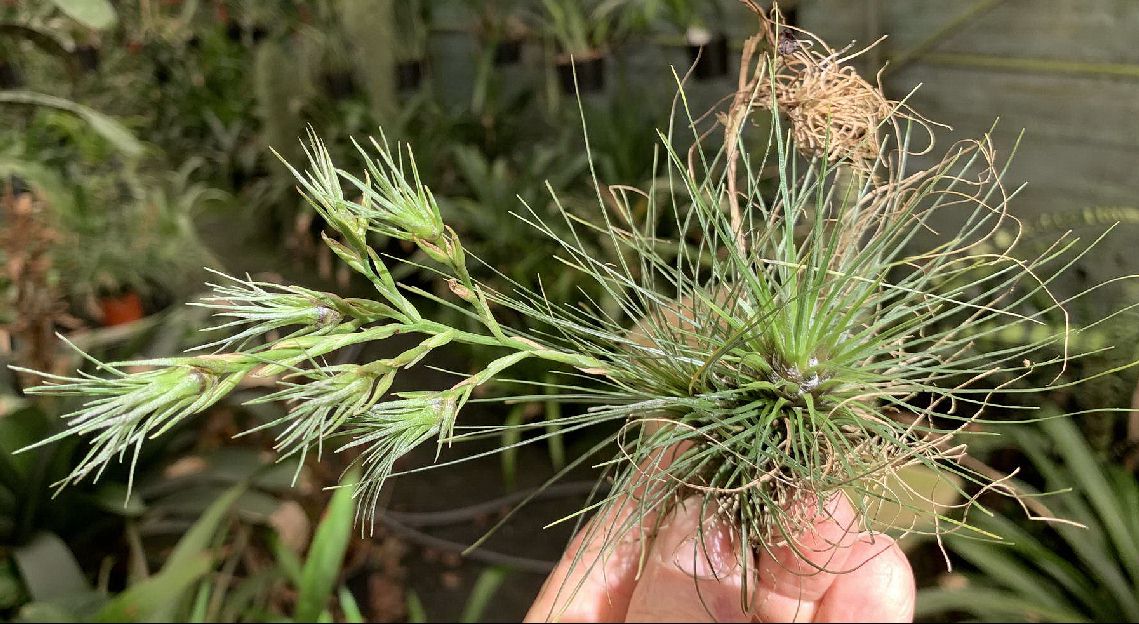 | | |
| --- | --- |
| Chris Larson 12/16 | Peter Tristram 06/19 viviparous form |
Chris Larson 12/16 ... "..part of a massive ball of T. filifolia grown at work. Just love this plant."
Peter Tristram 06/19 ... "I found this little viviparous T. filifolia today, complete with both types of pups (and a dead pup courtesy of last summer's heat) . For those who don't know of it, the original plant was given to me by Juergen Lautner at his home in Germany (tragically he died a few days later)."
Bob Hudson ... "Great looking Tillandsia puts mine to shame. Mine only pups on the stem two at a time."
Alfonso Trudu ... "are all T. filifolia viviparous? Ours are not. VB Bob has some too, so this variety of T. filifolia is probably not so rare."
Chris Larson ... "No Alfonso, this filifolia in Australia appear to have been taken from 1 imported plant, and is still not "around" much. The others are not viviparous – to my knowledge. Back in the day Collectors Corner imported 100s and none that I saw were viviparous. Peter's form comes true in each generation. Often vivipary is a freak occurrence in a single generation."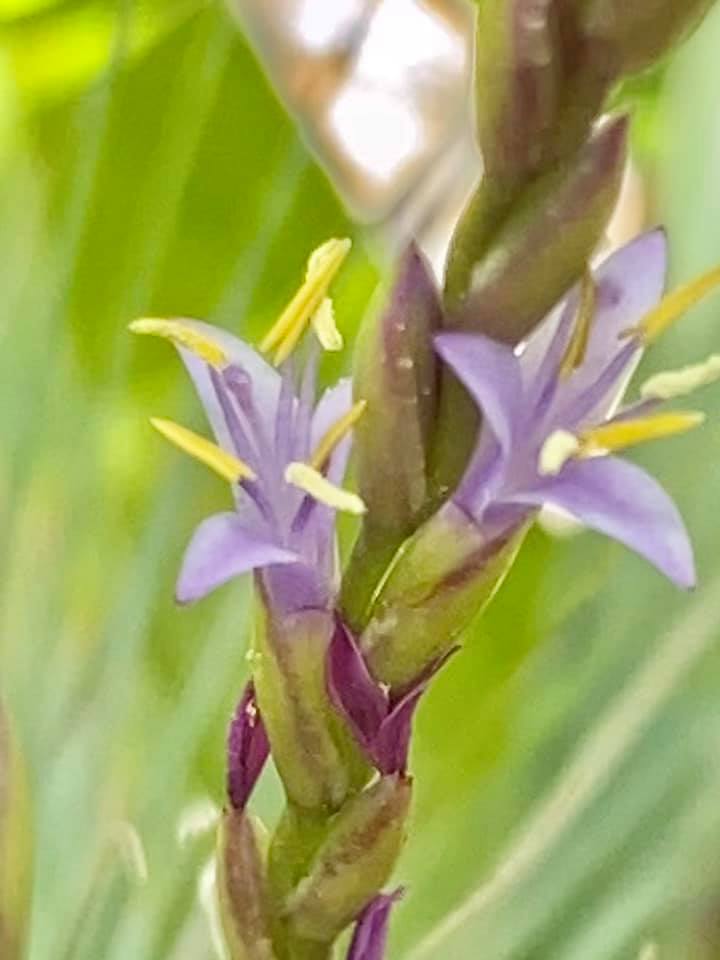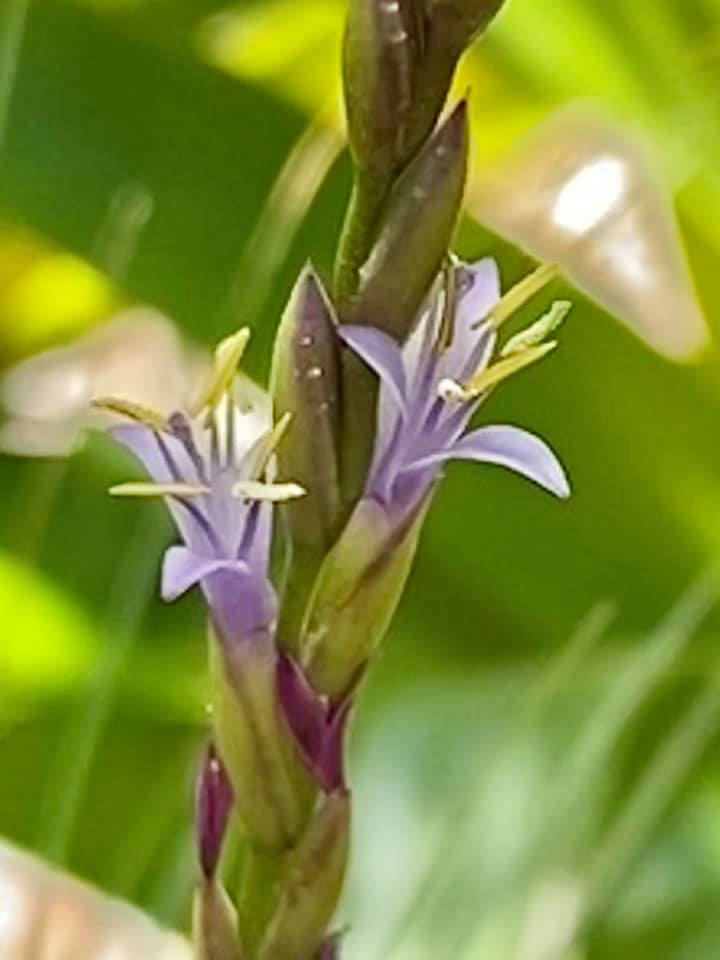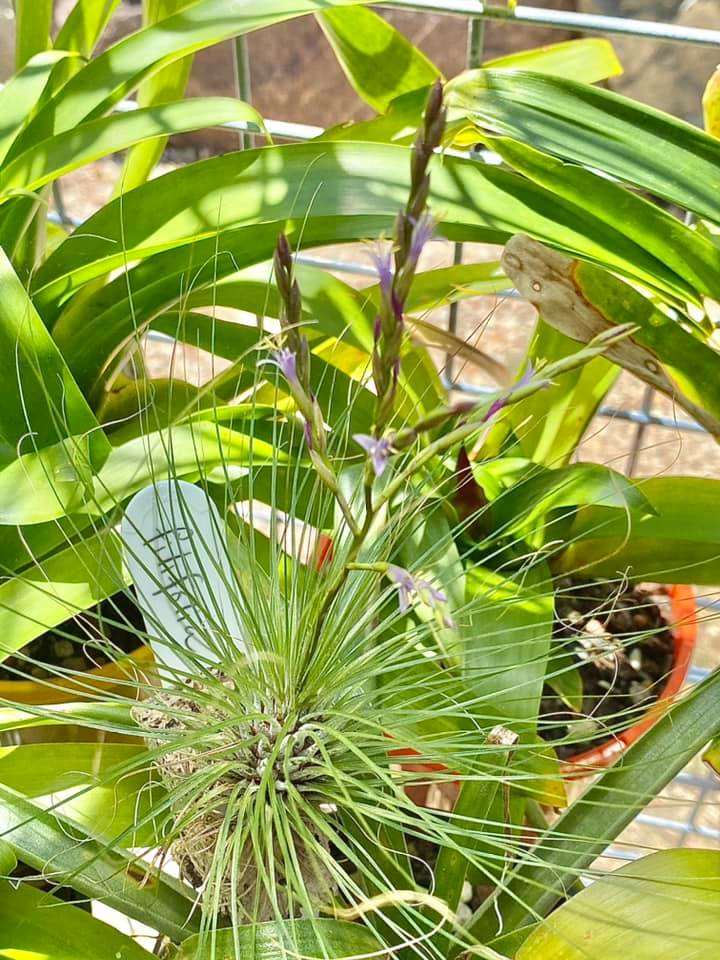 Dale Dixon ... "Tillandsia filifolia (subg. Tillandsia) occurs as an epiphyte in forests from central Mexico to Costa Rica at elevations between 100-2000 m.
The specific epithet 'filifolia' is derived from the Latin 'fili' meaning thread and 'folium' meaning leaf and refers to the narrow thread-like leaves of this species.
0 Being from tropical forests, I give this species some shelter in the Till House. It gets morning sun but no hot afternoon sun. My plants are mounted on pieces of cork board. I also have a plant obtained from Peter Tristram that produces adventitious plants on the inflorescence. It is yet to flower. Most plants only produce offsets from the rosette of leaves."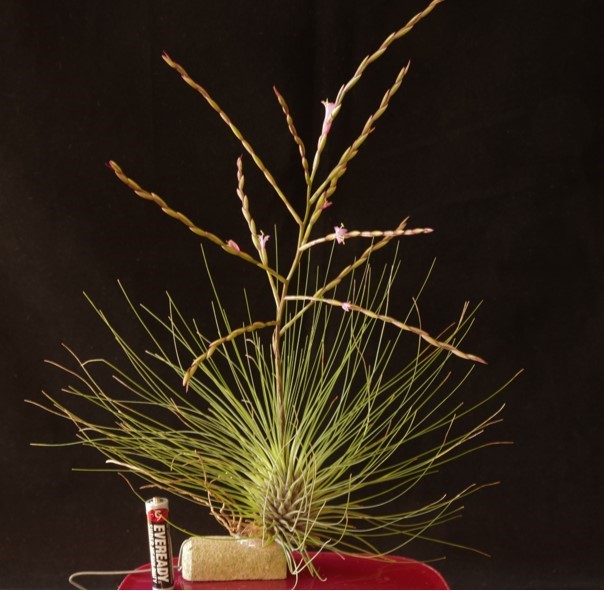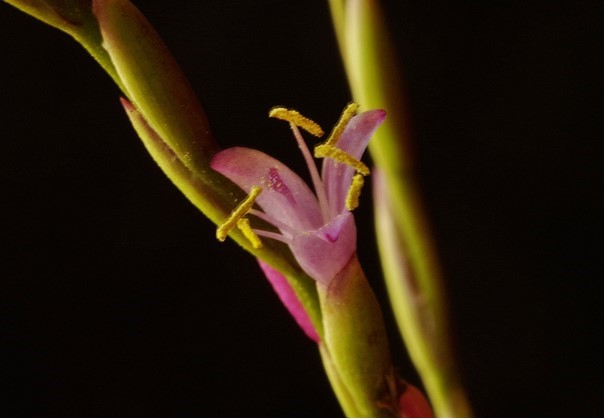 Greg Aizlewood ... "I got this plant at the last Tillandsia Day at Wavell Heights. I believe it came from Chris Larsen and it is a cracker. A large form of T. filifolia which is flowering at present so I thought I might try to set some seed. However on closer inspection I noticed no stigma. I checked the remnants of several other flowers and could not see any sign of a stigma either. It may be that some thing has eaten those parts while out in the garden but there does not appear to be any damage to the surrounding petals. I am not disappointed with the plant, to the contrary I am wrapped but just curious to find out the heritage and maybe an explanation for the lack of some of the bits. My first time for striking this in a species, other than some Catopsis. Can anyone shed some light on this please?"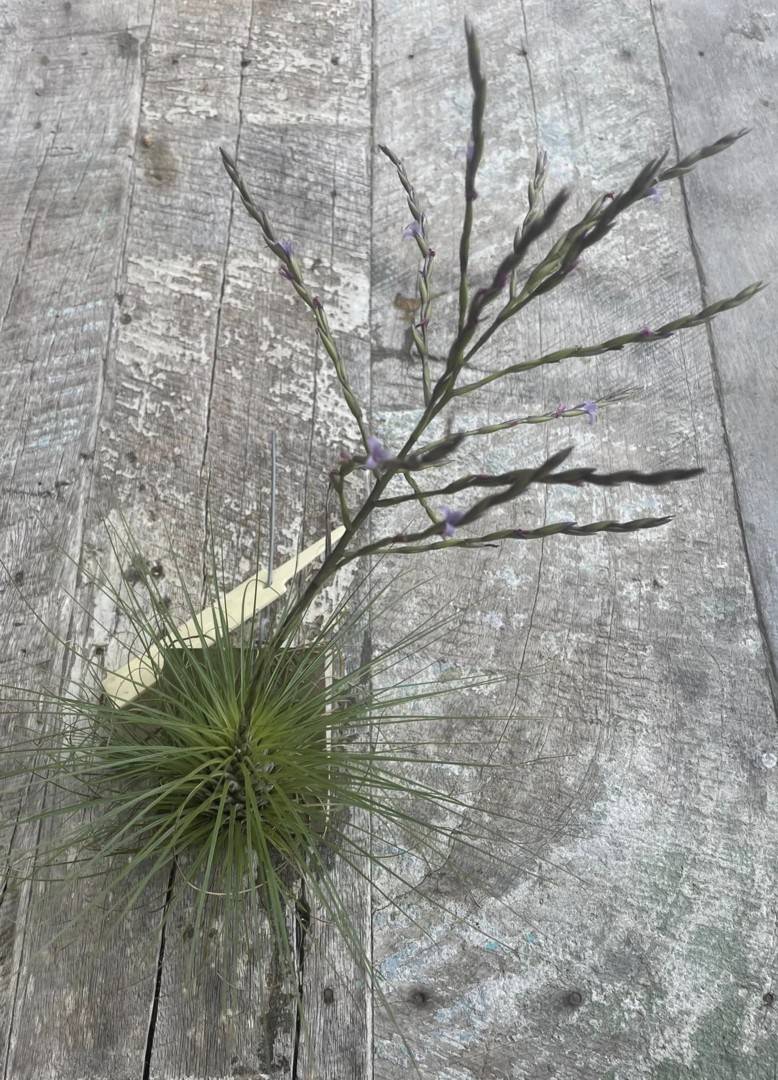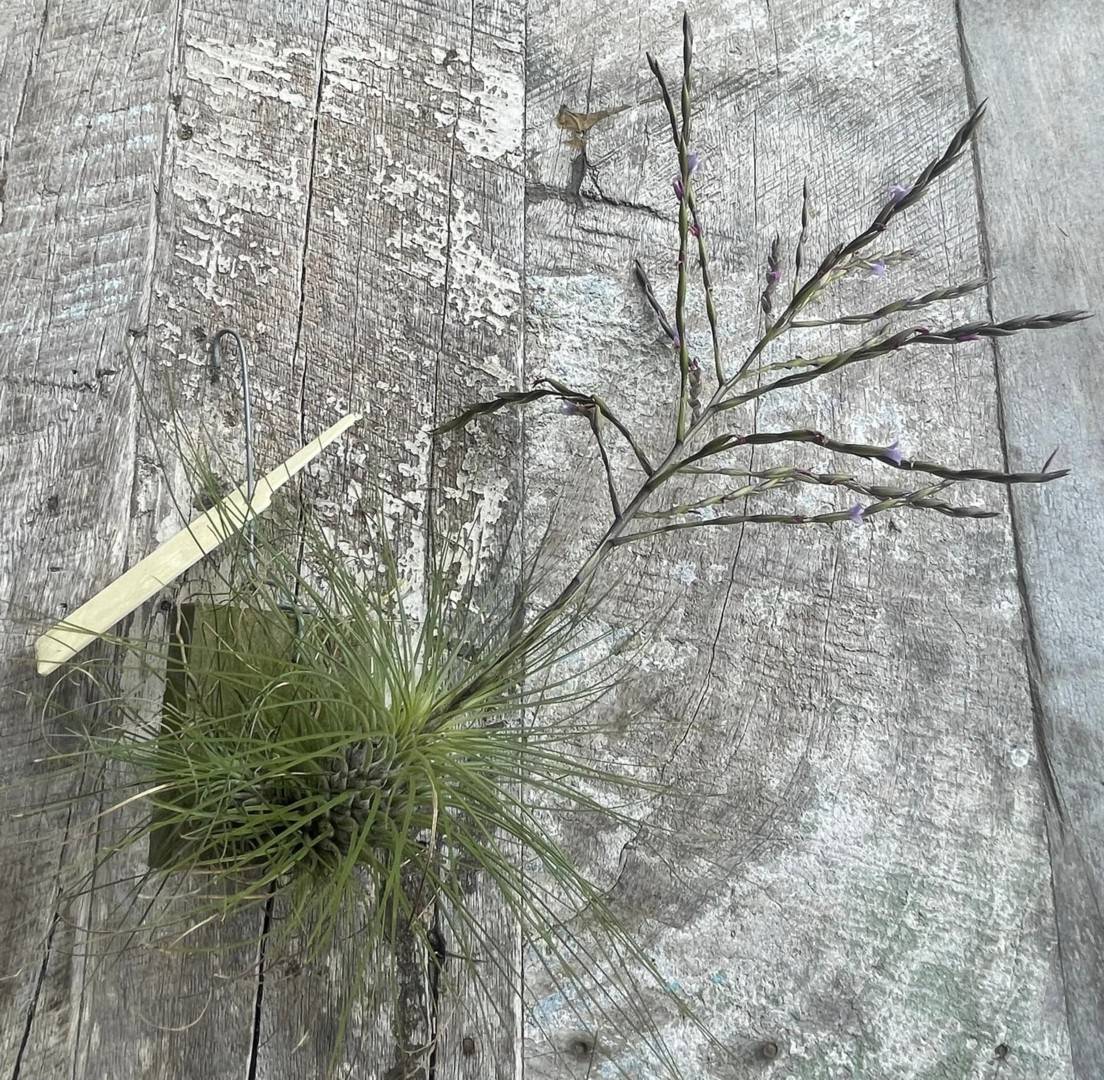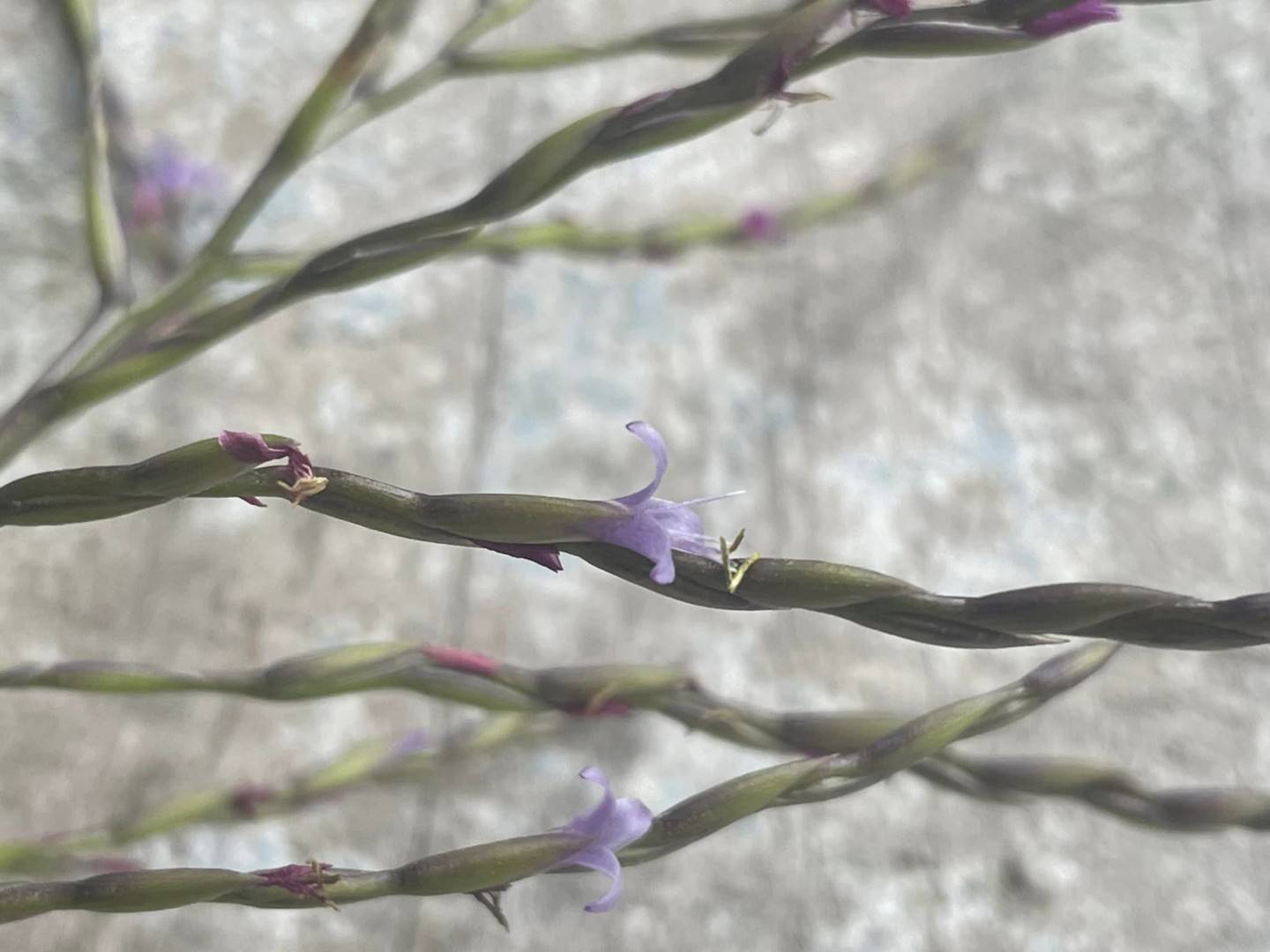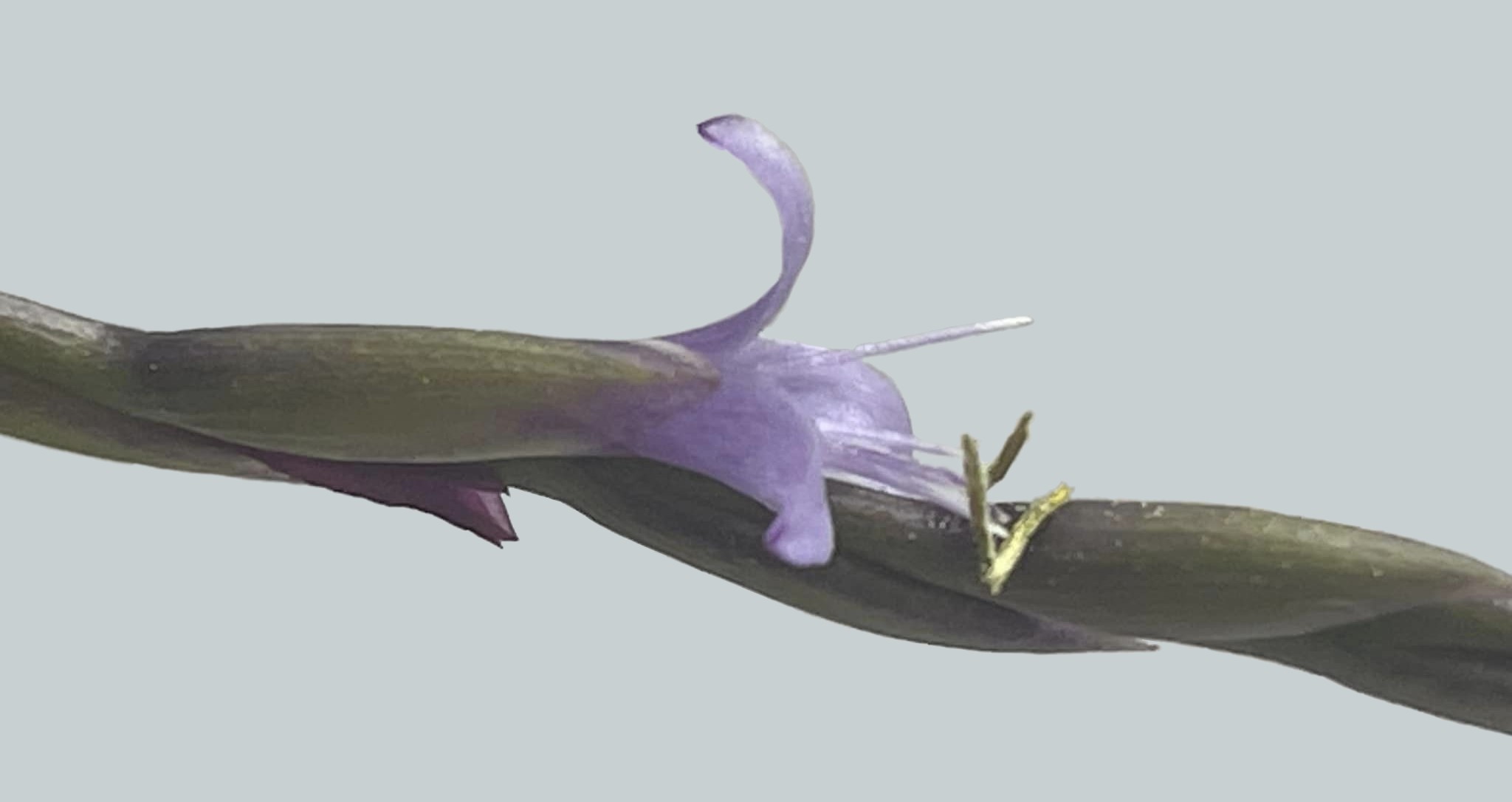 ---

Tillandsia filifolia Schlechtendal & Chamisso, Linnaea 6: 53. 1831
Platystachys filifolia (Schlechtendal & Chamisso) Beer. Bromel. 246. 1857.
Tillandsia staticeflora E. Morren, Belg. Hortic. 21: 177, pi. 12. 1871. Type. Cordoba, Vera Cruz, Mexico. Malzinne s n (LG, n v), 1870, cult. Hort. Liege.
Desc from S&D p973-5
Plant usually stemless, flowering 25-30 cm high.
Leaves many in a dense rosette, 15-30 cm long, spreading in all directions, cinereous-lepidote with appressed or slightly spreading scales;
Sheaths triangular, conspicuous, dark-brown, glabrous with age;
Blades filiform, 1 mm wide at base, channeled above, green.
Scape erect, 1 mm in diameter , glabrous, brownish-green;
Scape-bracts ovate or elliptic, 8 mm long, all but the uppermost filiform-caudate, barely exceeding the internodes, membranaceous, prominently nerved, appressed-lepidote.
Inflorescence laxly bipinnate, broadly pyramidal, 15 cm long;
Primary bracts like the upper scape-bracts but nearly or quite glabrous, barely reaching the lowest flower of the axillary branch;
Spikes suberect to spreading, laxly 10-16-flowered with an aborted flower at the apex, to 1 dm long;
Rhachis very slender, flexuous, glabrous.
Floral bracts spreading at an angle of 45°, equaling or slightly longer than the internodes, elliptic, obtuse or broadly acute, 7-8 mm long, equaling or slightly longer than the sepals, membranaceous, prominently nerved;
Flowers subsessile.
Sepals narrowly elliptic, obtuse, 7-8 mm long, submembranaceous, prominently nerved, glabrous outside, lepidote inside, equally short-connate;
Petals ligulate, 10 mm long, pale-lilac, the blade spreading;
Stamens barely longer than the petals and pistil.
Capsule slenderly cylindric, 25 mm long.
Type. Schiede & Deppe 1005 (holotype B, isotypes BM, G), Hacienda de la Laguna, Vera Cruz, Mexico.
DISTRIBUTION. Epiphytic in forest, 100-2000 m alt, central Mexico to Costa Rica. MEXICO. VERA CRUZ: Consoquitla (state?), Liebmann 33 (C); Hacienda Jovo, Liebmann 35 (C); May 1841,14548 (US); Colipa, Liebmann 36 (C); Mirador, Liebmann 353 (L); Sep 1906, Ross 773 (Z); Feb 1927 ,2Reiche 434 (M); Orizaba,Botteri 1052 (P); Bourgeau 1202 (K); Cordoba, 1865-66, Bourgeau 2102 (K);2402 (US); Motzorongo, 15 Feb 1891, Maury 5574 (GH);Jalapa, 10 May 1900, Pringle 9195 (GH); Zacuapan, Jun 1906, Purpus 2103 in part (US); May 1913,2103 in part (F, GH, UC, US); Apr 1919,6333 (F, GH, NY, UC, US); Apr 1922, 361 (Z); Huatusco, Mirador, May 1907, Seler 5125 (GH, US); km 331, Fortin de las Flores, Tehuacan to Orizaba, 6 Apr 1952, Moore & Cetto 6212 (BH, US). PUEBLA: Huauchinango, Rio Necaxae, 12 Feb 1932, Froderstrom & Hulten 825 (S). OAXACA: Portillo de Coyula, Cuicatlan, 23 Apr 1919, Conzatti 3557 (US); Ubero, Apr 1937, L. Williams 9096 (GH); San Juan Lalama, 7 May 1939, Schultes & Reko 672 (GH); 803 (GH); Juchitan, 5 May 1967, MacDougal1 s n (US). TABASCO: without locality, Johnson 128 (K). CHIAPAS: Ocozocoautla, May 1949, Carlson 2123 (US); Rio Jatate, Ocosingo, 8 Apr 1967, Breedlove 15626 (DS, US). WITHOUT LOCALITY: Galeottis n (BR). GUATEMALA. PETEN: Monte Santa Teresa, 12 Apr 1933, Lundell 2680 (GH, MICH, US); Canchacan, 11 Ju1 1959, Lundell 16318 (LL, US). Huehuetenango: Ixcan to Rio Ixcan, Sierra de los Cuchumatanes, 23 Jul 1942, Steyermark 49292 (F, GH). ALTA VERAPAZ: Chama, 1 Aug 1920, H. Johnson 475 (US); Cubilgiiitz, 3 Mar 1942, Steyermark 44548 (F). IZABAL: Virginia to Lago Izabal, Montana 1940, Steyermark 38709 (F); Eximbal, Lago Izabal, 9 May 1966, Jones & Facey 3359 (NY, US). BRITISH HONDURAS. Cockscomb Mountains, 10 Jun 1930, Schipp S-104 (MICH); Valentin, El Cayo District, Jun-Jul 1936, Lundell 6226 (MICH); 3 Aug 1936, s n (MICH); Edwards Road beyond Columbia, 2 Mar 1948, Gentle 6455 (LL, US); 27 Mar 1951, 7252 (LL). HONDURAS. CORTES: Rio Lindo source, 28 Dec 1946, Williams & Molina 11399 (GH). COMAYAGUA: Pito Solo, Lago Yoyoa, 17 Apr 1945,J. V. Rodriguez 2901 (GH). YORO: Pena Blanca, Rio Lindosource, 10 Dec 1946, Allen 3881 (MO, US). ATLANTIDA: Tela, Lancetilla Valley, 1927-28, Standley 53305 (US);55436 (GH, US); 54618 (US); Jun-Jul 1929, Chickering 123 (MICH); La Ceiba, 30 Ju1 1938, Yuncker et al 8730 (GH). COSTA RICA. PUNTARENAS: Cascajal, Ju1 1949, Holm & Iltis 223-A (US). CARTAGO: Pejivalle, Feb 1926, Standley & Valerio 47285 (US); Turrialba, 1947, DeWolf 281 (US).

1005. Tillandsia filifolia n.sp. Schlechtendal & Chamisso, Linnaea 6: 53. 1831
Folia pseudo-radicalia rosulata creberrima, a latiori subvaginante basi setaceo-filiformia, subcarinata, inferne saltem canaliculata, patentissima, subrecurva, arida, lepido-squamosa, cinerascenti-argentea, 8-10 poll. lomga. E foliorum medio caespite prodit caulis florifer, apice ramosus; foliis brevior, gracilis, ex toto glaber et bracteis vaginantibus membranaceis, acumine brevi setiformi terminalis, inter se remotiusculis, glabris obtectus; ramis ramulisque flexuosis; bracteis alternis subdistichis ellipticis acutis nervosis glabris vix 4- lin. lomgis. Flores non vidimus. Capsula matura bractea plus duplo longior, glabra. Species insignis trichoideis et gracili caule spicis laxis racemosis terminato.
- - Hacienda de la Laguna. Sept.
---
Updated 31/12/22
---