Tillandsia ferreyrae
Click thumbnails for full size, scaled to a new window.
---
Tillandsia ferreyrae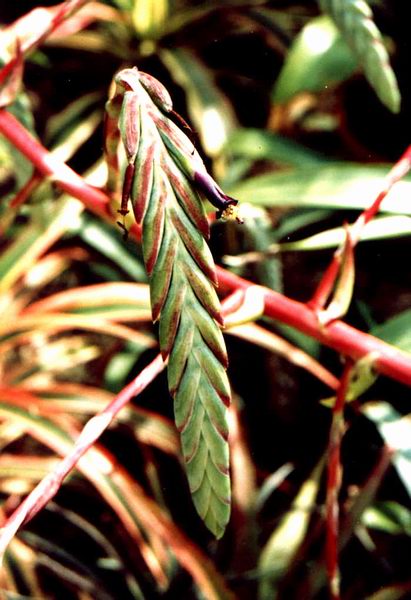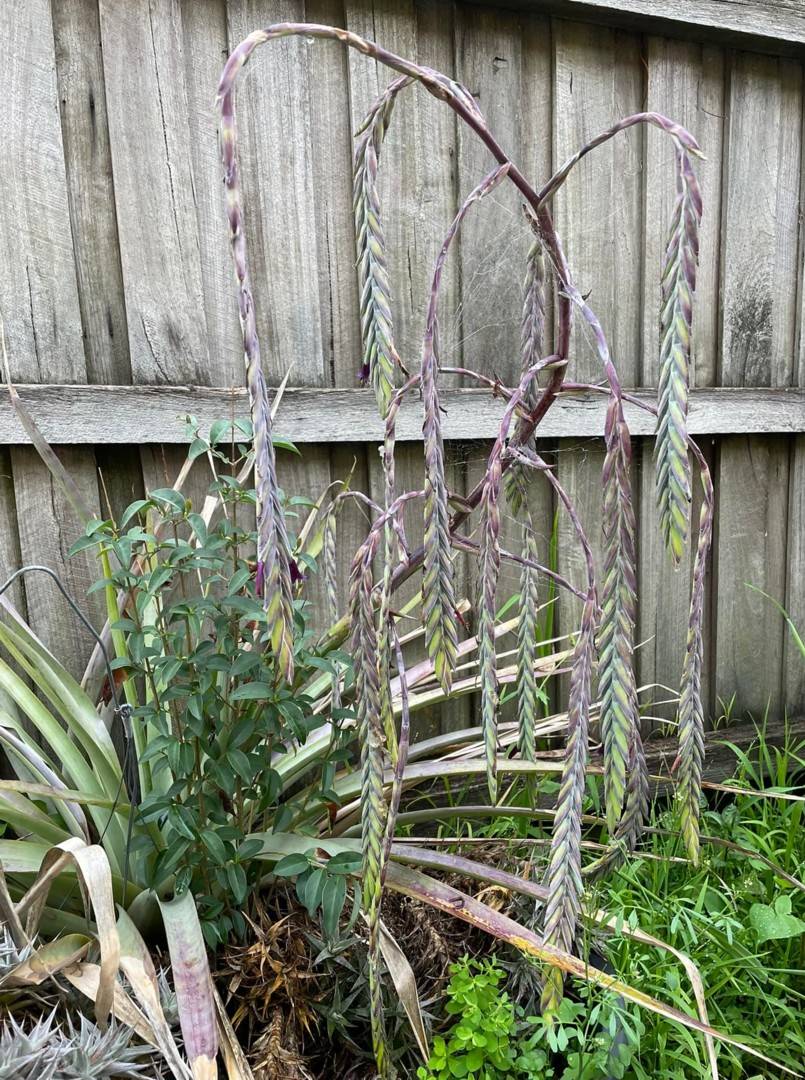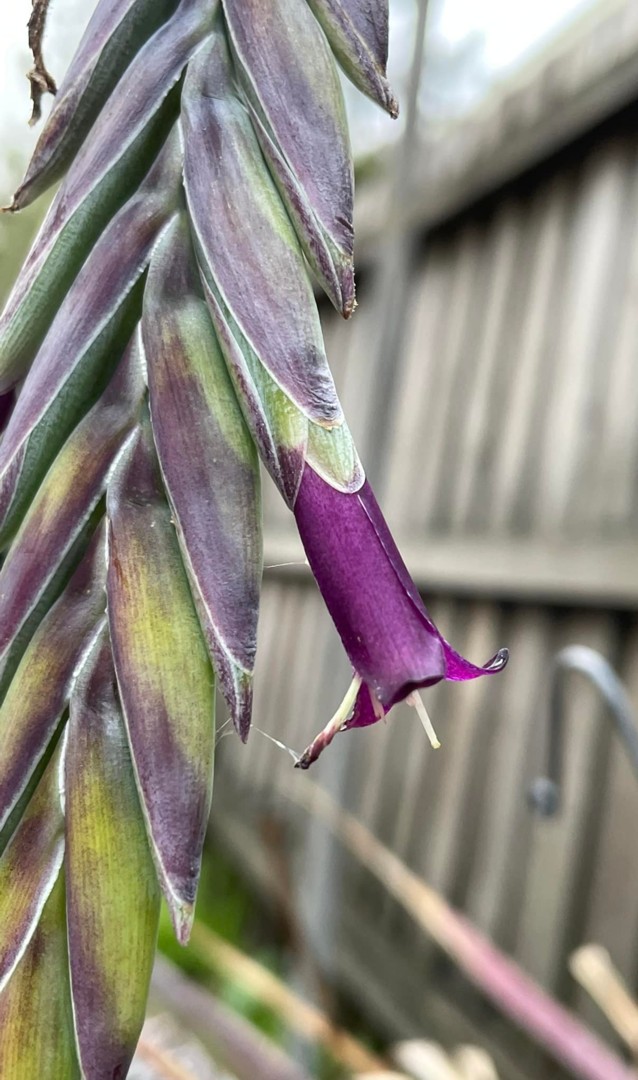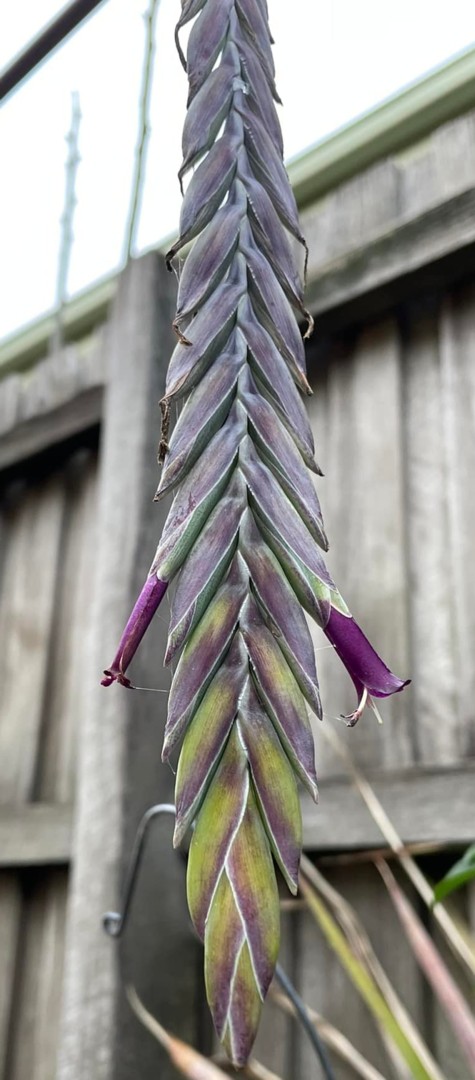 | | |
| --- | --- |
| Peter Tristram <2017 | Bruce Dunstan 08/22 |
Peter Tristram ... "Years ago T. ferreyrae was in the mix of Andean species on offer (usually not as that though) and it is a large, semi-xeric, tank species with typical flowers of the Andean tanks like rauhii - large, almost black flowers with stigma and stamen pretty-well equal to the petals. I doubt too many ferreyrae are around now to play with as it doesn't seem to pup at any stage of growth, unless someone has it growing from seed (I hope so!).
The only scanned pic I have in my library of one I bloomed, is attached."
Chris Larson, 2022 ... "A hardy plant. Full sun in Melbourne summer - cold and wet this winter. Its been in full flower for at least 6 months."
---

Tillandsia ferreyrae L. B. Smith, Publ. Mus. Hist. Nat. "Javier Prado" Univ. Nac. Mayor San Marcos Ser. B, 16: 5, figs. 9-11. 1964.
Desc from S&D p966
Plant flowering 1.5-2 m high.
Leaves 1 m long (?);
Sheaths ample, dark castaneous;
Blades narrowly triangular, attenuate, 10 cm wide, flat, covered with pale appressed scales.
Scape unknown.
Inflorescence very lax, subtripinnate (lowest branches divided), ample, glabrous;
Primary bracts ovate, 35 mm long, much shorter than the laxly bracteate sterile bases of the branches;
Branches subspreading, slender, to 4 dm long;
Spikes linear, to 2 dm long, 3 cm wide, sublax, many-flowered, strongly complanate;
Rhachis slightly flexuous, 4 mm wide, strongly winged.
Floral bracts divergent, about 3 times as long as the internodes but not covering the rhachis at all, oblong, obtuse, over 3 cm long, about equaling the sepals, ecarinate, probably fleshy, strongly rugose-sulcate when dry;
Flowers subsessile.
Sepals free, elliptic, obtuse, 30 mm long, ecarinate, strongly nerved when dry; only very immature petals and stamens known.
Type. Ferreyra 14445 (holotype US, isotype USM), below Chachapoyas, Amazonas, Peru, 19 May 1962.
DISTRIBUTION. Rocky slopes and cliff faces, 1900-2000 m alt., Amazonas, Peru. PERU. AMAZONAS: Chachapoyas: Rio Utcubamba Valley, 7 Aug 1962, Soukup 4967 (US); Tingo to Ubilon, 20 Aug 1963, Ferreyra & Acleto 15266 (US, USM), 15 km south of Tingo, 24 Jun 1964, Hutchison & Wright 5845 (UC, US).
---
Updated 08/09/22
---