Tillandsia fendleri
Click thumbnails for full size, scaled to a new window.
---
Tillandsia fendleri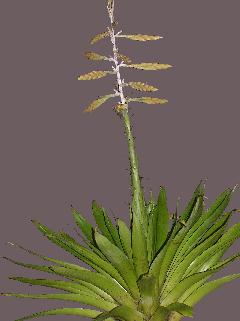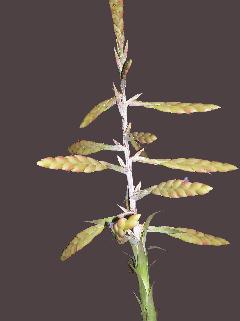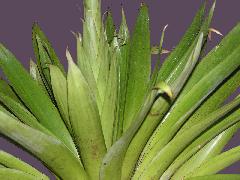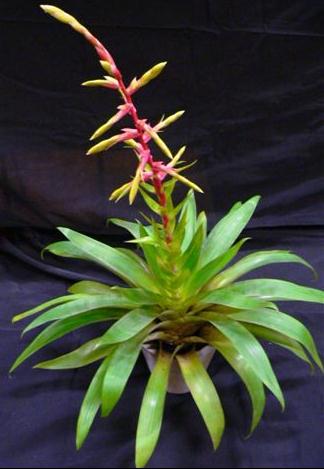 | | |
| --- | --- |
| Ken Woods. Grown by Michael Feranczi. | Brom Soc Victoria Spring Show 2007. |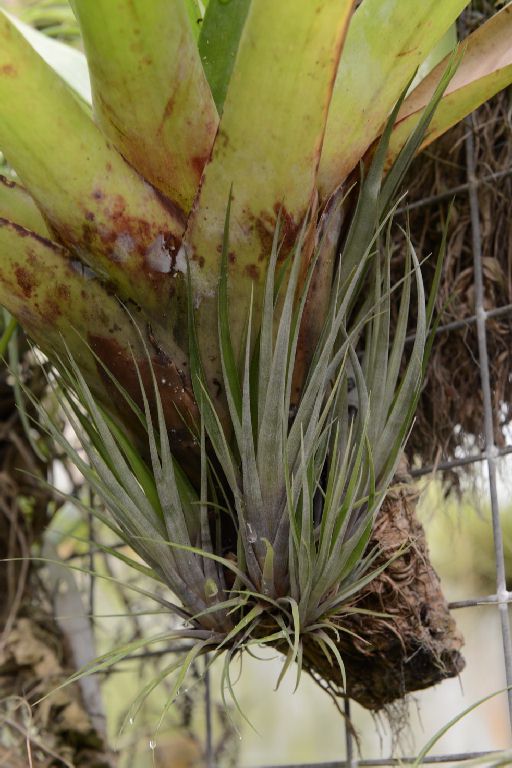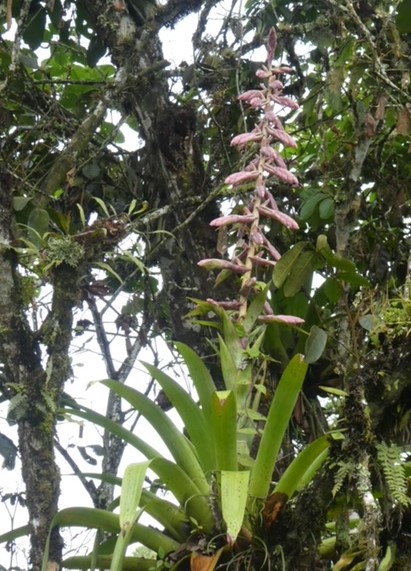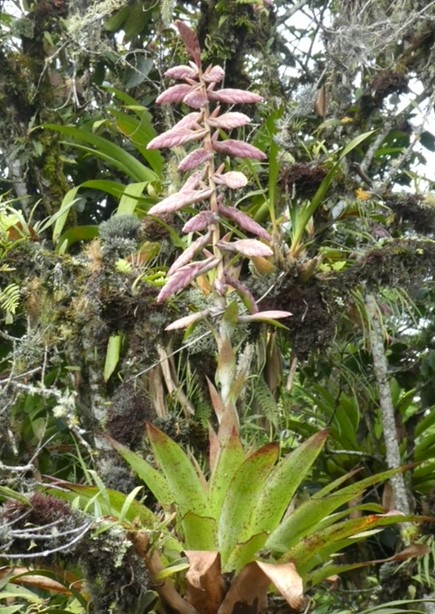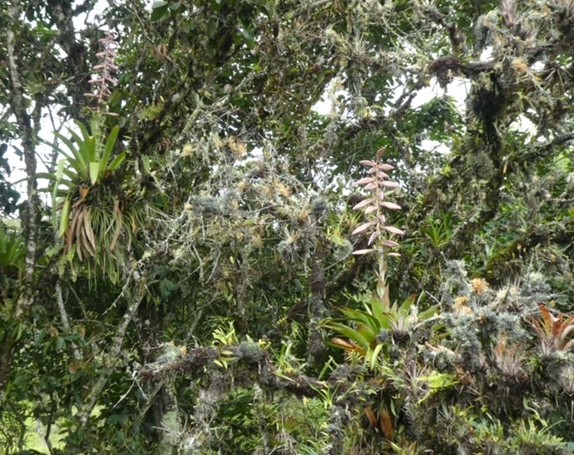 | | |
| --- | --- |
| Peter Tristram 04/14 | Bruce Dunstan 05/22 "between Pasto and Popayan" |
Peter Tristram ... "Like many supposedly monocarpic(no pups) Tillandsias, T. fendleri sometimes gives adventitious pups. This clone I call my pupping clone for obvious reasons. It was collected near Aguas Calientes down the hill from Machu Picchu along with some others that have all bloomed and died as far as I know. My oldest adventitious pups are also pupping. Clones and forms vary so much which is why I am always importing more of the same species BUT different clones/forms hopefully. This also is the only way of setting seed with many species too, assuming they simultaneously bloom."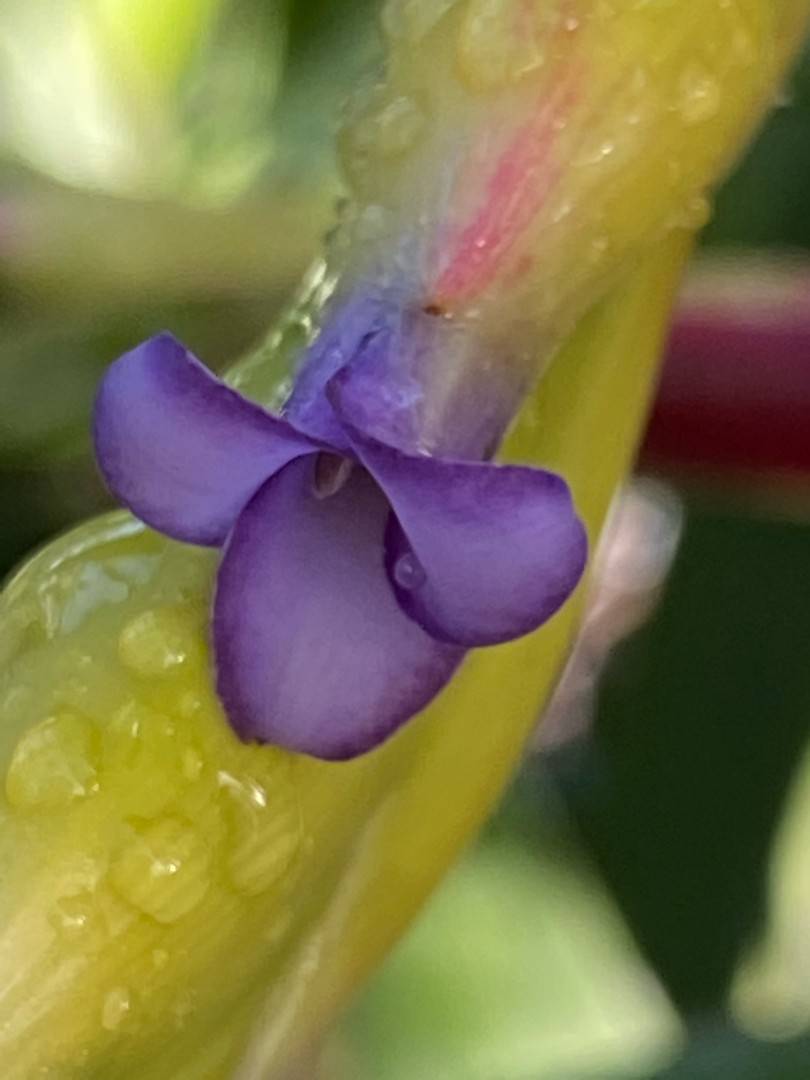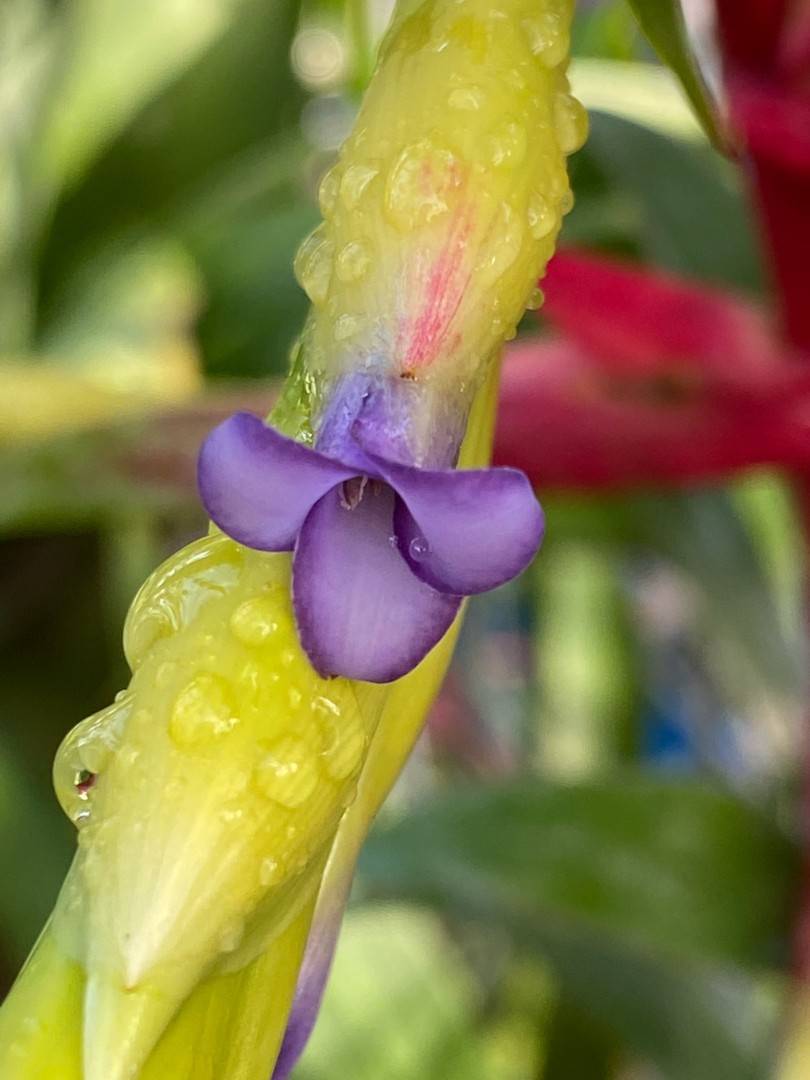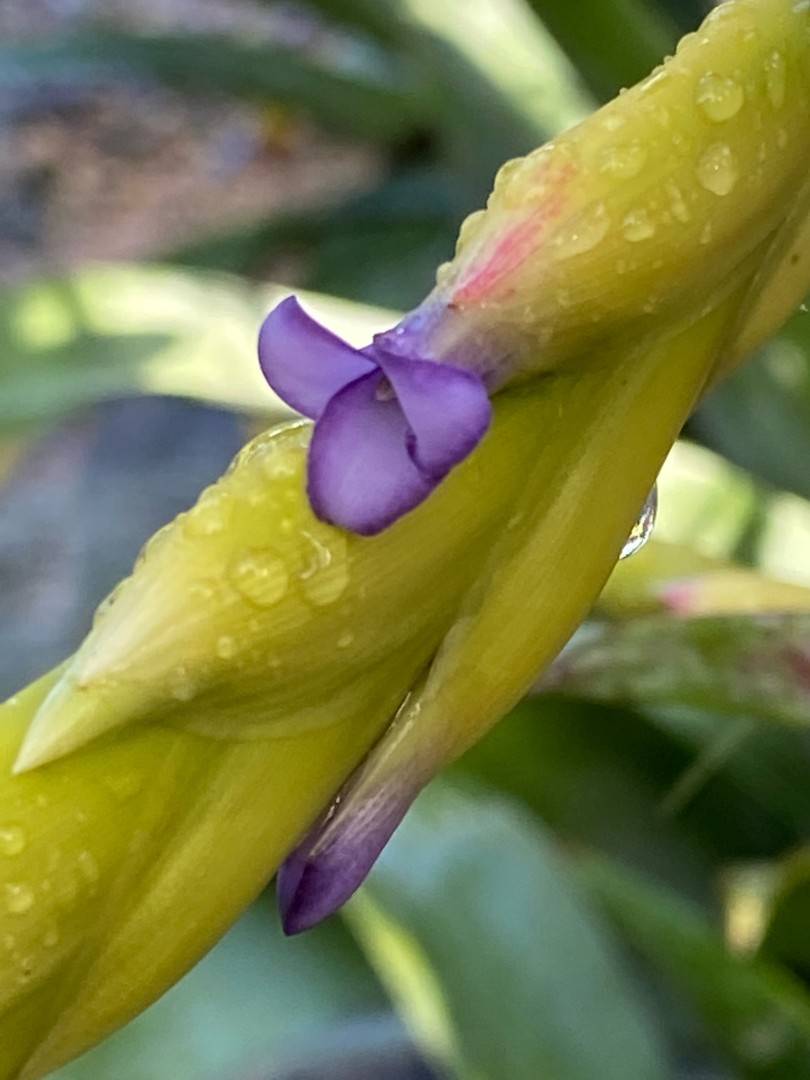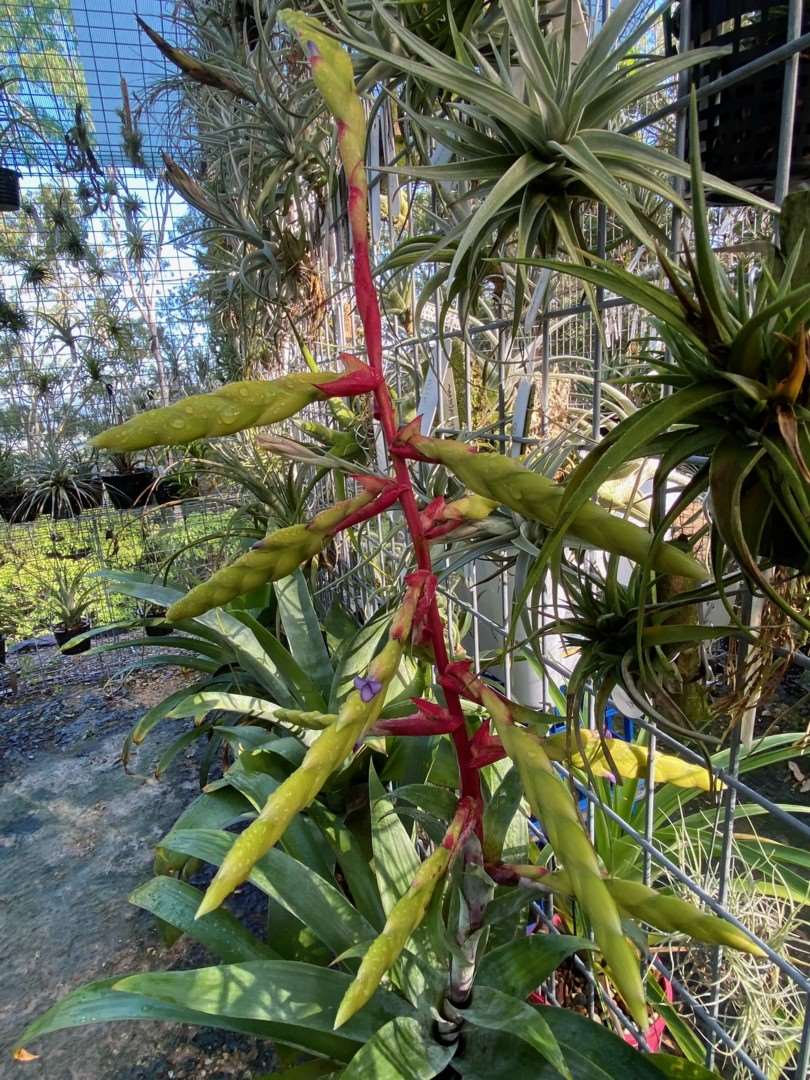 ---
Tillandsia aff. fendleri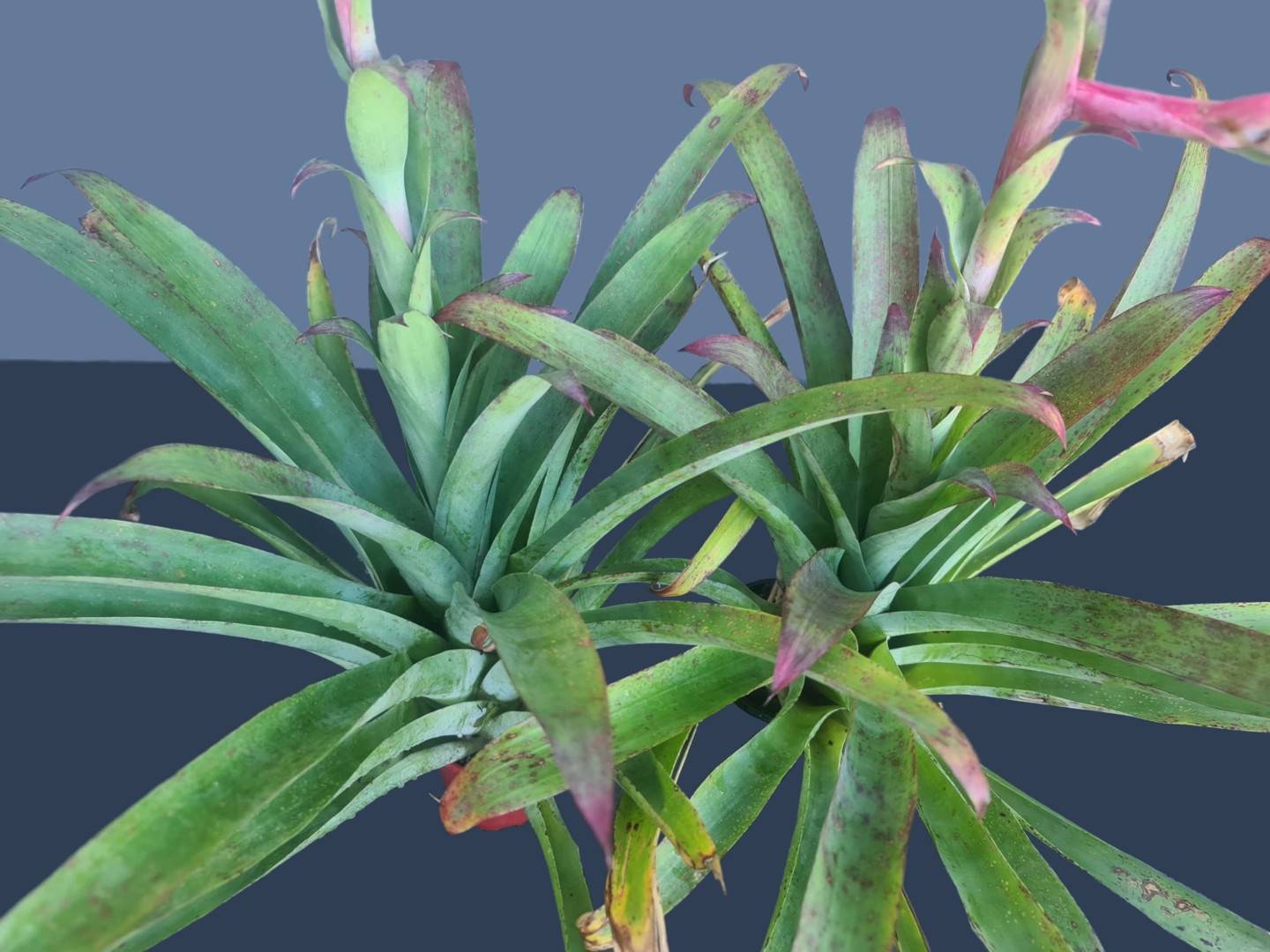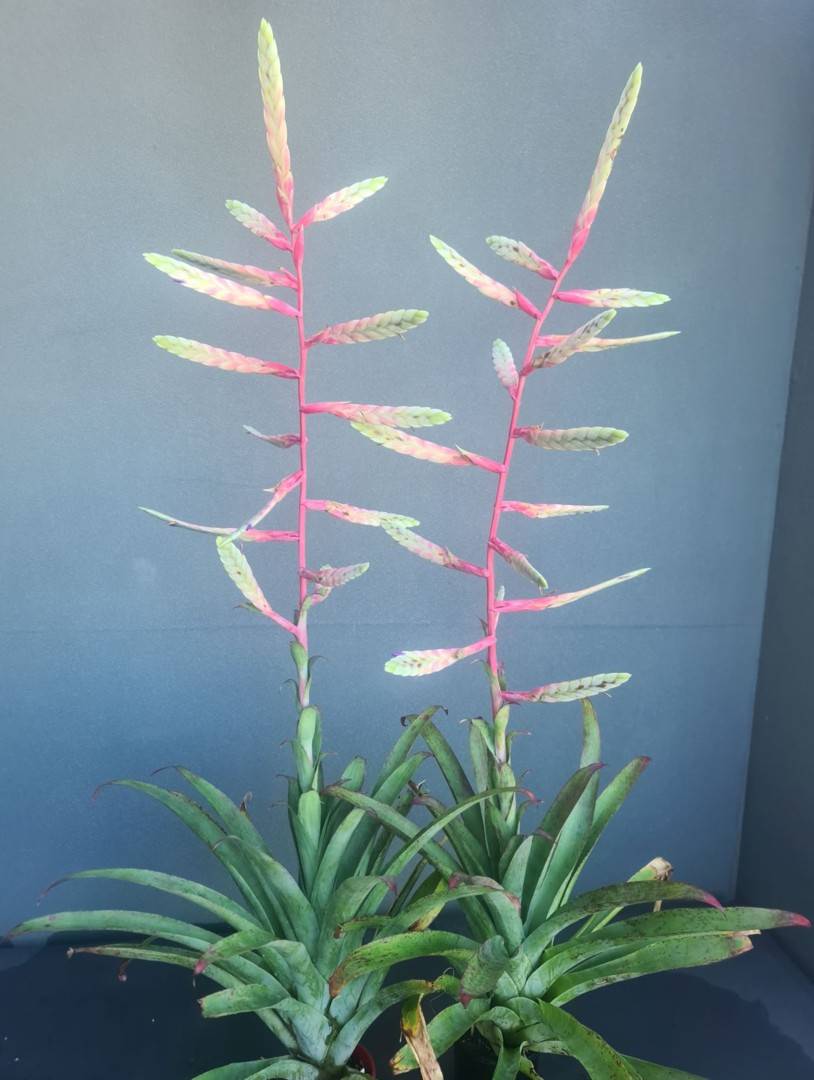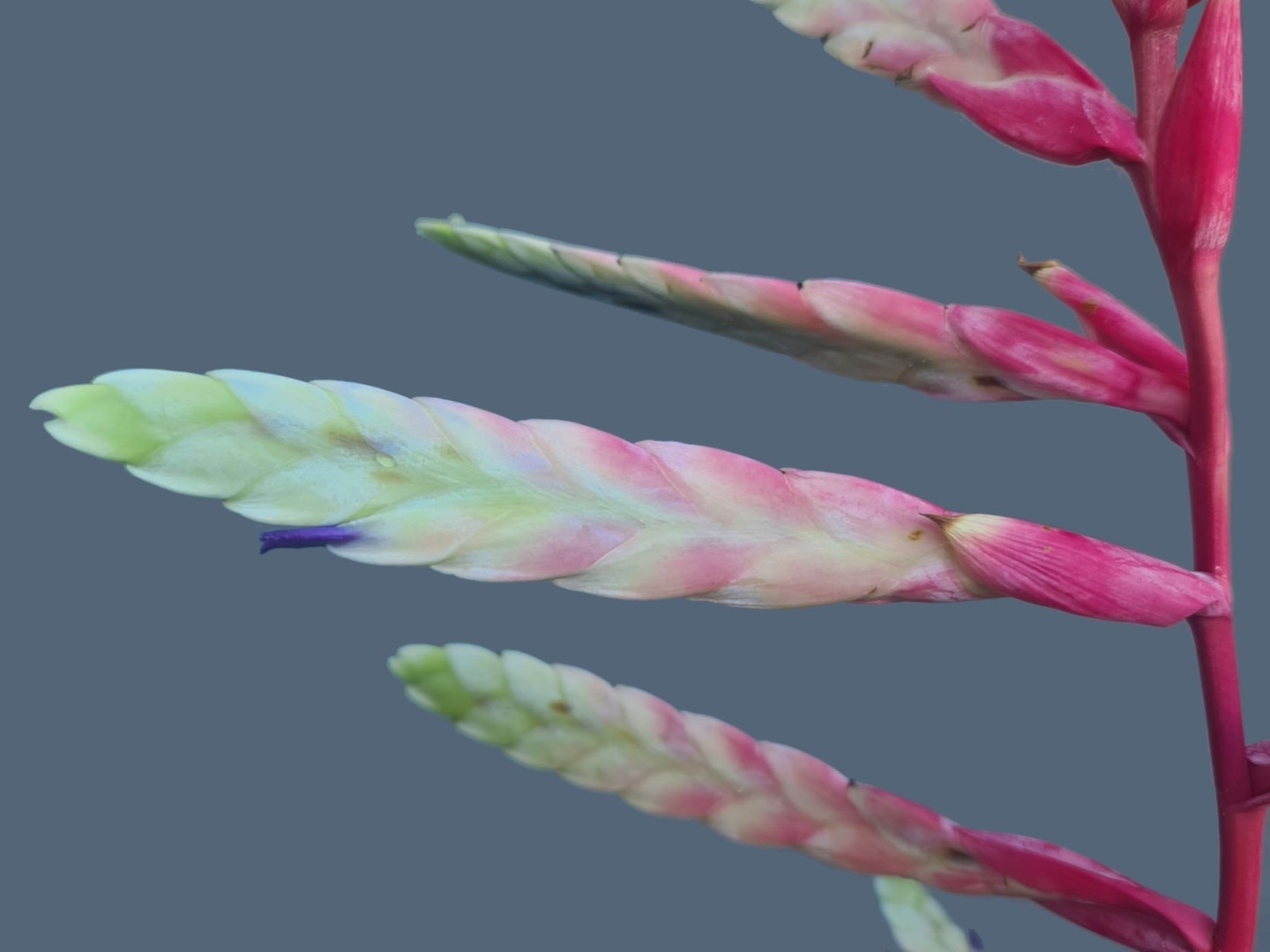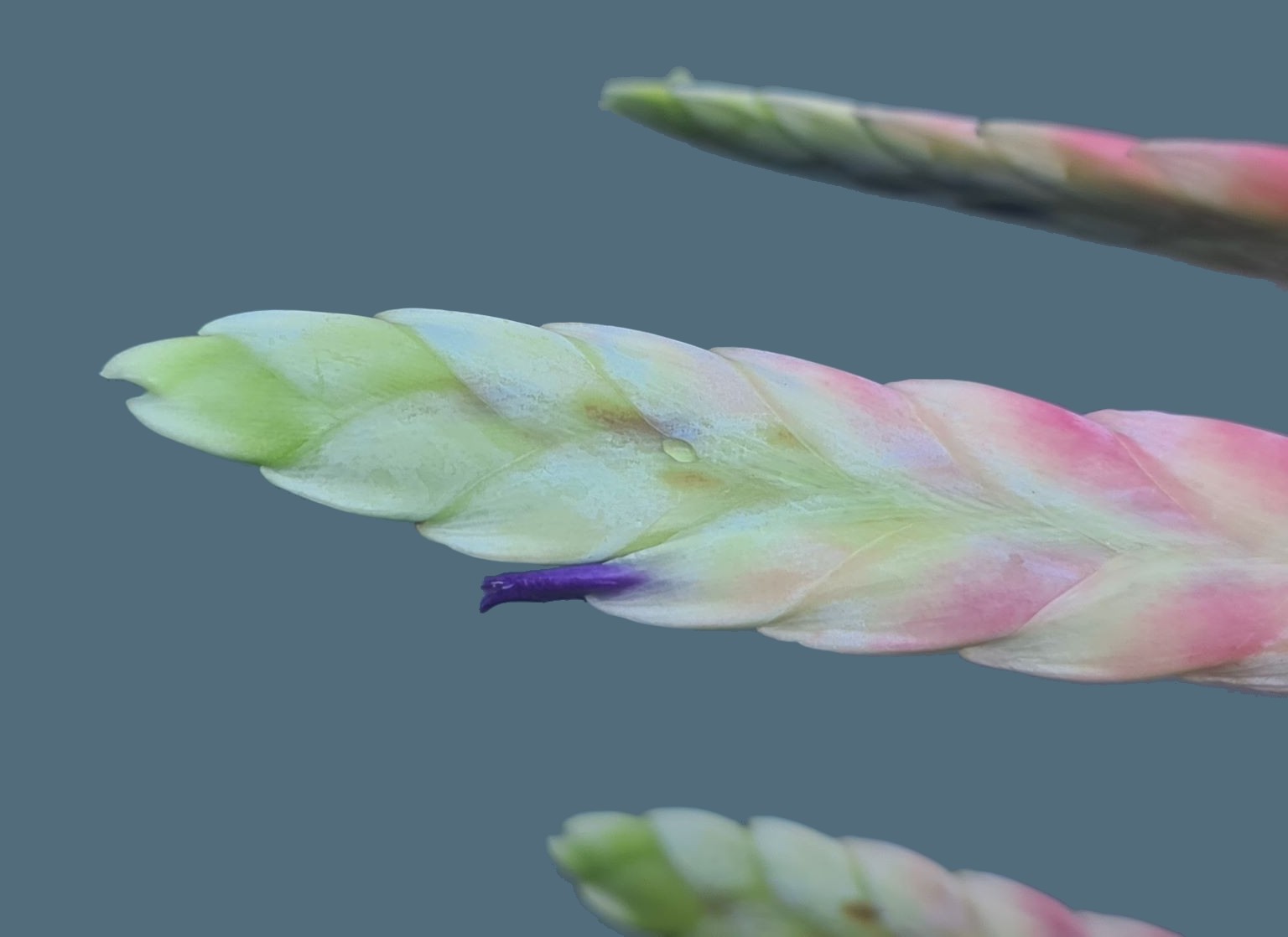 Barry Langridge 04/22 aff. fendleri

Barry Langridge ... "Just sharing a couple of Tillandsia aff. fendleri which are putting on a show at the moment."
Chris Larson ... "Nice flowering Barry. Is this in the warm or out in the cold?
Imported by Peter Tristram & I from Colombia.
Peter, this needs a name as it is going around under different names. Are we calling it T. aff. fendleri 'Pink Paddles' ? And who is going to register it?"
Barry Langridge ... "Thanks Chris, these have been grown hard outside, getting direct morning sun. I moved them into the greenhouse when the spikes came out a couple of months ago, seems to be a pretty tough plant and definitely stands out when in flower."
Peter Tristram ... "Love the pics! Such a great horticultural acquisition in the ever expanding fendleri group.
However I am not in favour of registering this species as a cultivar yet. It could well get described soon. If we eventually need a cultivar name, 'Pink Paddles' is too akin to the cyanea hybrids imo. I'd prefer something with a Colombian 'lilt'."


---

Tillandsia fendleri Grisebach, Nachr. Ges. Wiss. Gott. "1864": 17. 1865.
Desc. from S&D p676-8
Plant stemless, flowering 1-2 m high.
Leaves many in a dense crateriform rosette, 6-10 dm long;
Sheaths subelliptic, inconspiciious, 1-3 dm long, very densely brown punctulate-lepidote; Blades ligulate, triangular-acuminate, up to 8 cm wide, flat, nearly or quite glabrous, sometimes glaucous at base. Scape erect, stout;
Scape-bracts erect, densely imbricate, foliaceous, very inconspicuously punctulate-lepidote.
Inflorescence with primary bracts like the upper scape-bracts, much shorter than the axillary branches but much larger than the floral bracts;
Spikes lanceolate, acute, complanate, densely 6-many-flowered, 1-3 dm long, 5 cm wide, often spreading or recurved, more or less stipitate with reduced sterile bracts at base. Floral bracts narrowly obovate, keeled toward apex, glabrous, even, coriaceous and rigid at least after anthesis, about equaling the sepals;
Flowers erect, short-stipitate.
Sepals oblong-lanceolate, acute, 25-45 mm long, carinate, equally subfree;
Petals slightly exceeding the stamens, blue at apex.

Tillandsia fendleri var. fendleri
Tillandsia excelsa var latifolia Grisebach, Nachr. Ges. Wiss. Gott. "1864": 17. 1865. Type. Colonia Tovar, Aragua, Venezuela, Fendler 1516 (GH, GOET), 7 May 1855.
Tillandsia incurvata Wright ex Sauvalle, Anal. Acad. Ci. Habana 8: 54. 1871; as to material cited not as to basionym. Based on Wright 1522 (GH, US), Monte Verde, Oriente, Cuba.
Tillandsia kalbreyeri Baker, Jour. Bot. London 26: 45. 1888. Type. Ocana to Pamplona, Norte de Santander, Colombia, Kalbreyer 1013 (K, GH photo).
Tillandsia paniculata β fendleri (Grisebach) Mez, DC. Monogr. Phan. 9: 703. 1896.
Tillandsia bangii Baker, Mem. Torrey Club 6: 124. 1896. Type. Cochabamba, Bolivia, Bang 1283 (F, G, GH, US), 1891.
Tillandsia rubra sensu L. B. Smith, Contr. Gray Herb. 95: 46. 1931; non Ruiz & Pavon, 1802.
Tillandsia rubra var fendleri (Grisebach) Mez, Pflanzenreich IV. Fam. 32: 458. 1935.
Tillandsia deppeana var latifolia (Grisebach) L. B. Smith, Phytologia 5: 394. 1956.

Plant flowering 1-2 m high.
Inflorescence lax, amply 2-3-pinnate.
Type. Fendler 1515 (holotype GOET, US photo), Caracas to Colonia Tovar, Venezuela, 23 Aug 1855.
DISTRIBUTION. Epiphytic in forest, 360-2900 m alt, Greater Antilles, northwestern South America.
CUBA. LAS VILLAS: Buenos Aires, Trinidad Hills, 12 Apr 1929, Jack 7293 (GH, NY); 11 Mar 1930, 7791 (AA); Pico Potrerillo, 9 Apr 1940, Acuna 11124 (F, SV). ORIENTE: La Clarita, Apr 1889, Eggers 5201 (US); Sierra Maestra, Punta Palmamocha, 19 Apr 1915, Ekman 5592 (S); Alto de Iberia, Sierra Maestra, 11 Nov 1916, Ekman 8289 (S); Pico Turquino, 21 Jul 1922, Ekman 14500 (S); Jun 1936, Acuna 10018 (SV); Sierra de Nipe, 23 Sep 1922, Ekman 15210 (S); Apr 1941, Leon et al 20039 (GH); Oct 194I, Morton & Acuna 3209 (US). JAMAICA. ST. ANDREW: Blue Mountains, 17 Apr 1894, Harris in Herb. Jam. 5142 (G, GH); Clydesdale, Chestervale, Sep 1908, E. C. Britton 3802 (NY, US); 3 Jul 1952, Laessle 12 (IJ); Newcastle, 16 Jan 1967, Read 1755 (US); 1756 (US); Clyde River above Yallahs River, 21 Apr 1964, Proctor 24812 (IJ, US). HAITI. Marigot, Massif de la Selle, 25 Aug 1924, Ekman H-1644 (S, US); Gras Morne, Massif du Nord, La Brande, 25 Sep 1925, Ekman H-4905 (S); Mornedes Commissuires, 15 Aug 1944, Holdridge 1925 (US). REPUBLICA DOMINICANA. Piedra del Aguacate to Rio del Oro, San
uan, 9 Oct 1946, Howard 9337 (GH); 9375 (GH, US). Rio Grande, Valle Nueva, La Vega, 16 Jul 1955, Jimenez 3004 (US); Monteada Nueva, 9 Apr 1963, Jimenez 4636 (US). COLOMBIA. MAGDALENA: Santa Marta, Aug 1946, Foster & Smith 1431 (GH). NORTE DE SANTANDER: Toledo, Mar 1927, Killip & Smith 20075 (US). SANTANDER: Mesa de los Santos, eastern Cordillera, Dec 1926, Killip & Smith 15207 (GH, US); 17
une 1953, Langenheim 3030 (UC). ANTIOQUIA: Los Alpes,
an 1942, Daniel 2705 (GH, US); La Ceja, 21
ul 1944, Daniel 3254 (GH); Santo Domingo, 7 May 1949, Scolnik, Molina & Barkley 19-An-430 (US). CUNDINAMARCA: Bogota, Ariste-Joseph s n (US); Fusagasuga, 12 Oct 1946, Foster 1869 (COL, GH, US); Ubate, 18 May 1952, Koie 4548 (C); Bogota to Villeta, 13 Jan 1953, Weber 103 (MAINZ). TOLIMA: Libana, Dec 1917, Pennell 3402 (US); Fresno, Jul 1965, King, Cuevara & Forero-G. 6010 (F, US). VALLE: Cartago to Naranjo, Mar 1876, Andre 1690 (F); Restrepo, 5 Jul 1962, Robinson 39 (CGE, US). CAUCA: La Capilla, Popayan, 24 May 1944, Killip 38468 (COL, GH, US); La Hoyola, 20 Sep 1958, 1drobo, Pinto & Bischler 3565 (P); San Francisco, 23 Sep 1968, Espinal & Ramos 2758 (US, VALLE); Piendamo, 14 Oct 1968, Espinal & Ramos 3042 (US, VALLE). META: Sierra de la Macarena, 30 Dec 1949, Philipson & Idrobo 2000 (BM, COL, US). PUTUMAYO: Umbria, 28 May 1935, Carcia-Barriga 4440 (COL, US). VEN¬EZUELA. SUCRE: Rio Amana, Cerro del Diablo to Cerro de Neveri, May 1945, Steyermark 62751 (F, GH). MIRANDA: Caugaguito, Petare, 8 Oct 1963, Steyermark 91637 (US, VEN). DISTRITO FEDERAL: east-northeast of Colonia Tovar, 21 May 1961, Steyermark 86222 (US, VEN). ARAGUA: Las Tejerias to Tiara, 4 Nov 1962, Steyermark & Farinas 91437 (US, VEN). CARABOBO: Rio San Gian, Borburata, 31 Mar 1966, Steyermark 95381 (VEN). YARACUY: Agua Negra, 19 Mar 1937, Pittier 13950 (F, US). FALCON: Sierra de San Luis, Montana de Paraguariba, 21 Jul 1967, Steyermark 99365 (VEN). ZULIA: Kuana to Perija, 23 Dec 1950, Gines 1166 (VEN); Perija, Dec 1950, Gines 1933 (US); 1982 (US). MERIDA: La Trampa, 28 Apr 1944, Steyermark 56193 (F, GH); La Azulita to Ejido, Apr 1950, Velasco & Ramia 616 (VEN); 633 (VEN); La Mucuy, Apr 1952, Gines 4627 (US); Jaji, Aug-Sep 1966, Steyermark & Rabe 97074 (US, VEN). BOLIVAR: Auyan-tepui, 1938, Tate 1275 (GH, NY); Apr 1956, Vareschi & Foldats 4658 (VEN); May 1964, Steyermark 93255 (US, VEN); Ptari-tepui, Nov 1944, Steyermark 59732 (F, GH); 59911 (F, GH); Gran Sabana, 1955, Steyermark & Wurdack 606 (F, NY); Chimanta-tepui, May 1953, Steyermark 75008-A (F); 75446 (F, NY, US); El Dorado to Santa Elena, 29 Dec 1956, Foldats 2677 (VEN); Cerro Venamo, 1 Jan 1964, Steyermark & Dunsterville 92519 (US, VEN). AMAZONAS: Cerro Sipapo, 12 Jan 1949, Maguire & Politi 28313 (NY, US); Cerro Duida, 1969, Farinas, Velasquez & Medina 414 (US, VEN). TRINIDAD. Morne Bleu, 7 Feb 1922, Freeman s n (TRIN); Maracas, Broadway 5363 (F, K, MO); 5366 e p (MO); 29 Mar 1931,7459 (GH); Blanchisseuse road, 26 Jan 1930, Broadway 7462 (GH, MO, S, US); 17 Apr 1964, Aitken s n (US); Cumaca, 23 Jun 1954, Downs s n (TRIN, US); Aripo Valley, 1942, Pittendrigh 1074 (US); 1943, 1219 (US). GUYANA. ESSEQUIBO: Kaieteur, Aug 1954, Charles 13 (K). ECUADOR. LOS RIOS; west of Balsabamba, Rio Cristal, 24 Oct 1933, Schimpff 293 (GH, MO). NAPO: Mera, Mangayacu, 5 Mar 1956, Asplund 19604 (S, US). PERU. CAJAMARCA, Contumaza: Cerro Chungarran, Guzmango, 1 Aug 1960, Sagastegui 3389 (TRP, US). HUANUCO: Yanahuanca, Jun 1922, Macbride & Featherstone 1255 (F, GH); Huanuco, 14 Oct 1938, Stork & Horton 9384 (F); s d, Rauh 21137 (US); Ambo to San Rafael, 7 Sep 1940, Asplund 13495 (S, US); Viroy, Ambo, 18 Jun 1953, Ferreyra 9221 (US, USM). JUNIN: Tarma to San Ramon, 23 May 1955, Ferreyra 11036 (USM). Cuzco; Cuzco, Aug 1928, Herrera 2037 (F, US); Pillahuata to Tambomayo, 25 Jan 1945, Vargas 4939 (CUZ); Rosario Mayo, La Convencion, 16 Oct 1968, Chavez 308 (CUZ, US). BOLIVIA. LA PAZ, Sur yungas: Asunta, Evenay, Jul 1939, Krukoff 10568 (F, GH, NY, US). COCHABAMBA, Chapare: Antahuacana, Espiritu Santo, Jun 1909, Buchtien 2224 (US), BRAZIL. AMAZONAS: Rio Maturaca, Rio Cauaburi, Serra da Neblina, 16 Dec 1965, Silva & Brazao 60654 (F, NY, US).

Detail from Baker 1889
228. T. KALBREYERI Baker in Journ. Bot. 1888, 46.
Leaves lanceolate, rigid, subglabrous, pale green, 1.5-2 ft. long, 3-4 in. broad at the dilated base, 2 in. at the middle, narrowed gradually to the point.
Peduncle with panicle 2-2.5 ft. long;
branches many, subsessile, dense-flowered, 5-6 in, long, an inch broad;
flower bracts oblong 1.25-1.5 in. long.
Calyx just protruded beyond the bract.
Petal-blade small, violet.
Hab. New Granada; between Ocana and Pamplona, alt. 3600 ft., Halbreyer
1013 ! Spikes like those of T. fasciculata.

Tillandsia fendleri Grisebach var reducta (L. B. Smith) L. B. Smith, Mem. N. Y. Bot. Gard.14,(3): 48.1967.
Tillandsia rubra Ruiz & Pavon var reducta L. B. Smith, Fieldiana Bot. 28: 151. 1951.
Tillandsia deppeana Steudel var reducta (L. B. Smith) L. B. Smith, Phytologia 5: 395. 1956.

Plant flowering 6-10 dm high.
Inflorescence simple or digitate from a few spikes.
Type. Steyermark 60851 (holotype F), southeastern base of Carraro-tepui, Bolivar, Venezuela, 4-5 Dec 1944.
DISTRIBUTION. Terrestrial and epiphytic in forest, 1200-2600 m alt, Colombia, Ven-ezuela, Ecuador.
COLOMBIA. NORTE DE SANTANDER: Ocana, 20 Sep 1946, Foster 1751 (COL, GH, US). VENEZUELA. TRUJILLO: Humocaro Bajo, 6 Feb 1944, Steyermark 55334 (F). BOLIVAR: Abacapa-tepui, Chimanta Massif, 18 Apr 1953, Steyermark 75126 (F); upper Rio Cuyuni, Luepa, 23 Apr 1960, Steyermark & Nilsson 519 (VEN). ECUADOR. AZUAY: km 11, Cuenca to Loja, 9 Aug 1965, Gilmartin 1109 (US).

Tillandsia fendleri Grisebach, Nachr. Ges. Wiss. Gott. "1864": 17. 1865.
Desc from Flora of the Guianas 1987 by E Gouda.
Plant acaulescent, including inflorescence up to 2 m long, with a dense crateriform or funnelform, ca. 25-60 cm tall rosette of many pale-green leaves.
Leaves thin-coriaceous, (26-)40-100 cm long, often much exceeded by the scape;
Sheaths ample but often not very distinct, merging into the blades, elliptic, broadly convex, 10-34 x (6-)9-15 cm, densely punctulate-lepidote, pale-green, often tinged with red, brownish inside;
Blades arching, ligulate or narrowly triangular-ovate, 15- 75 x 3.5-10 cm, attenuately subacute or acuminate, sparsely and minutely-, or punctulate-lepidote, often soon glabrescent on the upper side, pale green, sometimes glaucous or purple-red spotted.
Inflorescence mostly loosely bipinnate of 10-15 polystichously arranged spikes, but sometimes simple or subdigitate from a few spikes, 0.5 to about 2 m long;
Scape erect, 30-60 cm long, 0.6 to over 1.5 cm in diam., densely covered by its bracts;
Scape bracts erect, densely imbricate, the lower ones often long-laminate, becoming shorter upward, sometimes soon bladeless and then more ovate and acuminate, much exceeding the internodes, glabrescent, pale-green and sometimes reddish at the base; axis elongate, straight or nearly so, subterete, glabrous, yellow-green to reddish;
Primary bracts spreading or reflexed with the branches, the lower ones as the upper scape bracts, the upper ones more ovate, acuminate, mostly exceeding the peduncle of the spikes, yellow to reddish with pale green blade;
Peduncle often decurved, 1-10(-15) cm long (peduncle of the apical spike often elongate and densely bracteate), glabrous, if short then only prophyllate, else entirely hidden by its bracts;
Peduncle bracts as the floral bracts, but polystichous and smaller, imbricate, much ex-ceeding the internodes;
Spikes spreading or sometimes suberect, often subpendulous, oblong to (linear-) lanceolate, complanate, 10-20(-32) x 2.5-4(-6.5) cm, acute, densely and distichously 4-17-flowered, with a few reduced sterile bracts at the base and apex;
Rachis hidden at anthesis, slightly flexuous, angled (rugose when dry), glabrous;
Floral bracts erect, densely imbricate, rigid-coriaceous, with even or finely veined surface toward the apex (when dry), obovate or elliptic, 3-5.5 cm long, 3-5 times as long as the internodes, shorter than, to exceeding the sepals, membranaceous at the margins, rounded and apiculate, more or less (if at all) carinate and strongly incurved at the apex, subglabrous, yellowish to orange-red.
Flowers contiguous, sessile; receptacle obconic, ca. 2 mm long, angled;
Sepals coriaceous, with even or finely veined surface (when dry), oblong, 3-5 cm long, with narrow membranaceous margins, obtuse or broadly acute, somewhat incurved at the extreme apex, free, posterior ones carinate, glabrescent or obscurely appressed lepidote, sparsely and minutely lepidote inside;
Petals ligulate, ca. 4.5 cm long, violet;
Stamens included, unequal, the longest (ca. 3.5 cm) exceeding the pistil by most part of the anthers, anthers basifixed, slender, ca. 1 cm long;
ovary very slenderly ovoid, ca. 1 cm long, attenuate, contracted into the slender style, stigmas linear.
Capsule broadly cylindric, to 5 cm long, about equaling the bracts, attenuate, short-beaked.

NOTE
Date: Mon, 3 Dec 2001
From: "Walter Till"
Subject: AW: Unknown Tillandsia? from Columbia
The plant on the image belongs to the complex of Tillandsia fendleri.
However, T. fendleri typically has a bi-colored inflorescence with the scape bracts and primary bracts red and the floral bracts yellow. I have seen this dull rose 'fendleri type' also in Venezuela (where both plants occur!) and have tended to interpret the rose one as T. superba. Comparison with herbarium specimens of the latter from the original site in Ecuador, however, makes this interpretation unlikely. It seems that more than one species hide under T. fendleri.
---
Updated 26/05/21
---