Tillandsia elvirae-grossiae
Click thumbnails for full size, scaled to a new window.
---
Tillandsia elvirae-grossiae
Mexico.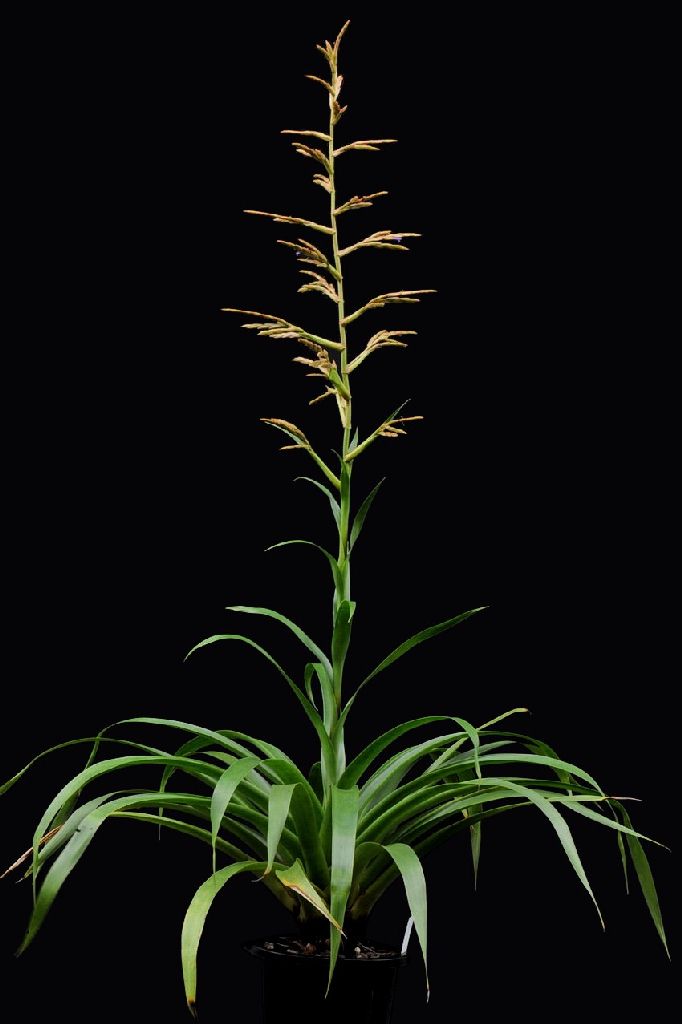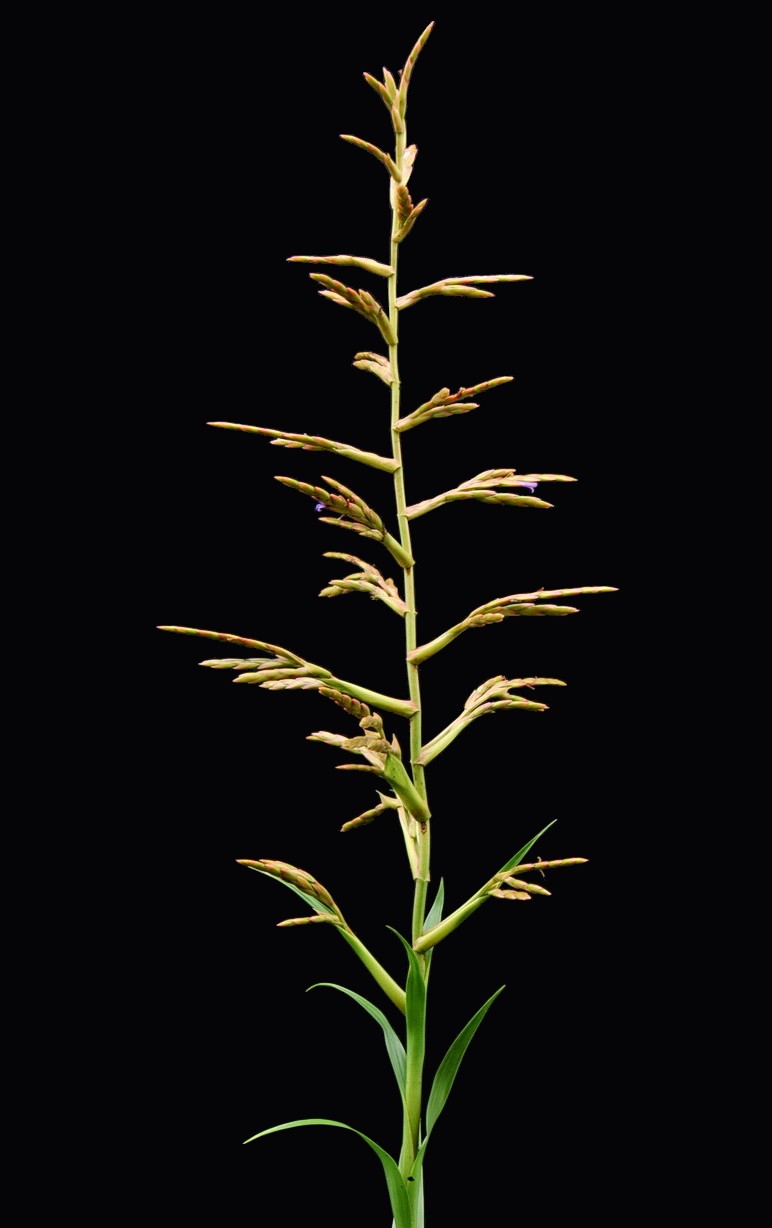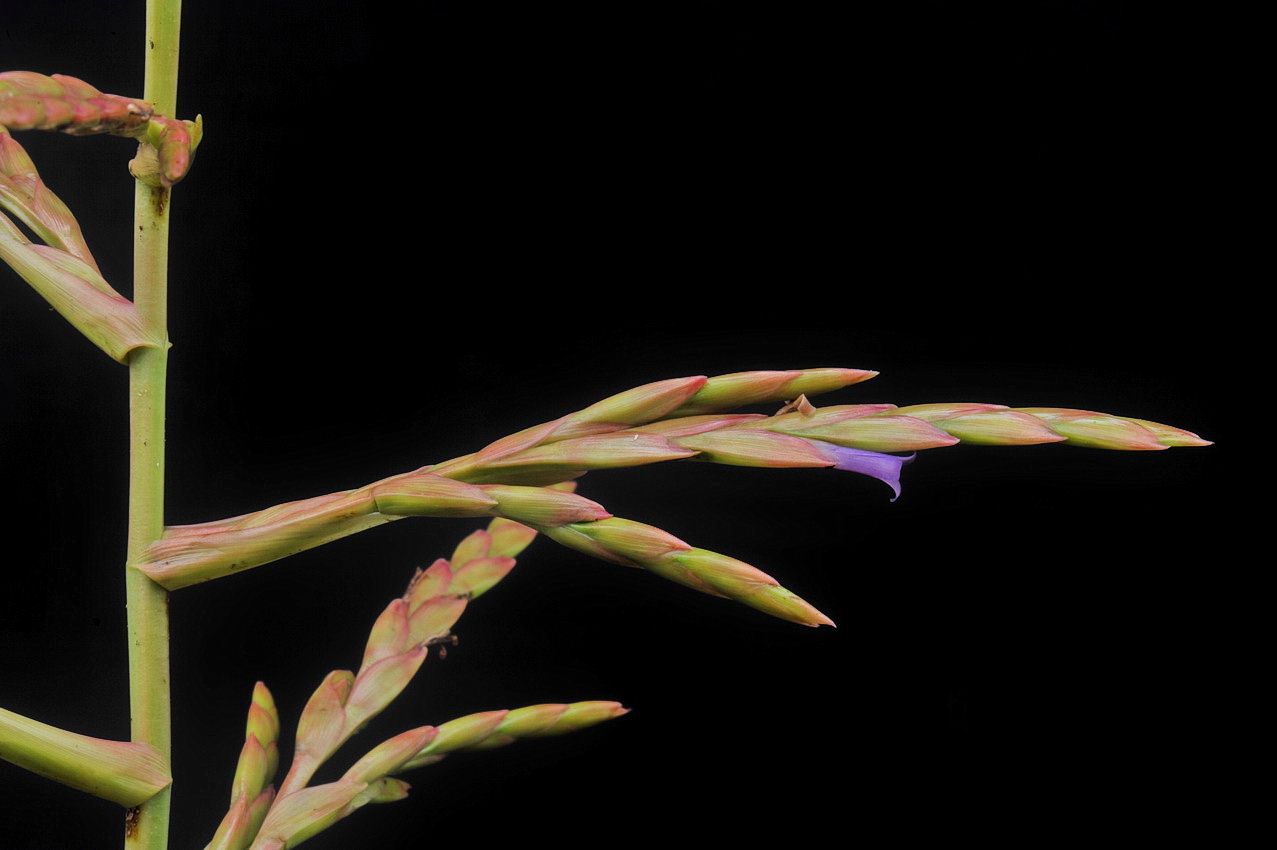 05/14. I bloomed this interesting, relatively small tank Till a couple of years ago and I think have figured out its identity. Itís one of Jeff Kentís collections from Peru (misnamed). It is easy to grow though fairly slow and is producing pups, always a bonus! I think, grown under more direct light than the fairly shady conditions I grew it under, the inflorescence would really colour up, in much the same way as T. guatemalensis does.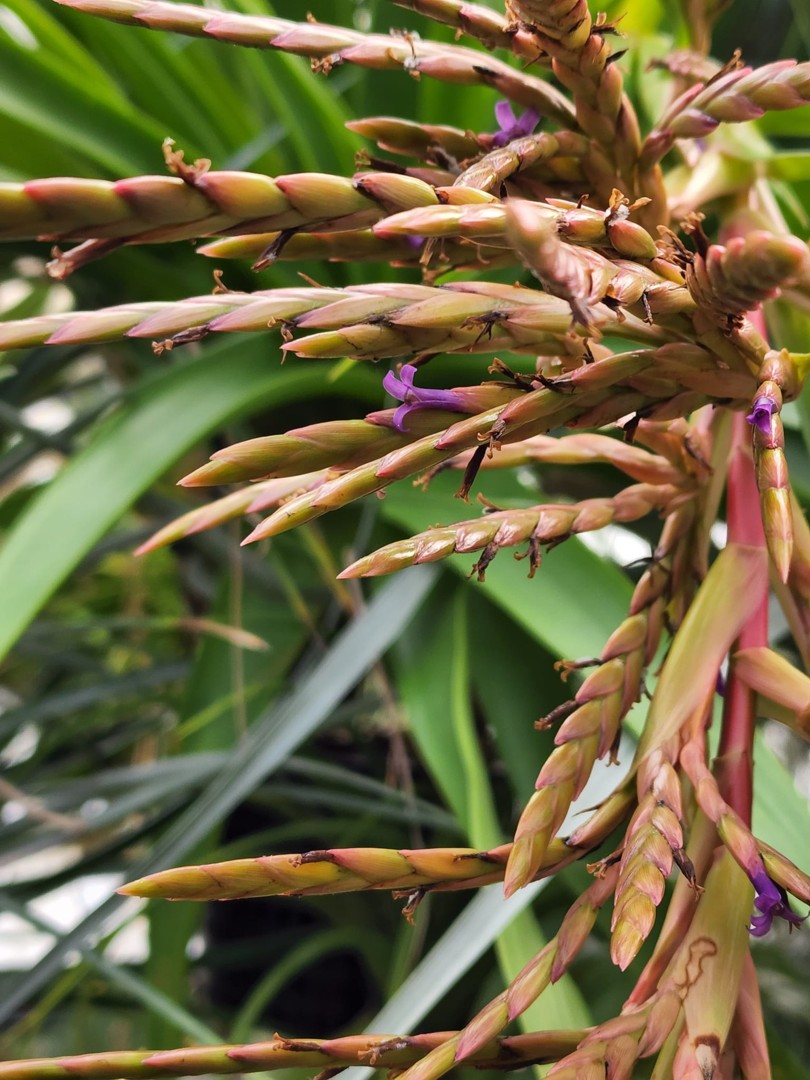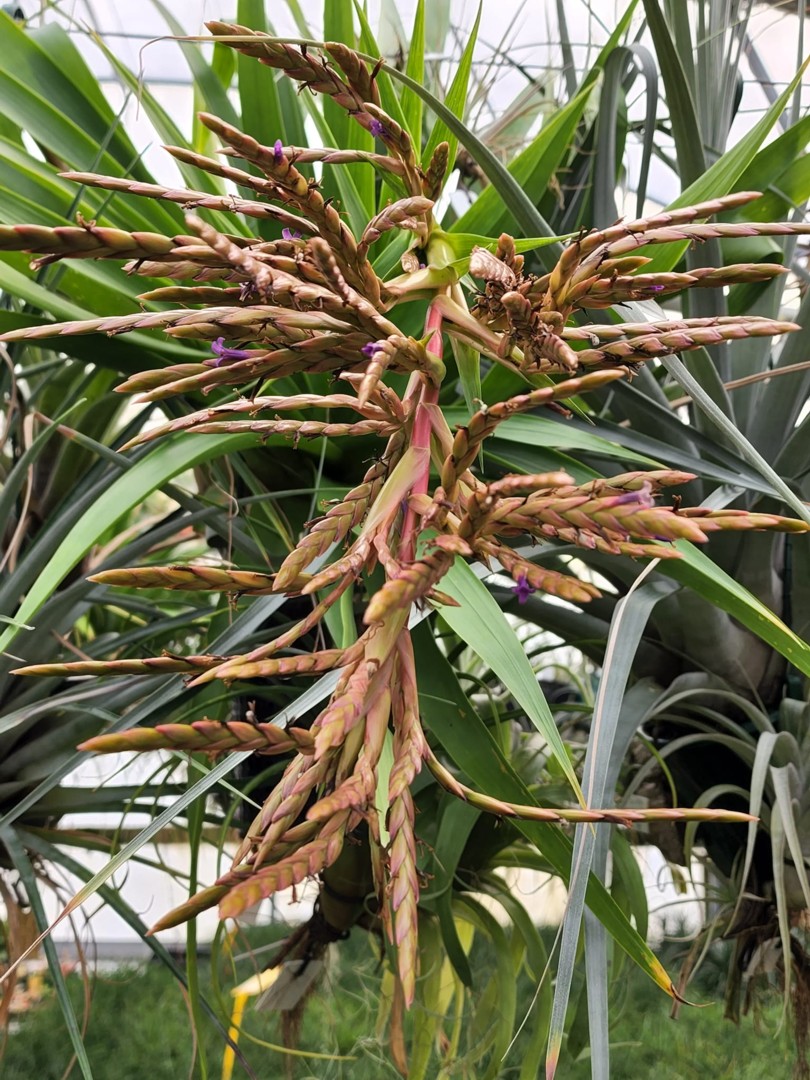 Chris Larson 06/22. Falling over this time, last time it was upright.
---

Tillandsia elvirae-grossiae, W Rauh, Sp. nova, Trop Subtrop. Pflanz. 65: 49-53. 1988
Tillandsiae elongatae H.B.K. var. subimbricata (Baker) L. B. Smith (= T. orthorhacbis Mez et C. F. Baker) similis, sed ab ea differt characteribus sequentibus:
Inflorescentiae semper tripinnatae, tantum apice bipinnatae, spicae tantum usque ad 12cm, nec 20cm longae, 30- vel 35-florae, nec 20-florae; axis spicae tantum post florescentiam et in statu sicco visibilis. Bracteae florales tantum 12mm longae apice recto paulo breviores quam sepala, in statu vivo laeves, tantum in statu sicco nervatae. Sepala acuminata, non obtusa, laevia enervata. Petala tantum 15mm, nec 25mm longa, atroviolacea.

Holotypus: Rauh 38332 (Aug. 1975), in (HEID).
Patria et distributio: inter Ingenio et Pomacocha, epiphytica apud 1400 m.s.m., Peru (Dptm. Amazonas).
Plant stemless, flowering to 1.6m high.
Leaves numerous, making a large rosette 40cm high, 1m diam.
Sheaths distinct, long oval, to 20cm long, 10cm wide, underneath dark leathery brown, topside pale brown, white membranous edges.
Blades subligulate, to 8cm wide next to the sheath, to 75cm long, topside lively green, underneath a light green, tapering to a long thin tip, almost naked.
Scape to 55cm long, 2cm thick, erect, naked.
Scape bracts subfoliate, the sheath adjacent to the stem, recurved, with long three edged, green blade.
Inflorescence tripinnate, bipinnate at top, to 1.2m long, laxly pyramidal, to 60cm wide,.
Side branch standing out horizontal to bent downwards, including the end spike to 30cm long, ca. 10cm long, sterile, bracted basal section, and 5Ė7 short stemmed spikes, with sterile bracts.
Primary bracts long, 3 angled-acuminate, the bottom ones longer, the upper ones shorter than the sterile section, the bottom ones to 12cm long.
Secondary bracts ovate-lanceolate, acuminate, to 1.5cm long, enclosing the sterile base of the spike.
Spike horizontal to bent downwards, to 10cm long, 1cm wide, both sides flat, with ca. 3cm long, scaled basal section with a thickened nodule at the base.
Flowers sessile, violet, numerous.
Floral bracts densely upright, but rhachis visible after flowering, the tip indistinctly keeled, 12mm long, naked, weakly nerved when dry, the topside shiny, underneath pale carmine red. (From photo the flat side of the spike is horizontal!)
Sepals a little longer than the floral bracts, 12mm long, acuminate, the posterior pair keeled, the tip carmine red, then pale green.
Petals 1.5cm long, dark violet, rolled back tip, narrow tongue shaped.
Stamens and Style enclosed.
Habitat plant grows epiphytically between Ingenio and Pomacocha, about 1400m, Peru, (Amazonas).

Differs from T. elongata v. subimbricata in -
Inflorescence always tripinnate, and only bipinnate at the top.
Spikes only to 12cm long, never 20cm.
30Ė35 flowered never 20 flowered
Rhachis visible after flowering and when dry.
Floral bracts only 12mm long, small erect tip, shorter than the sepals, in living state equal, often nerved in dry state.
Sepals acuminate not obtuse, smooth not nerved.
Petals often 15mm long, never 25mm. Dark violet.
---
Updated 15/06/22
---