Tillandsia duratii
Click thumbnails for full size, scaled to a new window.
---
Tillandsia duratii
Argentina, Bolivia, Brazil, Paraguay. (Hassler) L.B.Smith.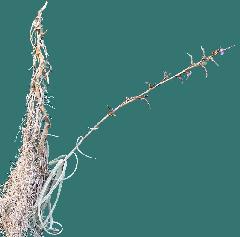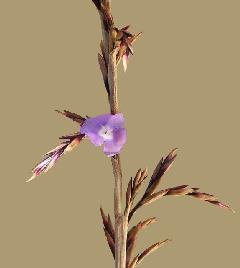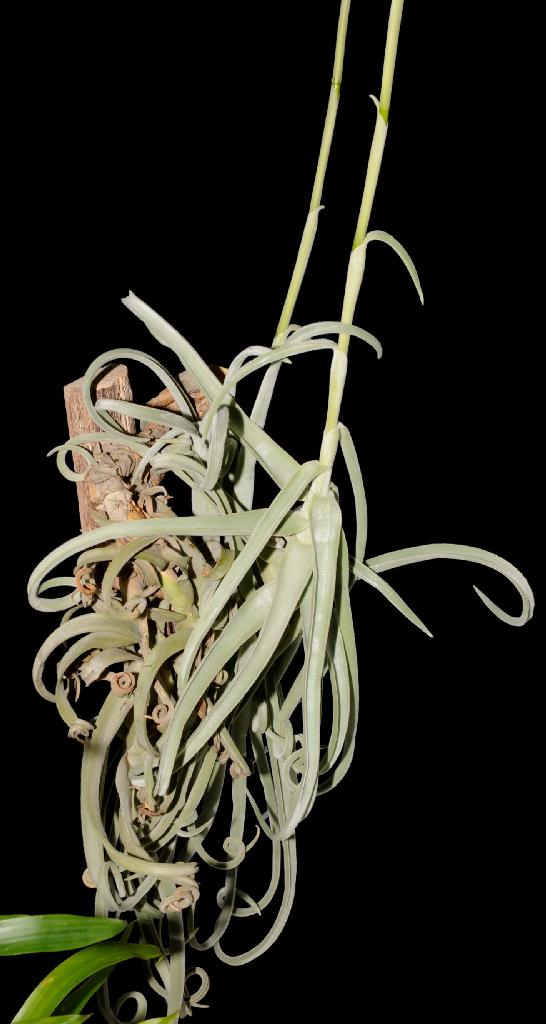 | | |
| --- | --- |
| Mark Supple. var. saxatilis 04/11 | Paul Smith BSA Show 04/10. Photo Terry Davis. |
Comment to Tillandsia discussion group, from Mark Supple.....
"This plant I obtained from Peter in 1990 or 91 at Five Dock by memory. It's labelled Tillandsia duratii var saxitilis still have the label, this is the first flowering of this plant and the flowers to date have no fragrance, just a quick question to all. Do any duratii's not have fragrance? The flowers have been out now for 2 days. The plant itself is 600mm long and inflorence is 600mm."
Cheers, Mark.
The universal esponse from the group was....
Yes, correct identity. No, ALL duratii have fragrance, especially early morning.
But being a "new" sensation, not everyone can pick the smell at first.
| | |
| --- | --- |
| Peter Tristram 10/11 | Peter Tristram 10/11 |
From Peter Tristram.....
"A bit of an update from the previous yellow duratii post. It is interesting that the petals change colour to violet over time and many flowers are open simultaneously – quite a show but from a distance nothing stands out (except the fragrance!). I sure hope this clone is hardier than the other and pups well. Unfortunately the gas killed a couple of its siblings when I imported them – criminal."

Len Colgan....
Clearly, the T. duratii came from Lotte Hromadnik. I was fortunate to witness the unbelievable location in Bolivia where I was able to find all those different coloured forms of T. duratii, with petal colours including yellow, orange, brown and purple, often mixed. Sadly, all of my plants died in the heat-wave a few years ago. But at least I have wonderful pictures.

Tillandsia duratii
Argentina, Bolivia, Brazil, Paraguay. (Hassler) L.B.Smith.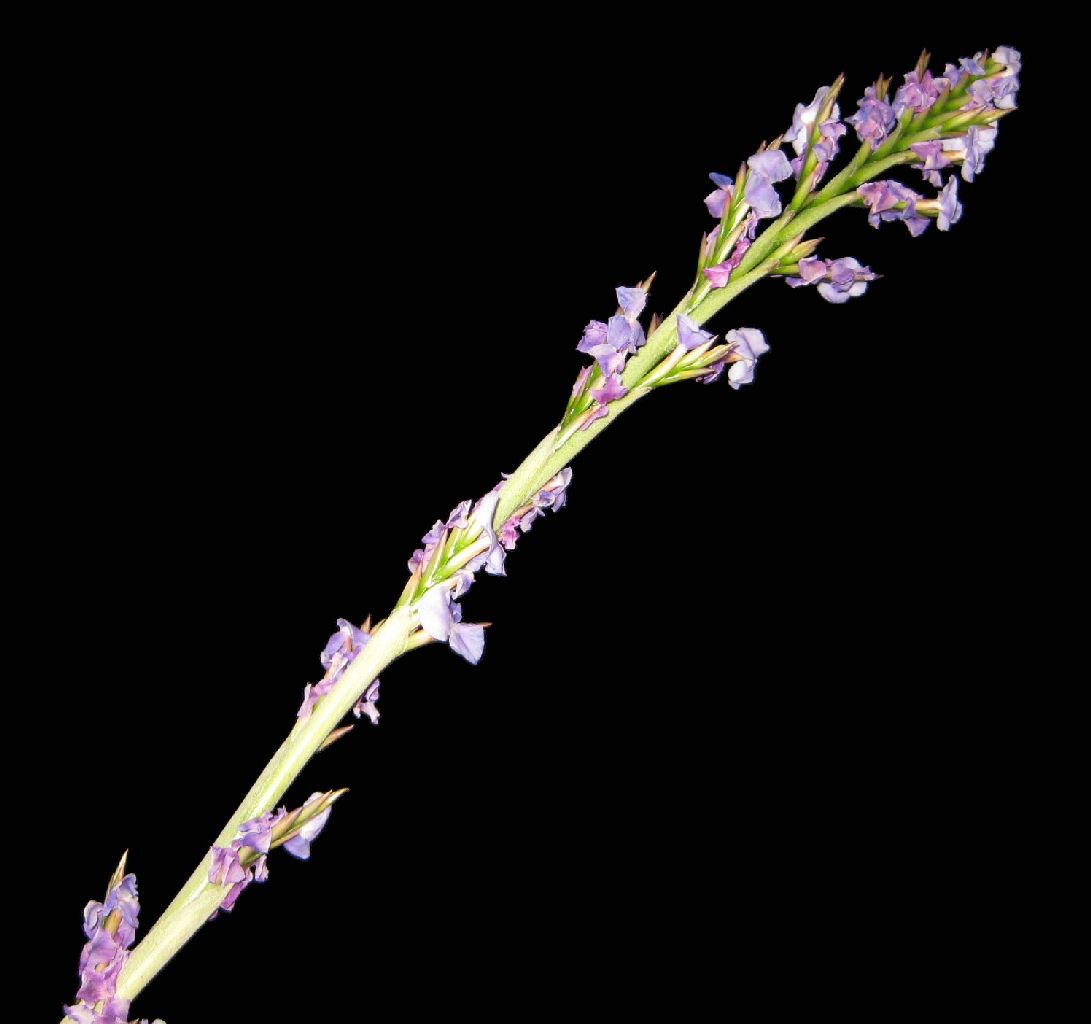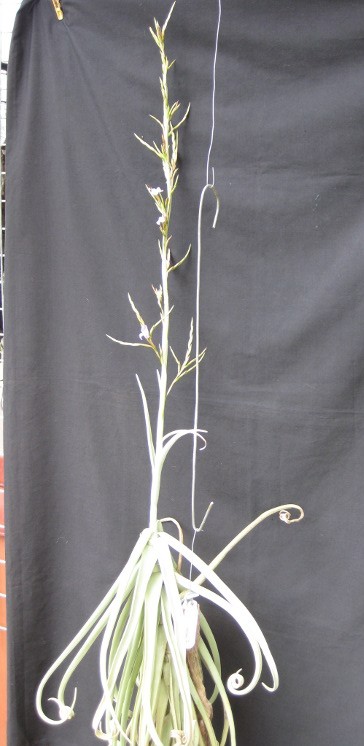 | | |
| --- | --- |
| Bob Hudson 04/12. var. duratii 1m high. | Bob Hudson 04/12. var. saxatilis 1.6m high. |
| | | |
| --- | --- | --- |
| Peter Tristram 19/01/14 | Peter Tristram 20/01/14 | Len Colgan 20/01/14 Comarapa |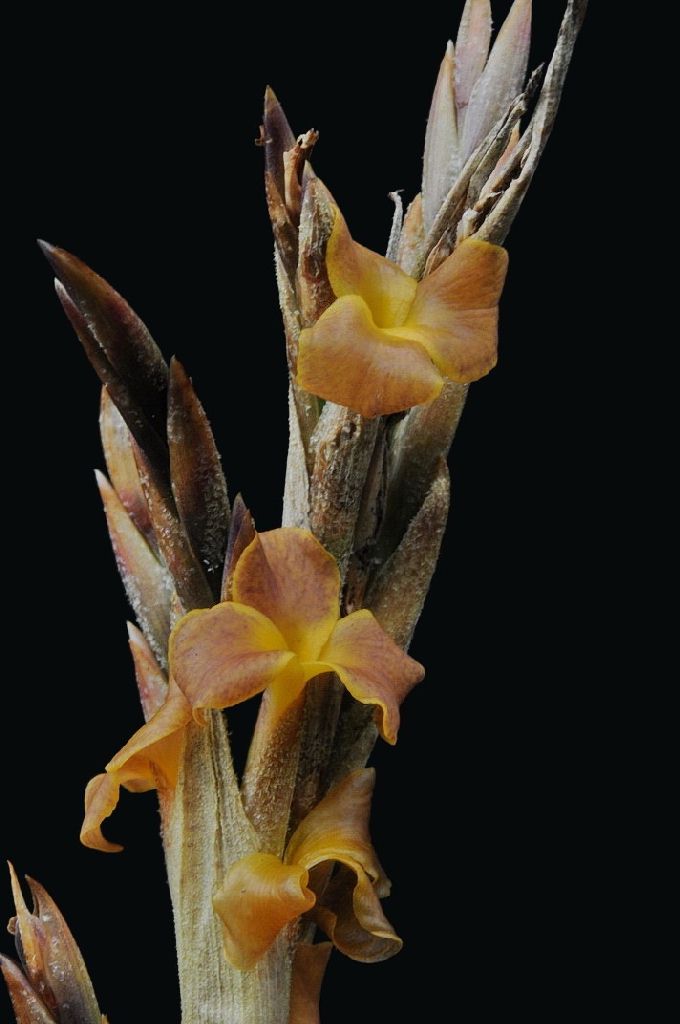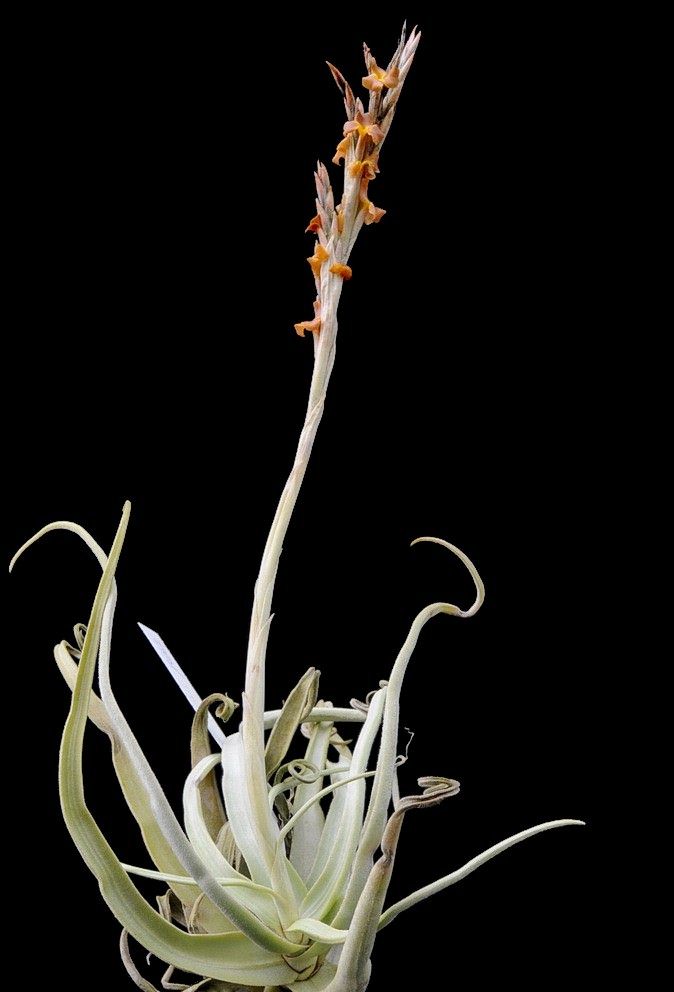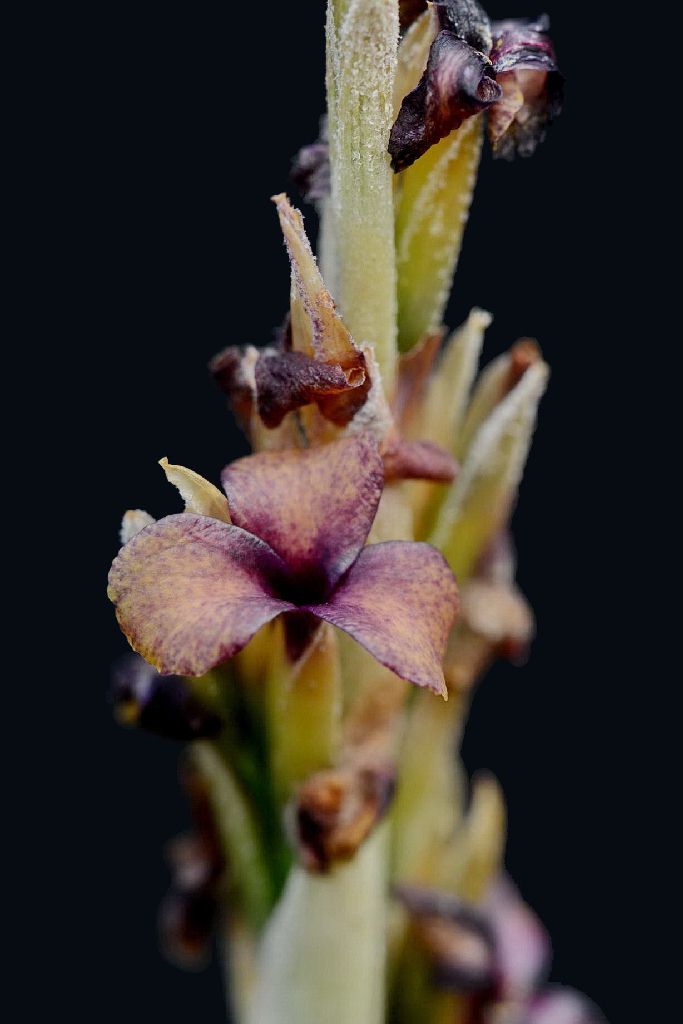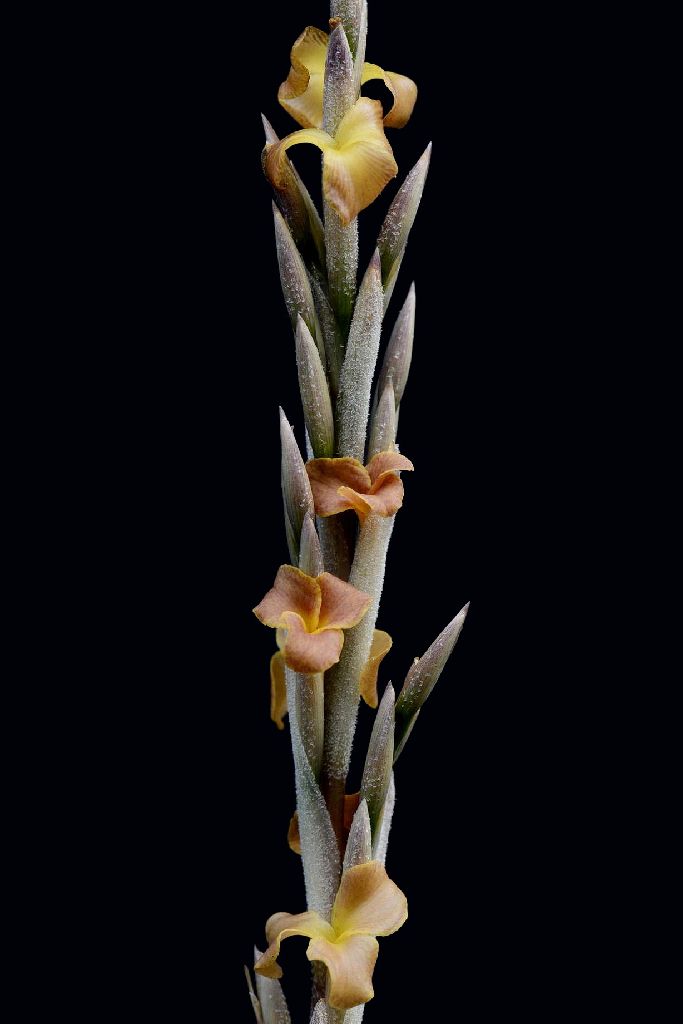 | | |
| --- | --- |
| Peter Tristram 21/01/14 | Peter Tristram 09/14 |
Peter Tristram 19/01/14 ... "This is the latest clone to bloom of the multi-coloured duratiis collected by Lotte (and Len, albeit to have to leave them behind) from near Sucre, Chuquisaca, Bolivia.
They all vary in the yellow/orange and purple content but none have had white centres yet like the usual forms."
Peter Tristram 20/01/14 ... "At least Lotte has shared some clones and I now have some seed finally though this one will bloom alone only to be hybridised.
Hell, they are slow growing (and single pupping) but do bloom regularly. Assuming I can get viable seed fairly often the multicoloured duratii might be pretty common in about 30 years...
I have 2 x 15 mm seedlings from Len's seed a few yrs back. None of last year's seed (x normal duratii) germinated. A different flower in this pic."
Len Colgan 20/01/14 ... "In case there is someone(?) in this group who has not seen any of my pictures of different coloured T. duratii from Bolivia, I have attached just one image.
It is from a different location (Comarapa) from those involving purple that Peter has shown. The ones I collected involving purple with yellow/orange looked more like T. streptocarpa, I suspect."
Peter Tristram 21/01/14 ... "Hi Len. It is interesting regarding the 'look' of these as they vary. A few look more like forms of streptocarpa, except for the inflorescences, with long-tapering, somewhat flat leaf blades, and others look typical duratii with shortish, rolled blades. I notice Lotte has differing locations too but all in Chuquisaca state except for the white one. Notice the altitude variation too.
These are the ones I have that survived Quaranteen (and another, the first one from 2006 that bloomed quite brown and was posted first too and looks typical duratii v. duratii, but I can't find the data just now – pics attached. It bloomed once and gave 1 pup which I removed but promptly died then another which I wasn't game to remove):
Yellow to violet - 30/07/1979, 5260, T. duratii v. duratii, yellow to violet, 2600m, Tarabuco, Presto, Chuquisaca, Bolivia
Dark violet yellow - 30/07/1979, 5253, T. duratii v. duratii dark violet, gelb, 2400m, Zudanez, Chuquisaca, Bolivia
White - 16/07/1979, 5031, T. duratii white from seeds, 1700m, Puente Arce, Cochabamba, Bolivia
Yellow (Technicolor one I just posted) - 14/02/1995, 19062, T. duratii v. duratii, gelb, 3000m, Paß nördl. Sucre, Chuquisaca, Bolivia
Yellow/orange – 27/2/99, 24009, T duratii v. duratii, gelb, 2400m, oberh. Villa Serrano, Chuquisaca, Bolivia
---
Peter Tristram 09/14 ... "This year a couple of new forms of the yellow flowering duratii are in bloom. Needless to say I have been cross-pollinating these three different clones so that these interesting plants can be propagated from seed. Last year's seed has just been sown so I will know its viablility very soon. So far these forms have proven very difficult from seed with most not germinating, compared to normal duratii forms that grow like weeds. Mind you I haven't had lots of flowers to play with until last year."

---
Updated 05/10/14
---