Tillandsia churinensis
Click thumbnails for full size, scaled to a new window.
---
Tillandsia churinensis
See T. calocephala page for a discussion of the aff. T. churinensis in Australia, from Chris Larson.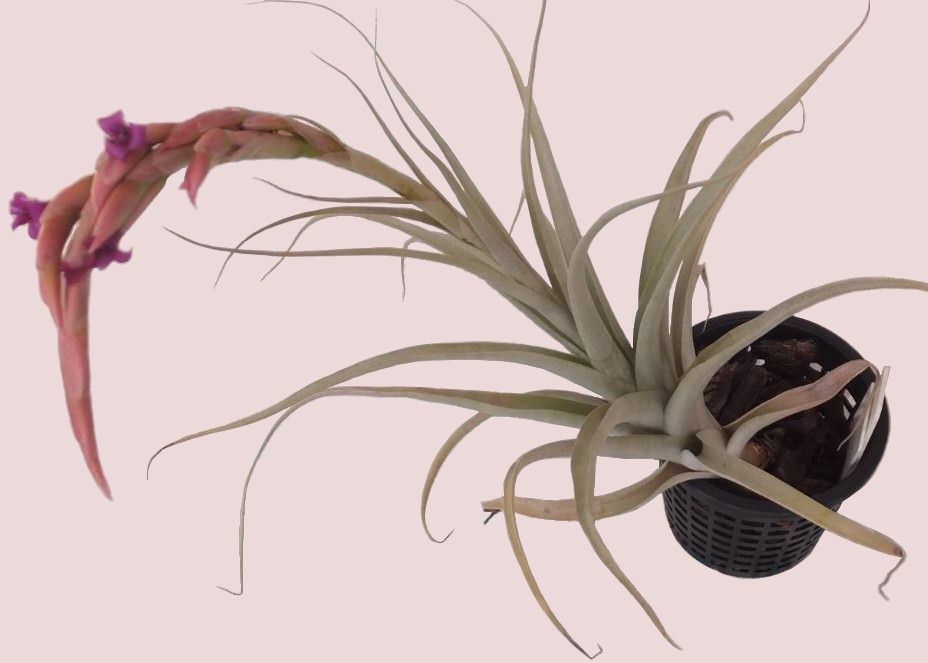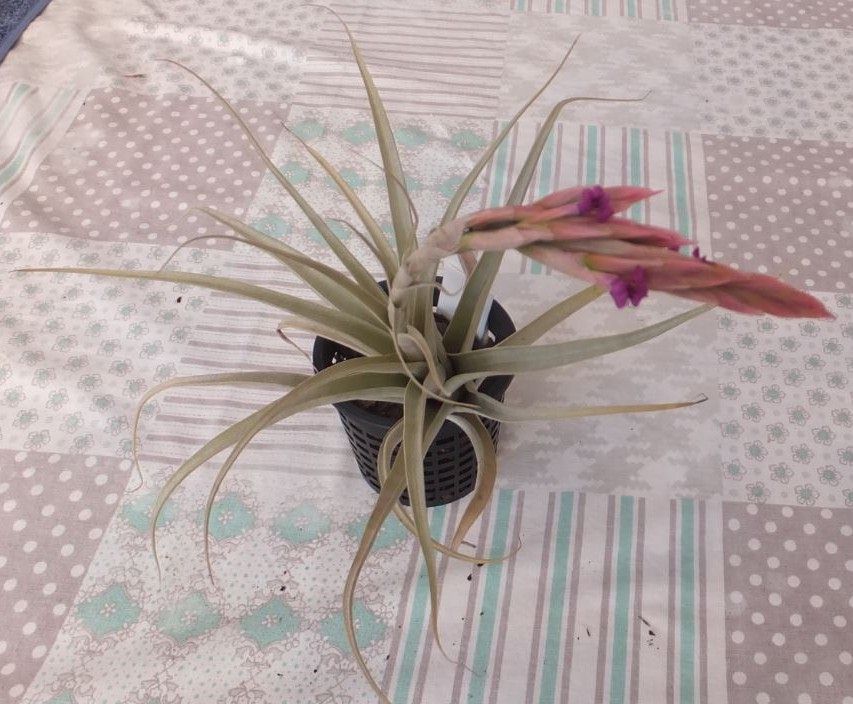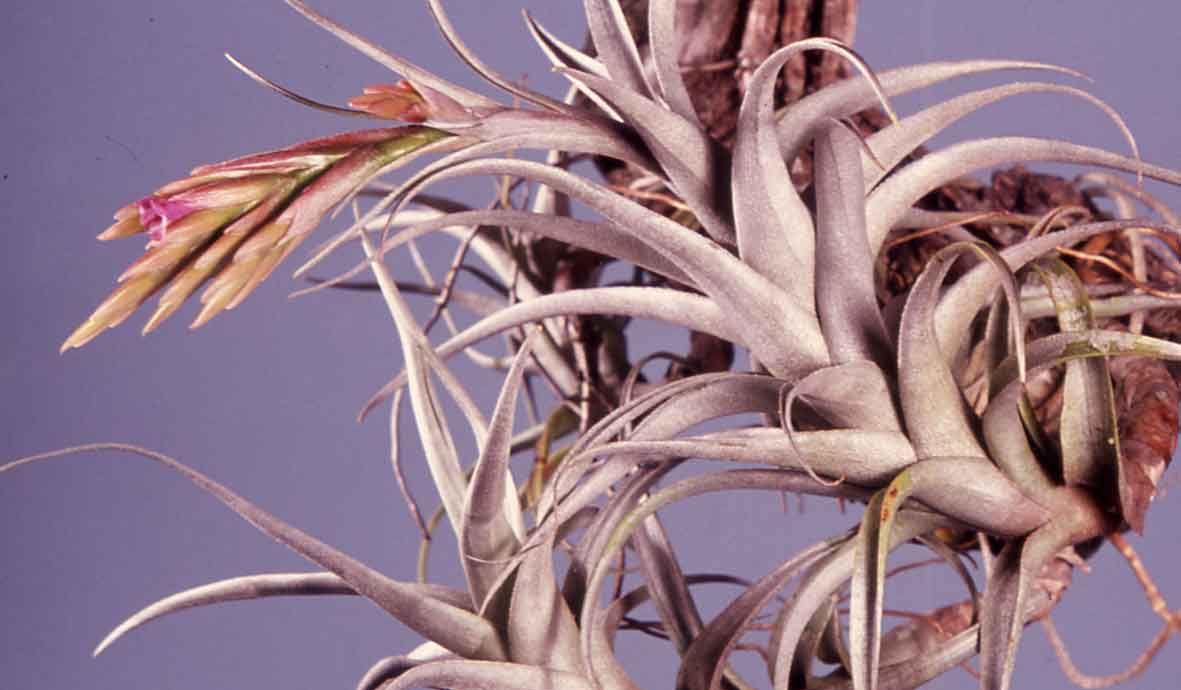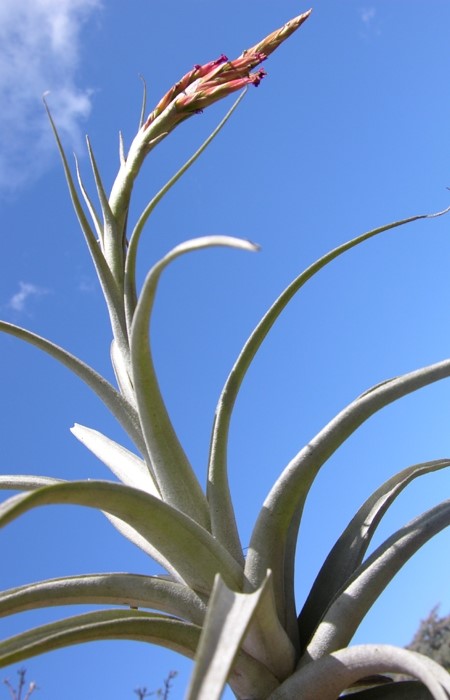 | | | |
| --- | --- | --- |
| Adam Bodzioch 06/20 aff. churinensis | Type specimen Renate Ehrlers | Chris Larson 09/21 aff. churinensis |

Adam Bodzioch ... "First flowering for me is this Till I got from Chris Larson. The tag says that Chris collected it South of Ayacucho in Peru. Mine seems to be happy growing in a small hydroponic pot with bark only."
Alfonso Trudu ... "Mine flowered and then died. Maybe it's too warm and humid in Brisbane."
Chris Larson ... "Another from the good old days of eco-pillaging. I only grabbed a couple of these from a roadside cutting just up the hill on the main road south of Ayacucho (30 to 50 km?) heading toward Cusco. The GPS machine had just packed up. Ayacucho is at 2750m altitude - so this one was over 3000 I'd say.
Both Len Colgan and Peter Tristram also found it in Renate's collection through a commercial supplier. I gave Renate the collection data. Still not described."

Chris Larson 09/21 ... "T.calocephala was collected at the same site as T. aff churinensis that a few of you have - back in 1998. A little to the south of Ayacucho - just after my GPS machine broke down. There were only these 2 plants at this site."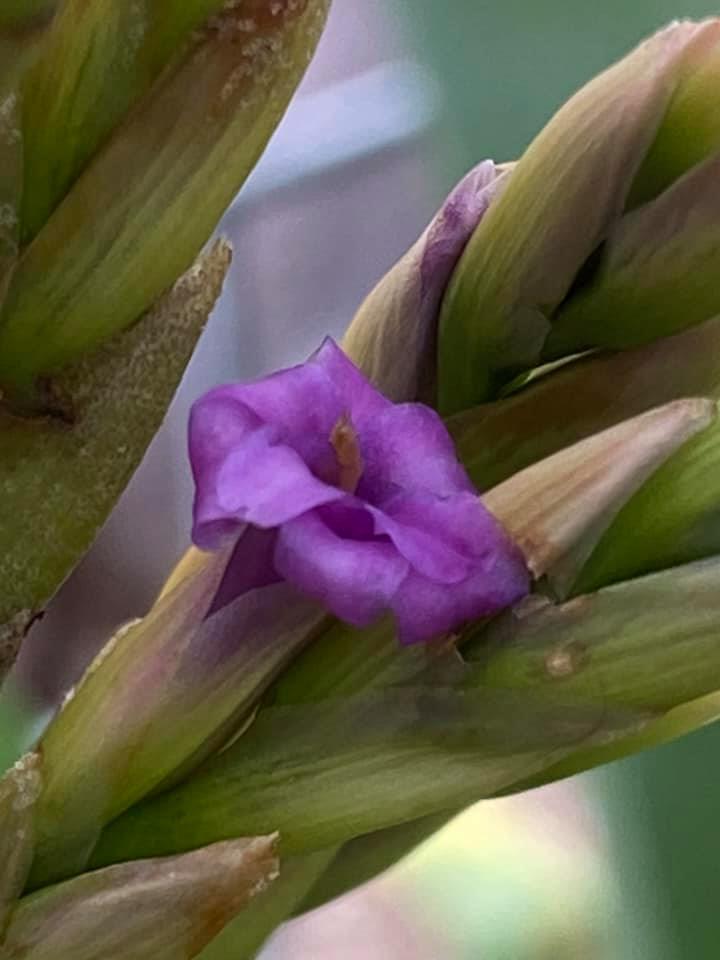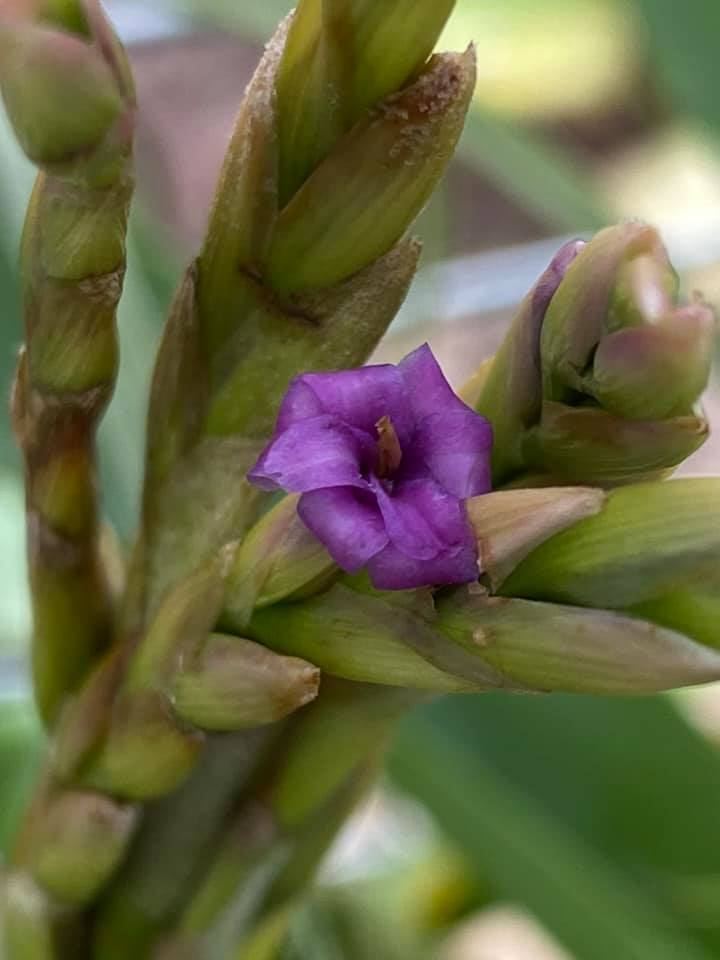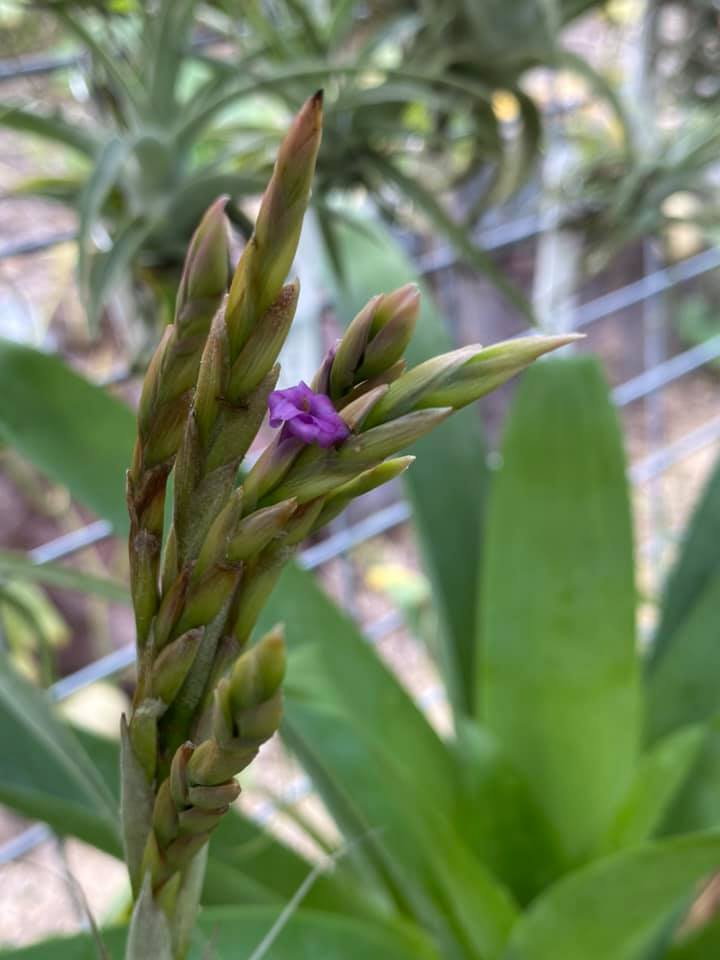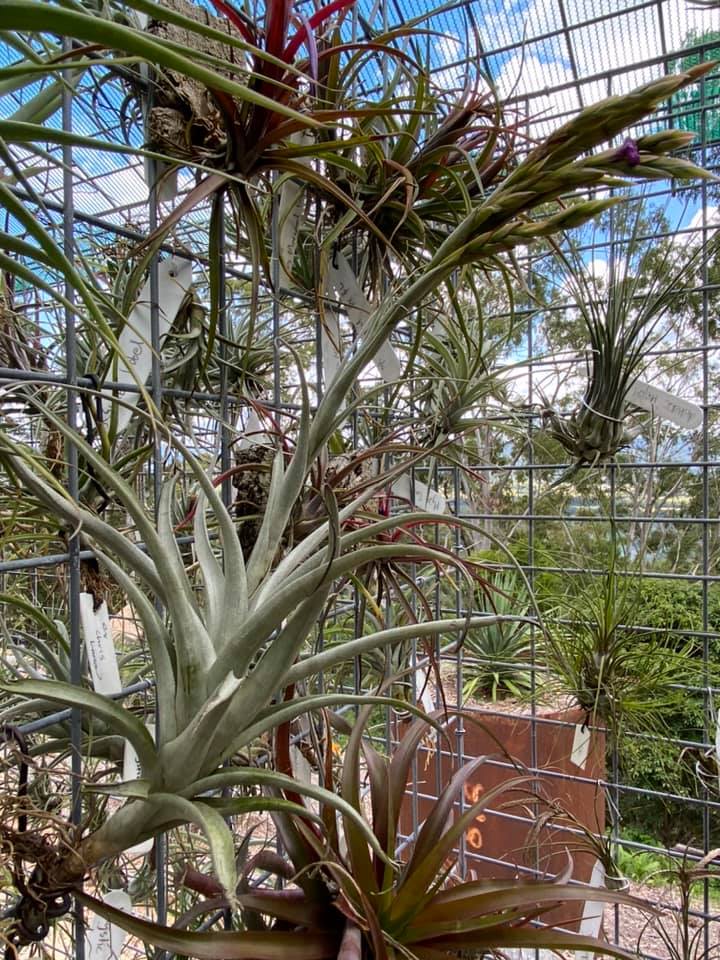 Dale Dixon 04/21 aff. churinensis

Dale Dixon ... "T. aff. churinensis, from Peru, is a putative new species collected by Chris Larson from a roadside cutting just up the hill on the main road 30-50km south of Ayacucho heading toward Cusco. Ayacucho is at 2750m altitude and Chris estimates that the plants were collected at c. 3000m altitude.
The 'aff.' preceding the specific epithet indicates that the plant is considered a potential new and undescribed species that has an affinity to, but is not identical to, the named species. The Latin word 'affinis', abbreviated as 'aff.' can be translated as 'closely related to' or 'akin to'.
I first noticed the inflorescence developing in November 2020. It's taken so long to flower that I thought the inflorescence had aborted. Although small, it's a stunning flower. Look closely at the deep purple flowers and you can see that the petals are doubled. My plant is suspended on aluminium craft wire and hung high in the south west corner of the #TillHouse. Some collectors have had varying success with this taxon in southeast Queensland, with some reporting that the plants have died after flowering."

---
Tillandsia churinensis, W. Rauh, sp. nova Trop. Subtrop. Pflanz. 53: 39-43. 1985
Tillandsiae latifoliae multiformi affinis, ab ea differt characteribus sequentibus:
Planta longe caulescens. Folia rosulae metallico-argenteo-albo-lepidota. Inflorescentia deorsum curvata spicis plus minusve 6 erecto-patentibus, anguste linealibus usque ad 5 cm longis, 1 cm latis. Bracteae florales subglabrae, leves, non nervatae. Sepala usque ad basim libera (non connata).
Holotypus : B.G.H. 32 682, leg. Klaus von Bismarck (Juli 1974), in herb. inst. bot. system. univ. heidelb. (HEID).
Patria et distributio: Peruvia centralis, valle Rio Huaura, Churin, saxicola, apud 1700 m. s. m.

PLANT - Long stemmed, flowering to 30cm high. Leaves numerous, densely polystichous, to 10cm high and 15cm wide rosette.
LEAF SHEATH - Not clearly evident, 1.5cm long, 1.5cm wide, both sides pale brown lepidote.
LEAF BLADE - Thin triangular, in a long reflexed, thin tapering tip, to 10cm long, part near the sheath 1.5cm wide, both sides densely silver-grey lepidote.
SCAPE - Erect to bent, shorter than the top leaf rosette, ca 5cm long, densely covered by the leaflike scape bracts which have a longer sheath and more reflexed silver-grey blade.
INFLORESCENCE - Bent downwards, laxly bipinnate, 8cm long, 3cm wide, with ca 6 erect to sticking out spikes (including the top spike), the bottom 2 (-3) spirally, the upper laxly distichous in a side view.
PRIMARY BRACTS - Half as long as the spike, reddis.h, densely scaled, with 2cm long, lcm wide sheath, short tipped.
SPIKE - Short and thin stemmed, thin linear, complanate, 4-4.5cm long, 0.8 to lcm wide, 5-8 flowered.
FLORAL BRACTS - Densely imbricate, (the rhachis of the spike not visible at anthesis), sterile near base, the fertile ones 2cm long and 0.6cm wide, carinate towards the sharp tip, not keeled at the base, membranous, scattered lepidote to naked, pale reddish to brownish green at the bottom, smooth (strongly nerved when dry), longer than the sepals.
SEPALS - 1.8cm long, the posterior sharply keeled, delicate, pale green, dull, almost free.
PETAL - 2.5cm long,thin tongue shaped, with delicate, reflexed carmine-red platte, whitish towards the base.
STAMENS & STYLE - Deeply enclosed. Filament plicate.
HABITAT - On rocks, Rio Huaura Valley, Churin, 1700m, Central PERU.

DIFFERS FROM T. latifolia in that:
1 - Plant long stemmed.
2 - Leaves silver grey lepidote.
3 - Inflorescence with curved downward more or less 6 erect spreading spikes, narrow lineal, 5cm long, lcm wide.
4 - Floral bracts smooth, not nerved, almost naked.
5 - Sepals free at base.
---
Tillandsia spec. af, T. churinensis Rauh, Peru Palmengarten by R. Ehlers.
Plant long caulescent, flowering to 40 cm high, to 20 cm wide, many polystichous leaves forming an elongated rosette,
leaves to 15 cm long, sheaths 20 mm long, to 18 mm wide merging gradually into the blades.
Blades to 16 cm long, spreading and slightly recurved, triangular, channeled involute, finely appressed grey lepidote, abaxial stronger.
Scape nearly erect, to 10 cm long, 5 mm wide, round, glabrouse, as long as the leaves, imbricate covered by the sheats of few scape bracts, leaving part of the scape visible,
scape bracts foliaceouse, the lower ones to 9 cm long, the apical ones reduced,
sheaths 15 mm long, the blades narrowly triangular and nearly errect.
Inflorescence to 17 cm long, to 2 cm wide, composed of to 6 polystich, erect spikes, internodes ca. 15 mm, the flat side nearly appressed to the green, glabrouse axis.
Primary bracts 3 – 1,5 cm long, (about 1/3 as long as the spike), the lower ones like the scape bracts with filiform blade, the apical ones only acute.
Spikes 6-7 cm long, 8-10 mm wide, lanceolate - linear, complanate, composed of 5-10 distichous flowers, short stipitate with 1 sterile brats at the base.
Floral bracts imbricate, but leaving part of the rhachis visible, 17 mm long, 10 mm wide, ovate, subacute, carinate, membranaceous, nearly glabrous, red, slightly nerved, surpassing the sepals.
Sepals 14 -15 mm long 3,5-4 mm wide, sub-acute, free, the posterior ones slightly carinate, glabrous, greenish with rose apices.
Petals 20-22 mm long, 3,5 mm wide, linear erect with recurved apices, red, white towards base,
Stamens included,
filaments 13-15 mm long, thin, flat in cross section, white, not or only slightly plicate,
anthers 4 mm long, 0,7 mm wide, linear, basifixed, yellow, pollen egg-yellow,
style 10-12 mm long, thin white, stigma small, not much wider than the style, pink, ovar 3,5x 2 mm, green.

Differing from T. churinensis:
plant bigger,
infl. bigger, to 17 cm long not only 8 cm, nearly erect not benched, all spikes polystich, also the apical ones, internodes between the spikes bigger,
Rhachis visible
petals no blade.
---
Updated 20/09/21
---