Tillandsia chiletensis
Click thumbnails for full size, scaled to a new window.
---
Tillandsia chiletensis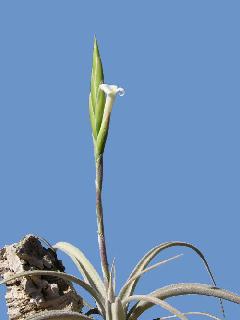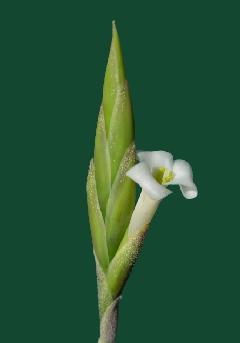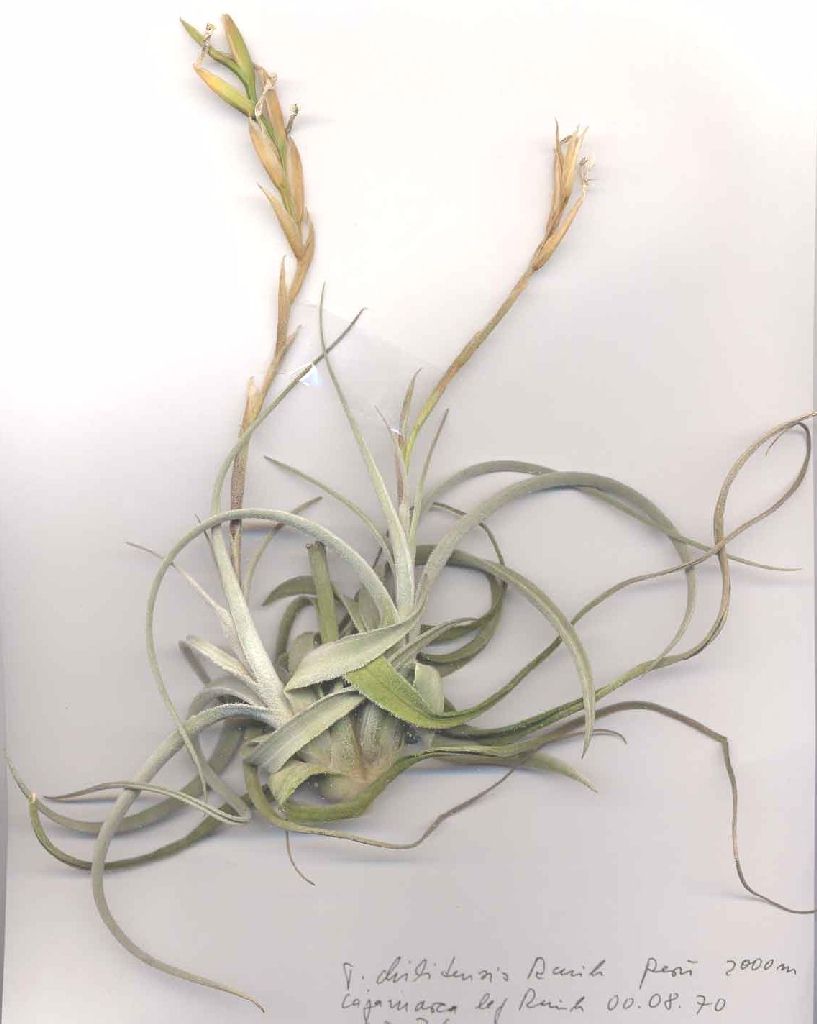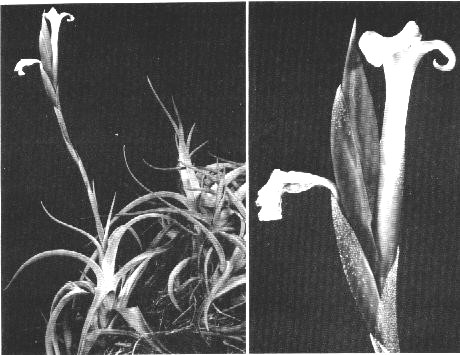 | | |
| --- | --- |
| Len Colgan 12/07. | Heidelberg |
Len Colgan ... "I am proud to say that this plant is a direct descendent of the type specimen from Heidelberg, where it was described by Werner Rauh. It comes from Chilete, in the north of Peru near Cajamarca. Rauh compared this plant to T. xiphioides, which is amazing because that species only comes from Argentina and southern Bolivia. Derek Butcher has analysed the differences with T. lorentziana, which is much more sensible, despite the fact that T. lorentziana and T. xiphioides share common habitats, a long way from northern Peru. I also agree with Derek that the plant pictured on page 213 of Baensch's book is T. lorentziana, and definitely not T. chiletensis.

Not being as botanically adept as Derek, the thing that strikes me is the flower on my plant. The shape of the sexual parts reminds me a bit of T. arequitae, but of course that species comes from even further away. I have T. lorentziana in flower also, and this is where the differences are most marked.

If you have something in your collection labeled T. chiletensis, you should compare with these two pictures.
Regards, Len."
| | |
| --- | --- |
| Peter Tristram 11/13. | Ray Clark 01/17 ex. Rauh |
Peter Tristram ... "I got some plants from Lydia labelled chiletensis which vary a bit and look something like a recurving, velvety-leafed lorentziana, a large bermejoensis or a multibranced chiletensis. The spikes vary from red to green. I think the other chiletensis herbarium specimen could be the mima v. chiletensis.
This is distinct from my 'chiletensis' id'd by Harry, ex Knize or Krauspe in the '80s but now another blasted lorentziana. But there was a post in the Till. discussion group in 2007 with a nice pic of chiletensis (we hope) from Len Colgan. The plant pictured above in another of Lydia's "chiletensis". The sheaths are glabrous on these."
Derek Butcher ... "Closer! Your latest has sepals equalling the floral bracts and lots more flowers. Does it have plicate filaments but then I think these can vary flower to flower?
It would be accepted by me as a Lydia chiletensis!"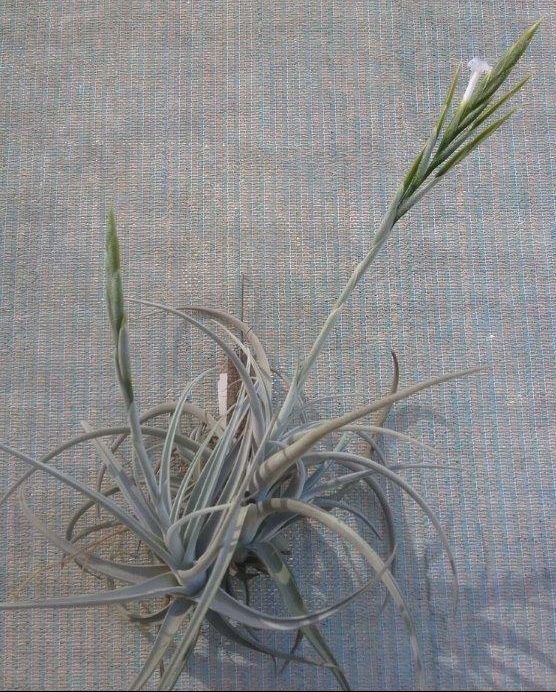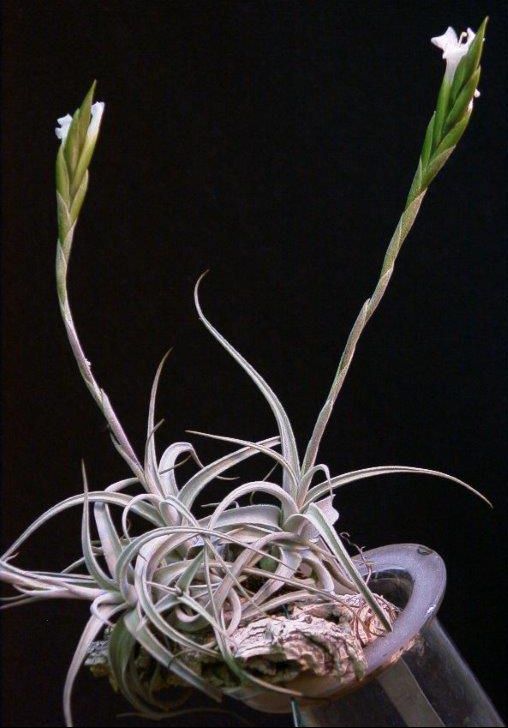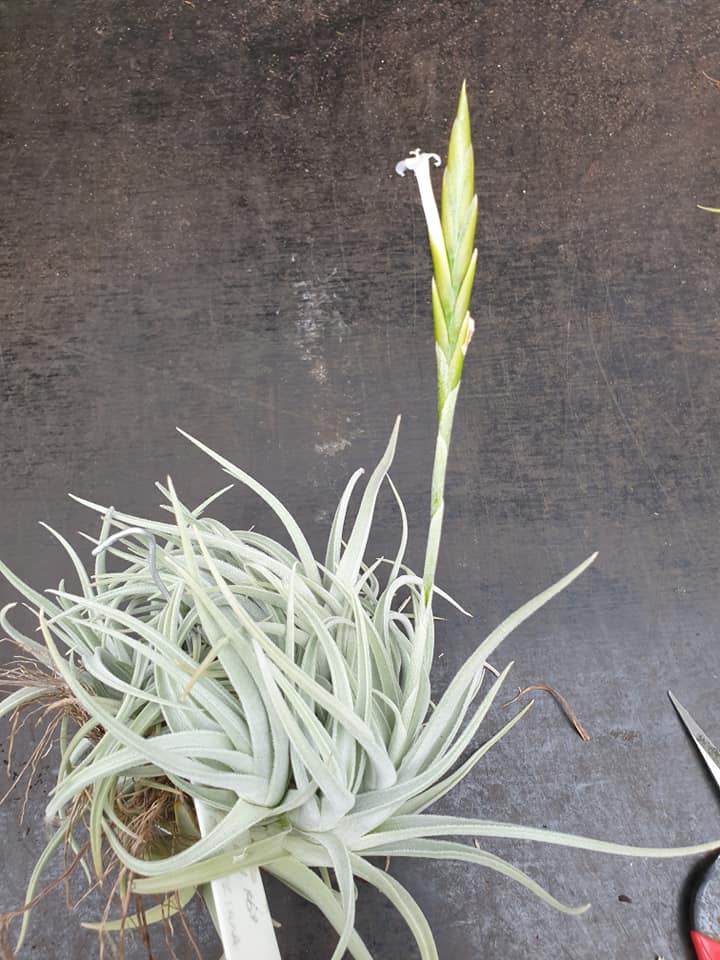 | | | |
| --- | --- | --- |
| Greg Aizlewood 11/15 | Eric Gouda 11/15 | Chris Larson 08/21 |
Greg Aizlewood ... "Flowering at present."
Peter Tristram ... "Another lovely Peruvian! LK had a few clones with varying bract colour."
Len Colgan ... "It looks exactly the same as my T. chiletensis from Heidelberg. There are wrong versions floating around Australia."
Greg Aizlewood ... "Thanks Len. As Derek has questioned, does yours have a compound inflorescence?"
Derek Butcher ... "I have contacted Heidelberg and they only know of T. chiletensis with a simple spike. Thus your plant with a compound inflorescence has me asking questions."
Eric Gouda, University Botanic Gardens, Netherlands ... "Tillandsia chiletensis has been described by Rauh from Peru: Cajamarca
However he compares it with T. xiphioides to which it is not related, so yes distinctly different, but compared with T. lorentiana...
The T. lorentiana complex is quite difficult and probably T. chiletensis should be considered a variety of this species.
There are also blue flowering simple piked populations in Bolivia. Most populations do look different, but there are so many.
Attached image is the clonotype from Rauh, in Heidelberg, so no doubt it is Tillandsia chiletensis"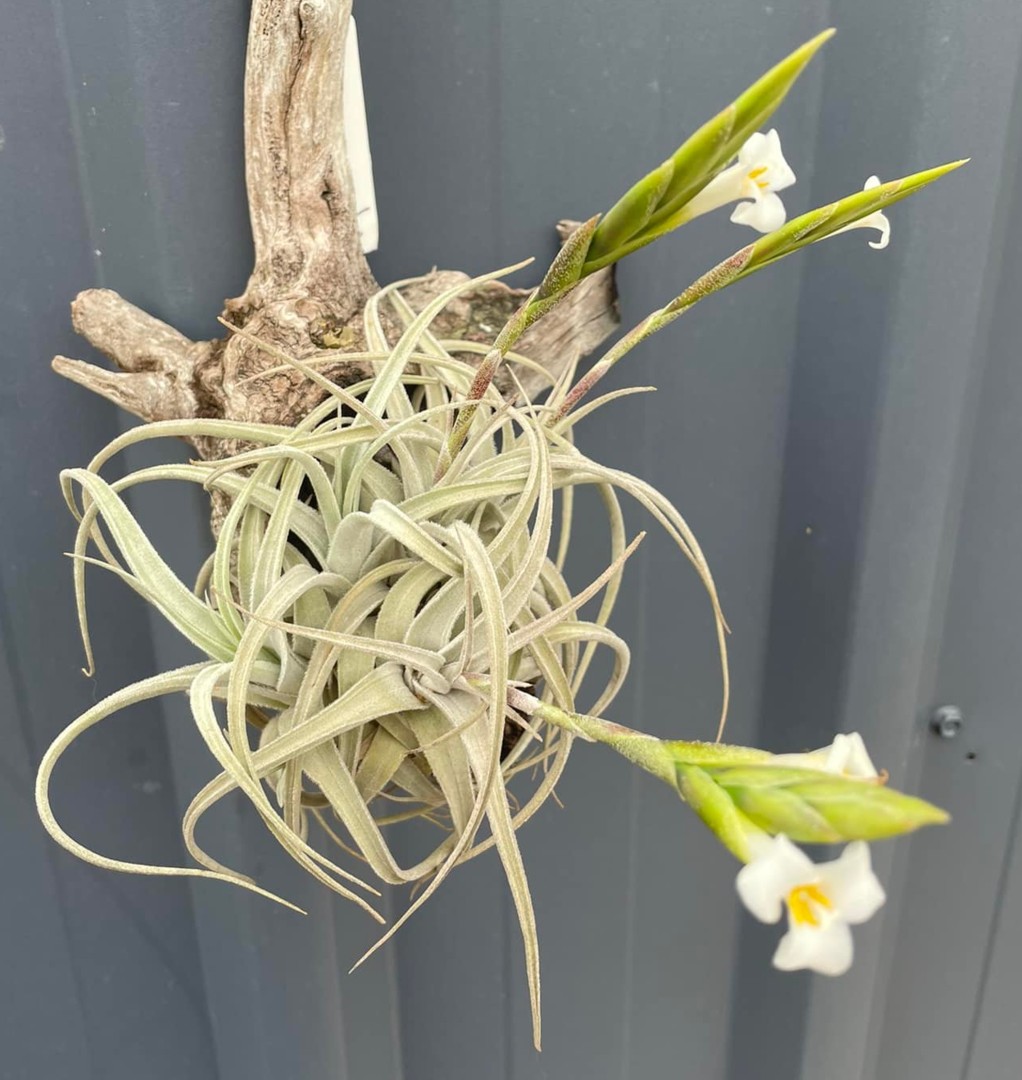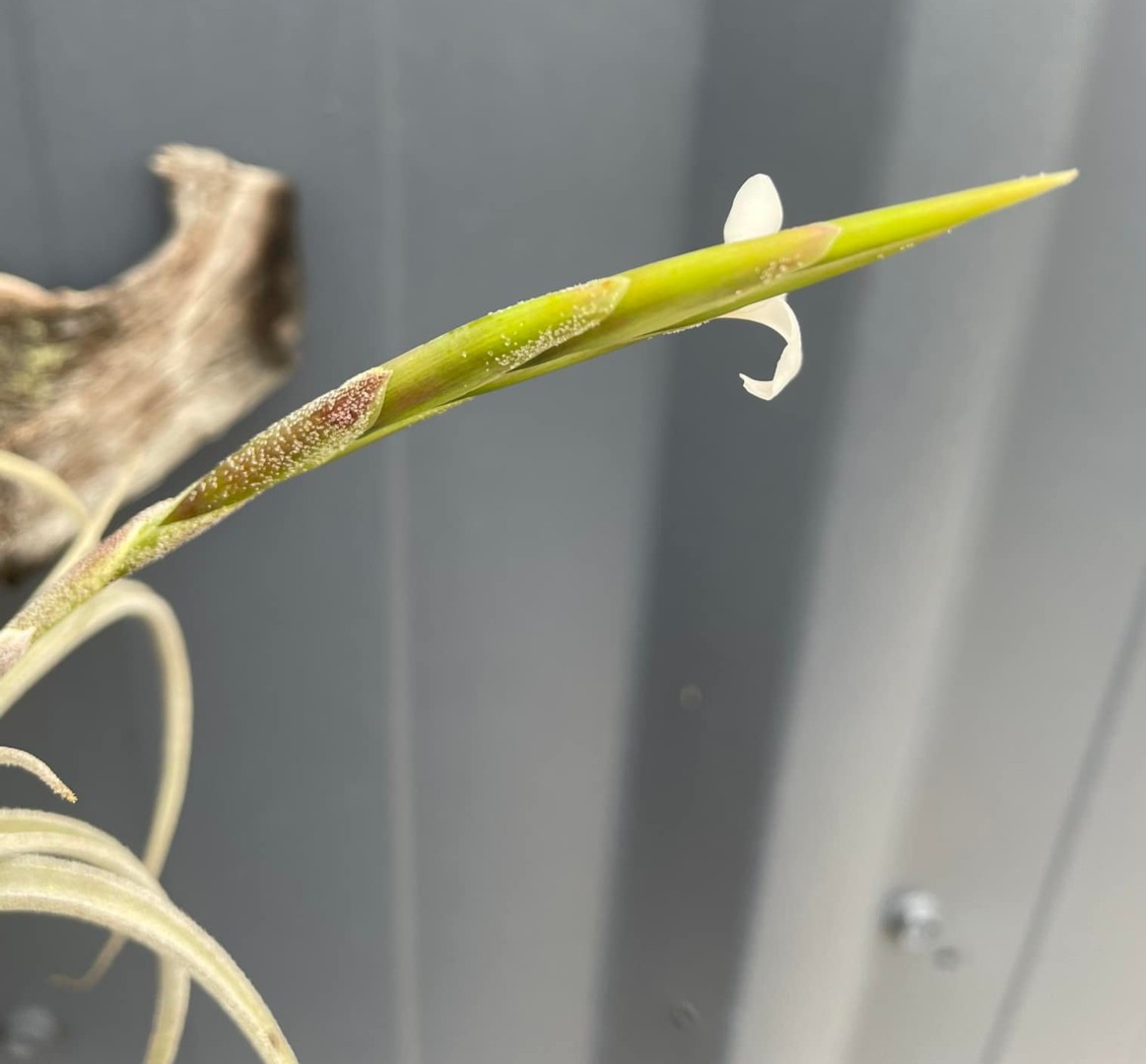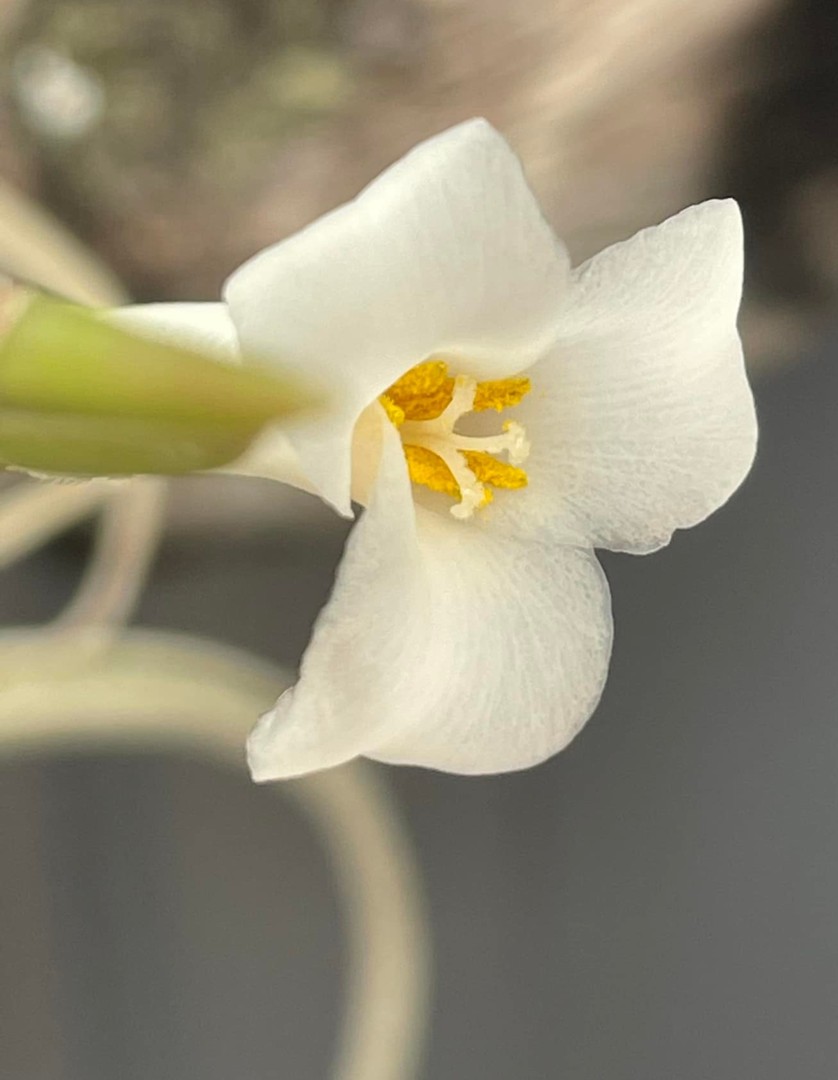 Ray Clark 01/22 ex Derek Butcher, ex Rauh

Peter Tristram ... "It's a lovely species! Derek was sceptical of the identity of the plants that I bought from Lydia because, in the warmer humid climes, it grows much larger and branches, whereas yours is more as per description. There are a few clones too, though I've never crossed them to produce many more- a job for someone younger!"

---

Tillandsia chiletensis W. Rauh Sp. nova Trop. Subtrop Pflanz. 50: 5-7. 1984 Planta breviter caulescens, florens usque ad 18 cm alta, e basi ramosissima, itaque greges formans. Folia parum numerosa, rosulam 5 cm altam et 10 cm diametientem formantia. Vaginae indistinctae, pallidae, tenues, 1,5 X 1,5 cm metientes, glabrae. Laminae anguste triangulae, usque ad 10 cm longae, supra vaginam 1 cm latae, valde arcuato-recurvatae, involutae dense albo¬lepidotae. Lepides excentricae in margine foliae linguiformes. Scapus inflorescentiae erectus, teres, 2 mm diametiens, virides, glaber, usque ad 10 cm longus. Phylla scapi basalia subfoliata, superiora scapo accumbentia, internodiis longiora, breviter acuminata, dense albo-lepidota, paulatim in bracteas floralias transientes. Inflorescentia simplex, complanata, 3,5 cm longa, 1,2 cm lata, acuminata usque ad 5-flora. Rhachis complanata, angulata, excavata, viridis, glabra, sub anthesin indistincte visibilis. Bracteae florales erectae, ecarinatae, oblongo-lanceolatae, acuminatae, 2,5 cm longae, explanatae 6 mm latae, virides, dispersissime albo-lepidotae, sepalis longiores; sepala oblongo-lanceolata, acuminata, plus minusve 2 cm longa, 4 mm lata, usque ad basim libera, glabra, viridia, posteriora carinata. Petala alba, 4 mm longa, labello recurvato, obtuso, supra canaliculato, 6 mm lato. Antherae cum stylo inclusae. Filamenta recta antheris brevibus luteis.

Holotypus : Rauh, No. coll. 24 256/a (Aug. 1970) in (HEID).

Habitat et distribution: northern Peru, in valley Cajamarca, near 2000 m. s. m. with Tillandsia cacticola epiphytic on trees
Plant - short stemmed, flowering to 18cm high, offsetting strongly at base and forming clumps. Leaves not numerous making a rosette 5cm high and 10cm wide.
Leaf Sheath - indistinct, pale, thin, 1.5 x 1.5cm, glabrous.
Leaf blade - thin triangular, 10cm long, 1cm wide next to sheath, strongly bent reflexed, edges rolled inwards, dense white scaled. Scales eccentric (off centre) on the leaf edge, tongue shaped.
Scape - erect, round, 2mm thick, green, glabrous, to 10cm long.
Scape bracts - bottom ones leaf like, the upper ones adjacent to the scape, longer than the internodes, short tipped, dense white lepidote, gradually becoming similar to floral bracts.
Inflorescence - Simple, complanate, 3.5cm long, 1.2cm wide, acuminate, to 5 flowered.
Rhachis - flat, edged, excavated (concave), green, glabrous, indistinctly visible at anthesis.
Floral bracts - erect, not keeled, longish lance-like, acuminate, 2.5cm long, 6mm wide (at its widest), green, scattered white lepidote, longer than the sepals.
Sepals - longish lance-like, acuminate, ca.2cm long, 4mm wide, free, glabrous, posterior pair carinate (keeled)
Petals - white, 4cm long, with reflexed, dull, topside grooved, platte 6mm wide.
Stamens & Style - enclosed. Filament straight with short yellow anthers.
Habitat - N. Peru in Cajamarca valley near the village of Chilete, 2000m growing with T. Cacticola epiphytically.

The plant, named after the place of discovery Chilete, was collected as an "additional" T. cacticola because vegetatively it resembles a young T. cacticola.
The key in Flora Neotropica, nr., 14, Subkey II, p. 675 leads to T. xiphioides, with which T. chiletensis, because of its large flowers, shows a certain similarity, however it differs with T. chiletensis being essentially smaller; the petals have smooth edges and not toothed, moreover, T. xiphioides only comes from Argentina.
The vegetatively similar T. incarnate differs from T. chiletensis in the following characteristics:
Plant long stemmed; side branches to 25 cm long. Leaves 8-24 cm long, with appressed scales. Inflorescence a simple spike, to 12 cm long and 5 - 18-flowered. Floral bracts densely lepidote, pink colored. The posterior pair of sepals connate, the pink coloured petals only 20-25 mm long, erect and not bent over.

Butcher's comments
Curiously, Rauh mentions the similarity with T. xiphioides but immediately discounts it because that plant comes from Argentina (nowadays Argentina and Bolivia). Even more curiously he compares this new rather small plant with T. incarnate which we all know grows by the metre length and flowers when it feels like it.

How then did this plant of mine come to get the name of T. chiletensis when I think it is really a T. lorentziana. I did my own differential diagnosis and found that T. chiletensis differs from a simple, white-flowered T. lorentziana in:
(1) - Plant - smaller
(2) - Leaf sheath - glabrous
(3) - Leaf blades - 1cm wide, strongly bent reflexed, edges rolled inwards, NOT inner ones suberect and outer reflexed.
(4) - Inflorescence - 3.5cm long NOT 6cm and more
(5) - Floral bracts - green
(6) - Filament - Straight NOT plicate
(7) - Habitat - North Peru NOT Bolivia and all points S. & SE.

By the way I think the T. chiletensis as featured on page 213 in Baensch's Bromeliad Book (see B/W above) is T. lorentziana!
---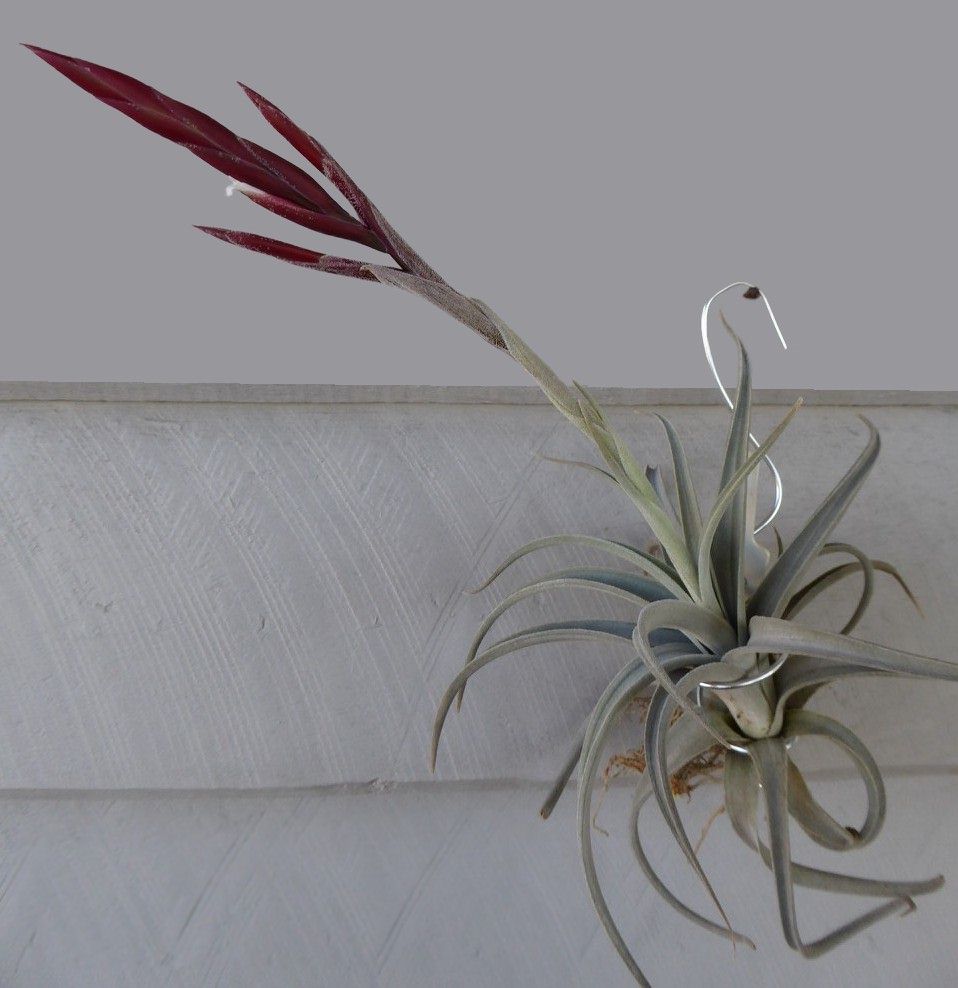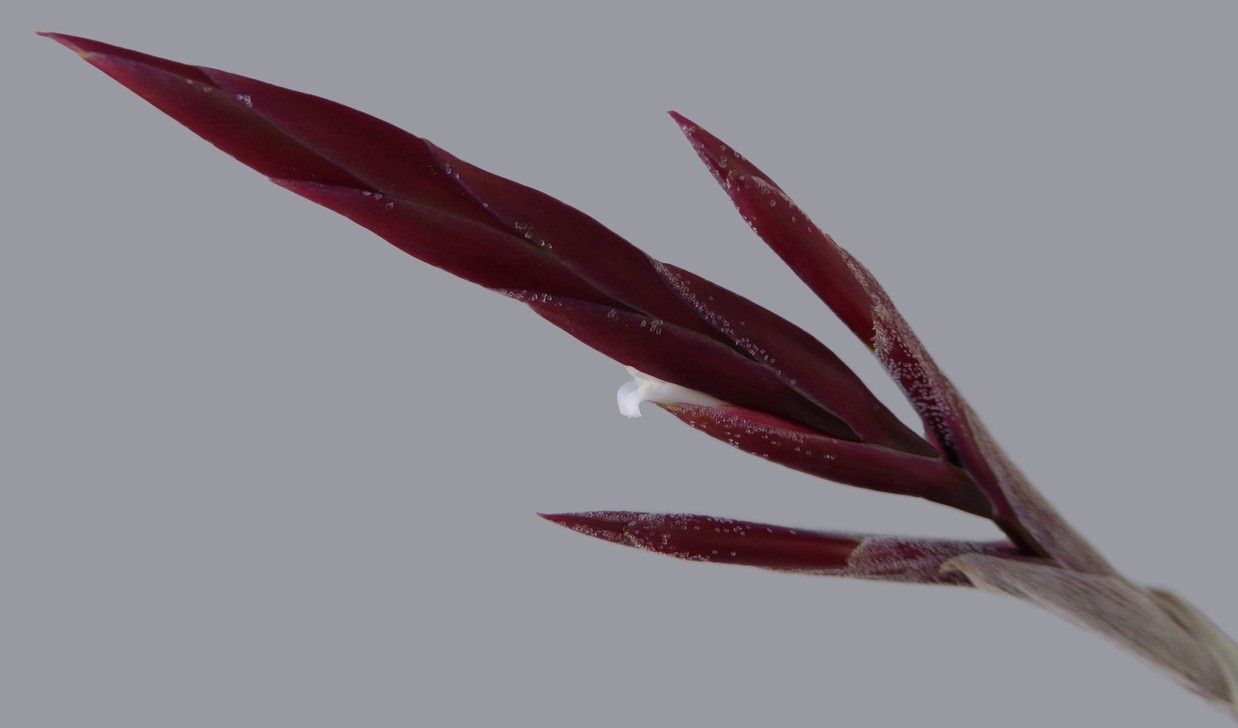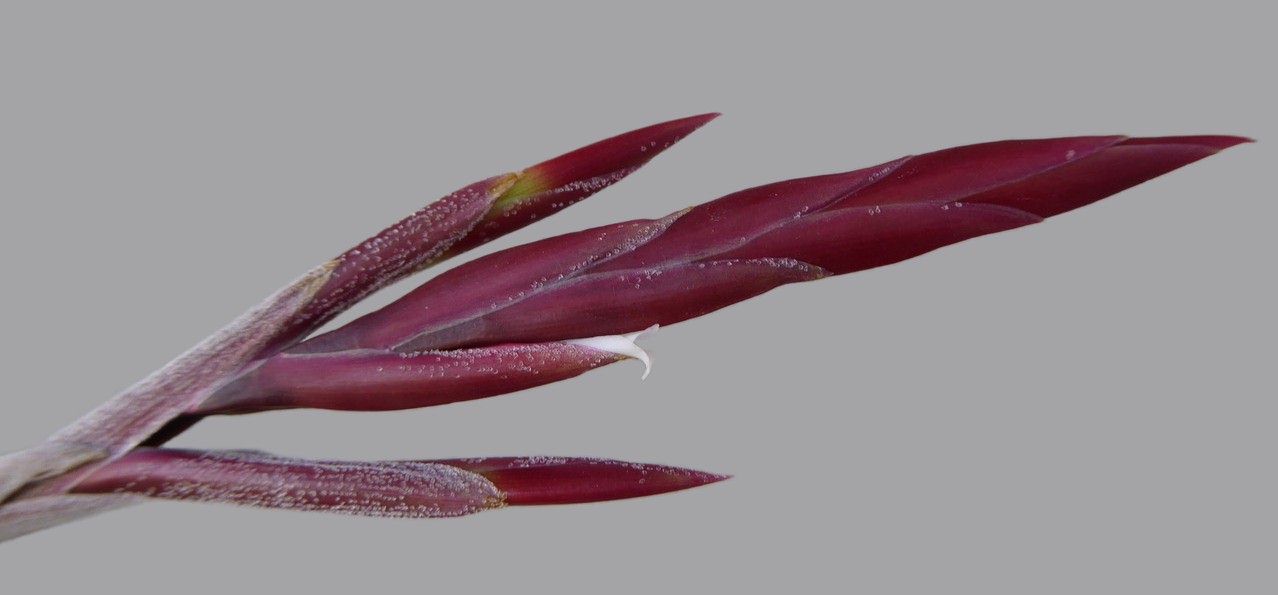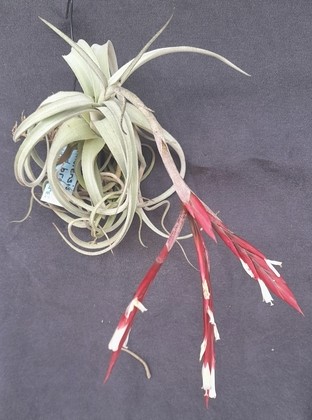 | | |
| --- | --- |
| Bruce Dunstan 07/18 | Steve Haines 12/22 red bracts |
Bruce Dunstan ... "First flowering of this plant for me and when I looked at the disc I realised it doesn't match the description for T. chiletensis. I'd apreciate your thoughts on what it might be."
Peter Tristram ... "I obtained plants labelled chiletensis in Germany. There is a green bracted and a pink bracted form. Both are from Chilete, Peru and there has been discussion in the past. They look like a mix of lorentziana and bermejoensis. I expect an ample nutrient supply would increase inflorescence size and branching"

---
Updated 12/01/23
---