Tillandsia chiapensis
Click thumbnails for full size, scaled to a new window.
---
Tillandsia chiapensis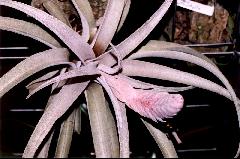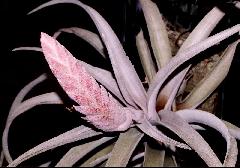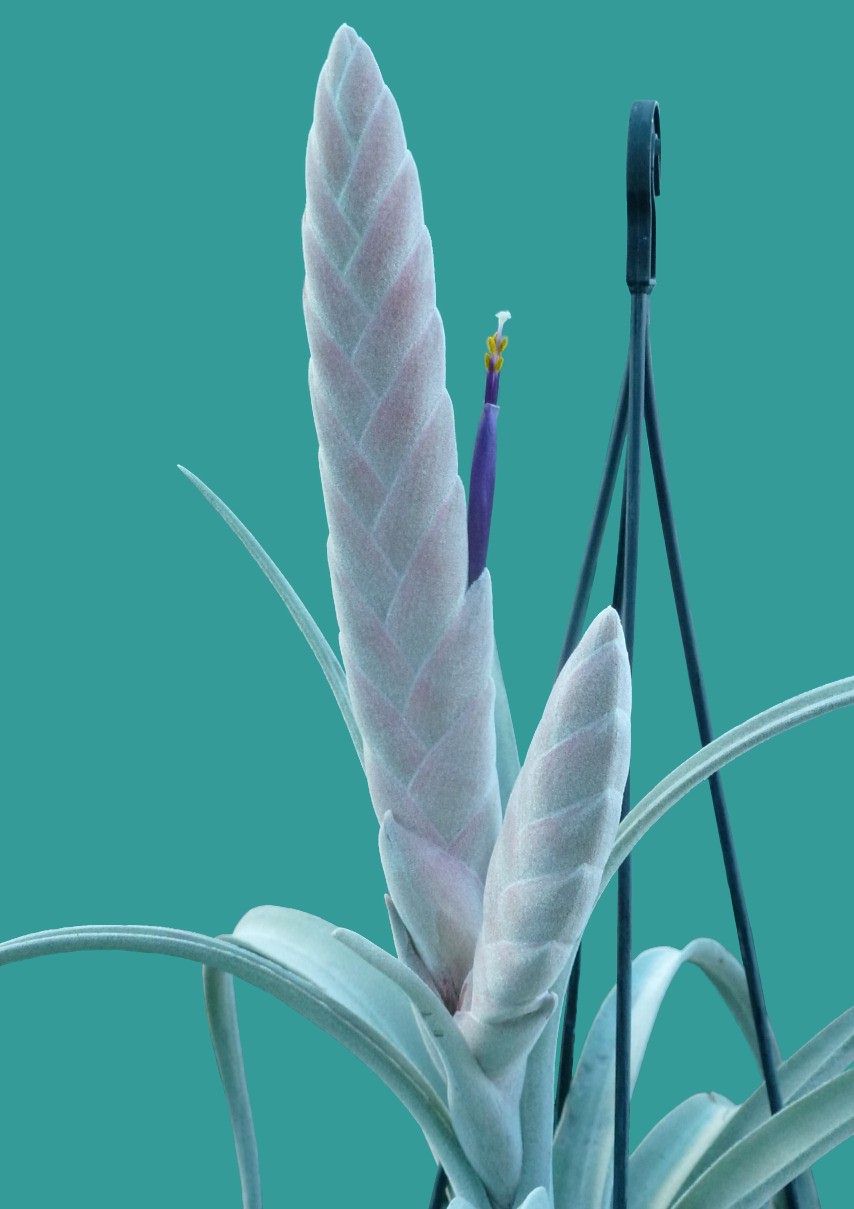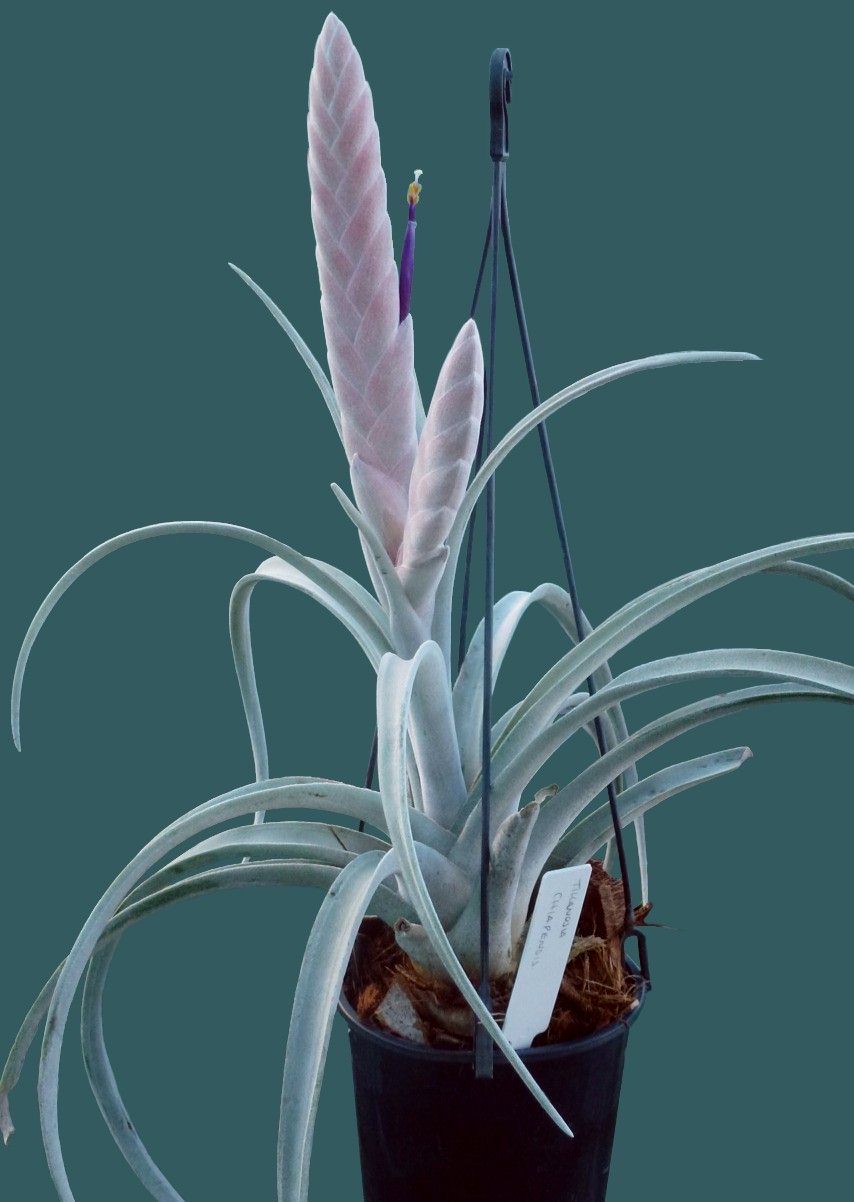 | | |
| --- | --- |
| Ken Woods 08/04. | Bruce Dunstan 10/14. |
Bruce Dunstan ... "I had a mounted plant for 5-7 years from PT that did very little. I potted it into a diatomite 5-7mm and coir chunks mix, as I had run out of Diatomite and had to make it up with something. After a good feeding it finally flowered a year or two later. They seem to be much happier having access to nutrition through the roots."
Eric Gouda ... "I doubt it that it will take up nutrition with the roots.
I had several plants of T. chiapensis in my greenhouse that did not do anything for over 20 years, until one rotted from the roots.
I cleaned it up and let it dry, but because I could not mount it without stem or roots, I put it up high and dry in my greenhouse and all of the sudden it started to grow very well.
I had a smaller plant that stayed that way for over 20 years and put it up too and started growing too to full size and flowered.
The key here was the light, if it is in low light condition it will stay almost without any growth."
Peter Tristram ... "T. carlsoniae used to grow well for me when I imported what I assume were wild-collected plants (20+ yrs ago). They would bloom and pup well but I noticed the progeny weren't so easy to grow and eventually I lost my stock. The same happened more recently with a couple from Germany. The latest one from Chris isn't so good either though still alive. They seem to thrive for him! I am sure the hot summers are causing serious stress for this baby here!
As for T. chiapensis, the reverse applies - the 'hotter' the better, but not too wet! They grow much better for me in the heated till-tunnel than outside, whether mounted, racked or potted. I am sure the night temp is a critical factor too as chiapensis loves Florida, from what I've seen. A big plant is also likely to produce a branched spike but that rarely happens for me as the plants tend to flower a bit small compared to further north. Even Tropiflora's 'giant' form flowered with a single spike and was potted. The most interesting form is one I got from Lotte (labelled 'different') that has semi-glabrous leaves (red) in patches, but is oh-so-slow. T. chiapensis hybrids are slow growers too, in my experience.
I think T. chiapensis prefers to be covered as well, hinted at above, as my outdoor ones suffer from die-back on the leaves in wet weather, something Laurie from The Gong spoke about in Albury (sometimes with fatal results too)."
| | | |
| --- | --- | --- |
| Chris Larson 05/15 | John Olsen 02/18 | Bruce Dunstan 02/18 |
Chris Larson 05/15 ... "Just flowering a couple of Pam's chiapensis. A beautiful species. The normal version is 'Pam's T.046'. Just recently potted up - possibly 6 months ago – after sitting around mounted since 2008, when it didn't grow as quickly as when I potted it.
The chunky one is Pam's T. chiapensis 'Giant form T.580'. Imported in 2012 and only recently recovered and putting on growth. This is a very beautiful form with purplish undersides to the leaves in the middle of the plant. The leaves are very thick & this is a very different clone to the one usually seen. I'm not sure if it is supposed to grow larger, ie becoming the "Giant form", or not – or if that just refers to the leaves. A choice clone of a choice species."
* See cultivar "Purple Devil".
John Olsen 02/18 ... "Finally persuaded one to have a branched infl. Parent was a good size specimen but a single spike."
Derek Butcher 02/18 ... "It is reported that you may get one lateral branch! Must be your fertilizing regime."
Peter Tristram ... "I'd be wondering the same Derek! What a chiapensis! Is it Tropiflora's giant form?"
Bruce Dunstan ... "Fertiliser does help with extra branching. This one missed flowering last year and had an extra seasons growth."
Peter Tristram ... "Funny, the BRT form/s sometimes branch for me but the so-called Tropiflora giant form has only ever bloomed with simple spikes. The most interesting form I've seen came from Europe - it has shiny undersides phasing into scaling and is very chunky. I think Chris has posted a pic of it. Slow grower!"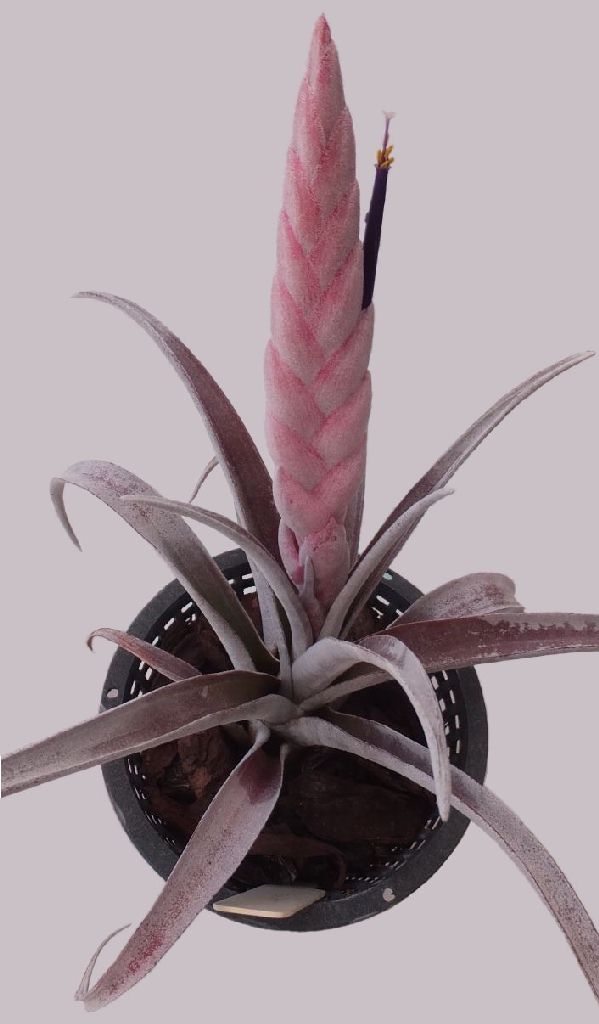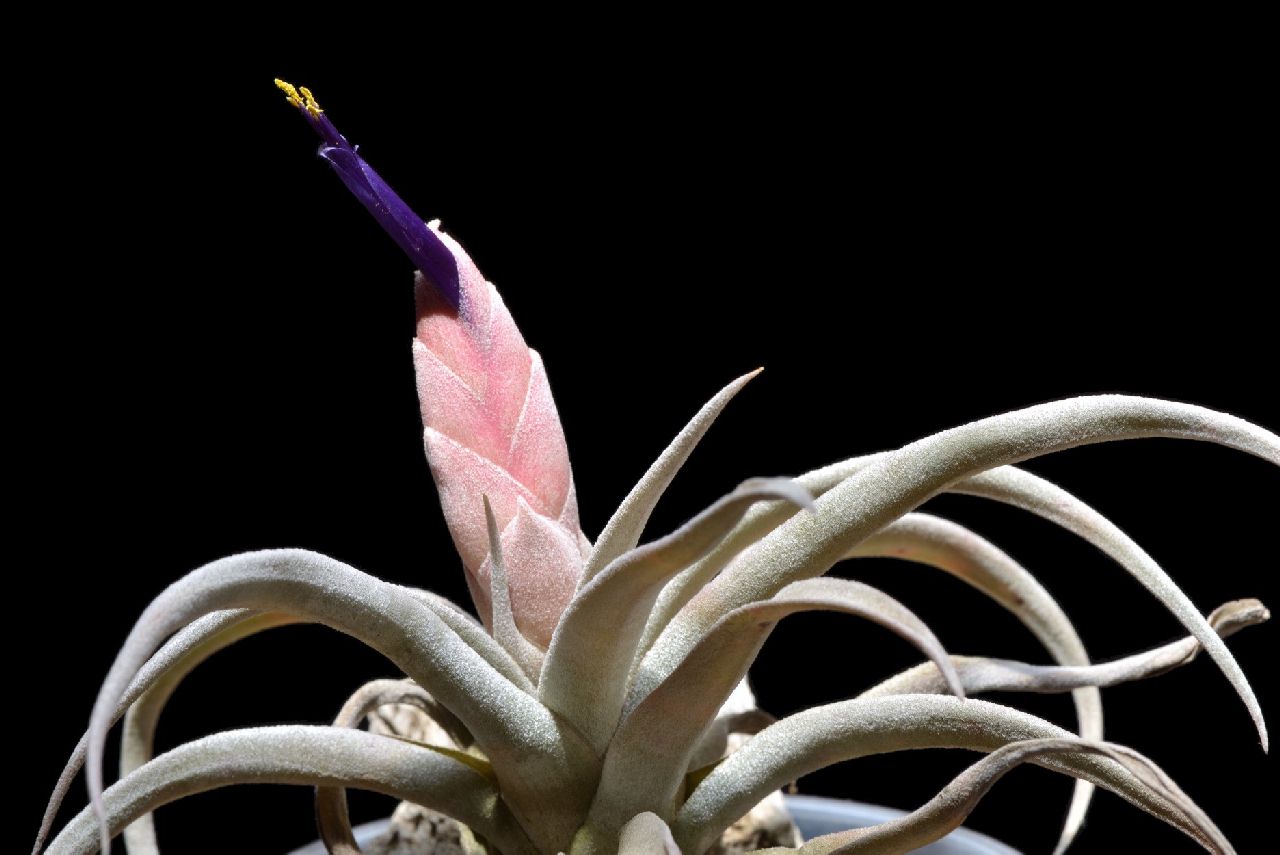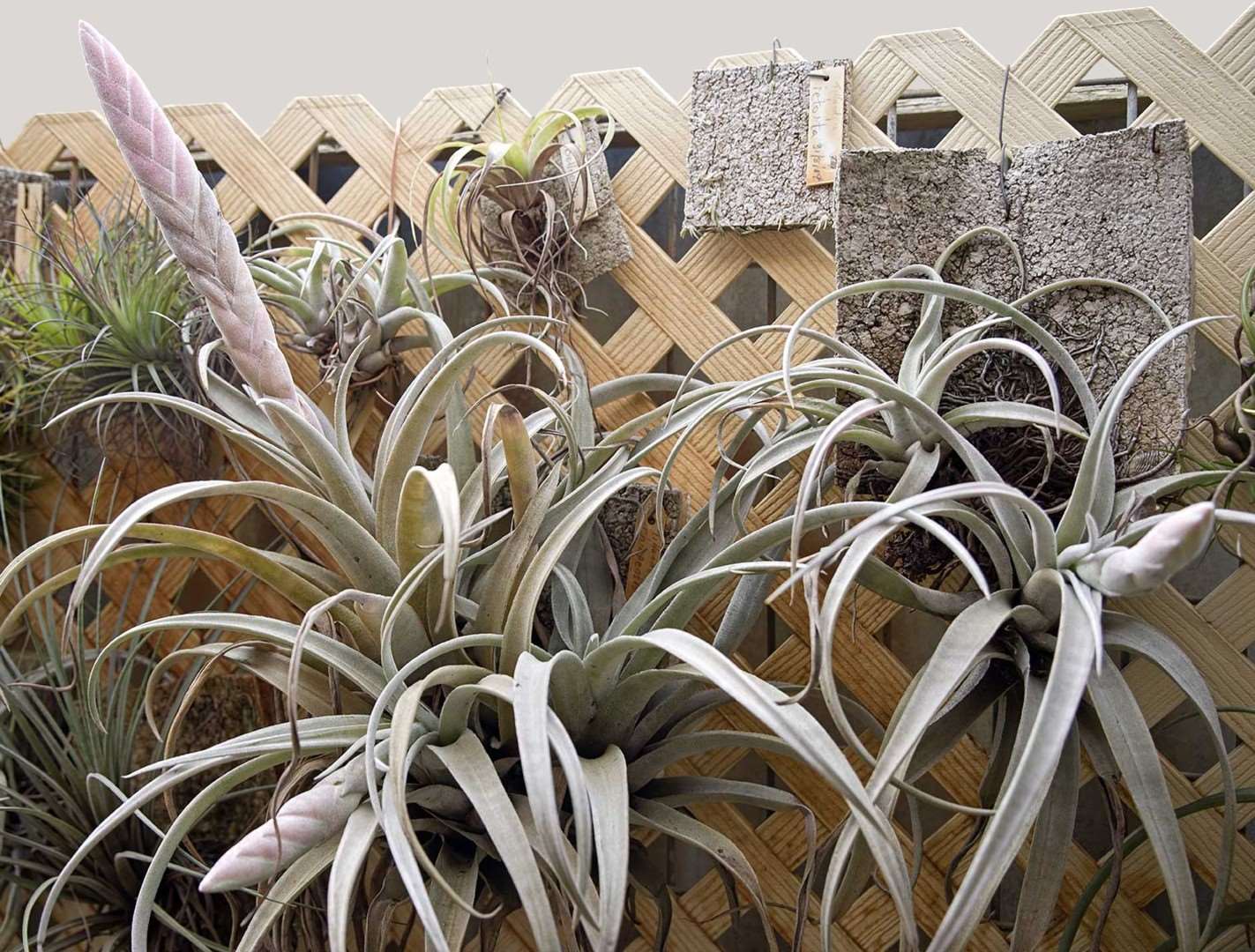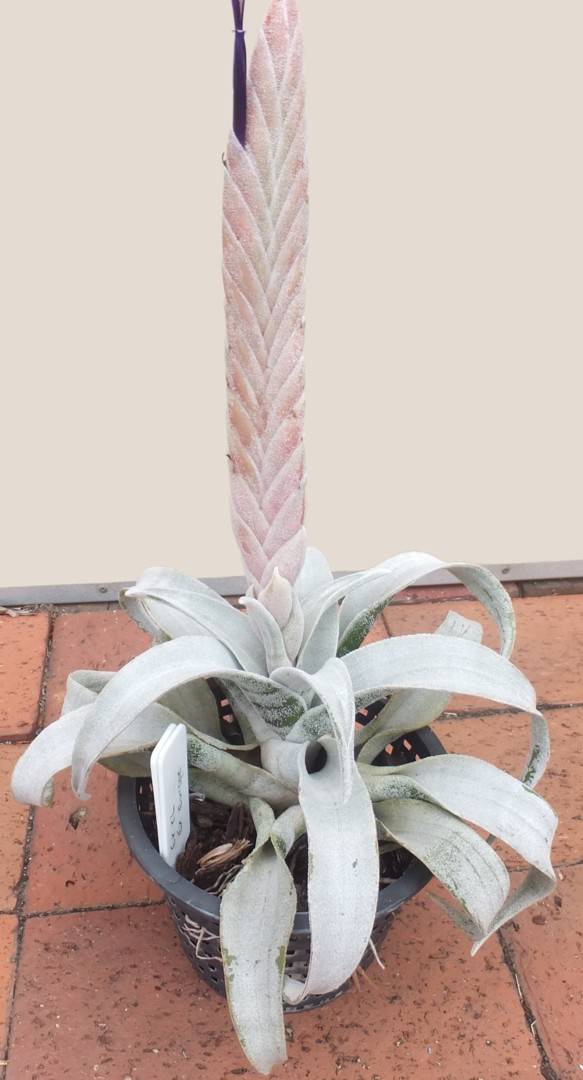 | | | | |
| --- | --- | --- | --- |
| Adam Bodzioch 04/18 ex. Peter Tristram | George Nieuwenhoven 01/20 "commonly grown but slow at least for me" | Vic Przetocki 07/21 | Adam Bodzioch 04/22 *'Purple Devil' |
Adam Bodzioch 04/22 ... "Extra nice form but I should have given it more light when the spike was forming."
| | |
| --- | --- |
| John Olsen 03/22 branching form | Pam Butler 05/22 |
Peter Tristram ... "Well grown John Olsen! Post more pics when flowers appear. So many forms of this species from such a restricted habitat."

---

Tillandsia chiapensis S. Gardner, sp. nov. Selbyana 2(4): 338. 1978
T. carlsoniae L. B. Smith verisimiliter affinis per bracteas imbricatas, dense lepidotas, roseolasque, sed per inflorescentias simplices differt.
Plant stemless, offsetting from the base, eventually forming large clumps.
Leaves 3 dm long, numerous, in a spreading rosette;
Sheath 4.5 cm broad, suborbicular, pale castaneous;
Blades narrowly triangular, subinvolute, 2.5 cm broad at mid-blade, densely cinereous-lepidote. scales coarse, about 0.5 mm long, suborbicular, a 4-8-16-32-128 cell arrangement pre-dominating.
Inflorescence simple, about equal to the leaves, lanceolate, suberect, becoming decumbent after flowering,
Floral bracts imbricate, densely lepidote, pink; lower sterile bracts foliaceous, polystichous; upper fertile bracts distichous, elliptic, acute;
Sepals free, lance-elliptic, acute, coriaceous, 15 mm long; posterior sepals keeled;
Petals lanceolate, blue-violet;
Style and stamens exserted;

TYPE: MEXICO: CHIAPAS: 17 km west of Ocozocautla. Saxicolous on canyon walls, approximately 600 m elevation, 3 Aug., 1977, Gardner 211 (HOLO¬TYPE: SEL; ISOTYPES: US, MEXU, CAS).
DISTRIBUTION: MEXICO: CHIAPAS: known from type locality only.
ECOLOGY: The type location for this species is in the region of Chiapas desig¬nated as the Central Depression (Breedlove, 1973). The region bordering the gorge is dry thorn woodland. Dense colonies of T. chiapensis occupy the upper portions of limestone canyon walls which rise approximately 350 meters above the river, and extend laterally for several miles (actual limits of the population have not been determined). The plants occur on both sides of the river and are fully exposed to solar radiation. The flowering season is October and November. Other bromeliads growing on the canyon walls include several species of Hechtia. The bromeliads occuring in the trees above the canyon and on the less steep portions of the canyon walls include Tillandsia concolor, T. juncea, T. caput-medusae, T. fasciculata, T. schiedeana and a species of Billbergia.
Live plants of the type collection have been introduced into cultivation, including some at the Marie Selby Botanical Gardens.

From Gardner in JBS 1980 p157
In 1976 Michael and Natalie Hughes introduced a new and unusual Tillandsia to Texas Bromeliad growers through sales at the Bromeliad show in Corpus Christi, and soon after at the Southwest Bromeliad Guild Show in Austin. Michael and Natalie had been living in Veracruz in a cabin behind the Posada Loma motel at Fortin de las Flores, where they collected bromeliads for importation into the U.S. While they never gave the location of the collection, other than "growing on steep cliffs", assumptions were made that they were in the state of Veracruz. Many attempts were made by various individuals to "key out" or otherwise identify this lovely and easy to cultivate Tillandsia.

In the summer of 1977 Erna Baker, of Corpus Christi, and family were bromeliad hunting in southern Mexico and accidentally found this mysterious Tillandsia on a steep canyon wall in the state of Chiapas. We learned of the location from Erna and made a collection. One plant was given to Dr. Matuda who considered it a new species. A specimen was then sent to Dr. Lyman Smith who verified that it was indeed an undescribed species. I described the species and the original publication of the description appears in Selbyana Vol. 2, No.4, 1978.

The plant is a stemless rosette which offsets freely from the base and eventually forms a large clump. The densely lepidote leaves are about 30 centimeters long and are numerous. The blades are narrowly triangular and subinvolute. The sheaths are sub orbicular and pale castaneous. The inflorescence is usually simple, but occasionally has a single lateral branch. It begins as suberect, becoming pendent as it matures. The imbricate, slightly inflated floral bracts are densely lepidote and rosy pink. The petals are long, blue-lavender and form a tube. The sepals are free, glaborous and coriaceous, the posterior ones are keeled.

The habitat of this Tillandsia is in the region of Chiapas known as the central depression, and is an area of thorn woodland. It grows on steep canyon walls which rise about 350 meters above a river, and occurs on both sides of the canyon in full sun. The elevation is approximately 600 meters. Flowering is in late fall to winter. The other bromeliads which grow in the area include a Hechtia which also occupies the canyon walls.

A Billbergia species and Tillandsia concolor, T. juncea, T. caput-medusae, T. fasciculata, T. schiedeana, T. ionantha and what appeared to be T. capitata were found in the trees above the canyon.

Numerous specimens have been introduced into cultivation, including some at the Marie Selby Botanical Gardens. This Tillandsia is related to T. carlsoniae L. B. Smith and appears to be also related to T. schatzlii Rauh which was described in Vol. XXIX, No.6 of the Journal of the Bromeliad Society.
---
Updated 19/05/22
---