Tillandsia chiapensis
Click thumbnails for full size, scaled to a new window.
---
Tillandsia chiapensis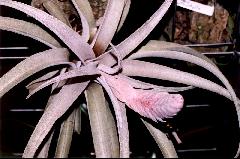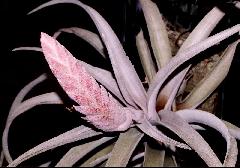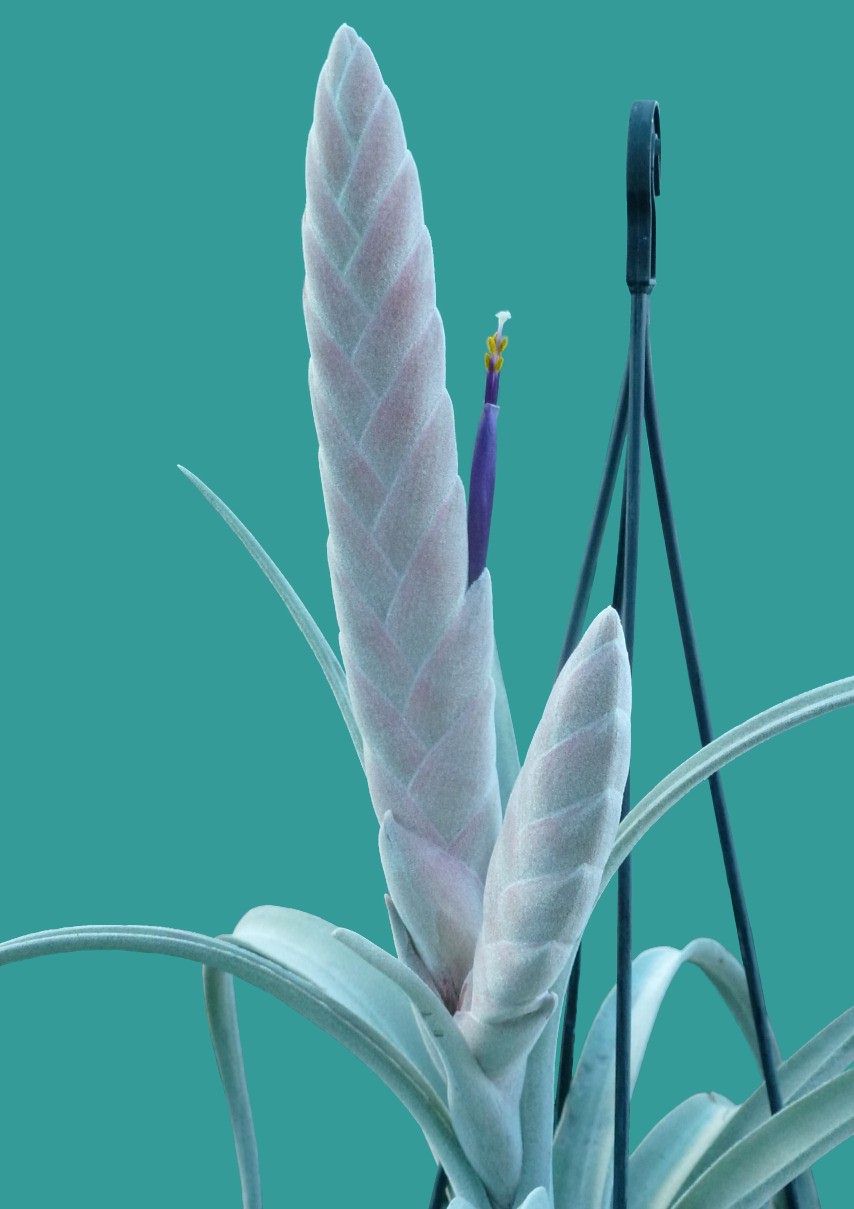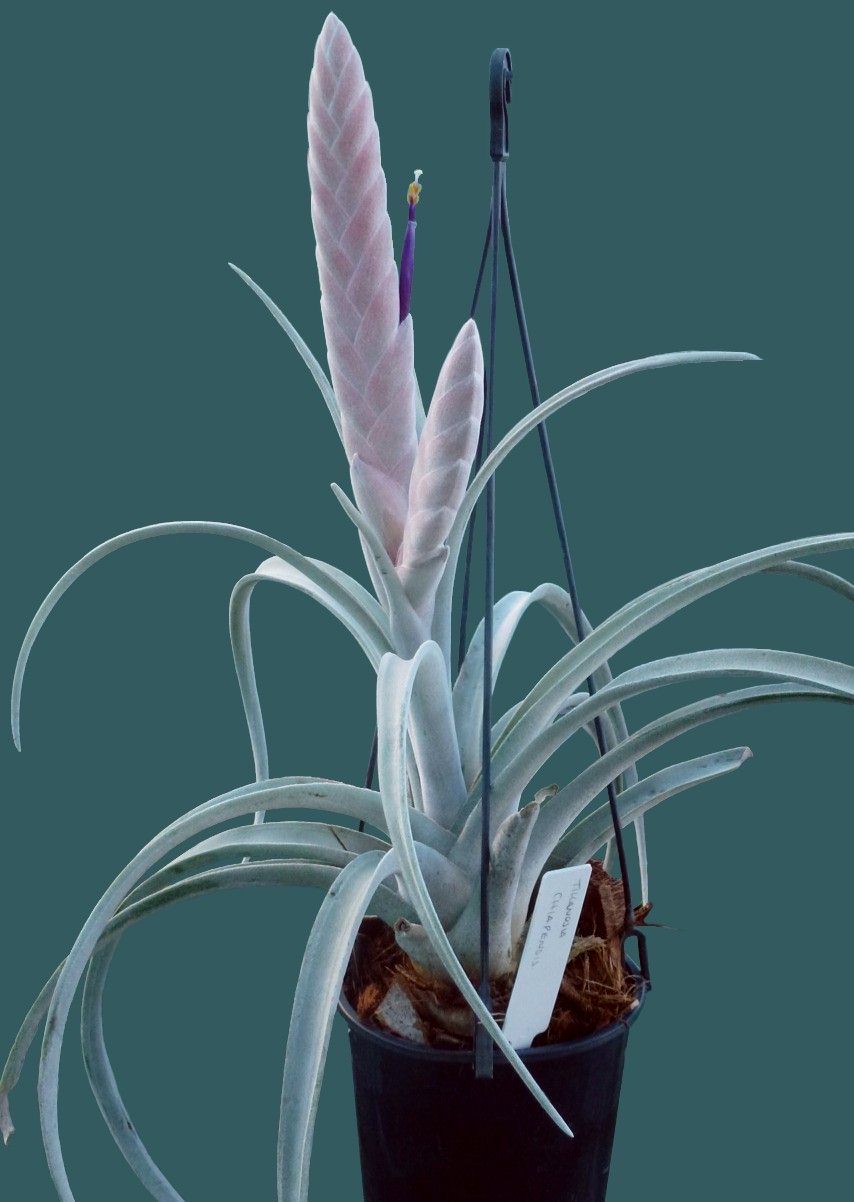 | | |
| --- | --- |
| Ken Woods 08/04. | Bruce Dunstan 10/14. |
Bruce Dunstan ... "I had a mounted plant for 5-7 years from PT that did very little. I potted it into a diatomite 5-7mm and coir chunks mix, as I had run out of Diatomite and had to make it up with something. After a good feeding it finally flowered a year or two later. They seem to be much happier having access to nutrition through the roots."
Eric Gouda ... "I doubt it that it will take up nutrition with the roots.
I had several plants of T. chiapensis in my greenhouse that did not do anything for over 20 years, until one rotted from the roots.
I cleaned it up and let it dry, but because I could not mount it without stem or roots, I put it up high and dry in my greenhouse and all of the sudden it started to grow very well.
I had a smaller plant that stayed that way for over 20 years and put it up too and started growing too to full size and flowered.
The key here was the light, if it is in low light condition it will stay almost without any growth."
Peter Tristram ... "T. carlsoniae used to grow well for me when I imported what I assume were wild-collected plants (20+ yrs ago). They would bloom and pup well but I noticed the progeny weren't so easy to grow and eventually I lost my stock. The same happened more recently with a couple from Germany. The latest one from Chris isn't so good either though still alive. They seem to thrive for him! I am sure the hot summers are causing serious stress for this baby here!
As for T. chiapensis, the reverse applies - the 'hotter' the better, but not too wet! They grow much better for me in the heated till-tunnel than outside, whether mounted, racked or potted. I am sure the night temp is a critical factor too as chiapensis loves Florida, from what I've seen. A big plant is also likely to produce a branched spike but that rarely happens for me as the plants tend to flower a bit small compared to further north. Even Tropiflora's 'giant' form flowered with a single spike and was potted. The most interesting form is one I got from Lotte (labelled 'different') that has semi-glabrous leaves (red) in patches, but is oh-so-slow. T. chiapensis hybrids are slow growers too, in my experience.
I think T. chiapensis prefers to be covered as well, hinted at above, as my outdoor ones suffer from die-back on the leaves in wet weather, something Laurie from The Gong spoke about in Albury (sometimes with fatal results too)."
| | | |
| --- | --- | --- |
| Chris Larson 05/15 | John Olsen 02/18 | Bruce Dunstan 02/18 |
Chris Larson 05/15 ... "Just flowering a couple of Pamís chiapensis. A beautiful species. The normal version is Pamís T.046. Just recently potted up - possibly 6 months ago Ė after sitting around mounted since 2008, when it didnít grow as quickly as when I potted it.
The chunky one is Pamís T. chiapensis 'Giant form T.580'. Imported in 2012 & only recently recovered and putting on growth. This is a very beautiful form with purplish undersides to the leaves in the middle of the plant. The leaves are very thick & this is a very different clone to the one usually seen. Iím not sure if it is supposed to grow larger, ie becoming the ďGiant formĒ, or not Ė or if that just refers to the leaves. A choice clone of a choice species."
John Olsen 02/18 ... "Finally persuaded one to have a branched infl. Parent was a good size specimen but a single spike."
Derek Butcher 02/18 ... "It is reported that you may get one lateral branch! Must be your fertilizing regime."
Peter Tristram ... "Iíd be wondering the same Derek! What a chiapensis! Is it Tropifloraís giant form?"
Bruce Dunstan ... "Fertiliser does help with extra branching. This one missed flowering last year and had an extra seasons growth."
Peter Tristram ... "Funny, the BRT form/s sometimes branch for me but the so-called Tropiflora giant form has only ever bloomed with simple spikes. The most interesting form Iíve seen came from Europe - it has shiny undersides phasing into scaling and is very chunky. I think Chris has posted a pic of it. Slow grower!"
---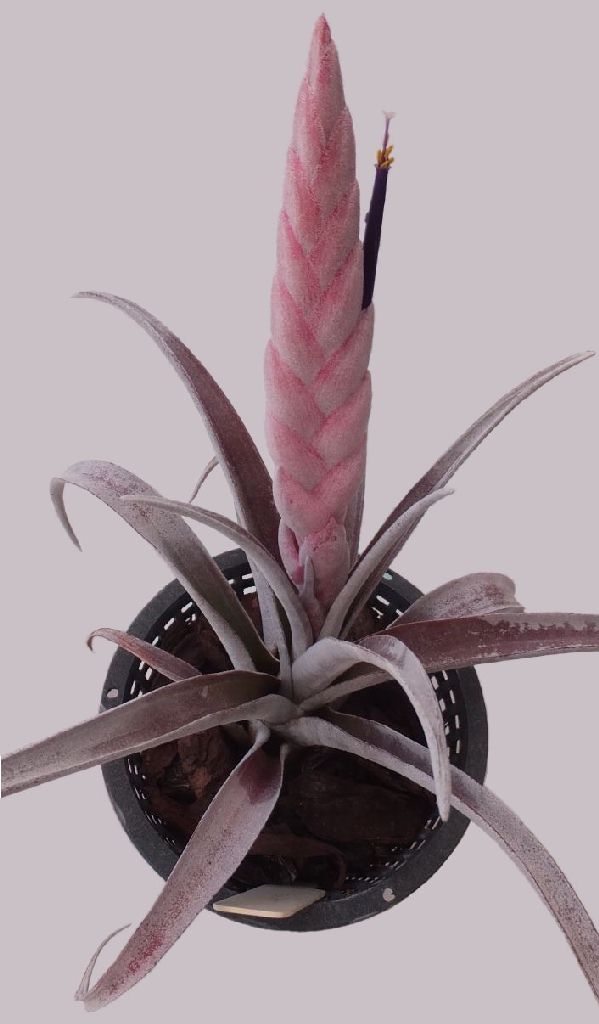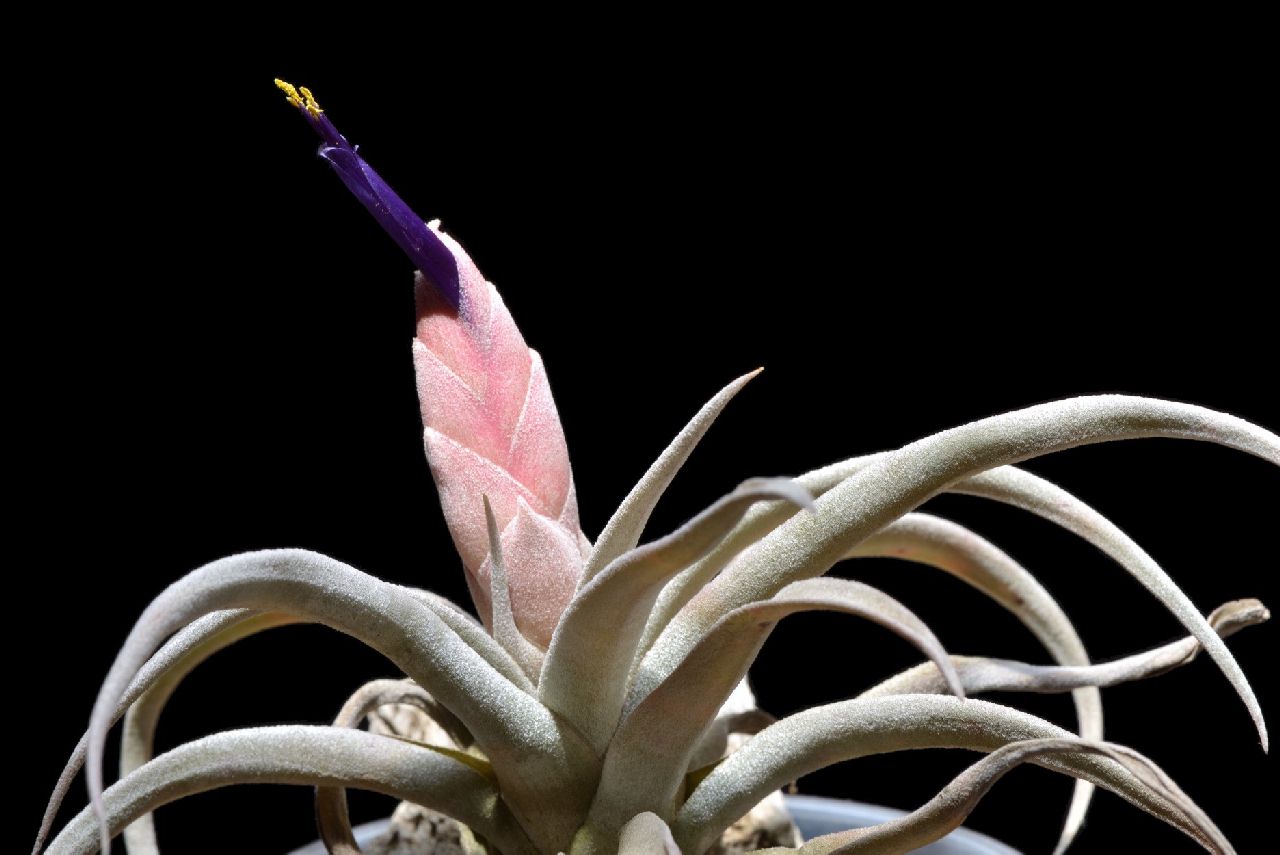 ---
Updated 25/06/20
---