Tillandsia carrilloi
Click thumbnails for full size, scaled to a new window.
---
Tillandsia carrilloi
Jun/2013 Considered by Gouda and Ehlers to be a synonym of T. zacapanensis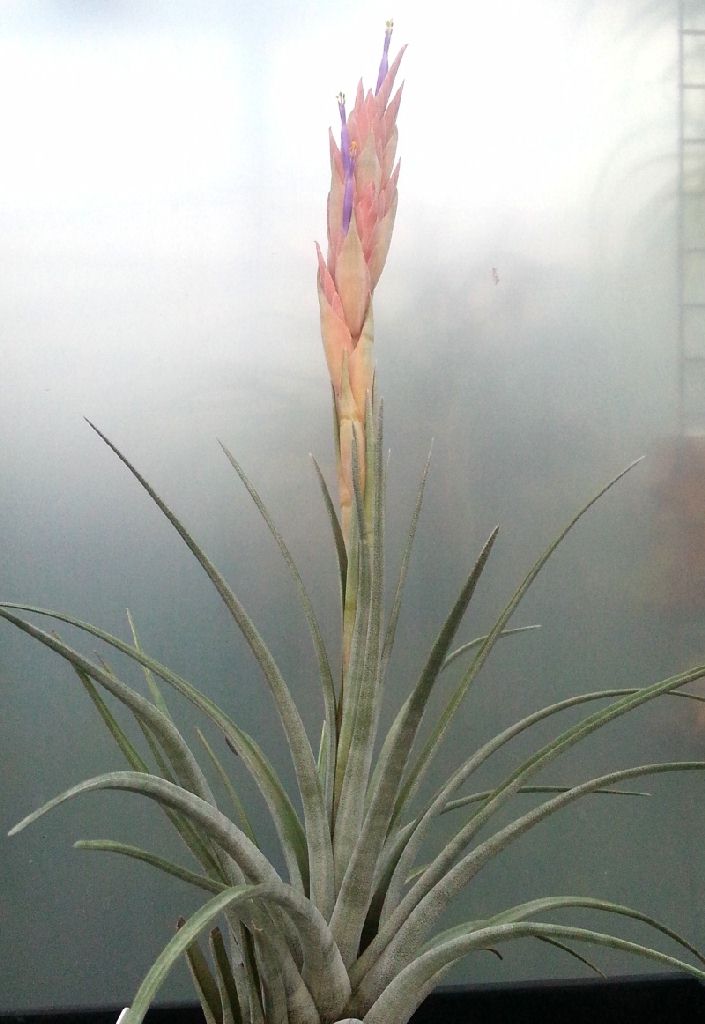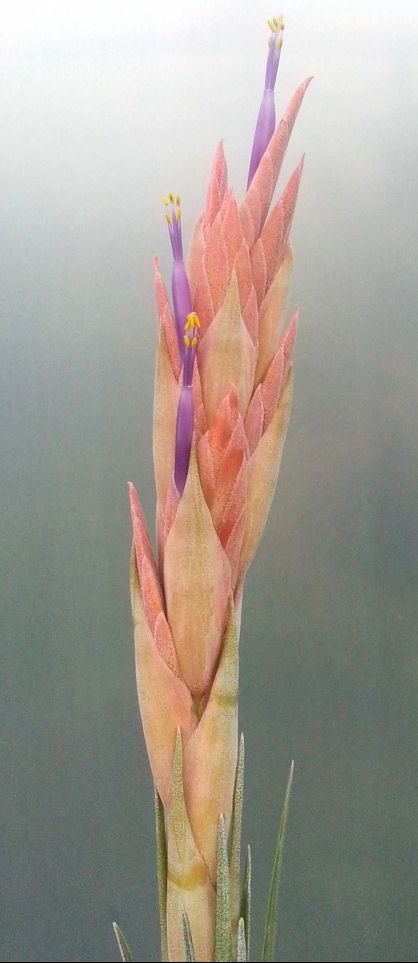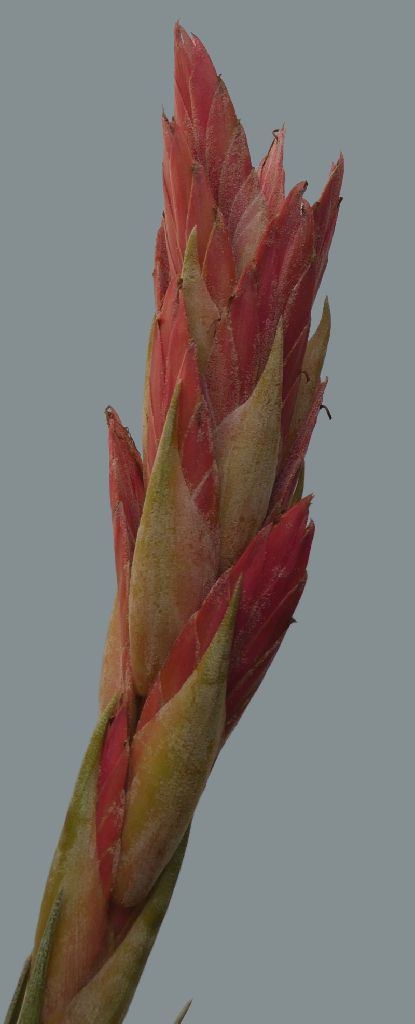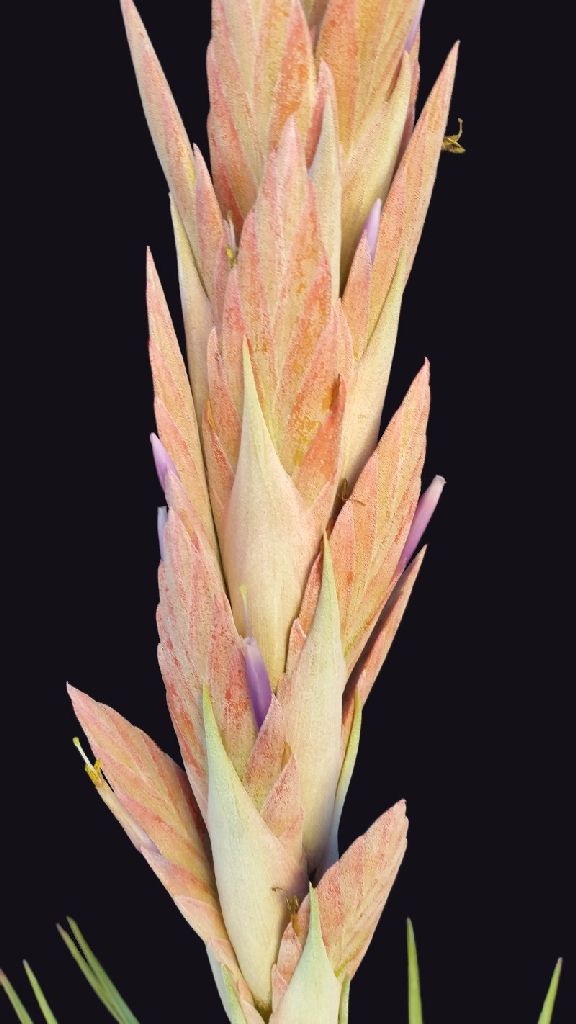 | | | |
| --- | --- | --- |
| Chris Larson 05/14 | Chris Larson 09/14 | Chris Larson 03/16 |
Chris Larson ... ""A little something I just flowered.
I saw it first I think, in Die Bromelie in late 2011 when it was still T. 'Calavera'. A plant which grows between 800 to 1000m. Later it was described as T. carrilloi. For a couple of months I have been watching the spike come up.
I cannot see any confusion with T. zacapanensis, as referred to on the disc. Leaf shape is very different – no way they can be mistaken – and flower spike arrangement is very different.
I wonder what my plant would be like if it reached full size – like the photos in Die Bromelie show? Or if it is a variation across the habitat.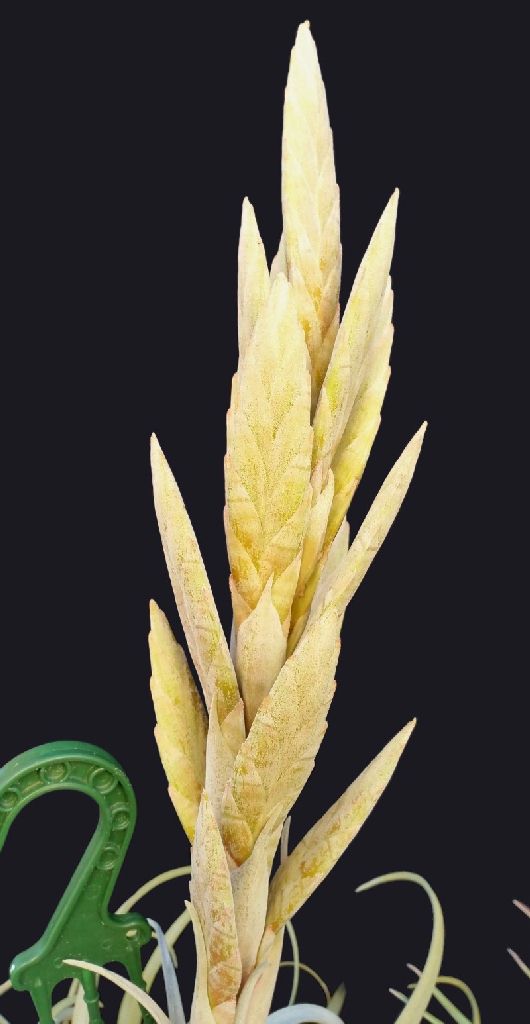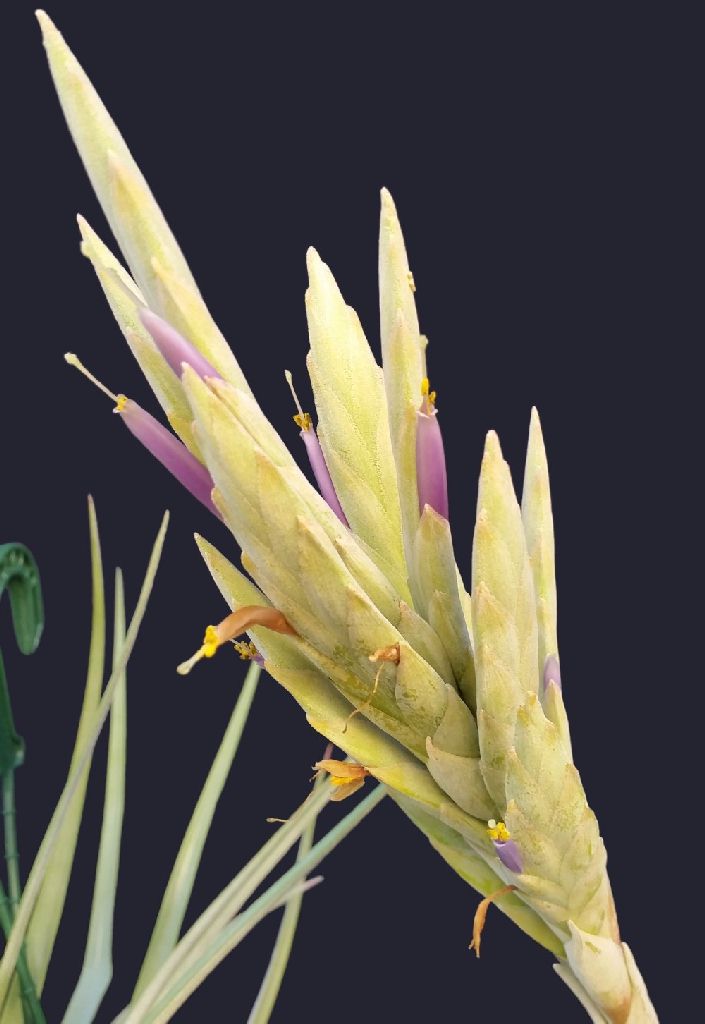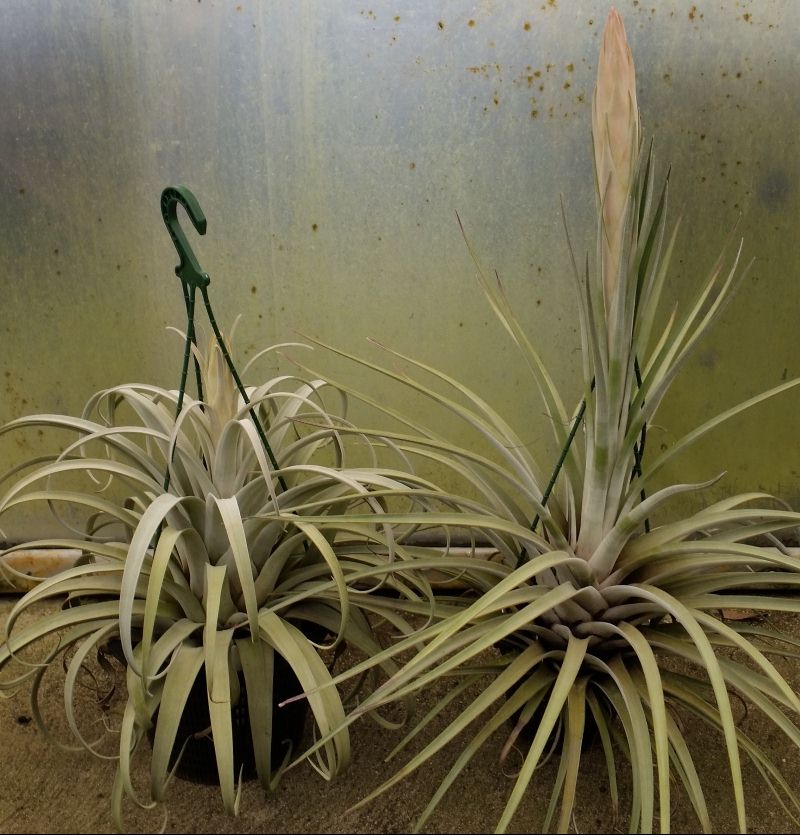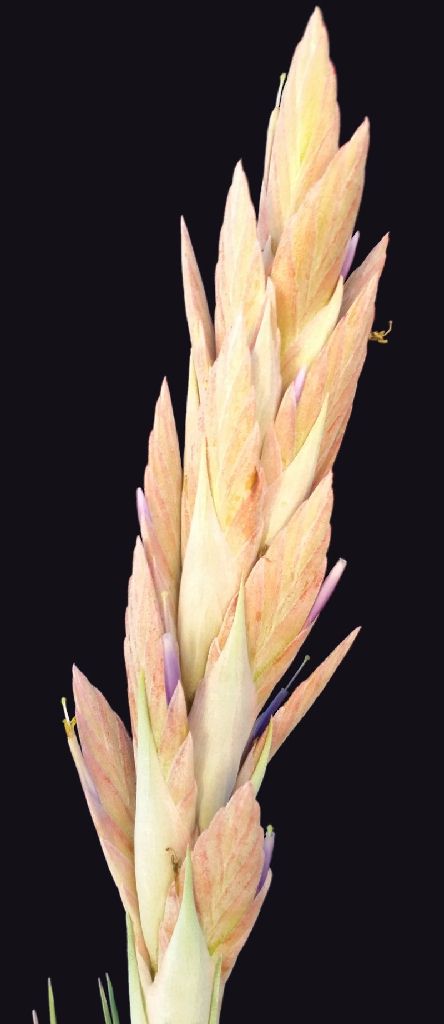 | | | |
| --- | --- | --- |
| Chris Larson 03/16 (zacapanensis) | Chris Larson carrilloi(left) & zacapanensis(right) | Chris Larson 03/16 (carrilloi) |
Derek Butcher ... "Chris: Both Renate and Eric consider zacapanensis and carrilloi synonymous.
Now for history. In 2010 we first saw zacapanensis published by the Guatemalans but in 2011 we saw this amended by Lotte and Renate. In 2013 we saw carrilloi published by the Guatemalans in an obscure journal (Could it be they did not want the Germans fiddling with it?) As as an aside Veliz was involved with both descriptions and he was the one who wrote the Guide to Guatemalan Tillandsias. You will find this in the DVD marked suspect because I feel it is full of anomalies.
In 2014 I received photos from my Thai friends of carrilloi which they had got from Guatemala and which did not fit the description of either carrilloi/zacapanensis. I smelt something fishy.
So all I can suggest is that when your carrilloi flowers you check it against the descriptions and then decide if the name is right."
Chris Larson ... "The first 2 photos are different T. zacapanensis in flower, or nearly. The one that has flowers (centre) has flowered a little small & has been in a darker position. The other (left) is beginning to colour.
The comparative shots were a bit blurry. I'll redo the photos later and post them then.
These are the larger carrilloi (left) and the smaller zacapanensis (right) shown flowering now.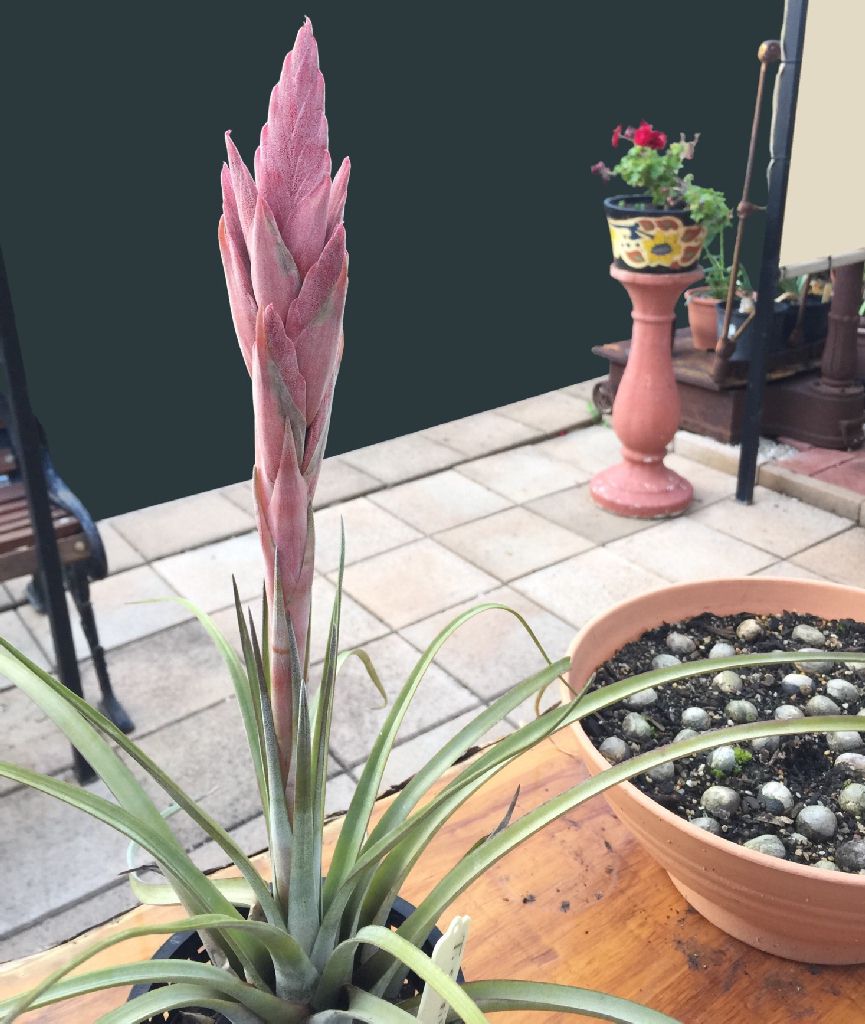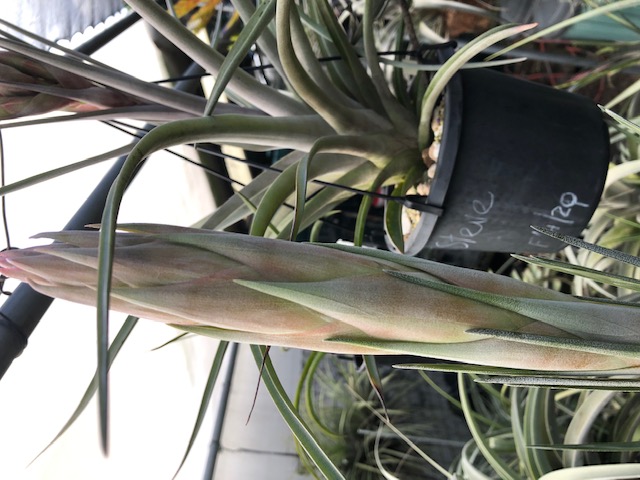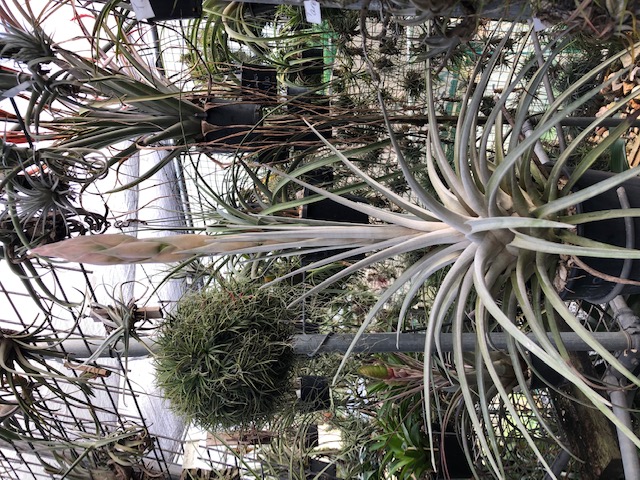 | | |
| --- | --- |
| Geoege Nieuwenhoven 05/20 | John Olsen 01/21 |
Geoege Nieuwenhoven ... "One I got from Peter Tristram a while ago, it has grown well for me and produced this beautiful spike but is rather tardy with its flowers, still it looks great as is."
Chris Larson ... "It does go on for ages. Watch those spikes elongate and flatten out in the process. Lovely at all stages."
Peter Tristram ... "Great new species, that's for sure. As Chris said, you have an unfolding visual experience ahead. I bought my first ones as Calavera in Germany."
John Olsen ... "A way to go yet but it has grown quite tall."
Bob Hudson ... "Very impressive,It's worth the wait to see it flower."
Chris Larson ... "A magnificent plant. A good size to flower it too. The 2 I have coming up have been a little quicker to flower, flowering early at the expense of size. The wait is so much better!"
Rob Bower ... "Look forwards to seeing what that turns into. Its always amazing how some tillandsias can take ages to accumulate some bulk in their rosette and then very rapidly mobilise reserves and pump up a big chunky spike in short order."
Alfonso Trudu ... "One of Peter Tristram's clones grows very tall like over 1 m."
John Olsen ... "I got one from Chris Larson and one from Thailand. Both at much the same stage now."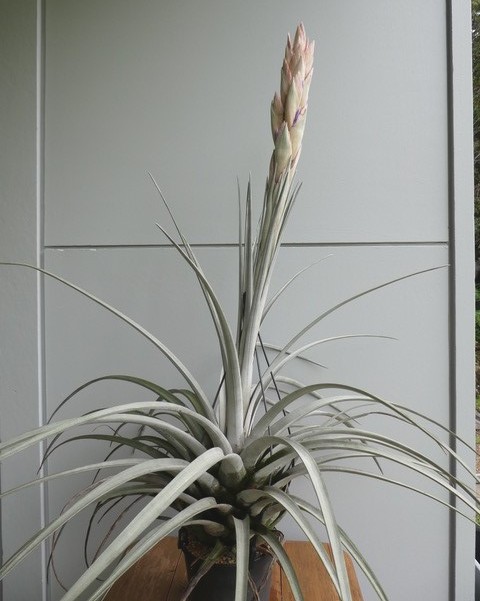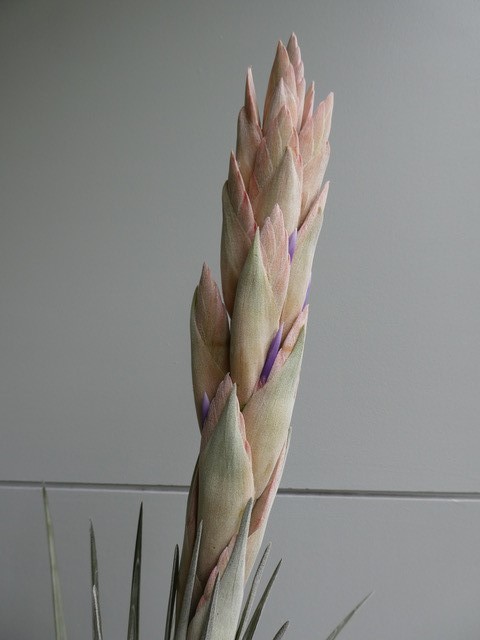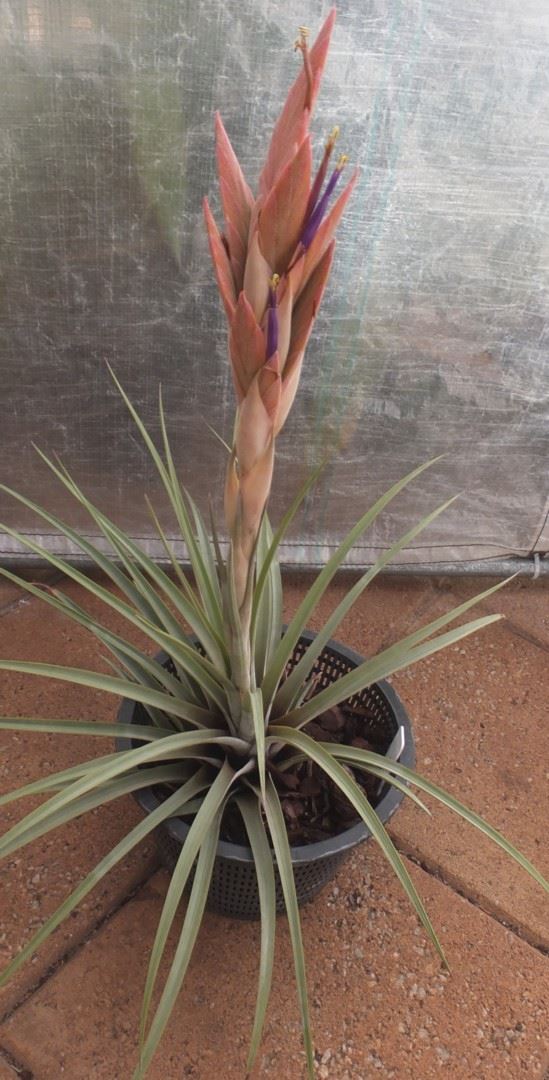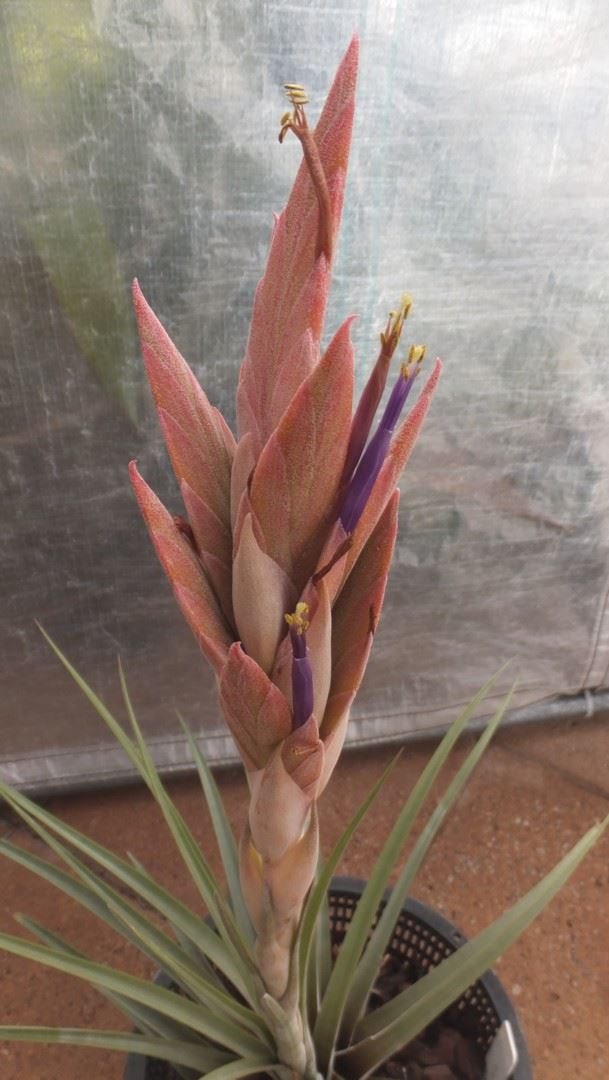 | | |
| --- | --- |
| Bruce Dunstan 02/21 | Adam Bodzioch 02/21 |
Adam Bodzioch ... "Bruce: I think South Australian conditions must favour carrilloi in bringing out exceptional colour. Above is one I flowered recently."
Peter Tristram ... "T. carrilloi and zacapanensis are sure two magnificent species finds in more recent times. They both vary quite a bit, hinting at recent speciation probably from hybridisation, which is typical of so many North/Central American species. The ice ages would be a key climatic factor in this process. As Harry Luther used to say to me about Mexican stuff, 'Just a bunch of hybrid swarms'. I have a couple of carrilloi blooming too and have posted a few pics of others over the years, to compare. Some carrilloi have recurring branches too. I'm keen to bloom a zacapanensis too, as my largest ones are like monster xeros. Fortunately quite cold tolerant though."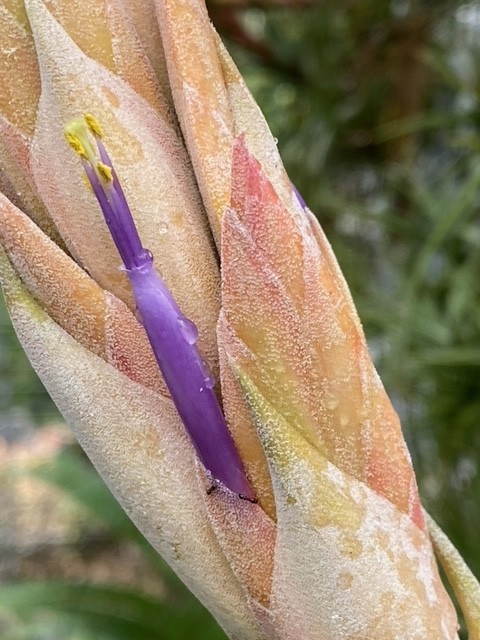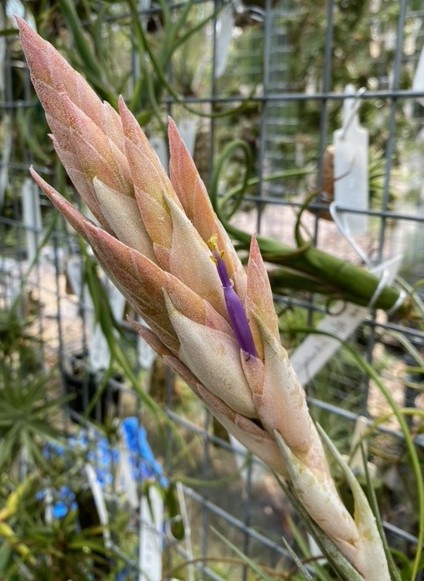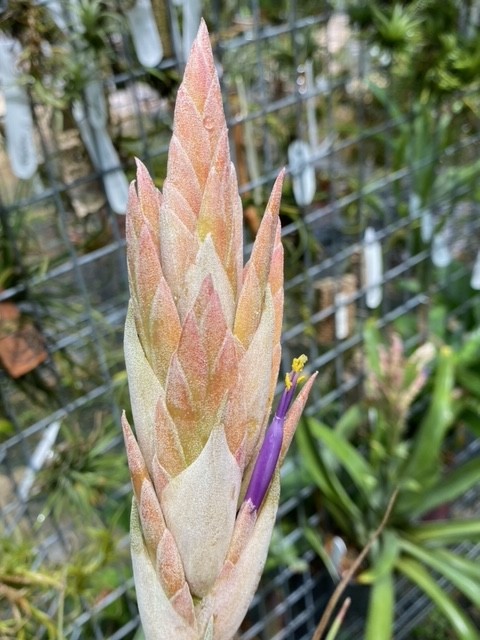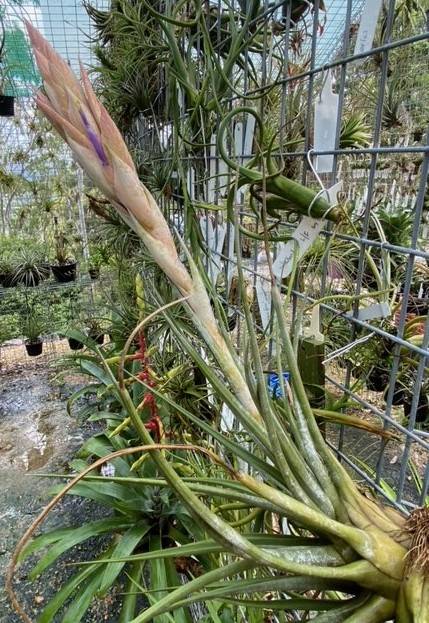 Dale Dixon ... "My first T. carrilloi in flower. Not as rich a colour as Adam's in Adelaide but I'm happy nevertheless. Grown in the rafters under 25% shade."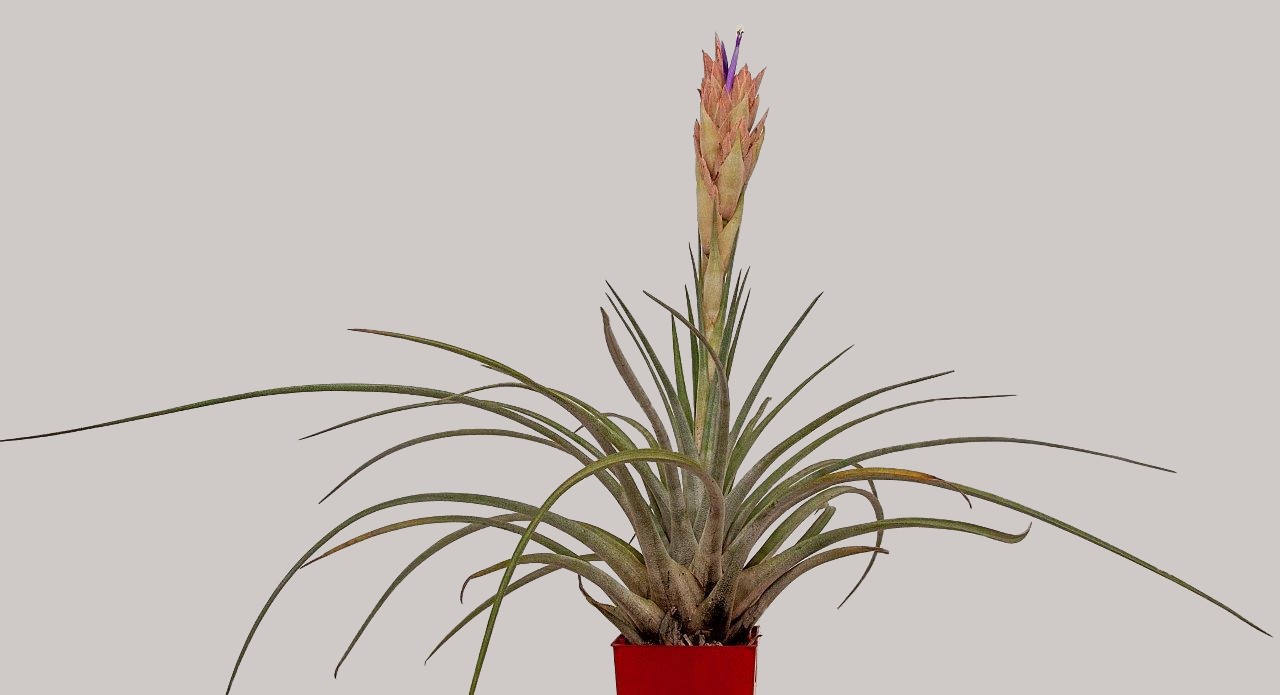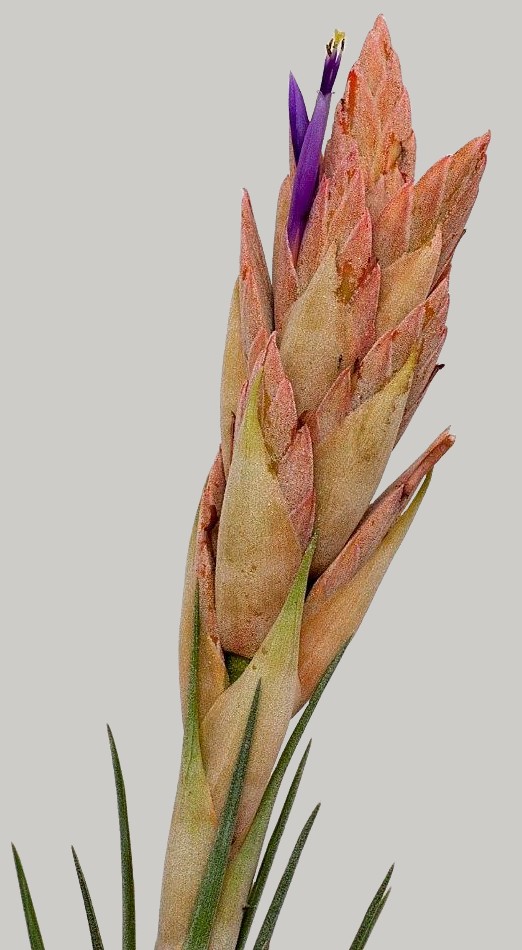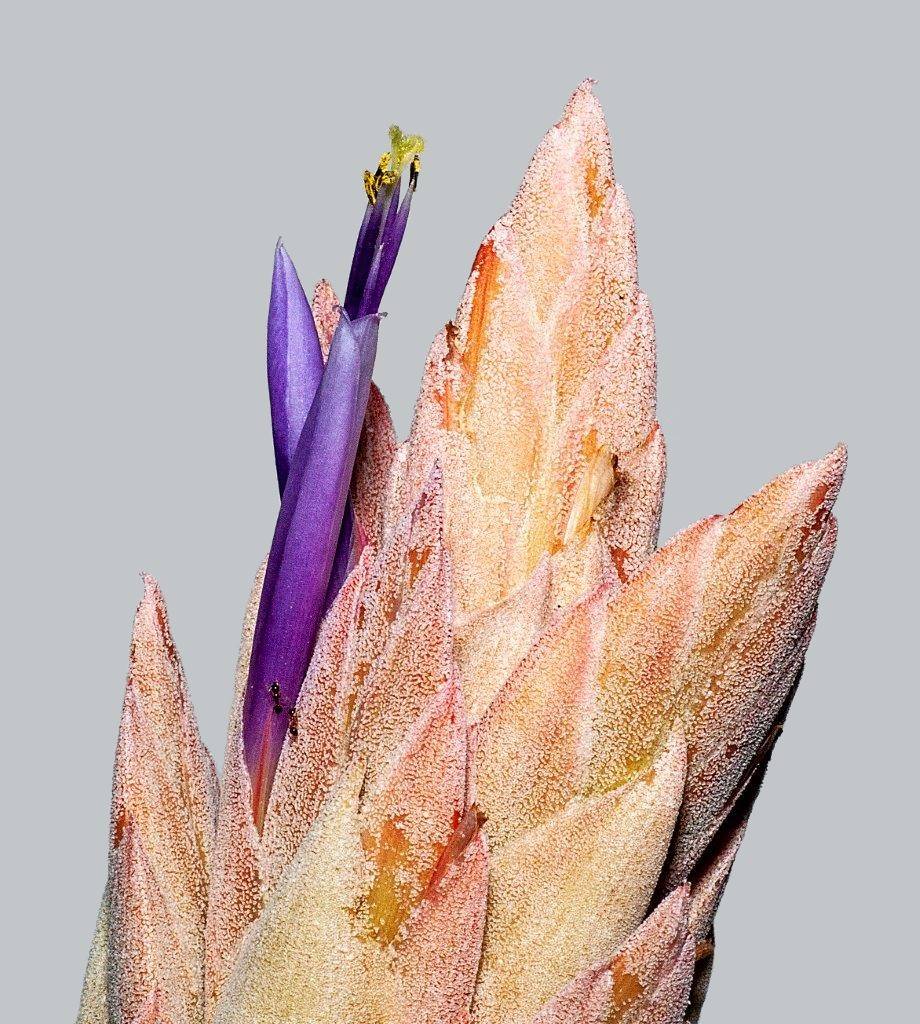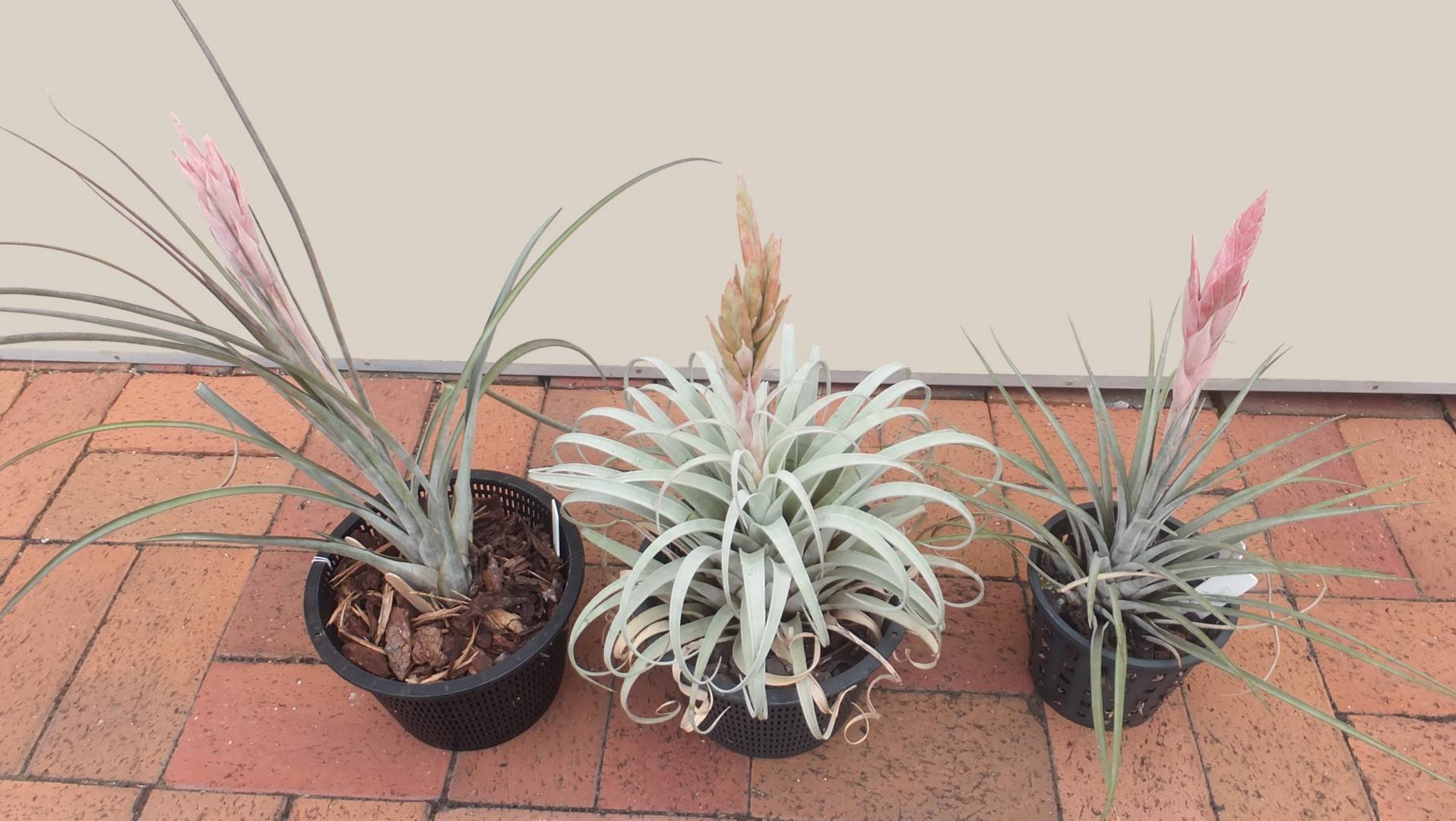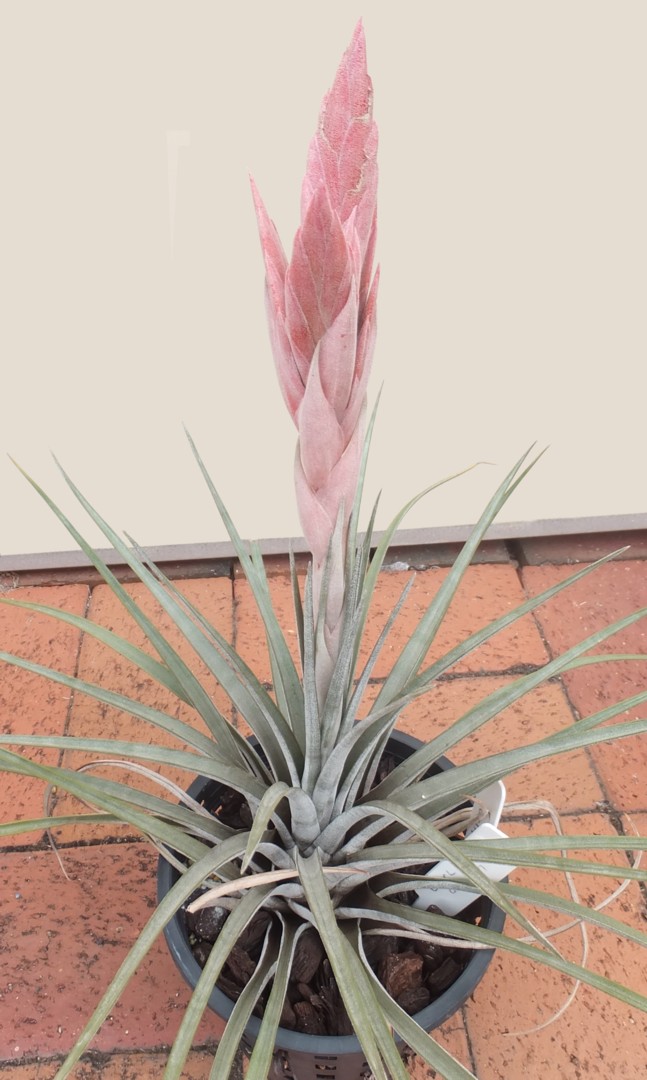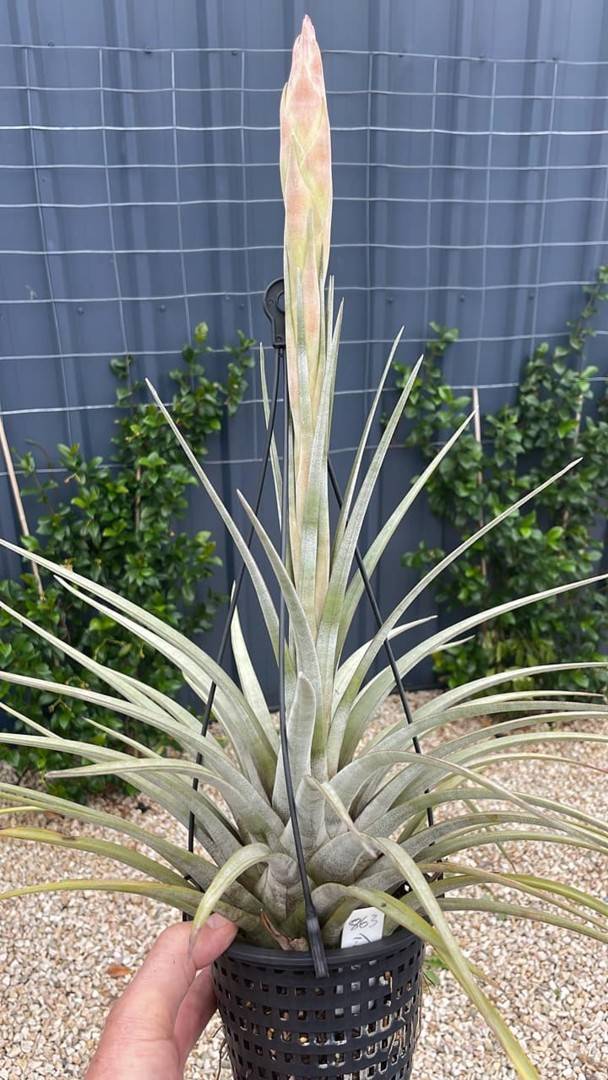 *carrilloi, zacapanensis, carrilloi
Adam Bodzioch 04/22

carrilloi (usual size)
Adam Bodzioch 04/22

Ray Clark 03/23
*Adam Bodzioch ... "Composite pic of (left) carrilloi (Monster form – ex Peter Tristram, ex Feld. Germ), zacapanensis, (right) carrilloi."

---

Tillandsia carrilloi Veliz & U. Feldhoff sp. nov. Cactus-Aventures Int. 98: 19. 2013
Jun/2013 Considered by Gouda and Ehlers to be a synonym of T. zacapanensis

TYPE : Guatemala, Chiquimula. Municipio Camotan. Grows on rocks together with Mammillaria columbiana, Hechtia dichroantha, Pistacia mexicain, Lamourouxia viscosa, Alvaradoa amorphoides, Tillandsia recurvata and Agave pachycentra. Altitude 700-1000 m. 14deg 46' N; 89deg 22' W. (these coordinates are in El Salvador!) 12 dec. 2007 (fl.) M. Veliz MV 19459 with T. Calderon & J. Lopez. (Holotype : BIGU; Isotypes : BIGU, MEXU, MO).

Diagnosis
Tillandsiae bourgaei Baker similis sed spicis 10-14 cm longis 32-35 mm latis, flores 14- 18 continentibus, bracteis floralibus 37-46 mm longis; sepala 38-41 mm longa, discreta; petala purpura 5.8 -6.1 cm longa.
Comparison should have been made with T. zacapanensis which is much closer.

Description :
Rupicolous plant, 60-90 cm high when in flowers, acaulescent;
leaves 40-55 cm long;
sheaths 8-9 cm long, 5-6.5 cm wide, brown, with a basal strip light brown;
limbs 2.5-3.5 cm wide, densely cinereous-lepidote, sharply triangular, little pungent;
scape 60-80 cm long;
lower bracts slightly triangular;
median bracts swelled, linear, superior median sub-swelled, tubular to elliptic, densely lepidote;
inflorescence dense, 1-pinnate, compound, 12-19 pinnate ascendant, in angles between 15-17 degrees,
primary bract sub-coriaceous, shorter than the stem, densely lepidote, not carinate, ovo-lanceolate, 8-12 cm long, 3.5-4.7 cm wide;
spike 10-14 cm long, 3-3.5 cm wide, hooked, sub-convex, ascending, densely lepidote, with 14-18 flowers;
Floral bracts, 37-46 mm long, 17-18 mm wide, ribbed by the extremity about half, shorter than sepals, imbricate, erect, sub-coriaceous and lepidote, glabrous on the underside, tip thin, cucullate;
Flowers sessile, env. 7 cm long,
sepals 38-41 mm long, 6-7 mm wide, chartaceous, glabrous, bent, giving the impression of geniculate petals, tip thin, margin hyaline, posterior sepals carinate and united by 2-3 mm, with a hull, reddish in almost all length, anterior sepals not carinate, reddish ca. 1/3 from the tip to the base;
petals 5.8-6.1 cm long, 7-8 mm wide, violet purple from the tip to half then whitish, glabrous, tip retuse, margin entire;
stamens 6, 12-15 mm, glabrous, 7 to7.4 cm long, purple in colour ca. 1/3 of length, from the tip to the base, then whitish anthers 2.5-3 mm long, 1 mm wide, exserted;
ovary 6-7 mm long, glabrous, style 7-7 .5 cm long, exserted, with 3 branches, stigmas obliquely discoid, ca. 1.5 mm long, viscid.
Capsule 24-26 mm long.

Habitat: grows on cliffs together with Mammillaria columbiana, Hechtia dichroantha, Pistacia mexicain, Lamourouxia viscosa, Alvaradoa amorphoides, Tillandsia recurvata and Agave pachycentra. Flowers from November until January.

Distribution: known only for the type locality and the nearby cliffs in the municipality of Camotan, Chiquimula. 800-1000 m. in alt.

Paratypes: GUATEMALA, Chiquimula, Municipio Camotan. 12 dec. 2007 (fl.) M. Veliz MV 19460, 19461, 19462, 19463 (fr.) with T. Calderon and J. Lopez, 18 nov. 2009. M. Veliz with L. Velasquez, MV 21050; 30 jan. 2011. (f1.) M. Veliz, M. Veliz 22605; 16 mar. 2011. M. Veliz with L. Velasquez, MV 22804, 22805, 22811, 22812, 22813, 22814 (AGUAT, BIGU, R MEXU, MO, USCG).

Tillandsia carrilloi Veliz & U. Feldhoff present symmetrical, free or connate sepals, exserted stamens, erected petals to the anthesis, the limbs of leaves ligulate to shortly triangular, and thus belongs to the subgenus Tillandsia. This species is close to Tillandsia bourgaei Baker (Smith & Downs, 1977; Davidse, Sousa & Chater, 1994), but it differs from this, with a spike 10-14 cm long, 32-35 mm wide and produce 14-18 flowers (versus spike 7-9 cm long, 20-30 cm wide and with 10-14 flowers), floral bracts of 37-46 mm long (versus floral bracts 25-30 mm long), sepals 38-41 mm long (versus sepals about 30 mm long) and petals of purple colour, 5.8-6.1 cm long (versus petals of yellowish-green colour and 4 cm long).

Etymology: the name of this new species is dedicated to Emeritus professor Jose Ernesto Carrillo (1927-1997), maestro and botanist instructor in Guatemala.
---
Subject: Re: T carrilloi
From: Derek Butcher
Hi Renate. I thought you would like to see how this flowers in Thailand. So different from the official photos. What I noticed was the length of the side spikes some 6 cm but 10-14cm in the description. To me it links with the variation there seems to be in T. zacapanensis. Have you decided where I should put your photos of T. calavera ?
Derek

Subject: Re: T carrilloi
From: Renate Ehlers
To: Derek Butcher
Date: 08 Oct 2013
Hi Derek, thanks for the nice photos.
If I have time in wintertime I will again have a look on my herbarium plants of 'Calavera' - carrilloi.
The plants look different to T. zacapanensis, but the inflorescence is very similar to T. zacapanensis.
But this is up to Uwe Feldhoff who discovered the plant. I only did not agree with him that he made the differential-diagnosis against T. bourgaei.
Regards, Renate

From Chris Larson
I'm not sure where there is confusion with these 2 plants. Peter Tristram & I have both from different sources and they are so different, both vegetatively and with the arrangement of the bracts – we are wondering how they can be considered the same, as Uncle Derek seemed to assume at one time.

Peter has flowered several zacapanensis always with a similar spike to the one (centre) in the first photo attached – and I have attached a second photo of 2 more that he flowered. I have only flowered one which looks identical to the one in Peter's photos. On the other hand, Peter has not flowered carrilloi – so he has no photos. But I have flowered 1 (the one in the photos I sent to you) & have another starting to spike – this is only just starting to be visible, and I think will be at least 4 months before it flowers. I cannot see how they can be mistaken - the shape of the bracts & the nature of the branching make them distinctly different species.

I will be at the nursery on Monday and I will take a couple of photos of the foliage of both plants to show the difference. T. carrilloi has grey leaves – the colour of circinnatoides (without the lines), whereas zacapanensis is a very silver plant. T. carrilloi has thin brittle leaves, whereas T. zacapanensis has broad, silver, less brittle leaves.

From Derek Butcher – The problem with Chris's comments is that we know very little about provenance of these plants.
---
Updated 16/03/23
---