Tillandsia carminea
Click thumbnails for full size, scaled to a new window.
---
Tillandsia carminea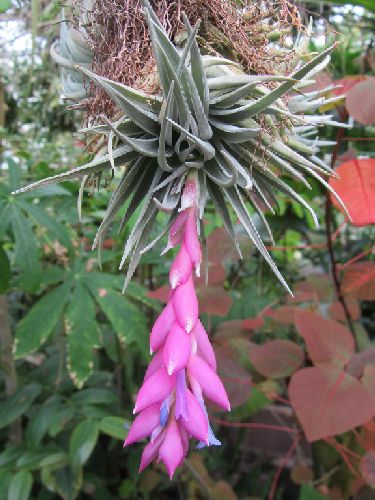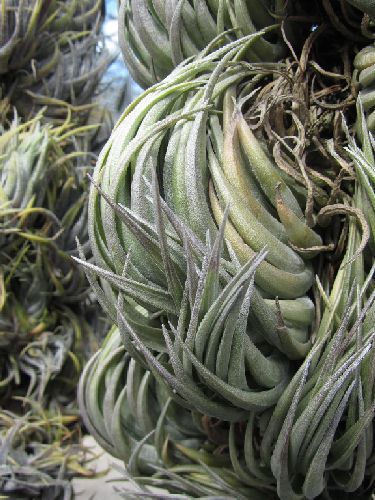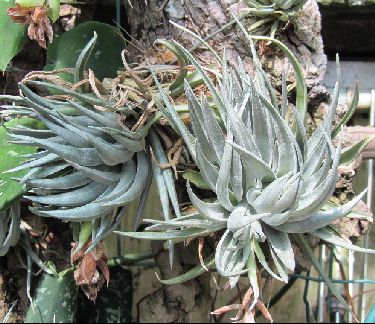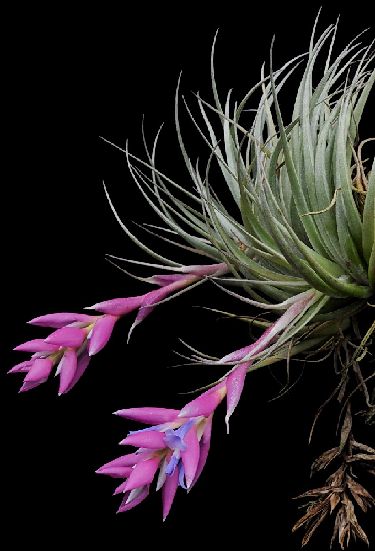 | | | | |
| --- | --- | --- | --- |
| Halle. | Heidelberg. | Lotte. | Peter Tristram. |
Peter Tristram ... "I thought I'd better add in what carminea should look like, especially grown hard as in the Heidelberg specimen. They aren't much like the stiff-leafed araujei types at all, having thinner leaves with inflated sheaths with the typical cliff-dweller claw look. It is a hard plant to source! The one seen in some collections here has similar foliage but with narrower mauve floral bracts and narrower leaves and is evidently from a nearby rock to the real deal. The Halle plant looks more like my plant too though it has been grown under very controlled conditions. Lotte's plant was collected from the type locality near Teresopolis not too far from Rio.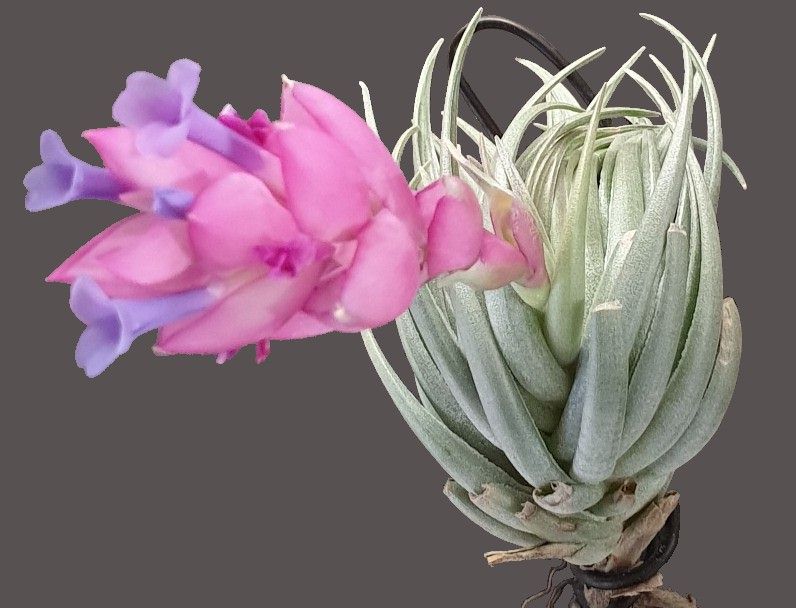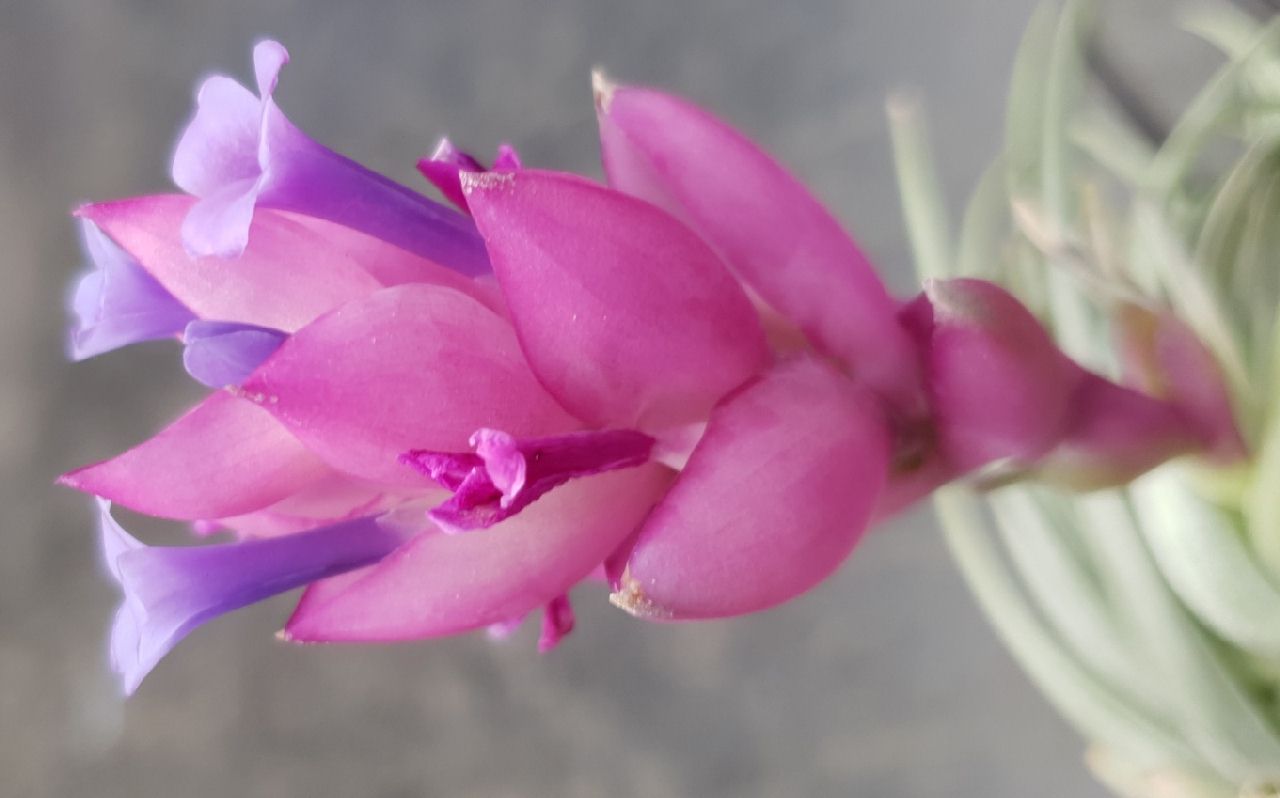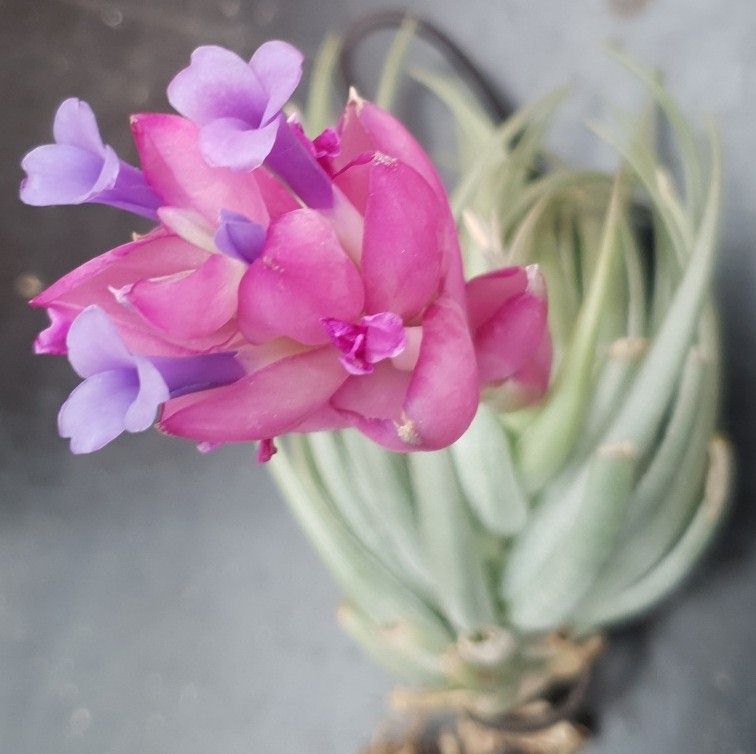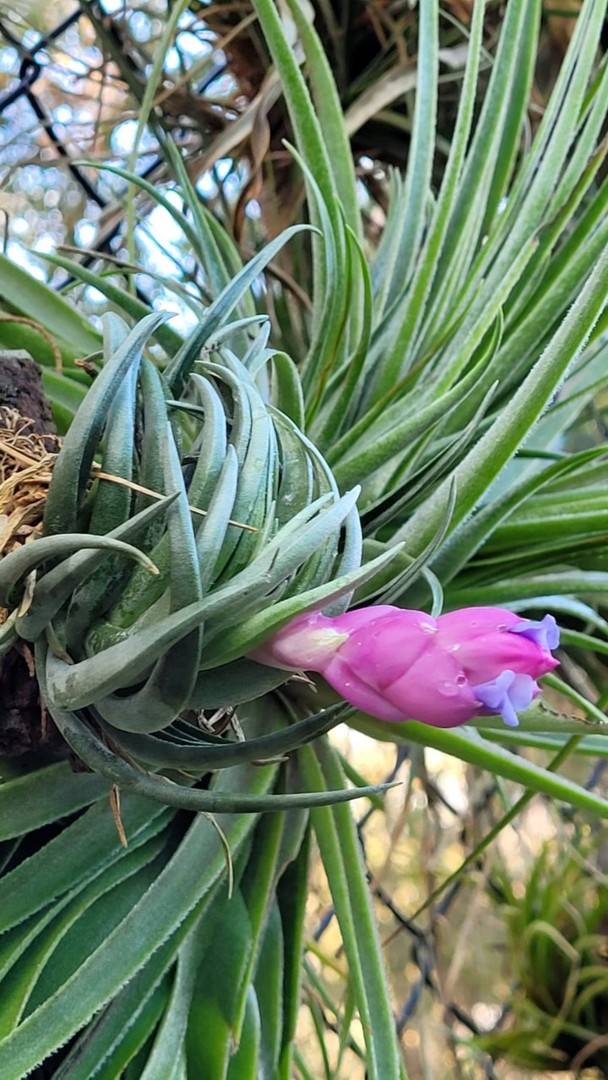 | | |
| --- | --- |
| Chris Larson 09/19 | Peter Tristram 08/23 |
Peter Tristram ... "It's a pleasure to bloom this plant of T. carminea, which was imported from Europe many years ago by the late Michael Ferenczi, as T. rosea.
From memory, it was Walter Till who gave the species its name to separate it out from T. stricta. There are quite a few other imports of this wonderful species in Australia, thankfully, but all are pretty slow growing and can be a bit tricky. Given its natural habitat that's not surprising."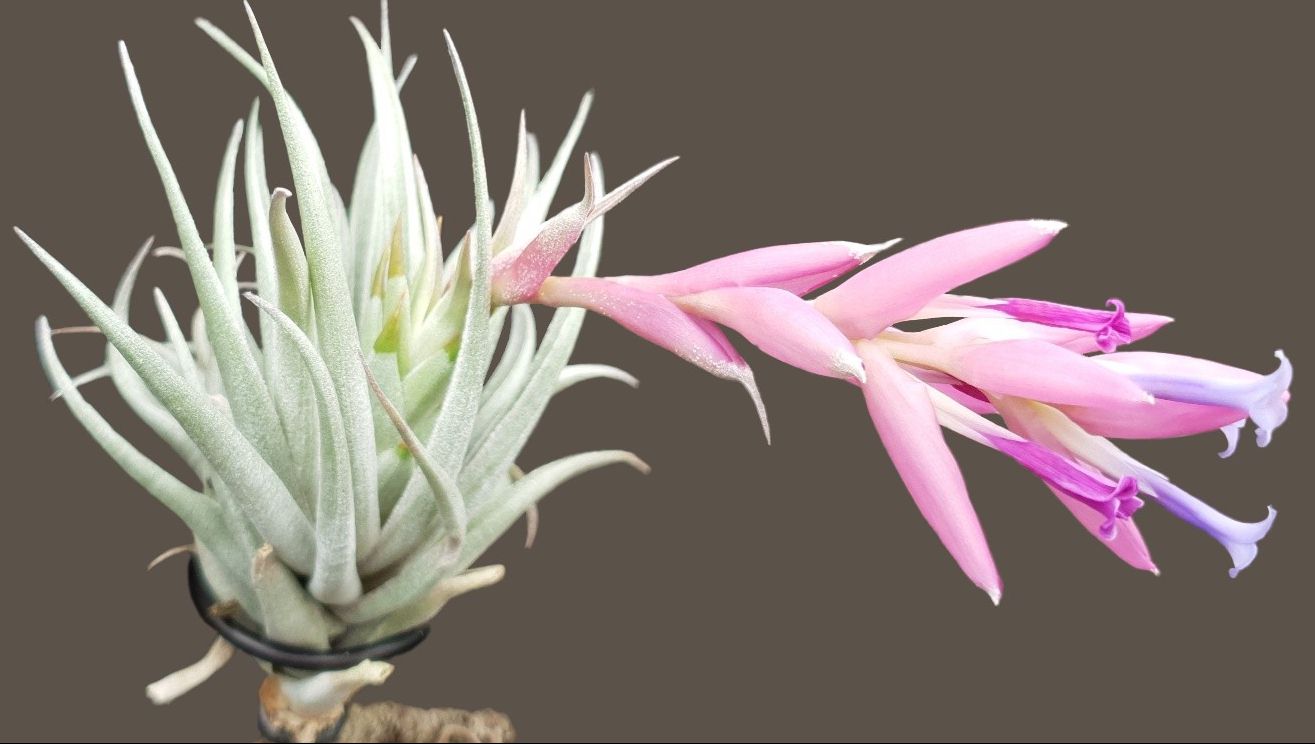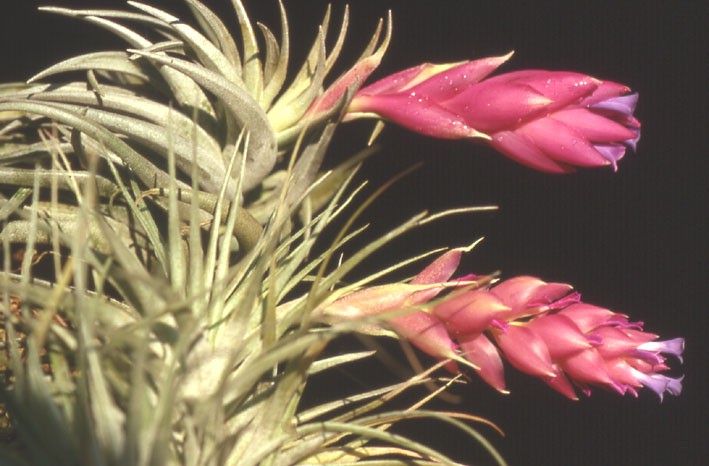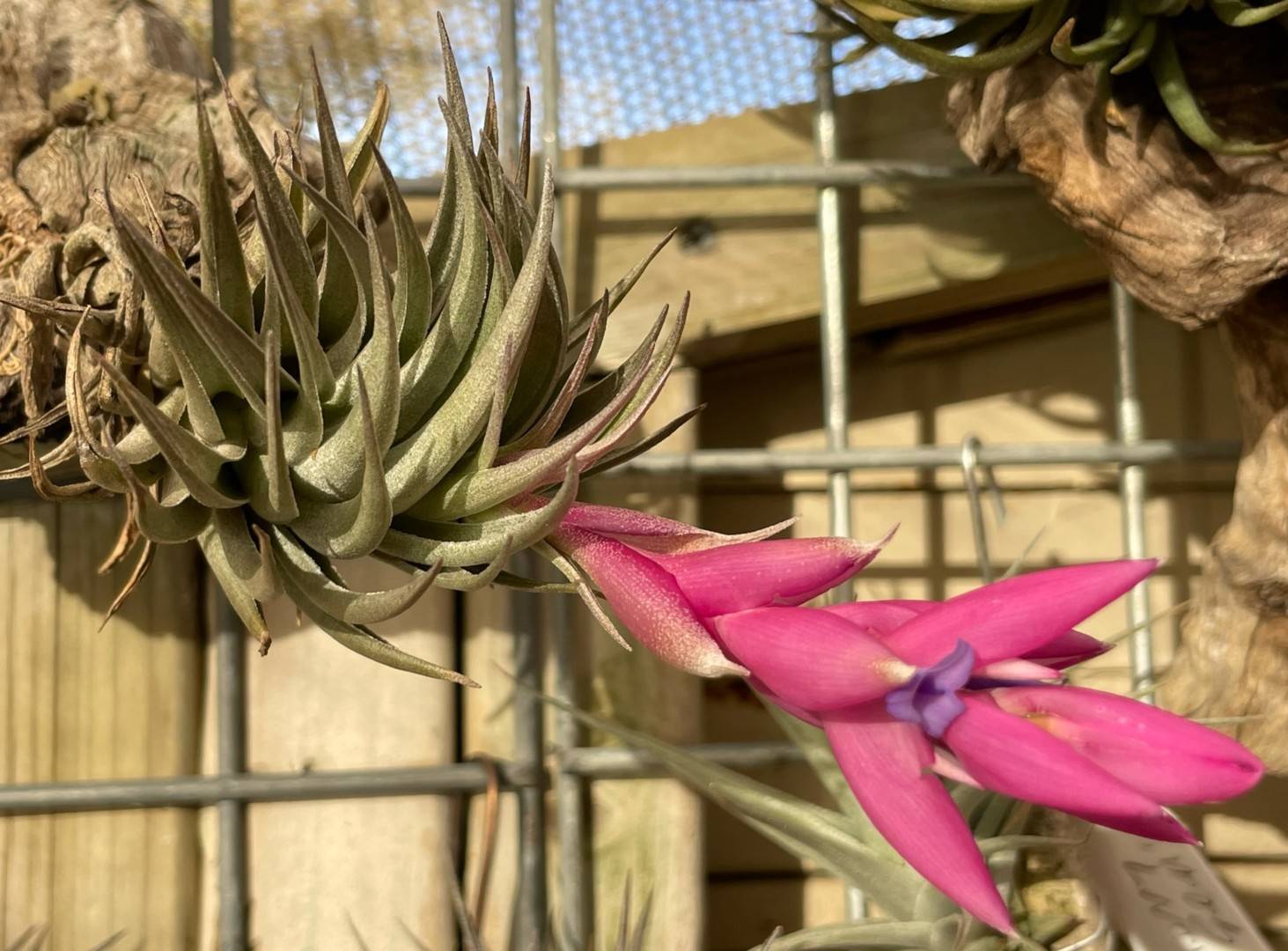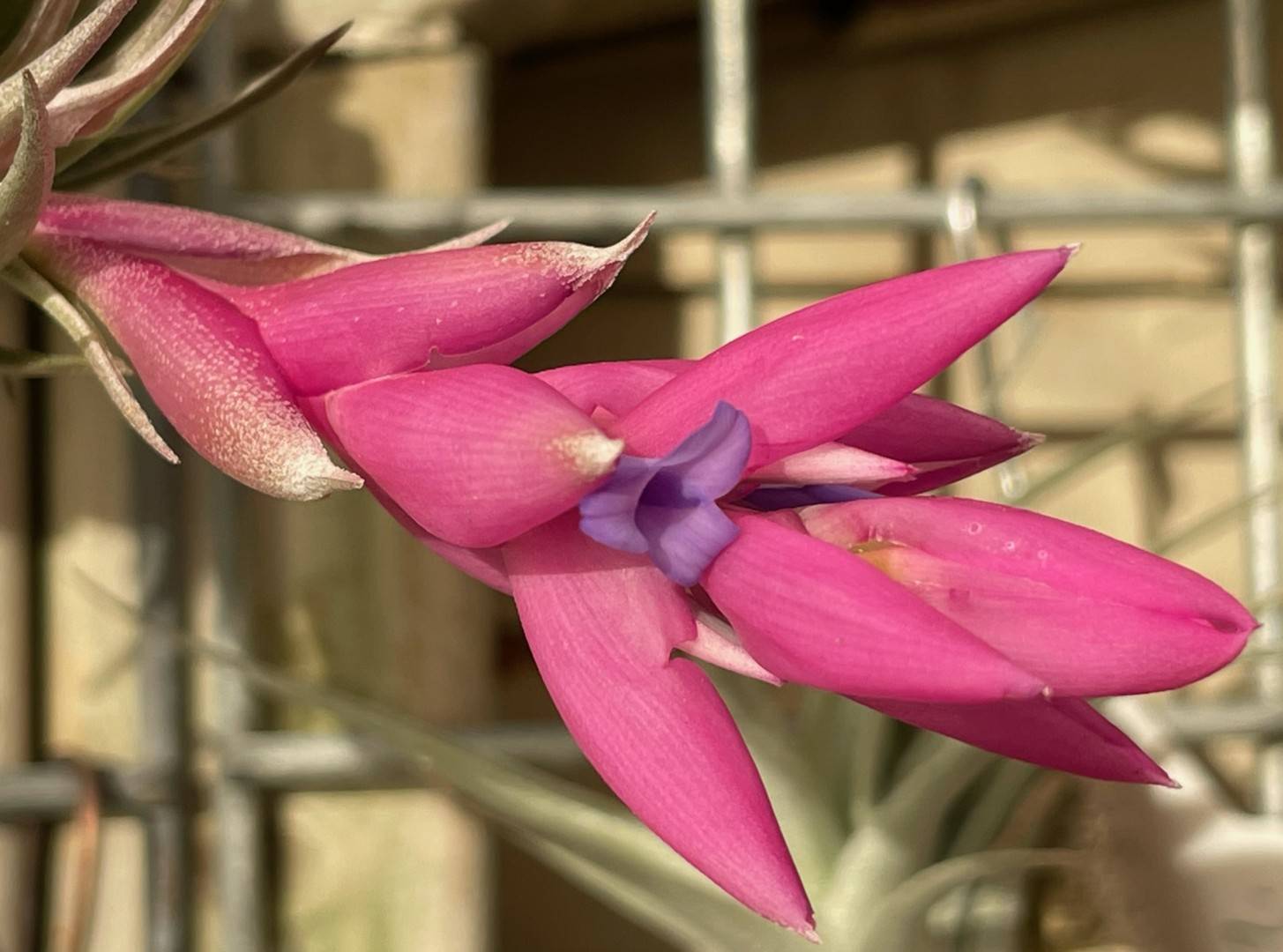 | | | |
| --- | --- | --- |
| Chris Larson 12/19 | Derek Butcher. carminea top, stricta below. Renate Ehrlers. | Ray Clark 11/22 |
Derek Butcher ... "Chris: Your floral bracts seem too narrow. See image above."
Peter Tristram ... "Maybe the description is too specific. Walter rejects anything not carminea too. I have quite a few clones of carminea from Europe, many from Heidelberg and Lotte and they sure do vary. As far as I know they all came from the same cliffs."
Pam Butler ... "Hi Ray, Very nice. Is it hard to grow down there in Adelaide? A lot of people struggle to grow it here."
Ray Clark ... "This species is a cliff dweller from Brazil. I have had it for about seven or eight years and would have flowered it previously I reckon.
I don't find it hard to grow, doesn't seem to want for much. It sits reasonably high up in the shade house under 70% shade cloth, not prolific, just quietly pumps along at a steady rate."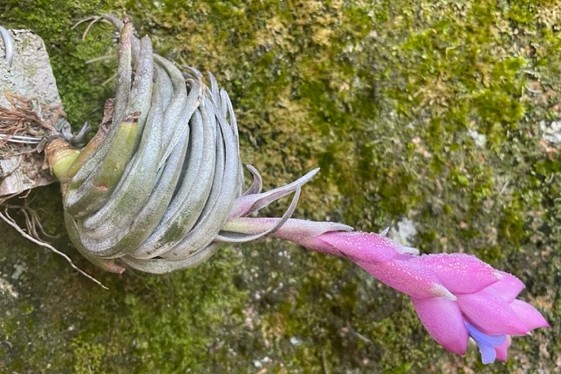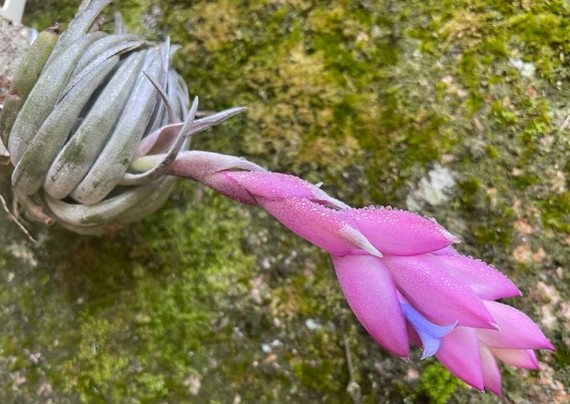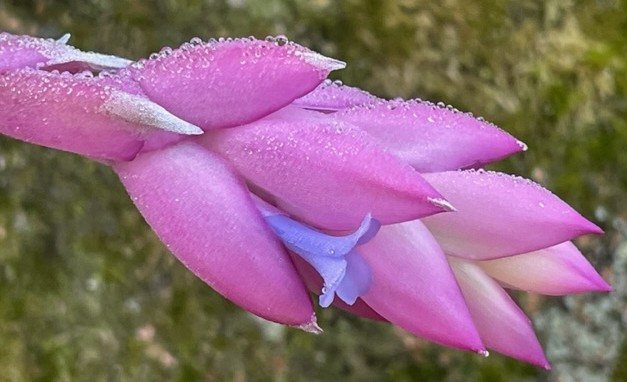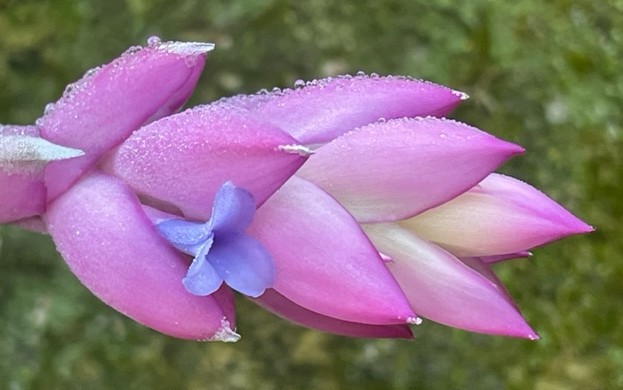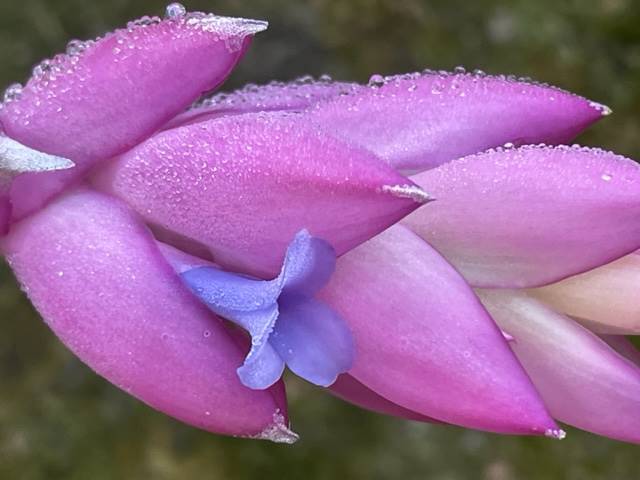 Bruce Dunstan ... "This is the Heidelberg clone from Peter Tristram. It has taken 6 years for me to flower it, an interminable wait but worth the effort.
I discovered full all day sun under my conditions has helped with growth and eventual flowering.
Thankfully they are quite generous with adventitious pups in the time I have had it."

---

Tillandsia carminea, W.Till, Sp. nova, Pl. Syst. Evol. 138: 293–5. (1981)
translated by Derek Butcher
For a long time, european collections have had a very beautiful Tillandsia in the subgenus Anoplophytum (Beer) Baker as T. rosea Lindley. Investigation of the original diagnosis for T. rosea Lindley (1830) has shown however, that it does not fully equate with the flower of T. stricta Solander. An investigation of what L. B. Smith (1977) had as synonyms under T. rosea showed T. pulchella Hooker var. rosea (Lindley) Mez in Martius and T. recurvifolia Hooker, and that both belong to the multifarious T. tenuifolia L. The name T.rosea needs to be redescribed.

Tillandsia carminea W. Till., spec. nova (Abb. 1)
Planta caulescens, caulis ramosus et usque 15 cm longus, sed pars foliata solum circa 7 cm longa; folia secunda, spissa et rigida, involuta, 4-5 cm longa, base ad 12 mm lata, triangularia, acuta, adpresse albocinereo lepidota et ergo griseo-veneta esse videntur, in margine anguste squamis limbata, vagina a lamina non distincta, concolor.
Inflorescentia simplex; scapus brevis et in foliis celatus, deorsus; bracteae scapi bracteis florigeris similes sed breve laminatae. Flores polystichae, sessiles, 9-11. Bracteae florigerae late ovatae, 17 mm longae, carmineae, glabrae sed apice lepidotae, leviter nervatae. Sepala lanceolata, acuta, posteriora carinata, omnia 2 mm connata, 14 mm longa, glabra; petala lingulata, atrolazulina; stamina et stylus inclusa.
Habitat in rupibus fere verticalibus. - Planta domicilium pro insectis cimicibus similibus (observatio collectoris!).
Typus: Brazil, state of Rio de Janeiro, Serra dos Orgaos SE of Teresopolis, 1950 m. s. m., legit Dr. H. et L. HROMADNIK Nr. 6160, August 1980. Holotypus WU.

Plant caulescent, stems branched and up to 15cm long.
Leaves secund, dense and rigid, rolled inwards, 4–5cm long, to 12mm wide at base, triangular, acute, adpressed greyish white lepidote and therefore looks a greyish blue, bordered with narrow scales, sheath not distinct rom blade, concolorous.
Inflorescence simple.
Scape short and hidden in the leaves, pointing downward.
Scape bracts similar to flower bracts but with short blade.
Flowers polystichous, sessile, 9– 11.
Flower bracts wide ovate, 17mm long, carmine, glabrous but tip lepidote, lightly nerved.
Sepals lancelike, acute, posterior ones keeled, all joined for 2mm, 14mm long, naked.
Petals tongue like, dark blue
Style & Stamens enclosed
Habitat on verical rocks Plants growing with insects like bed bugs (Collectors' observation!)
Type Brazil, Rio de Janeiro, Organ Mountains, SE of Teresopolis, 1950m.leg. Dr. H & L Hromadnik Nr. 6160 Aug. 1980. Holotype WU

Tillandsia carminea is certainly into the complex of T. stricta Solander, but differs from that clearly by the stem forming growth, the strongly secund and stiff leaves and the dark carmine red floral bracts. Furthermore T. carminea grows on almost vertical cliffs on the non seaward side of the Organ mountains together with another Tillandsia from the Subgenus Anoplophytum - a white leaved possibly T. brachyphylla Baker or similar -, a Sophronitis sp. and numerous lichens. T. stricta is an epiphyte and is separated ecologically from T. carminea.

Abstract
T. carminea is a new, morphologically and ecologically distinct species, related to T. stricta Solander, which occurs in the Serra dos Orgaos near Teresopolis, Brazil. It has been taken for T. rosea Lindley, but new investigations have shown that T. rosea is a synonym to T. stricta and that T. carminea is a good and distinct species.
---
Updated 21/10/23
---