Tillandsia carlsoniae
Click thumbnails for full size, scaled to a new window.
---
Tillandsia carlsoniae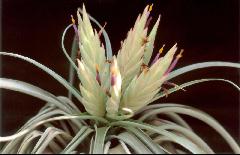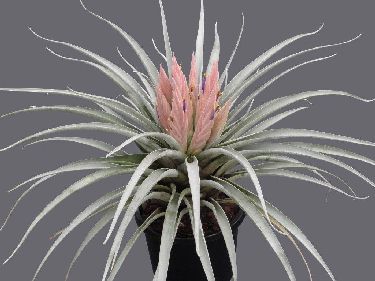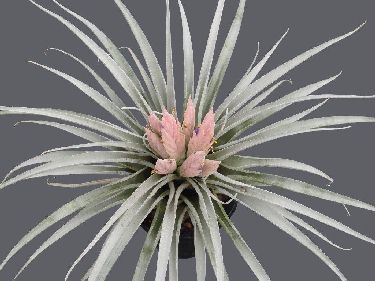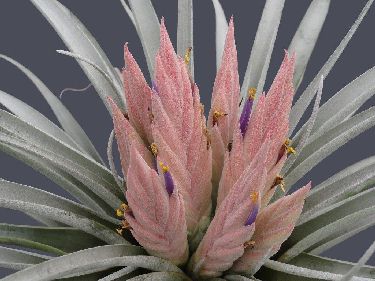 | | |
| --- | --- |
| Ken Woods 08/04. | Stephen Haines 10/14. |
Stephen Haines ... "I flowered this a while ago, the plant is 70/80cm across with 9 bracts, absolutely beautiful!!!
One of the nicest plants I have flowered to date. It looks like there are pups on the way, I have heard it said that getting the pups to maturity can be a problem, is there anything I should be wary of as the pups grow?
I am thinking of possibly growing the plant a little on the drier side i.e. water the plant well then later that day empty out any excess H2O to stop any possible rotting or fungus."
Brenton Cadd ... "Hi Steve, I flowered mine a few months ago also, it is the third generation from the plant I bought from Peter Tristram many many moons ago. The first one produced three pups, one I potted up the second I mounted and the third I sold or swapped? Of the two I kept, I lost the one I mounted and the one that I potted in the usual way survived fine. This one then flowered and I got two pups, one I potted and the other I swapped. So the current one has only produced one pup (there seems to be a theme here 3, 2, 1, more, or at least some, fertilizer required perhaps?) I have just removed this pup and potted it as usual and I am hoping that the mother plant will throw a couple more pups."
Chris Larson ... "I find that the plant likes shady location with good air movement. It also likes regular watering, but not too wet. A problem with mounting carlsoniae may be leaving it too exposed.
But that is a mighty fine carlsoniae Steve. It is healthy - I think you would get a good 3 or 4 pups here in our climate from a plant of this size."
Bruce Dunstan ... "I had a mounted plant for 5-7 years from Peter Tristram that did very little. I potted it into a diatomite 5-7mm and coir chunks mix, as I had run out of Diatomite and had to make it up with something. After a good feeding it finally flowered a year or two later. They seem to be much happier having access to nutrition through the roots."
Eric Gouda ... "I doubt it that it will take up nutrition with the roots.
I had several plants of T. chiapensis in my greenhouse that did not do anything for over 20 years, until one rotted from the roots.
Cleaned it up and let it dry, but because I could not mount it without stem or roots, I put it up high and dry in my greenhouse and all of the sudden it started to grow very well.
I had a smaller plant that stayed that way for over 20 years and put it up too and started growing too to full size and flowered.
The key here was the light, if it is in low light condition it will stay almost without any growth."
Peter Tristram ... "T. carlsoniae used to grow well for me when I imported what I assume were wild-collected plants (20+ yrs ago). They would bloom and pup well but I noticed the progeny weren't so easy to grow and eventually I lost my stock.
The same happened more recently with a couple from Germany. The latest one from Chris isn't so good either though still alive. They seem to thrive for him! I am sure the hot summers are causing serious stress for this baby here!
As for chiapensis, the reverse applies - the 'hotter' the better, but not too wet! They grow much better for me in the heated till-tunnel than outside, whether mounted, racked or potted. I am sure the night temp is a critical factor too as chiapensis loves Florida, from what I've seen. A big plant is also likely to produce a branched spike but that rarely happens for me as the plants tend to flower a bit small compared to further north. Even Tropiflora's 'giant' form flowered with a single spike and was potted. The most interesting form is one I got from Lotte (labelled 'different') that has semi-glabrous leaves (red) in patches, but is oh-so-slow. T. chiapensis hybrids are slow growers too, in my experience.
I think chiapensis prefers to be covered as well, hinted at above, as my outdoor ones suffer from die-back on the leaves in wet weather, something Laurie from The Gong spoke about in Albury (sometimes with fatal results too)."

---
Updated 04/12/14
---