Tillandsia caloura
Click thumbnails for full size, scaled to a new window.
---
Tillandsia caloura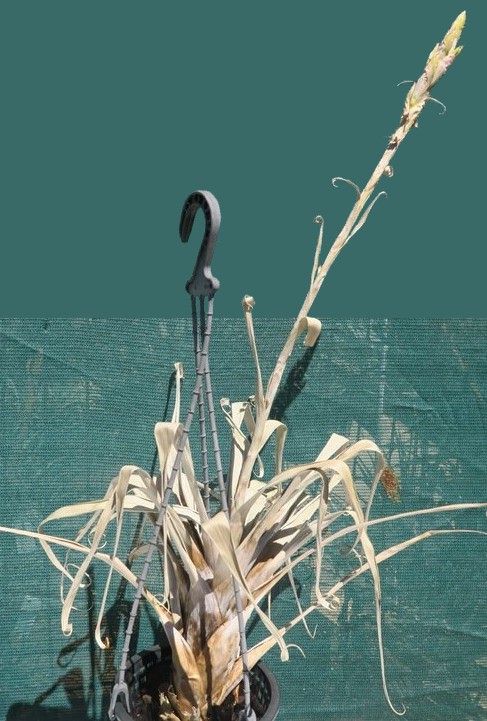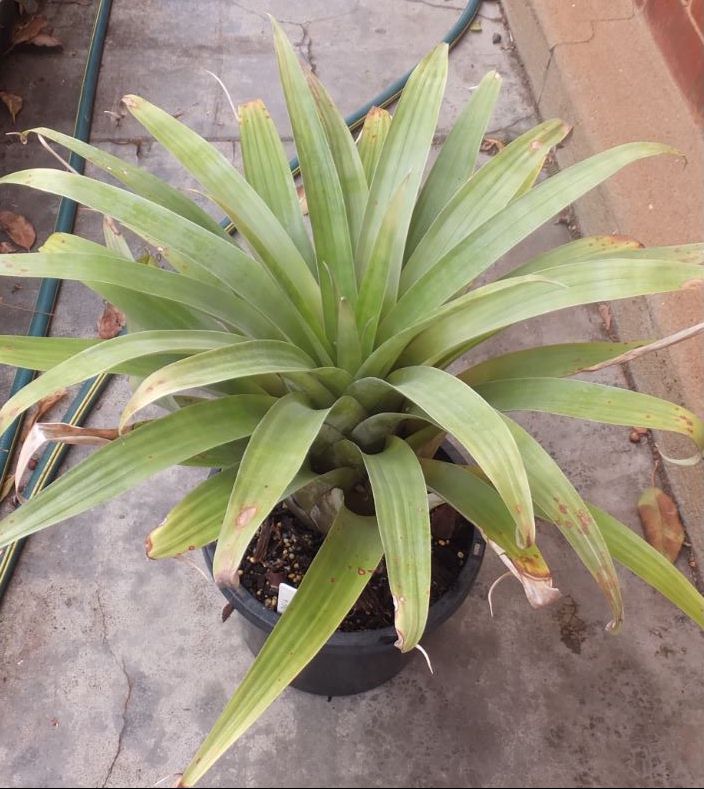 | | |
| --- | --- |
| Len Colgan 02/19 *DEAD | Adam Bodzioch 02/19 |

Len Colgan ... "We see the terrible flooding in Queensland, but here in South Australia we have been experiencing the opposite extremes. Not a drop of rain this year, and last week Adelaide had its highest temperature of 46.6 degrees C, and higher in the north of the state.
Anyway, just before that horrible day, I had my T. caloura in full spike with two tiny offsets at the base. I was waiting for the first flowers to appear before taking a photograph. The spike had beautiful red/orange tones.
The day before, I moved much of my collection down onto ground level and used double shadecloth. I sprayed during the heat, but I must admit I spent most of the time inside my home for respite.
You can predict the outcome. Most of my vrieseas are completely scorched with several dying. Several tillandsias have fried. Sadly, my T. caloura is one of them, as you can see from the attachment. Of course, both offsets are lost also.
I have not had the heart to go down the back and clean up the mess. Clearly, a lot of bromeliads cannot tolerate such surrounding heat even if the shadecloth is doubled and plants moved into shaded spots."
Adam Bodzioch ... "Len, this is going to really piss you off but I attach a pic of my T. caloura which is relatively unmarked other than for some leaf tip damage.
I did double-cloths plus extra watering in addition to the misters going on every hour. I think the misters/foggers are the answer as they cool the plants down more so than to hydrate them.
However, I still didnít learn my lesson from 10 years ago and move the bulbous tills Ė they off course retained the water and allowed that water to cook the plants."
| | |
| --- | --- |
| Peter Tristram, with Timm S. at Heidelberg Bot. Gdns. | Museum Botanicum Berolinense |
Tillandsia caloura Harms, Notizbl. Bot. Cart. Berlin 10: 580. 1929.
Desc. from S&D p 784
Leaves 4-5 dm long, subdensely appressed-lepidote;
Sheaths lanceolate, large, dark purple;
Blades very narrowly triangular, 3 cm wide, cinereous.
Scape over 9 cm long;
Scape-bracts subfoliaceous, densely imbricate.
Inflorescence bipinnate, dense except near base, 25-34 cm long;
Primary bracts lanceolate, acuminate, exceeding the lower spikes;
Spikes suberect, lanceolate, acute, 6-8 cm long, 20-25 mm wide, 15-flowered, complanate.
Floral bracts densely imbricate, elliptic, acute, 20-23 mm long, exceeding the sepals, incurved, carinate, coriaceous, even, nearly glabrous.
Sepals 20 mm long, high-connate posteriorly.
Type. Schultze 1104 (holotype B, F photo 11485), El Mammon, Sierra Nevada de Santa Marta, Magdalena, Colombia, 26 Feb 1928.
DISTRIBUTION. Epiphytic in rainforest, 1860-2200 m alt, Colombia.
COLOMBIA. MAGDALENA: Hacienda Cincinnati, Santa Marta, 3 Aug 1946, Foster & Smith 1394 (COL, GH); San Sebastian, Sierra Nevada de Santa Marta. 17 Aug 1946, Foster & Smith 1456 (GH).
---
Updated 16/05/19
---