Tillandsia brachyphylla
Click thumbnails for full size, scaled to a new window.
---
Tillandsia brachyphylla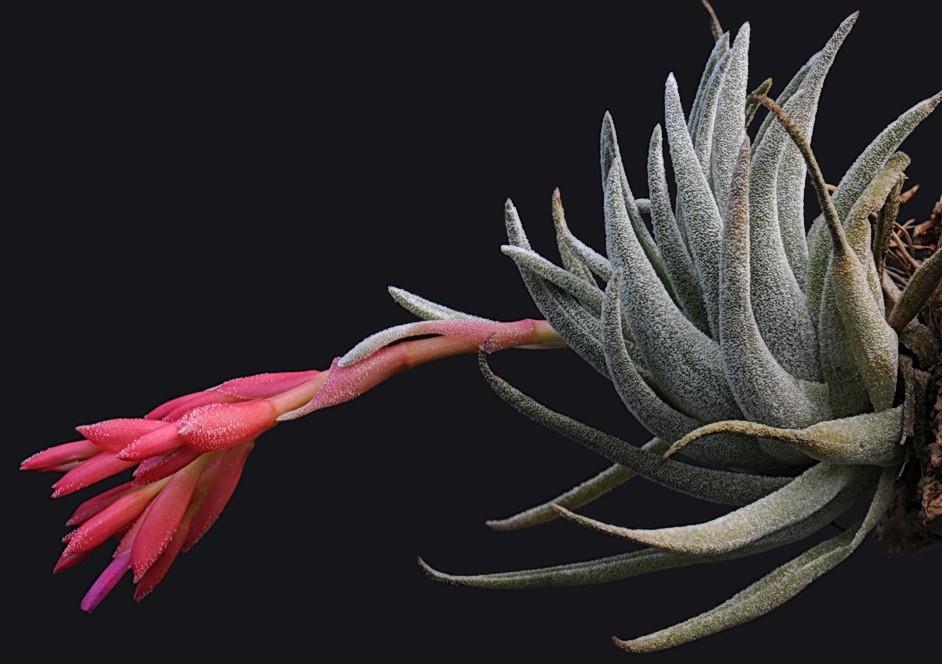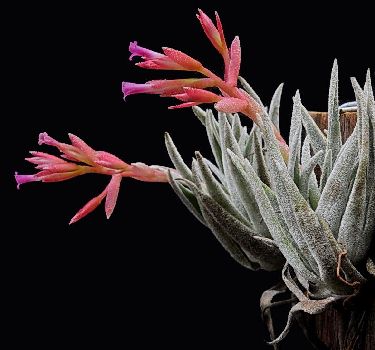 | | |
| --- | --- |
| Peter Tristram 06/11. | Peter Tristram 05/12. |
Peter Tristram 06/11..."After 30 years I think I finally have found one of my assortment of little red Brazilians is almost certainly T. brachyphylla. It is really quite a different plant to all of the others with a very branched spike and very different leaves. In the hope of finding another (???) Iíll freeze some pollen as it wonít self for sure.
---
| | |
| --- | --- |
| Peter Tristram 07/14 | Peter Tristram 09/17 |
Peter Tristram 07/14 ... "The plants pictured will need to be seed grown before they can become more available. Unfortunately the brachyphylla is flowering alone so will have to be hybridised I guess.
I used to wonder why extremely rare species like brachyphylla, which only grows on a couple of inselbergs in Rio (like sucrei I gather), was not on CITES.
Mind you, you need to be Spiderman to collect it, up Pedra da Gavea."
Peter Tristram 09/17 ... "In 2011 and 2012, I was privileged to get a few clones of T. brachyphylla before the restrictions were enforced. Thankfully these two have coincided with blooming and hopefully some seed will be set. Seed is the only way many of these Brazilian rarities will ever become available. Itís a very attractive but ever so slow growing species, related to easily propagated species such as T. gardneri, geminiflora, kautskyi and sprengeliana. The last attempt resulted in no seed unfortunately. I will, however, use lots of pollen with other lovely Tills."
---
Key to Brazilian Tillandsias, with red or pink petals from Die Bromelie, Sonderheft 3 1996
1. Stamens - exceeding the flower tube => paraensis
- included in the flower tube => 2
2. Leaf blade - filiform and grasslike => globosa
- triangular => 3
3. Plant - 4 - 8 cm in diameter => 8
- 10 - 25 cm in diameter, forming a more or less spreading rosette, stemless => 4
4. Floral bracts - lepidote => 5
- glabrous or nearly so: Plant 6 - 15 cm diameter, inflorescence elliptic or globose, spikes elliptic, sublax with 1 - 3 (- 5) flowers, floral bracts carinate, glabrous or punctulate lepidote, sepals glabrous => roseiflora
5. Inflorescence - elliptic or subglobose => 6
- elongate => 7
6. Leaves - soft, green or reddish, appressed lepidote, spike lax, 2 - 4 flowered, floral bracts shorter than sepals, petals red - violet => geminiflora
- soft, grey, densely lepidote with spreading trichomes, spikes dense, 3 - 12 flowered, floral bracts densely lepidote, exceeding the lepidote sepals => gardneri
7. Leaves - subsucculent, stiff, inflorescence with 4 - 6 spikes => chapeuensis
- Plant only 11 - 13 cm in diameter, an open silvery star-shaped rosette, leaves appressed lepidote, inflorescence with 5 - 7 spikes => grazielae
8. Plant - short - caulescent => 9
- stemless, forming an erect, often subbulbose rosette, leaves often somewhat secund, inflorescence elliptic or subglobose, flowers red or violet, filament not plicate => 10
9. Plant - 3 to 5 cm in diameter, pine cone shaped, dorsiventral, pendant, leaves green, silvery appressed lepidote, inflorescence simple, distichous => reclinata
- 4 to 8 cm in diameter, an erect-secund rosette, the basal leaves recurved, leaves cinereous-lepidote, inflorescence compound, spikes lax, floral bracts carinate, shorter than the lepidote sepals, the posterior ones carinate and 4 mm connate => sucrei
10. Floral bracts - glabrous or nearly so => 14
- lepidote => 11
11. Inflorescence - simple => 12
- bipinnate: Leaves channelled, regularly lepidote with coarse cinereous scales, inflorescence with up to 8 spikes which are laxly 3 - 4 flowered, the posterior sepals carinate, 1/3 to 1/2 connate, lithophytic growing at sea level => brachyphylla
12. Inflorescence - with polystichous flowers => 13
- with distichous flowers: Plant ca. 4 cm in diameter, short caulescent, small pine cone shaped, pendant, leaves grey appressed lepidote => reclinata
13. Leaves - secund, thin and soft, grey with appressed trichomes, looking like grey velvet, scape densely lepidote, inflorescence simple, sometimes compound of up to 3-flowered spikes, floral bracts carmine-red, sepals slightly lepidote, free, posterior ones carinate, petals violet-rose => heubergeri
- Leaves not secund, subsucculent, green, covered with coarse grey scales, plant pendant, floral bracts rose, sepals more lepidote, petals pink => thiekenii
14. Posterior sepals - not carinate => 15
- carinate => 16
15. Leaves many, green-grey, densely lepidote with irregular cumulated coarse trichomes, appearing rough pruinose, epiphytic at sea level => sprengeliana
- Leaves many, narrow triangular, with appressed trichomes, appearing metallic, epiphytic 700 - 1000 m => kautskyi
16. Plant - 2.5 to 5 cm in diameter, rosette of broadly triangular leaves with shorter blade, very densely and regularly silvery subpruinose lepidote, appearing like silvery velvet, sepals carinate and short connate, lithophytic 1800 - 2200 m => organensis
- Plant bigger, up to 15 cm in diameter, rosette often bulbose, leaves grey - green appressed grey lepidote, appearing like grey velvet, bipinnate with 1 - 3 (-5 ) flowered spikes, floral bracts conspicuously carinate, posterior sepals carinate, epiphytic => roseiflora
---
Updated 18/10/20
---