Tillandsia boliviensis
Click thumbnails for full size, scaled to a new window.
---
Tillandsia boliviensis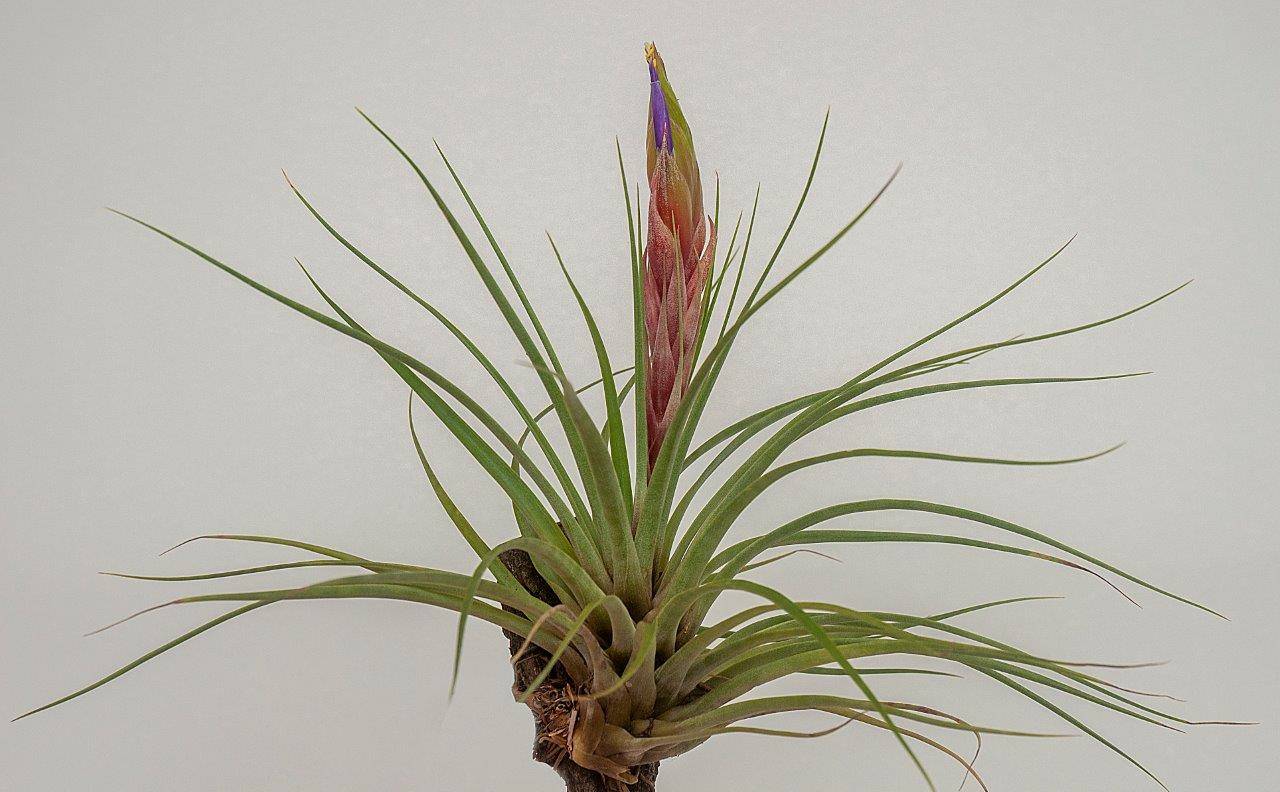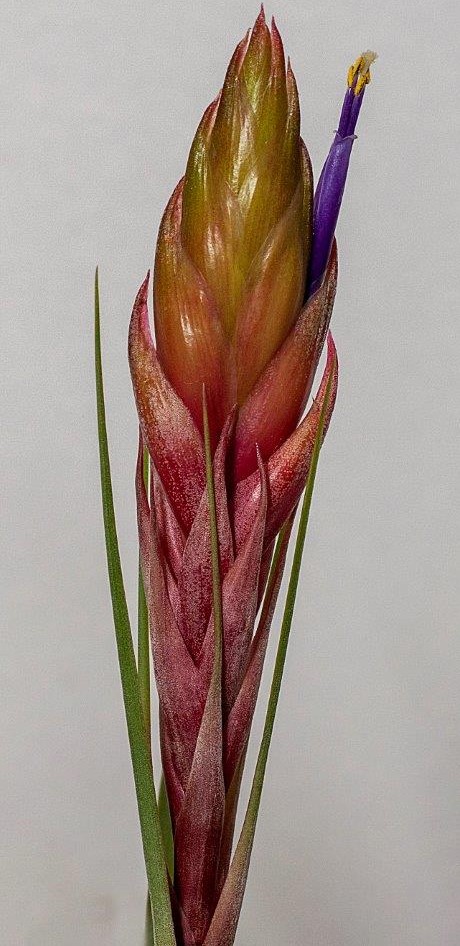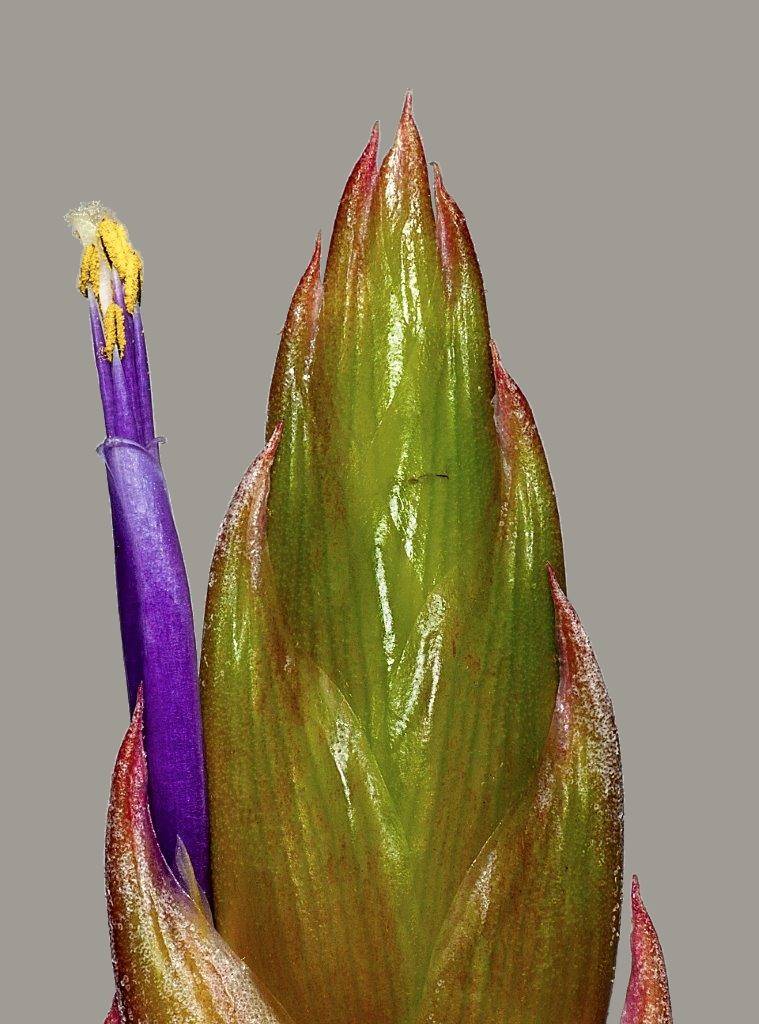 NOT boliviensis, Rob Bower 03/21

Rob Bower ... "My plant labelled boliviensis, but in FCBS the images from Derek Butcher show a plant with an inflorescence with a different shape and colour - although not wildly dissimilar. Can anyone tell me if mine is boliviensis and if it's a very variable form? It's a nice sturdy little plant."

---
Tillandsia boliviensis (From Bromeletter #6 1998) By Derek Butcher
This saga started in 1993 when Marie Robinson of Adelaide flowered a T. 'Refiflora' (an undescribed invalid name) obtained from David Scheumack in New South Wales. This plant was an offset of a plant David had obtained from Karel Knize, Lima, Peru, number KK 124. I was able to dissect part of the inflorescence and as I couldn't link it to any named plant, wrote to Renate Ehlers. Meanwhile, rumour had it that it was the same as T. lorentziana var. argentea (an undescribed variety) in Shimizu's picture book on Tillandsias. This plant may well be the same as Knize's KK 124 but it is not a T. lorentziana! Renate advised me that from the photograph and information I had sent her the plant was T. boliviensis.
Let us go back to 1932 in Lyman Smith's 'Studies in the Bromeliaceae', Vol III, where the following is written under T. boliviensis.
"The original description of this species was evidently compounded from two sheets bearing the same number. One of these sheets is T. paraensis Mez, the other, after exhaustive checking with all species of Tillandsia and Vriesea, appears to be a distinct species. Consequently the species is re-described here in order to clarify its identity. Owing to the absence of good flowers, it is impossible to ascertain its exact relationship, but the spikes have much the same general appearance as those of T. patula Mez and the leaves cannot be distinguished from those of T. lorentziana Griseb."
A somewhat truncated description is in Smith and Downs Monograph page 768. Distribution is said to be around Huaricana, Yungas near La Paz, Bolivia.
In 1987 Lieselotte Hromadnik brought the matter up-to-date in Die Bromelie #1 1987 by using her HR 3005 to write a new description. While she brought us new information, there were four criteria that I considered were in conflict.
Renate Ehlers confirmed my findings and agreed with me, but she still believed KK124 was Tillandsia boliviensis!
Things were getting nowhere fast so I decided to wait until the offset I had scrounged off Marie Robinson flowered. Then I could investigate further.
In the Summer of 1996 my wife and I were summoned to Len Colgan's place some 8 kms south of where we live. We were to view the flowering of Len's KK120! Both of us said that it was Tillandsia 'Refiflora' and that he must have got his numbers mixed up with KK124! He did have another plant with the number KK124 but that had not yet flowered. I was allowed to dissect number KK120 AFTER photographs were taken. The information that I gleaned almost matched what I had obtained three years earlier for KK124!
According to Karel Knize's plant list KK120 has black-green leaves and comes from Sorata. However, Renate Ehlers advised that in her opinion KK120 and KK124 were the same species. She was still adamant they were Tillandsia boliviensis!
Perhaps I was being just plain stubborn but the description still did not match our plants. So I wrote to Dr Walter Till of the Vienna Botanical Gardens where HR3005 is held in the Herbarium. His answer brought tears of gratitude to my eyes! Not only had Lieselotte Hromradnik omitted to describe the petals as white, she had transposed the indumentum of the floral bracts with that of the sepals. HR3005 clearly shows densely lepidote floral bracts and glabrous to sub-glabrous sepals, which are carinate adaxially albeit not alate. These findings are clarified in Dr Walter Till's article in BSIJ #4 1998 page173. (See below)
What is intriguing is that the drawing done by Lieselotte Hromradnik of HR3005 shows glabrous floral bracts although this information is not in the description. However, her drawing of HR5346, collected in the same area on the same trip shows lepidote floral bracts. What is even more intriguing is that in both drawings the sepals are densely lepidote and yet Dr. Walter Till found none on HR3005! We know that the indument on floral bracts can vary from clearly visible to vaguely visible in Tillandsia xiphioides and this may well be the situation here. However, the indument on the outside of the sepals must be questioned.
With this information at hand, KK120 and KK124 match in almost every criterion in the description of Tillandsia boliviensis.
How can you tell the difference between T. boliviensis and T. lorentziana? If you have the plants side by side it is easy to discern because in T. boliviensis the scape is bent, not straight, and the spike is a rounded flat shape not flat flat! There are other differences if you want to check up on me. To help you decide, I am now going to give a full description, translated from the German in Die Bromelie #1 1987 with my updated corrections.
Tillandsia boliviensis Baker Emend Smith 1932, Emend Hromradnik 1987, Emend Butcher 1998
Plant. Stemless, with short stolon, flowering to 25 cm high.
Leaf. To 25 cm long, becoming smooth and soft.
Leaf Sheath. Not clearly seen, triangular, to 35 mm wide at base, both sides glabrous for 10 mm, thin, inside a further 10 mm glabrous, nerved, pale green, outside lepidote including the blade.
Inflorescence. Mainly simple, rarely with a short side spike.
Scape. To 10 cm long, bent downwards, stocky, 4 mm thick, glabrous, green, with 12 mm long internodes, covered entirely by the scape bracts.
Scape bracts. Thick leathery, the lower ones flat, the upper ones tipped and to 32 mm long, outside lepidote, inside glabrous.
Spike. Sword-shaped, straight, a little complanate, 12 mm wide, internodes 8 mm apart.
Flower. To 36 mm long, scentless.
Flower bracts. To 33 mm long, thick leathery, triangular at base and 16 mm wide, pink,(to?) densely lepidote, ecarinate.
Sepals. Thin, membranous, to 25 mm long, 6 mm wide, at anthesis both sides glabrous (drawings indicate outside is lepidote), smooth, posterior ones keeled (Smith posterior ones wing-keeled).
Petals. 32 mm long, platte 7 mm wide, blunt, bent back at tip, white.
Stamens. Enclosed in flower tube, filament 18 mm long, ribbon-like, straight (KK120 plicate, KK124 almost straight.)
Style. 32 mm long, reaching the top of the petals, white.
Ovary. 7mm high, 3mm wide, three edged in cross section.
Stigma. Type 1 Brown and Gilmartin, not strikingly small, and with lobes resting together.
This description is based on HR3005, collected in 1977 in the vicinity of La Paz at 3300 m altitude. Smith's description was based on Bang 159A collected in 1890 in the vicinity of La Paz at 3300 m altitude.
---
A Puzzling Bolivian Bromeliad: Tillandsia boliviensis Baker by Walter Till in J. Brom. Soc 48(4):172-5. 1998
Tillandsia boliviensis had been described by John Gilbert Baker, then the keeper of the Herbarium of the Royal Botanic Gardens in Kew, England, in 1895 after material collected by Miguel Bang, a Danish botanical collector active in Bolivia. However, the herbarium specimens bearing Bangs #159a belong to two different species that today are assigned to two different subgenera. T. boliviensis (subgenus Allardtia) and T. paraensis Mez (subgenus Tillandsia). The description seems to be a mixture of both elements (#159a in herbarium NY and #159a in herbarium K) albeit the Kew specimen is not annotated in Baker's typical handwriting and only "Bolivia" is given for the location on the label. The New York type sheet bears the label information as it is cited in the protologue and is noted as "Tillandsia (Platystachys) boliviensis Baker n. sp." Hence it is clear that this latter sheet was seen by Baker while the Kew specimen obviously had not been available at the time of the preparation of the description. This difference is important when recognizing the incongruencies of Baker's description with the known material of Bang 159a.
Baker (1889) had characterized his subgenus Platystachys with "leaves. . . coriaceous. . .more or less densely lepidote" and "style and stamens often longer than the petals". In contrast, his subgenus Anoplophytum is mainly separated by leaf characters: "...broader and thinner, subglabrous". No petal characters are mentioned in his description and we can assume he concluded from the leaves alone when he assigned T. boliviensis to Platystachys. The Kew specimen of Bang 159a has quite well preserved petals and the exserted stamens are clearly visible. Baker would have mentioned these characters if he had had Bang 159a from Kew for his descriptions.
Smith (1932), who knew both the NY and the Kew specimens, therefore logically selected the New York material as to the type of T. boliviensis and amended its description. However, two peculiarities should be mentioned: the floral bracts are partly carinate in the type specimens and the sepals are distinctly carinate but not alate. These features doubtlessly originate from strong desiccation of the fruiting specimens. Smith's (1932) illustration was drawn from the plant at right top corner of the type sheet and was reprinted in Smith and Downs (1977). Remarkably, both plants on that sheet have a clearly visible compounded inflorescence while Baker writes, "Spica simplici oblonga". It is likely that Baker saw a duplicate of the New York specimen with a simple inflorescence as this character couldn't have been taken from the Kew material. However, no further duplicates of Bang 159a are known, and therefore currently there is no reason not to follow Smith's (1932) typification.
Four additional specimens of T. boliviensis are cited in the Flora Neotropica monograph (Smith & Downs, 1977) but the petal characters are still not mentioned. Therefore Lieselotte Hromadnik, when describing her T. recurvispica (Hromadnik & Schneider, 1987), intended to provide the lacking floral details from material collected at the assumed type locality near La Paz (Hromadnik 3005, WU). However, she confused the characters of the floral bracts with those of the sepals and omitted the petal color. This has already been recognized by Derek Butcher, Fulham, Australia, and by Renate Ehlers, Stuttgart, Germany, and has been published by the former in Bromeletter. A comparison of the type of T. boliviensis with the Hromadnik collection provided full congruence as well as with another specimen kept in the herbarium of the University of Vienna, Austria (0. Irrnstorfer #7, WU) from the same locality as in Hromadnik 3005: the "Moon Valley" near La Paz. Irrnstorfer #7 has flowered in cultivation in September 1979.
In his article in Bromeletter, Derek Butcher has also clarified the identity of plants which are traded by Karel Knize, Lima, Peru, under the name of "T. refiflora". They are identical with T. boliviensis, only the floral bracts are less densely lepidote, the naming is illegitimate and superfluous.
T. boliviensis is probably related to T. cochabambae Gross & Rauh. The statement of "petals blue, lilac, violet" in Butcher (1992), which is essentially a translation of and is based on Lehmann (1986), obviously represents a confusion with T. cochabambae. It also resembles T. bermejoensis Hromadnik which differs in larger corollas and glabrous floral bracts, and which is growing at much lower elevations in the Departmento Cochabamba.
ACKNOWLEDGEMENTS
My cordial thanks go to Dr. Patricia K. Holmgren, the Director of the New York Botanical Garden Herbarium, to make the type of T. boliviensis available for this study, and to Mrs. Renate Ehlers, Stuttgart, Germany, for providing the slide of "T. refiflora".
REFERENCES
Baker J. G. (1889): Handbook of the Bromeliaceae. London: G. Bell & Sons.
Baker J. G. (1895): Bromeliaceae. In: H. H. Rusby (ed.): On the collections of Mr. Miguel Bang in Bolivia.-Part II. Mem. Torrey Club 4(3): 267.
Butcher D. (1992): An Amateur's Guide to the Greyish Leaved Tillandsioideae. Bromeliad Society of South Australia Inc.
Hromadnik L., P. Schneider (1987): T. recurvispica - eine neue Tillandsia aus Bolivien. Die Bromelie 1/87: 1-4.
Lehmann H. (1986): Bestimmungsschliissel fur die Gattung Tillandsia. Frankfurt a. M. Deutsche Bromelien Gesellschaft.
Smith L. B. (1932): Studies in the Bromeliaceae-III. Contr. Gray Herb. Harvard Univ. 98: 15, pl. 4, figs. 8,9.
Smith L. B., R. J. Downs (1977): Tillandsioideae (Bromeliaceae). Fl. Neotropica. 14 (2): 768, figs. 238 f, g. New York: Hafner Press.
Institute of Botany, University of Vienna, Rennweg 14, A-1030 Wien, Austria.


---

Tillandsia boliviensis as refiflora – Notes
From Ehlers 23/5/1993
T. refiflora Knize. I have this plant too and it flowered like yours. But unfortunately I cannot find my herbarium specimen with the details. I have so many things I am working on and often it is in big boxes waiting for me to finish the work. I should have a help like Harry has with Edna. So, sorry for the T. refiflora, if I find it, I am going to write you about. But it is similar to T. boliviensis (not with bermejoenis or pucaraensis). Have you got Die Bromelie 1/87. Lotte Hromadnik gives more details about T. boliviensis but still many characters are missing, she did not give the colour of the petals when she describes T. recurvispica.
Ehlers 1/7/1993
As to T. refiflora. I have 4 plants that start to flower now. But the plants I have look different in habit, they have fewer and more stiff leaves than T. lorentziana v. argentea. I will send you a slide of my plants. There are no similarities between T. spec. Icla and my refiflora (T. sp. Icla is only a T. lorentziana according to Till. He may be right though the plant looks more like T. cardenasii with white petals than like T. lorentziana). as to T. boliviensis I am not sure if Lotte is right. It will be very difficult to find out what the real T. boliviensis might be.
Ehlers 16/8/1993
I have just had flowering material and send you 2 slides. Examining the first flower I was very confused as it had 3 sepals joined nearly 1/2 its length. But the next flower was normal and they were free. The characters are similar to yours only the filaments are plicate. So I think the plants fit T. boliviensis as given by Smith. While Lotte wrote that the sepals are lepidote and nearly not carinate, the petals are 32mm with a blade 7mm wide and the filaments straight. My Refiflora has glabrous sepals which are strongly carinate, the petals are 38-40mm long with the blade only 5mm and the filaments are plicate. So the plant is like yours except the plicate filaments.
| | | |
| --- | --- | --- |
| boliviensis 1998 JBS 174a1 | boliviensis as refiflora Renate Ehlers | boliviensis NY herbarium |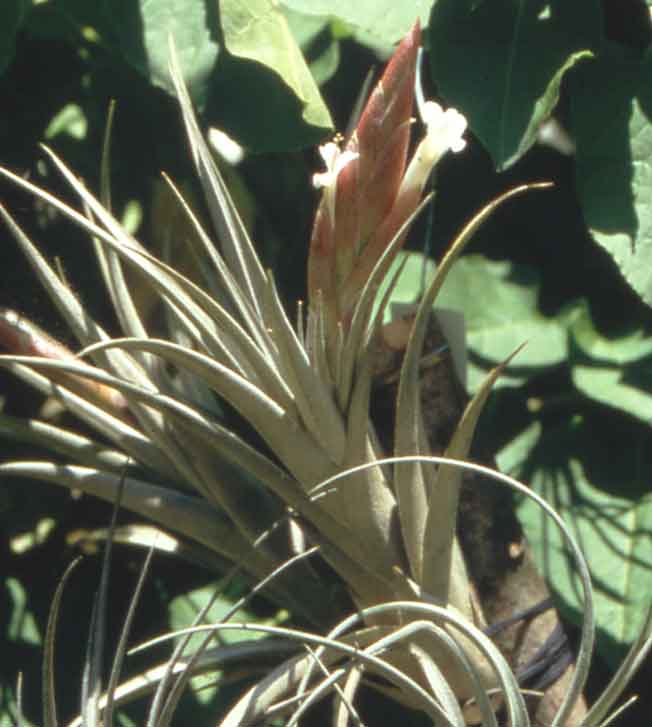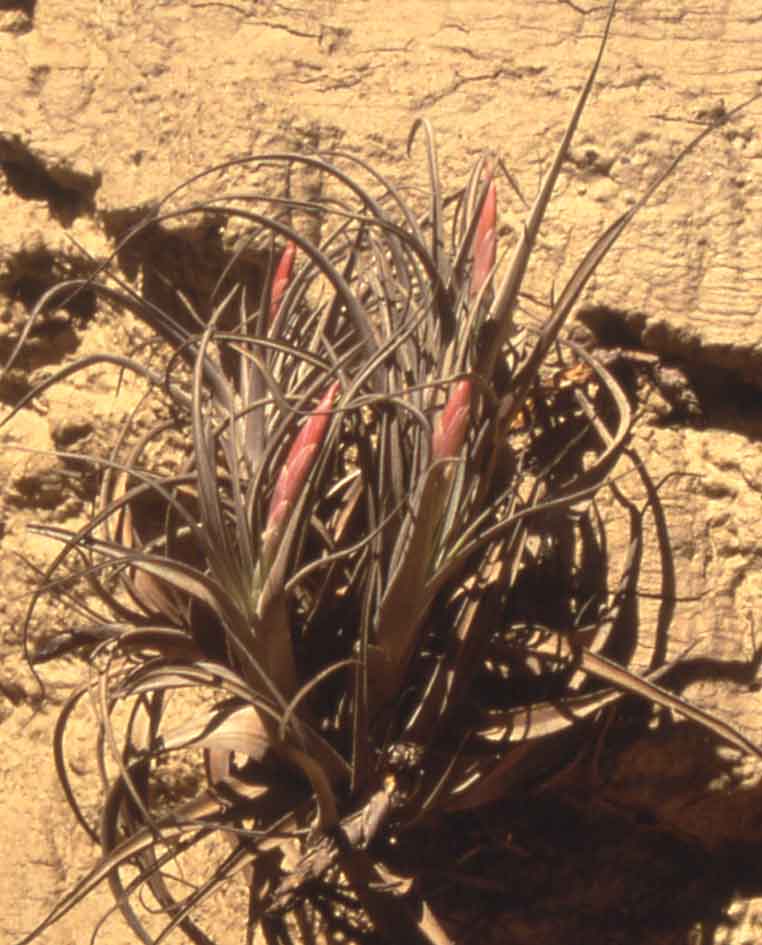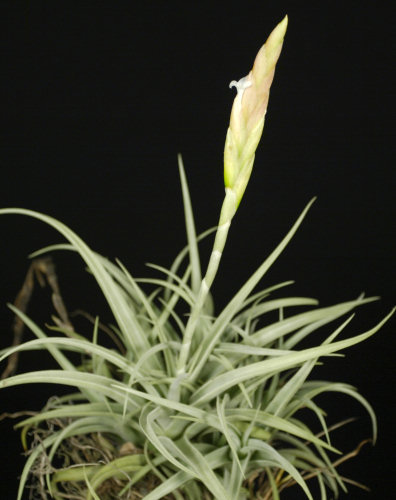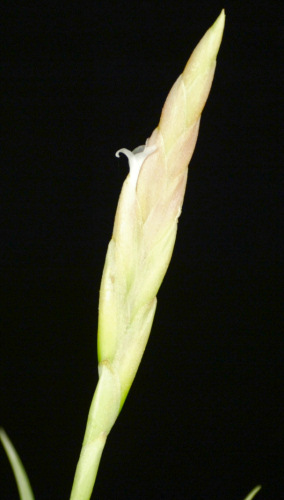 boliviensis Balfanz DC6591 Valle de la Luna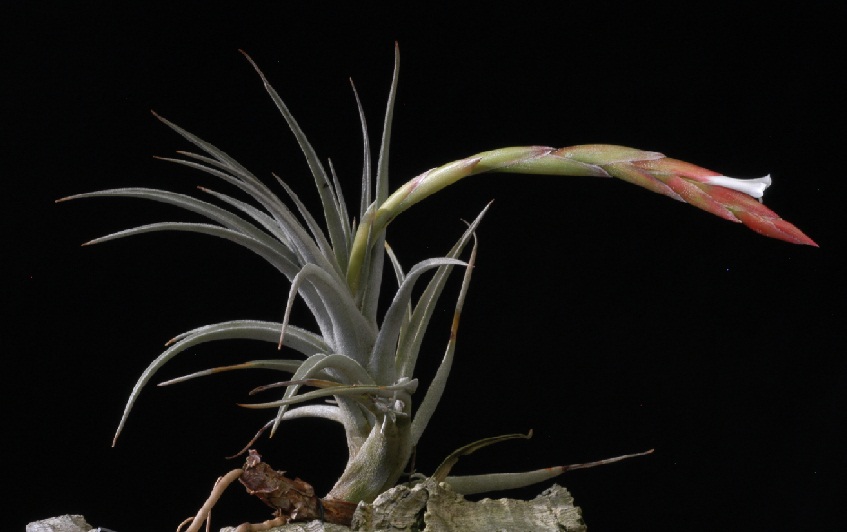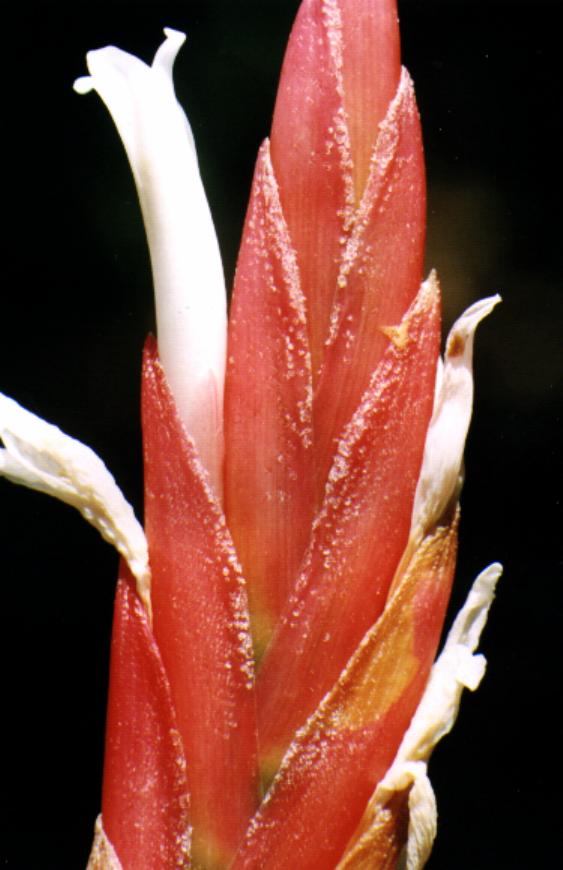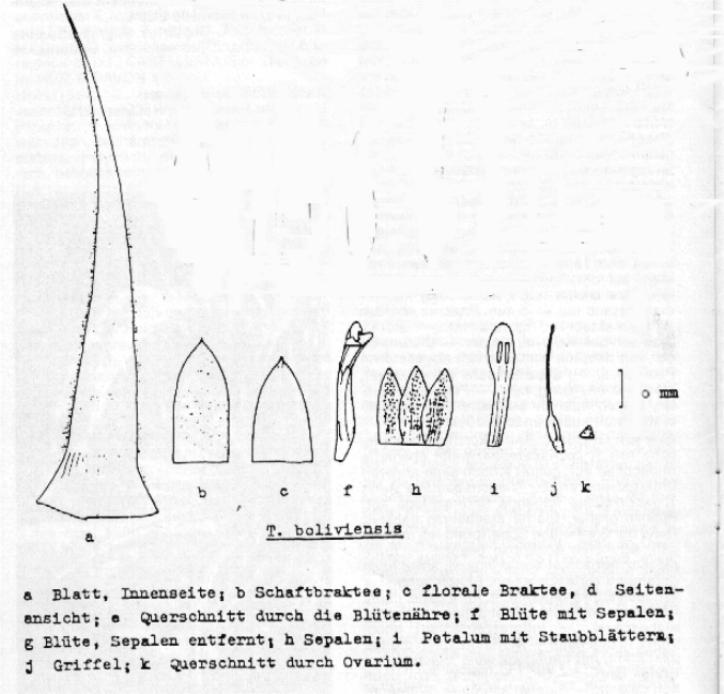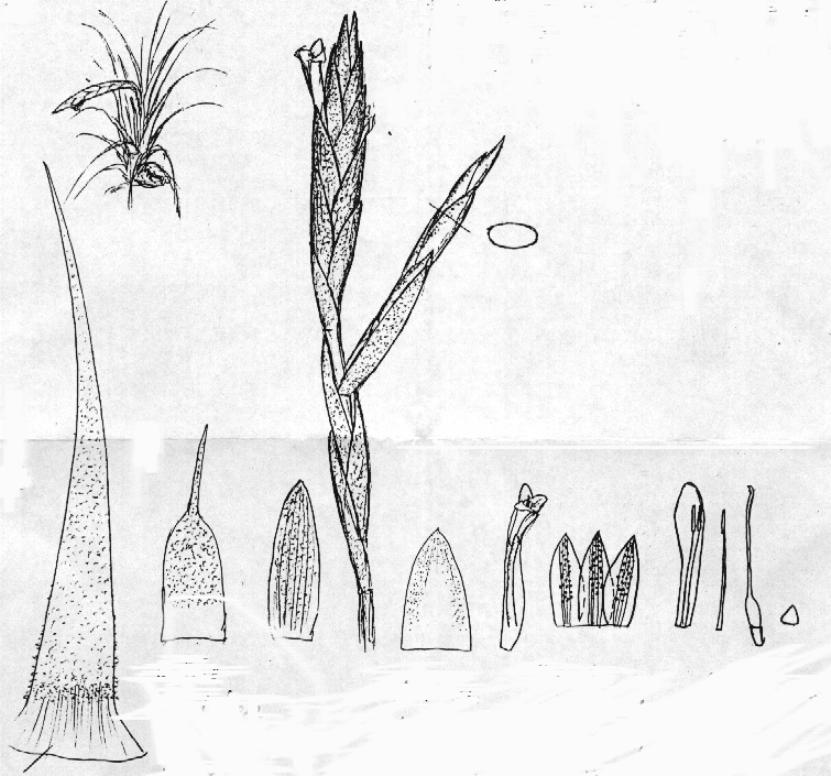 | | | | |
| --- | --- | --- | --- |
| boliviensis Eric Gouda | boliviensis Flower | Lieselotte Hromradnik HR3005 | Lieselotte Hromradnik HR5346 |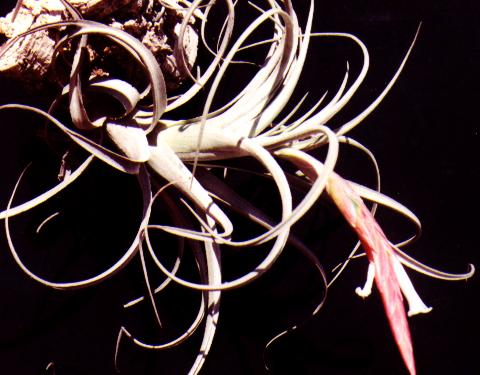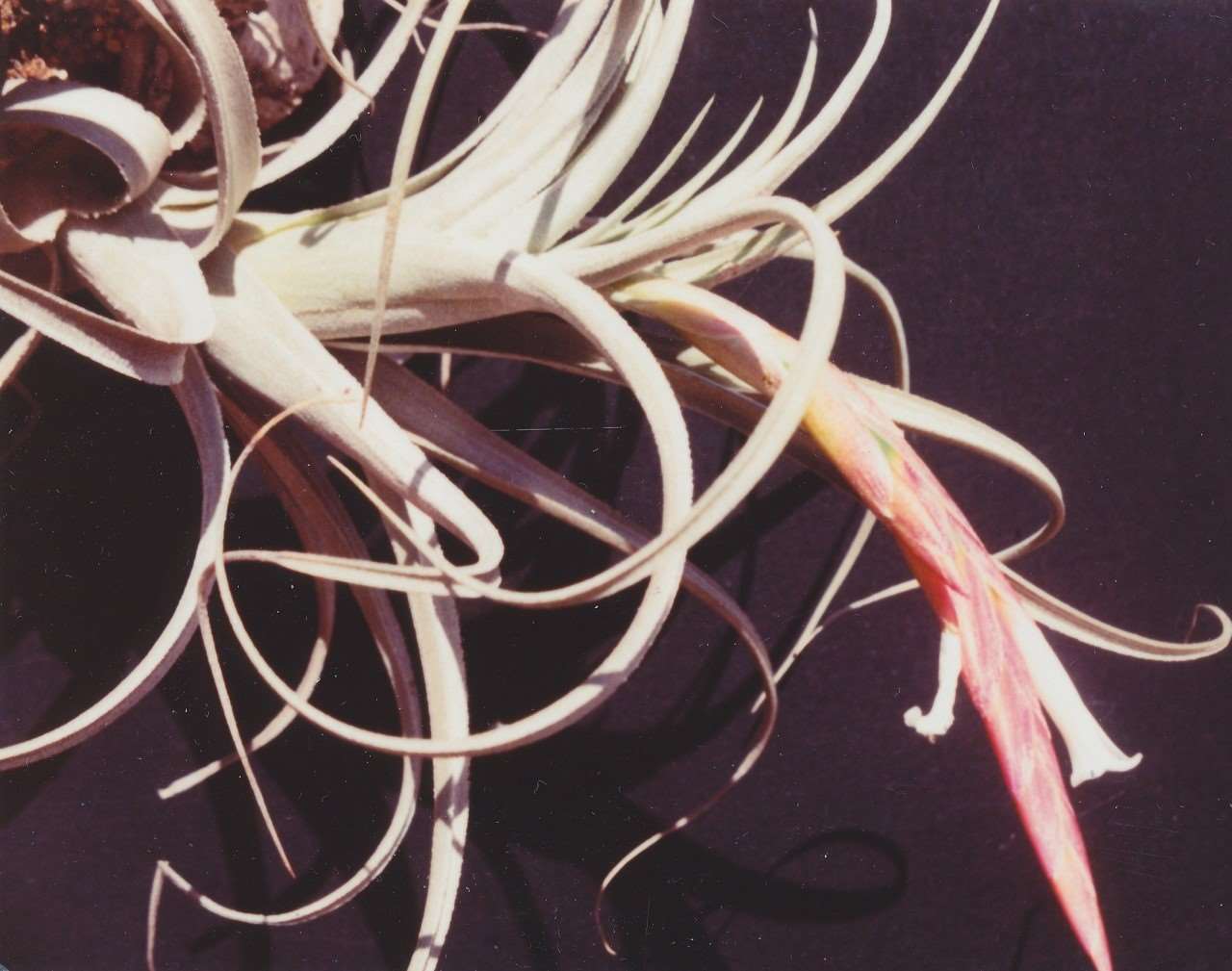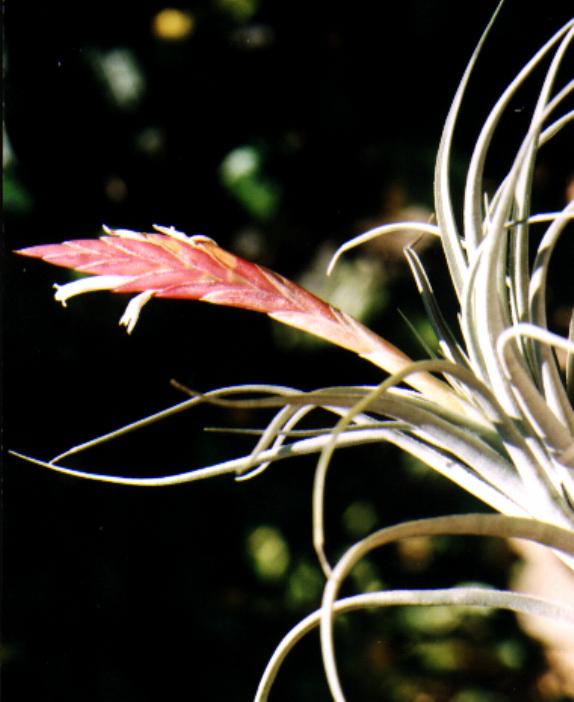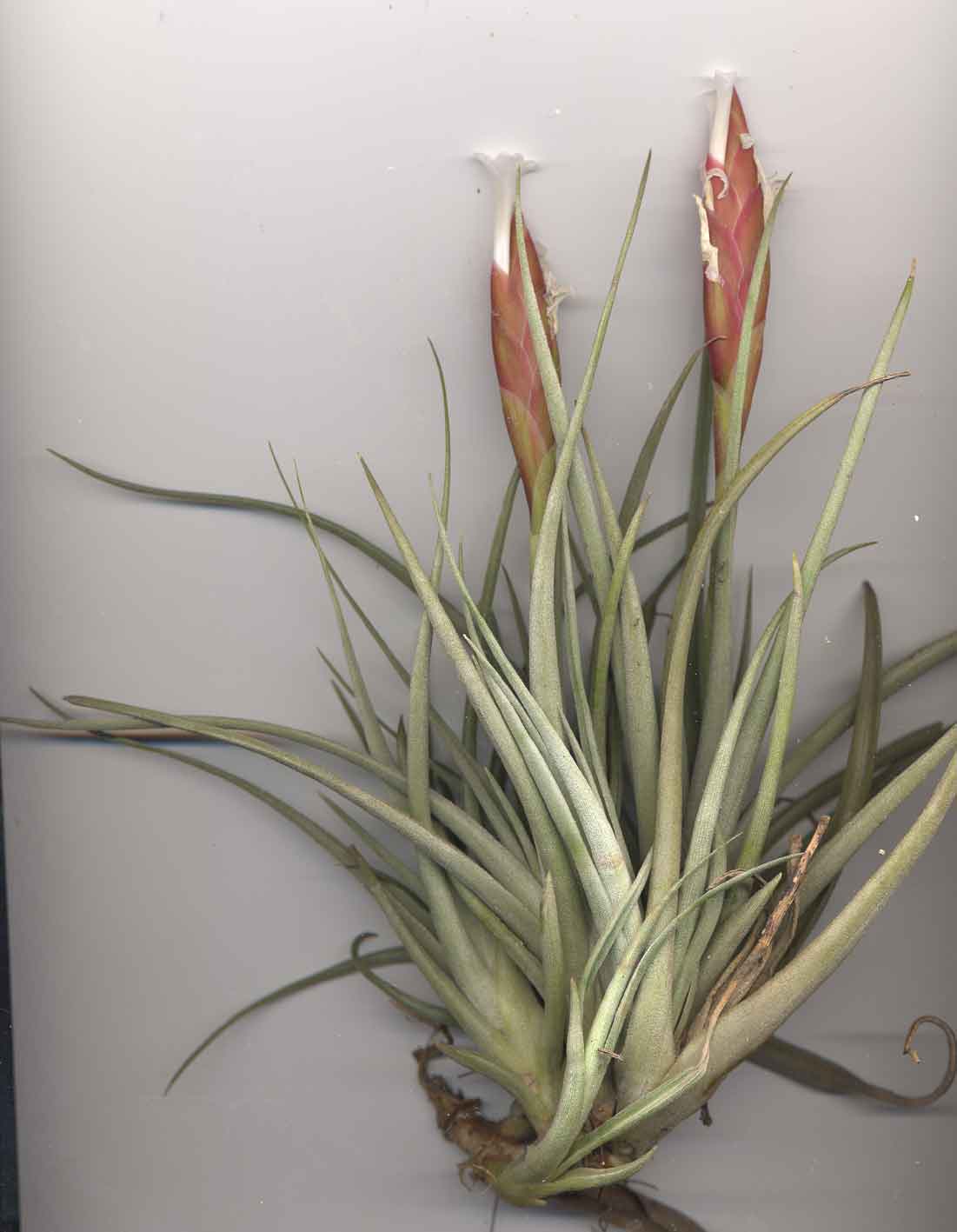 | | | |
| --- | --- | --- |
| Karel Knize KK120 | Karel Knize KK124 | boliviensis Koehres |
---
Updated 08/03/21
---