Tillandsia australis
Click thumbnails for full size, scaled to a new window.
---
Tillandsia australis
Species, Argentina, Bolivia.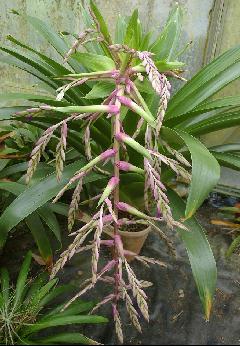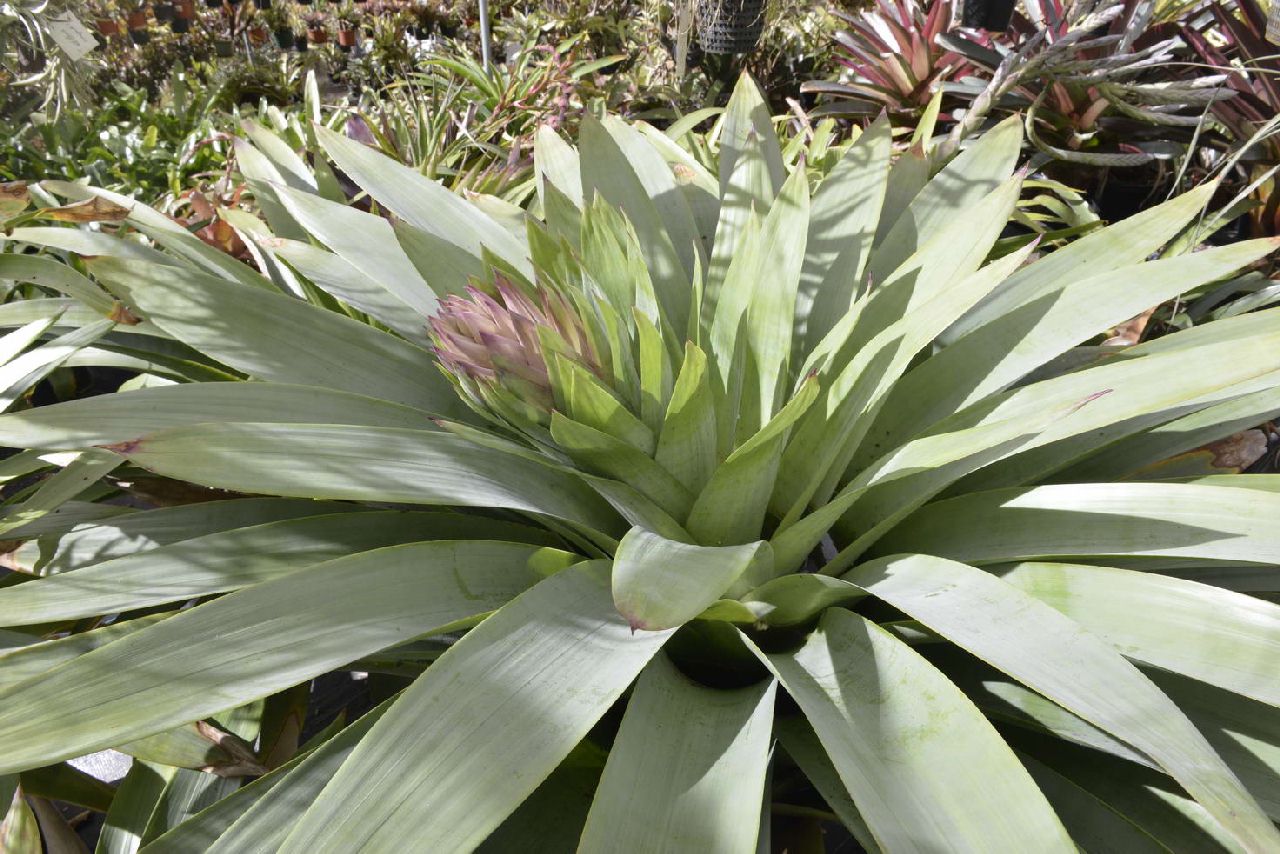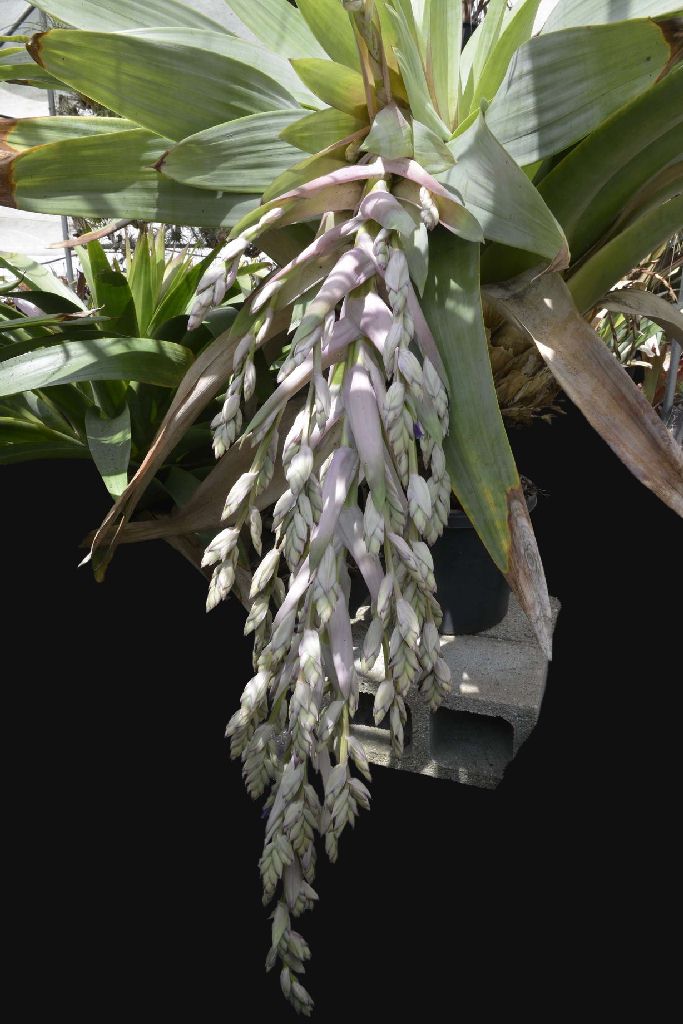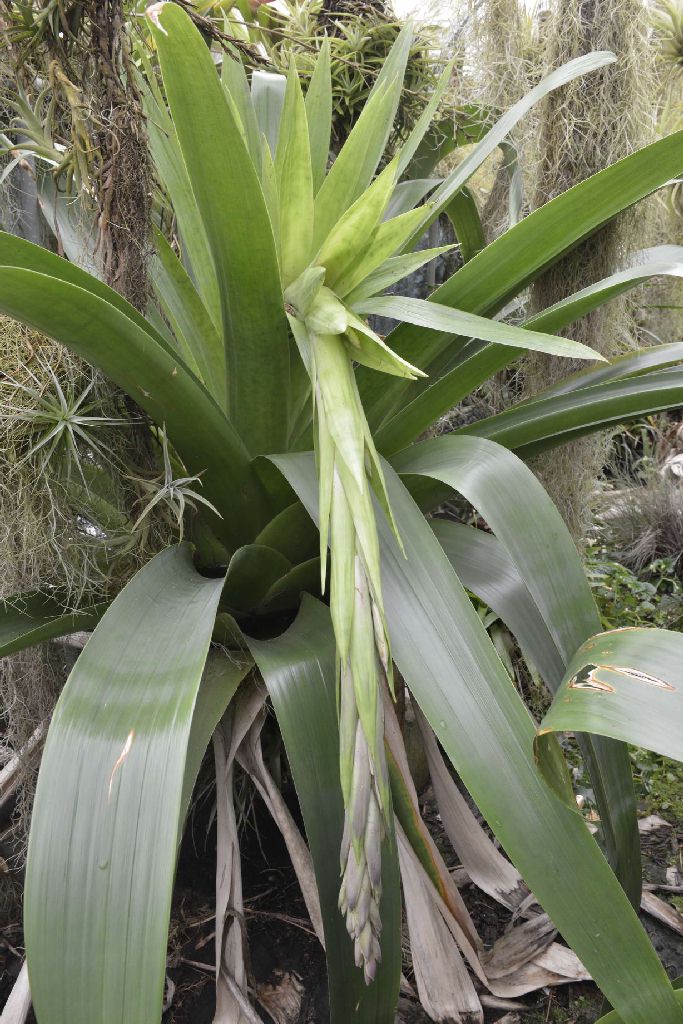 Peter Tristram ... "Many of us grow T. australis, grown either from adventitious pups or seed. These will all be from plants that Chris and Marj McNamara brought back from Argentina (early '90s?) and I got from Selby in 1988 – all pretty similar really. In 2009 I obtained a gnarled tank Till with a bunch of purple adventitious pups from Petra Hensel at the German Conference in Marburg. She got it from an old collector in the east and was sure it came from Bolivia. It grew into an imposing, Alcantarea-like plant with densely stacking foliage much like Alc roberto-kautskyi. It has had me puzzled. Quite a few pups will be in collections too, as T sp ex Petra, maybe with Bolivia added, or the like. I puzzle no more as it just has to be a form of T. australis. It has only just produced flowers and the branching will continue so it'll end up with one hell of a spike. For me it's a hernia hazard too! I have a feeling that some of the plants I got from the east as T. samaipatensis will turn out to be this form of T. australis as well. If anyone obtained a purplish adventitious pup labelled samaipatensis it will be one of these East German acquisitions. Well, another mystery solved I guess, still plenty to go.
There are 2 pics of the Marburg plant taken about 6 weeks apart and one of an australis that's either the Selby clone or one of Chris's which is also coming into bloom. The label is buried in the roots somewhere. Compare the foliage. If I tried to grow the older imports where the Marburg plant is (50% white cloth) they would have brown leaf tips, go yellow and look very crappy, preferring semi-shade. I'll be whacking one of Petra's australis in full sun with the Alcs and see how it goes!
Chris, what was the habitat of your australis, given its apparent preference for shade? I'd guess that the Selby form came from somewhere nearby too. Did you see the species in Bolivia? I know from the DVD that Len saw it near Narvaez and wonder whether this population was like Chris's or Petra's. Either way both are stunning tank Tills."
Chris Larson ... "Mine were collected at the type locality of T. albertiana – on the trip with Marj in 1996. Nearly all, including the ones we collected, were growing on cliffs which were quite wet, and facing south – so most in constant shade. The cliffs were full, and easy to reach. They were all single plants with a few adventitious offsets. Not a clump that I could see.
Type for albertiana says: Type. Vervoorst 7255 (holotype LIL, isotype US), on rocky banks, near El Potrerillo (Ruta Nacional no.9, km 1418), Rio Grande del Sauce, Candelaria, Salta, Argentina. El Potrerillo was quite a ways away- 10 or 20 kms - on the flats where there were frosts in early May. T. albertiana & tenuifolia & australis were up a narrow gorge – very protected.
The only australis I saw in flower was on the other side of the very narrow valley, facing north in full sun, but in the partial shade of the trees/scrub at the top of the cliff – a scan of my slide in the pic attached from fcbs.org. There were only a few plants here (facing north) in the bright light.
We saw it also in dense forest as an epiphyte up nearer the Bolivian border. At least that's what we thought it was. We couldn't get to it – I didn't see it in flower, and took Marj's word for it."
I do have a photo, but it is a dark blob amongst the heavy foliage – definitely a brom – but not much other detail. Deep within the tree on the sturdy parts. It was along a creek/river. Road from Embarcion to Yacuiba ( around ½ way turn left for 10 or 20 km) - up near the Bolivian border. I reckon it could have been anything & was voting to stop – but Marj said – "no definitely T.maxima"."
Peter Tristram ... "Thanks for info! It seems to be quite variable and has a fairly extensive habitat range. It'll be interesting to see what the other plants from Germany flower like and whether they are australis. Epiphyte too! It'd be a strong branch to support one!! I wonder if Marj photographed it?
I just checked labels and the green leafed australis coming into bloom at Repton is one of Chris's. I also have australis from Lotte from two trips, 2006 and 2009. The 2006 plants are dead ringers for Chris's collection which makes sense as they are from El Potrerillo, Argentina, where Chris collected his. I bloomed one last year just thinking it was from Chris. The 2011 plants look more like Petra's plant and are from Monteagudo – Padilla, Chuquisaca, Bolivia, which is way north of the Argentinian border not that far from Samaipata. Did you visit that area, Len?"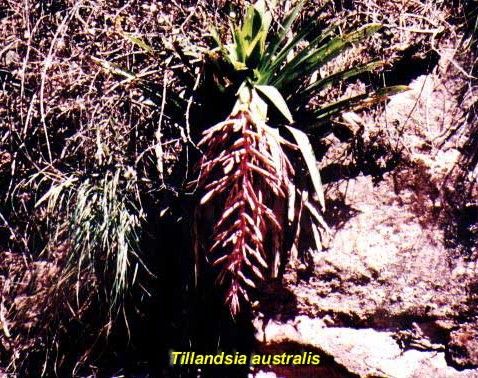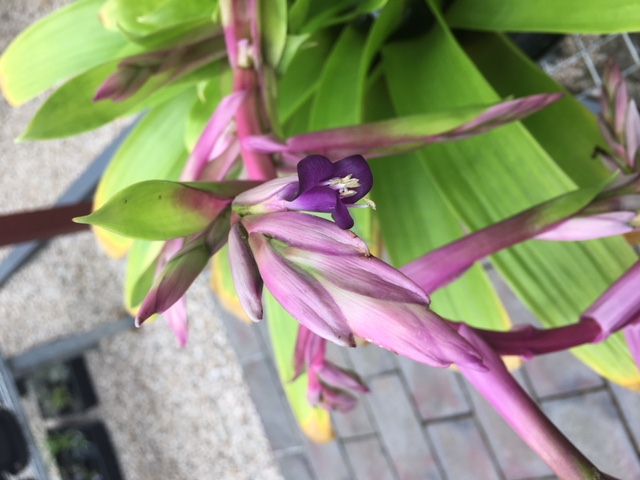 | | |
| --- | --- |
| Chris Larson 10/17 | Ray Clark 11/17 |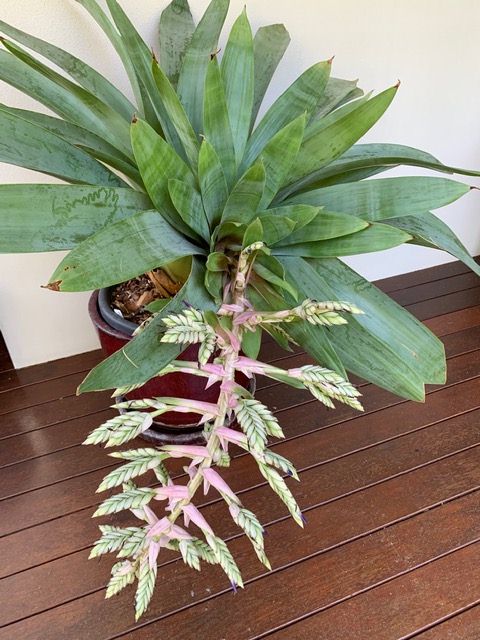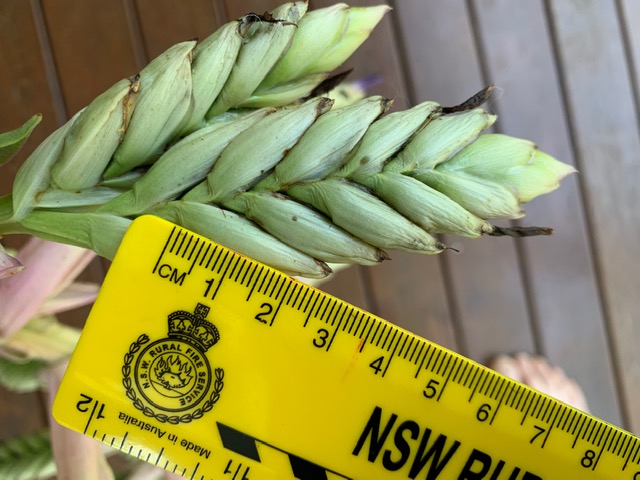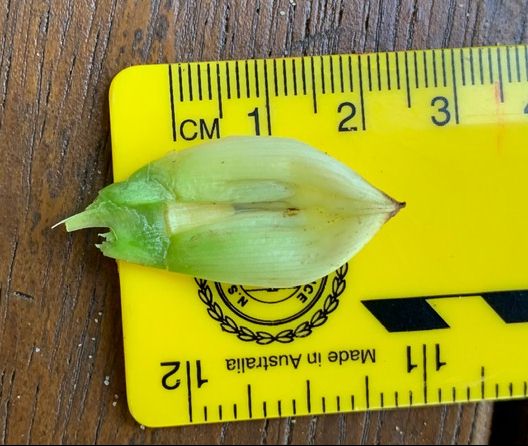 Peter Tristram ... "It looks like T. australis is represented in Australia by 2 basic forms. The one most Collectors have comes from the southern range and clones were collected by Chris Larson and imported from RFI and MSBG and no doubt others. These have more strappy (and sometimes tatty), lime green, softish foliage and a fairly lax inflorescence whereas the newer form, ex Germany (either as unknown, krukoffiana or samaipatensis) looks more like an Alcantarea with harder, shorter, pointed, bluish-green, finely frosted foliage. Its inflorescence is more compact though still very large with tighter bracting and sharply angled branching. I gather this form grows near Samaipata and/or Cochabamba in Central Bolivia."

---
Updated 16/06/20
---