Tillandsia atroviridipetala
Click thumbnails for full size, scaled to a new window.
---
Tillandsia atroviridipetala
Species, Mexico.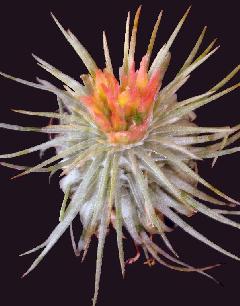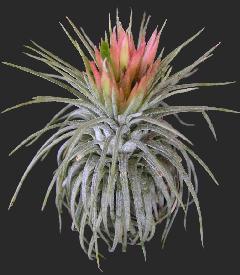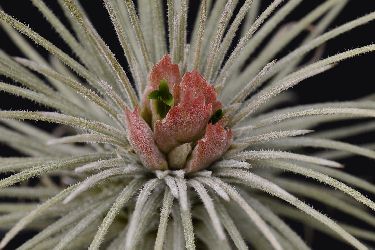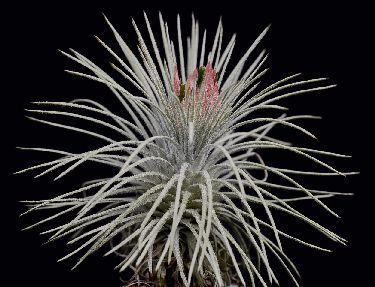 | | |
| --- | --- |
| Ken Woods 12/06. | Peter Tristram 12/13. Large form from Quiroga. (Lydia) |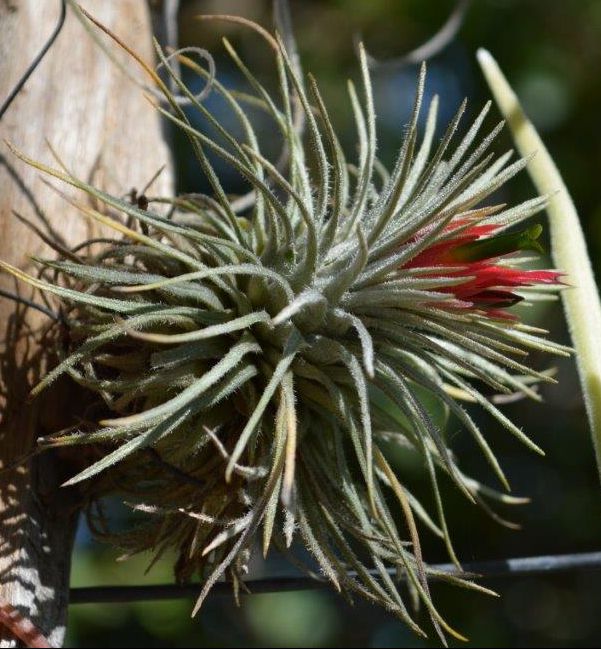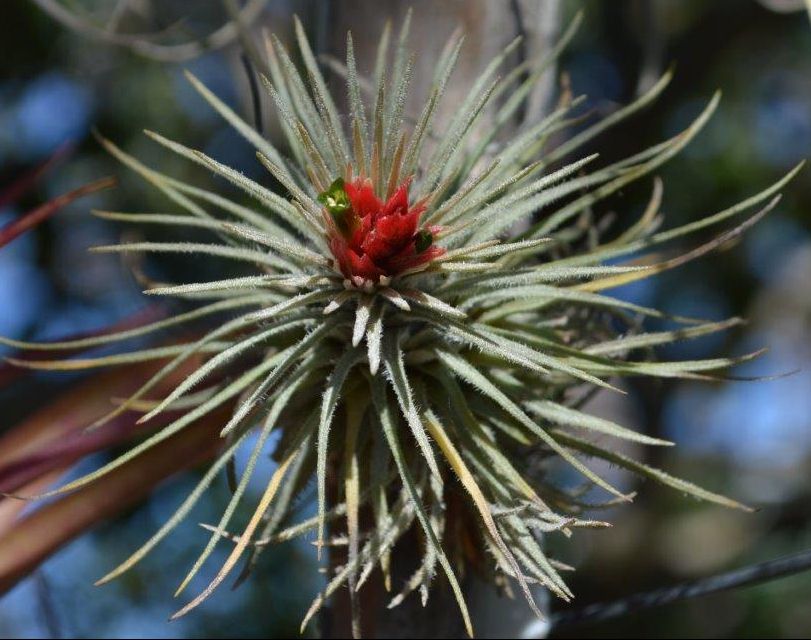 | | |
| --- | --- |
| Rob Bower 06/17 | Peter Tristram 06/17 |

Rob Bower ... "Not rare but what a little gem."
Chris Larson ... "Not rare, but slow. (Though not easy to replace when one dies.) Always a joy to see them flower."
Peter Tristram ... "What a thrill! Mexican tectorums are gems! Good to see one alive and well in the north. The last few hot summers have decimated my atros and plumosas though many of the other atro group species are doing fine. You must have a nice breezy spot. Look after it as it's unlikely replacements will be able to be imported for some time."
Rob Bower ... "Are these related to tectorums or is Mex tectorum just a term. My plumosa overnighted in the pool after a storm but survived. My plagiotropica and erubescens died in the heat last summer."
Peter Tristram ... "Sorry, but there are many green/yellow flowering Tills in Mexico and I only meant the atro group. Derek Calls them 'the Little Green Mexicans'.
I took a couple of screenshots of charts I got from Barfuss and Till. The two groups, tectorum and atroviridipetala, are now in the subgenus Viridantha of Tillandsia. It was considered as a genus name for the Mexican species with green/yellow flowers for a while but the dna put paid to that. Take a look at the phylogenetic (dna) chart Viridantha1 from the first paper which Jose introduced in a talk in NZ in 2013. The atro and tect groups are evolutionarily very closely related, so share a pretty recent common ancestor but evolved separately in Nth and Sth America into the current lot of species and intergrades. The latest chart, from the massive Barfuss et al study last year, only sequenced a few from the group - heteromorpha and rupicola from tectorum country (Peru, Ecuador) and lepidisepala, plumosa and tortilis from atroviridipetala country (Mexico). Still a lot of species to be sequenced and a lot of publications to come, some already underway."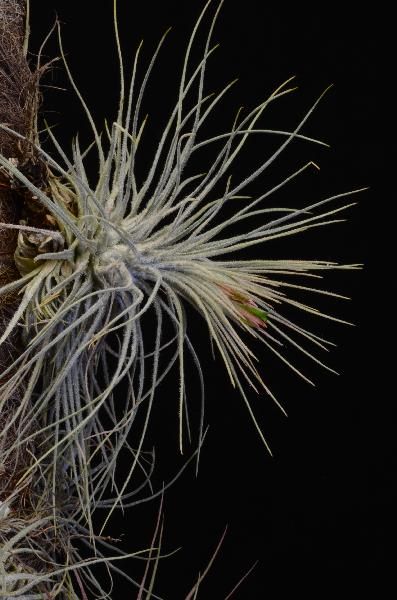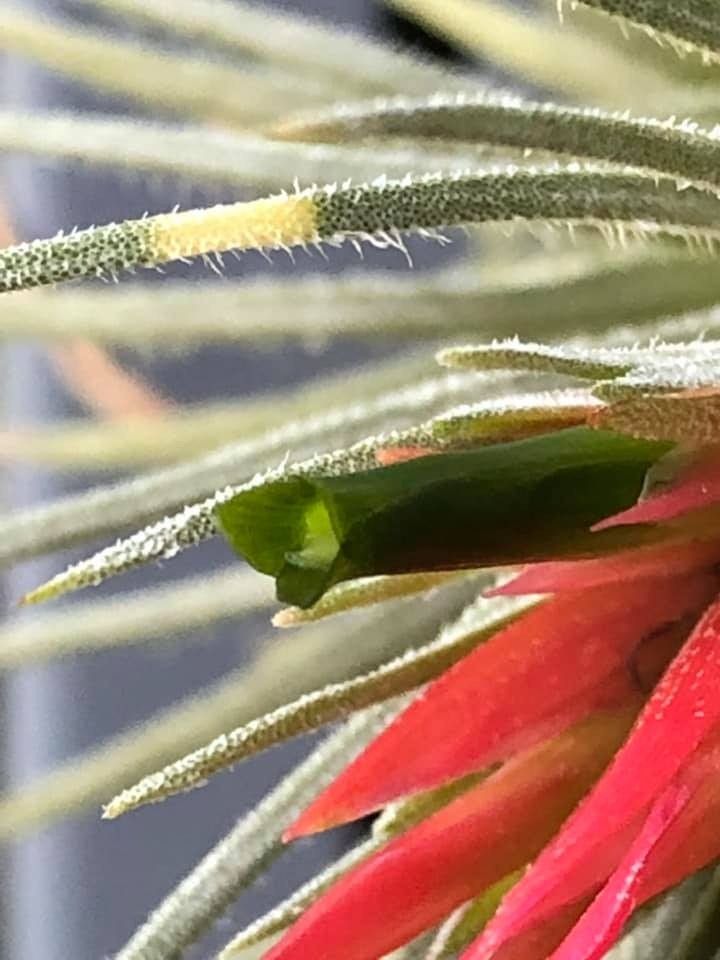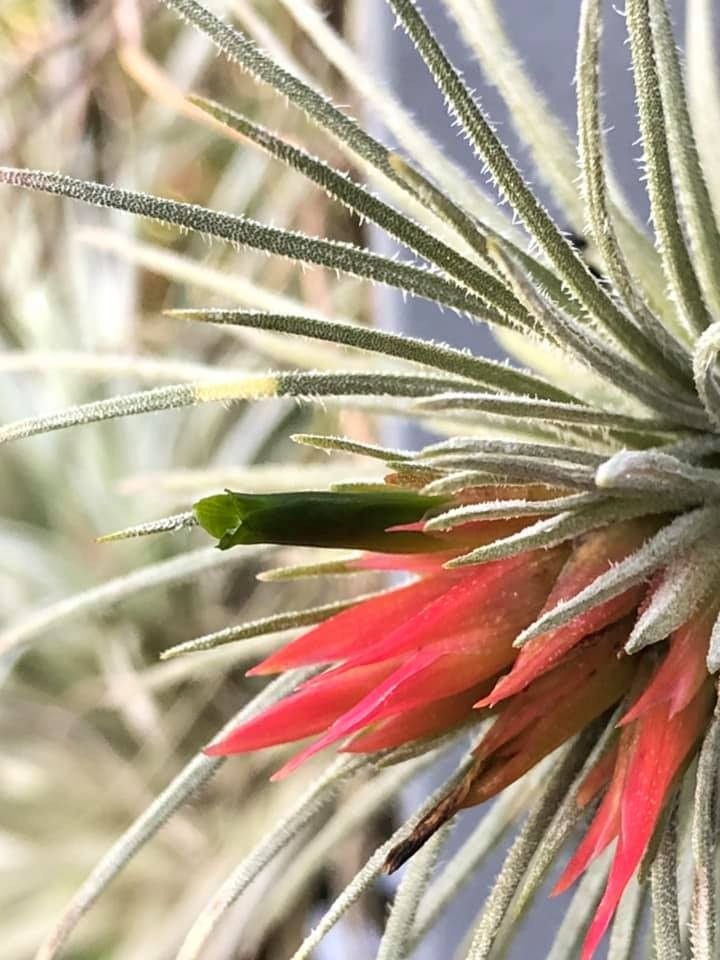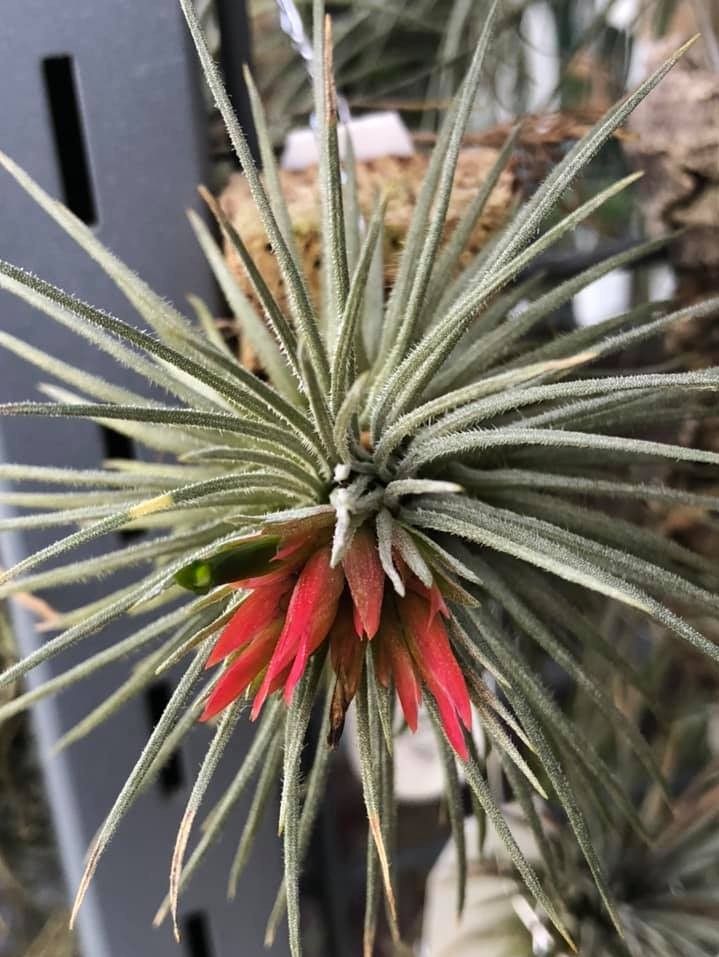 | | |
| --- | --- |
| Eric Gouda 12/18 | Dale Dixon 04/19 |
Eric Gouda ... "This one is from Renate Ehlers and she named it as a 'pendunculous' Tillandsia atroviridipetala Mexico, Mazamitea - Zamora.
Judging the plant, it seems to intermediar to T. plumosa and T. ignesiae. More images can be found on my own Tillandsia site: http://tillandsia.nl/site/collectie.php?id=700"
Dale Dixon ... "Full sun from 11:30am onwards. Good air movement and good humidity."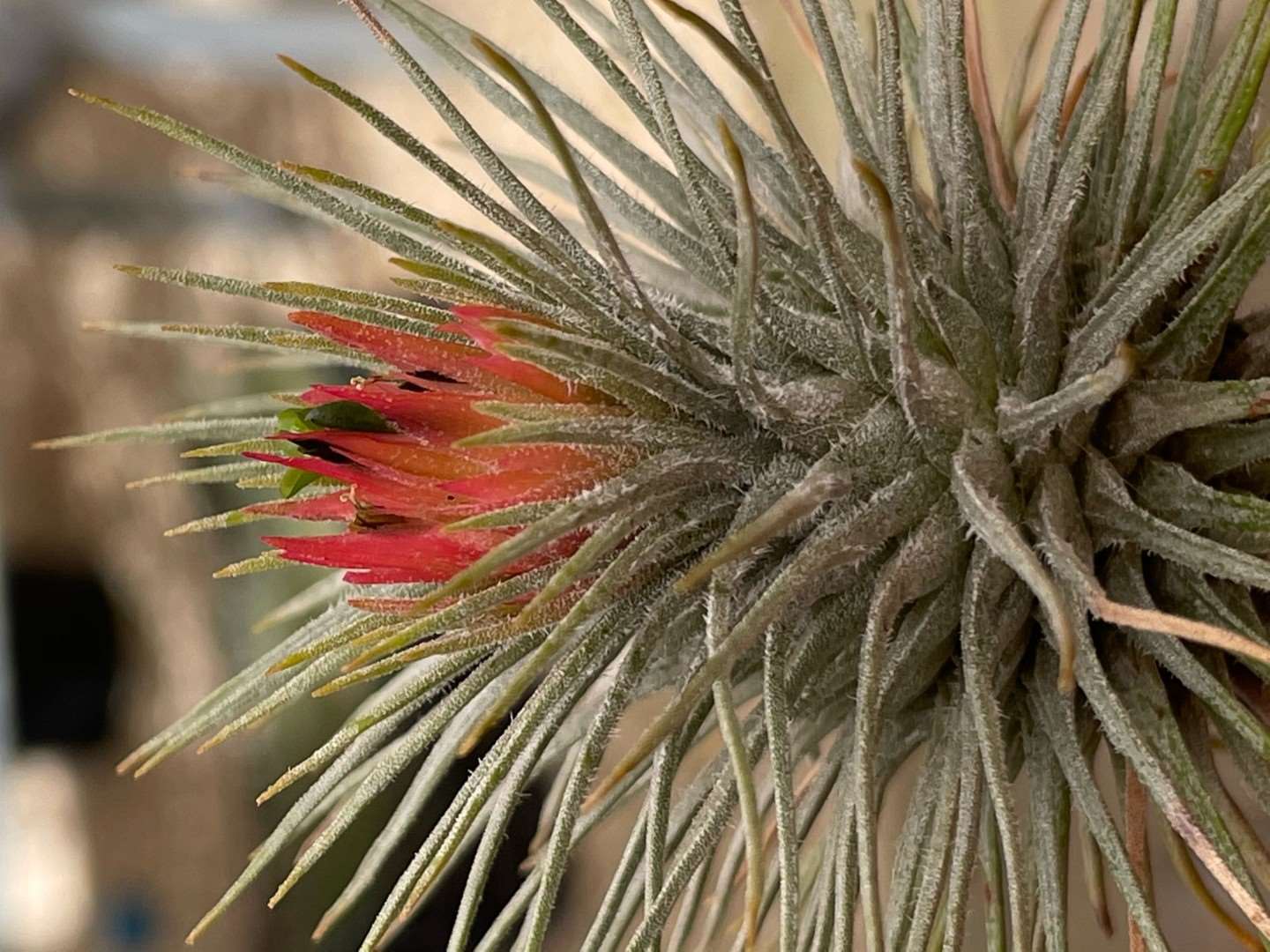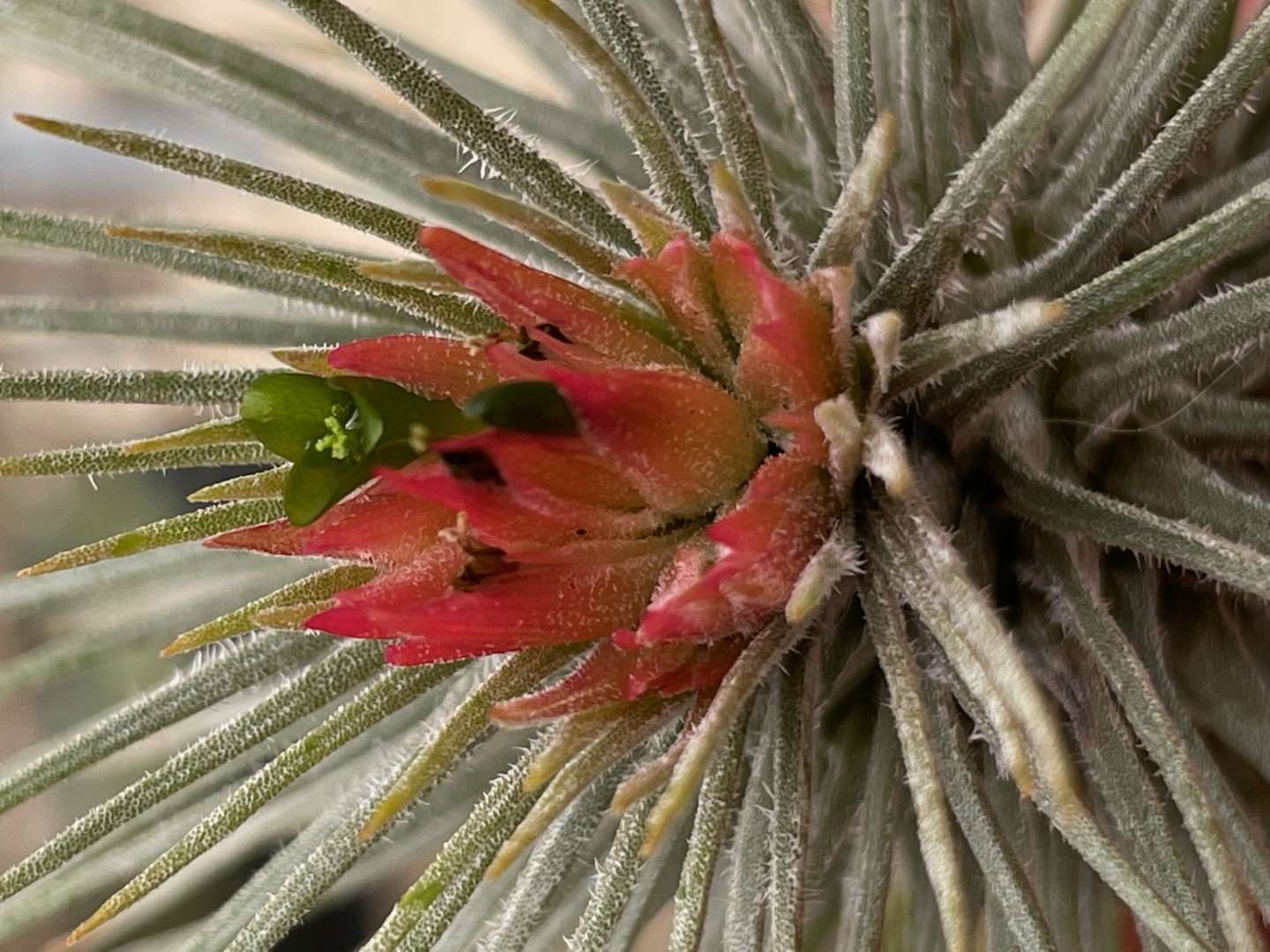 ---

Tillandsia atroviridipetala var. yagulensis

Note: These so-called "Little Green Mexicans" (atroviridipetala) belong to a sub-genus of Tillandsia.
A recent paper from Mexico has raised this sub-genus to genus level, Viridantha.
Note in the Key shown below, that atroviridipetala var. yagulensis has been moved to species level, Viridantha yagulensis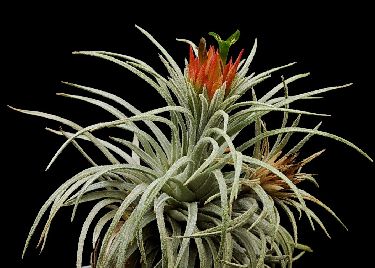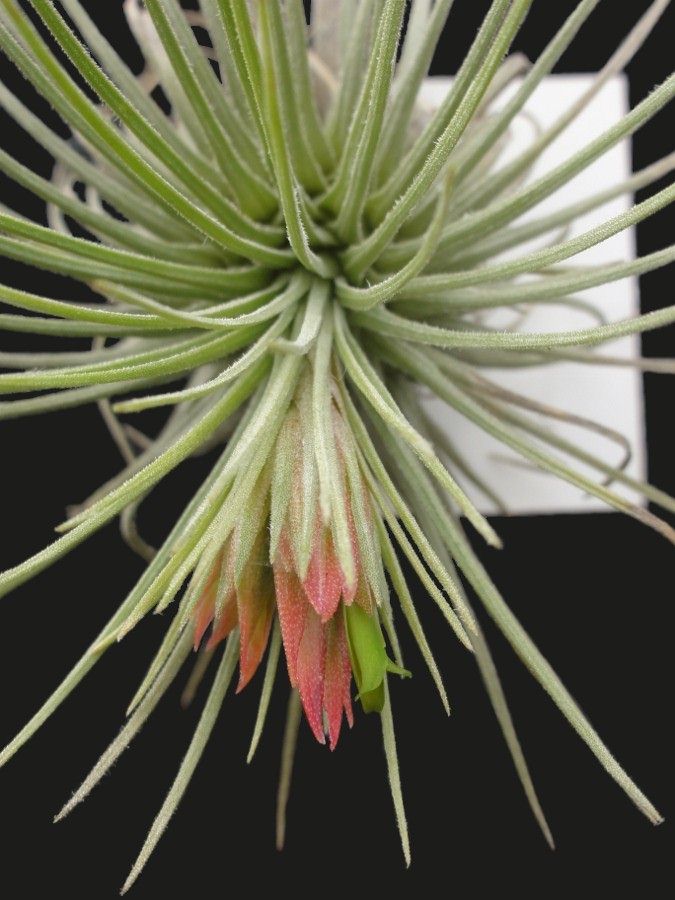 | | |
| --- | --- |
| Peter Tristram 04/12. var. yagulensis | Stephen Haines 05/16 |
Peter Tristram 04/12 ... "Holm has grown T. atroviridipetala var. yagulensis from seed and his plants are most distictive in that they are slightly caulescent as they mature. Some of you would have these from me. Evidently it selfs like many of the 'little green Mexicans'. This one is a pup from Lotte, from Yagul, Mexico."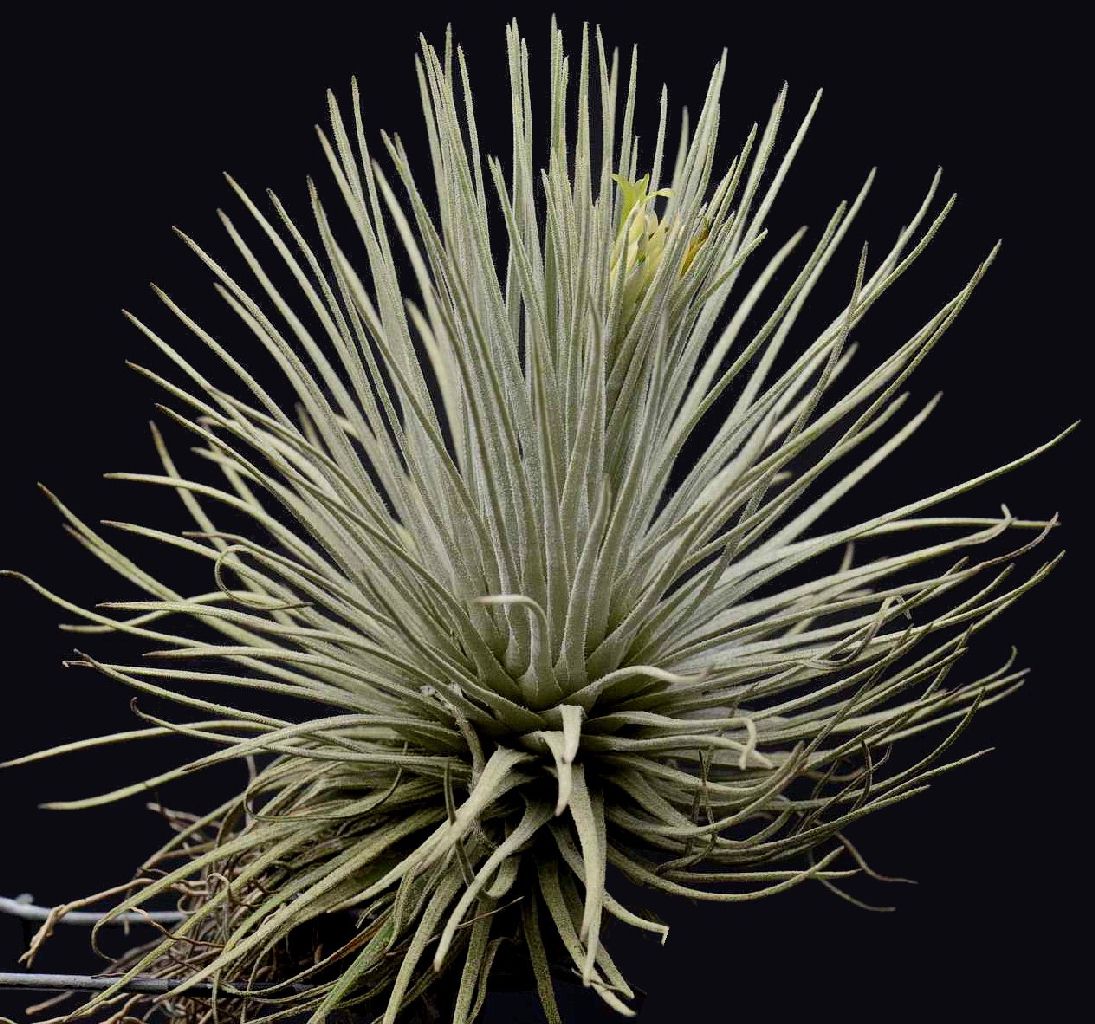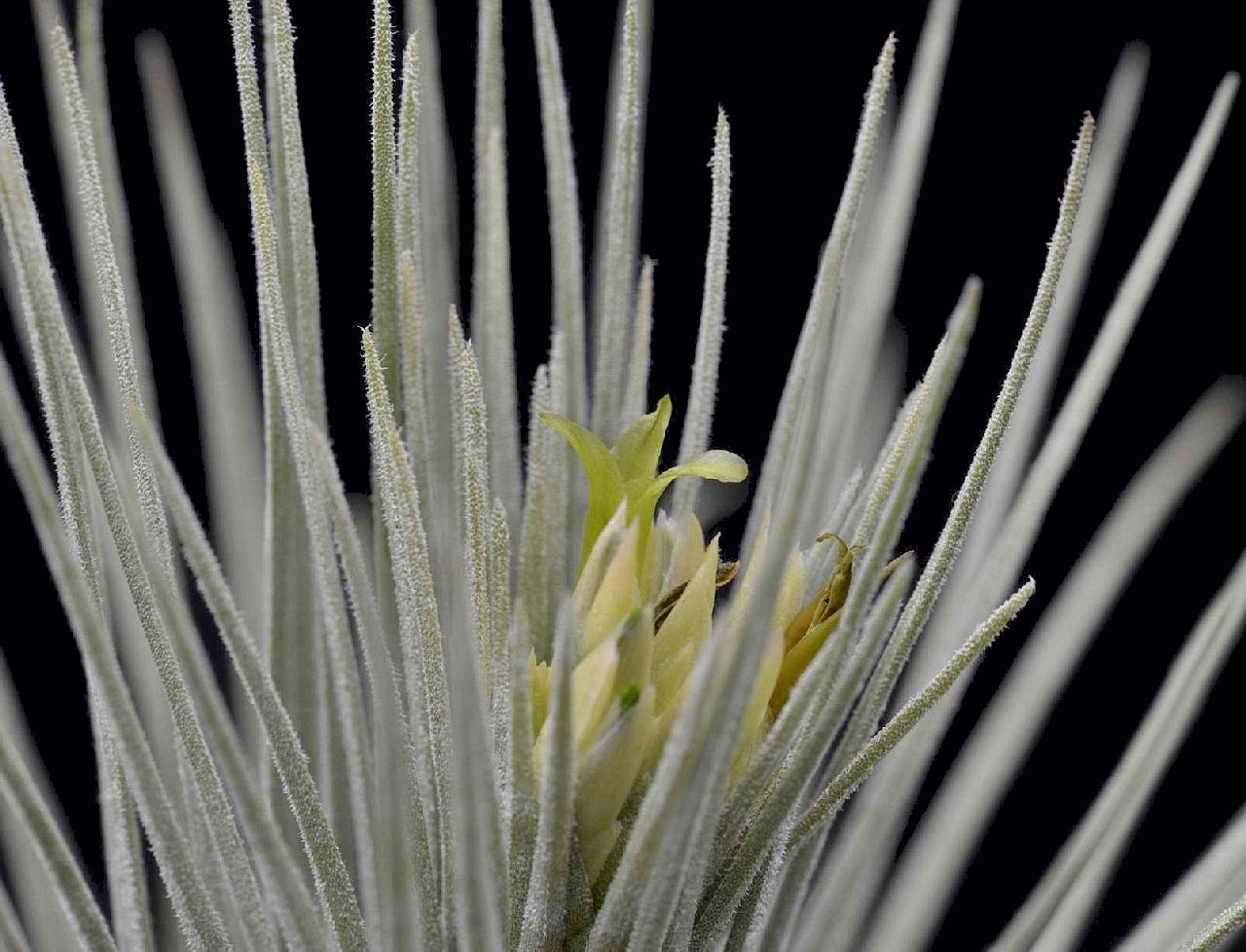 Peter Tristram 05/17 ... "Every now and then something in the Mexican atroviridipetala group is displayed. Generally speaking the plants are quite rare in collections and are certainly not as easy to multiply as their fuzzy Andean close relatives. I got this baby as atroviridipetala var. yagulensis on a trip to Germany, from Holm in 2006 I think. It's a big (for this group), semi-caulescent plant, so is likely correctly labelled. Identifying what's what isn't all that easy and Renate's book is invaluable to have any hope.
I was pleased that most of my species in this group made it through the heat, though not all. Unfortunately deaths cannot be replaced anymore. I do hope it pups!"
---
Key to identify species in sub-genus Viridantha 2018. Translated by Derek Butcher.
Derek Butcher ... "The latest to come out of Mexico is that they still persist in treating them as Viridantha at genus level and not sub-genus level. However they have produced a very comprehensive paper on the subject (In Spanish!). It is an interesting group and several are being grown in Australia. The species are not easy to recognise but the new key gives a different approach to identification. You may notice that T. yagulensis has been promoted to species level from being a variety of T. atroviridipetala. You may also notice the new T. rzedowskiana but I haven't a clue as to its pronunciation !"

1.Rosettes irregular in general outline or sickle shaped => 2
1.Rosettes spherical in general outline => 6

2.Inflorescence compound => boqueronensis
2.Inflorescence simple => 3

3.Rosettes sickle shaped, leaves curved => 4
3.Rosettes irregular, leaves scaled => 5

4.Plants usually greater than 5.1 cm high; peduncle more than 2.1 cm long => curvifolia
4. Plants usually less than 5 cm high; peduncle less than 2.1 cm long. => penascoensis

5. Peduncle more than 4.l cm long and less than 2mm diam => tortilis
5. Peduncle less than 4 cm ong and more than 4 mm diam => lepidosepala

6. Peduncle more than 4.1 cm long. => 7
6.Peduncle less than 4 cm long. => 9

7. Inflorescence with a single spike, more than 3.1 cm long, applanate to cylindrical, rarely with 2 shorter lateral spikes and adpressed to the principal => ignesiae
7. Inflorescence with 2 or more spikes, less than 3 cm long applanate => 8

8. Width of leaf at base larger than 2.1 mm; floral bracts triangular to ovate, carinate for entire length abaxially => plumosa
8. Width of leaf at base less than 2 mm; floral bracts elliptic-oblong, carinate only from centre to tip abaxially => caballosensis

9. Leaf blade more than 7.1 mm wide; anthers generally black => mauryana
9. Leaf blade less than 7 mm wide; anthers green to browner => 10

10. Plant short caulescent; floral bracts elliptic => yagulensis
10. Plant acaulis; floral bracts ovate to amply ovate, lanceolate or triangular => 11

11. Spike more than 3.1 cm long and more than 1 cm wide => 12
11. Spike less than 3 cm long and less than 1 cm wide => 13

12. Leaf sheath amply ovate to oblong, blade more than 4 mm wide, sepals less than 1.6 cm => rzedowskiana
12. Leaf sheath closely oblong, blade less than 4 mm wide; larger of the sepals to 1.5 cm => grandispica

13. Leaf blade more than 4 mm wide; spikes generally less than 3; floral bracts less than 1.5 cm long => teloloapanensis
13. Leaf blade less than 4 mm wide; spikes generally more than 3; floral bracts more than 1.5 cm long => atroviridipetala
---
Tillandsia atroviridipetala Matuda, 1957
Syn. Viridantha atroviridipetala (Matuda) Espejo, comb. nov. 2000
Type: Mexico, Estado Mexico, Puente de Calderon, Matuda 32632 (MEXU).
Detail from Ehlers in Die Brom Sonderheft 6: 38-43. 2009
Plant stemless, partly growing in large groups, often hanging downwards, flowering 2-6 cm high, a small, dense spherical rosette with numerous leaves, that extend radiating on all sides.
Leaves 3-5 cm long, covered densely with prominent scales, with its thickened sheaths forming an onion shape.
Sheaths 9 mm long, 4-5 mm wide, oval, thin, glabrous at the base, scaled in the upper part. Blades clearly distinct, 4-5 cm long, above the sheath 3 mm wide, linear-awl-shaped, spreading to bent back, dense grey, almost feathery scales.
Inflorescence deeply enclosed in the rosette, peduncle practically lacking and hidden in the rosette, less than 1 cm long, peduncle bracts spiralling, densely imbricate, with its oval sheaths enclosing the peduncle, with long, erect, leaf-like, dense prominent scaled blades. The fertile part of the inflorescence erect, practically sessile, hardly exceeding the leaves, few flowered, with 2-6 spikes, each one to three flowered, often with the flower reduced so that the spike consists of the primary bract and 1-3 sterile bracts and a fertile flower.
Spikes mostly reduced to a single flower,
flowers 15 mm long, sessile.
Floral bracts 14-15(-22) mm long, 6-7 mm wide, roughly as long as the sepals, oval-lan-ceolate acuminate, membranaceous, strongly nerved, carinate, adaxially glabrous, abaxially at the base green, at the top pink, very finely grey scaled.
Sepals 10-15 mm long, 4-5 mm wide, narrow- lanceolate, acuminate, thin, nerved, almost glabrous, adaxially carinate, almost free.
Petals 13-15(-20) mm long, 3 mm wide, linear with somewhat divergent tips, dark-green, #82 moss green, (Isley III., P.T. 1987, colour chart).
Stamens and pistil enclosed, filaments shorter than the floral tube, 9-10 mm long, thin filiform anthers 2-2,5 mm long, 0,5 mm wide, linear, acuminate, style 8 mm long, stigma very small, little wider than the style.
Ovary 3 mm high.
Seed capsule exceeding the sepals, 18-31 mm long, cylindrical, shiny green.

Species name: The name refers to the dark-green colour of the petals, (atro = black, dark; viridis = green).

Habitat and Range: Mexico: Durango, Zacatecas, Guerrero, Hidalgo, Michoacan, Jalisco, Mexico, Puebla, Oaxaca, Veracruz. Usually in warm, dry zones, there are however also isolated occurrences in moister forest areas in high locations.

Cultivation: Tillandsia atroviridipetala is one of those species that are not easy to cultivate. It is most recommended to cultivate the plants outside in summer in a shady area. In winter Tillandsia atroviridipetala should not be kept too cold. It is favourable to mount the plants upside down.

Variability: The plants of this group are especially variable. None of the other species in the various habitats differs so much from the type specimen and is extremely variable in so many characteristics, such as the size of the plant, length and amount of scales on the leaves, inflorescence and size of the individual floral details.
Thus near Huajuapan de Leon at the location of Tillandsia huajuapanensis Ehlers & Lautner, there is a mini-form of T. atroviridipetala, growing on the trees below the rock. The full-grown seedlings measure only 15-28 mm in diameter. Jurgen Lautner reports that other examples are still so small after 20 years of cultivation. The seed capsules are only 18 mm long, while specimens collected in San Mateo Penasco had capsules of over 30 mm length. But even at the same location, the plants can be immensely different. At the location near Mitla in Oaxaca, which will be the subject of a report below, there was, in addition to the giant form, also the "normal" Tillandsia atroviridipetala.

Examined material
Durango: Topia - Canelas, 1700 m, in pine forest, 27.11.2000, Ehlers EM001001(wu);
Guerrero: Altamirano-Salitrera, 24.11.1999, Ehlers EM990907 (WU); El Pochote - Ichcapucalco, 1818 m, 12.2.2006, Ehlers EM060903 (WU); Border of Puebla, Puente Reniego, 1190 m, 9.2.2007 Ehlers s. n.; before Atlixtlac, 1650 m, 10.2.2007, Ehlers EM071607 (WU); Filo de Caballos -Yextla 1520 m, 11.2.2007, Ehlers EM071701 (WU);
Oaxaca: Ixcahuixtla, 1650 m, 19.3.1998, Ehlers EM981601 (WU); Teotitlan del Camino towards Oaxaca, 1600 m, 24 11.1999, Ehlers EM990906 (WU); Mitla, 1600 m, 29.1.2004, Ehlers EM040503 (WU); Nizanda, 150 m, 10.3.1998, Ehlers EM980307 (WU); San Mateo Penasco, on bushes, 1600 m, 12.3.1993, Ehlers EM930903 (WU); San Mateo Penasco, 1800 m, below the rocks with Tillandsia plumosa on same tree, 8.12.2001, Ehlers EM012401 (WU); San Mateo Penasco, 1550 m, 9.12.2001, Ehlers EM012503 (WU); San Mateo Penasco, 1700 m, on trees, 3.2.2003, Ehlers EM030208 (WU); San Mateo Penasco, 2050 m, 7.2.2007, Ehlers EM071301 (WU); Yosondua, 1450 m, 9.12.2001, Ehlers EM012505 (WU); Yosondua, 1500 m, 3.2.2003, Ehlers EM030203 (WU); Yosondua, 1480 m, 5.2.2007, Ehlers EM071100 (WU); Xoixtlahuaca, 10.12.2001, with Tillandsia plumosa in the same area, Ehlers EM012603 (WU); Huajuapan,1950 m, 9.2.2007, tiny form, Ehlers EM071501 (WU);
Puebla: near Tehuacan, Ehlers EM7283 (WU); Tehuacan-Acatepec, on cacti, 1450 m, 8.3.1991, Ehlers EM912802 (WU); Tehuacan- Ixca¬huixtla, 1650 m, 19.3.1998, Ehlers EM981601 (WU); Calipan, 1400 m, 25.1.2004, Ehlers EM040103 (WU); Vicente Guerrero - Calipan, 1400 m, 25.l.2004, Ehlers EM040105 (WU); Tehuacan-La Canada, 1600 m, on tree, 19.2.2003, Ehlers EM031803 (WU);
Mexico: 2500 m, 12.12.1999, Ehlers EM992703 (WU); near Cuernavaca, 2400 m, 18.12.2000, Ehlers EM003102 (WU).

Tillandsia atroviridipetala Matuda var. yagulensis Ehlers, var. nov.Die Brom Sonderheft 6: 44-46. 2009 Now treated as species in own right.
A varietate typica habitu multo majori, caulibus aetate distinctis usque ad 15 cm longibus, rosulis usque ad 15 cm diametientibus, foliis majoribus latioribusque et spicis saepe majoribus multifloribusque differt.
Typus: Mexico, Estado Oaxaca, Yagul, 1700 m s. m., 18.04.1989, K. & R. Ehlers EM891803 (holo MEXU, iso WU 11273).
Paratypi: Mexico, Estado Oaxaca, Yagul, 1700 m, 19.4. 1989, K. & R. Ehlers EM891902 (WU 11272); l.c., 1700 m, 26.3.1993, K. & R. Ehlers EM932301 (WU 11274); l.c., 1750 m, 6.12.2001, R. Ehlers EM012201 (WU);Yagul, 10 km in the direction of Oaxaca, 1600 m, 16.2.2003, EM031503 (WU); Tlacolula, 1600 m, 12.3.2005, R. Ehlers EM050306 (WU); Petlalcingo, in rupibus prope rivum, 1250 m, 24.04.1989, K & R. Ehlers EM892401 (WU); l.c., 1280 m, 2.3.2001, R. Ehlers EM010501 (WU); l.c., 1250 m, 2.3.2005, R. Ehlers EM052101 (WU).

This form differs from Tillandsia atroviridipetala Matuda var. atroviridipetala by the following characteristics: Plant much larger, up to 15 cm long, up to 12 cm diameter, forms long stems with age, leaves larger and particularly wider, the spikes are partially larger and more flowered.

Notes
A number of collections deviate in growth pattern, size and width of the leaves so strongly from the type specimen of Tillandsia atroviridipetala Matuda, that these plants should be considered as a variety of their own.
On the steep rocks in Oaxaca, rarely on large cereus, plants grow which form a clear stem with age, and can reach 15 cm in length. It can be assumed that these long-stemmed forms are already many decades old. Specimens in cultivation grow very slowly indeed. In diameter, this form is virtually as large as Tillandsia plumosa, the leaves are however only appressed and not feathery scaled and correspond to T. atroviridipetala in the form of the scales. Since these plants occur very near at the excavations near Yagul, it is often marked in collections as Tillandsia atroviridipetala 'Yagul-Form'.
Espejo et al. (2004) lists these plants in his Checklist of the Mexican Bromeliaceae as Tillandsia mauryana. One of the places of discovery is quoted as Tlacolula which is close to Yagul. On our trip in March 2005 with Jurgen and Uli Lautner and Manfred Kretz, we drove to Tlacolula to determine what tillandsias grow there. And indeed, we could see the small silvery stars on the rocks and we were also able to reach them. The plants resembled the Yagul plants, as we expected.
Another tillandsia, growing on rocks near Petatlan is much larger and has wider leaves than the type specimen. Although no long caulescent plants could be found, like near Yagul, but after years of cultivation in my collection the plants from both locations looked almost completely alike. Since however the inflorescence corresponds to Tillandsia atroviridipetala, and moreover the leaves are hardly half as wide as with T. mauryana, I would like to treat this plants as a new variety of T. atroviridipetala.

Species name: This variety gets its name after the diggings at Yagul where plants of this new taxon were found for the first time.

Cultivation: The requirements are com¬parable with those of T. atroviridipetala var. atroviridipetala, but slightly warmer.

Tillandsia atroviridipetala Matuda var. longepedunculata Ehlers, var. nov. Die Brom Sonderheft 6: 48-50. 2009
A varietate typica habitu multo majore, foliis longioribus latioribusque, pedunculo 1,5-2,5-cm longo et spicis saepe majoribus multifloribusque differt.
Typus: Mexico, Jalisco, Mazamitla, 2000-2050 m s.m., 4.2.2004, R. Ehlers EM041104 (holo MEXU).
Paratypi:
Jalisco: Mazamitla-Zamora, Marz 1990, Gunther Noller s.n. (WU); 2000 m, 9.3.1990, K. & R. Ehlers EM941402 (WU); 2000 m, 4.12.2000, R. Ehlers EM001701 (WU); 2020 m, 16.2.2006, Ehlers EM060304 (WU); Tecotlan-Quila, 1900 m, 5.12.2000, Ehlers EM 001807 (WU); Barranca Nogales, 2000 m, 5.2.2004, Ehlers EM041202 (WU), 6.2.2004, Ehlers EM041301 (WU); El Salto-Santa Rosa-Tecolotlan, 1900 m, 6.2.2004, Ehlers EM041303 (WU); Ayutla, 1900 m, 6.2.2004 (Type locality for Tillandsia pamelae) Ehlers EM041304 (WU); Autlan de Navarro am Pass, 1900 m, 6.2.2004, Ehlers EM041305 (WU);
Michoacan: Jiquilpan, 9 km before San Jose Garcia, 2000 m, 4.2.2000, Ehlers EM041202 (WU);
Aguascalientes: Tlaltenango-Puente La Tiquata, 1870 m, 11.2.2004, Ehlers EM041802 (WU);
Oaxaca: Ixtlan-Guelatao, 1700 m, 30.1.2004, Ehlers EM040603 (WU);
Puebla: Tehuacan, La Canada on rocks, 1990, L. & G. Kohres s. n. (WU);

The plants of this variety are much bigger than the type, the leaves longer and wider, the peduncle is 1,5-2,5 cm long and the spikes are partially larger and more flowered.

Species name: This variety got its name because of the long inflorescence peduncle.

Also plants from a number of other collections differ so distinctively from the type for Tillandsia atroviridipetala Matuda, that they should be described as a variety.
In 1990, Gunther Noller brought me a plant that he had collected in Jalisco near Mazamitla. It looked like a large form of Tillandsia atroviridipetala, but showed a clearly extended peduncle. On various trips, I had several opportunities to study, photograph and collect these plants myself.
Also at many other locations, above all in the State of Jalisco, we could see these plants. On a trip with Lydia and Gerhard Kohres we found thousands of specimens of this tillandsia in the large wooded area between Tecotlan and Quila on pine trees in a relatively moist mountain forest. Later, with Jurgen and Uli Lautner, Manfred Kretz and Wolfgang Schindhelm, we discovered many locations of this especially pretty plant.

Cultivation: The cultivation of T. atro¬viridipetala var. longepedunculata is without any difficulty, but over the years the silvery stars get even bigger than those in nature.

Variability: Another collection, EM040503, deserves to be mentioned. In Oaxaca, on the route from Mitla towards Ayutla, we could not believe our eyes. We found at a height of 1500 m on flat rocks, overgrown with trees and bushes, a Tillandsia, that at first glance looked like Tillandsia plumosa: a silvery star with narrow, grey scaled leaves, up to 9cm long. The biggest plants had a diameter of at least 18 cm. However the leaves were not plumose (feathery) but with appressed scales as with Tillandsia atroviridipetala, and also the inflorescence was sessile, without a peduncle. I immediately studied the exact floral characteristics in situ - they matched Tillandsia atroviridipetala!

TILLANDSIA ATROVIRIDIPETALA Matuda Cact y Succul Mex 2: 53 Fig 40 1957
Plant - single or growing in groups, hanging downwards, stemless, up to 7 cm high quite variable in size.
Leaves - numerous, forming a bulbose rosette with its thickened sheaths.
Sheath - distinct, long - oval, up to 1.2 cm long, up to 7 mm wide.
Blade - narrow, awl shaped, pointed, perpendicular, flared to recurved, about 4.5 cm long, 3 mm wide at the base, thick grey scales, feathery.
Scape - perpendicular, barely developed, hidden in rosette, 1-2 cm long.
Scape Bracts - similar to the leaves, arranged spirally, and surrounding the scape.
Inflorescence - hardly protruding from the leaves, composed of 2-6 single flowered spikes.
Floral Bracts - up to 1.5 cm long, as long as the sepals, green, red tips, heavily covered with grey scales.
Sepals - up to 1.5 cm long, thin skinned, red tipped, free, covered with grey scales.
Petals - green, narrow, ribbon shaped up to 2 cm long and 2.5 mm wide.
Stamens - enveloped by the petals, up to 1.5 cm long.
Habitat - Mexico, 2400 m above the city of Cuernavaca and near Tehuacan.

Comparisons
| | | | |
| --- | --- | --- | --- |
| . | T. plumosa | T. atroviridipetala | T. mauryana |
| Plant | A star shaped somewhat globose rosette to 15 cm broad, Leaves very numerous, to 50, to 18 cm long | A star shaped small flat rosette, 2-6 cm broad. Leaves numerous, to 30 | A star shaed broadened rosette 5-14 cm broad, Leaves numerous, to 30 |
| Sheath | 10-20 x 6 mm a clear bulb | 9 x 4,5 mm a bulb | 15-20 x 8-12 densely pressed together |
| Blade | 8–16 cm long, above the sheath 6 mm broad, long linear awl like | to 5 cm long, above the sheath 3 mm broad, linear awl like | 5-10 cm long, above the sheath to 10 mm broad, flat, narrow triangular attenuate |
| Scales | white, dense prominent rough plumose | grey, dense prominent fine sub-plumose | Silver grey, appressed rough lepidote |
| Scape | 5–11 cm long | missing | 1-2 cm long |
| Inflorescence | 4 cm long, 2 cm broad, 3-10 spikes | 1.5 cm long, 1 cm broad, 2-6 spikes | 3 cm long, 1.5-3 cm broad 3-9 spikes |
| Spikes | 30 x 10 mm, flat, 2-3 flowered | small, 1-3 flowered | to 30 x 10-12 mm 3-8 flowered |
| Floral bracts | 14-17 mm long, to 7 mm broad, very fine, plumose lepidote, keeled | 14-15 mm long, to 7.mm broad, fine lepidote, keeled | 13-25 mm long, to 15 mm broad, rough, grey, spreading lepidote. Sharply keeled |
| Sepals | 16 x 5 mm, keeled, scaled at tip | 10-15 x 4-5 mm, keeled, almost glabrous | 12-15 x 5 mm, keeled, dense rough scales |
| Petals | 18-20 x 3mm moss green | 15-20x 3 mm moss green | 14-23 x 4 mm moss green |
---
Updated 11/11/20
---