Tillandsia argentina
Click thumbnails for full size, scaled to a new window.
---
Tillandsia argentina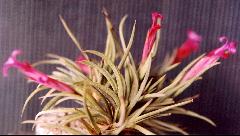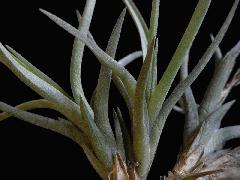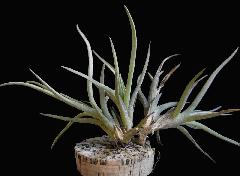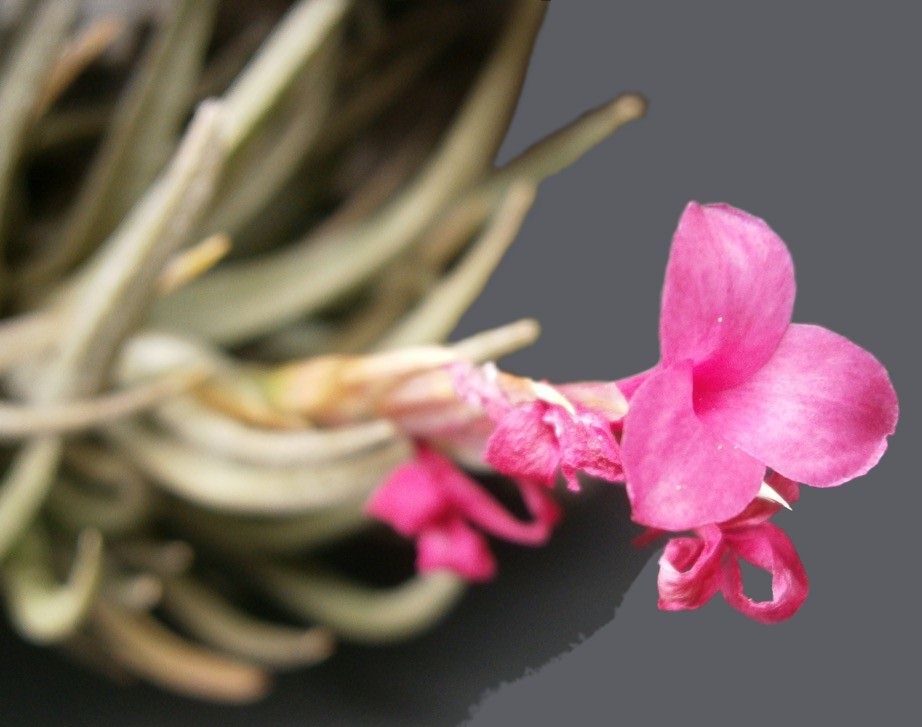 | | | |
| --- | --- | --- |
| Ken Woods 08/04 | Ian Hook 08/08 | Ray Clark 11/16 |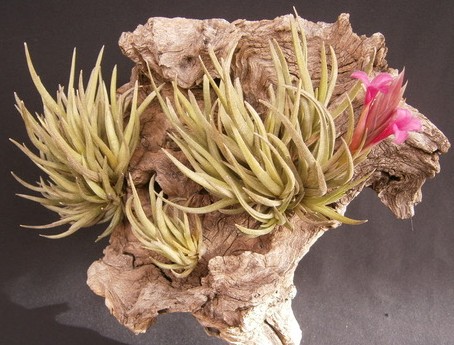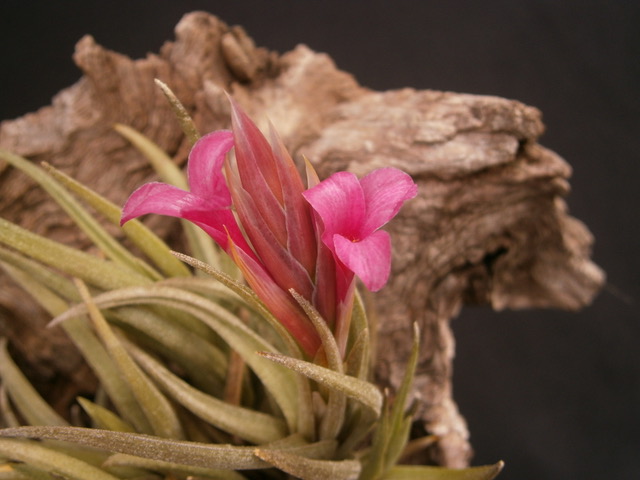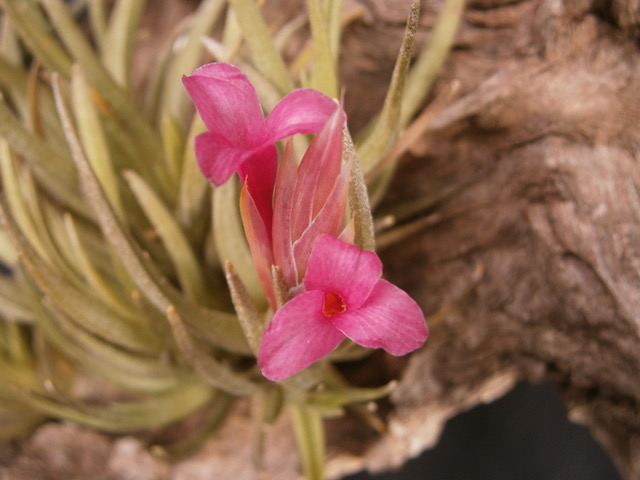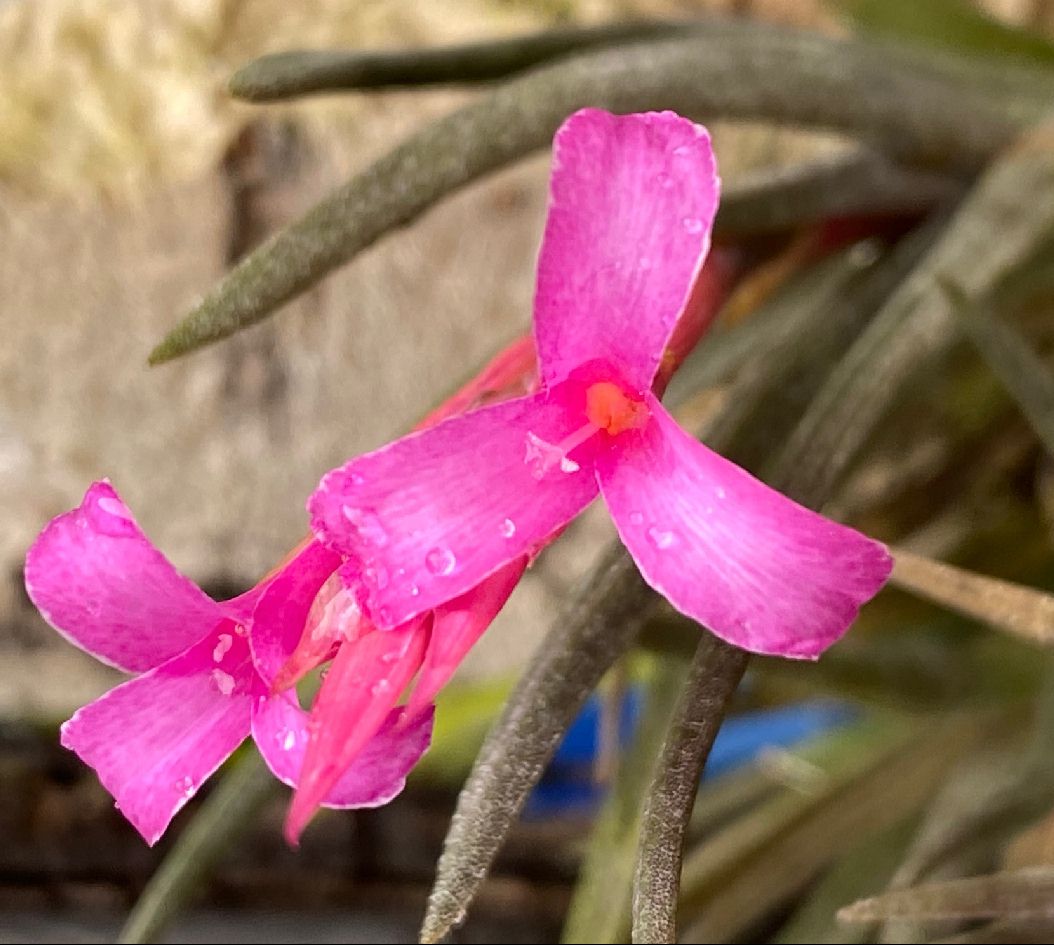 | | |
| --- | --- |
| Ray Clark 10/17 | Dale Dixon 08/20 |
Ray Clark ... "I bought this one at a BSSA sale in 2012 ex Bill T, so I would guess maybe ex UD which would narrow it down to four options. Either way Iím happy."
Linda Wilkes ... "Great photos of a beautiful plant , one of our forms flowers the same colour petals."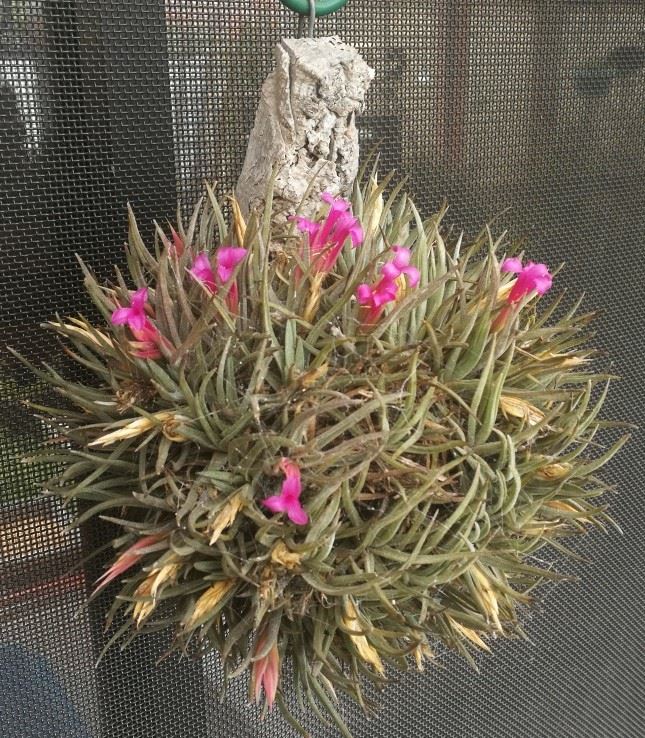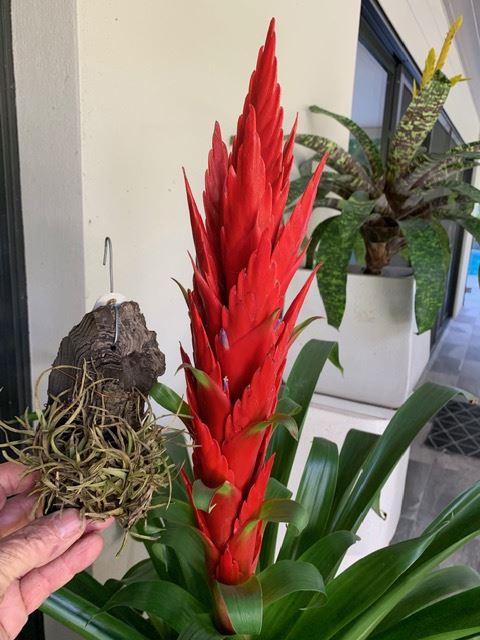 | | |
| --- | --- |
| Justin Lee 11/20 | Peter Tristram 11/20 argentina clump and xVrieslandia Marichelle |
Justin Lee ... "Nice little clump of Tillandsia argentina in flower today."
Dale Dixon ... "Wow Justin. Beautiful. One of my favourites. How old is the clump?"
Pam Butler ... "Beautiful clump. Another I don't find easy to grow."
Peter Tristram ... "It usually dies outside so my survivors are under plastic though not really thriving like in Melbourne. It does well in Sydney too, judging by the plants I used to regularly see for sale at shows. Maybe some clones are easier than others in the humid climates too. Chris, any idea how many clones you and Marj McNamara collected?"
Dale Dixon ... "I certainly donít have any trouble growing and flowering it here on the Sunshine Coast. I had it I Sydney too with no dramas. Only thing is it is mighty slow."
Bob Reilly ... "I grow this species under 70% shadecloth. (Qld) They grow without any trouble, although they can be a bit slow.
The clone which forms a clump the fastest is one which I imported from Lydia Koehres in Germany. It was labelled T. argentina "unca"."
Peter Tristram ... "The clump of T. argentina didnít like cool, wet weather and excessive humidity that weíve had more than enough of this year (but not like Sydney and the sth coast!). It was grown high up, on a vertical rack, under 70% shadecloth. It now resides in my Till tunnell! On the other hand, more Ďmesicí plants, like this nice form of x Vrieslandia Marichelle from Chris Larson, have no issues with lots of water and humidity. The various Goudaea thrive with generous moisture levels, too.
... Bob Reilly, - T. 'unca' is what we used to import argentina as."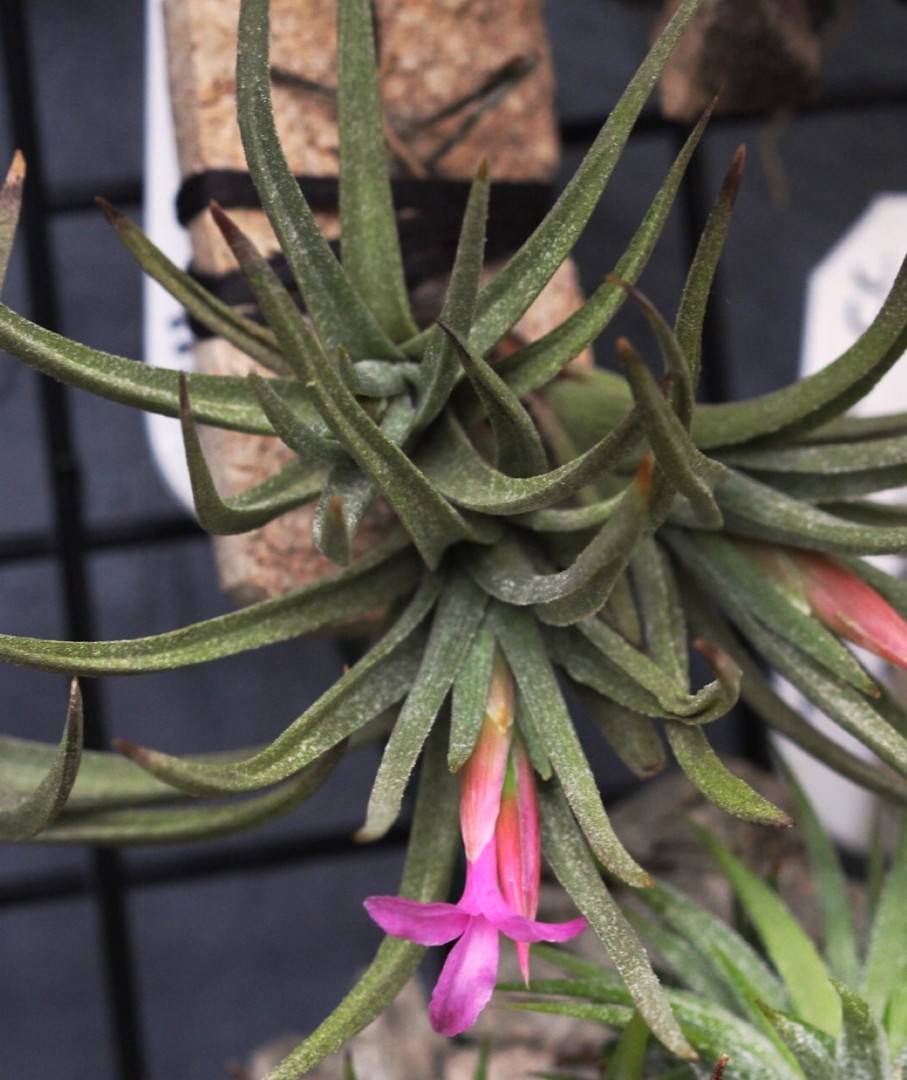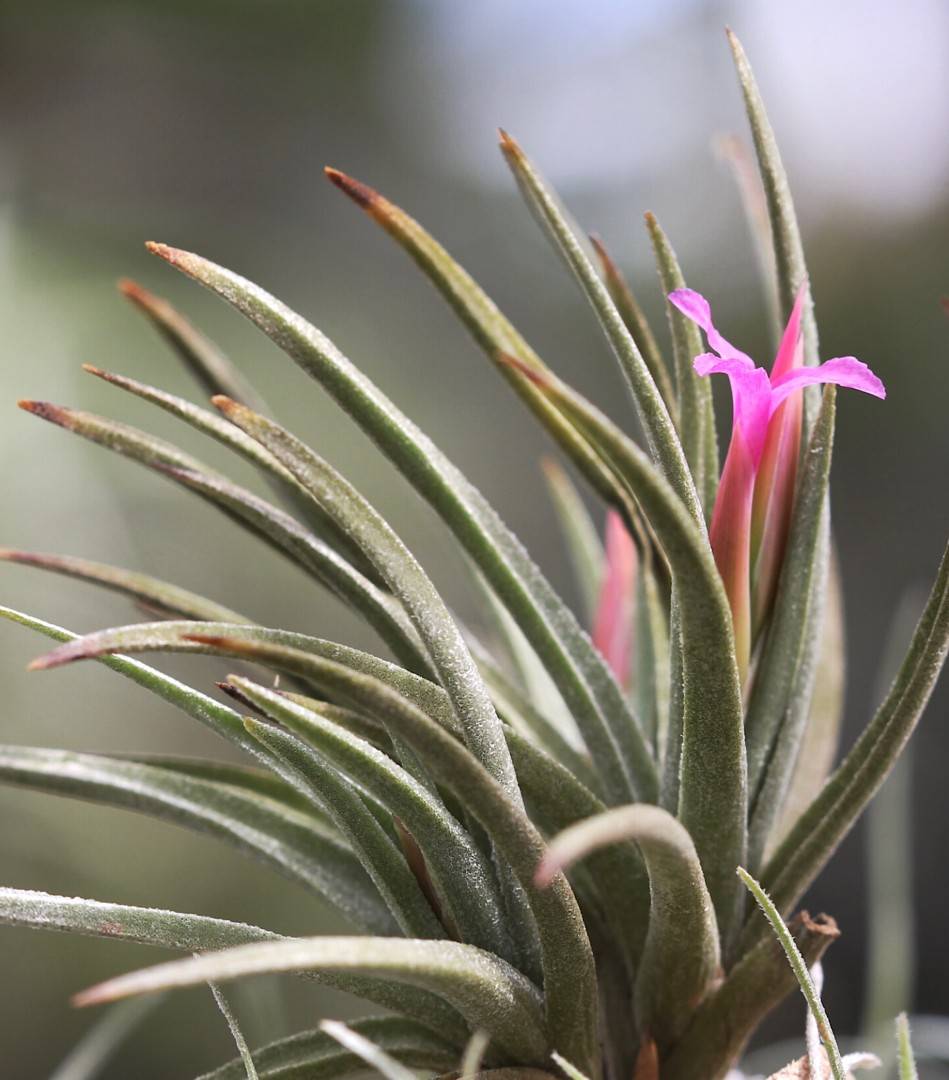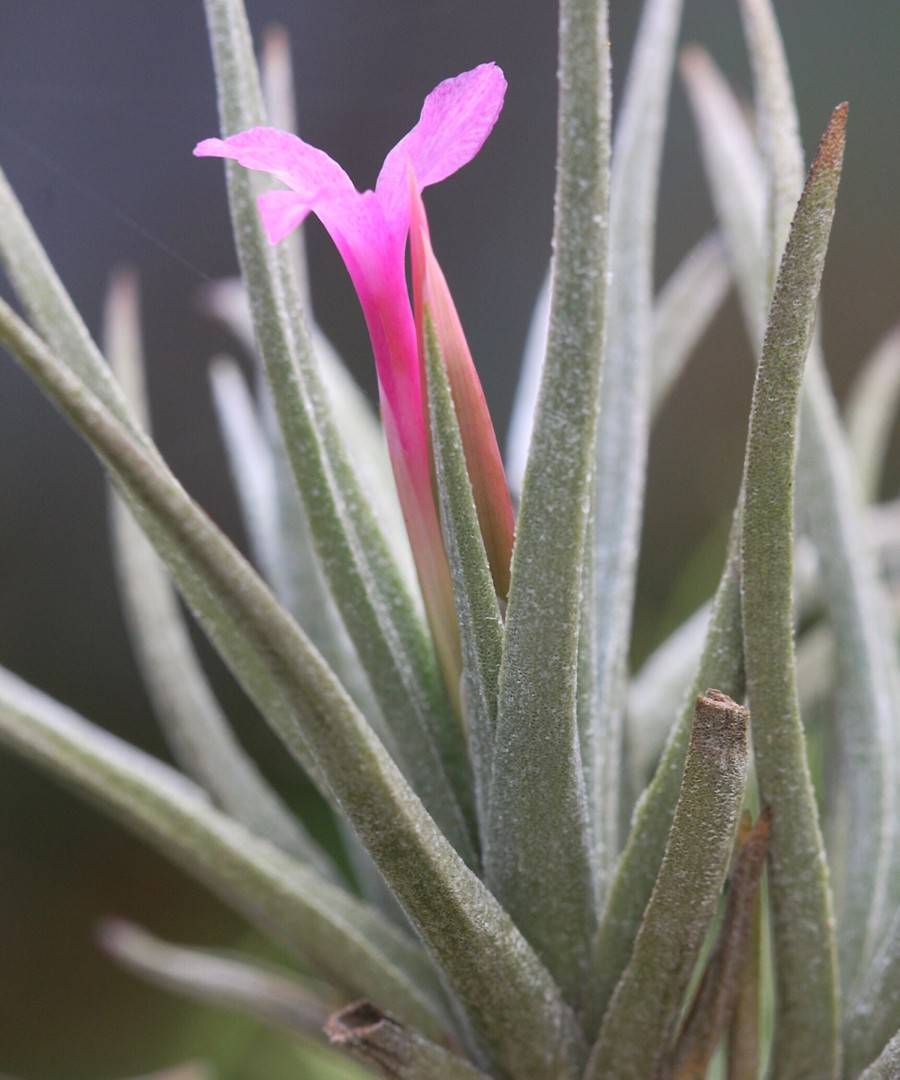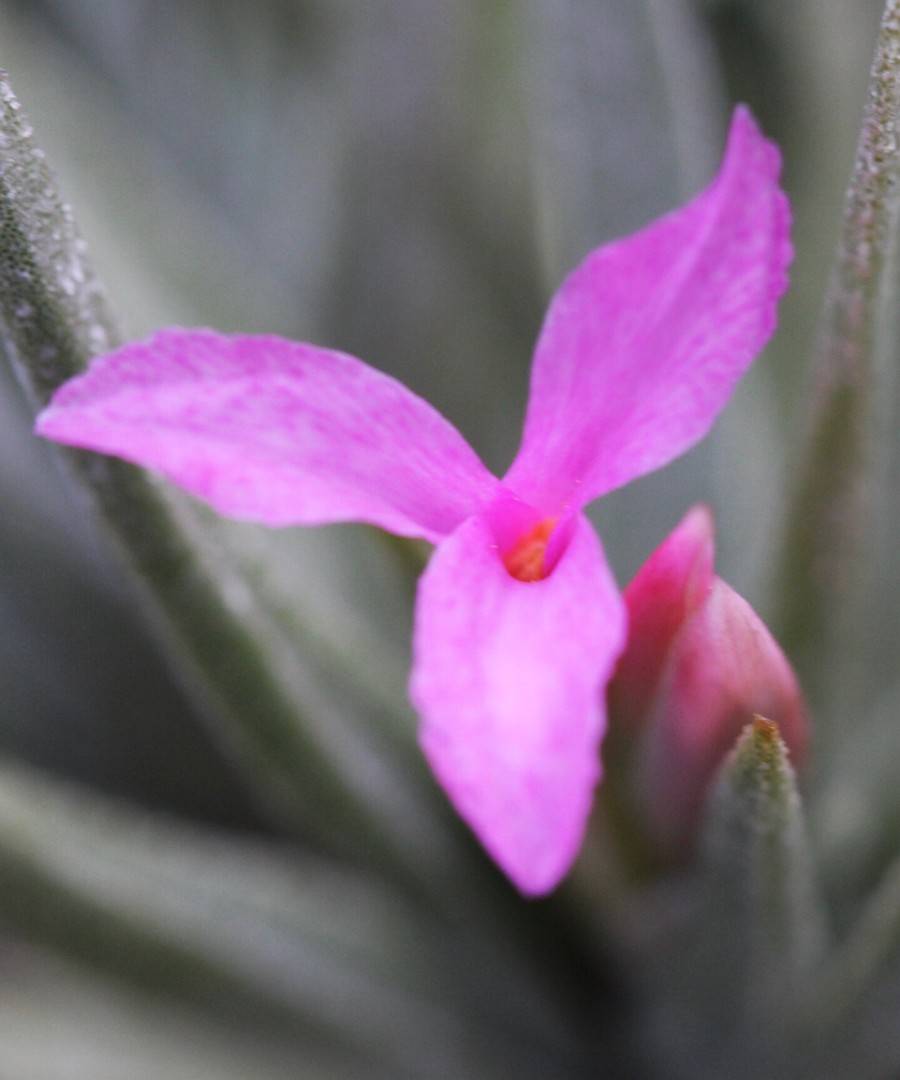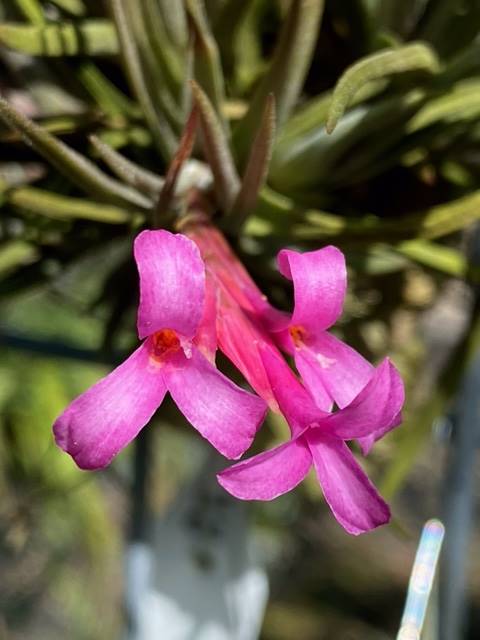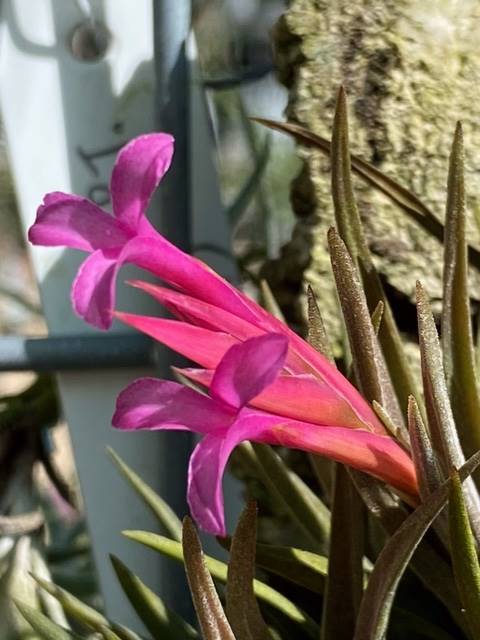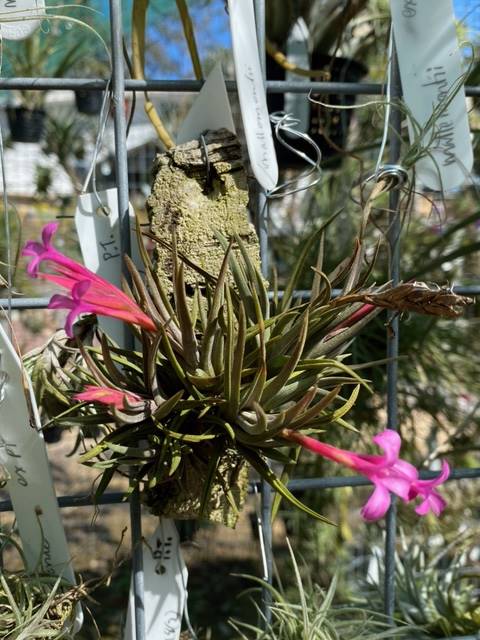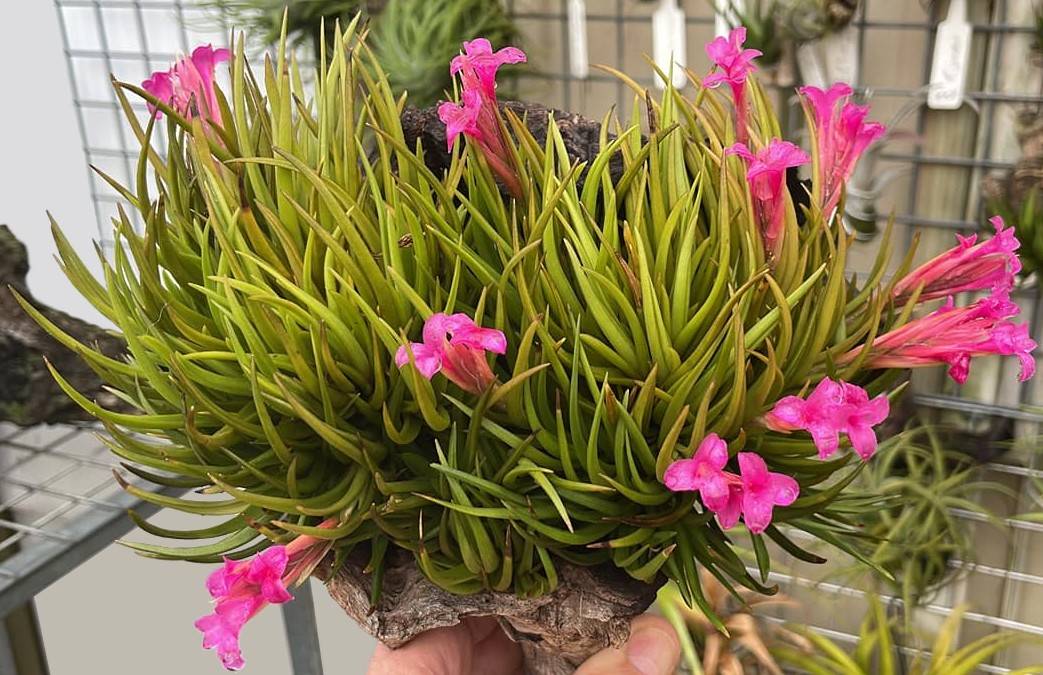 | | |
| --- | --- |
| Dale Dixon 08/21 | Dale Dixon 10/22 Ray Clark ex Bill Treloar so I'm assuming ex UD |
---
Tillandsia argentina C. H. Wright, Kew Bull. 60. 1907; L. B. Smith, Proc. Am. Acad. (Contr. Gray Herb. 106) 70: 172. 1935.
Tillandsia unca sensu Baker, Jour. Bot. London 25: 234. 1887; non Grisebach, 1874; cf Hunziker, Trab. Mus. Bot. Cordoba 2: 299. 1960.
Desc from S&D p812
Plants often pulvinate, flowering to 13 cm high; stem short but usually distinct, simple or few-branched; roots present.
Leaves densely polystichous, often secund-curved, to 13 cm long but the lower ones much reduced;
Sheaths triangular, merging imperceptibly into the blades, thin, at least the lower half glabrous and lustrous;
Blades erect or suberect, very narrowly triangular or linear, abruptly acute, pungent, rigid, channeled above, obtusely carinate beneath, angular-subulate, 3-6 mm wide, covered with closely appressed cinereous scales.
Scape from practically none to 6 cm long, exceeded by the leaves, erect or ascending, glabrous;
Scape-bracts imbricate and concealing the scape, lanceolate, acuminate, stramineous, chartaceous, strongly nerved, glabrous.
Inflorescence always simple, broadly lanceolate or oblanceolate, strongly complanate, to 45 mm long and 15 mm wide, 4-7-flowered, glabrous throughout;
rhachis nearly straight, strongly 4-angled.
Floral bracts imbricate but narrow and exposing the rhachis, lanceolate, acuminate, to 25 mm long, much exceeding the sepals, subcoriaceous, even or somewhat nerved, ecarinate, red, sublustrous;
Flowers subsessile.
Sepals narrowly lance-triangular , acuminate, 12-18 mm long, free, subequal, the posterior carinate;
Petals narrow with scarcely distinct suberect to spreading blades, ca 30 mm long, obtuse, entire, bright rose-red;
Stamens ca 20 mm long, shorter than the pistil, filaments thickened and transversely plicate, anthers linear, 5 mm long;
ovary subprismatic.
Capsule cylindric, beaked, 20 mm long.
TYPE. Stuckert s n (holotype K, GH photo), Ochoa, Punilla, Cordoba, Argentina, 4 Nov 1903.
DISTRIBUTION. Saxicolous and epiphytic in dry habitats, 450-1300 m alt, northwestern Argentina.
ARGENTINA. JUJUY, Ledesma: Sierra de Calilagua, 9 Oct 1927, Venturi 5359 (US). SALTA, Guachipas: Alemania, 1929, Venturi 9978 (GH); La Candelaria: Unquillo, 1 Nov 1931, Schreiter 6740 (GH, LIL). CATAMARCA, Capital: Quebrada del Tala, 5 Sep 1909, Castillon 1801 (GH, NY, US); 6 Sep 1910, s n (GH, NY); La Paz: Cuesta de Chilca, 13 Feb 1872, Lorentz 252 (B, CORD). TUCUMAN, Capital: Barranca Colorada, 11 Sep 1920, Venturi 993 (MVM); San Jose, 17 Aug 1945, Villa 438 e p (F); Famailla: Rio Lules, 23 Aug 1923, Venturi 2494 (GH, US); 15 Oct 1923, Schreiter 797 e p (MVM); Tafi: Cadillal to Tapia, Sep 1918, Schreiter 797 e p (GH, MVM); 28 Sep 1932, 8785 (GH, LIL); Trancas: Tapia, 20 Sep 1920, Venturi 1033 (US). LA RIOJA: Quebrada de los Sauces, Ochoa-Huasi, Sep 1931, Hicken 99 (SI). CORDOBA, Calamuchita: San Ignacio, 24 Feb 1908, Stuckert 18584 (CORD); Colon: Sierra de Cordoba, Hieronymus s n (BM, NY); Punilla: Cosquin, 27 Jan 1876, Hieronymus 346 (CORD, GOET); Aug 1896, Doering in Kurtz 9233 (CORD); Sierra Chica, 19 Sep 1904, Stuckert 14384 (CORD); 22 Apr 1918, Osten 13492 (MVM); Capilla del Monte, 13 Mar 1917, Hosseus596 (CORD); 12 Nov 1917, 918 (CORD); 29 Apr 1918, 0sten 13464 (MVM); Lago San Roque, 2 Sep 1945, Hunziker 6066 (GH, US); Santa Maria: Despenaderos to San Roque, 10 Nov 1881, Hieronymus s n (CORD, GH, NY, US); Ochoa, 25 Nov 1902, Stuckert 12101 (CORD, G); 24 Feb 1903, 12895 (G); 12896 (CORD, G); 1 Oct 1903, Stuckert 13466 (CORD); Jan 1908,18450 (CORD, G); San Alberto: Cuesta de Copina, Sierra Acha1a, 11 Nov 1878, Hieronymus s n (CORD, NY).

Comments from L. B. Smith, Proc. Am. Acad. (Contr. Gray Herb. 106) 70: 172. 1935.
Baker, Mez, Castellanos and Harms have all considered this species as identical with T. unca Griseb., but none of them cite the type of T. unca and I have not been able to locate it as yet either. However, there is ample evidence in the original description to prove that true T. unca is nearly related to if not identical with T. pulchella Hook.
Venturi 1315 from Barranca Colorado, Tucuman, combines the characters of T. argentina and of T. ixioides; which have both been collected from that locality. The hybridizing of T. argentina with a species of Anoplophytum and its possession of plicate filaments make it seem logical to include it in that section. Such action means that Anoplophytum, like Allardtia and Platystachys, must include both simple distichous and simple polystichous types of inflorescence and must be characterized by the form of its filaments.

Comments from R Ehlers 2/1996
T. argentina has been found in Bolivia. I have slides from Vieweg/Balfanz for Oct. 1994 which they made between Tarija and Navarez 2000m. and I have plants in our collection collected by Haugg from 2-3 different locations. Lotte Hromradnik told me she found it before in Bolivia and always between1500 & 2000m. all these plants look like Argentinian plants, never like T. hasei. Also T. hasei grows more than 1000m higher.

From Baker 1889
29. T. UNCA Griseb. Symb. Fl. Argent. 1878, 333.
Leaves 20 or more to a dense rosette, linear-subulate, 3-4 in. long, 1/6 in. broad low down, very thick and rigid, falcate, channelled down the lower part of the face, densely persistently lepidote all over.
Peduncle shorter than the leaves; bract-leaves rigid, lanceolate.
Flowers few, in a simple distichous spike an inch long;
flower-bracts green, oblong-lanceolate, subglabrous, ĺ in. long.
Calyx 5/8 in. long;
sepals glabrous, lanceolate.
Petal-blade small, reddish, sub-orbicular.
Stamens not longer than the calyx.
Hab. Argentina; province of Cordoba Lorentz & Hieronymus 638 !
---
Updated 28/10/22
---