Tillandsia aizoides
Click thumbnails for full size, scaled to a new window.
---
Tillandsia aizoides
See DI02/14: A Key to Tillandsia subgroup diaphoranthema.
From FCBS.... "There are several groups within Tillandsia and some may be raised to generic status.
One of these groups contains the very small Tillandsias and are called Diaphoranthema, with the world authority being Dr Walter Till.
Dr. Till does most of his publishing in the German Journal 'Die Bromelie'. His main paper on Diaphoranthema is in Selbyana 13; 88-94 1992.
The 4th group proposed in Diaphoranthema is the RECTANGULA Group.
This group includes aizoides, brealitoensis, erecta, funebris, pedicellata, and rectangula."
| | |
| --- | --- |
| Ken Woods 09/09. | Ian Hook 07/11. *Not aizoides ? |
* Ian Hook ... After comments(below) from Dale Dixon, I took a closer look at this plant. If you follow the Key to diaphoranthema my plant splits away from aizoides at step 5.
5."Plant stemless or short stemmed; Leaves 15-45mm long, spreading, not densely imbricate." Compared to other plants this page, mine appears both "stemless" AND "Leaves 15-45mm" which leads me to 6. (distichous) = funebris.
To be aizoides, or some other, step 5a. should have applied "5a.Plant clearly stemmed, Leaves under 15mm long, densely imbricate."
I will have to wait until it flowers to progress an ID any further.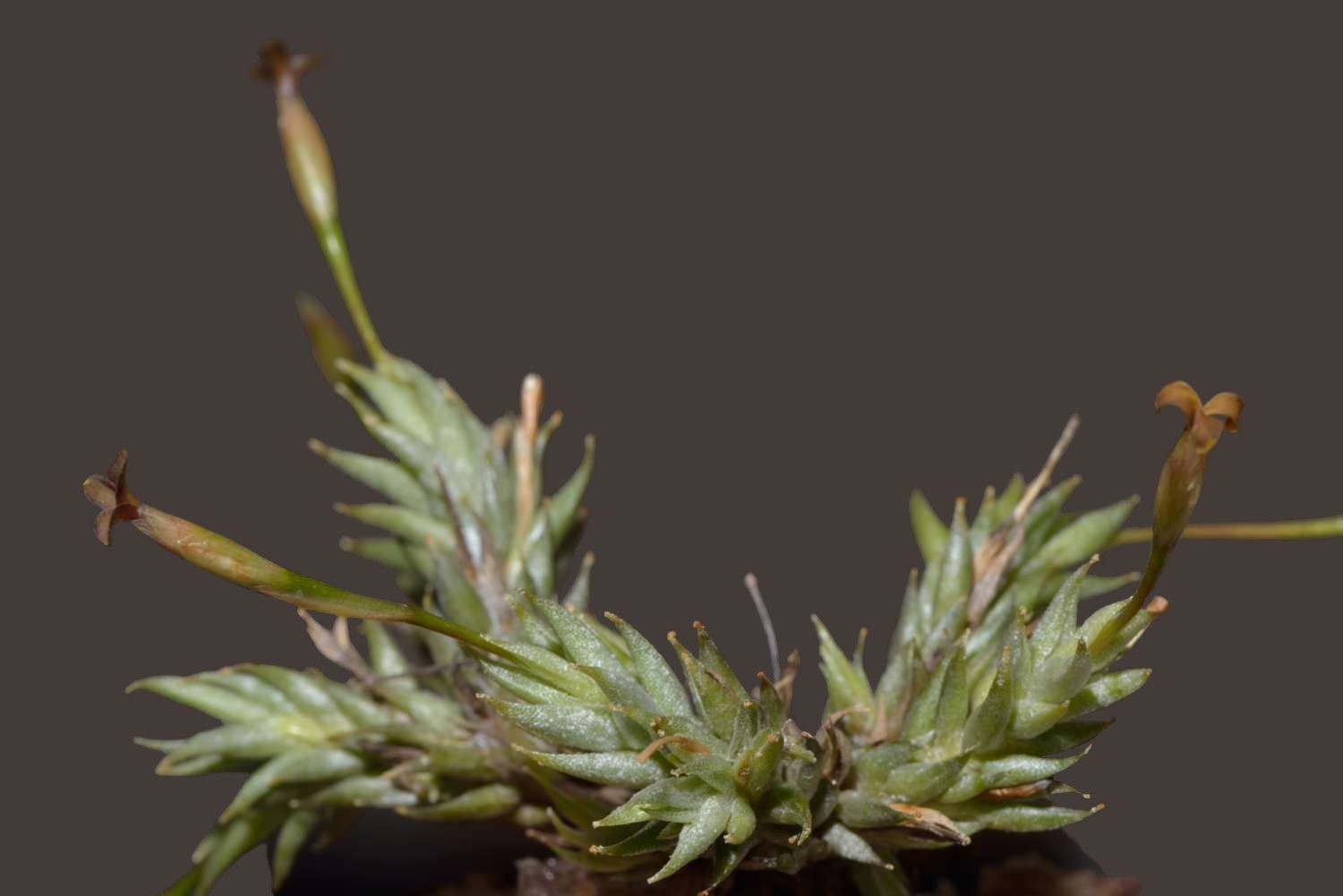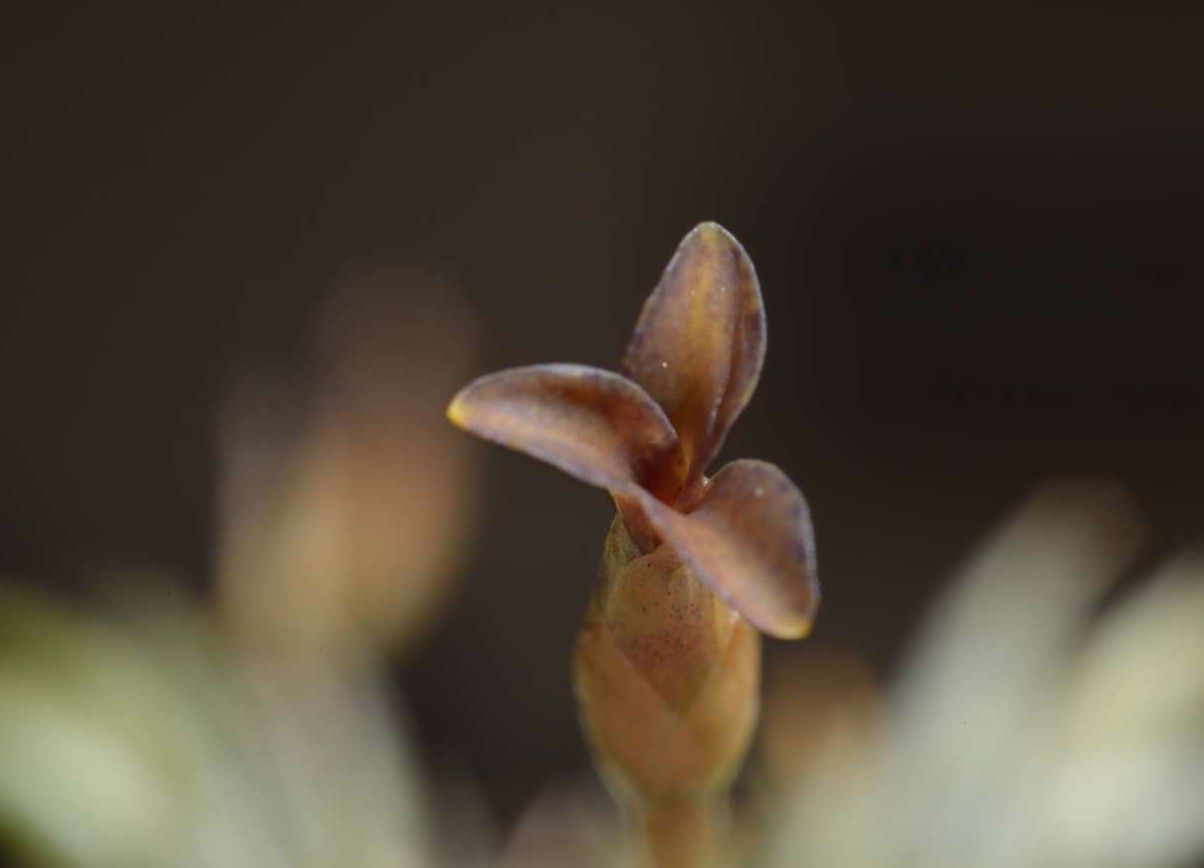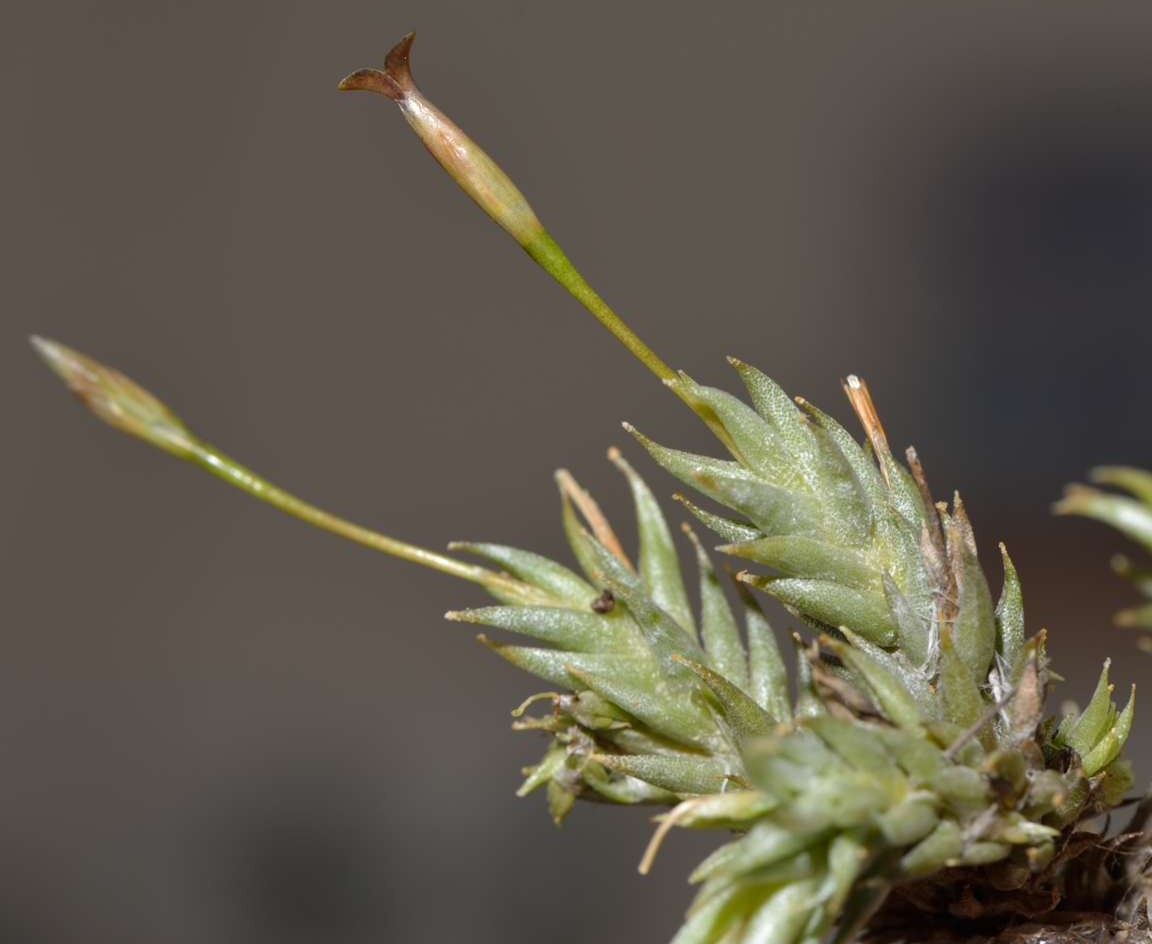 George Nieuwenhoven 12/14. Flowers approx. 2mm across.


Dale Dixon ... "Hi Ian. Do you have an updated image of your Tillandsia aizoides that is on BinA (date 07/2011)? The reason I ask is that it looks remarkably like a plant I received from the Ivan Hope collection that is in the Tillandsia xiphioides group. Seedling plants of this species/group typically produce these little pups at their base until they mature. They look remarkably like members of the Diaphoranthema when small. Iíve seen others that have been incorrectly named. In fact I just bought another one from a collector in Sydney who was selling her collection. She had it labelled as Tillandsia pieranoi.
If you could provide an updated image that would help."
Ian Hook ... "No updated photo, because it still looks exactly the same as 2011 photo when I got it from Ken Woods. I gather he had it in same state for many years too.
It has maybe got more tiny pups now, but no flowering. Largest leaf is now 25mm.
I got it from Ken at same time as I got pieranoi from Ken. Much more succulent leaves but still the same as 07/11 picture on pieranoi page also after all these years. Largest leaf now 20mm."
Dale Dixon ... "Hi Ian. With the largest leaf at 2.5cm Iíd say you have one of the Tillandsia xiphioides group. Tillandsia aizoides has tiny leaves. It will be interesting to see what it turns out to be."
Dale Dixon ... "Hi Ian again. Hereís an image(below) of the recent one I bought as Tillandsia pieranoi. As soon as I got it I knew it wasnít as I had bought a similar plant from the Ivan Hope Collection. I got two plants from Ivanís collection. Perhaps you all got them at the same time. Heather Collins is the person I got the plant from below. You can see the main plant on the second image. Heatherís plant was somewhat neglected. Iíve started a fertiliser regime to get it growing a bit faster. All the other tiny plants are pups attached to the base of this plant. I spoke to Peter Tristram about this phenomenon and he said that the plant will continue to produce these pups until it matures. If you take them off and establish new plants it will continue to do so."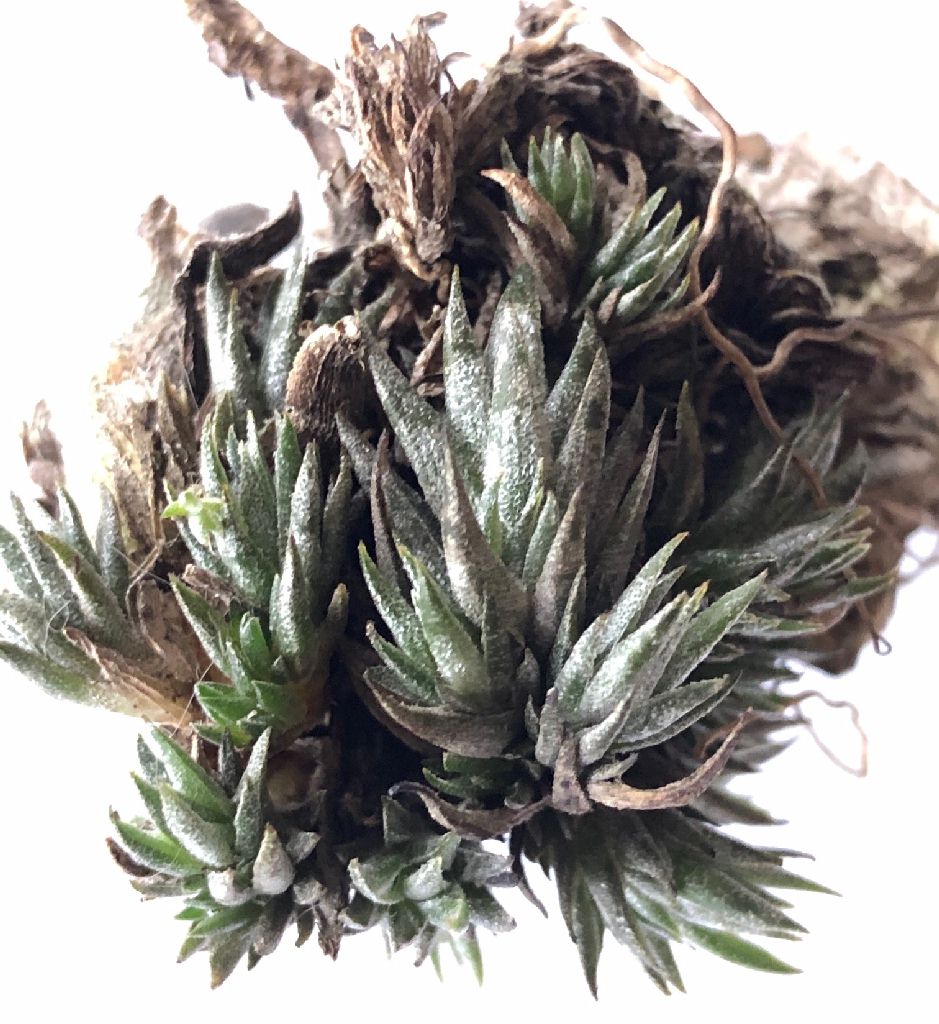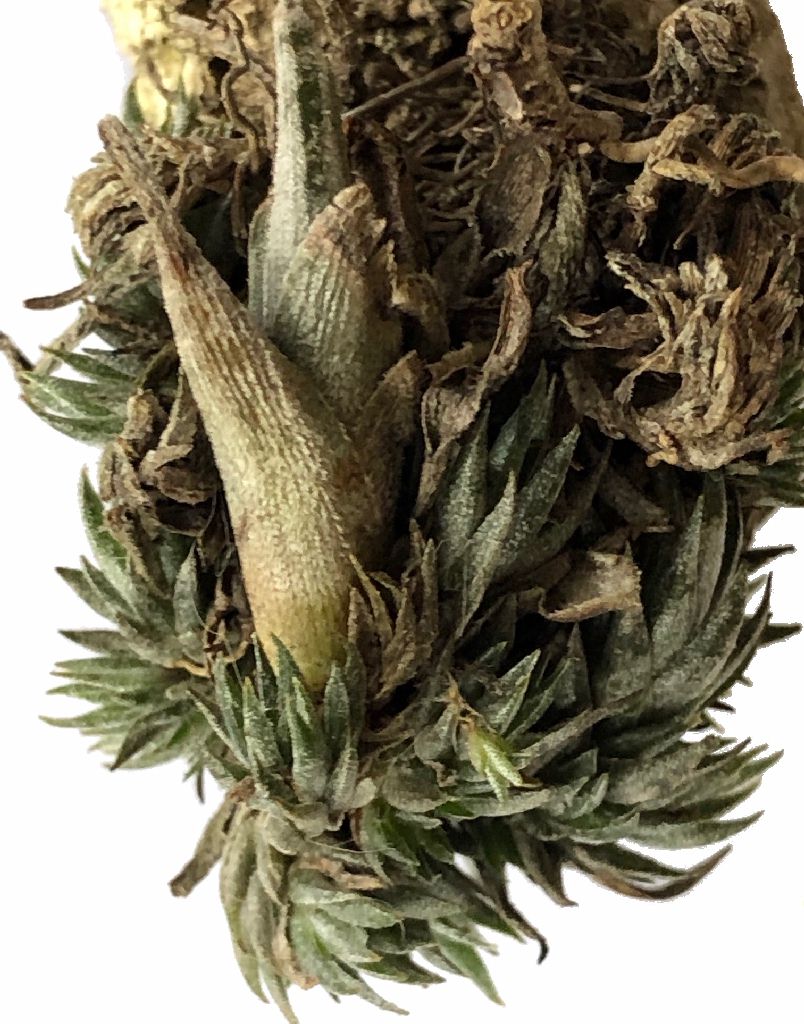 Dale Dixon 03/20. Not aizoides or pieranoi


Dale Dixon ... "Recently Iíve been perusing the BinA pages and looking at members of the subgenus Diaphoranthema. Eric Gouda has reclassified a number of species into the subgenus. In particular I was looking at images of Tillandsia aizoides on BinA. There were two images of Ian Hookís that piqued my interest as they didnít seem quite right. The plant in the image looked too large for the species. I emailed Ian and asked if he had any up to date images. He replied that apart from the main plant in the image now having leaves 2.5 cm long the plant hadnít changed much. He also said the plant had not flowered. Tillandsias aizoides has leaves to 10mm rarely 20mm. And I would have expected it to have flowered in the intervening 9 years. My interest was piqued even more.

This reminded me of some plants I got from the Ivan Hope Collection back in 2018 and then again more recently from Heather Collins in Sydney. I think these plants were early introductions and many had been identified as members of the Diaphoranthema as with Ianís plant on BinA. Although the Ivan Hope plants were unnamed when I got them, Peter Tristram identified them for me as possibly something in the Tillandsia xiphioides group. He indicated that as seedlings they produce Diaphoranthema-like pups on their stem until the main plant matures. My plants ex Ivan Hope continue to do this. Iíve also removed some pups to make independent plants. They are slow.

The plant I received from Heather Collins (pictured above) came with the label Tillandsia pieranoi another in the subgenus Diaphoranthema (as per Ericís encyclopaedia) but when I looked at it more closely it looked exactly like the plants from Ivan Hope with all the little pups along its stem and like Ianís plant on BinA. Above are images I took of the plant yesterday. In one you can see the main (larger plant) nestled in amongst the attached smaller Diaphoranthema-like pups. It may pay you to look a little more closely at your Diaphoranthema collection to see if you have any that look a bit different. You might have one of these."

---
Updated 06/07/20
---