Tillandsia aeranthos
Click thumbnails for full size, scaled to a new window.
---
Tillandsia aeranthos
Ed: For T. aeranthos var griesea, see T. Nez Misso page.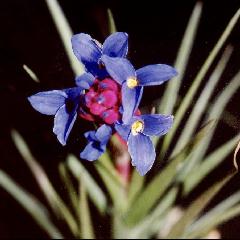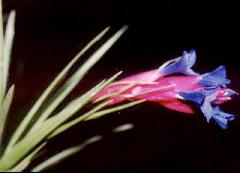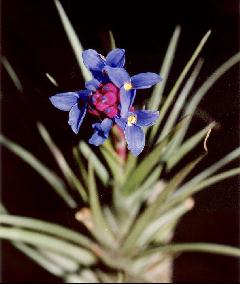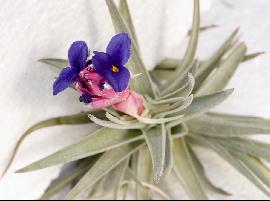 | | |
| --- | --- |
| Ken Woods 08/04 | John Campbell, Sydney 09/06. |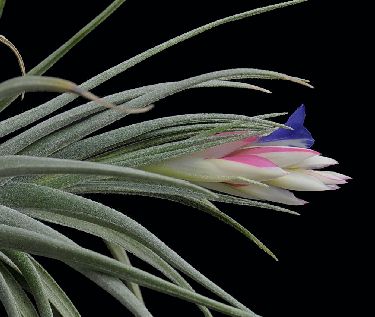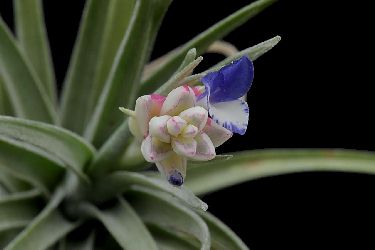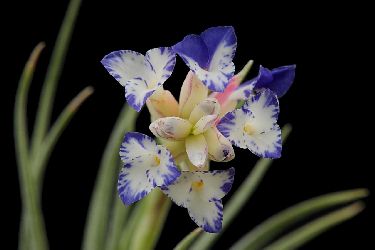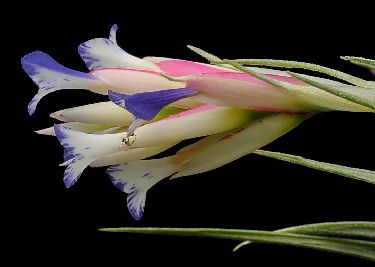 Peter Tristram 08/12. From Germany. The multi-coloured one has interesting bracts and flowers – a real surprise. There seems to be a relationship between the pink bract sections and the purple stripes on a couple of flowers.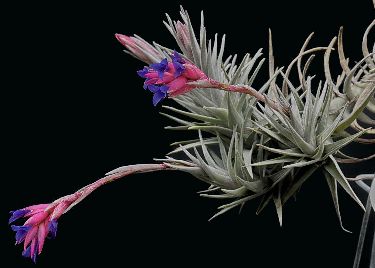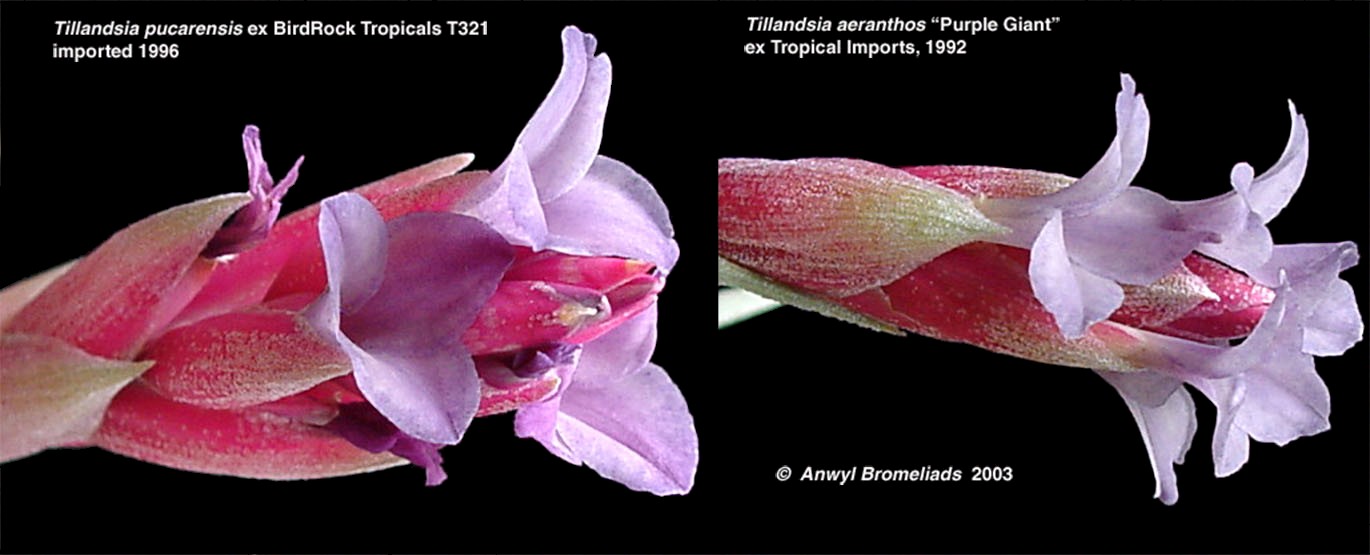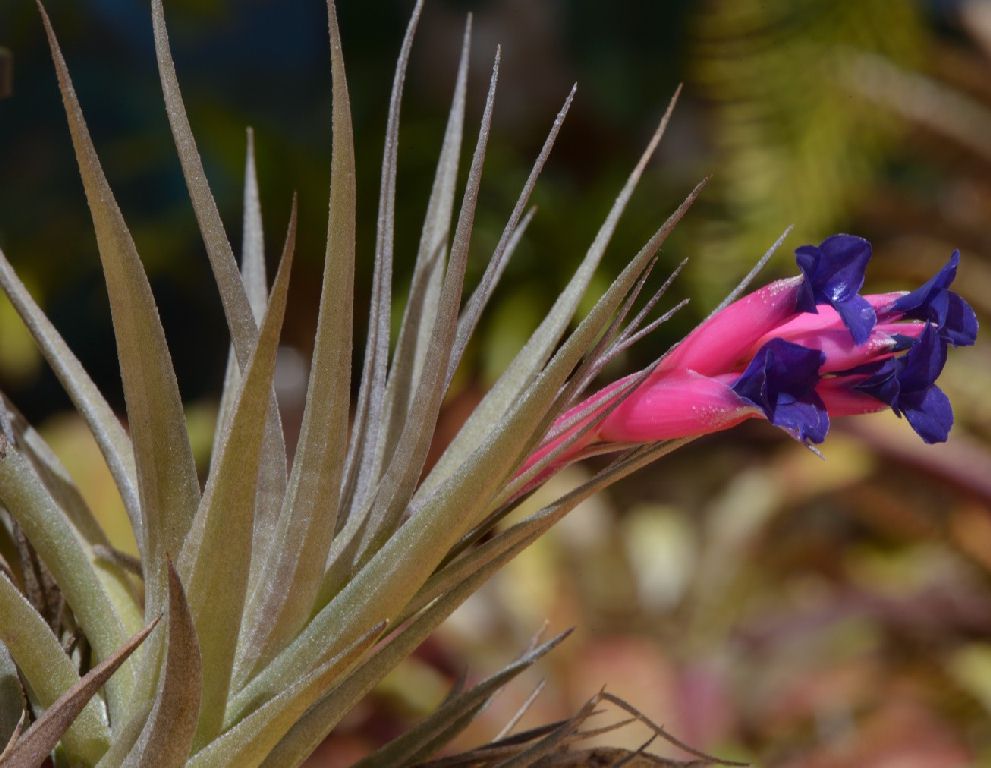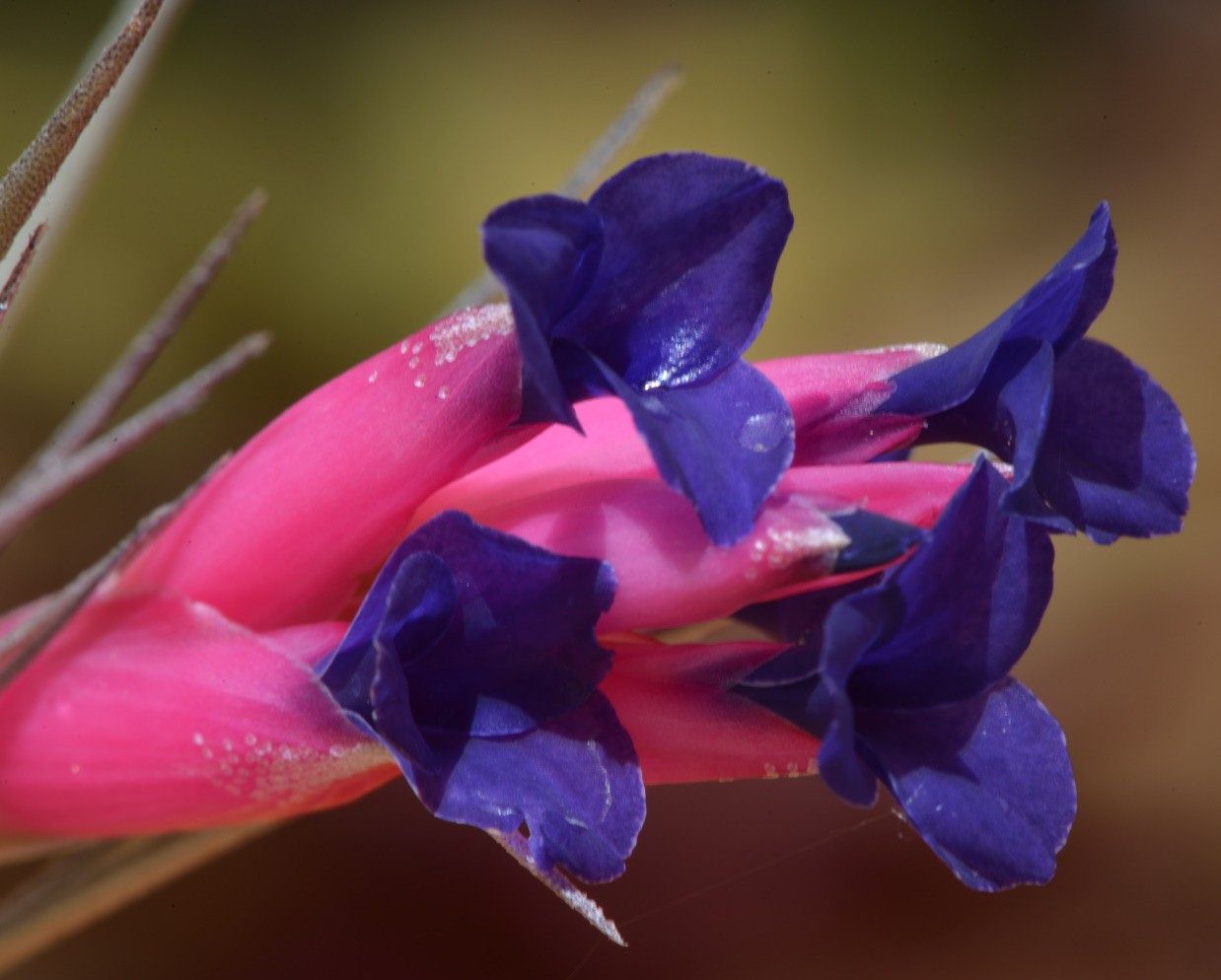 | | | |
| --- | --- | --- |
| Peter Tristram 08/12. This is similar to the small hard-leafed purple one Barry (at least) has but stiffer again and a little larger. It comes from the Kirschnek collection evidently. | Andrew Flower 11/15. See T. pucaraensis discussion. | George Nieuwenhoven 10/17. Large or dark form. |
George Nieuwenhoven ... "This plant I originally purchased of Maurice Kellett, many moons ago, it was labelled T. aeranthos large form, the plant is hardly large or the flower for that matter but the flower is quite dark, the annoying habit of it is that it produces only one offset each time it flowers, otherwise it's a beautiful thing to have in ones collection."
Pam Butler ... "I also purchased this from Maurie.The seedlings are very slow but it is a very nice clone."
Bob Reilly ... "I do not think this attractive form of T. aeranthos has been registered. (shown as "large form" or "dark form" on the BSA website, and came from Maurice Kellett)
Do you think it is worthy of a cultivar name? I am happy to do the paperwork for the registration if the general view is that is worthy of a cultivar name. (A possible name would be: T. "Maurie's Violet" )"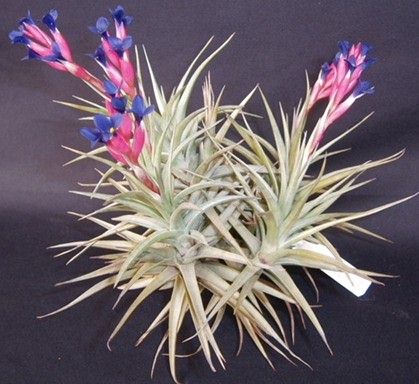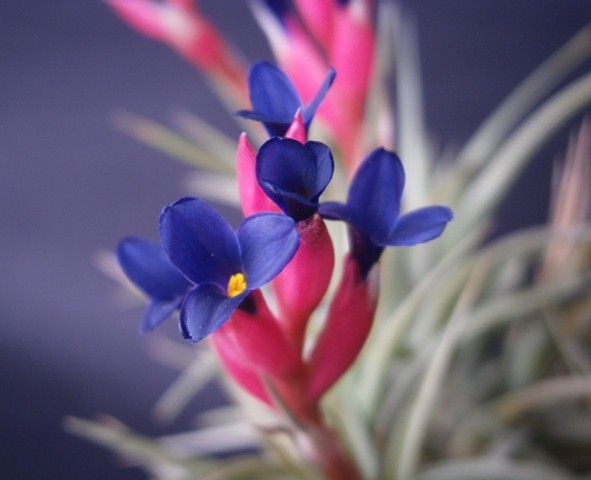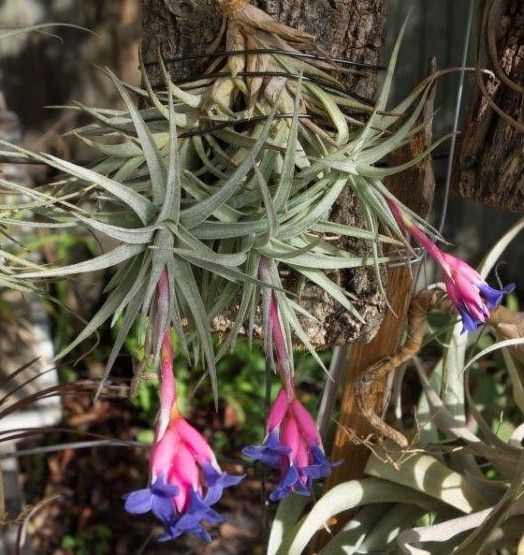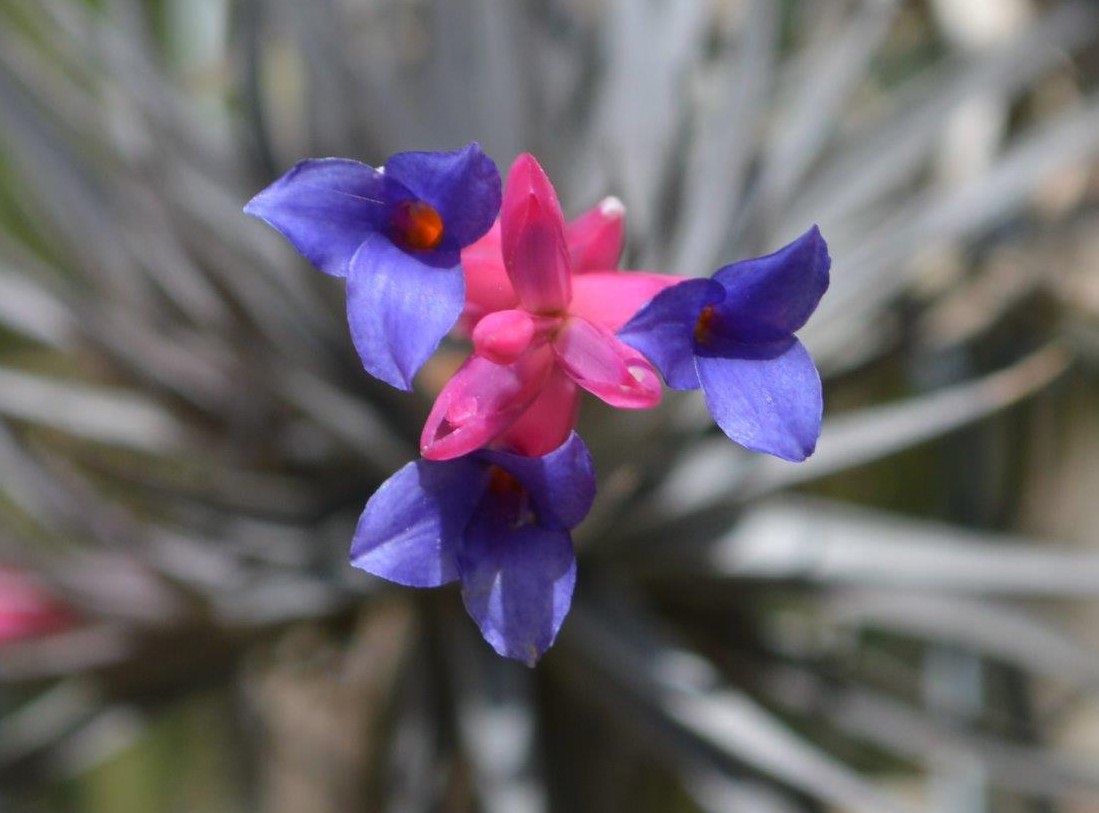 | | |
| --- | --- |
| Ray Clark 01/18 as aeranthos 'Lapostolle Marnier' | Rob Bower 01/18 as aeranthos "compact". |
Ray Clark ... "T. aeranthos 'Lapostolle Marnier', very dark flower compared to the normal forms."
Derek Butcher ... "This is - I think- the same as what I used to call 'Maurie'. Maurice Kellett got it years ago from the collection of Marnier Lapostolle of liqueur fame.
The family were also great connoisseurs of Cactus and Broms. Several botanists visited their establishment over the years and even published 'new' species found there for the first time!"
Rob Bower ... "I think these are same shade of blue."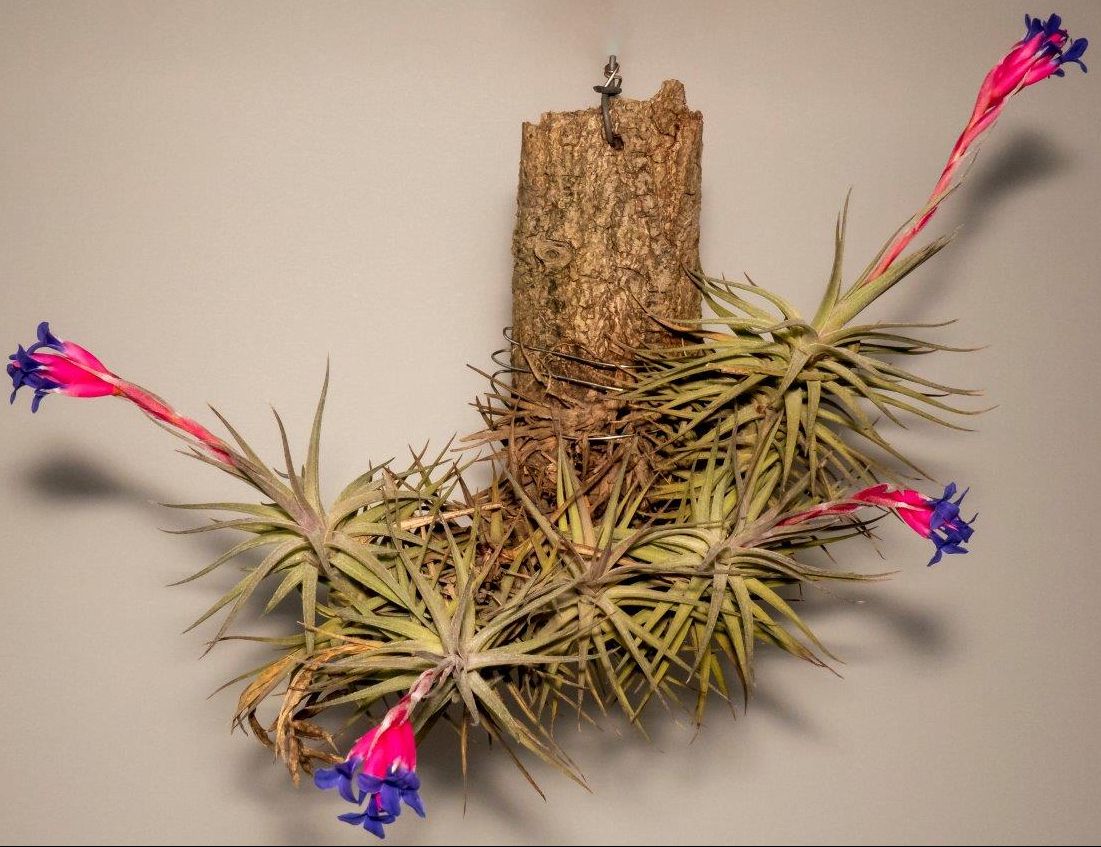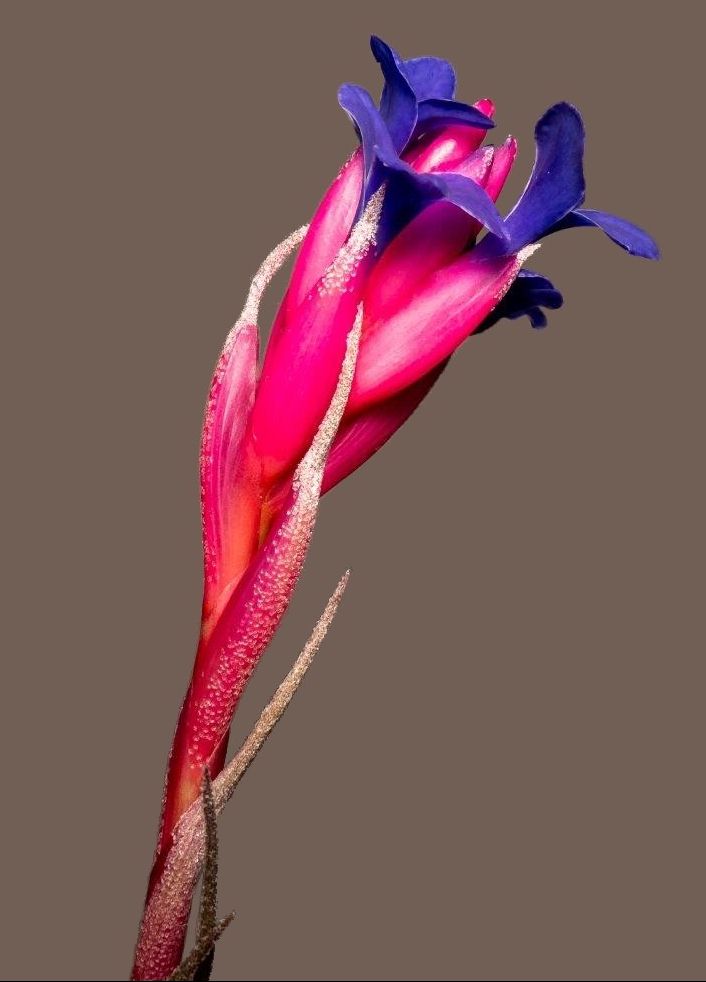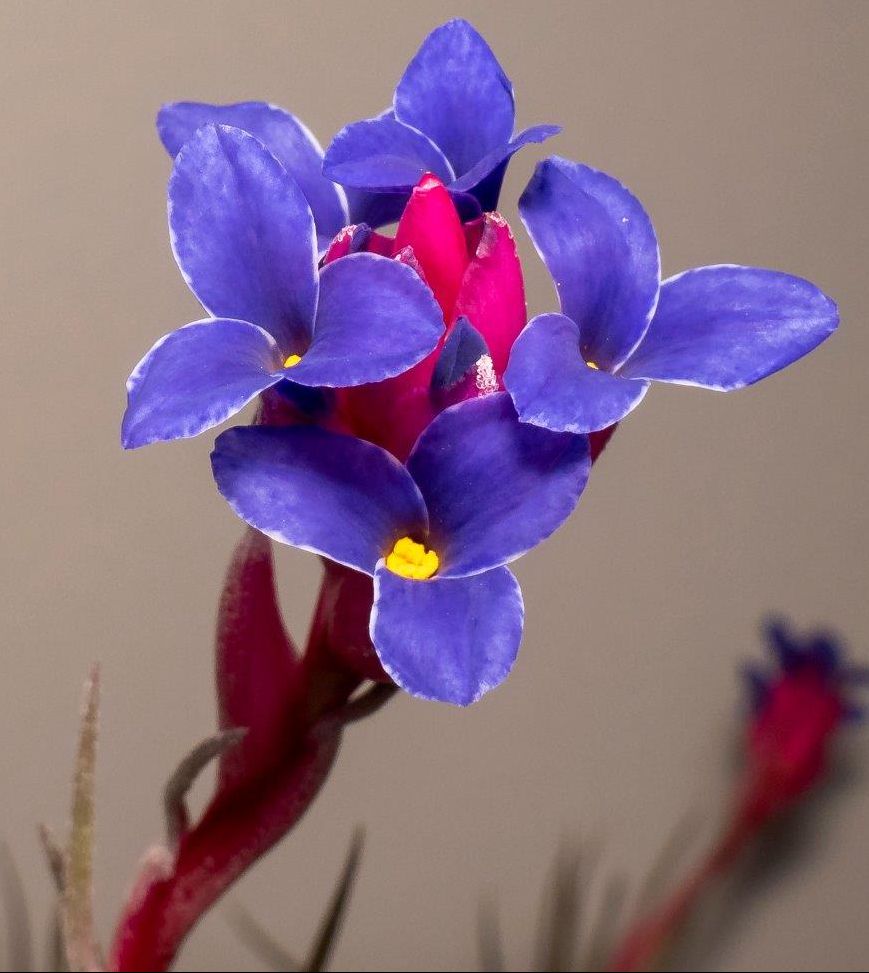 Rob Bower 08/20 as aeranthos "compact form".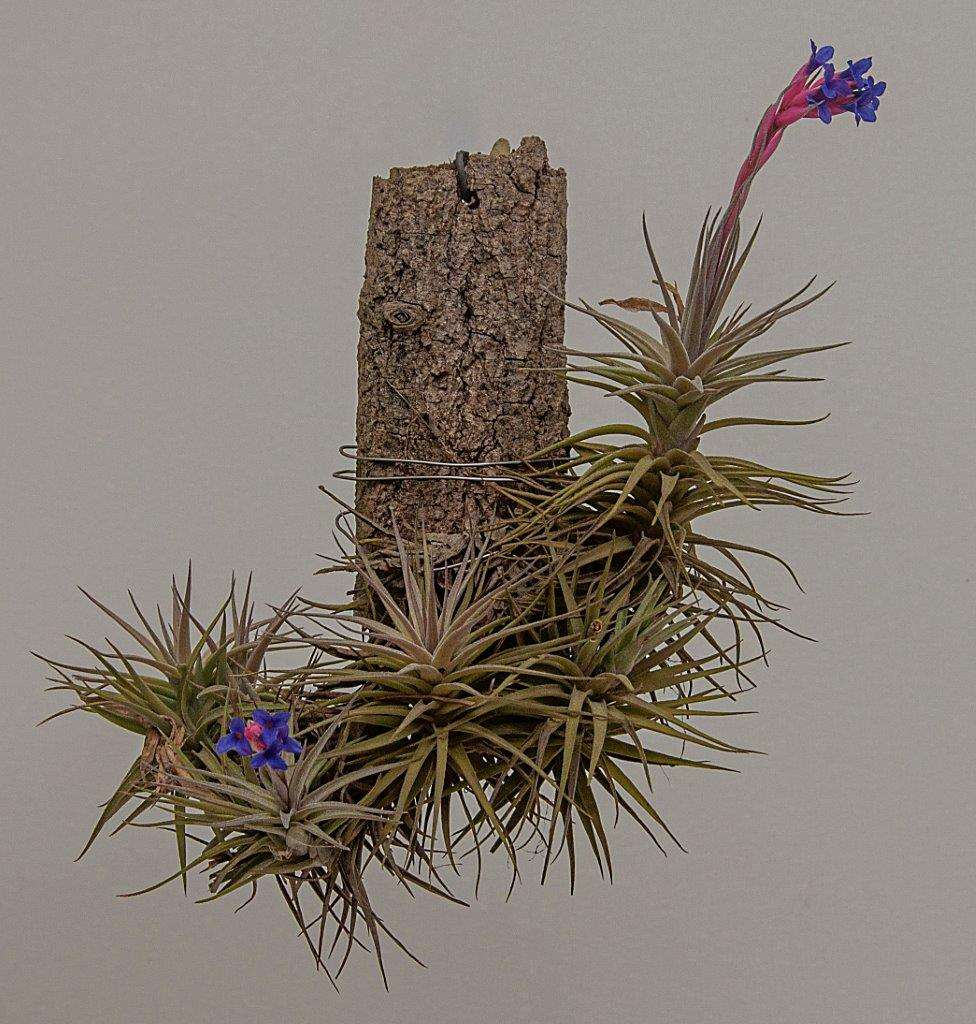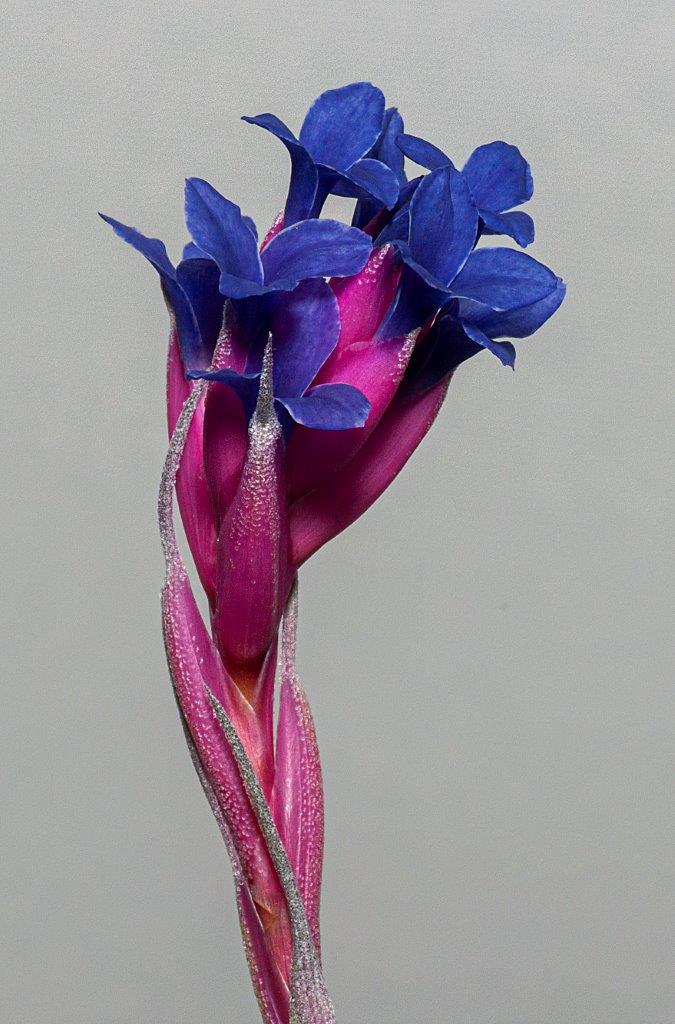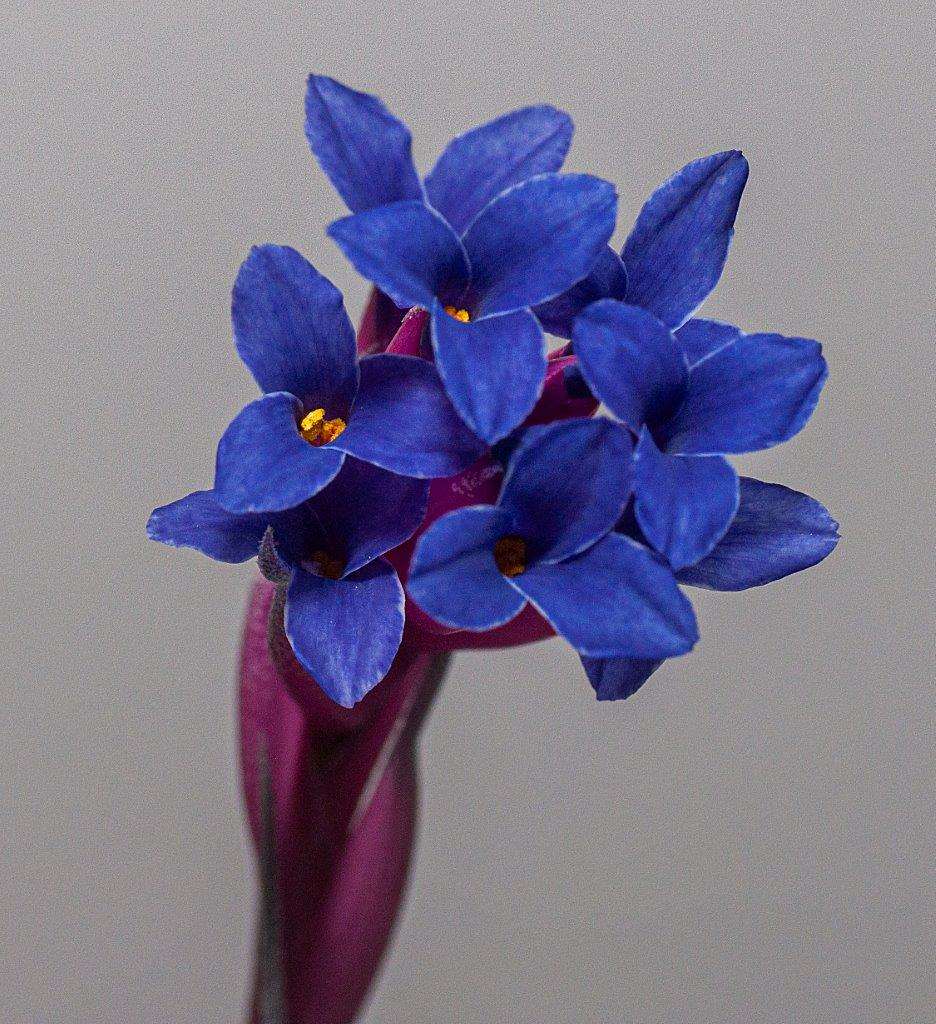 Rob Bower 09/21 "compact form".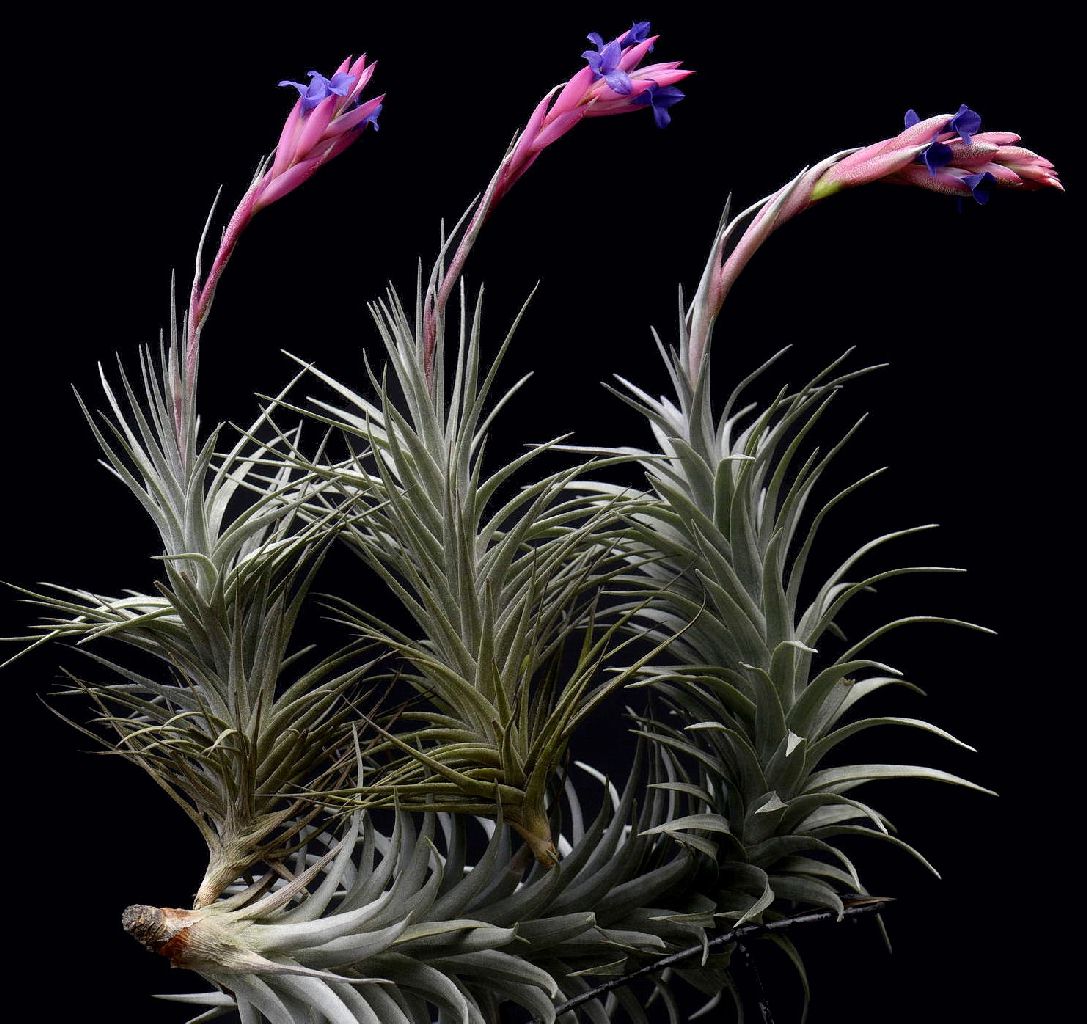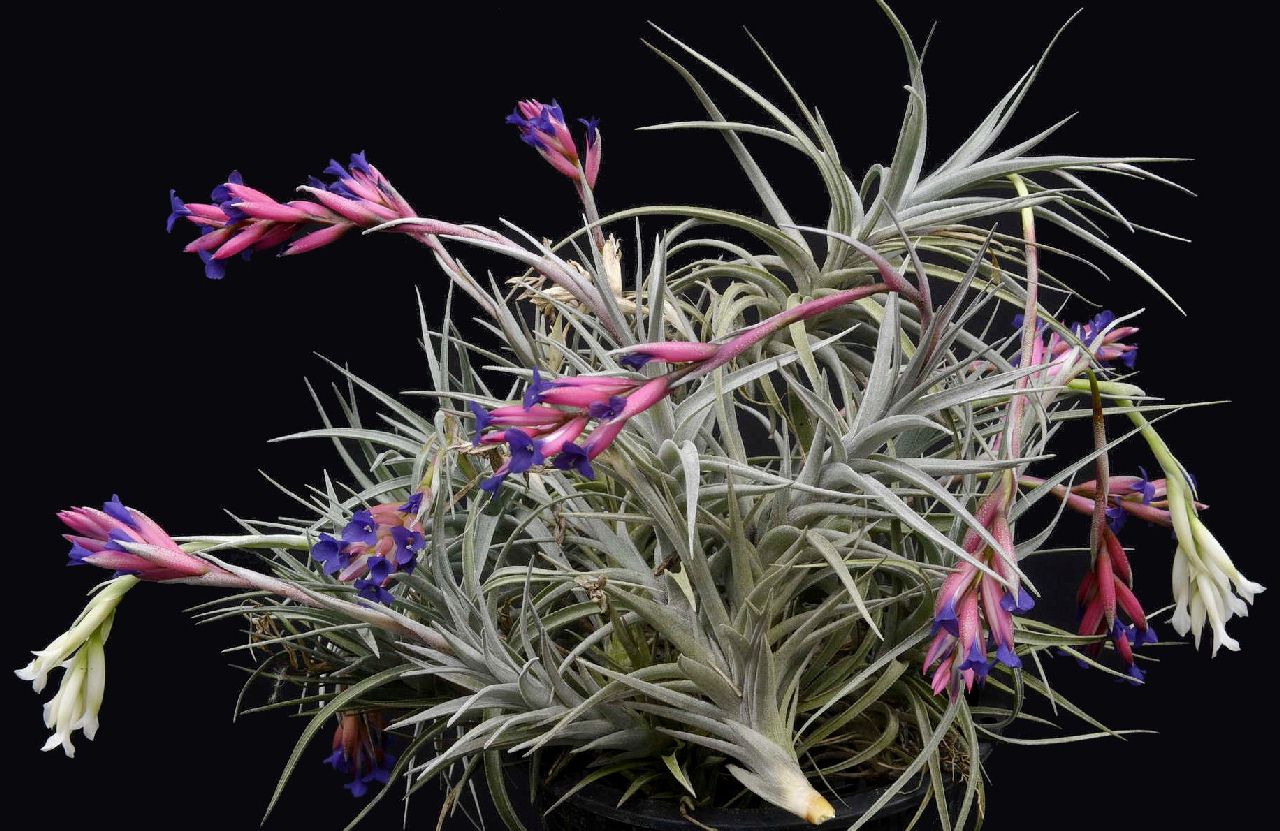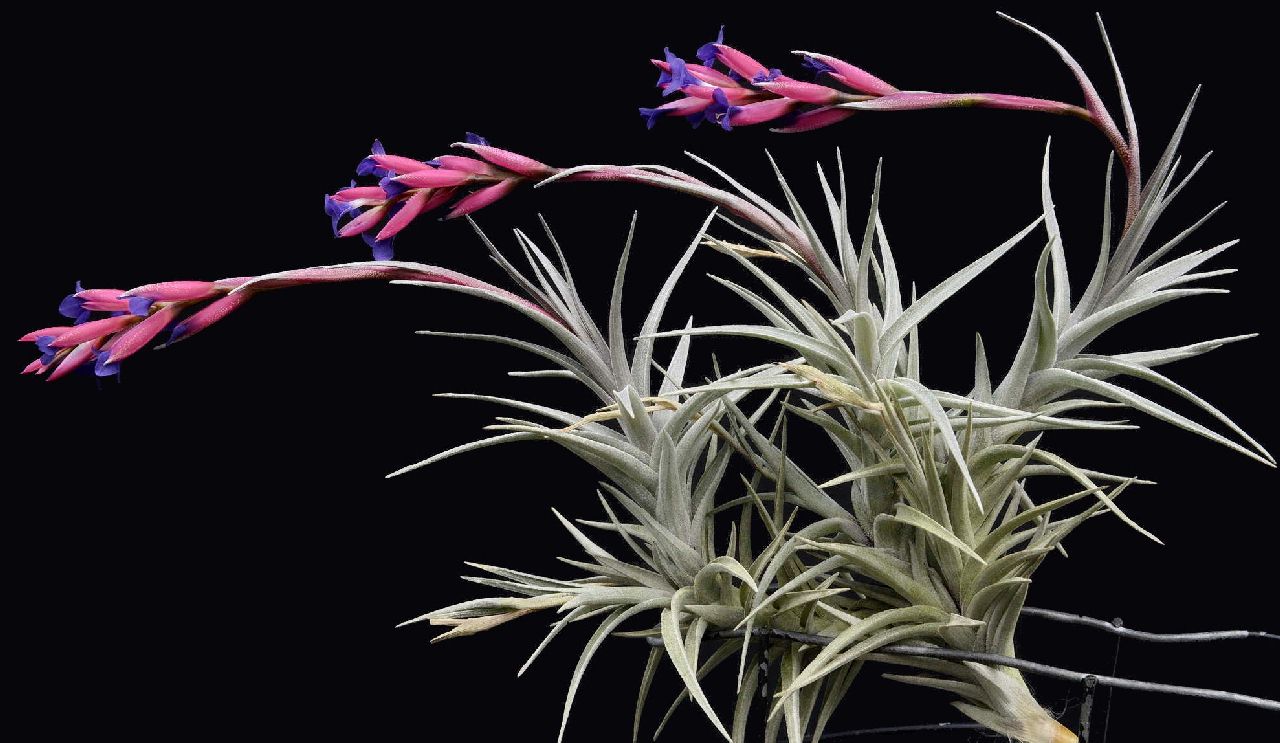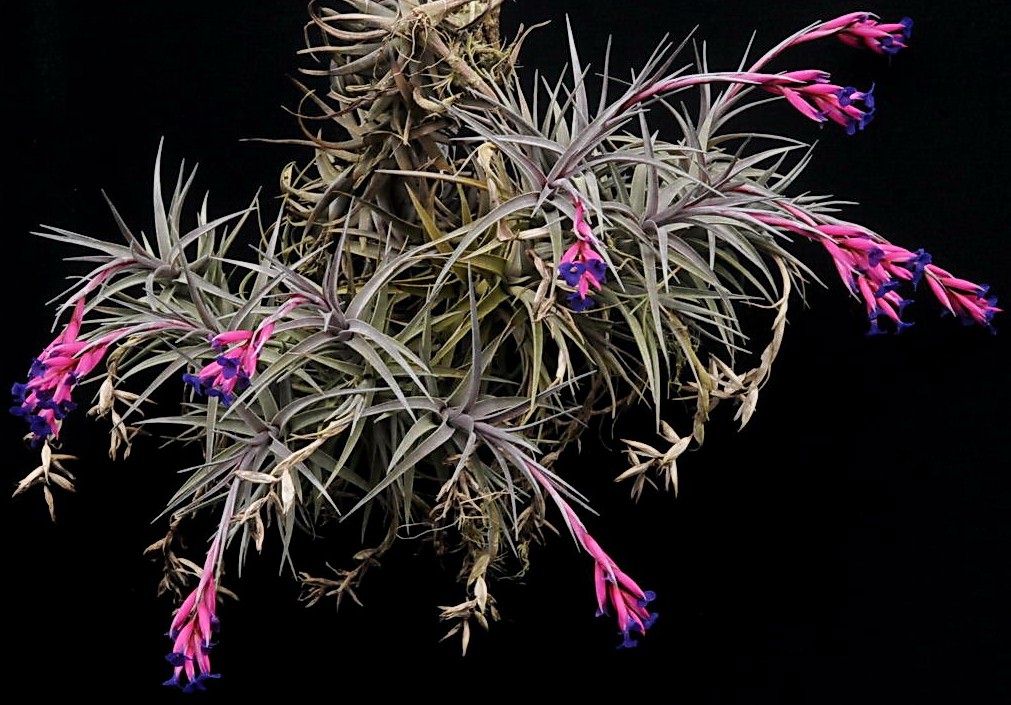 Peter Tristram 09/18
aeranthos forms - FG, GP 2018, Purple leaf Holm, Purple leaf.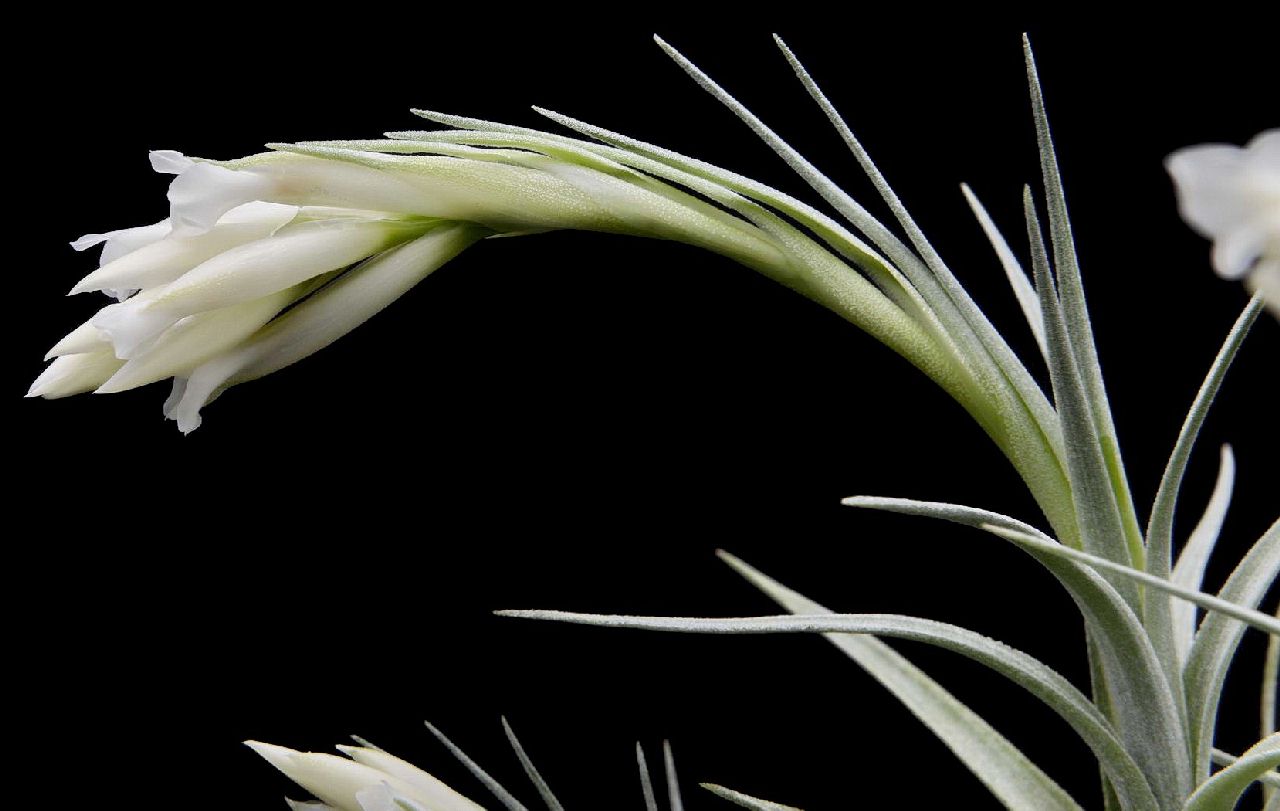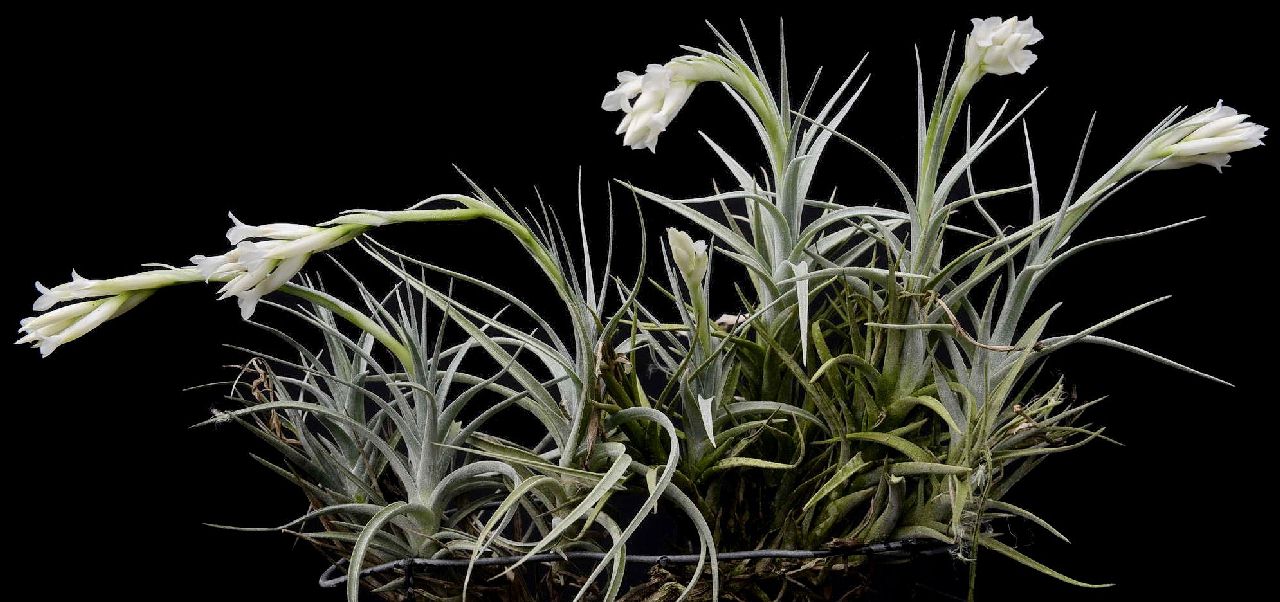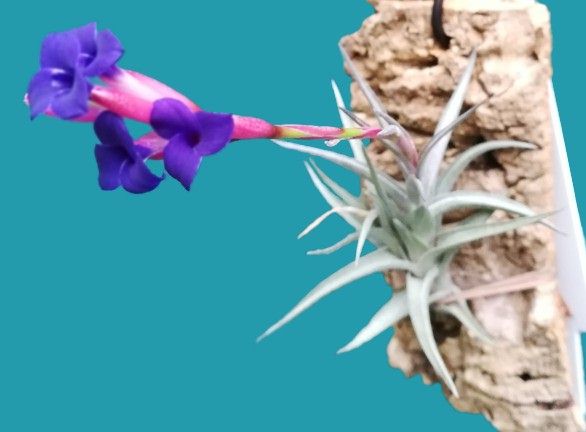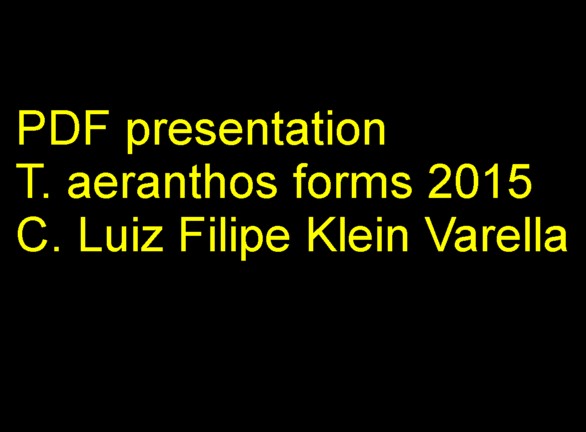 | | |
| --- | --- |
| Peter Tristram 09/18, White form | Justin Lee 10/18, a small form |
Peter Tristram 09/18 ... "It certainly is the time of year for T. aeranthos to burst forth in bloom. Like so many Tillandsia, this species comes in many forms and there'd be a lot more if the splitters hadn't separated out and named some closely related species.
It was described nearly 200 years ago and a lot was sure written about it in French, judging by the references in the DVD. It has had many binomial names over the years, not becoming Tillandsia aeranthos until Smith nailed it down in 1943, it seems. I wouldn't be surprised if it didn't travel on the Endeavour with Banks and Solander across the South Pacific, though probably a very flat form!
There are many forms shown in the DVD and often seen on Facebook, especially those posted by Luiz F. Varella, who lives in Porto Alegre in Southern Brazil in the heart of aeranthos country. Many of the ones he posts are not seen in cultivation, though. Check the DVD if not sure what I mean as a lot of Luiz's pic are there. Never-the-less, we do have a good range of the more typical pink bracts, shades-of-blue/purple flowers. Because the species occurs over a wide area, ranging from epiphytic to lithophytic habitats, the range of foliage forms varies greatly in addition to the inflorescence forms. I suppose species like jonesii, winkleri, bella and polzii described by Renate E. and Theresa S. Then there is bergeri, described much later than aeranthos in the early 20th Century, but from rocky outcrops near Buenos Aires in Argentina rather than forests in southern Brazil where aeranthos would have first been noticed, looking at the form of the plants in the old plates which are very similar to the Porto Alegre forms. I guess if Strehl had lived longer, some of the 'new' forms of aeranthos, such as the hard, purplish-leafed, heavily frosted ones, might have been elevated to species status too. Species groups like tenuifolia and stricta must morph into aeranthos group species too. Maybe neglecta is a northern extension of aeranthos group species.
I certainly don't know the answers and would love to read more from anyone who had studies the plants in habitat! Maybe phylogenetic studies could help show evolutionary patterns as well."

Justin Lee 10/18 ... "This small T. aeranthos is out at the moment. It seems that a lot of the aeranthos are going to flower this year but no bergeri flowers. It's usually the other way around for me. Winter might not have been cold enough to trigger any bergeri to flower."
Peter Tristram ... "Small, stiff leafed form with a striking, big spike! Enjoy it even more when it clumps!"
Alfonso Trudu ... "Is this T. aeranthos 'Miniata' or another form of aeranthos ?"
Justin Lee ... "Alfonso, the label says 'nice recurved form' I was surprised that it flowered at this size, but going by what others have said it seems pretty normal. I'm now hoping that it clumps up well with some feeding.
Pam, my thoughts on the lack of flowers with bergeri is that this last winter wasn't as cold as 2017 was. 2017 was a good year for bergeri flowers here. Just a thought."
Chris Larson ... "As I have said previously, the only difference that I can see between T. bergeri in a heated house and those out in the cold is the time of flowering. A difference of 3 or so weeks - % is roughly the same. The cold ones are just starting now. As I have previously theorised, maybe it has more to do with photoperiodism. Though T. aeranthos, in its many different forms, comes from right down the Atlantic coast to Buenos Aires, T. bergeri is more localised around Buenos Aires (roughly equivalent latitude to Sydney). I've always wondered what would happen in the tropics if someone put them far under an east or west facing porch in the tropics between May & August – so that they were in deep shade for part of the day over winter.
This form looks to me like Maurice's nice grey small plants from seed – which have this exceptional colour. Though Justin, if it was from me as nice recurved form – it is probably the spectacular plant that we found at Franz Grubers nursery in Colombia. If it is – yes wait until it forms a bigger clump!!!
Alfonso, T. aeranthos Miniata is an Isley plant and is bright green. Paul once said to me that he is unsure of the origin – it just appeared in his nursery. Now Paul has other forms like T. Mini Mini Me – Not to be confused with BRT's T. Mini Me."
---
Tillandsia aeranthos var. alba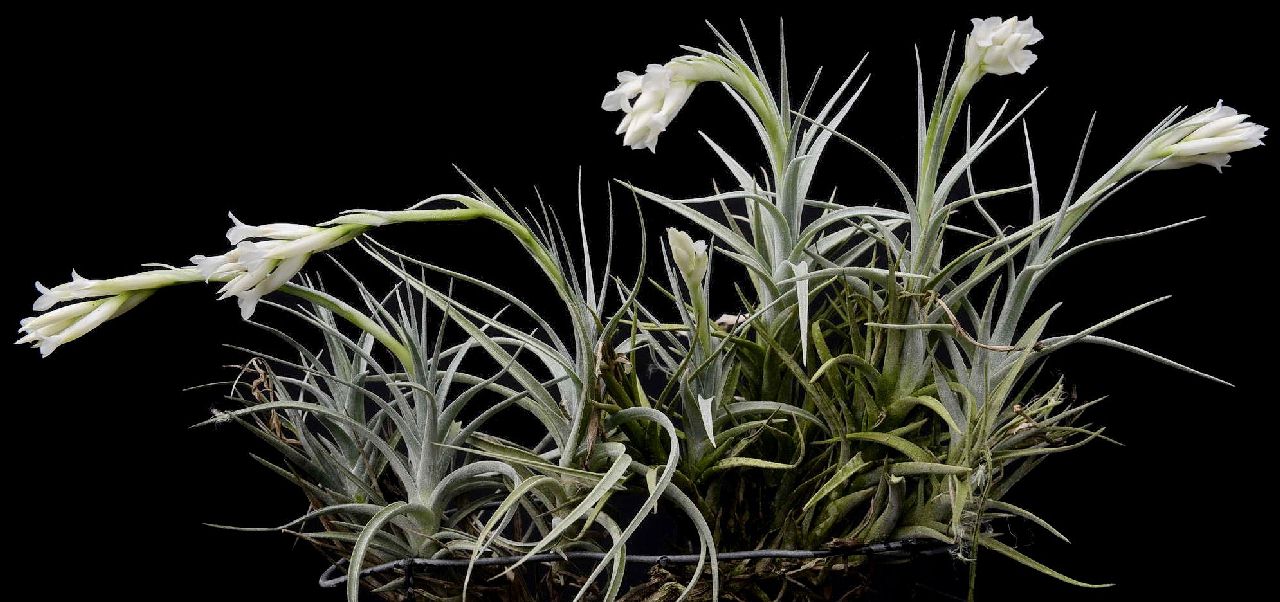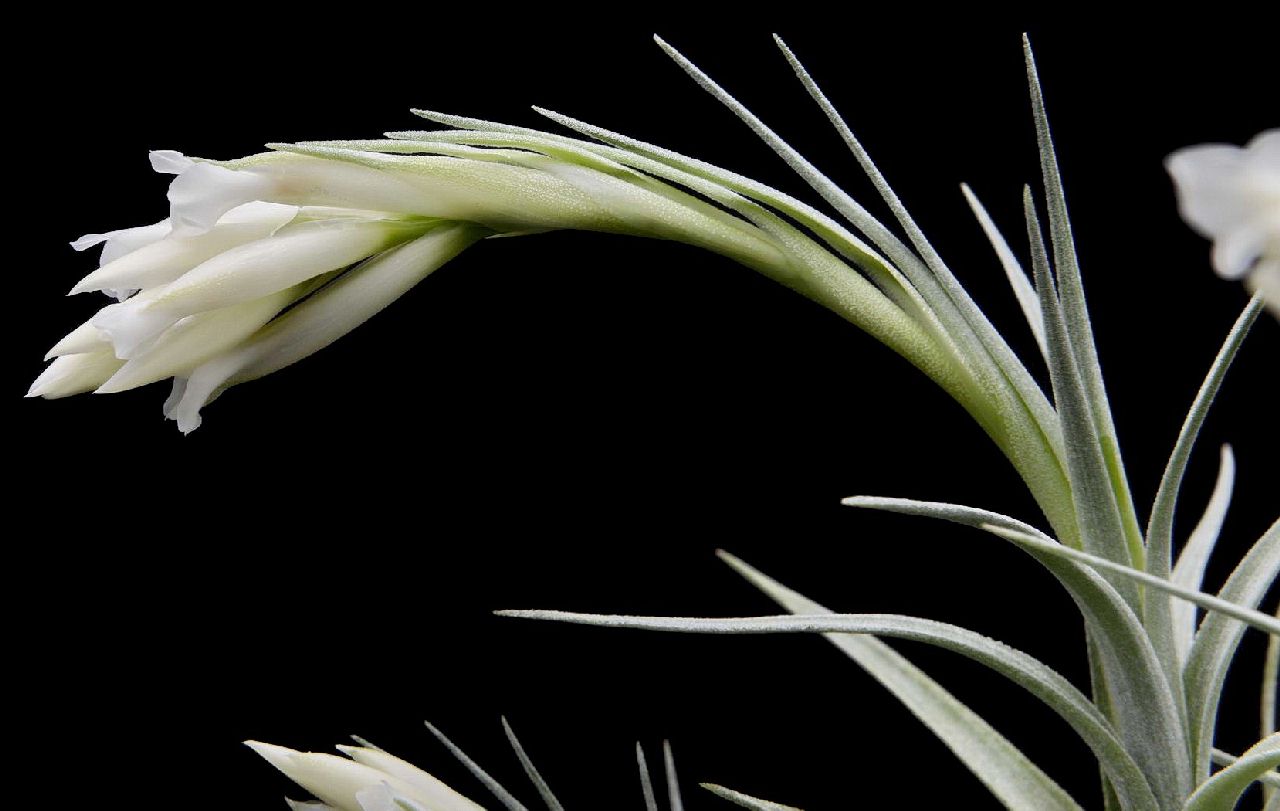 Peter Tristram 09/18, as 'White form'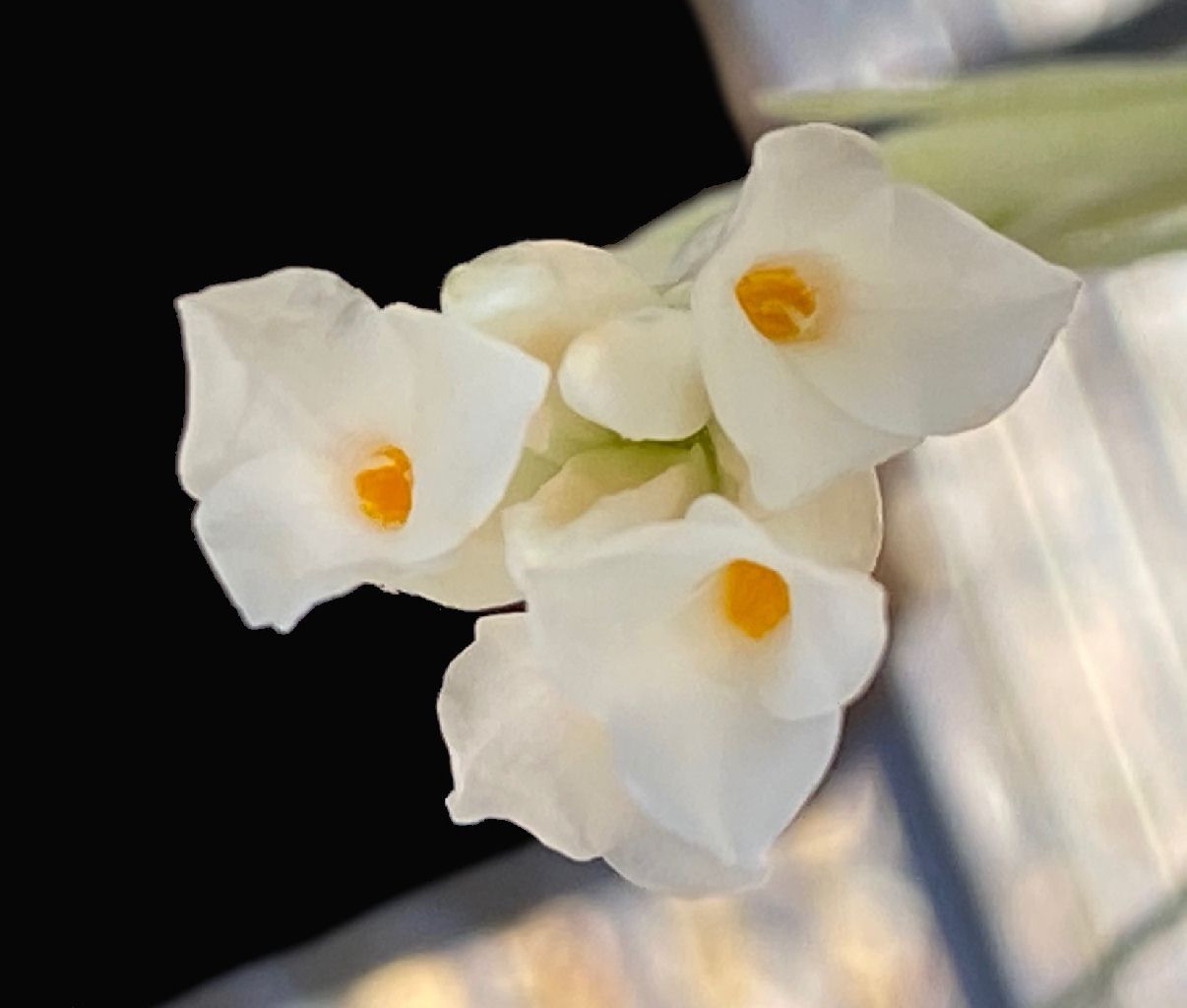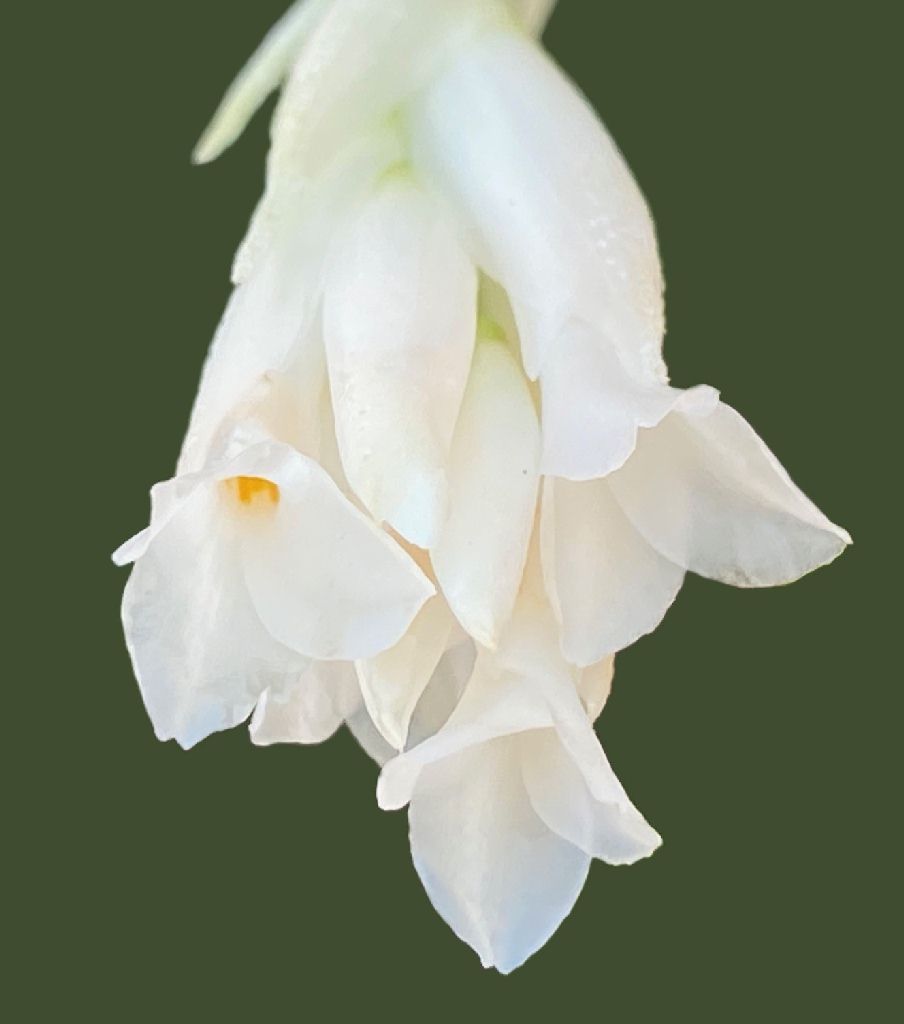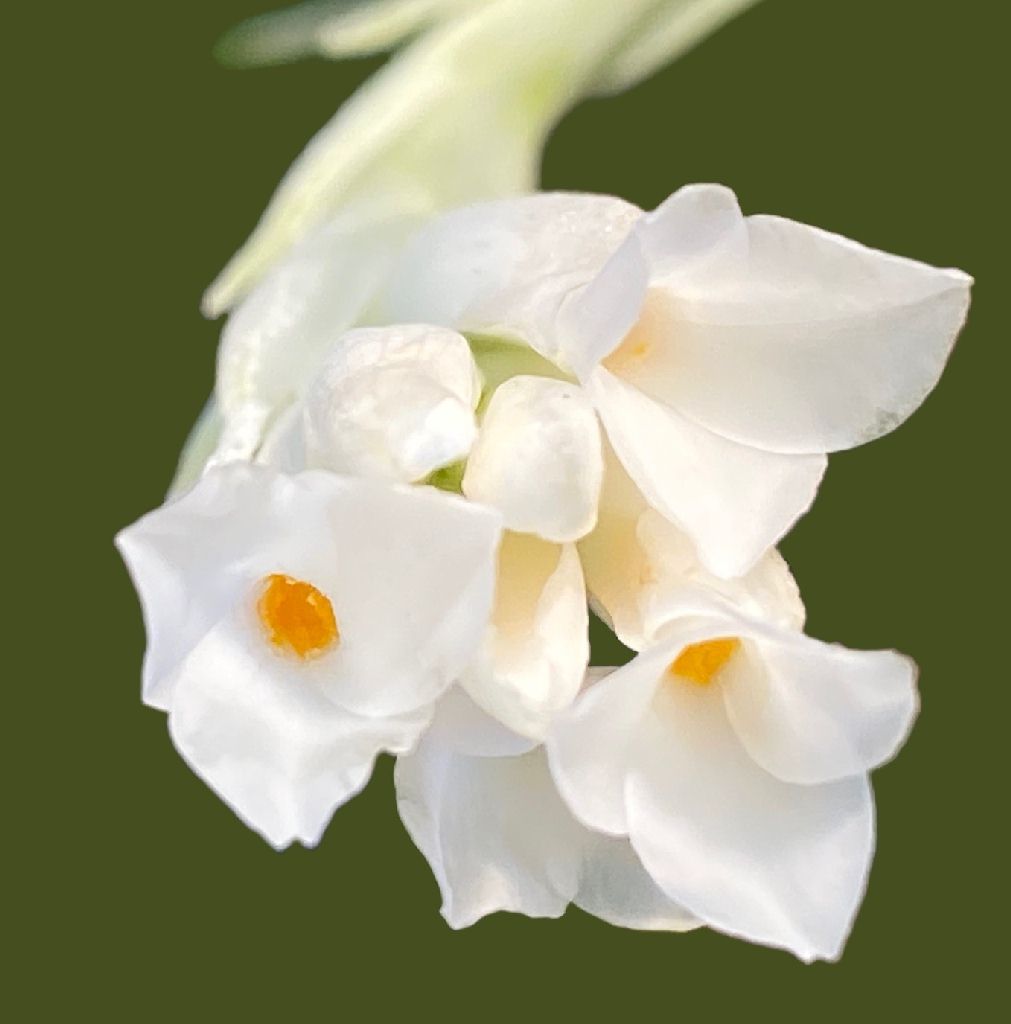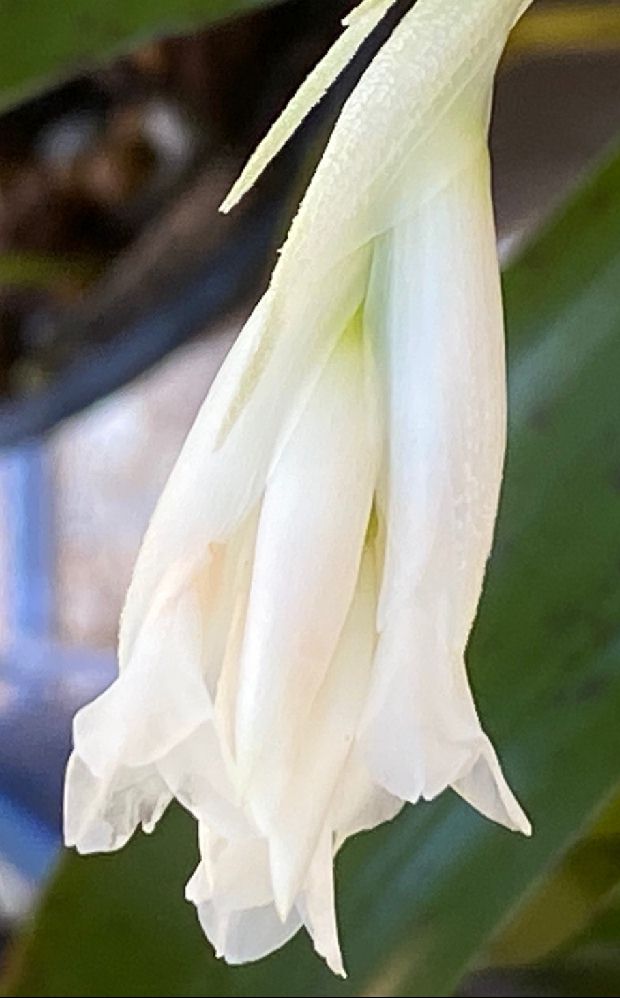 ---
Tillandsia aeranthos var. aemula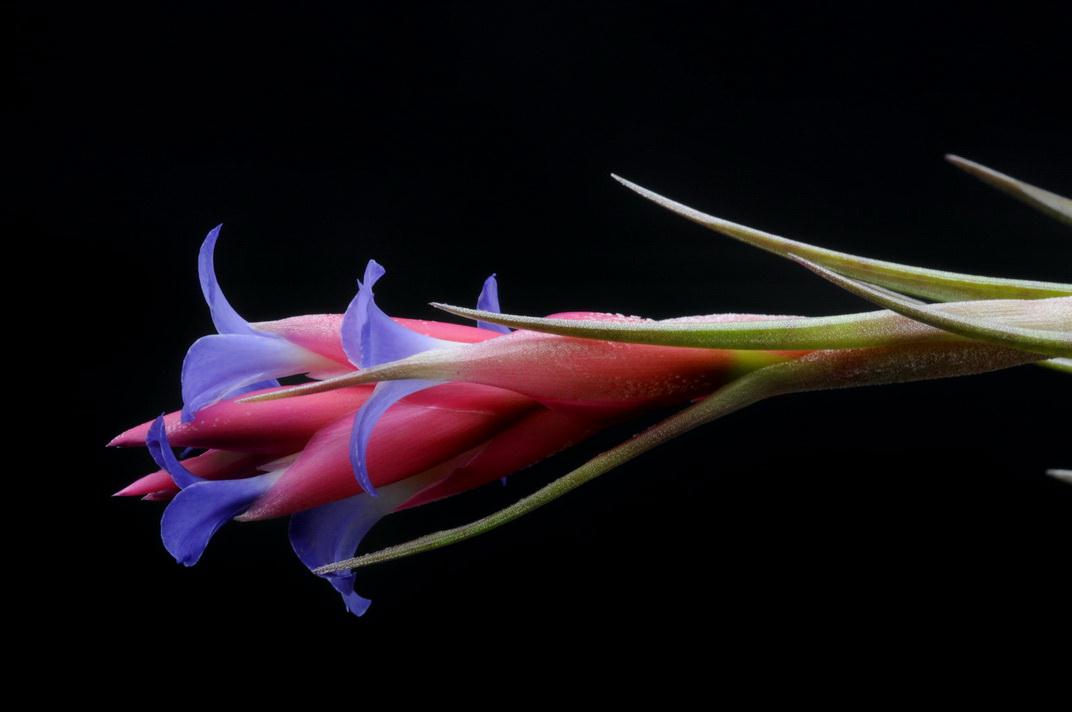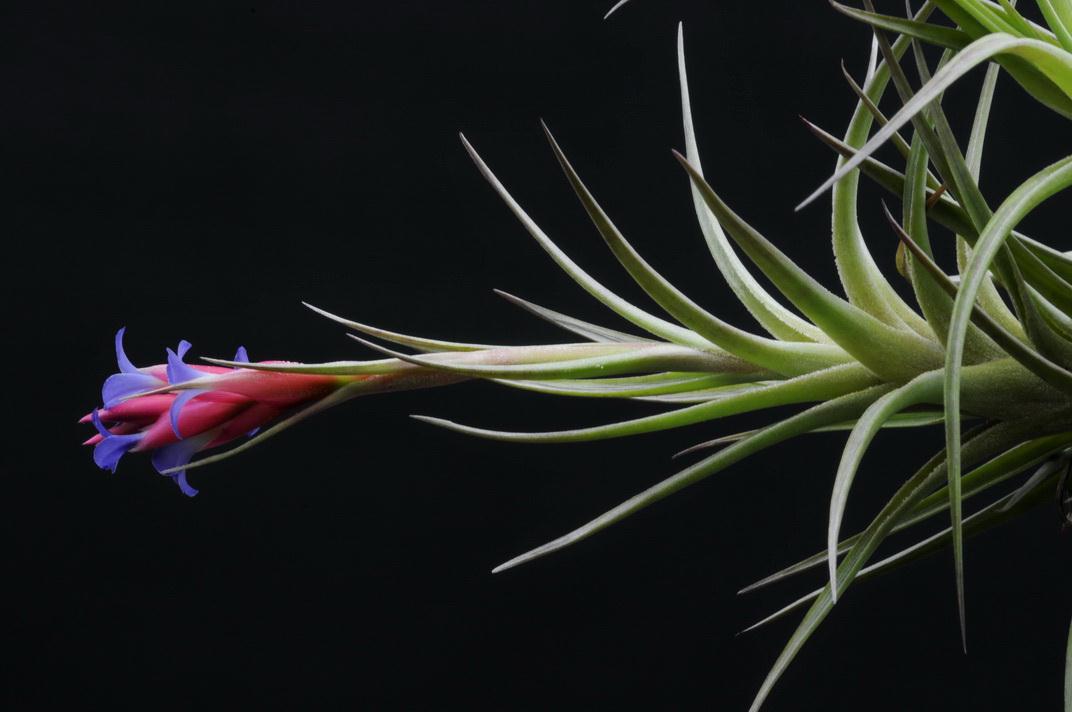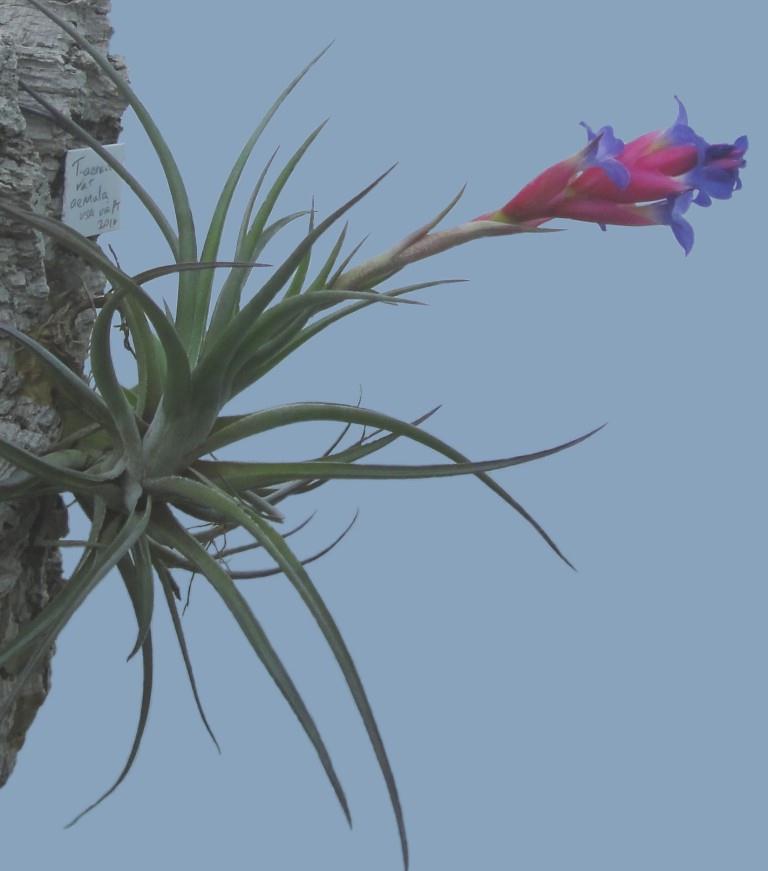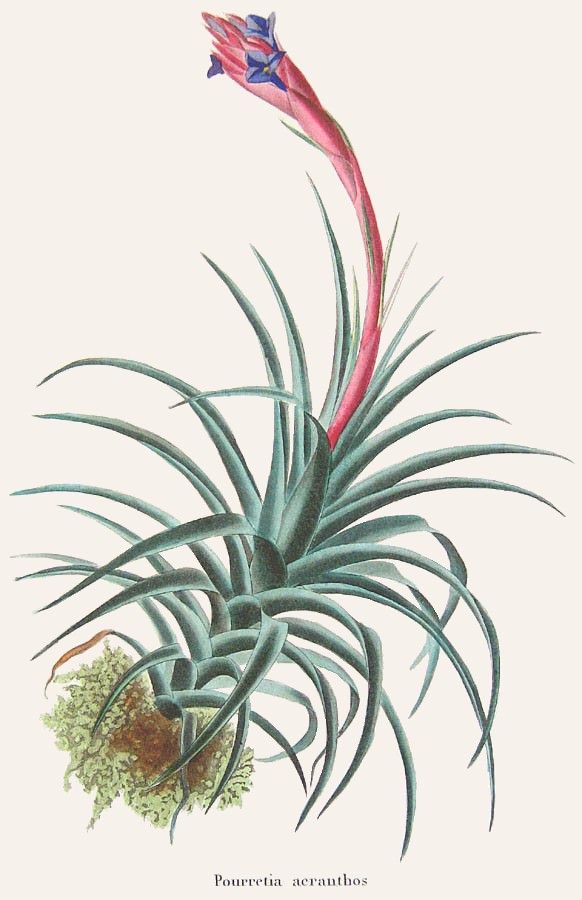 | | | |
| --- | --- | --- |
| Peter Tristram 07/11. | Chris Larson 07/11. | aeranthos V. aemula as dianthoidea |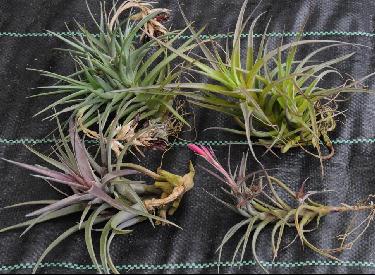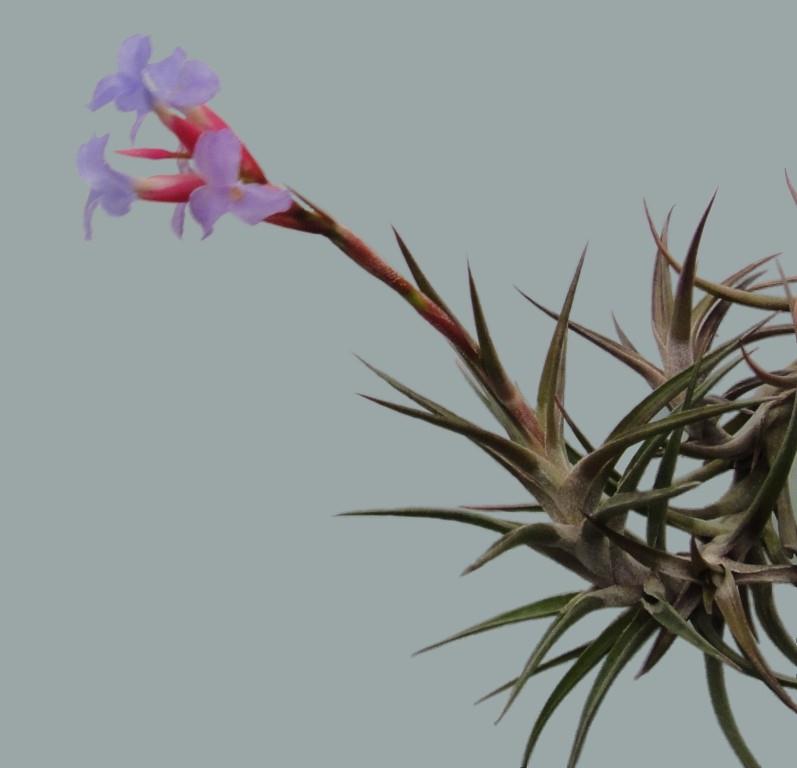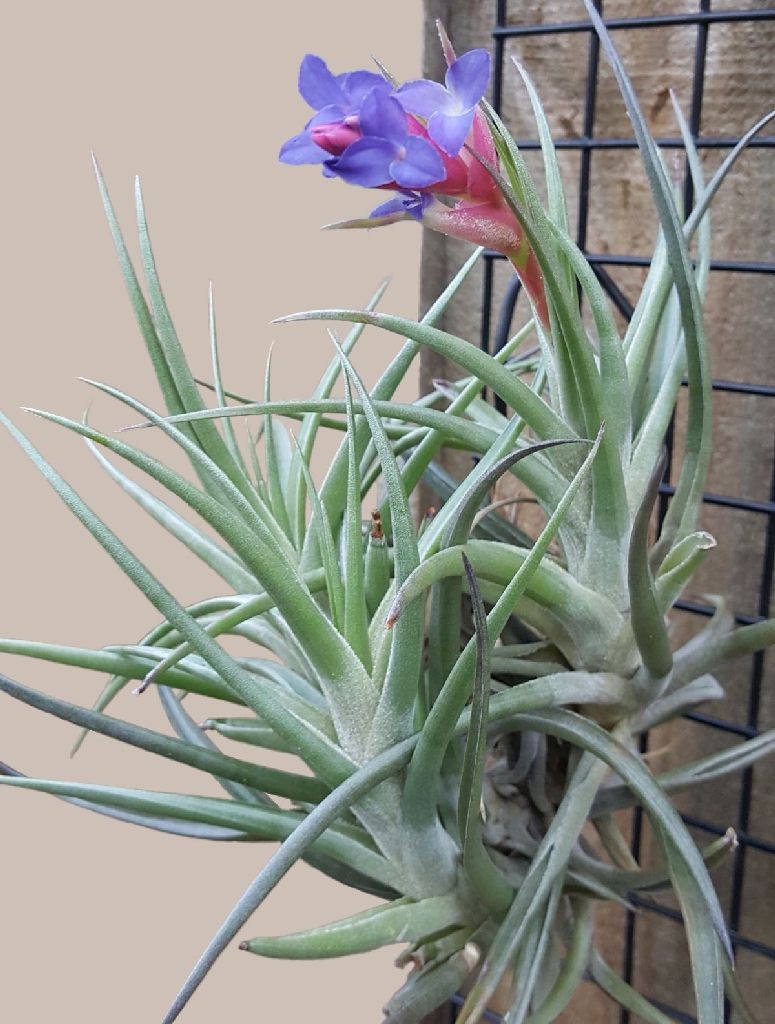 | | | |
| --- | --- | --- |
| Peter Tristram 07/11 Clockwise from from left: winkleri (Tropiflora), aeranthos, aeranthos aemula (Tropiflora), jonesii (Tropiflora) | T. jonesii, Chris Larson 07/11 | aeranthos v. aemula, Chris Larson 07/18 |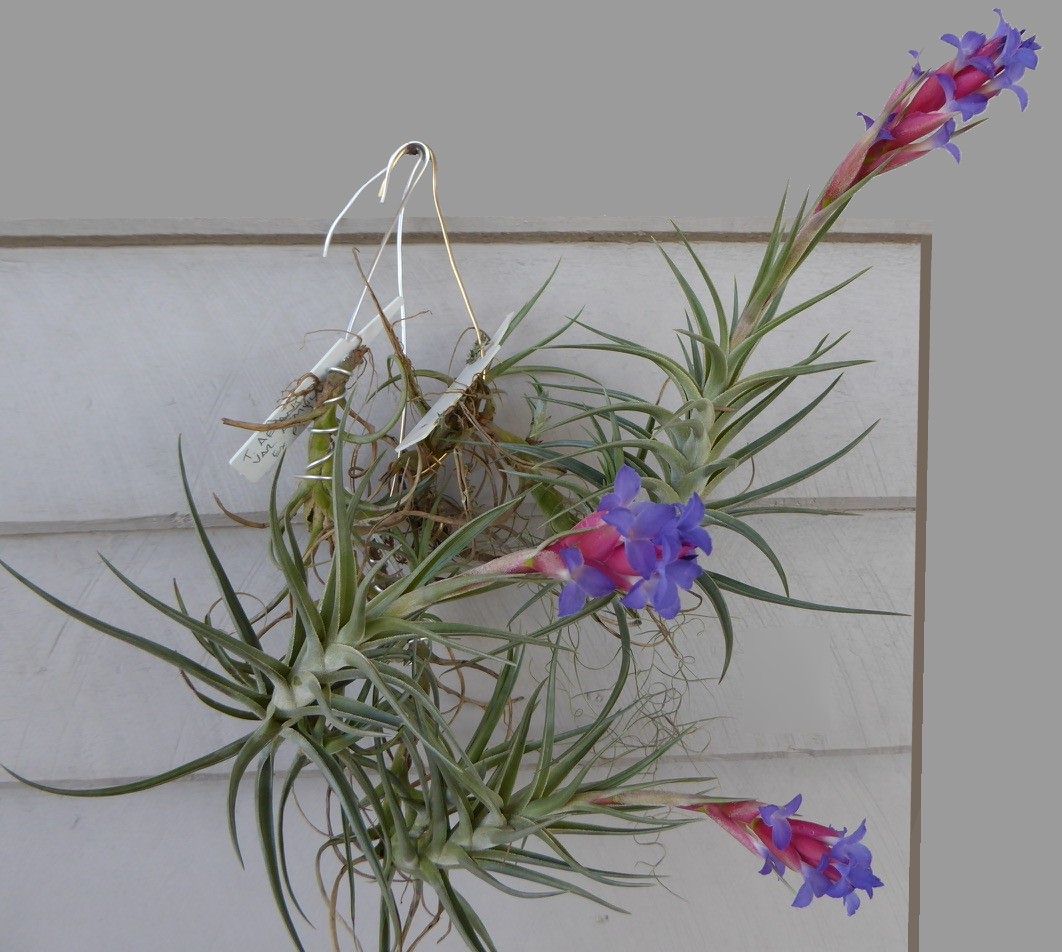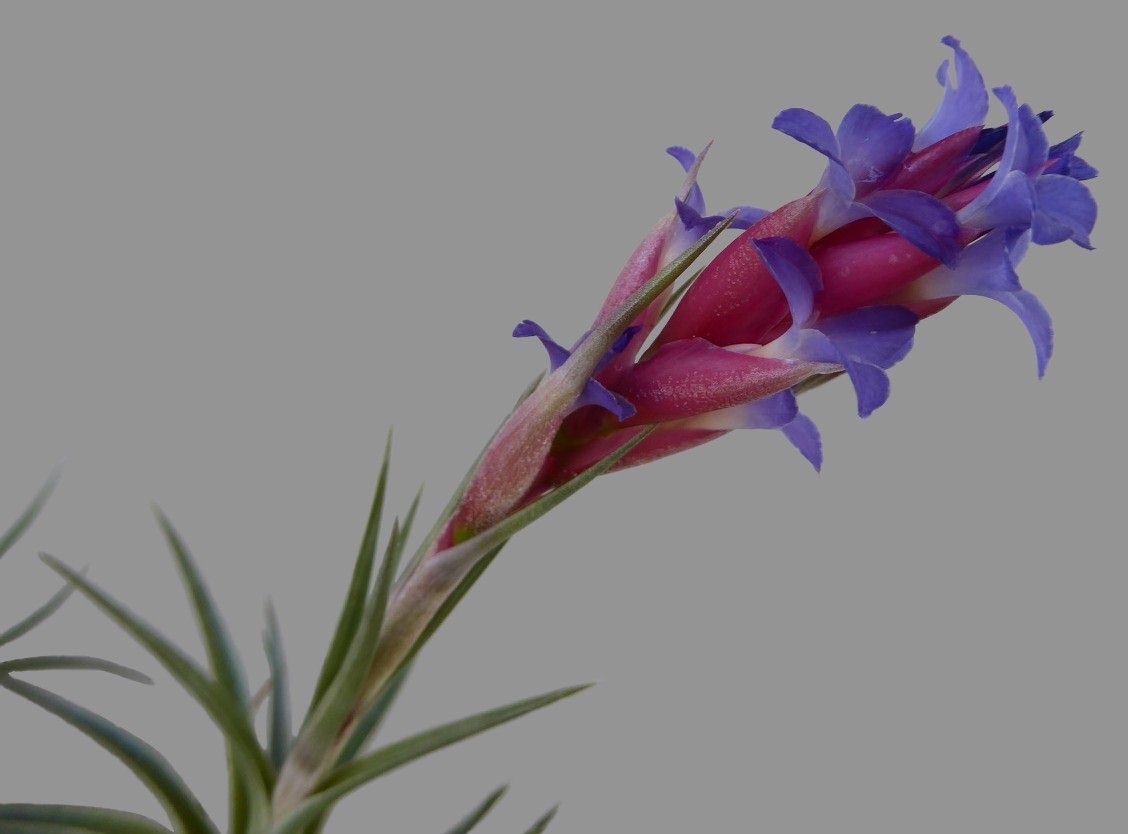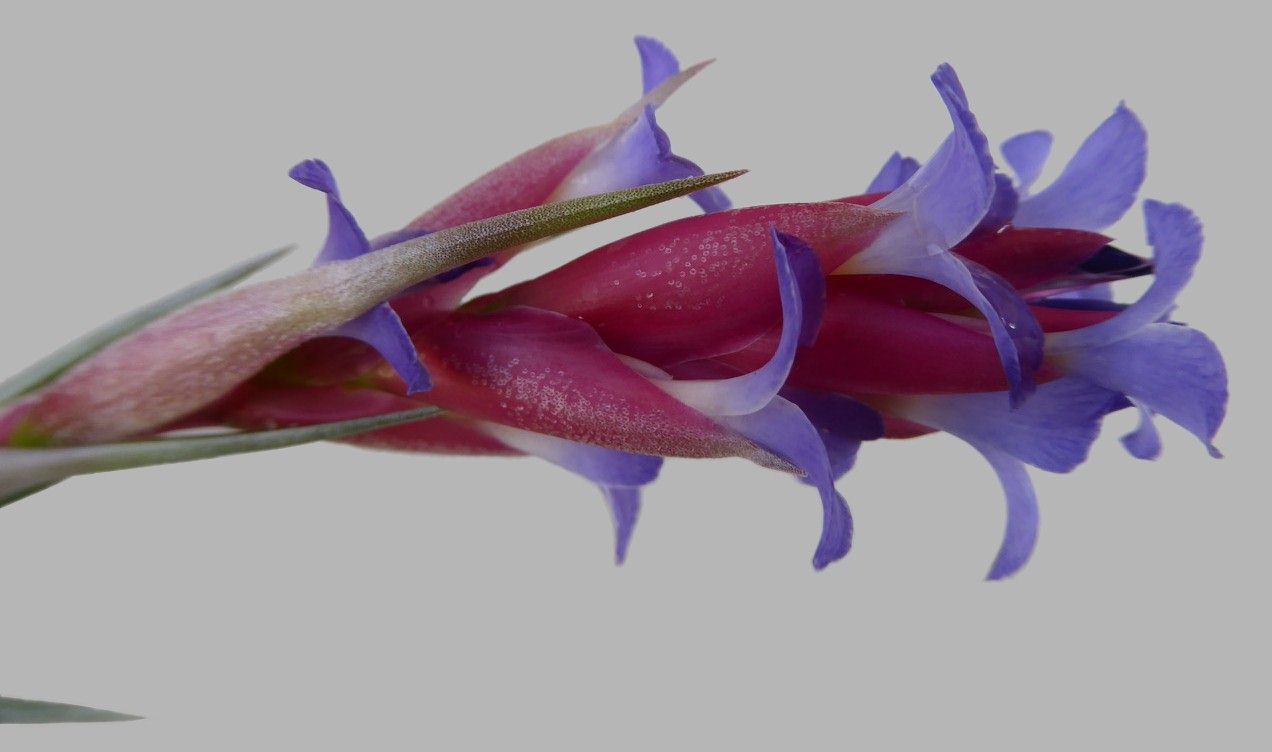 Notes from Tillnuts discussion group about var. aemula -
(Ed. - keep in mind the perpetual struggle between "splitters" and "groupers" as you study the following.)
Peter Tristram 24/07/11 ... "One thing about winter is that many of the smaller Brazilian Tillandsia species and hybrids bloom for months. First were tenuifolia and smaller recurvifolia forms then various strictas and neglectas plus red Brazilians like gardneri forms, brachyphylla (posted that one) and heubergeri, but all overlapping to some degree along the time line. At the moment, in full stride, are a couple of newies I got from Tropiflora last year – jonesii and aeranthos v aemula. both very attractive additions. Soon will be other red Brazilains, gardneri v. rupicola, more stricta forms and most of the other aeranthos types. Great winter cheer! It will be interesting to see what the seedlings will look like in 4 or 5 years."
Derek Butcher 07/18 ... "Chris: The floral bracts on your var aemula do not seem 2.7 cm long which is said to be the main reason it had varietal status. To put me out of my misery could you measure said floral bracts."
Derek Butcher 25/07/11
No wonder Eric Gouda says they are all T. tenuifolia. >:-} Have you checked the var. aemula with Strehl's description and photo? I don't know why Strehl decided on these T. aeranthos varieties but because she has, plants with these names should closely follow the description.
Peter Tristram 27/07/11
Yes Derek, descriptions checked.
T. jonesii is pretty distinctive.
The so-called aemula has the long fb (23-30mm), is larger sized, etc but that taxon is pretty shaky anyway. It certainly looks different to all of my many other aeranthos forms but that is best observed in real life. Who am I to argue with Dennis's naming?
I also got T. winkleri from Dennis but yet to bloom, but it will be an interesting comparison. Plant looks like a large jonesii including the red foliage. The latter 2 grow on cliffs whereas aeranthos likes trees, so I gather. Has Len got pics of his plants in this group?
Chris Larson 27/07/11
Here are a couple of photos with more of the actual plants. Hand held camera, hand held plant & on a point & shoot camera - not as nice as Peter's photos. Main thing I wanted to show is the nice foliage on jonesii. More towards thin neglecta foliage or like some of the tenuifolia forms.
Len Colgan 28/07/11
About 8-10 years ago, I received a single plant of T. polzii and another of "unknown Tillandsia from Professor Winkler" from Renate. Neither has ever flowered, despite forming clumps. In fact, I have passed on a couple of grown plants removed from each clump.
Two things worry me about this:
Firstly, my T. polzii plant (without inflorescence) doesn't look anything like pictures of this species that have been shown on this Tillandsia discussion group.
Secondly, I am only guessing that the plant labelled "unknown Tillandsia from Professor Winkler" might be T. winkleri. I did obtain it a few years before the name T. winkleri appeared in the article written by Strehl.
Hence, until if and when they flower, I can add nothing to this interesting discussion of the relatives of T. aeranthos ... other than acknowledging that I also obtained a plant which I "identified" as T. bella and which has flowered consistently, but which looks very close to Pete's pictures of T. polzii.
Peter Tristram 28/07/11
Check these out for comparison - clockwise from from left: winkleri (Tropiflora), aeranthos, aeranthos aemula (Tropiflora), jonesii (Tropiflora). Any similarities? Also I have posted T. bella a couple of times, originally as T polzii as that was what it was labelled. I then bloomed a plant from Renate labelled sp Bella which was identical and the rest is history. I have also posted T. polzii also from Renate so I wonder what your plant is, Len?
I imagine there are thousands of rockfaces in Rio Grande Do Sul with all manner of variations of these and other spp.
I just found a 'Winkler' plant that you gave me a couple of years back and it is similar to both winkleri and aeranthos v aemula from Tropiflora. It has no leaf pigment though, and very frosted.
Derek Butcher 28/07/11
Len - Even with my enquiring mind I have never queried Renate on identification on any plant I got from her. Are you sure that the tag on your T. polzii has not disintegrated in the sun. I could let you have one of the common flowering form if you like.
With T. winkleri you have to consider the odds and you would be better at it than me. All collections of this plant have been from Rio Zinho in Rio Grande do Sul so the plants that Renate had, have a great chance to be correct. secondly she checked her plants against Strehl's description.
Len Colgan 28/07/11
Thursday, 28 July 2011 9:05 PM Hi Pete, that photo showing four forms is very useful. It is interesting that the plant from Winkler that I gave to you hasn't flowered either. I think Grant has one, and I wonder if the Queensland weather might trigger it.
Peter Tristram 29/07/11
Hi Len. After a close examination of the Winkler plant, I reckon it's the same as the one in the dvd (and on fcbs) that Renate photographed. I reckon it'll bloom in a year or 2 up this way (and further). It's only small still!
---

Tillandsia aeranthos (Loiseleur) L. B. Smith, Lilloa 9: 200. 1943.
Pourretia aeranthos Loiseleur in Mordant de Launay, Herb. Gen. Amat. 5: pl. 304. 1821. Tillandsia dianthoidea Rossi, Cat. Modoet. 79, pl. 1. 1825. Type. Description and illustration.
Tillandsia bicolour Brongniart in Duperrey, Voy. Coquille 185, pl. 36. 1829. Type. Ilha de Santa Catarina, Santa Catarina, Brazil, Dumont d'Urville S n (P), 1822.
Tillandsia stricta sensu Lindley, Bot. Reg. 16: pl. 1338. 1830; non Solander, 1813. Based on a cultivated plant from Buenos Aires, Argentina.
Amalia aeris-incola hortus ex Schultes filius in Roemer & Schultes, Syst. 7(2): 1206. 1830; nomen.
Tillandsia aeranthos Desfontaines ex Steudel, Nom. Bot. ed. 2.2: 687. 1841; nomen in synon.
Anoplophytum aeranthus (Loiseleur) Beer, Bromel. 40. 1857.
Anoplophytum dianthoideum (Rossi) Beer, Bromel. 41. 1857.
Tillandsia unca Grisebach, PI. Lorentz. Gott. Abh. 19: 273. 1874. Type. Parana ("Tarana"), Brazil, Stelzner s n (CORD, GOET), Aug-Sep 1872. Cf. Hunziker, Trab. Mus. Bot. Cordoba 2: 299.1960. Non sensu Baker, Jour. Bot. London 25: 234. 1887 – see T. argentina
Tillandsia microxiphion Baker, Bot. Mag. 119: pl. 7320. 1893. Type. Montevideo, Uruguay, Andre in Kew Hortus K-323 (K).
Tillandsia aeranthos var major Marnier-Lapostolle Hortus, ined.?

Desc from S&D p833-837
Plant flowering 9-32 cm high; stem usually well developed.
Leaves many, densely polystichous, usually suberect, rarely slightly secund, 4-14 cm long, covered with fine appressed cinereous scales;
Sheaths obscure, short;
Blades rigid, narrowly triangular , attenuate, 5-13 mm wide, often carinate.
Scape well developed, erect, slender, glabrous;
Scape-bracts imbricate, elliptic with linear blades, subinflated, membranaceous, rose, appressed-lepidote.
Inflorescence simple with 5-20 flowers in more than 2 ranks, dense or subdense, ovoid or short-cylindric.
Floral bracts ovate, usually exceeding the sepals but sometimes only equaling them, acute or the lowest with short filiform lepidote blades, inflated, membranaceous, nerved, glabrous, bright rose in life;
Flowers sessile, erect or suberect.
Sepals lanceolate, acute, 12-19 mm long, the posterior high-connate, mem-branaceous, glabrous;
Petals 17-27 mm long, the blades broadly elliptic, very dark blue;
Stamens included; filaments plicate.
Capsule about equaling the sepals.
Type. In the absence of any specimen the species is typified by the original illustration and description.

DISTRIBUTION. Epiphytic in woods, mostly near sea level, southern Brazil, Paraguay Uruguay, and northeastern Argentina.
BRAZIL. SANTA CATARINA: Laguna, 28 Jun 1909: Dusen 8412 (US); Sombrio, 30 Oct 1943, Reitz C-104 (HBR); without exact locality, Tweedie s n (K). Rio GRANDE DO SUL: Porto Alegre, 19 Sep 1892, Lindman A-253 (S); 18 Sep 1946, Rambo s n (LIL, PACA); Pelotas, 17 Nov 1892, Lindman A-679 1/2 (S); Santa Maria, 1927, Harshberger 980 (US); Vieira, Rio Grande, 1 Nov 1936, Archer 4304 (US); Sao Leopoldo, Aug 1941, Eugenio 122 (R); 1611 (GH); 1656 (GH); 1658 (GH); 1659 (GH); 1661 (GH); Sep 1941, 2789 (HBR); Sep 1941, Fridericks in Eugenio 3172 (GH); Oct 1942, Reitz s n (HBR); 17 Jul 1946, Heinz s n (LIL); Osorio, 22 Sep 1950, Rambos n (HBR, PACA, US); Belem Novo, 13 Jul 1952, Beetle 1608 (US); Canela, 17 Oct 1964, Richter .5 n (HB). Without exact locality, Sellow 92 (P); 93 (P). PARAGUAY. San Bernardino, 1915, Osten 14644 (MVM); Cerro Tobati, Jul 1967, Schinini I-SA (US). URUGUAY. TACUAREMBO: Passo de America, Tacuarembo, 12 Nov 1947, Castellanos s n (LIL); Estancia El Rincon, Oct 1955, Dubugnon 101 (G). DURAZNO: Maestre Campo, 1931, Dauber 186 (BA). FLORIDA: Cerro Colorado, Santa Clara, Arroyo Timote, Oct 1926, Herter s n (MVM); 1 Nov 1946, Castellanos s n (LIL); Rio Yi, 2 Nov 1946, Legrand 4534 (MVM); Arroyo Casupa, 7 Dec 194 7, Castellanos s n (LIL). LA VALLEJA: Cerro Arequita, 3 Oct 1937, Legrand 1137 (MVM); 1946, 2763 (MVM); Cascada Penitente, 3 May 1946, Legrand 4251 (MVM). ROCHA; Castillos, 14 Oct 1930, Herter 628-A (GH); Palmar, Chafalote, 21 Jan 1944, Bartlett 21331 (MICH). SAN JOSE; Sierra Malabrigo, Nov 1922, Hauman s n (BA). CANELONES; Corrillos, 25 Oct 1936, Rosengurtt A-1222 (US). MONTEVIDEO: St. Gabriel, 3 Sep 1853, Courbon 103 (P); Montevideo, Nov 1877, Arechavaleta 2611 (MVM); Nov 1878, Gibert 1091 (MVM); 1886, Safford 111 (US); Nov 1893, Arechavaleta 61 (G). MALDONADO: Pan de Azucar, 14 Oct 1907, Herter 5225 (GH, US). ARGENTINA. SANTA FE: Alvear, Oct 1926, Jurado s n (BA). CORRIENTES; Curuzu to Cuatia, 1920. Brethes s n (BA). ENTRE RIOS: Concepcion del Uruguay, 30 Oct 1875, Lorentz s n (US); 493 (CORD); Oct 1878, s n (US); 641 (Z); 1706 (CORD, GH); Isla Forgues, Delta del Parana, 28 Dec 1902, Hicken s n (SI); Salto Grande, Concordia, 15 Feb 1917, Hauman s n (BA); 21 Sep 1951, Correa & Bacigalupo s n (SI); Chavigu, Oct 1920, Denis s n (BA); Gualeguaychu, 28 Feb 1926, Jurado s n (BA); Parana, 14 Oct 1929, , Serrano s n (BA); A. Urquiza, Uruguay, 25 Dec 1941, Nicora 3090 (SI); Arroyo Martinez, Delta del Parana, Dec 1944, Burkart 15058 (SI); 12 Dec 1944, Boelcke 1037 (BAA); Ceibas to Medanos, 19 Sep 1961, Burkart 22494 (SI); Parana, Paracao, 31 Oct 1962, Burkart, Troncoso & Bacigalupo 23626 (SI). BUENOS AIRES: Barracas al Sud, 8 Nov 1902, Venturi 237 (GH, LIL); Isla Martin Garcia, 3 Oct 1923, , Schreiter 3291 (LIL, MVM); 8 Dec 1928, Perez Moreau 1494 (BA); Crespo 48 (SI); San Isidro, Nov 1924, Castellanos s n (BA); Campana, 28 Oct 1945, Krapovickas 2613 (GH).

---

Tillandsia aeranthos (Loiseleur) L B Smith
Detail from Reitz in Flora Ilustrada Catarinense, Bromeliaceas 134-7. 1983
EPIPHYTE, flowering to height 0,15-0,25m., with strong rhizome covered with the remains of old sheaths, with strong roots, almost always simple, short and arched caulescent.
LEAVES in large numbers covering the stem densely, the external arched decurved, the middle and interior suberect or erect, very rarely wholely subsecund;
SHEATHS distinct, short, transparent membranaceous, weakly scaled; BLADES narrow triangular, narrowing from the base to the apex, very grooved-concave, ca. 12cm long., at the sheath ca. l0mm wide., green-grey, strongly scaled on both sides.
INFLORESCENCE 5-20-flowered, simple, spike towards the side ca. densely cylindrical, rounded apex, 20-50mm long., 35mm wide., ca. 20mm diam.;
SCAPE tenuous, glabrous, ca l0cm.long ;
SCAPE BRACTS membranaceous, beautifully rosy, broadly obovate, long acuminate, a little scaled, but densely just below the tip, subinflated and imbricately covering the scape, with tip cylindrical and densely scaled;
RHACHIS very glabrous, angular, almost straight; BRACTS beautifully rosy or purplish, largely linear-oval, apex rounded-mucronate, very concave, not carinate, glabrous, veined prominently, ca. 20mm long, longer than the sepals.
FLOWERS beautifully violet, erect, ca. 23mm long, sessile;
SEPALS rosy or red, covering the ;left side, membranaceous-transparent, very glabrous, the anterior ca. 15mm long, almost completely free, ovate-lanceolate, broadly acute, no mucron, both the posterior pair high connate (ca 3mm from the apex), ca. 16mm long, apex sub-rounded_and short mucronate, ca carinate;
PETALS ca. 22mm long, passing from a broadly linear claw to an elliptic blade, a little acute or rounded, sub-spreading at anthesis;
STAMENS 8mm smaller than the petal, subincluded at anthesis, 3 longer and 3 shorter ones;
FILAMENTS linear, very wavy for ¾ of their length;
ANTHERS yellow, ca. 4mm long, broad linear, obtuse on both sides, joined and incised almost at the base;
GRAINS OF POLLEN wide elliptic, or subglobose, deeply sulcate, quite regularly reticulate;
OVARY ovoid, triangular, narrowing to the top of the style; STIGMA longer than the anthers, with lobes short, erect, not contorted;
PLACENTAS fixed in the internal angle of the lobes close to the base;
OVULES in large numbers, cylindric, obtuse apex, not caudate.
CAPSULE ca. 20mm long, subclavate, apiculate, with rudiments of the style;
VALVES dehiscent from the base, little or somewhat twisted;
EXOCARPUM grey, little wrinkled, not detached from the ENDOCARP opaque-brown, polished.
SEEDS fusiform, brown, 2mm or more long, the apex with a small tip, and at the base with white, silky, ca. 12mm long, finishing with umbel-like hair.

Type - In the absence of any specimen the species is typified by the illustration and original description.

Common names - Cravo-do-mato, gravatazinho, bromelia.

Phenological Data - In this area it flowers July to December and January.

Ecological observations - small Herb, from 15 to 20cm high, epiphytic, with a strong rhizome covered with the old remains of the sheaths, with roots strong, short and arching caulescent, numerous leaves, covering the stem densely, the external ones arching decurved, the middle to interior suberect or erect, relatively wide, triangular, narrowing from the base to the apex, strongly grooved-concave, inflorescence simple, flowers with beautiful bracts rosy or crimson and the flowers violet, good-looking; characteristic and exclusive to the Atlantic Forest in Santa Catarina, where it is restricted, it discontinues and dispersion is unknown.
The species is a heliophyte or in diffused light, rare; found preferentially in open forests or isolated trees close at sea level in Santa Catarina.
It is treated possibly with species spread in Paraguay and Argentina, the basins of Rio Paraguay and Rio Paraná in the Basin of the Uruguay-Jacui in Rio Grande do Sul and in north towards Sombrio and Laguna and possibly to the Ilha de Santa Catarina in the State of Santa Catarina, an example with other species of the forest of Alto Uruguay in previous climatic changes.
Material studied –
SANTA CATARINA: SOMBRIO: perto da cidade, epifito em arvores a beira da lagoa, 5 m, flor azul com bracteas roseas, R. Reitz C 104 (30.10.1943), HBR.
RIO GRANDE DO SUL: CACAPAVA: flor, Sieghard Winkler 160 (17.01. 1975), HBR. OSORIO: perto da cidade, epifito na restinga arenosa, flor, B. Rambo s. nr. (22.09.1950). PACA nr. 48770. HBR; perto da cidade, in silvula arenosa ad arbores, A. Sehnem s. nr. (11.09.1950), HBR, PACA. SANTA MARIA: perto da cidade, petalos roxo-escuros, A. Seidel s. nr. (26.07.1968), HBR. SAO LEOPOLDO: perto da cidade, flor, R. Reitz (-.10.1942), HBR, medicinal; perto da cidade, petalas azul-roxas, J. E. Leite 2789 (-.09.1941), HBR, muito comum nos arredores de Sao Leopoldo, R. G. do Sul. VIAMAO: Vila Gaucha, coletor? (1965), HBR.
Area de dispersal - SANTA CATARINA: The municipalities of La¬guna (P. Dusen) and Sombrio.

BRASIL: The States of Santa Catarina and Rio Grande do Sul. URUGUAY, PARAGUAY and ARGENTINA.
Usefulness – Used as a diuretic, it is said to combat blenorragia (M.C.D'avila). The whole plant is made into a decoction and used internally. Ornamental.

---

Key to Tillandsia aeranthos at 5/2006
1. Petals dark blue => 2
1a Petals other colours => 3
2.Floral bracts yellow green => var. albeobracteata
2a Floral bracts rosy red => 5
3. Petals white => 4
3a Petals clear pink => var. rosea
4. Floral bracts pale yellow => var. flava
4a Floral bracts white => var. alba
5. Floral bracts to 2cm long => var. aeranthos
5a Floral bracts to 2.7cm long => var. aemula

---

Tillandsia aeranthos (Loiseleur) L. B. Smith var. aemula T. Strehl var. nov (Fig. 1, 29, 30) Iheringia, Ser. Bot., Porto Alegre, n.54, p.19-44 Dec 2000

Diagnosis: A var. typo, cui affinis est, in foliis, ramis inflorescentiae et bracteis florigeris longioribus differt.

Holotypus: BRASILIA, Rosario do Sul, Cerro Cavera. 30.IX. 1996. T. Strehl 1850 & J.C. da Silva s/n (HAS 36058). Paratypus Quarai, Cerro do Jarau. 7.XI.1994. T. Strehl 2056; Santana do Livramento, 28.II.1996, T. Strehl 1852 (HAS 36061 ).

Plant epiphytic, short caulescent.
Leaves (15-20) suberect, a little recurved, densely covered with adpressed scales, suborbicular, not tomentose, on both sides:
Sheath white, evident;
Blades subcoriaceous, long-triangular, attenuate, carinate, 12-15 cm long, 1-1.5 cm wide at the base.
Scape erect or recurved, longer than the leaves (15 cm), glabrous, thin (0,5 cm).
Scape bracts imbricate, the inferior leaflike, the superior elliptic, amplexicaule, membranaceous, subinflated, rosy or red, green apexes, scaled.
Inflorescence simple, compact, sub-lax after anthesis, 10-15 flowers polystichously, subsessiles, sub-erect.
Floral bracts suberect, elliptic, mucronate, inflated, membranaceous, scaled, the basal ones exceeding the flowers, the top ones of the same size or shorter, strong rose or red, 2.3-2.7 cm long, 1-1,2 cm wide.
Sepals membranaceous, oval-acuminate, glabrous, rosy, 1.5-1.7 cm long, the posterior pair connate to 3-4 mm from the apex, carinate, the anterior free, lanceolate.
Petals lineal at the base, white, blades large elliptic (0.6 cm wide). rounded apex, dark blue, 1.8-2.5 cm long.
Stamens included; filaments plicate close to the apex. Anthers linear, basifixed, 4 mm long.
Ovary oval, Style long, 1.8 cm, much longer than the anthers and enlarged pistil.
Capsule narrow-cylindrical.
Habitat: found on branches of isolated trees in the collection area.
Fenologia: flowering between August and October.
Etymology: the name (aemula = that imitates), refers to the similarity of the color with the variety type T aeranthos var. aeranthos L. B. Smith.
Comments: It differs from var. aeranthos in the large size of the whole plant and of the floral parts; the blades of the petals are partly covered by the bracts.

---

Tillandsia aeranthos (Loiseleur) L. B. Sm. var. alba T. Strehl & G. Rohde, Bromelia 5(1-4):77. 1998

A typo differt characteribus sequentibus: inflorescentia alba, scapus albus, bracteis, sepalis, petalis et staminibus albissimis, pistillo albo et pollinibus flavis.

TYPUS: Brasil, Rio Grande do Sul, Porto Alegre, epifita, area urbana, 29 Julho 1998, G. Rohde s. N. Holotypus: HAS. Paratypus: sobre arvore proxima a anterior, 4 Aug. 1998, G. Rohde s. N. (HAS).

Short herb, 15-20 cm high when in flower, epiphytic, all similar to Tillandsia aeranthos var. aeranthos, except for the following characteristics:
Leaves with leaf blades to 6 cm long, suberect.
Scape 5-6 cm long, equalling the leaves.
Inflorescence ca. 3.5 cm long, longer than the leaves, with ca. 9 flowers.
Scape bracts with base wrapped around the white scape, apex green, cylindrical, lepidote.
Floral bracts completely white, with few scales on the apex, non-venous.
Sepals and petals completely white,
Stamens and stigma also white, pollen grains yellow.
Overall, the floral characteristics of this new variety lie within the normal size range of the type variety of T aeranthos. Variety alba, with its unmistakable white color, was a rare occurrence among plants of the type variety, that is, with flowers all pink and blue. It grows in sunny environments on low trees branches in urban Porto Alegre, on the banks of the Guaiba River at Guaruja.

---

Tillandsia aeranthos (L) Smith, var. albeobracteata T. Strehl Divul. Mus. Cienc. Tecnol. – UBEA/PUCRS, Porto Alegre. N. 9, p. 25-32, dec. 2004

Type: Brasil, Rio Grande do Sul, Viamao; 9.IX.1999, T. S. Nunes s/n, (Holotypus HAS 40514); (Paratype: Porto Alegre, Lami; 26.VIII.2000, T. Strehl, 1273 HAS 101100). Tambem observada e coletada em outros Bairros de Porto Alegre e Viamao.
A Tillandsia aeranthos in bracteis color exsanguis differt.
FLORAL BRACTS wide-ovate, inflated, membranaceous, nerved, 1,2-1,5 X 0,6-0,8 cm, green-yellowish to slightly rosy, covered with scales close to the apex. SEPALS membranaceous, lanceolate, acute, glabrous, yellowish, carinate. PETALS ligulate, white base, round apex, dark blue.
The name of the variety makes reference to the pale color of the bracts.
Found as an epiphyte in the urban vegetation, in several neighborhoods of Porto Alegre. It blooms between July and September.

Tillandsia aeranthos var. albeobracteata, stands out by having bracts and sepals a clear yellowish green colour (vs. red rosy bracts); petals dark blue (vs. white petals or lilac).

Tillandsia aeranthos (L) Smith, var. flava T. Strehl, Divul. Mus. Cienc. Tecnol. – UBEA/PUCRS, Porto Alegre. N. 9, p. 25-32, dec. 2004
Type: Brasil, Rio Grande do Sul, Viamao, epifita em area urbana. 24.VIII 2000, T. Strehl 1280 (Holotype: HAS 40518).

A Tillandsia aeranthos var. aeranthos in bracteis et sepalis color flava differt; Petala alba.
FLOWERS sessile, erect or suberect; FLORAL BRACTS oval, acute, nerved, not carinate, glabrous or a little scaled, yellow, green at the base, exceeding or the upper ones equaling the sepals, 1,3-2,5 x 0,5-0,8cm; SEPALS lanceolate, acute, membranaceous, transparent, glabrous, yellowish. PETALS elliptic, blades a little longer and a little recurved, white, l,7-2 x 0,3 cm.
The name of the variety makes reference to the yellow colouration of the bracts and sepals.
Ocurs as a epiphyte in the urban vegetation of the municipal district of Viamao. It was seen flowering between July and September.

Tillandsia aeranthos var. flava, differs by having bracts and sepals the colour yellow (vs. rosy); and white petals (vs. blue-violet).

Tillandsia aeranthos (Loiseleur) L. B. Smith var. rosea T. Strehl var. nov.(Fig. 2,31,32) Iheringia, Ser. Bot., Porto Alegre, n.54, p19-44, Dec. 2000
Diagnosis: A var. typo, cui in inflorescentia affinis est, in petalis suaviter roseis differt.
Holotypus: BRASILIA, Rio Grande do Sul, Porto Alegre, 25.IX.1996, T. Strehl 1583 (HAS 36087).
Plant epiphytic, short and barely caulescent, forming a compact tuft.
Leaves (15-20) polystichous, covering the stem densely, the external ones decurved, the middle and interior ones suberect or erect, covered with small adpressed scales, on both sides;
Sheaths evident, membranaceous few scaled;
Blades subcoriaceous narrow triangular, attenuate. carinate, 10-12 cm long, 1-1.2 cm wide at the base.
Scape erect, smaller or a little larger than the leaves (12 cm long), glabrous, fine (2-3 .mm of diam.);
Scape bracts imbricate, elliptic, membranaceous, slightly lepidote, rosy, apex filiforme and green.
Inflorescence simple, 4-6 cm long, around 15 flowers. dense and short subcylindric.
Floral bracts wide-oval. inflated, membranaceous, nerved, 1.2-1.5 cm long, 0.6–0.8 cm wide, the basal ones with a long apex (1.5 cm) and filiform, the other ones mucronate, covered with scales close to the apex, strong rose and shiny.
Flowers sessile, compact, erect.
Sepals membranaceous, lanceolate, acuminate, glabrous, rosy, 1.2-1.5 cm long, the posterior pair connate to 2 mm from the apex, carinate, the anterior free.
Petal blades broadly elliptic, rounded apex, clear rose. 2-2.2 cm long, 0.5 cm wide.
Stamens included; filaments plicate in the middle area. Anthers basifixed, 3 mm long.
Ovary oblong, style longer than the anthers, pistil globose.
Capsule narrow-cylindrical.
Habitat: it was found on a branch of a dead tree in wasteland in the urban area of Porto Alegre.
Fenologia: it blooms between August and September.
Etymology: the name of the variety makes reference to the clear pink tone of the petals in contrast to the other varieties that have petals blue or white.
Comments: it differs of the var. aeranthos (Smith & Downs. 1974) and of the var. alba T. Strehl & G. Rohde (Strehl, 1998) for the clear pink color of the petals.

---

From Baker 1889 p198 synonym see above
176. T. DIANTHOIDEA Rossi. Cat. Modoet. 1825, t. 1 ; Regel Gartenfl. t. 85. T. stricta Lindl. in Bot. Reg. t. 1338. T. rosea Lindl, in Bot. Reg. t. 1357. T. recurvifolia Hook. in Bot. Mag. t. 5216. Anoplophytum aeranthos, dianthoideum, and roseum Beer. Pourretia aeranthos Lois. Amalia aerisincola Bahi. - Leafy stem short or produced to a length of a few inches. Leaves crowded, falcate, linear- acuminate, 3-4 in. long, ¼ - 1/3 in. broad at the dilated base, very rigid in texture, densely lepidote all over. Peduncle 3-4 in. long; bract-leaves with long erect linear rigid points. Inflorescence a moderately dense simple multifarious spike 1-1 1/2 in. long; flower-bracts oblong, acute, pale red, scariose, ½ - ¾ in. long. Calyx 2 in. long. Petals lilac or white, half as long again as the calyx. Capsule-valves lanceolate, an inch long.
Hab. South Brazil, Uruguay and Argentine region. Scarcely distinct specifically from T. stricta.

From Mez 1935 treated as synonyms see above
311. T. dianthoidea Rossi, Cat. Modoet. 1825, 79, t. 1; Tenore in Atti Accad. Napoli V. I. (l843) 251, c. ic.; Andre in Rev. Hortic. LXXVII. (1905) 463 c. tab.; Castellanoa in Physis X. (1930) 85, t. 1. – Anoplophytum dianthoideum Beer, Bromel. (l857) 41. – Tillandaia stricta Lindl. (non Sol.) in Bot. Reg. XVI. (l830) t. 1338. – Pourretia aeranthus Loisel. Herb. Gen. Amat. V. (1816-27) t. 307. – Tillandsia aeranthus Desf. ex Steud. Nomencl. ed. 2. II. (1841) 687. – Anoplophytum aeranthus Beer, Bromel. (l857) 40. – Amalia aeris-incola Hort. ex Roem. et Schult. Syst. VII. (l830) 1206. - Plus minus cau¬lescena, usque ad 0,25 m alta. Folia exteriora arcuatim decurva reliqua suberecta, usque ad 0,14 m longs, super, vaginam ad 13 mm lata, inde in apicem subulatum sensim angu¬stata, valde canaliculato-concava, sicca plus minus subulato-involuta, dense appresse lepidota, rigidula. Scapus tenuis, ad 0,1 m longus, vaginis submembranaceis, late obo-vatis, perlonge acuminatis, apicem versus lepidotis, subinflatis perdense indutus. In-florescentia simplicissima, quaquaverse florigera, subpauci-(5-20-)flora, densius laxiusve breviter cylindrica, apice rotundata, usque ad 55 mm longa et 35 mm lata; bracteis latissime ovalibus, apice mucrone imposito rotundatis, sepala longe superantibus, glabris, prominulo-venosis, ad 20 mm longis. Flores ad 24 mm longi, erecti vel suberecti; sepalis glabris, antico fere libero, posticis fere usque ad 2 mm ab apice connatis, paullo inaequilongis, ovato-lanceolatis, longe acutis, ad 17 mm longis. Petala saturatissime violacea, ad 23 mm longa; laminis ellipticis, acutiusculis vel subrotundatis, per anthesin subpatentibus. Stamina e corollae fauce vix emergentia, quam stylus braviora, antheris apice obtusis.
Uruguay (Andre, Lorentz Fl. Entreriana n.483, 641, 1706, Osten n.3323,Stelsner n. 1510, Tweedie); Montevideo (Arechavaleta n. 1091, l863,. 2613a, Courbon n. l03). Paraguay (Gibert n. 1091). Argentina: Misiones (Miers n. 1362), Prov. Tucuman (Schnyder n. 2), Buenos Aires, Cementerio de la Chacarita (H i c k e n), Barracas al Bud (Venturi n. 237), Isla Forges (H i c k e n), Cruz Colorada (Castellanoa), Isla Martin Garcia (Castellanoa), San Isidro (Castellanos n. 29/507), Punta Lara (id. n. 29/500), Vuelta de Obligado (Juradon. 29/508) ; Catamarca, La Guardia (Agusti n. 1601). - In Kultur.

312. T. microxiphion Baker in Bot. Mag. CXIX. (l893) t. 7320. - Perlonge caulescens, usque ad semimetralis. Folia caulem densissime quaquaverse vestientia, ad 45 mm longa, super vaglnam usque ad 4 mm lata inde in apicem subulatum sensim angustata, bene canaliculata, utrinque lepidibus appressis incana, rigidula. Scapus brevis quidem sed tamen foliis fere duplo longior, vaginis inflatis, e1lipticis, inferioribus breviter laminatis superioribus acuminatis, internodia bene superantibus indutus. Inflorescentia simplicissima, quaquaverse spicata, pauciflora, subcorymbosa, ad 0,25 m longa; bracteis membranaceis, venoso-lineatis, erectis, glabris, ex elliptico acutiusculis, sepala optime superantibus. Flores ad 20 mm longi, fere omnino sessiles; sepalis membranaceis, sensim peracutis, valde inaequalibus antico vix 10 mm longo libero, posticis binis ad 12 mm longis fere apicem usque connatis, glabris, venoso-lineatis. Petala saturate violacea, sepalis fere duplo longiora, apice suberecto-patentia rotundata vel minute emarginata, genitalia e fauce emergentia longe superantia.
Paraguay: bei Caaguazu (Hassler n. 9148). - Durch Andre aus Montevideo (Uruguay) lebend eingefuhrt.
Nota. Huic aliquantulum accedit:
Tillandsia triflora Vell. Fl. Flumin. III. (1827) t. 134. – Diaphoranthema triflora Beer, Bromel. (l857) 155 -, monstrum ineptissime delineatum, cujus et radices et caules omnino impossi¬biles. Ramos floriferos cum foliis pro Sodiroa aestimares, quod genus florae Fluminensi omnino alienum.
314. T. bicolour Brongn. (non alior.) in Duperrey, Voy. Coquille Bot. (l829) 185, t. 36. – Anoplophytum bicolour Beer, Bromel. (1857) 41. - Manifeste caulescens, ad 0,15 m alta. Folia inferiora deflexa media superioraque suberecta, usque ad 0,11 longa, e vagina brevi in apicem subpungentem sensim angustata, valde canaliculata, rigidula, perappresse lepidota. Scapus tenuis, usque ad 80 mm longus, dense vaginis membranaceis, ovalibus, in acumen longum tenueque lepidotum viride productis, quam internodia multo longioribus, atricte erectis imbricatim indutus. Inflorescentia simplicissima, quaquaverse florigera, folia bene superans, pauci-(5-8-)flora, breviter cylindrica vel subcorymbosa, usque ad 40 mm longa; bracteis amplis, membranaceis, late ovato-ovalibus, apice mucrone imposito rotundatis, sepala aequantibus. Flores erecti, ad 23 mm longi; sepalis 13 mm longis, antico libero posticis ad 3,5 mm ab apice connatis, tenuibus, pellucidis, antico acuto posticis subrotundatis vel breviter acutis, ad 13 mm longia. Petala saturate violacea, usque ad 22 mm longa, laminis ovalibus, per anthesin subpatentibus, acutis vei acuminulatis. Stamina e petalorum tauce vix emergentia, stylum subaequantia.
Brasilien : Staat Sta. Catharina, bei Blumenau (F. Muller), ohne Standorts¬angabe (D' Urville) ; Staat Rio Grande do Su1, bei Ferromecco (Kunert), bei Porto Alegre (Reineck), ohne Standortsangabe (Sellow n. 2229 et Bromel. Paris. n. 92, 93). Uruguay: Montevideo . (King). Argentina : Territ. Misiones (Miers n. 1361).



---

Subject: Re: blooming bergeri
To: BROM-L@NIC.SURFNET.NL April 2005
This non flowering T. bergeri is one of the real curses of my life. Nearly every 2nd garden in Capetown has one hanging in a crotch of a tree somewhere as it's so easy to split up & hand around. Unfortunately every one thinks the Tillandsias don't flower because of it & are reluctant to commit to buying more. There is another variety I have which does flower relatively freely. I guess these spp with a wide distribution have developed different flowering triggers relative to the originating environment.

While on the T.bergeri/aeranthos grouping, here is a T. aeranthos tale for you.
Some time back I had a middle aged woman visit my nursery on a holiday from Kenya who got very excited when she saw the T. aeranthos flowering . She told me how her grandfather emigrated from the Eastern Cape region of South Africa to Kenya immediately after the Boer War - say about 100 yrs ago - taking the whole family up through Africa with an ox wagon..The trek took one year to complete & he carried a big clump of T.aeranthos hung up from the top bow of the wagon the whole way. When they arrived & set up their new farm this clump was progressively divided amongst the family as it grew as an ongoing heirloom. She was the last of the line left in Kenya & her clump had succumbed to an attack of white ants so she was very happy to find it again to carry on with.
It makes you wonder how long some of these things have been around. I think its a lovely image of a big old wagon, with its span of oxen, slowly lumbering over the veldt & a big clump of Tillandsia swaying from the Wagon hoop.
Regards
Glenn Breayley, Valhalla Bromeliads
Spes Bona, 8 Riverside Terrace, Hout Bay, 7806, Capetown, South Africa.

---
Tillandsia aeranthos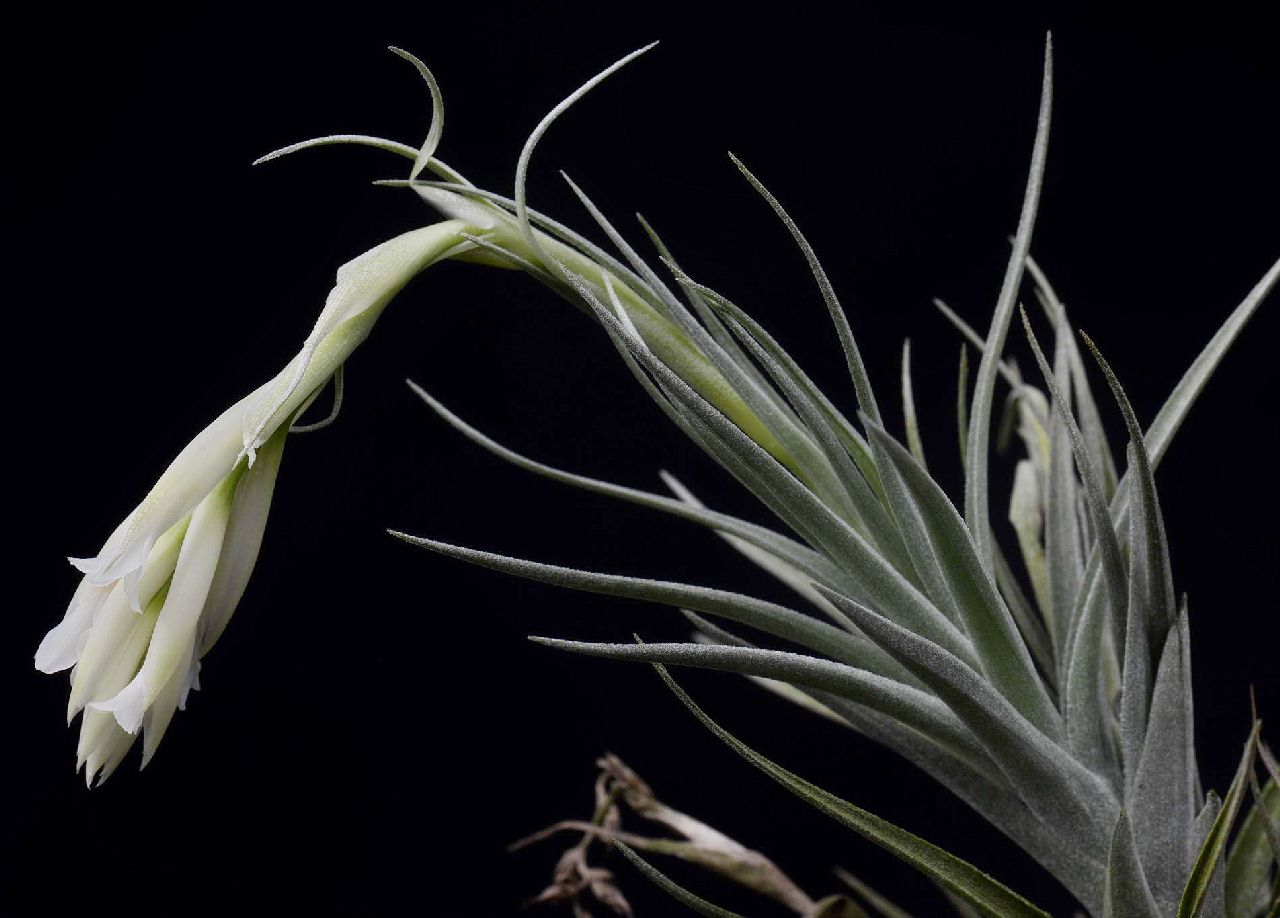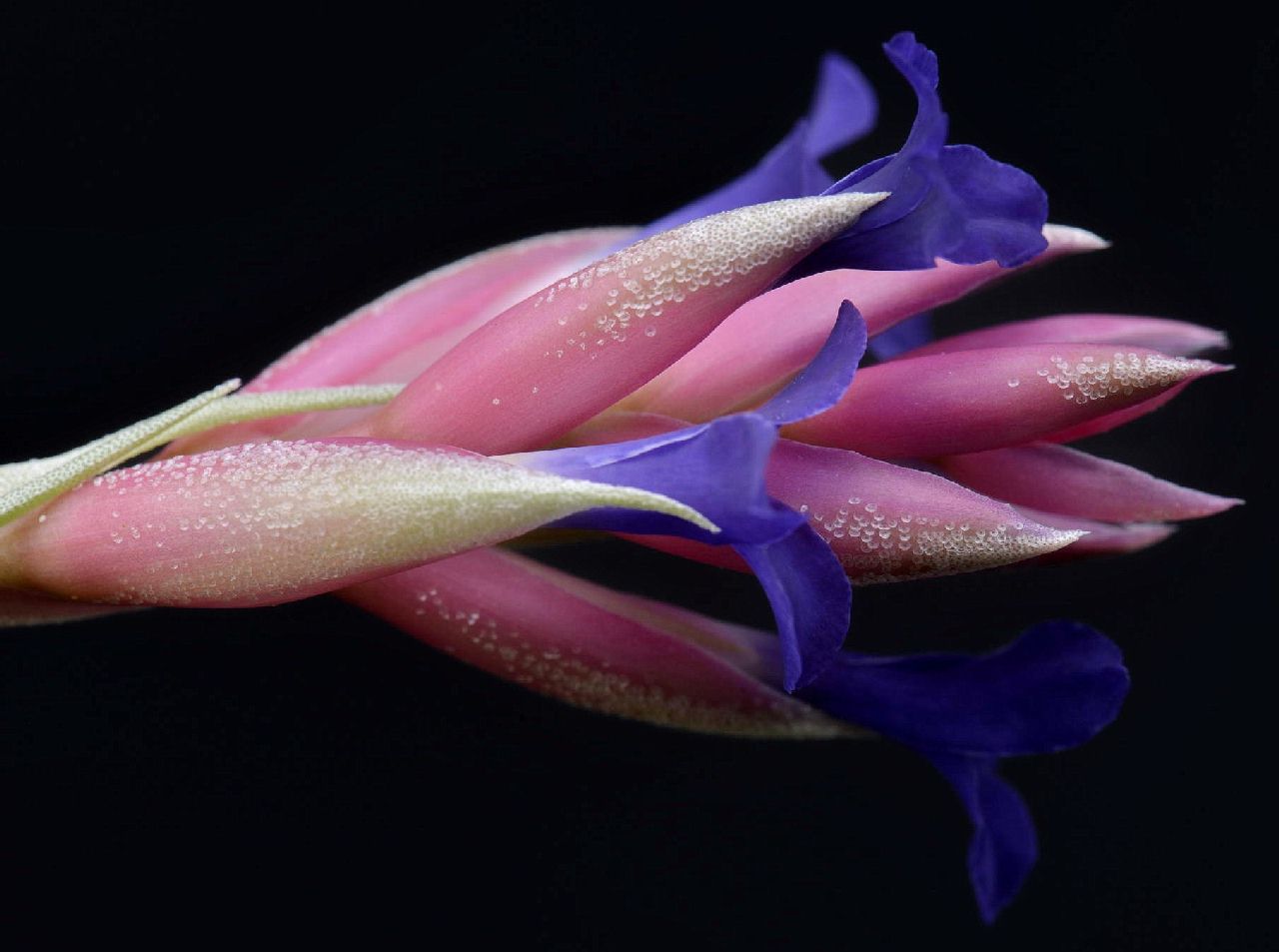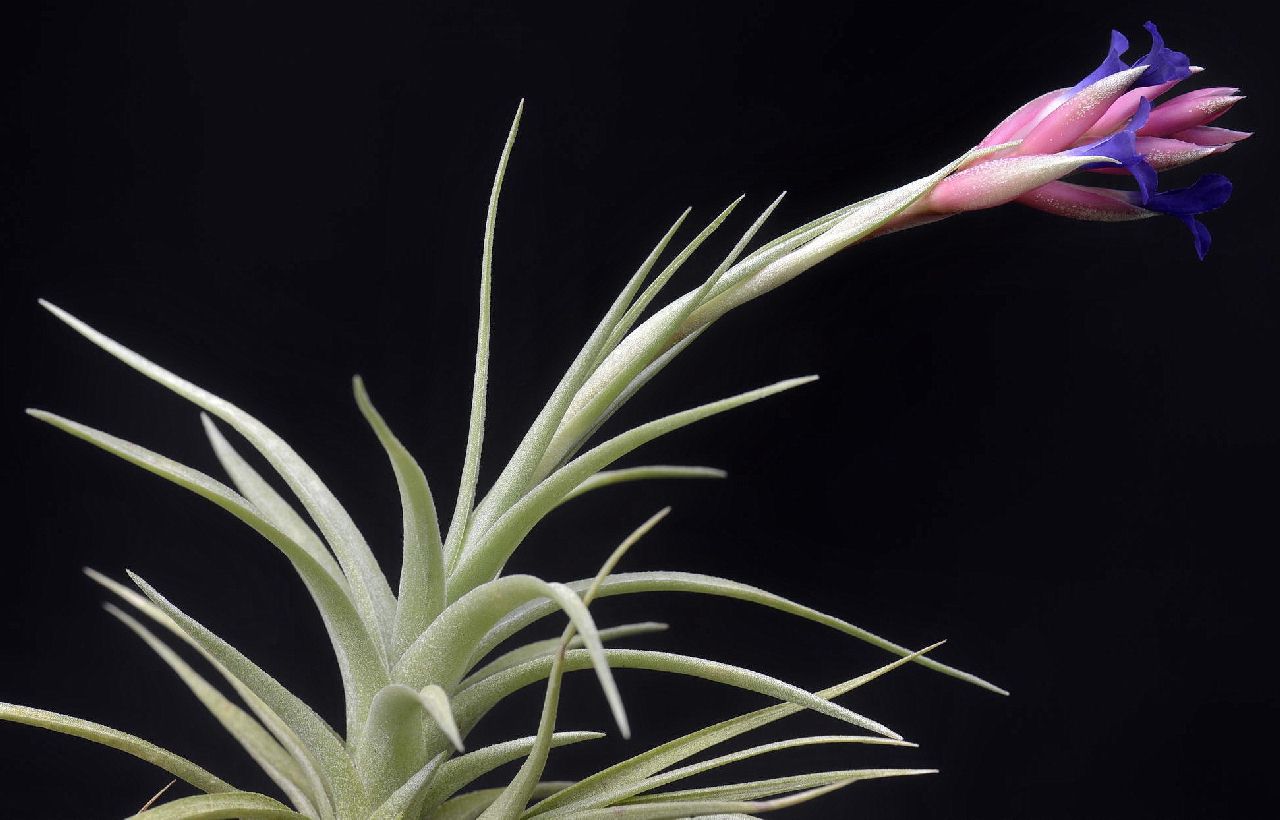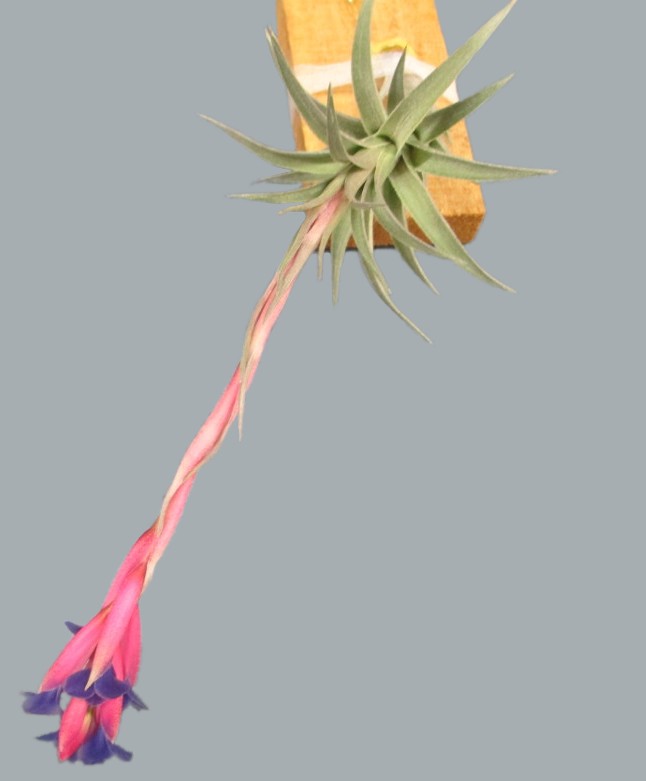 | | | |
| --- | --- | --- |
| Peter Tristram 09/15 var. alba (Holm) | Peter Tristram 09/15 v. Major | Bob Hudson 09/15 |
Peter Tristram ... "It's blooming time for many delightful Brazilian species. One is T. aeranthos, which sure seems to come in many forms, though I suppose some might morph into T. winkleri, jonesii and the like. The original ones imported many moons ago seem to be the more coastal, epiphytic forms that Luis Varella often photographs. We used to always get these, always with pink bracts and deep bluish-purple flowers, so I assume many of the earlier aeranthos hybrids must have used this type. Some of the larger forms were marketed as var. Major. More recently other plants that sure bloom like aeranthos but with harder, often purplish foliage and a very caulescent nature, have been imported, sometimes as araujei and tenuifolia. I know Barry has had a lovely small form for many years I think from BRT. There is also the 'Grisea' form that has been discussed a few times over the years and var. aemula. They are all very attractive and hardy Tills.
I'll start some posts with what must be coastal forms - an Alba form from Holm and a 'var. Major' likely from Tropical Imports (Frank Messina) in the early '80s. The multi-coloured form isn't blooming this year but it's on this web site to see, as well as previous posts."
Bob Hudson ... "This little beauty is one I recieved from Chris only a few weeks ago. We cannot flower aeranthos up here in the warmth, I think it was the change of temperature."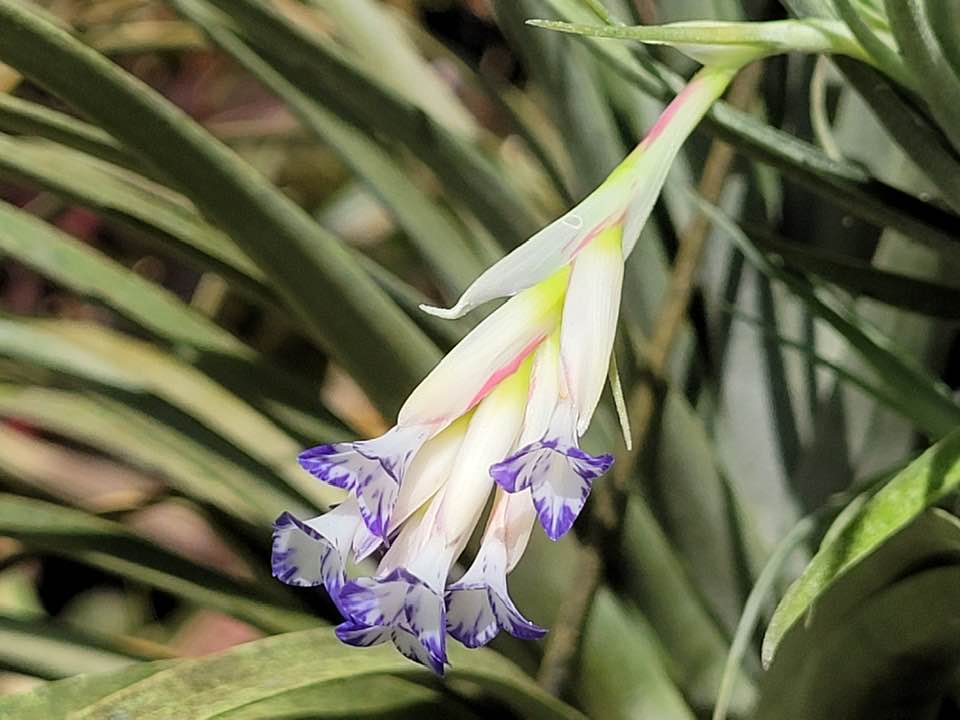 Peter Tristram 09/21 ex. Germany




Peter Tristram ... "This is a form of T. aeranthos and there's still only the one plant in Australia"

---

Tillandsia 'Aeranthos Major' by Cultivar Registrar in J Brom Soc 58(5): 221-224. 2008
By Derek Butcher.

This all started in March 2007 when newcomer Marc Turner from St Petersburg, Florida asked me about the differences between T. aeranthos and T. bergeri. He was having some difficulty with a problem specimen and needed assistance in telling the difference between the suspected species and some of their hybrids. He was not fully aware that hybridising between these species has been a favourite game of hybridists for many years. Few, if any attempts had been made to register their efforts and only two entries, both of Australian origin are in the Register, namely, 'Bergos' and Bob Whitman'. Most of the hybrids tend to retain more of the traits of T. aeranthos than T. bergeri, and it is important to remember that the close relationship of these species is indicated by their side-by-side location in Flora Neotropica illustrating their close relationship!

You may wonder about my combination heading. On learning about a T. aeranthos var. major growing in Florida I started checking and found a Tillandsia 'Major' and 'Minor' in the Cultivar Register. Shock! Horror! These are names that should be rejected under the ICNCP rules and I will be deleting them. The two words concerned were really nurseryman's names linked to T. disticha. We know that 'major' and minor' are favourite terms in a nurseryman's list but don't tell you much about identity, i.e., "How long is a piece of string?!"
Let us look at what Lyman Smith has to say in Flora Neotropica 1977. Under T. aeranthos we find as a synonym T. aeranthos var. major Marnier-Lapostolle Hortus, ined? which indicates that Smith did not know where this name was published. Therefore, this varietal name is invalid, but the plant can be named as a Cultivar. We also find T. dianthoidea as a synonym. More on this subject later.
Now for the crunch because I have said that T. aeranthos and T. bergeri are botanically very similar and yet in Bulletin du Museum National d'Histoire Naturelle 2 e serie, 19:352-353. 1947 we find (my translation!):
118. Tillandsia dianthoidea Rossi var. grisea Guillaumin. var. nova.
The scape bracts and the floral bracts are noticeably the colour of those of the type, the petals, instead of being an intense purplish blue (cfr. LOISELEUR - DESLONGCHAMPS: Herbier general de l'amateur, V, t. 304, Botanical Register, XVI, t. 1338, Revue horticole, LXXVII, p. 463), are of a dull slate grey, when one regards in minute detail, the many, and minuscule purple points on a white base very lightly tinted with blue (Marnier, f. 15, 1947) who had it at the Villa Thuret in Antibes for 7 or 8 years.
Therefore, both var. major and var. grisea originated horticulturally with Marnier-Lapostolle.
T. dianthoidea var grisea was treated by Smith as a synonym of T. bergeri and yet, if you read this description carefully, it seems more likely to be a hybrid with close ties to T. aeranthos. The name 'Grisea' does not seem to have been used horticulturally in the USA but has been in Europe where it became attached to T. aeranthos confirming my view that this cultivar has more links with T. aeranthos, albeit, with 'grey' flowers. And to add to our woes there is a larger form in Europe with 'grey' flowers called T. aeranthos var. major.
We have reason to believe that 'Grisea' lives on in Australia as 'Nez Misso' because of its links with Germany!

Now to the translucent, pale-blue petalled plant in Florida called T. aeranthos 'Major'which is either linked to the species or a hybrid involving T. bergeri or even T. tenuifolia.
As you will have seen, problems have been caused by the lazy use of 'Major'. To encourage the use of proper Cultivar names and I would seriously consider removing this name, but through the years, its use has become entrenched in growers' minds. As such, I am recording a Tillandsia 'Aeranthos Major'in the Register only as a reference tool for people seeking to identify such a plant.
AND that's not all. Marc Turner in trying to find a photo on http://fcbs.org to match his plant came across 'Confusion'. Was this a coincidence? Let me relate what happened in Australia in 2004.
At the Tillandsia 'Conference' at Albury, Australia, Easter 2004 we were all agreed that 'Nez Misso' was the non-caulescent, sturdy leaved, grey petalled plant and was what Ken Woods was calling 'Grisea'. THE caulescent one with finer leaves and more bluish petals was known as 'Nez Misso' by Ken Woods but known as 'Bergeranthus' by Chris Larson! Ken decided it was appropriate to call this plant 'Confusion'. If there is a moral to this story it is that identification of cultivars can be a harrowing experience when you cannot prove clonal links!
T. aeranthos v. major was in Kent's (California) catalogue for the 1970's but is not sold in the current catalogues of Tillandsia sellers in California although there are other nurseryman's names used! It is not in Seidel's (Brazil) catalogues for the 1970's either. All roads seem to lead to Europe. While we have no proof, the plant grown in the USA could well be T. aeranthos x T. tenuifolia

---
Tillandsia aeranthos variations in the wild in Rio Grande do Sul.
Name

Floral bracts

Petals

var aeranthos

Red 2 cm long

Dark blue

var aemula

Red 2.7 cm long

Dark blue

var rosea

Red

Clear pink

.

red

white

.

pink

Dark blue

.

pink

Pale blue

.

pink

grey

var albeobracteata

Yellow green

Dark blue

var flava

yellow

white

.

yellow

Pale blue

.

orange

Dark blue

var alba

white

white

.

white

Dark blue

.

green

White, blue edged

.

mottled

Dark blue
---
Updated 25/09/21
---