Tillandsia Tawny Yellow / Maurie's crocata
Click thumbnails for full size, scaled to a new window.
---
Tillandsia Tawny Yellow
Unintentional hybrid of crocata and ?mallemontii. Reilly.R, Butcher.D.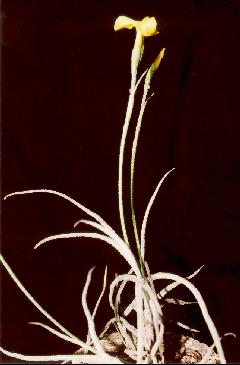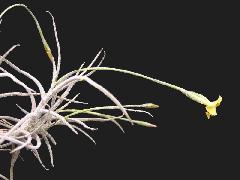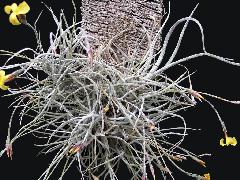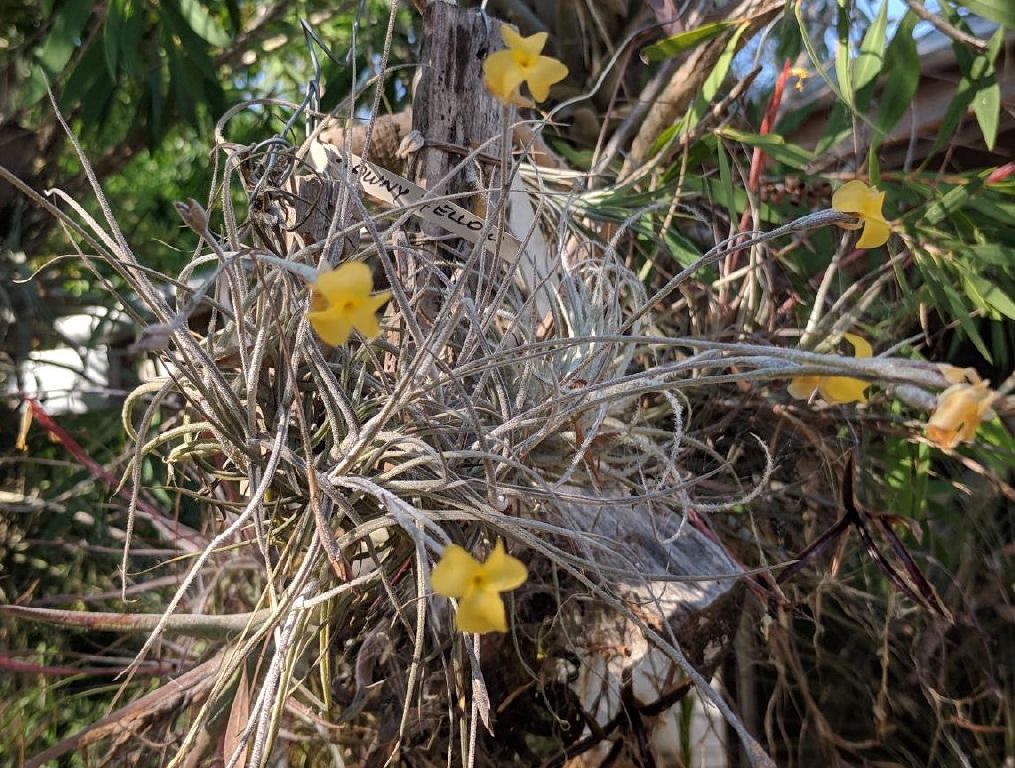 | | |
| --- | --- |
| Ken Woods 01/05 | Rob Bower 10/18 |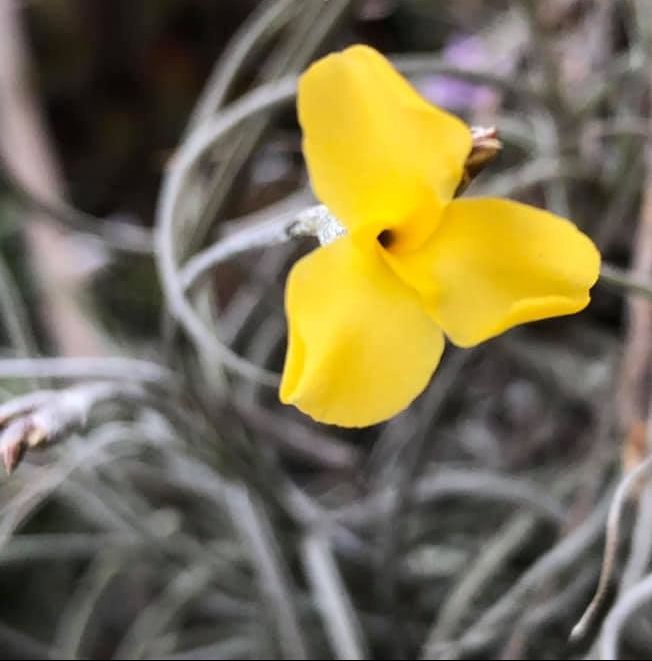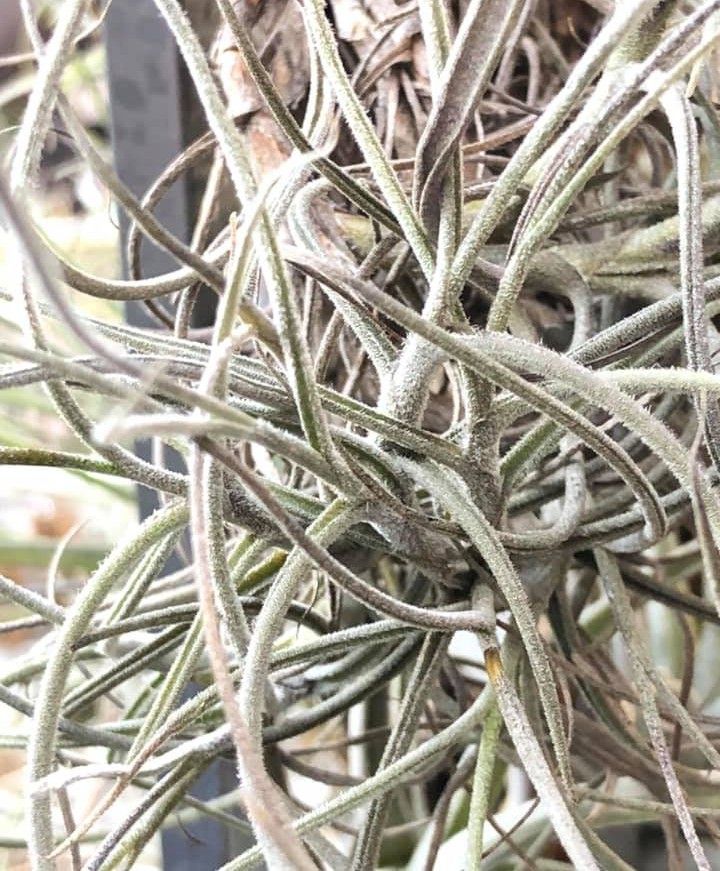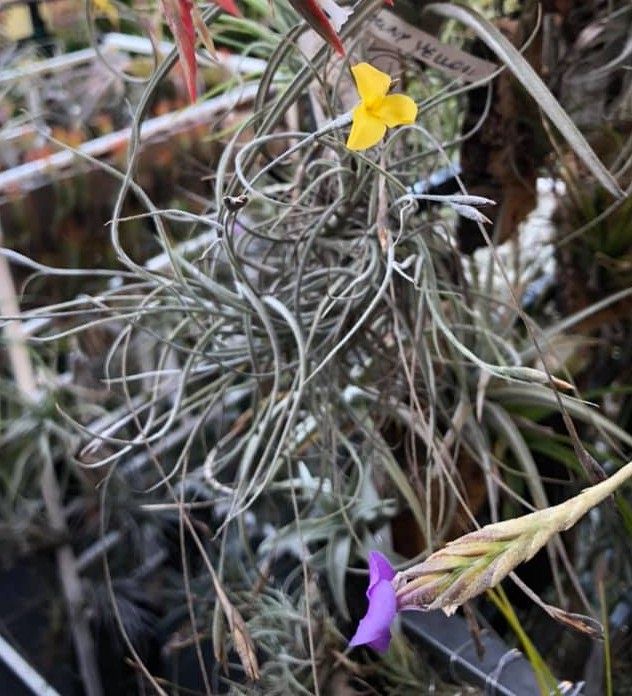 Dale Dixon ... "'Tawny Yellow' flowering today on our balcony. This beautiful little Airplant is a chance hybrid. The YellowFlower is derived from the highly fragrant seed parent T. crocata. The pollen parent is unknown but assumed to be the slender wiry-stemmed, purple-flowered species T. mallemontii, as it was quite prevalent in the collection where the cultivar originated."
Tillandsia Maurie's crocata
Hybrid of unknown parentage, from Maurie Kellett. * Provisional name only. See below.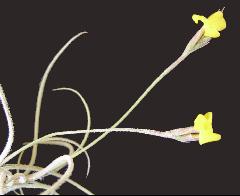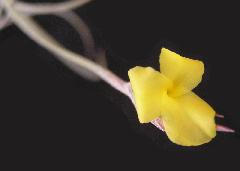 ---
TILLANDSIA 'TAWNY YELLOW' - By Derek Butcher
This started with Ken Woods of Sydney who sent me this very small Tillandsia with thin, almost erect leaves, about 5cm long. I also got a similar looking plant from Chris Larson of Melbourne. Both were cagey about the name! Both plants flowered in December 1998. The flowers were identical, being almost T. crocata size and colour, but with a brownish overlay. The leaves did not link with a "normal" T. crocata, so it appeared a hybrid was involved. Both Eric Gouda of Utrecht University and Walter Till of Vienna University confirmed hybrid status and both suggested T. crocata as being one of the parents. The other is in doubt because it would have to supply the traits of narrower leaves and brownish flowers. T. mallemontii was suggested, as was the long leaved forms of T. capillaris. Another interesting observation is that it flowers at the same time as T. virescens WT10234 which has extra large yellow flowers.
This discovery prompted telephone calls to my suppliers, who referred me over the border to Neville Ryan in Queensland. What they did not tell me was that the name on their label was originally Tillandsia crocata x mallemontii, but had either rubbed off or been forgotten! What was Neville able to advise? First he put me straight as to what should have been on the label, then he pointed out that the plants had come from Rolly Reilly as T. crocata. Because Rolly had many pieces of T. mallemontii in his collection Neville was of the belief that this was father. So if you have a T. crocata with thin, erect leaves similar to the photograph then I suggest you call it Tillandsia 'Tawny Yellow'. If you want comparative sizes, the plant is about 5cm high, with a total height when flowering of about 12cm. The flower is 1.5cm to 2cm wide when fully open, and has a delightful scent.
Fulham, South Australia.
Notes Dec 2007. Laurie Mountford has pointed out that this brownish tinge or spotting to the petals is not consistent and I am able to confirm this phenomenon. Sometimes you get a brilliant yellow.
---
Photo's transferred from 'Maurie's Mallemontii' page, which obviously were wrong.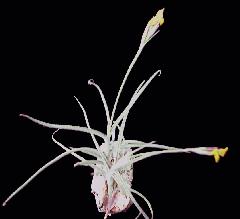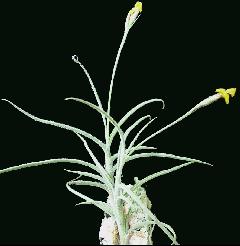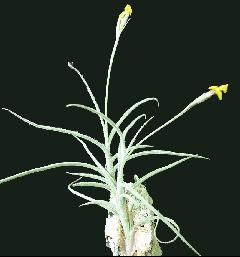 Ian Hook 12/07, ex. Ken Woods, probably 'Tawny Yellow'
---
Updated 11/04/19
---