Tillandsia Holm's White Star
Click thumbnails for full size, scaled to a new window.
---
Tillandsia Holm's White Star
recurvifolia (formerly meridionalis) x ixioides, B.Holm 1995
From BCR ... "Mature open rosette to 18 cm. diameter x 10cm. high. Widely recurved, long, channeled leaves which are solid, hard yet flexible, smooth and densely covered with tiny, adpressed silvery-white trichomes, more like T. recurvifolia. The inflorescence with a long arched peduncle has light pink to salmon, scurfy bracts and bears 6-8 yellow flowers. The inflorescence has darker pink bracts and richer yellow flowers than T. 'White Star' (Dimmitt) with reverse parentage. Registered by Tanja Richter, Germany"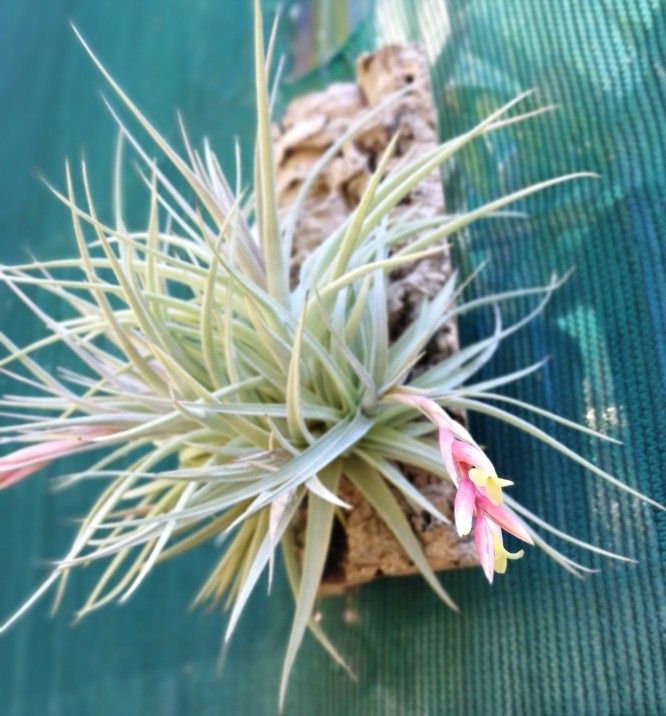 Justin Lee ... "This is a nice little Holm hybrid - recurvifolia X ixioides. I must check the BCR to see if it's been given a name."
Geoff Lawn ... "Yes, Justin, it's T. 'Holm's White Star'. See: http://registry.bsi.org/?fields=&id=13886&search=
It's a bit of a misnomer, with no white in it, but so named to distinguish it from the T. White Star (reverse cross) bred by Mark Dimmitt."
Chris Larson ... "The white in Dimmitt's plant, I think, refers to the foliage - as well as the star shaped foliage (coming from ixioides). Holm's plant is actually whiter, but less star shaped."

---
Updated 08/07/18
---