Tillandsia Bochil
Click thumbnails for full size, scaled to a new window.
---
Tillandsia Bochil
Natural hybrid schiedeana x seleriana?
From BCR ... In 1982 Renate Ehlers was collecting in Chiapas, Mexico near Bochil and collected EM8285 which she surmised to be T. schiedeana x T. seleriana. An offset of this plant got to Derek Butcher's collection in South Australia in 1996 and he was able to confirm that one parent was T. schiedeana and decided to give it a cultivar name of 'Bochil' but did not register the name. It was only when Derek was investigating the history of Tillandsia 'Jitotol' that he realised his omission. 7 years later Renate botanised the same area and again found T. schiedeana x T. seleriana! Now was the time to act and Derek Butcher is registering the name so that those who may have this plant will know a bit about its history. There does appear to be several natural hybrids growing in the area where T. bochilensis was found, and not necessarily with T. bochilensis.
Note added 22 Oct 2013 - Apparently the hybrid swarm can produce plants with violet petals.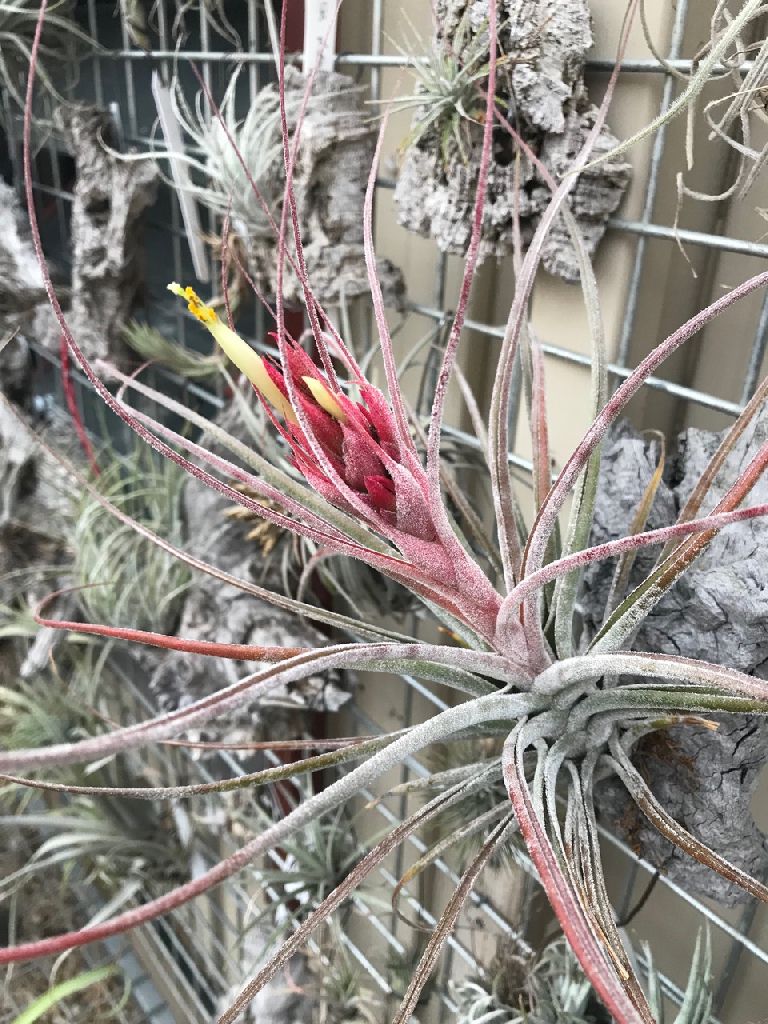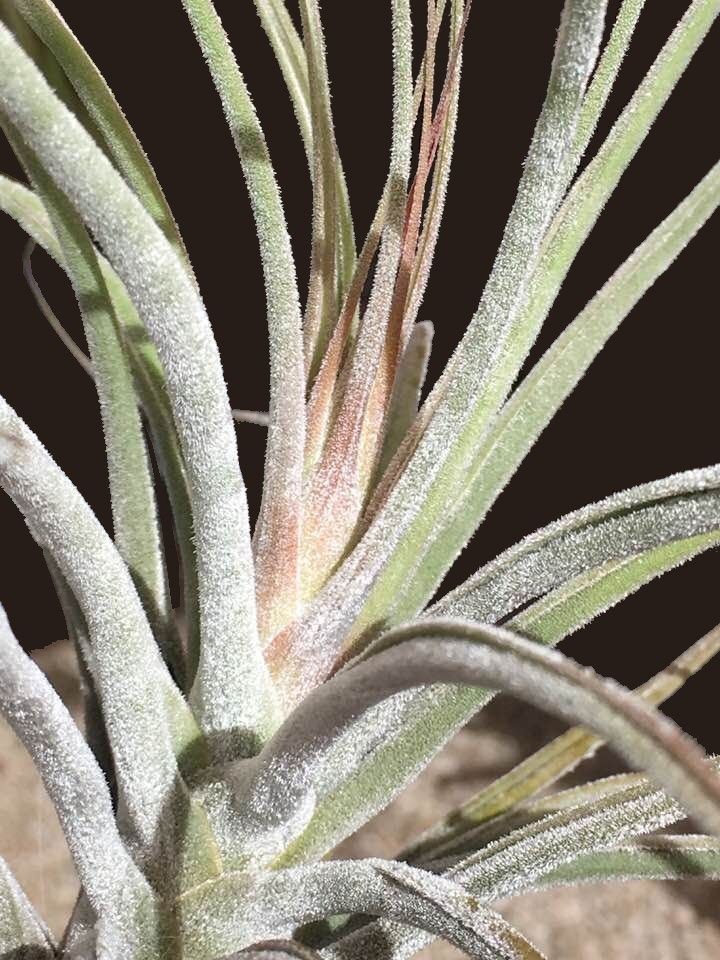 Ray Clark ... "Iím pretty pleased to be able to have flowered this plant today. It has been in spike since early July and got a nice surprise on my walk around the garden this morning."
Peter Tristram ... "Itís a ripper of a natural hybrid and has coloured up very intensely in the SA low humidity and sun. I have a yellow flowered one blooming too and somewhere I have the one with purple flowers as per the BCR. Name tags will now sport flower colour!"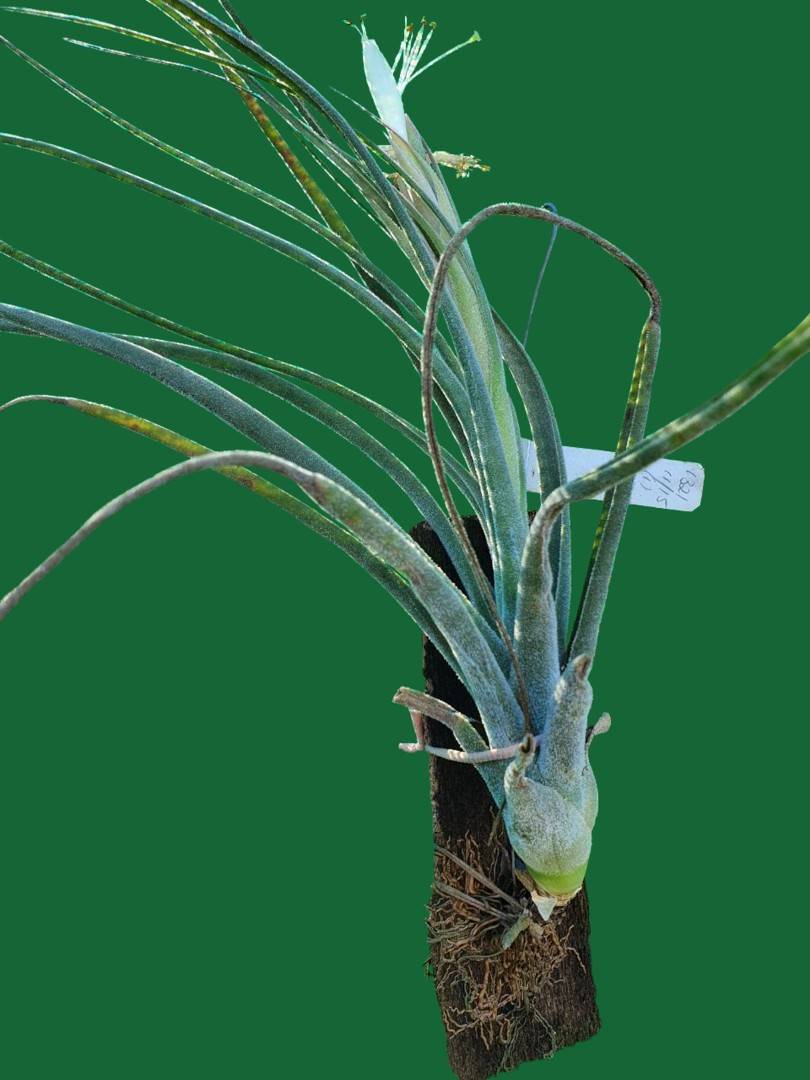 Pam Butler ... "This is a plant that I purchased from Maurice Kellett as a pruinosa hybrid.
The white flowers were a surprise. I would appreciate any suggestions."
Pam Butler ... "Chris has got back to me on this one and it is a natural hybrid from Bochil Chiapis. Thanks for everyone's suggestions."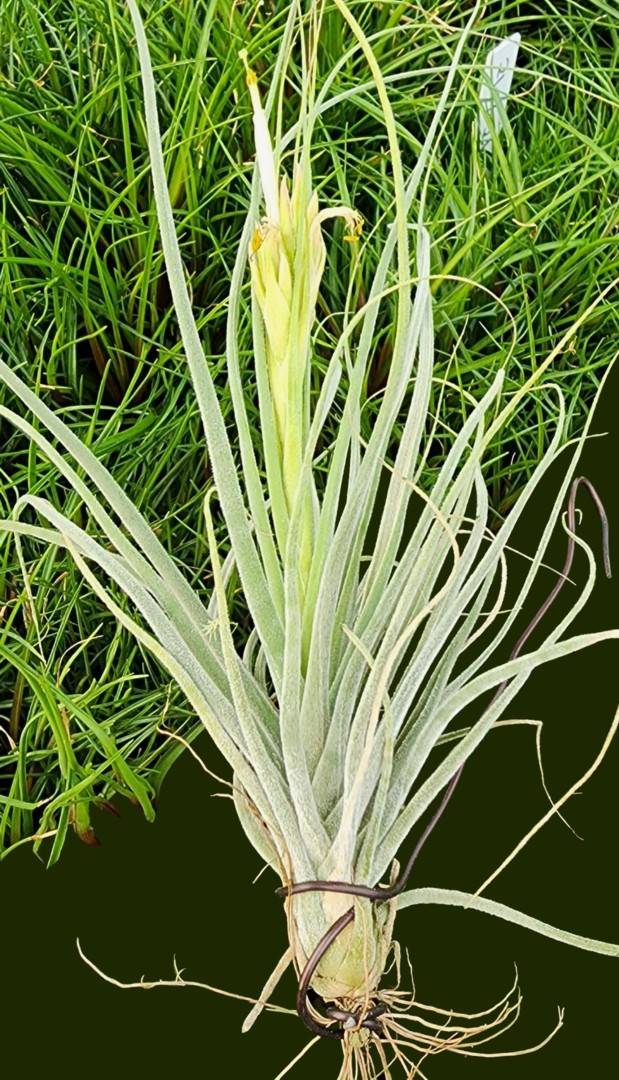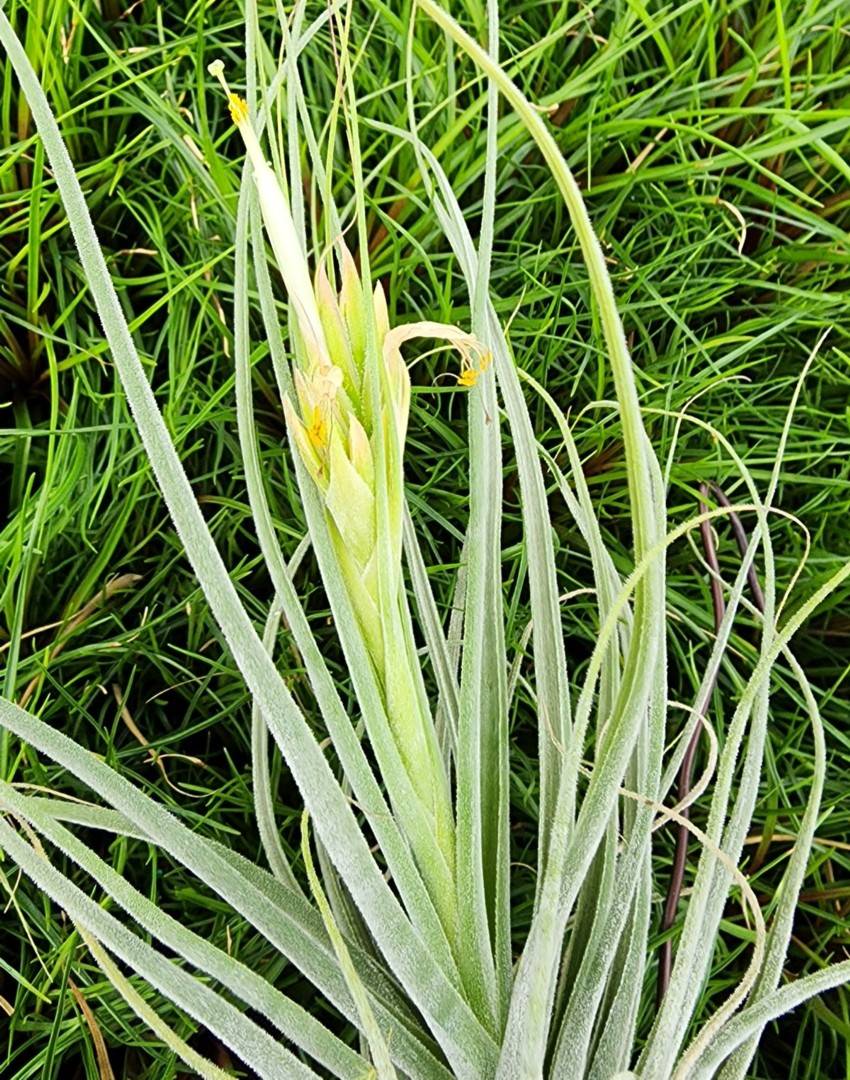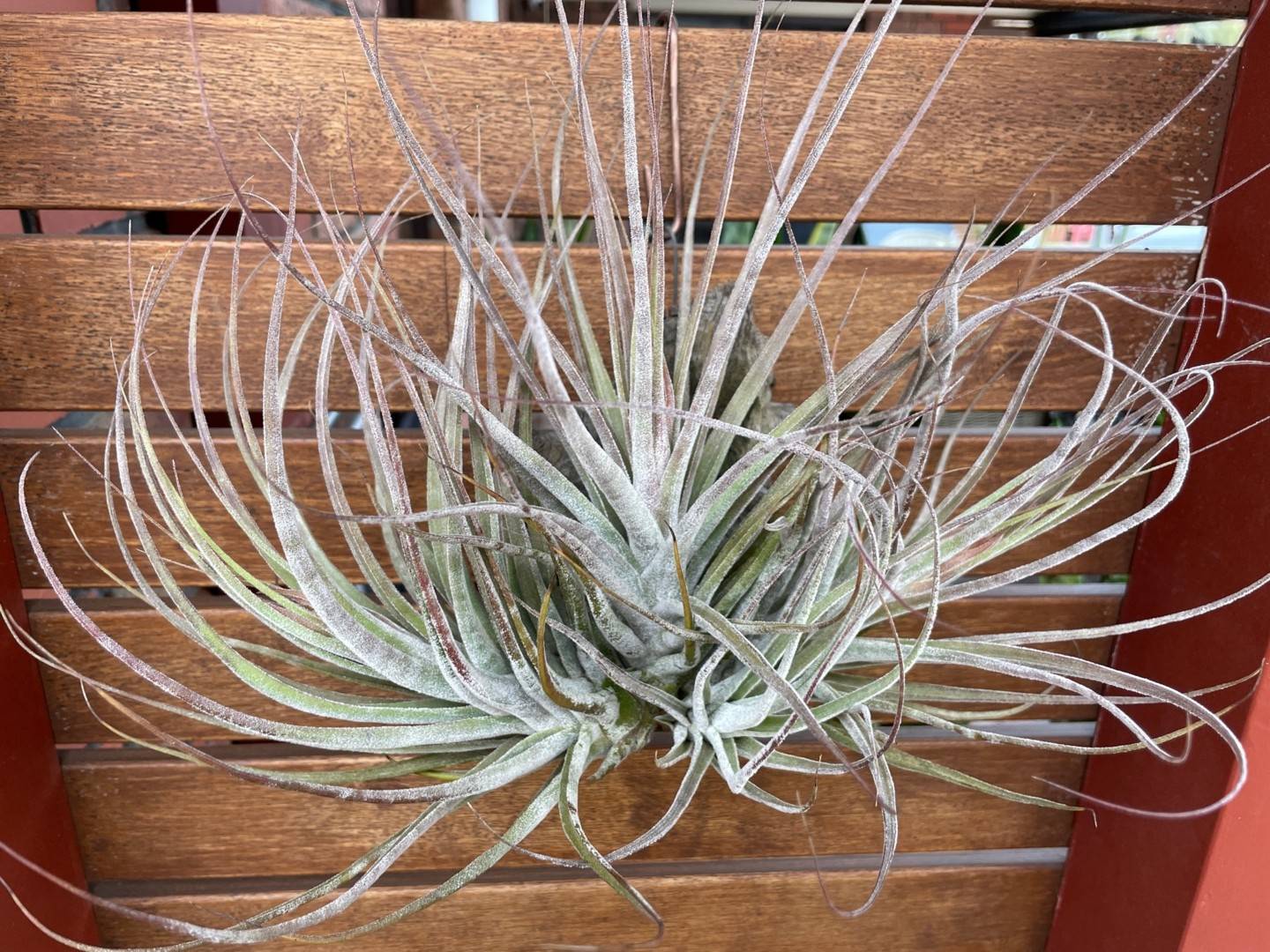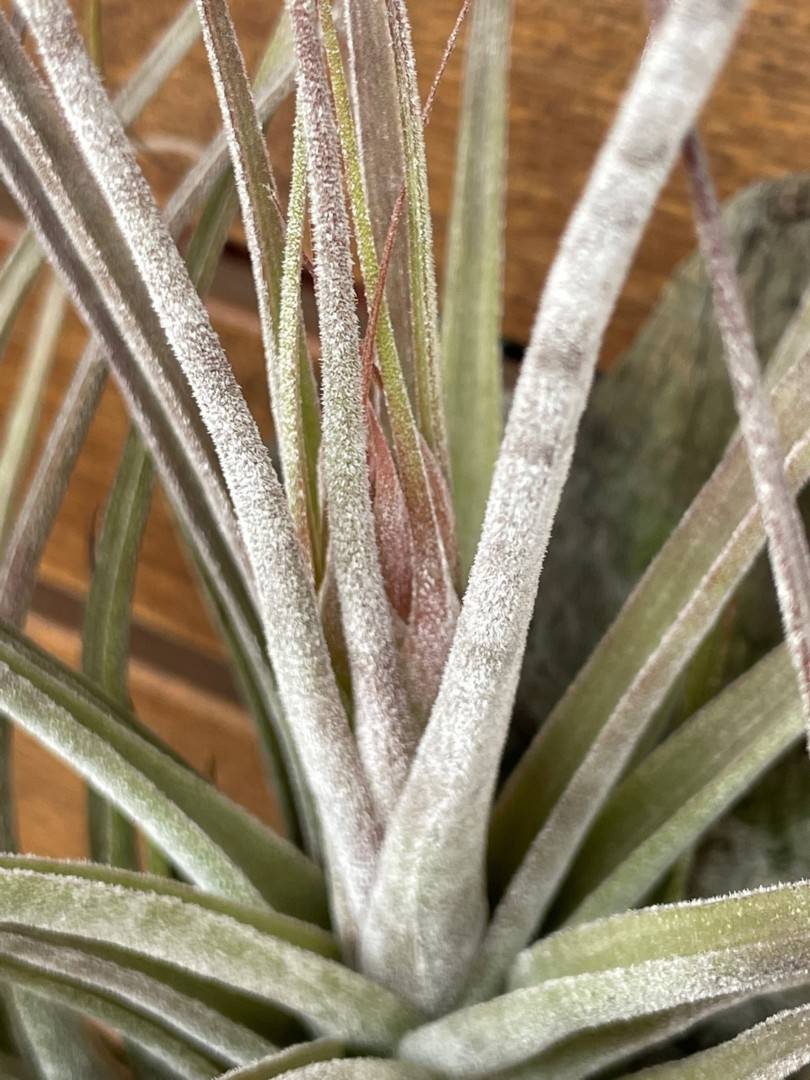 Chris Larson ... "I thought that I'd put this one up on this site as Pam still seems interested in getting to the bottom of it.
This one is ex Len Colgan - and Len and Maurice have always been close. My label is "T. hybrid, Bochil Chiapis, ex LC".
T. 'Bochil' is T. schiedeana X seleriana - but Ray's photo on 'Bromeliads in Australia' as T. Bochil is different to this.
However there are supposed to be some other natural hybrids in this region.
I am sure that I also have this plant with a formula somewhere. Possibly as an import Peter Tristram and I did.
I don't think we are to the bottom of it yet."
Peter Tristram ... "Hi Chris et al. Nice little plant! We have a few other forms, varying a bit, especially in flower colour. Now that my pc is fired up I'll look for some more pics."
Ray Clark ... "Here's my example of T. 'Bochil' (yellow form) ex Derek Butcher ex Renate.
The yellow form was added after the last time I posted to this site from memory.
Have a read of the link from the BCR Cultivar Register (registry.bsi.org)
I'll update you all when I see flowers. In the meantime Iíll check my files for previous flowering pics."
Geoff Lawn ... "Yes, it's probably linked to T. bochilensis, described by Renate Ehlers, discovered near Bochil, state of Chiapas, Mexico. See BSD on BSI website for full description and photos."

---
Updated 17/11/22
---