Ronnbergia columbiana
Click thumbnails for full size, scaled to a new window.
---
Ronnbergia columbiana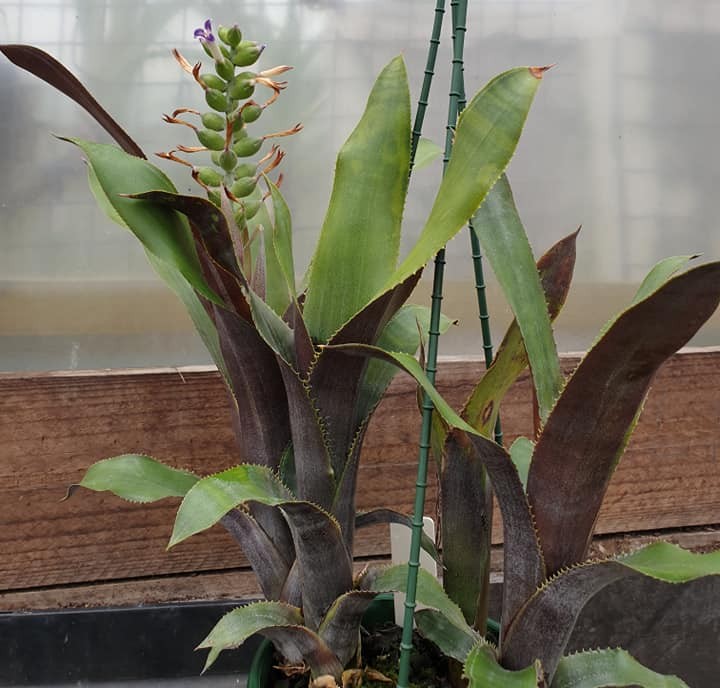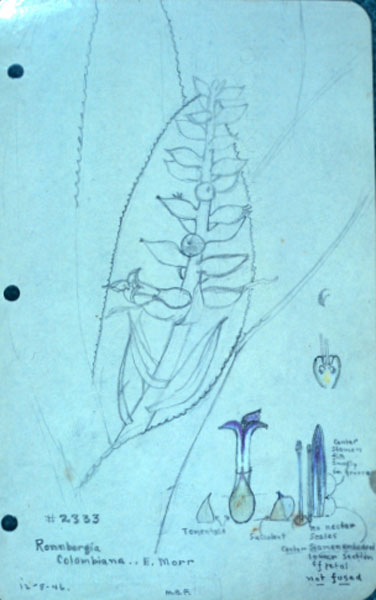 | | |
| --- | --- |
| Chris Larson 05/19 | Drawing by Foster |

Ronnbergia columbiana E.Morren, Belgique Hort. 35: 82. 1885; emend. E. Gross, Trop. Subtrop. Pflanzenwelt 79:30, fig. 16. 1991. See J Aguirre-Santoro, Plant Syst. Evol. DOI 10.1007/s00606-017-1394-y 2017
Quesnelia columbiana (E.Morren) Baker, Handb. Bromel. 87. 1889.-TYPE: Colombia, s.loc.,Feb to Mar 1882, Bull Hortus s.n. (holotype: LG [seen as high-resolution photograph] !).
Habitats: Edges or understory of lowland to montane humid forests.
Distribution area: Ronnbergia columbiana is found from western Colombia to the eastern slopes of the Andes in northern Peru at 0-700 m a. s. l.
Additional specimens examined: Colombia: Aguirre-Santoro 210 (COL).

Ronnbergia columbiana E. Morren emend. E.Gross, Trop. Subtrop. Pflanz. 79: 30-1. 1991
Plant stemless, flowering to 50 cm high, leaves few, erect, sheaths densely close together and forming a flask like rosette,
Sheaths 12-15 cm long, 8-10 cm wide, dense grey lepidote, upper side light violet green, underneath shiny violet brown,
Blade 30 cm long, 6 cm wide next to sheath, ligulate, broad rounded, with a short spiny tip, upper side green, with irregular dark green flecks, scattered grey lepidote, underneath violet brown, shiny, dense grey lepidote, strongly nerved, edges with brown, 1mm long teeth,
Scape 20 cm long, covered by the leaves, erect, green, dense grey lepidote,
Scape bracts erect, somewhat longer than the internodes, 4-5 cm long, 1.6 cm wide, long lanceolate, acuminate, green, dense grey lepidote,
Inflorescence simple, lax, 10 cm long, 5 mm wide, cylindrical, Rachis visible, green, dense grey lepidote,
Flowers 15-20, polystichous, sub-sessile,
Floral bracts three angled acuminate, 1 cm long, 7mm wide, green, grey lepidote,
Sepals asymmetric, succulent, 15 mm long, green, grey lepidote, short connate, with violet spiny tip,
Petals ligulate, acuminate, 4 cm long, claw 5 mm wide, platte spreading horizontal, red violet, white edged,
Stamen & Style shorter than the petals but visible, Filament flattened, Stigma white, twisted like a screw, Placentation apical,
Collection no. Rauh 20430 (Aug. 1967) HEID
Habitat and Range Peru, Dept. Amazonas, Nazareth, near 270m in dense rainforest.

Ronnbergia columbiana E. Morren, Belg. Hort. 35: 82. 1885.
Quesnelia columbiana (E. Morren) Baker, Handb. Bromel. 87. 1889.
Desc from S&D
Leaves about 8 in a funnelform rosette, 4 cm long, bearing brown impressed scales especially beneath, serrulate with spines 1 mm long,
sheaths elliptic, narrow,
blades ligulate, not at all petiolate, broadly acute and cuspidate, 25-48 mm wide, glaucous-green above, brownish purple beneath, subdensely serrulate with spines about 1 mm long.
Scape erect, stout, farinose especially toward apex;
scape-bracts imbricate, lanceolate, acuminate, green, membranaceous.
Inflorescence lax, to 6 cm long; rhachis tomentulose-lepidote.
Floral bracts ovate, acuminate, much shorter than the ovary or the lowest sometimes exceeding it, membranaceous, pale-lepidote;
flowers divergent.
Sepals mucronulate, to 18 mm long, short-connate;
petals 25-35 mm long, blades at length spreading, acute, purple with white margins;
stamens all free;
ovary subcylindric, stout, to 10 mm long.
Type. Bull Hortus s n (possible clonotype LG), without locality, Colombia, cultivated Feb-Mar 1882.
Distribution. Epiphytic, rainforest, 5-50 m alt, west-central Colombia.
COLOMBIA. Valle: La Trojita, Rio Calima, region of the Choco, 19 F'eb-10 Mar, 1944, Cuatrecasas 16311(F, GH); 30 km above Buenaventura, 8 Dec 1946, Foster 2333 (GH, US). Without locality, cultivated, Andre K-333 (K).
---
Updated 27/06/19
---