Puya venusta
Click thumbnails for full size, scaled to a new window.
---
Puya venusta
Species.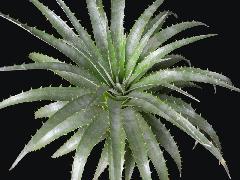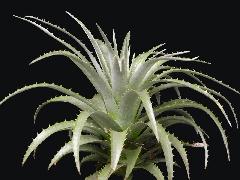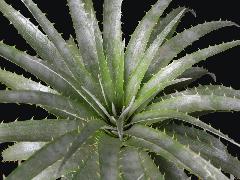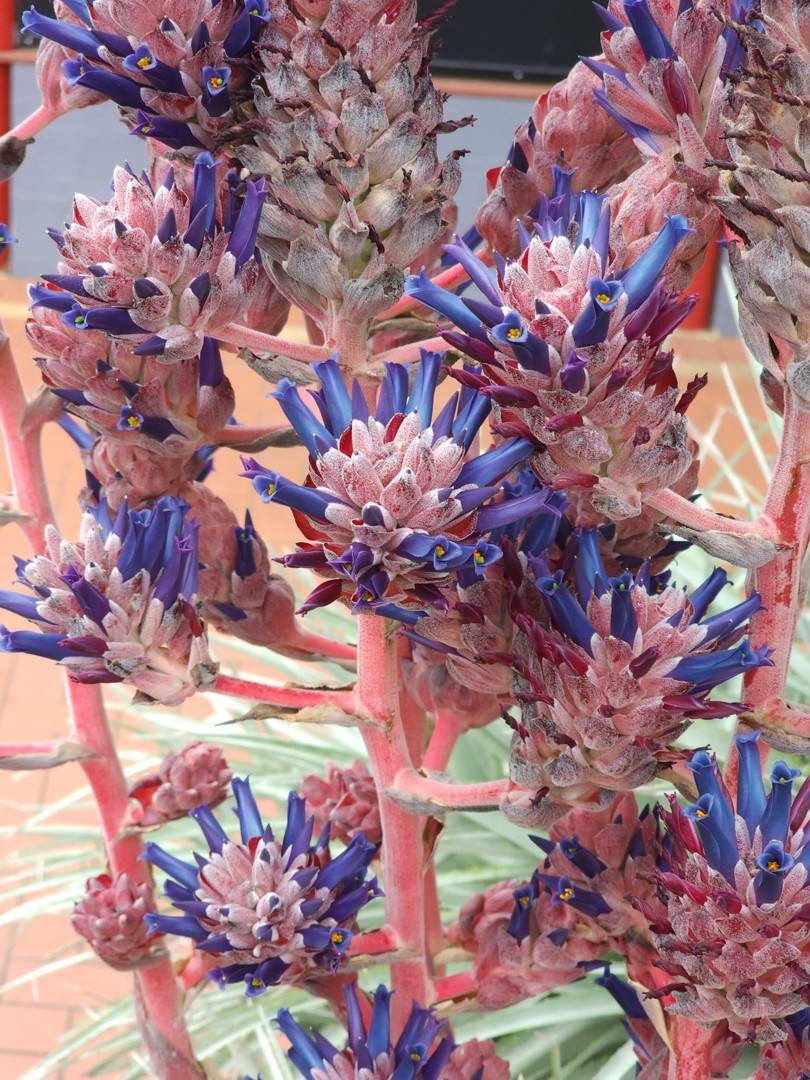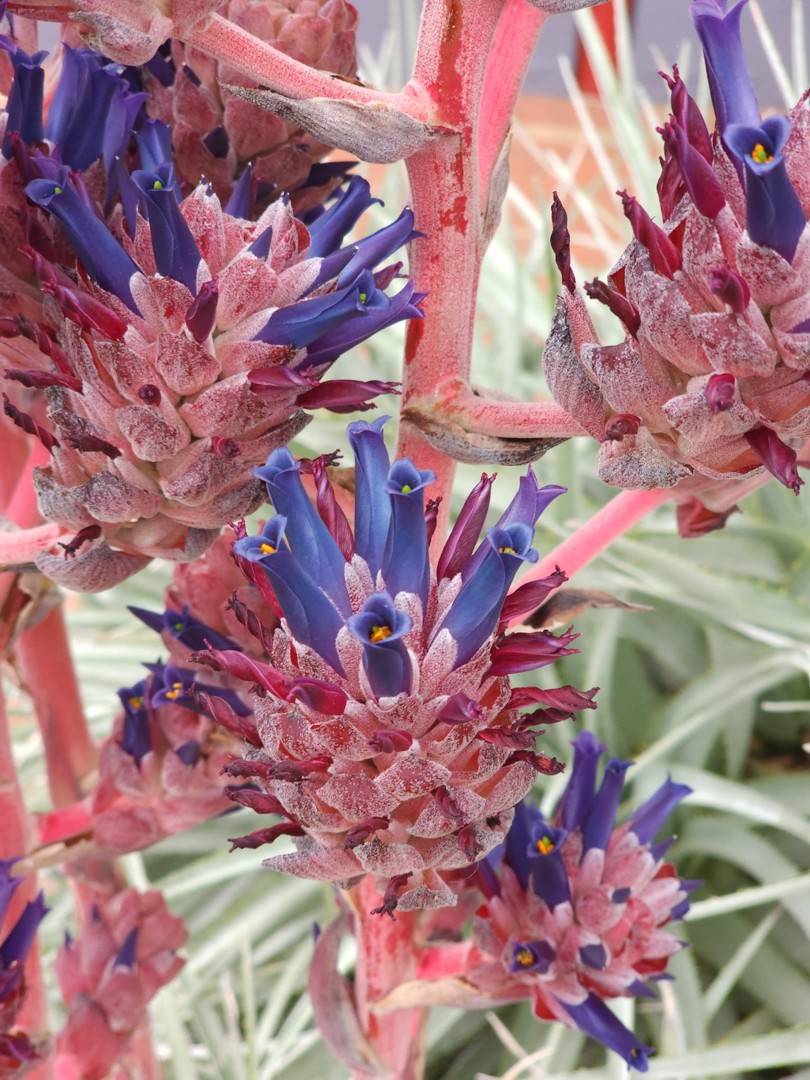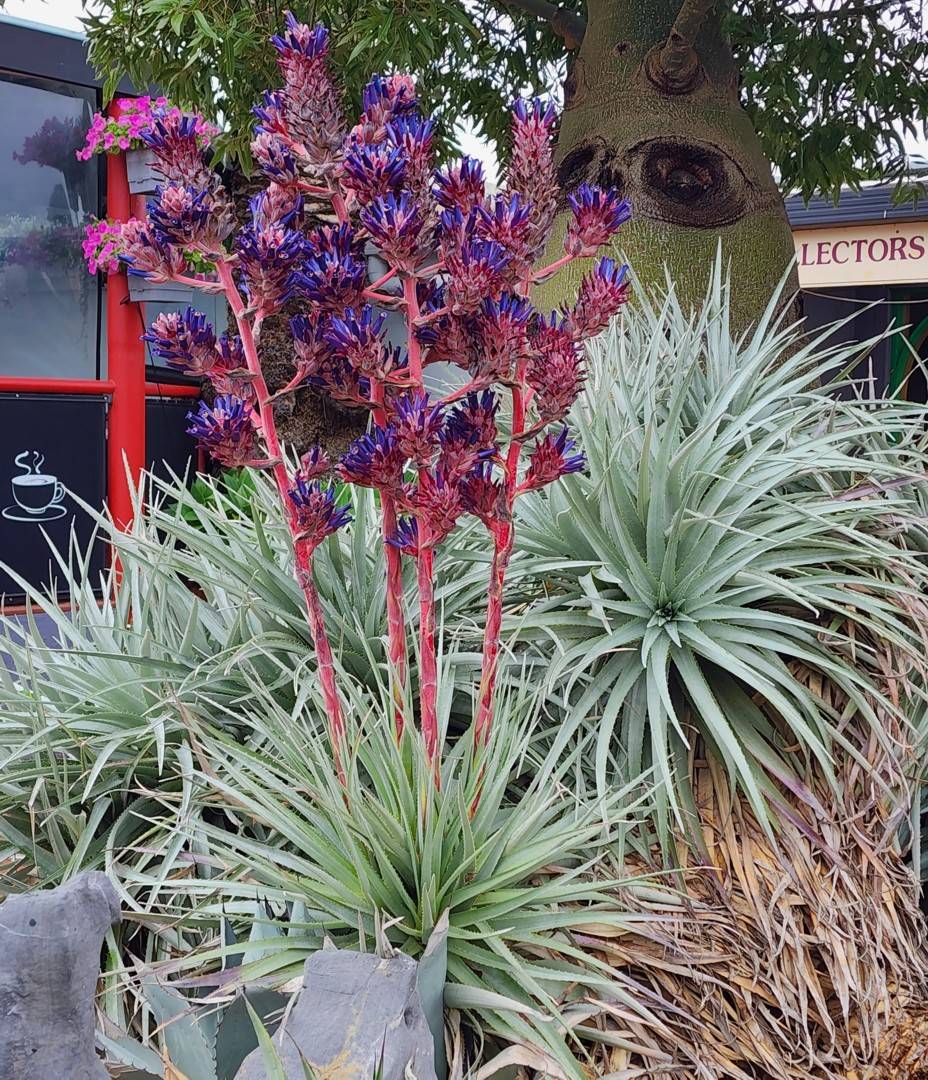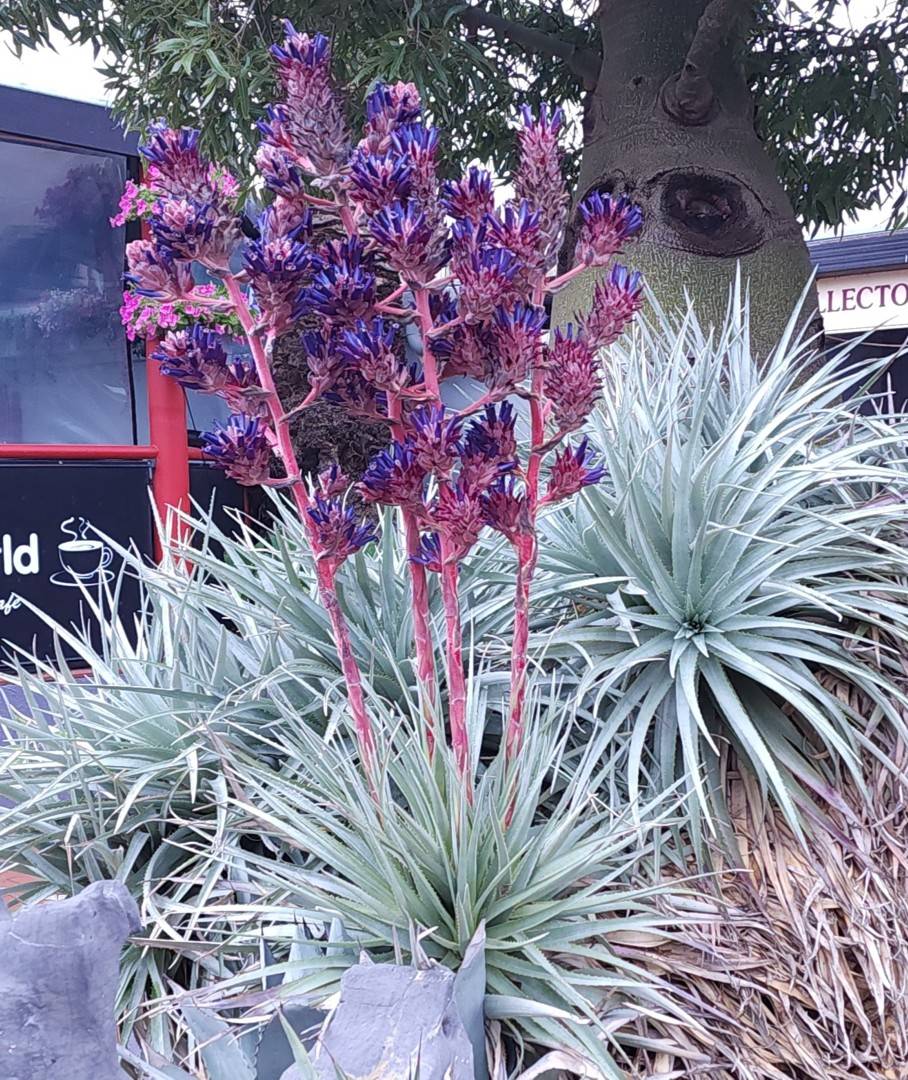 ---

Puya venusta Philippi, An. Univ. Chile 91: 613. 1895.
Puya venusta Philippi ex Baker, Handb. Bromel. 123. 1889; nom in synon.
Pitcairnia venusta Baker, Handb. Bromel. 123. 1889. Type. Coquimbo, Chile, Philippi 940 (B).
Pitcairnia sphaerocephala Baker, Handb. Bromel. 123. 1889. Type. Coquimbo, Chile, Gaudichaud 55 (P).
Puya coquimbensis Mez, DC. Monogr. Phan. 9: 492. 1896. Type. Coquimbo, Chile, Gaudichaud 52 in part (lectotype, B photo 11393F).
Puya gaudichaudii Mez, DC. Monogr. Phan. 9: 496. 1896. Type. Coquimbo, Chile, Gaudichaud 56 (P).

Desc from S&D
Stem branching, over 4 dm long, the flowering shoot less than 1 m high.
Leaves 3 dm or longer;
sheaths suborbicular;
blades 3 cm wide, densely appressed-lepidote on both sides, canescent, the marginal spines stout, uncinate, 5-7 mm long.
Scape erect, 15 mm in diameter at base, lepidote when young, soon glabrous;
scape-bracts triangular-ovate, acuminate, laciniate-serrate, deep red-violet.
Inflorescence either simple and strobilate or compound with several spiciform lateral racemes; terminal or only raceme globose to short-cylindric, to 12 cm long, the lateral racemes with much fewer flowers than the terminal, spreading, to 10 cm long including the long stipe, dense;
primary bracts like the scape-bracts, mostly shorter than the axillary branches.
Floral bracts densely imbricate, elliptic, broadly rounded and apiculate, 35 mm long, equaling or exceeding the sepals, thin, deep red-violet, entire or the lowest with a few small teeth;
pedicels 7 mm long, slender, tomentose.
Sepals oblong, obtuse, 15-20 mm long, tomentose-lepidote at least when young;
petals narrowly elliptic, obtuse, to 35 mm long, deep violet, bearing 2 vertical appendages near the base;
stamens and pistil slightly shorter than the petals.
Capsule globose, shorter than the sepals.
TYPE. Philippi 940 (holotype, B), near Coquimbo, Chile.
DISTRIBUTION. Coastal rocks and sand, 5-30 m alt, Coquimbo and Aconcagua, Chile. CHILE. COQUIMBO: Near Coquimbo, Gaudichaud 53 (P; photo, GH); 1929, Elliott 543 (GH, K); 1934, Montero 1869 (Looser); 1935, West 4573 (GH); Quebrada del Buitre, east of Estacion Ingeniero Barriga, 10 km north of Quilimari, 14 Oct 1948, Looser 5498 (US). ACONCAGUA: Zapallar, 1932, Looser 2537, 2542-4 (GH, Looser), 20 Nov 1932, 2545 (Looser, US), 1932, 2548 (GH, Looser). WITHOUT EXACT LOCALITY: cultivated, Jun 1962, Marnier-Lapostolle (US).

From Baker 1889
129. P. VENUSTA Baker.
Puya venusta Philippi inedit.
Leaves ensiform, rigid, a foot long, 0.75-1 in. broad low down, tapering gradually to the point, green and glabrous on the face, armed with large hooked spreading spines. Peduncle under a foot long; bract-leaves ovate, scariose. Inflorescence a deltoid panicle a foot long, with dense oblong racemose branches; flower-bracts broad-ovate, acute, scariose, an inch long; pedicels stout, 0.25-0.33 in. Sepals lanceolate, 0.5-0.75 in. long. Petals shortly protruded, much twisted after flowering. Capsule subglobose, shorter than the calyx, with 3 brown septicidal valves split down the back.
Hab. Chili, in the provinces of Coquimbo and Aconcagua, Gaudichaud, 54!
53! Cuming 894! Philippi 940 !

130. P. SPHAEROCEPHALA Baker.
Nearly allied to P. venusta; heads of the panicle dense, the end one oblong, 3 in. long, 2 in. diam., the side ones few, globose, 1.5 in. diam., on short spreading peduncles; flowers subsessile; flower-bracts small, ovate. Sepals lanceolate, 5/8 – 3/4 in. long. Petals less than twice as long as the sepals. Capsule septicidal, shorter than the calyx.
Hab. Chili ; province of Coquimbo, Gaudichaud 55! (Herb. Mus. Paris.).

From Mez 1935
38. P. venusta Phil. ex Bak. Bromel. (1889) 723.
Pitcairnia venusta Bak., l. c.
Pitcairnia sphaerocephala Bak., l. c.
Statura perconspicua. Folia innumera, ad 0.8m vel ultra longa, 30mm lata, spinis ad 5mm longis horrida, utrinque appresse lepidota canescentia. Inflorescentia multiflora, subpyramidata, ample 2-pinnatim panniculata, ad 0.4m longa et 0.2m diam. metiens; ramis primum dense breviterque ferrugineo-tomentellis demum glabratis, ad 0.1m longis, optime patentibus, apice bracteis sterilibus destitutis, florum dense glomeratorum capitula gerentibus; bracteis primariis patentibus, ovato-triangularibus, longe acutis, laciniose spinosis; bracteis florigeris superioribus ovalibus apice (acuminulo imposito) bene rotundatis, integerrimis, sepala aequantibus vel superantibus. Flores ad 35mm longi, pedicellis ad 7mm longis, ferrugineo-tomentellis stipitati; sepalis subglabris margine minutissime ciliolatis, ad 15mm longis, sublinearibus, apice rotundatis. Petala caerulea, 32mm longa, apice rotundata.
Chile: bei Coquimbo (Gaudichaud n.55; Philippi n.940).

67. P. Coquimbensis Mez in DC. Monogr. Phaner. IX. (1896) 492.
Florifera vix 0.4m alta. Folia multa, ad 0.25m longa et 20mm lata, spinis maximis, usque ad 7mm longis horrida, dense lepidibus perappressis obtecta albida vel cinerea. Inflorescentia simplicissima, perdense subracemosa, subpauciflora, fructifera abbreviate cylindrica apice rotundata, ad 0.12m longa et 50mm diam. metiens; bracteis e latissime ovato vel suborbiculari permanifeste acuminatis, margine paucispinulosis, opacis, quam maxime concavis, vix 35mm longis absque dubio sepala longe superantibus, glabratis, opacis. Flores ignoti. Capsula ad 15mm longa, subglobosa.
Chile: bei Coquimbo (Gaudichaud n.52 e. p., 53, 54).

81. P. Gaudichaudii Mez in DC. Monogr. Phaner. IX. (1896) 496.
Florifera vix ultra 0.4m alta. Folia ad 0.15m longa et 74mm lata, apice obtusiuscula, margine spinis ad 3mm longis horrida, utrinque dense appresseque lepidota incana. Inflorescentia simplicissima, perdense subglobose subracemosa, subpauciflora, ad 60mm longa, apice late rotundata, junior tota ferrugineo-tomentosa; bracteis inferioribus margine spinuloso-serratis superioribus integerrimis ellipticis, apice acicula pungente imposita subrotundatis, imbricatis, membranaceis, violaceis, ad 33mm longis et 12mm latis, sepala certe, petala verosimiliter superantibus. Flores pedicellis brevibus, crassiusculis, ferrugineo-tomentosis stipitati; sepalis ad 18mm longis, 6mm latis, dorso dense ferrugineo-tomentosis, apice late rotundatis, haud mucronatis.
Chile: bei Coquimbo (Gaudichaud n. 56).
---
Updated 22/11/22
---