Neoregelia tigrina
Click thumbnails for full size, scaled to a new window.
---
Neoregelia tigrina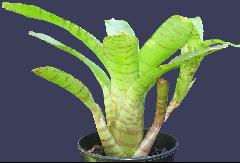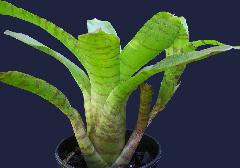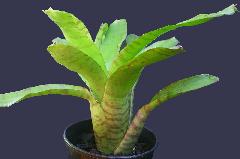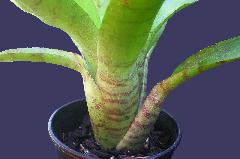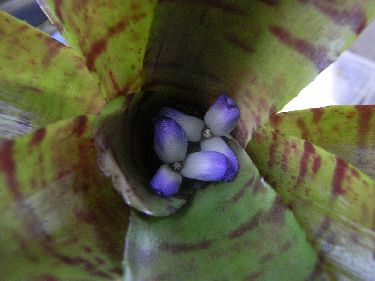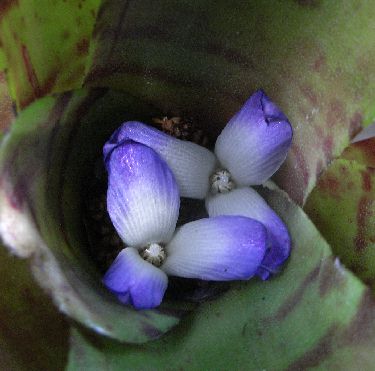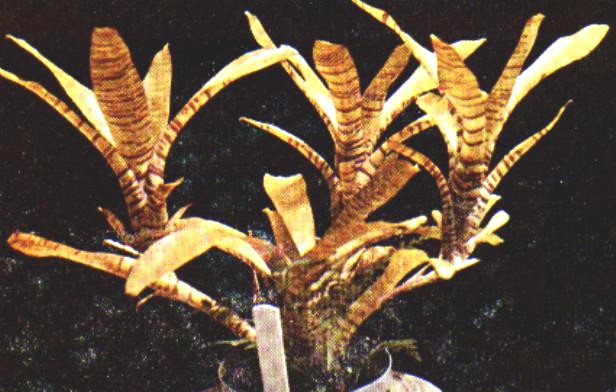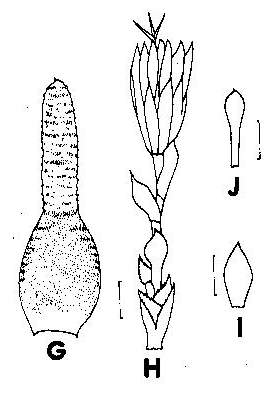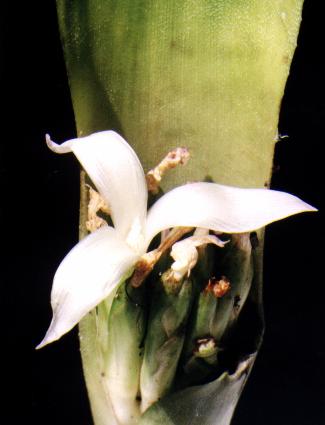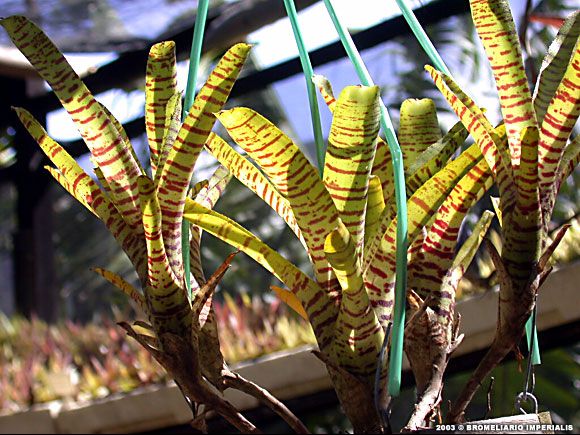 From Derek Butcher's notes. bsb1970, drawing, flower, oscar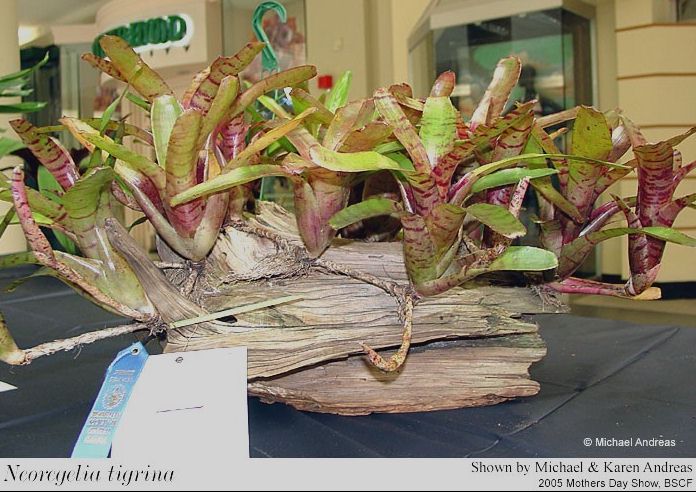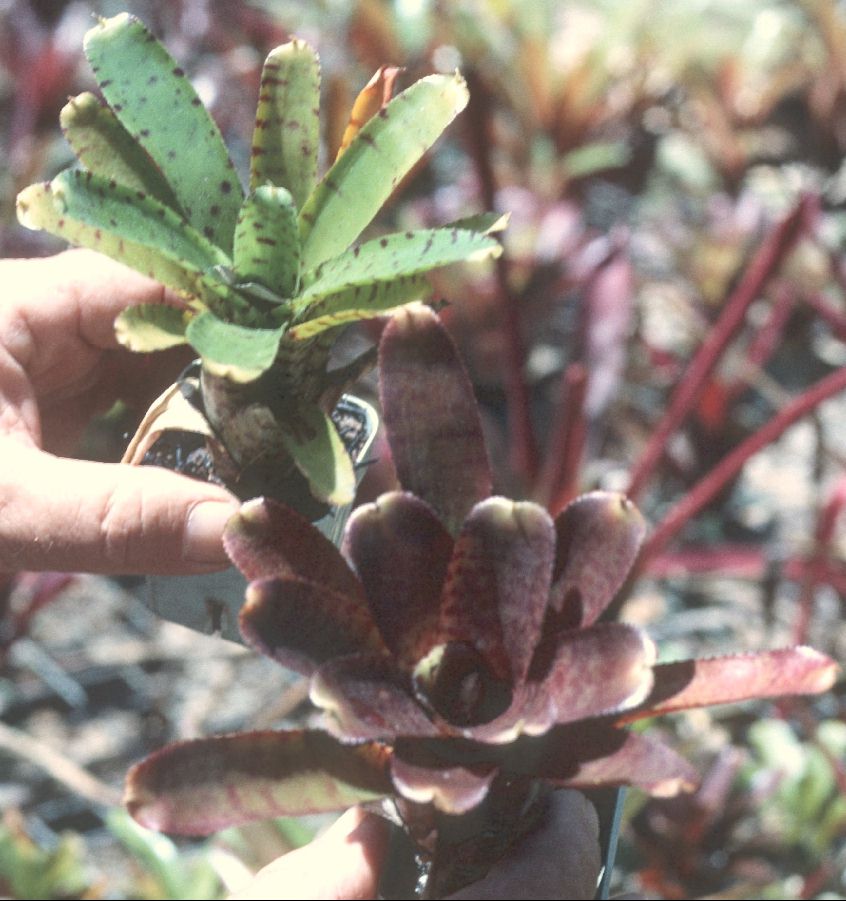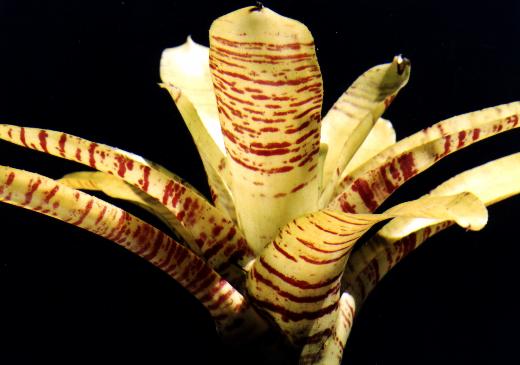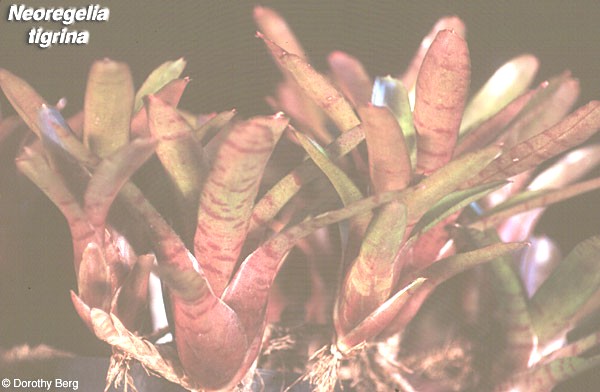 From Derek Butcher's notes. query_bscf05, Ralph Davis hort 1966 Marie Selby, -, nwb
Neoregelia tigrina (Ruschi) Ruschi, Bol. Mus. Biol. Bot. 15: 2. 1954.
Nidularium tigrinum Ruschi, Bull. Mus. Nation. Hist. Nat. 11.26: 544,fig. 1954.
Desc from S&D
Plant flowering 10-14 cm high, stemless.
Leaves 10-14 in a dense utriculate subovoid rosette, spreading above, 10-13 cm long, yellow-green with irregular brown cross-bands;
Sheaths elliptic, slightly shorter than the blades;
Blades ligulate, rounded and apiculate, 17 mm wide, laxly serrulate with minute antrorse brown spines, punctulate-lepidote especially beneath.
Scape slender, 5 cm long.
Inflorescence simple, 7-12 flowered.
Floral bracts asymmetric, spatulate, acuminate, 20 mm long, exceeded by the sepals, membranaceous, hyaline, 3-nerved, purple-punctate toward apex;
Flowers slenderly pedicellate, 36 mm long.
Sepals lance-ovate, acute, 16 mm long, connate at base, coriaceous, green, glabrous, purple-punctate;
Petals 24 mm long, the tube 12 mm long, white, the blades long-acuminate, pale violet; Stamens much shorter than the petals;
Ovary oblong-ellipsoid; placentae central.
Type. Ruschi s n (holotype, Mus. Biol. Prof. Mello-Leitao 1-399, isotype, Bromelario Foster), epiphytic in woods near Santa Teresa, Espirito Santo, Brazil, 700-1200 m alt, 18 Mar 1952.
Distribution. Known with certainty from the type collection alone, doubtfully in cultivation.

---


From a paper presented to the Australian Bromeliad Conference in Sydney 1991 by Derek Butcher

In the J Brom Soc 33: 192. 1983 Harry Luther pointed out that all U. S. forms of Neoregelia albiflora were really Neoregelia tigrina but no photograph was used.

With the prompting and assistance of Bill Morris I was able to piece together important links. In the B.S. Bulletin 20(6): 128. 1970 there is a photograph which had been donated to the Bulletin by the Orange County Bromeliad Society and is undoubtedly OUR Neoregelia albiflora. I quote the following from the article by Victoria Padilla:

"The plant photographed by Dr Richard Oeser was in the collection of M. Julian Marnier-Lapostolle at St. Jean-Cap-Ferrat on the French Riviera and might or might not be a hybrid. Dr Oeser could not say. It is obviously related to Neoregelia ampullacea but the plant is larger, the leaves are more flaring than the type and the colour is almost yellow. Such a handsome bromeliad is most certainly deserving of a name of its own."

During the next 12 years (from 1970 to 1982) this plant must have made its way to the USA and the Orange County Bromeliad Society and acquired the name of N. albiflora.
You see, in 1982 at an Orange County Bromeliad Show I bought this plant and proudly brought it back to Australia only to find it was already here! It is easy to see how the name 'Marnier-Lapostolle' got involved but difficult to link in the 'albiflora' because the only similarity with the described plant, Neoregelia albiflora, is the white flower. Mind you, Bill Morris and myself did argue strongly and inconclusively because Smith's key says "Petal blades wholly white" whereas the description as printed in Flora Neotropica says "tube white, blades pale violet".

So, if you have this plant its correct name is Neoregelia tigrina and must not be confused with the many form of Neoregelia ampullacea some of which are loosely called "variety tigrina". Finally can I suggest that both plants could have got to the U.S. via Dr Oeser & hence the mix-up on names.
---
Updated 07/04/18
---