Neoregelia bahiana
Click thumbnails for full size, scaled to a new window.
---
Neoregelia bahiana
Was pabstiana.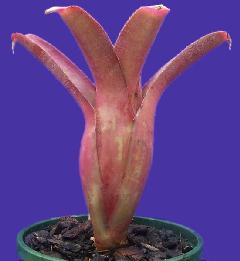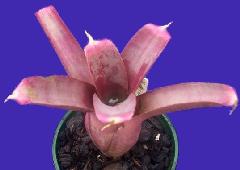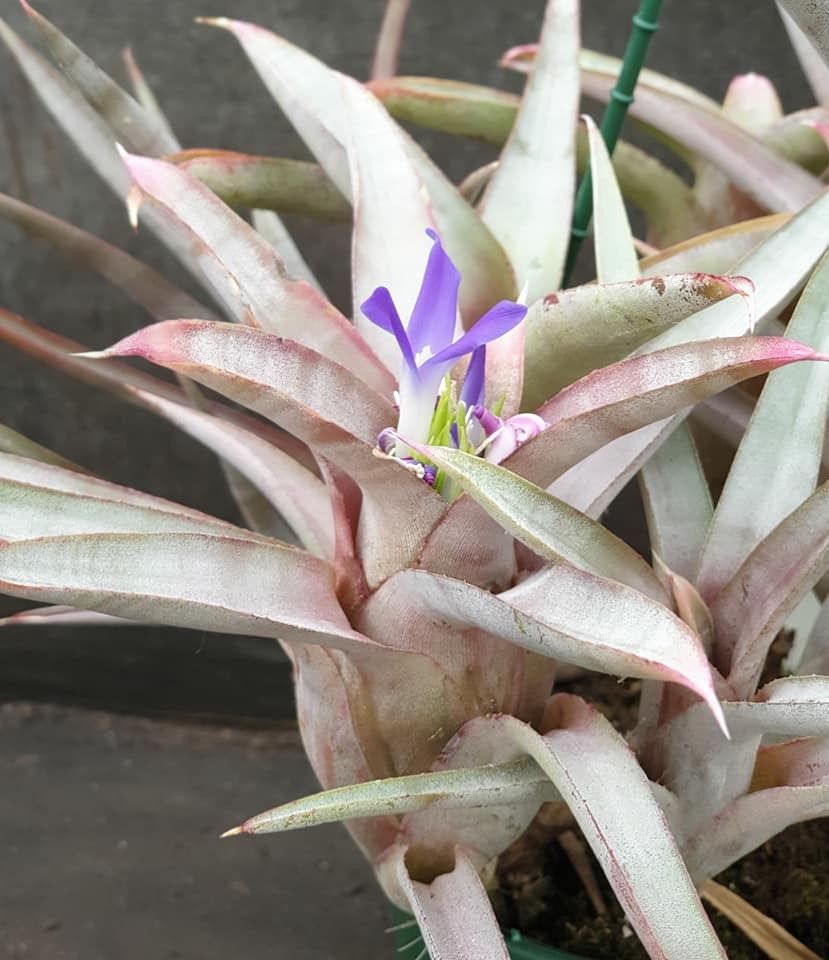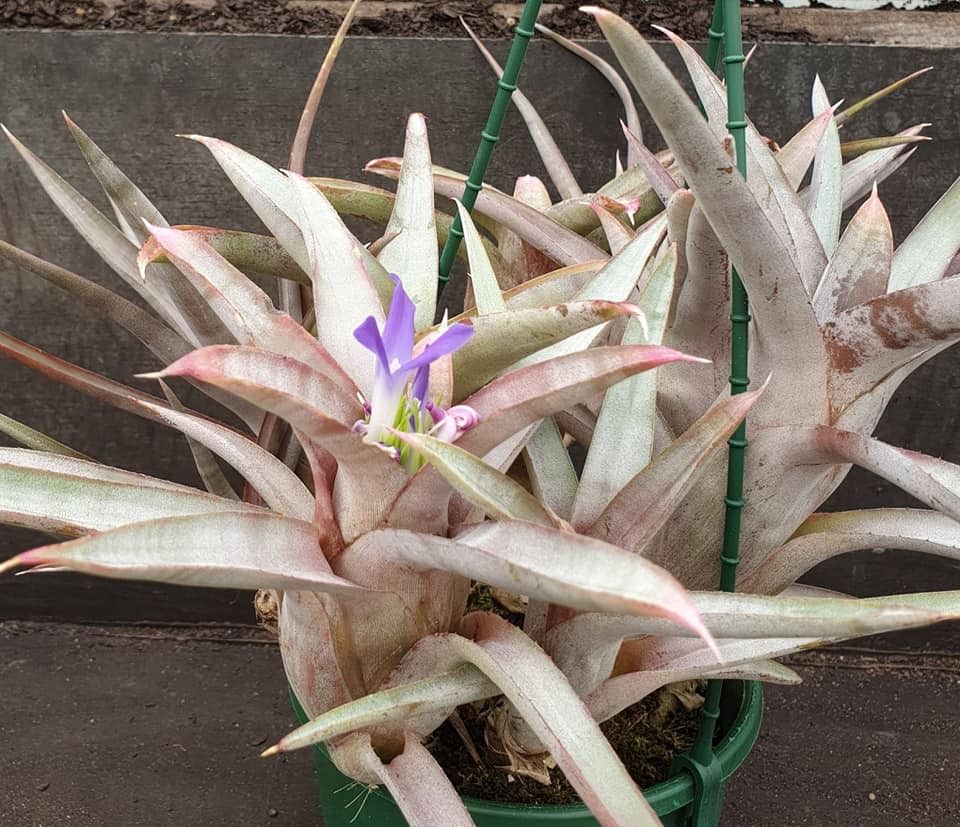 | | |
| --- | --- |
| Aileen Robson 03/07 | Chris Larson 10/19 |
Chris Larson ... "One of my favourites. A bit slow, but very worthwhile. Comes in a variety of forms - from short and psuedo-bulbous like this one, to more tubular forms. Each form has very thick succulent leaves."

Neoregelia bahiana (Ule) L. B. Sm. Proc:Am. Acad.Arts 70: 152.1935
Basionym: Nidularium bahianum Ule, Bot. Jahrb. 42: 195. 1908.
Synonym: Aregelia bahiana (Ule) Mez, in Engler Pflanzenr. IV 32: 42.1935.
Neoregelia bahiana (Ule) L. B. Sm. var. bahiana, Smithsonian Misc. Collect. 126: 148.1955.
Neoregelia bahiana (Ule) L. B. Sm. var. viridis L. B. Sm., Smithsonian Misc. Coll. 126: 27.1955. Type: Minas Gerais, Belo Horizonte, Serra da Piedade, 10 Jul. 1940, M. B. Foster 573, fl. cult. 1 Jun. 1943 (GH).
Neoregelia bahiana (Ule) L. B. Sm. f. bahiana, Phytologia 15 (3): 190.1967.
Neoregelia bahiana (Ule) L. B. Sm. f. viridis (L. B. Sm.) L. B. Sm., Phytologia 15 (3): 190.1967.
Neoregelia hatschbachii L. B. Sm., Phytologia 24: 447, pI. 5, figs. 11, 12. 1972. Type: Minas Gerais, Diamantina, Guinda, 14 Nov. 1971, G. Hatschbach 27945 & P. Pelanda (US, n. v.; MBM,HB,SP).
Neoregelia pabstiana E. Pereira, Bradea 1 (18): 162-164, fig. 3, a-h. 1972. Type: Minas Gerais, Serra do Espinhaco, near Datas, A. Seidel 624, fl. cult. Dec. 1971 (HB).
Neoregelia diamantinensis E. Pereira, Bradea 2 (7) : 25-27, pl. 1. 1975. Type: Minas Gerais, Diamantina, 12 Jan. 1974, A. Seidel 675 (HB).
Neoregelia intermedia E. Pereira, Bradea 2 (7): 29-31, pl. 3, fig. B. 1975. Type: Minas Gerais, Ouro Preto,7 Nov. 1974, A. Seidel 698 (HB).

Desc from Leme in Canistropsis – Broms Atl. Forest 1998 p86-89
PLANT variable in size and shape, rupicolous, propagating by slender stolons 5-20 cm long, ca. 0.6-0.8 cm in diameter.
LEAVES 10 to 12, coriaceous, forming at their base a sub tubular to narrowly ellipsoid rosette, ca. 6 cm in diameter, the outer ones much reduced;
SHEATHS elliptic to narrowly ovate, 9-15 (-22) x 5-7 cm, densely brown-lepidote, pale colored;
BLADES sublinear, slightly if at all narrowed toward base, 6-20 (-28) x 1.5-3.5 cm, inconspicuously to densely white-lepidote, opaque, green to reddish toward apex, suberect to subspreading-recurved at anthesis, apex obtuse and apiculate to acuminate (mainly the outer ones), sparsely to subdensely spinulose, spines 0.5-1 mm long;
SCAPE 50-90 mm long, 5-10 mm in diameter, white, glabrous;
SCAPE BRACTS resembling the outer floral bracts, but smaller, the basal ones spinulose.
INFLORESCENCE sub cylindrical, 60- 70 mm long (excluding the petals), 25-35 mm in diameter;
FLORAL BRACTS oblong-lanceolate, acute and apiculate, 20-30 x 4-8 mm, entire to remotely spinulose near the apex, ecarinate, membranaceous, hyaline-white, glabrescent, from equalling the pedicels to slightly exceeding the ovaries.
FLOWERS 10 to 17, 80-90 (-120) mm long at anthesis, odorless, pedicels 10-25 (-38) mm long, 2-3 mm in diameter, complanate to terete, white, glabrous;
SEPALS subsymmetrical, linear-lanceolate, acute, 30-40 x 5-6 mm, connate for 4-6 (-7) mm, entire, glabrous, green to reddish;
PETALS sublinear-lanceolate, acuminate, (55-) 60-70 x 6 mm, connate for 20-30 mm at base, spreading at anthesis, blue toward apex, strongly spirally twisted after anthesis, bearing two longitudinal callosities which equal the filaments;
FILAMENTS the antepetalous ones slightly higher adnate to the petals than the antesepalous ones which are adnate to the corolla tube only and free above it;
ANTHERS sublinear, 7-9 mm long, dorsifixed near the base or at least 1/4 of its length above the base, base sagittate, apex apiculate;
STIGMA ellipsoid to sub cylindrical, 4-5 mm long, ca.2 mm in diameter, white, margins crenulate;
OVARY ellipsoid, 8-10 mm long, ca. 6 mm in diameter, subtrigonous, glabrous, white; epigynous tube inconspicuous, ca. 1 mm long.
FRUITS very enlarged from the ovary, white, persistent calyx green or reddish.
TYPE: Bahia, Serra do Sincori, Nov. 1906, E. Ule 7105. Holotype: B.

ETYMOLOGY
The suffix anus, a, um (= "belonging to a certain place") was added to the name of the state to form N. bahiana, meaning "from the state of Bahia."

MATERIAL EXAMINED
Bahia: Chapada Diamantina, Mucuge, Aug. 1986, R. Ehlers s. n. legit, fl. cult. Jan. 1996, E. Leme 952 (HB);Jun. 1993, E. Esteves s. n. legit, fl. cult. Nov.1996, E. Leme 2209 (HB); Andarai, old road Andarai-Mucuge, Jan.1983, E. Leme 502, L.A. M. Silva,J Kent & R. L. Frasier, fl. cult. Nov. 1997 (HB); Caete-Acu, 26 Aug. 1996, R. Oliveira & F M. de Oliveira s n. legit, fl. cult. Sept. 1996, E. Leme 3442 (HB); Caete-Acu-Andarai, Mar. 1997, R. de Oliveira s. n. legit, fl. cult. Nov. 1997, E. Leme 3811 (HB); Morro do Chapeu, Cachoeira do Ferro Doido, 30 Oct. 1978, G. Martinelli 5527 (RB).
Minas Gerais: Grao Mogol, road to Botumirim, Morro do Chapeu, between Mombucas and Boa Vista do Bananal, 22 Jul. 1985, G. Martinelli 11259 et al. (RB); Diamantina, Dec. 1993, P. Nahoum s. n. legit, fl. cult. Feb. 1996, E. Leme 2254 (HB); road to Biribiri, 21 Nov. 1991, E. Leme 1811, P. Nahourn & L. C. Marigo (HB); road Diamantina to Curvelo, 8 km from Diamantina, 30 Oct. 1981, A. M. Giuliette s. n., et al. (RB); Pico do Itambe, E. Colnago s. n. legit, fl. cult. Nov. 1985, E. Leme 775 (RB); Serra do Cabral, Feb. 1995, P. Nahoum, H. Luther, W Till & D. Benzing s. n. legit, fl. cult. Nov.1996, E. Leme 2912 (HB).
Sao Paulo (?):Alto da Serra, 17 Nov.1933, F C. Hoehne s. n. (SP).

DISCUSSION
Of all the species from the subgenus Longipetalopsis, N. bahiana is the most variable in relation to shape, color and size. This enhanced variability is understandable because of the ample geographic distribution of this species, which includes vast areas of two states. The relationship of variability to the need to adapt to a rigorous environment was discussed under N. mucugensis.
The considerable variability of N. bahiana has, over the years, led to the recognition of several regional variants, especially in Minas Gerais. But, as was pointed out in the preceding discussion, these specimens that at first seem to be distinct tend to produce more uniform vegetative features when grown under similar conditions. For this reason and lacking other consistent morphological evidence associated with these variations, I have adopted a broad concept in defining N. bahiana which must be revised as more detailed studies are undertaken of its many populations. Within this universe of variation, specimen Leme 3811, from Bahia, deserves special mention; the blades of the central rosette leaves are 5 cm wide and the inflorescence has only seven flowers. But the tubular rosette shape is very similar to representatives of N. bahiana from Minas Gerais such as those from the Serra da Piedade.
In 1955, the variety viridis was created and later reduced to form status based solely on the fact that it had totally green, not purplish-red leaves. Leaf coloration, whether green, red or purplish-red, means little, however, within the range of variation shown by N. bahiana. Furthermore, entirely red plants in the wild turned completely green in cultivation, which shows that this trait is not consistent enough to sustain a valid taxon even at the infraspecific level. Variety viridis, placed in synonymy here, was typified on the basis of two herbarium sheets: the holotype contains a specimen in fruit, collected on July 10, 1940, with a 110-mm-long scape and sepals that are 30-33 mm long; the isotype is made up of a specimen that flowered in cultivation on June, 1, 1943, from material that was originally collected in 1940, and would be better classified as a clonotype. The scape of this cultivated specimen is 50 mm long and the sepals are 38 mm long.
In relation to N. hatschbachii, from Diamantina, Minas Gerais, the only visible trait that differentiates this taxon from N. bahiana are the leaves which are more densely white-lepidote. But leaf trichome density varies a great deal and undergoes definite changes when cultivated. The isotype of N. hatschbachii, deposited in the Herbarium Bradeanum, has sepals that are 33 mm long, not 26 mm as is cited in the description of this taxon. The petals are immature (40 mm long) and must certainly grow to lengths over 60 mm. Differences do not exist between N. hatschbachii and N. diamantinensis; the latter species comes from the same region, as its name suggests.
The holotype of N. pabstiana consists of a specimen with a very poorly conserved inflorescence which does not permit a precise re-examination of flower details. The only differences observed were the smaller stature of the plant and the very coriaceous leaves. But it was not possible to associate the degree of leaf succulence to other distinctive traits. Succulence is an extremely variable characteristic, although it is somewhat preserved in cultivation. In N. pabstiana, the floral bracts only slightly exceed the ovary and do not equal the sepals, in contrast to what is cited in the original description and also utilized in the key by Smith & Downs (1979) . Furthermore, according to the drawing that is part of the protologue, the sepals of this taxon are connate at the base for 7 mm and not for 10 mm.
Another observation has to do with the folded pedicels, which suggests only that the flowers developed defectively; this can be attributed to growing conditions at flowering time.
The holotype of N. diamantinensis consists of a specimen that probably flowered in cultivation; it does not show the characteristics lent by heliophily or xeromorphism typical of this rupicolous taxon. In Diamantina, I found specimens with longer leaves, growing in the shade of shrubs, very similar to the type of N. diamantinensis. Nearby there was a heliophilous population with a very different overall appearance; the plants had totally red leaves, forming compact, tubular rosettes, which goes to show the extent of the variation, as was mentioned above.
There is not much to say about N. intermedia, placed in synonymy here, because practically no traits distinguish this taxon from a typical N. bahiana.
Neoregelia bahiana seems to occupy a unique position within the subgenus Longipetalopsis. If, on the one hand, the sepals and petals are compatible with the concept established for the new subgenus, on the other, the anthers dorsifixed slightly above the base and the ovary with an epigynous tube, though inconspicuous (1 mm long), are dissonant elements when compared to the other species. This fact suggests that this taxon lies on the border in relation to the type subgenus.
The species that shows closest proximity to N. bahiana morphologically is the sympatric N. mucugensis, from which the former is distinguished by its more coriaceous, sometimes succulent leaves, larger linear-lanceolate sepals, petals highly connate at the base and stigma nearly half as long, and white.

DISTRIBUTION & HABITAT
Neoregelia bahiana is found in almost the entire realm of the "campos rupestres", throughout the Serra do Espinhaco, beginning in Ouro Preto, Minas Gerais, and extending to the Chapada Diamantina, in Bahia. This is the most widespread geographic distribution recorded for the subgenus. It grows at altitudes varying from 450 m to over 1,300 m, and is a typically sun-loving rupicolous species. It forms small populations scattered over rocky outcrops in these stone-filled grasslands that lie within the cerrado domain.
The specimen collected by Hoehne (s. n.; SP) that would extend the range of this species to Sao Paulo state seems to be a case of mistaken collector's records, since this information is totally incompatible with the distribution pattern of the species. There are a great many clones in cultivation that flower from September to January. In the wild, N. bahiana, like N. mucugensis, cannot be thought of as protected in the Chapada Diamantina National Park because of the extensive habitat destruction taking place within the borders of this conservation unit. The preservation of this species and thousands of others urgently depends on the creation of other conservation units to include "campo rupestre" habitats, especially in the Diamantina region of Minas Gerais, where there is a very high frequency of endemic taxa that are presently headed for extinction.

Detail from S&D
28. Neoregelia hatschbachii L. B. Smith, Phytologia 24: 447, pl. 5, figs. 11, 12. 1972.
N. bahianae ( Ule) L b Smith in systemate meo (Phytologia 15: 180. 1967) affinis sed foliis acutis, extus densissime lepidotis, sepalis minoribus differt.
Plant propagating by stout scaly stolons.
Leaves about 10 in an ellipsoid rosette, reddish, concolorous, densely cinereous-lepidote on all exposed surfaces, the outer ones reduced to short ovate acute sheaths, the inner to 25 cm long;
sheaths elliptic, 14 cm long, distinctly exceeding the blades;
blades varying from (outer) triangular with a thick involute terminal cusp to ligulate, broadly acute and apiculate, 27 mm wide, laxly serrulate with spreading spines 0.5 mm long.
Scape 7 cm long;
scape-bracts imbricate, the upper ones short-involucrate about the inflorescence, elliptic, entire, membranaceous, subdensely brown-lepidote.
Inflorescence simple, few-flowered.
Floral bracts ovate, acute, about equaling the pedicels;
pedicels slender, distinct, to 23 mm long.
Sepals slightly asymmetric, oblong, acute, 26 mm long, very short-connate, mem-branaceous, sparsely lepidote;
petals acute, ca. 4 cm long, white with blue apices (! Hatschbach).
Type. Hatschbach & Pelanda 27945 (holotype US; isotype, Herb. Mus. Bot. Mu¬nicipal, Curitiba), rock outcrops, Guinda, 1300 m alt, Mun. Diamantina, Minas Gerais, Brazil, 14 Nov 1971.
Distribution. Known from the type collection only.

31. Neoregelia pabstiana E. Pereira, Bradea 1: 162, fig. 3. 1972.
Plant stoloniferous, to 20 cm high.
Leaves about 12, forming a long ampullaceous rosette, 11-17 cm long;
sheaths elliptic, strongly gibbous, 6-8 cm long, to 6 cm wide, covered on both sides with immersed punctiform brown scales;
blades spreading to reflexed, ligulate, rounded and apiculate, minutely denticulate.
Scape 4 cm long;
scape bracts ovate, mucronate, 5 cm long, 25 mm wide, whitish.
Inflorescence simple, ellipsoid, about 12-flowered, nearly concealed by the leaf-sheaths. Floral bracts linear¬lanceolate, nearly or quite equaling the sepals, entire;
pedicels plicate, 2 cm long.
Sepals linear-lanceolate, acuminate, 35 mm long, connate for 10 mm;
petals 6 cm long, connate at base, the blade lanceolate, white except the violet apex;
stamens equaling the petals; anthers linear, apiculate, obtuse at base, 10 mm long, attached just above the base;
ovary subtrigonous, 10 mm long; placentae subapical; ovules subapiculate; style 5 cm long.
Type. A. Seidel 624 (holotype HB 57863), near Datas, Serra do Espinhaco, Minas Gerais, Brazil, flowered in cultivation Dec 1971.
Distribution. Known from the type collection only.

32. Neoregelia bahiana (Ule) L. B. Smith, Proc. Am. Acad. 70: 152. 1935.
Leaves 15-20 in a cylindrical rosette that is not constricted at apex, 15-26 cm long, minutely appressed-lepidote;
sheaths very large, 1-3 times the length of the blades, ca 6 cm wide;
blades short-ligulate, rounded and apiculate, 2-3 cm wide, sub¬densely serrate with teeth 1 mm long.
Inflorescence simple, 10-15-flowered, umbellate.
Floral bracts oblong or linear, rounded and apiculate, exceeding the ovary, entire;
pedicels slender, 1-2 cm long;
sepals linear-obovate, acute, to 34 mm long, 6 mm wide, connate for 4 mm;
petals narrowly ligulate, acute, 50-55 mm long, connate for 1 mm, blue toward apex;
ovary ellipsoid, 8-10 mm long.

32a. Neoregelia bahiana forma bahiana
Nidularium bahianum Ule, Bot. Jahrb. 42: 195. 1908.
Aregelia bahiana (Ule) Mez, Engler, Pflanzenreich IV. 32: 42. 1934.
Neoregelia bahiana var bahiana, Smithsonian Misc. Coll. 126: 148. 1955.
All or at least the inner leaves purple on the upper surface.
Type. Ule 7105 (holotype, B; photo, F 11256), Serra do Sincora, Bahia, Brazil, Nov 1906.
Distribution. Bahia to Sao Paulo, Brazil.
BRAZIL. Minas Gerais: Serra da Piedade, Schwacke s n (! Mez); Santa Barbara: Caraca, 1885, Vainio 33943-A (TUR); 22 Jul 1940, fl. May, 1944, Foster 684 (GH). Sao Paulo: Alto da Serra, 17 Nov 1933, Hoehne s n (SP).

32b. Neoregelia bahiana (Ule) L. B. Smith forma viridis (L. B. Smith) L. B. Smith, Phytologia 15: 190. 1967.
Neoregelia bahiana var viridis L. B. Smith, Smithsonian Misc. Coll. 126: 27, 148. 1955.
? Neoregelia intermedia E. Pereira, Bradea 2: 29, pl. 3. 1975. Type; Ouro Preto, Minas Gerais, Brazil, A. Seidel 698 (HB n v), 7 Nov 1974.
All the leaves completely green.
Type. Foster 573 (holotype, GH), Serra da Piedade, Belo Horizonte, Minas Gerais, Brazil, 10 Jul 1940, fl. 1 Jun 1943.
Distribution. On rock outcrops, 1500 m alt, Minas Gerais, Brazil.
BRAZIL. Minas Gerais: Serra da Piedade, 30 Nov 1893, Glaziou 20525 (P); 20 Oct 1973, Kockzicki 315 (MBM, US); Barao de Cocais, 24 Jan 1971, Irwin, Narley & Onishi 29031 (NY, US).

33. Neoregelia diamantinensis E. Pereira, Bradea 2: 25, pl. 1. 1975.
Near to N. hatschbachii LB. Smith from which it differs however in the much larger flowers, pedicels and petals, in the shape of the sepals and also in its glabrous bracts and leaf blades.
Desc from S&D
Plant propagating by stolons 20 cm long, with internodes 1 cm long; bracts sub-triangular, acuminate, appressed.
Leaves about 15, forming a tubular rosette, 45-50 cm long, green;
sheaths of the outer leaves oblong, 22 cm long, 7 cm wide, punctate-lepidote, of the inner ones shorter;
blades sublinear, slightly contracted toward base, rounded, recurved, mucronate, purple at apex, 28 cm long, 35 mm wide, glabrous or obscurely lepidote, sparsely and minutely serrulate.
Scape 10 cm long, 15 mm thick, white, internodes 10 mm long;
lower scape-bracts broadly triangular, long-mucronate, white, spinulose;
upper scape-bracts ("involucral bracts") narrowly ovate or lanceolate, acuminate, 45-55 mm long, 15-25 mm wide, entire, hyaline, sparsely lepidote.
Inflorescence simple, subcorymbose, ca. 17-flowered, lax, 14.5 cm long, slightly exceeding the tank.
Floral bracts linear-lanceolate, acute, 25-40 mm long, 4-8 mm wide, entire hyaline, glabrous; pedicels 45 mm long, terete, white.
Sepals symmetric, linear, acuminate, 37 mm long, connate for 5 mm, 5 mm wide, greenish white, glabrous;
petals linear, acute, 65 mm long, connate for 25 mm, white with violet apex, divergent at anthesis;
stamens half adnate to the petals;
ovary subtrigonous, 12 mm long, white; epigynous tube minimal; placentae subapical; ovules obtuse.
Type. A. Seidel 675 (holotype, HB), Diamantina, Minas Gerais, Brazil, 12 Jan 1974.
Distribution. Known from the type locality only.

NEOREGELIA INTERMEDIA E. Pereira n. sp. Bradea 2(7): 29-31, pl. 3, fig B. 1975
Planta 20 cm alta, caulescens; caule breve 2 cm diamet.; folis 16, isomorphis, ligulatis, 18-20 cm longis; vaginis ovato-oblongis quam limbo longioribus, 10-12 cm longis, 6cm latis, crassis sed mollis, utrinque viridibus et inconspicue lepidotis, utriculo tubuloso non contracto formatibus; limbis linearibus, crasse coriaceis, canaliculatis et paulo reflexis, utrinque rubesentibus et dense albo-lepidotis, 6-8 cm longis, 2,5 cm latis, margine minutisseme spinosa, spinis 5-10 mm inter se distantibus; apice rotundato et recurvato, acumine subpungenti aucto. Scapus albus, 3 cm longus, l cm crassus; bracteis scapalibus ovatis, serrulatis, apice mucronatis, albis et castaneo-lepidotis, 2 cm longis et lati,. Inflorrscentia simplex, c. 15- flora; bracteis late ovatis, obtusis et mucronatis, subintegris, albis, 4 cm. longis, 3 cm latis; bracteolis linearibus, integris, acutis, hialinis, 3 cm longis, 7 mm latis, quam ovario pedicellato aequilongis vel paulo longioribus. Flores 8-9 cm longae;
pedicellis albis, 2-2,5 cm longis; sepalis lanceolatis acuminatis, glabris, virescentibus, 3 cm longis, basi 7 mm connatis; corolla 6 cm longa, limbo lineari, acuto, violaceo, 3 cm longo, 5mm lato, sub anthesin patente, deide contorto, pars connato tubiforme 3 cm longa, alba; staminibus 4 cm longis, filamentis albis, complanatis, cum corolla usque ad fauci connatis; antheris 1 cm longis, base obtusis, apice acutiusculis, basi connectivi dorsifixis; stilo subtrigono, 5cm longo, apice trilamelato. Ovarium subcylindraceum album, 1 cm longum; placentis fere ad apicem anguli luculorum affixis; ovulis plurimis, obtusis.
HABITAT: Brasil. Minas Gerais, Ouro Preto. Leg. Alvim Seidel No. 698, 7 Nov. 1974. HOLOTYPUS HB N.° 61.443.

Afim a N. hoehneana L.B. Smith e N. diversifolia E. Pereira, da primeira se afasta, principalmente, pela flor bem maior, comprimento e forma das sepalas, tamanho, forma e cor das petalas; da segunda pelas bainhas maiores que os limbos, limbos crasso coriaceos, encanoados, densamente cobertos de escamas albas e espinhos pequenissimos com menos de 1 mm de comprimento, sepalas albo-esverdeadas, inflorescencia com 15 flores ou mais e estolho muito curto e bem mais grosso.

Related to N. hoehneana L.B. Smith and to N. diversifolia E. Pereira, this new species is distinguished from the first by the size of its flowers, size and shape the sepals and by size and color of the petals. From the second it is distinguished by its leaf sheaths larger than the thick leathery and canaliculate blades, densely covered with white scales, by the very short spines only 1mm long, by the whitish-green sepals, by the inflorescense with 15 or more flowers and by the much thicker and shorter stolons.
---
NEW NEOREGELIA SPECIES by Derek Butcher in Bromeletter 37(4):2. 1999
The advantage of putting Selby numbers on your label is beginning to pay off. Those who have a Neoregetia bahiana Selby 036187 from Maurice Kellett can now change the name to Neoregelia mucugensis.
Never heard of it? Well, there is quite a write up of this plant in Elton Leme's book "Canistropsis". What is a Neoregelia doing in a book with this title? Well, Elton is reviewing all of the plants in the Nidularium/Neoregelia/Canistrum complex but with this as a title it would no doubt have scared off potential buyers. So the "Canistropsis" book does contain Neoregelia and if you want to be more precise, the sub-genus Longipetalopsis. This name is obvious if you have flowered your new Neoregelia mucugensis, peered into its deep cup and see the extra large bluish flowers. This plant is not a particular favourite of Margaret's because it seems to jump of the bench to spike her with its rather strong leaf tip!
How do I know so much about Neoregelia mucugensis? Harry Luther wrote to me about the good news of the plant that Maurice Kellett had sent him in 1992 and originally identified as Neoregelia bahiana. All we have to do is link the plant called Neoregelia bahiana var. viridis, which I understand, came to Australia via Peter Tristram with Maurice Kellett's plant.
While on the subject of Neoregelia bahiana, I am pleased to advise that a plant in this variable species is in Australia. How many of you have a label entitled `Little Neo' we collected in Minas Gerais 1990 growing saxicolous beside a stream - high country - as bleached purple'? I got this plant many years ago from Marj McNamara and only this year did it finally decide to flower properly. I believe this is also the plant referred to by Ruby Ryde in 'Food for Thought' in Bromeletter 32(4), 1994.
Because it has two sorts of leaves, narrow for the outer ones and wide for the centre ones, I had always suspected it was Neoregelia diversifolia that was supposed to come from Minas Gerais also. However, we now know that N. diversifolia comes from Espirito Santo and if the leaves are short and narrow it doesn't matter. With the excellent drawings of the floral parts at the end of Elton Leme's book, I was able to check our own findings and could not get past Neoregelia bahiana.

FOOD FOR THOUGHT by Ruby Ryde, Bass Hill, N. S.W. in Bromeletter 32(4): 6. 1994
During our June 1990 collecting trip to Brazil, we visited many areas. Some out of curiosity as to what was left in old known collecting sites of the days of the Fosters and others. Many other places were suggested by our guide.
One in particular he thought would please, was a small area in the mountains of Central Minas Gerais. He and a friend from the U S had some months earlier, found a delightful small, rather tubular Neoregelia growing on low rocks and leaf-litter nearby. The location had some tree cover giving a filtered light effect. Several pieces went back to the U.S.A. with the friend for possible identification especially by Harry Luther.
The plants on the rock dome, particularly the ones in the more exposed position, had a very definite flared top looking like an opening rose with a beautiful red tint. All the plants had the flared upper leaves to a certain degree, and the leaf litter terrestial growing specimens resembled a Billbergia at first glance. All had long stolons.
For a long time I have felt I knew the name of this plant. A fleeting glimpse of Leme's slides at the last National Conference in Queensland, made me more sure.
The superb photography by Luiz Claudio Marigo illustrating the wonderful new publication by E.M.C. Leme and featuring a close up of Neoregelia diamantinensis truly convinced me that this is that plant. Given the high altitude, rarified air and full mountain sun, all of this species would show glorious colour and form. The fact that our plants was some miles apart from the first discovered specimens and carry that place name means little I feel. They were in similar conditions and in the same state, and carry a strong resemblance one to the other.
In his wonderful new publication; "Bromeliads in the Brazilian Wilderness" E M C Leme writes of Neoregelia diamantinensis and I quote,... "N. diamantinensis was discovered in Diamantina, Minas Gerais. The shape, size and color of its leaves vary, etc."
Harry Luther, on seeing my plants didn't comment; however they had long lost their newly collected appearance in quarantine, etc. I am striving to get that back again!!! None were in flower at the time of his visit.
He did say he hadn't received any specimens from our guide's friend!
---
Updated 02/12/19
---