Neoregelia Butternut
Click thumbnails for full size, scaled to a new window.
---
Neoregelia Butternut
Neoregelia wilsoniana? X ?, named by Margaret Butcher.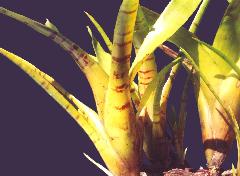 Notes from SA Bromgaz Vol.30 No.06. By Derek Butcher.
Neoregelia 'Butternut'
In May 1994 on one of our many forays to the East Coast we acquired a plant from Bill Morris of Medowie, NSW that he had obtained with the name Neoregelia wilsoniana. Both of us had our doubts and considered it to be a hybrid with possibly N. wilsoniana as a parent. I promised to investigate further when it flowered in my collection. It duly flowered and I took photos from all angles. I even removed the inflorescence to help me in my search but the name N. wilsoniana hybrid stayed on the label. It was close to the species but how close? I got the 'true' N. wilsoniana also from Bill Morris and this was very close to the description and Foster's drawing of the species. So we know this is in Australia for those who seek species rather than the plethora of hybrids that are around. When N. alvimii was treated as a synonym of N. wilsoniana in 1996 I had another look but dithered.
In recent years some of the larger herbariums in the USA have been scanning their specimens so the plebs can get access to these holy icons. This is also a good move because it means the dried plants are subjected to less handling and will stay intact for even longer. I chanced upon the herbarium specimens of N. wilsoniana and felt some decision had to be made. Margaret said that 'Butternut' was an apt name because of its yellow leaves in bright light so we will register it as such. It makes an ideal hanging basket. It is not to be confused with N. 'Olly Wilson' (wilsoniana x olens) which blushes red in the centre at flowering time.
If you think you have this plant and don't want to dither, then please contact me so we can discuss identity.
---
Updated 29/10/06
---