Hechtia tillandsioides
Click thumbnails for full size, scaled to a new window.
---
Hechtia tillandsioides
Note: It has been proposed to move this species to a new genus, Bakerantha tillandsioides. See notes below.
| | |
| --- | --- |
| Derek Butcher, male plant. | Male plant, photo by Vic Przetocki. |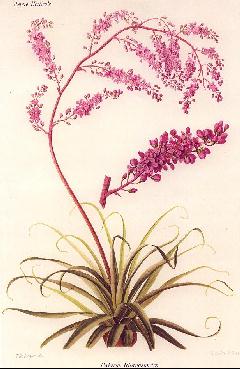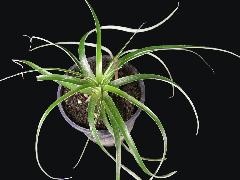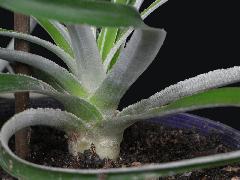 | | |
| --- | --- |
| See "Detective Derek" on this web site for more details. | Seedling. Ian Hook, 07/08. |
---

Hechtia changes by Derek Butcher. April 2019
The following has recently been published and somewhat concerned me. Based on the concepts of Barfuss et al (2016) they could have achieved similar goals by treating them as subgenera under Hechtia.
"The reestablishment of Bakerantha and a new genus in Hechtioideae (Bromeliaceae) in Megamexico, Mesoamerantha by Ramirez-Morillo, Romero-Soler, Carnevali, Pinzon, Raigoza et al in Harvard Papers in Botany 23(2): 301-312. 2018"

Eric Gouda is of the same opinion as me and this is reflected in detail given in The New Bromeliad Taxon list https://botu07.bio.uu.nl/bcg/taxonList.php

It may be of interest to note that Viridantha is treated at generic level by the Mexicans but is shown at subgenus level in The New Bromeliad Taxon list in line with Barfuss et al (2016)
Because Hechtia tillandsioides has already been involved in a hybrid mentioned in the BCR such a move will save a new nothogenus being coined.
Taxa involved are
Bakerantha caerulea
" " lundelliorum
" " purpusii
" " tillandsioides
Mesoamerantha guatemalensis
" " dichroantha
" " malvernii

While I believe the better solution is by using subgenera we wait for further publications which prove that genera status is the only option.
---
Updated 06/12/19
---