Bromelia sylvicola (or balansae ?)
Click thumbnails for full size, scaled to a new window.
---
Bromelia sylvicola
Note from Derek Butcher, BSI Cultivar Registrar, in SA newsletter.
Or Bromelia balansae ?
"We did discuss the offset that Bob MacGregor had brought in for the Raffle if only to prepare whoever won it how it should be treated. It is alleged to be carnivorous in the way it can snare birds and deter cats. It also needs to be in a tub because it will quickly take over your garden if planted directly in soil. This plant has been known in Australia for years as Bromelia balansae although Harry Luther doubts this. Our plant is NOT BIG ENOUGH. Anyone who has been to Cairns will know that a small section of one of their main roads is a line of these plants which when in flower turns the heads of motorists passing by. The leaves are a magnificent red with the inflorescence a column of violet flowers. The Cairns Society are either too chicken or not interested in plant identity because I am forever asking them pertinent questions about these plants or even close-up photos of the flowers."
(Note that Derek thinks these may be sylvicola, yet refers to violet flowers.)
---
From Harry Luther, via Derek Butcher, BSI Cultivar Registrar..
"Bromelia sylvicola is frequently, but wrongly, labelled as Bromelia balansae in Australia and USA.
sylvicola has maroon petals with a white edge, and the plant in flower is a metre or so tall and the leaf rosette is 1 to 2 metres in diameter.
balansae has violet petals with white edge and is much bigger. With the plant reaching nearly 2 metres tall with leaves 4 to 7 metres long!"
Ed - yet balansae description by Mez (see below) says "leaves over 1m long".
---
| | |
| --- | --- |
| Marc Turner. | Hugh Webb. Labelled balansae but approx. 30cm high and Maroon petals. |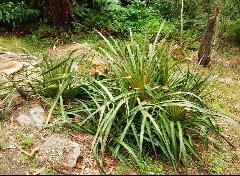 David Schumack, labelled balansae. "Clump is 3m diameter and 1.5m high."


The size of these last two plants may indicate balansae, or may just be the result of growing conditions.
David Schumack relates.... "Yes, mine are just starting to colour up as well and continuing to form an ever increasing formidable clump (the clump in the picture is close to 3 meters diameter and 1.5 meters high), and yes a stunning plant in flower, take another picture in about 2 weeks and post it for those that have never seen this beast flower.
BUT
perhaps you should remind/warn the owners that this plant is used to construct natural cattle fences in its country of origin. I know of no fiercer bromeliad than this baby!! After flowering (by March next year) and depending on the feeding program, two, three, four or perhaps more cute looking pups the size of small boa constrictors will be seen creeping across the garden bed. Wow you think, this is really going to look something when they all flower...........problem is that by then and it most likely will be only 2-3 years, you/they will have a cattle proof impenetrable garden :(
Dr Dave
PS. I have found that roundup combined with a decent bushfire helps control the spread of this plant temporarily.......the attached picture is the regrowth in 6 years from 1 plant."

Bromelia balansae Mez, Mart. Fl. Bras. 3(3): 191. 1891.
Desc from S&D
Plant propagating by stolons, flowering over 1 m high.
Leaves very many in a dense spreading rosette, not constricted between sheath and blade, over 1 m long;
sheaths elliptic, large;
blades linear, attenuate, 25 mm wide, glabrous above, closely pale lepidote beneath, laxly serrate with antrorse spines.
Scape erect, stout;
scape-bracts like the inner leaves, erect, imbricate.
Inflorescence particulate, densely cylindric, 18-22 cm long, 7-9 cm in diameter; axes densely vestite with fine white to allutaceous tomentum;
primary bracts large, covering most of the flowers;
branches to 10-flowered, very dense with little or no sterile base.
Floral bracts linear-subelliptic, rounded-truncate, ca 30 mm long, 8 mm wide, equaling the centers of the sepals, entire or slightly serrulate toward apex, subglabrous;
flowers subsessile, ca 45 mm long.
Sepals suberect, free, elliptic, obtuse, 14-20 mm long, 6-7 mm wide, carinate, cucullate, entire, coriaceous, allutaceous, soon glabrous except the minutely tomentellous base;
petals erect and only slightly parted at anthesis, linear, obtuse, 25 mm long, 8 mm wide, connate for 7-8 mm, deep violet with broad white margins, glabrous;
stamens included, filaments more than 1/2 connate, anthers narrowly elliptic, acute, 10 mm long;
ovary clavate, trigonous, not constricted at apex, attenuate toward base, 15 mm long, 5 mm in diameter.
Fruit ovoid, 47 mm long, 20 mm in diameter, fleshy, edible;
seeds many, flat, triangular-orbicular, 5 mm wide, gray-black, minutely punctulate.

Bromelia balansae forma balansae
Bromelia laciniosa sensu Baker, Handb. Bromel. 26. 1889, in part, as to Karatas guianensis hortus ex Baker, non Martius ex Schultes filius, 1830.
Karatas guianensis hortus ex Baker, Handb. Bromel. 26. 1889. Type. Kew Hortus s n (K n v, !Mez, DC. Monogr. Phan. 9: 31. 1896, as "Bromelia guyanensis").
Bromelia argentina Baker, Kew Bull. 194. 1892; Hooker, Icon. Pl. 23: p/. 2258. 1893. Type. Paraguay, Stewart s n (K, photo GH).
Bromelia pinguin sensu Morong & Britton, Ann. N. Y. Acad. Sci. 7: 235. 1892, non Linnaeus, 1753. Based on Morong 341 (MO, NY, US), central Paraguay, 1888-1890.
Bromelia serra sensu Mez, Bull. Herb. Boiss. II. 3: 1035. 1903, non Grisebach, 1879. Based on Hassler 283 (BM, G, P), Villeta, Paraguay.

Leaf-blades evenly green or red, non-striate.

Type. Balansa 608 (holotype G, photo F 8484), Asuncion, Paraguay, Aug 1874.
Distribution. Thickets to open or dense woodland, 60-1000 m alt, Colombia, Bolivia, Brazil, Paraguay, northern Argentina.
COLOMBIA. Meta, 1844, Goudot s n (P). BOLIVIA. Beni: Rio Guapore, Santo Antonio de Manoelito, 25 Jun 1952, Black & Cordeiro 52-15327 (IAN). BRAZIL. Amazonas: Humaita, 28 Nov 1966, Prance et al 3444 (NY). Para: Serra do Cachimbo, 17 Dec 1936, Pires et al 6427 (IAN). Mato Grosso: Rondonopolis to Cuiaba, 27 Aug 1963, Maguire et al 56379 (IAN, NY, US); Xavantina, Oct 1964, Irwin & Soderstrom 6828 (NY); 6905 (NY); Aragarqas, ca 15° 55' S, 52° 15' W, 23 Nov 1967, Philcox, Ramos & Souza 3223 (K); Fazenda Sao Gonqalo, Rio Taquari, 1969, Nienstedt 219 (US). Goias: Amaroleite, 1844, Weddell 2805 (P); Goias Velha to Serra Dourada, 20 Jul 1964, Duarte & Mattos 8215 (RB, US); Caiaponia to Jatai, Serra do Caiapb, 17° 12' S, 51° 47' W, 30 Oct 1964, Irwin & Soderstrom 7585 (NY, UB, US); Cabeceiras, Serra do Rio Preto, ca 16° S, 47° W, 16 Nov 1965, Irwin, Souza & Reis dos Santos 10353 (NY, UB, US); Cristalina, 6 Apr 1973, Anderson 8321 (NY, UB, US). Distrito Federal: Brasilia, 28 Jan 1966, Irwin, Souza & Reis dos Santos 12099 (NY, UB, US). Minas Gerais: Contendas, Saint-Hilaire s n (P); Lagoa Santa, 26 Feb 1933, Mello Barreto 2115 (R); Palacio, Jaboticatubas, Oct 1953, Segadas-Vianna & Loredo Jr. n o. Serra-II- l084 (R, US); Paraopeba, 28 Feb 1955, Heringer 3729 (HB); 29 Oct 1956, 5398 (HB); Pirapora to Paredoes, 18 Nov 1955, Magalhaes 6310 (BHMG); Corinto to Tres Marias, 7 Sep 1963, Santos & Castellanos 24086 (NY). Sao Paulo: Itapura, 1940, Foster 1101 in part (GH, US); Tanabi, 22 Aug 1941, A. Gehrt s n (SP, US); Itirapina, 29 Nov 1961, Eiten 3369 (SP, US); Rincao, 1 Dec 1961, Eiten & Freitas Campos 3456 (SP, US); 3458 (SP, US); Botucatu, 18 Jan 1973, Gottsberger 73R-18173 (US). Parana: Jacarei, 20 Feb 1914, Dusen 14606 (GH, S); Jaguariaiva, 17 Dec 1915, Dusen 17439 (BM, GH, S, US); Campo Mourao, 10 Dec 1960, Hatschbach 7579 (MBM, US); 8 Dec 1965, Hatschbach, Lindeman & Haas 13262 (MBM, US). Santa Catarina: Xanxere, 25 Dec 1956, L.B.Smith & Reitz 9258 (HBR, R, US); Campo Ere, 26 Dec 1956, L.B.Smith, Reitz & SuJridini 9259 (HBR, R, US); Tunas Itapiranga, 21 Jan 1964, Reitz & Klein 16827 (HBR, US). Rio Grande do Sul: Palmeira, Rambo. PARAGUAY. Puerto Esperanza, Sep 1892, Kuntze s n (! Mez); Asuncion, 18 Aug 1893, Lindman A-1957 (S); Sapucay, Sep 1913, Hassler 12303 (BM, G, US); Villa Rica, 4 Dec 1929, Jorgensen 3959 (DS, US).
ARGENTINA. Misiones: Posadas, 18 Jan 1907, Spegazzini s n (BAB); Dec 1913, Curran I (US); Bonpland, Jorgensen 45 (BAB); Loreto, 8 Jul 1937, Perez Moreau s n (BA). Corrientes: Mburucuya, 4 May 1957, Pedersen 4427-a (C, US); Paso Naranjito, Saladas, 30 Mar 1974, Krapovickas et al 24567 (CTES, US); 24571 (CTES, US); Esquina, 2 Dec 1974, Krapovickas et al 27103 (CTES, US). Formosa: Guaycolec, Dec 1917, Jorgensen 2009 (US).

Local names. Macambira (Brazil, Minas Gerais); banana do mato (Brazil, Santa Catarina); caraguata (Paraguay).

Bromelia balansae forma tricolor L. B. Smith, Phytologia 15: 170. 1967.
Bromelia balansae var tricolor hortus ex M. B. Foster, Bromel. Soc. Bull. 15: 127. 1965; nomen. Leaf-blades pale-striate.
Type. Marnier-Lapostolle s n (holotype, US), cultivated.
Distribution. None.

---
Updated 04/03/17
---