Alcantarea imperialis
Click thumbnails for full size, scaled to a new window.
---
Alcantarea imperialis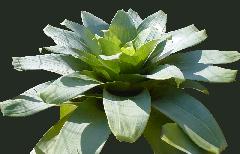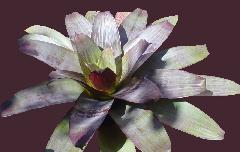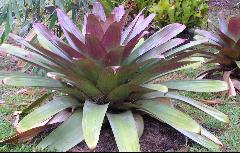 | | | |
| --- | --- | --- |
| Jan Townsend, Green form. | Jan Townsend, Red form, Leme Black . | Photo by Ken Woods, 10/05 Mike Symmons garden. |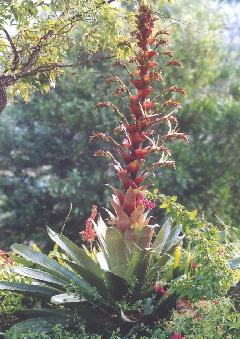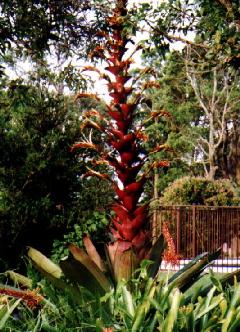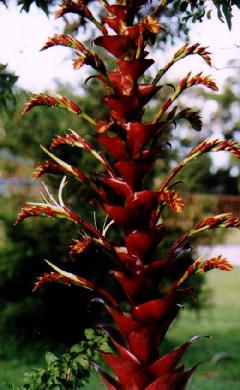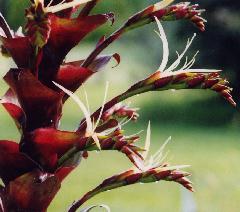 Peter Franklin, PAF745, Raymond Terrace NSW.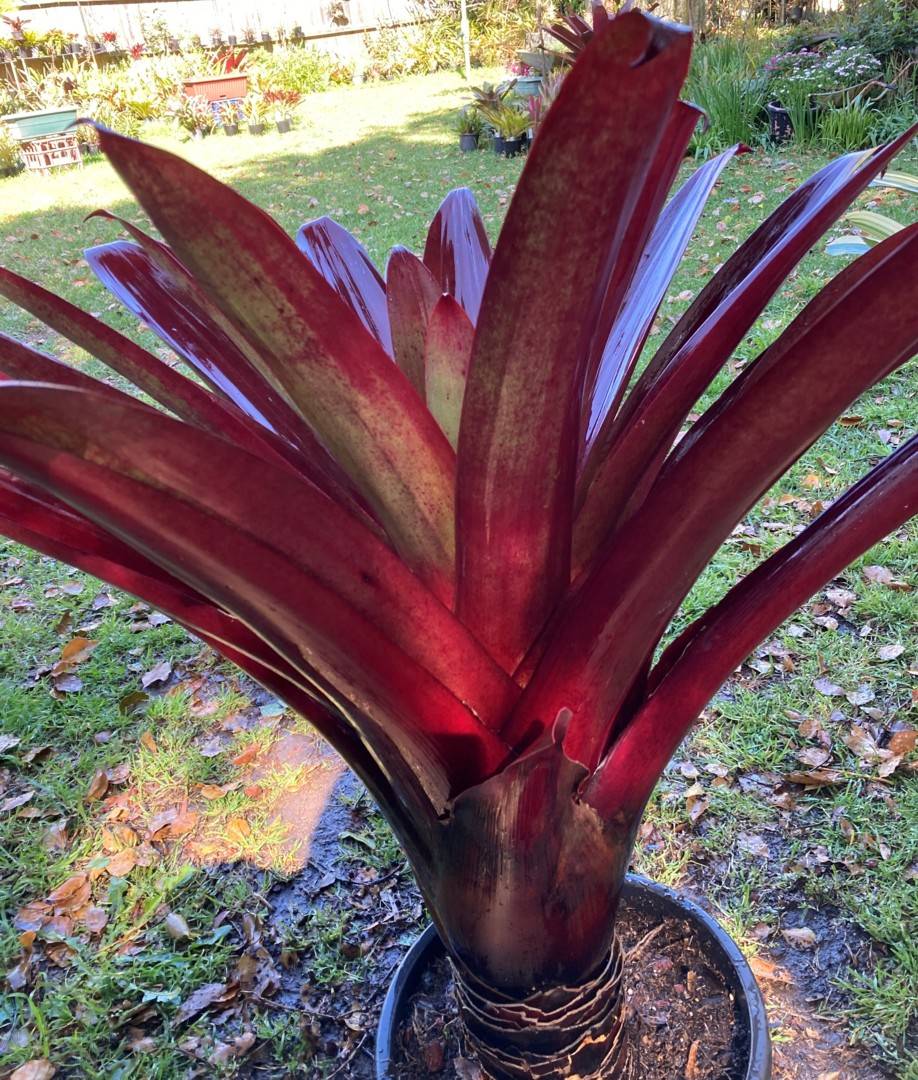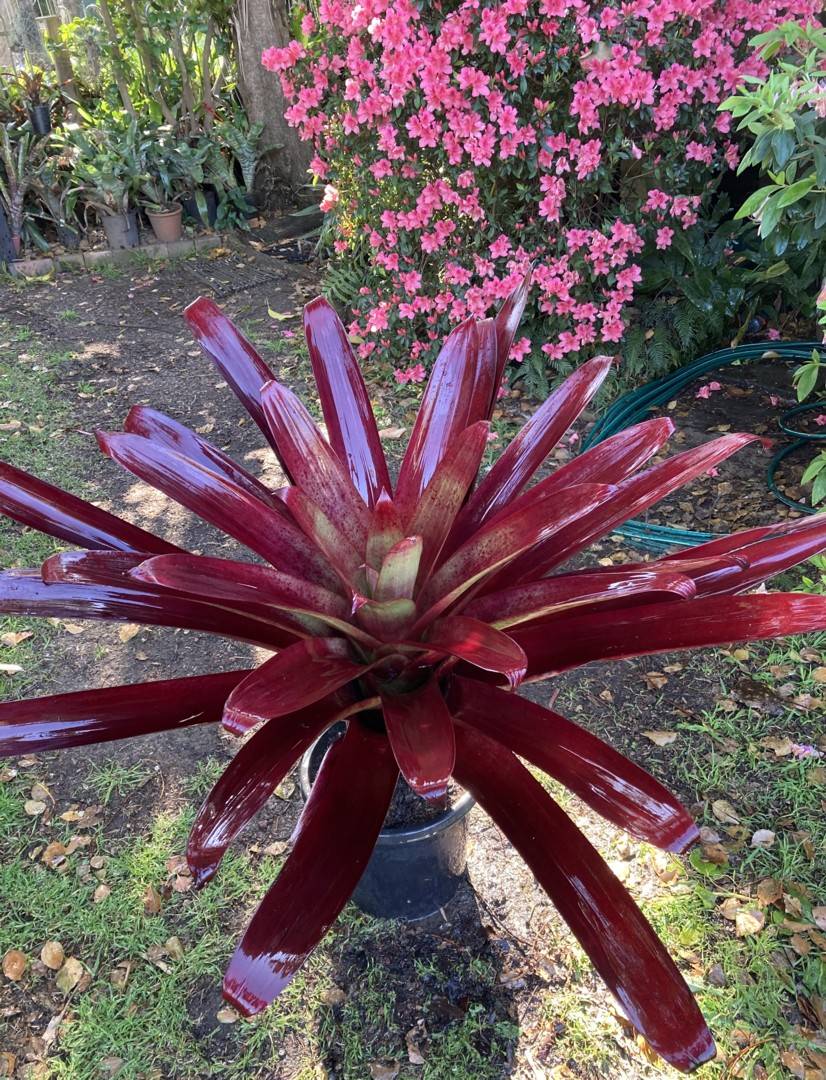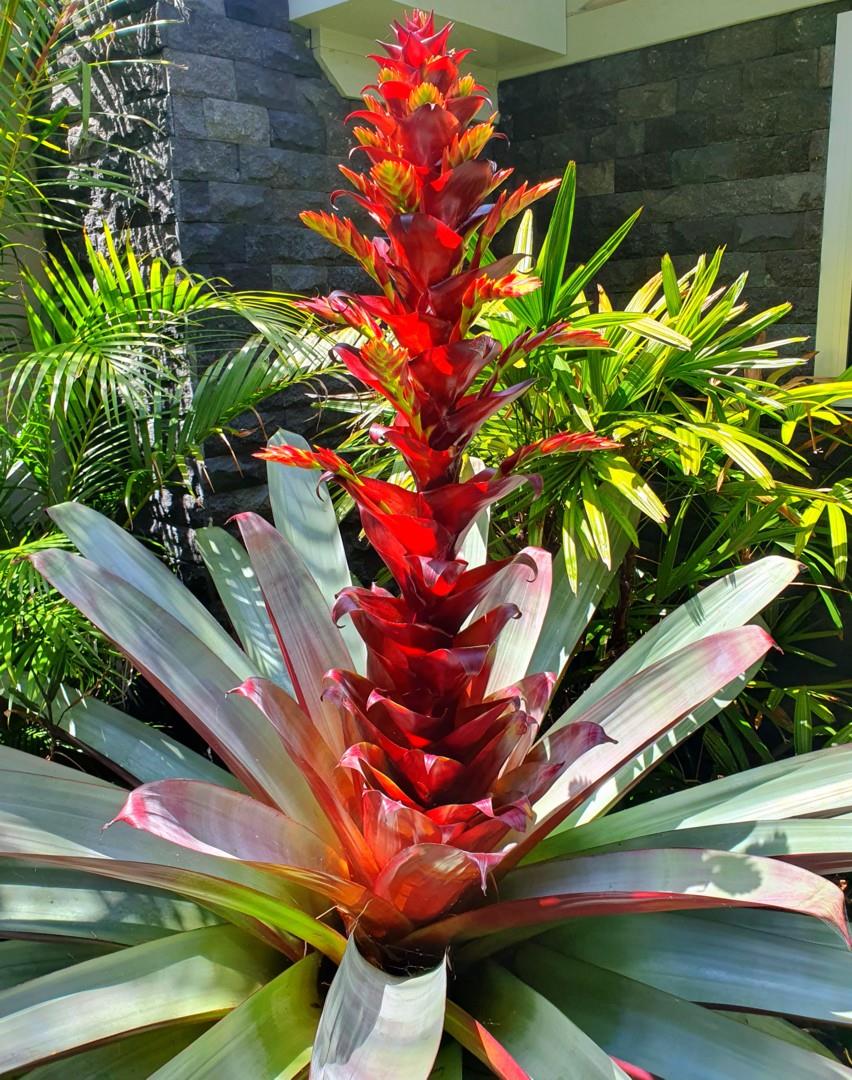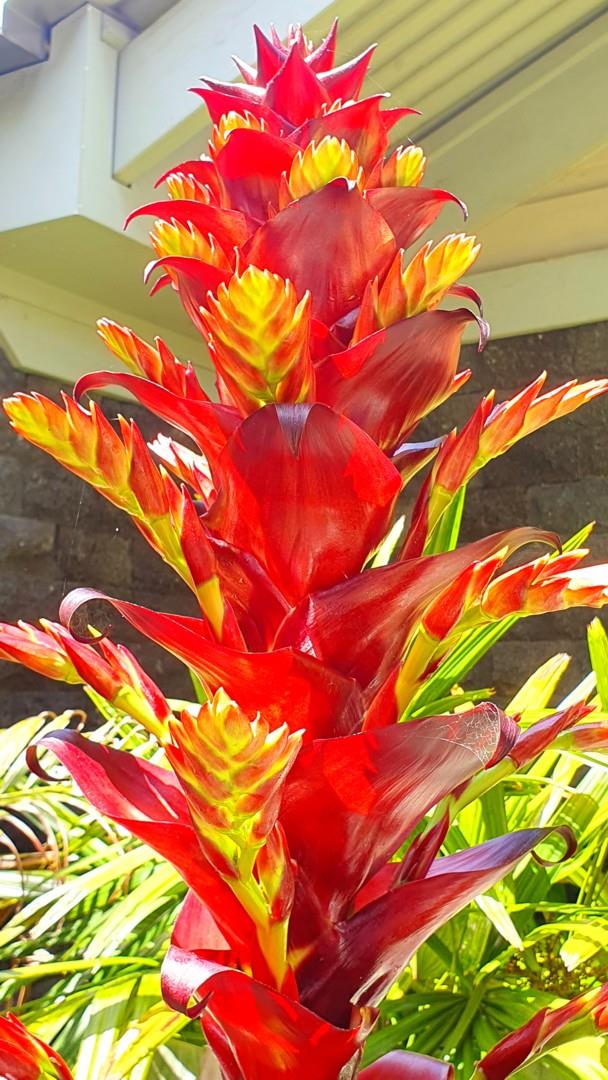 | | |
| --- | --- |
| Ian Hook 10/22 *as imperialis 'rubra' | Rob Davis, Sydney 11/23 |
* Note: The sister plant to this (same mother & age) has been grown out of direct sun, it is 5x larger and has VERY wide frosty green leaves with some red tips.

---

'Rubra' is it Valid or NOT ? compiled by Ross Little 2017
In our FNCBS September Newsletter we used the term 'rubra' which drew the following response from Derek Butcher.

Let us get rid of the term 'rubra' used with Alcantarea imperialis or at least try. Nobody has defined this quasi-botanical term by writing a description under the ICN rules as a botanist would do. It is not acceptable under the ICNCP rules for a cultivar either.
The following is what Versieux and Wanderley published in 'Bromelias Gigantes do Brasil', 2015, which is a very definitive book on the genus Alcantarea: "There is considerable morphological intraspecific variation in the different popu-lations studied, particularly with regard to the colour of the central rosette leaves and peduncle bracts. In the populations of Macae de Cima, in Nova Friburgo, Rio de Janeiro, Brazil, it is possible to observe individuals totally green growing alongside those totally vinous (Barbara et al. 2007). For gardeners, such varia-tions constitutes important sources of selection of cultivars, which can be totally green plants, completely red-vinous with variations between the lighter shades or dark, or plants with leaves almost completely green, only with the tips vinous and peduncle bracts vinous at the base, passing to green concolor".
Nobody has defined what 'rubra' refers to: Is it the red leaves or red peduncle/primary bracts or must it have both ? Does a tinge of red in the leaves qualify ? The use of the word 'rubra' in this context should be banned from Bromeliad Newsletters. Regrettably some growers will always use the word on their labels even though it has no botanical validity in conjunction with the botanically described, Latinised words Alcantarea imperialis.

After some discussion it has been agreed that there is no way a single cultivar name could be used for this ill-defined red form of Alc. imperialis.
The redness is quite normal however variable the plants may be. Remember the term 'rubra' is only a descriptive trade or nursery name. The use of such terms should be banned. If you must use a descriptor use "red form".
If sellers are serious about their use of the name 'Rubra' they should select their distinctive forms and think of alternative names and register them as Cultivars.
For similar reasons "Purpurea" should be banned too.
Acknowledgements: Peter Franklin, Geoff Lawn and Derek Butcher.

---

Alcantarea imperialis (Carriere) Harms in Engler & Prantl. Nat. Pflanzenfam. ed. 2, 15a: 126. 1930. See Leme in Bromelia 1997 #3 p28.

Basionym: Vriesea imperialis Carriere, Rev. Hort 60: 58. 1888.
Synonyms:
Vriesea glaziouana sensu Carriere, Rev. Hort 53: 50, fig. 15. 1881; as "glazioveana"; non Lemaire, 1867.
Vriesea hillegeeriana hortus ex Antoine, Phyto-Iconogr: Bromel. 15. 1884; nomen.
Vriesea blokii Hort., Card, Chron. 3. 23: 254. 1898; as "bloki"; nomen.
Tillandsia blokii Hemsley, Bot Mag. 134: pl. 8192. 1908. Tipo/Type: F. W Moore s. n., fl. cult. 1908 (K).
Vriesea blokii hortus ex Hemsley, Bot. Mag. 134: pl. 8192.1908; nomen.
Vriesea blokii (Hemsley) Mez, in Engler Pflanzenr: IV 32: 405. 1935.

TYPE: Brasil, Hortus Paris Museum .s n. Holotype: P, n. v.

The study of the genus Alcantarea necessarily included taxons that are today placed in synonymy. One of these is Vriesea blokii, considered by Smith & Downs (1977) to be a synonym of Alcantarea regina.

Tillandsia blokii was described in 1908 by W. Botting Hemsley who, at the time, was working on the identity of the various species that had up to then been cited in the literature as V. regina. According to this author, the identification of these species had been based on a primitive drawing from Vellozo's Flora Fluminensis of 1831 (effective publication date of this work; Leme, unpub. manuscript).
According to Hemsley, the historical origin of T. blokii is obscure. The first specimen of this taxon appeared at an exhibit in Ghent, Belgium, in 1898, and it was mentioned that same year in The Gardener's Chronicle (23: 254): "The giant of the family was a huge specimen of Tillandsia (Vriesea) regina, shown as V. bloki, It was as tall as a man, and was in flower. This same author reported that he had obtained T. blokii from F. W. Moore. Moore's original letters to Hemsley are part of the holotype of T. blokii, and here we learn that the specimen was purchased for 25 francs in I'Horticulture Colonial, Brussels, Belgium, in April 1903. It went by the name Vriesea blokii and had originated from seed of the specimen shown at Ghent.
Mez (1935) officially transferred T. blokii to the genus Vriesea, considering it a valid species of the subgenus Alcantarea. Based on historical references available at the time, Smith, (1955) regarded the taxon as a synonym of V. regina, a position he maintained in his revision of the genus Vriesea (1966) and in Smith & Downs ( 1977). Grant ( 1995) revalidated the genus Alcantarea but did not examine in depth the synonyms of the included species.
Hemsley did not have a complete flowering specimen of the plant at his disposal. He examined only a primary bract, a flowering branch and a leaf sent by Moore who, on February 17, 1908, also sent a photograph of the specimen in the post-flowering stage, plus a primary bract and a branch with capsules and seeds. Except for the photograph of the plant's habit, this material constitutes the four herbarium sheets of the holotype of Vriesea blokii deposited in the herbarium of the Royal Botanic Gardens at Kew, England.
A close examination of the holotype revealed that certain traits of V. blokii do not coincide with the concept of Alcantarea regina. As a matter of fact, this species is fully compatible with A. imperialis and I propose that it be synonymized with this species.
Hemsley stated categorically in the protologue that A. imperialis is distinguished from the other species by its unilaterally distichous flowers and white petals. He did not realize, however, that his species T. blokii also had unilaterally distichous flowers, as can be seen in the holotype; this is clearly visible in the herbarium sheet that contains the post-flowering-stage branch. Interestingly enough, the branch with preserved petals, also part of the holotype, which is depicted in color in plate 8192 (part of the protologue) does not have this trait. This is because of the way it was mounted (it was probably pressed in a frontal position), thus masking the unilateral arrangement of the flowers. The keels of the floral bracts lent credence to this assumption because they are positioned off-center on the herbarium sheet, as if they were asymmetrical, thus revealing a non-divergent original position, different from that in which they were preserved. The colors on the original plate of V. blokii (bracts and sepals inordinately red and petals intensely yellow) are apparently the result of an attempt to reproduce the true color pattern of the species because branch coloring was probably already faded, if in fact it was preserved, when Hemsley received this material from Moore. Even the withered petals mistakenly have the same intense yellow color as the fresher petals, and these do not show the recurved-spreading movement typical in Alcantarea. Furthermore, before anthesis the petals of A. imperialis are yellowish in the daytime, turning white as the flowers open fully at night.

Desc from S&D
248. Vriesea imperialis Carriere, Revue Hort. 60: 58. 1888. Fig 425 A-F.
Vriesea gigantea Lemaire, III. Hort. 14: sub pl. 516. 1867; as to description, not as to plate, nor Gaudichaud, 1843; also as to Misc.: 43, fig. 1.
Vriesea glaziouiana sensu Carriere, Revue Hort. 53: 50, fig.15, pl.1881; non Lemaire, 1867.
Vriesea hillegeeriana hortus ex Antoine, 15. 1884; nomen.
Tillandsia regina sensu Baker, Handb. Bromel. 227. 1889; in part, non Vellozo, 1825.
Alcantarea imperialis (Carriere) Harms in Engler & Prantl. Nat. Pflanzenfam. ed. 2. 15a: 126. 1930.

Plant flowering 3-5 m high; stem erect, stout.
Leaves many in a funnelform rosette, to 15 dm long;
Sheaths very broadly elliptic, 25 cm wide, densely and minutely darklepidote;
Blades ligulate, acute or acuminate, 12 cm wide, wholly green or obscurely maculate toward base, glabrous above, minutely lepidote beneath.
Scape erect, exceeding the leaves, ca 45 mm in diameter;
Scape-bracts suberect, densely imbricate, recurved toward apex.
Inflorescence laxly bipinnate, slenderly pyramidal; primary bracts broadly ovate with a small narrow blade, about equaling the sterile bases of the branches;
Branches densely 10-50-flowered, suberect at the sterile base with 3-4 bracts, then spreading and decurved; rhachis more or less geniculate, the internodes 2-4 cm long.
Floral bracts secund with the flowers, ovate, acute, about half as long as the sepals, carinate, incurved; flowers spreading, upwardly secund;
Pedicels obconic, stout, 1 cm long.
Sepals elliptic, ca 4 cm long, 15 mm wide, ecarinate;
Petals over 10 cm long, linear, obtuse, white, bearing 2 large linear scales at base, flaccid and pendent at anthesis.
Capsule slenderly ovoid, long-beaked, 55 mm long; seeds with coma at both ends.
Type. Hortus Paris Museum s n (holotype P (?), n v, doubtfully preserved), Brazil.
DISTRIBUTION. Saxicolous on high cliffs, 1300 m alt, Rio de Janeiro State, Brazil. BRAZIL. RIO DE JANEIRO: Serra dos Orgaos, Glaziou 13262 (US); Pedra do Conico, Nova Friburgo;Jan 1898, Ule 4655 (CORD, HBG); Parque Nacional, Teresopolis, 3 Feb 1952, L. B. Smith & Brade 5653 (US).

From Mez in Das Pflanzenreich 1935
112. V. Blokii (Hort. ex Bot. Mag. 4. ser. IV. [1908] t. 8192) Mez comb. nov. –
Tillandsia Blokii (Hort. ex Gard. Chron. 1898, 254 et ex Journ. Hort. Fr. 1898, 479, nomen) Hemsl. in Bot. Mag. 1. c. –
Bimetralis. Folia crassa, coriacea, lineari-oblonga, usque ad 1m longa, infra medium ad 0,15 m lata, apice abrupte longeque acuminata, recurva, maculis rubro-purpureis ornata. Inflorescentia amplissime panniculata, ad 1,5 m longa; scapo vaginis amplis, coriaceis, sanguineis, ovato-acuminatis, diu persistentibus vestito; ramis recurvis, 20-30 cm longis, flexuosis, sanguineis, usque ad 12-floris; bracteis florigeris ovatis, acutis, quam sepala duplo brevioribus. Flores haud secundi, ad 0,1 m longi; sepalis lanceolatis, 40-50 mm longis, acutis, sanguineis, coriaceis. Petala ad 0,1 m longa, biligulata, lutea, fasciata. Seminum coma ferruginea.
Heimat unbekannt, wahrscheinlich Ost - Brasilien. - Ich habe die Art von den Kew-Gardens erhalten ; sie hat bei mir noch nicht gebluht.

Plant flowering to 2 metres.
Leaves thick, coriaceous, linear oblong, up to 1m long, below the middle to 0,15 m wide, tip abrupt long acuminate, recurved, with reddish purple spots.
Inflorescence very amply paniculate, to 1,5 m long;
Scape bracts sheaths ample, leathery, reddish, ovate acuminate, persistent for a long time;
Branches recurved, 20-30 cm long, flexuous, reddish, up to 12-flowered;
Floral bracts ovate, acute, twice as short as the sepals.
Flowers not at all secund, ad 0,1 m long;
Sepals lanceolate, 40-50 mm long, acute, reddish, coriaceous.
Petals to 0,1 m long, with two ligules, yellow, banded.
Seed with brownish coma.
Habitat unknown, probably east Brazil. – I obtained the type from Kew Gardens but it has not yet flowered for me.

---

Bromelias na Serra Bromeliads in the Mountains by VERA LEUZINGER DE CARVALHO in Bromelia #4, 1 1997
Summer in Petropolis, a town in the mountains near Rio de Janeiro, on the banks of the Piabanha River, full of trees and flower beds, surrounded by forested slopes. Cool mornings and afternoons, beautiful warm days; sudden storms in the late afternoon that turn the nights almost cold. In this marvelous setting the SBBr sponsored exhibit "Bromeliads in the Mountains" was held in the stately Imperial Museum from January 31 to February 28.
The exhibit was very well organized and the visual impact was impressive as well as educational. Photographs of species that grow naturally around Petropolis were selected from the First Bromeliad Photography Contest of the SBBr (96/sep) to show at the exhibit. Bromeliads typical of the region were also shown, each with its own description, accompanied by a pleasant musical background from several video tapes on bromeliads.
A sales booth gave beginners a chance to take one or two bromeliads home with them, perhaps sparking a new passion. In the main exhibit hall there was a magnificent flowering specimen of Alcantarea imperialis, the center of attraction which aroused much curiosity and astonishment in those who came to the exhibit to confirm its magic charm, said to cast a spell over those who lay eyes on it.
The exhibit was an opportunity to look and to discover ... discover that many times we pass by things without seeing them. Our eyes become so accustomed to familiar scenes that we actually stop seeing what is there, and become blind to the smaller things, often of great beauty, that are present in the landscape. Sometimes we only notice these things when they disappear ... We perceive the empty space, but do not understand why. It is sad when something becomes more valuable in its absence, or we only become aware when it no longer exists.
There is still time to look to the mountains of Petropolis and admire plants such as Alcantarea imperialis. These huge bromeliads grow on the hillsides, often directly on the rocky slopes. They are impressive because of their stoutness, color, form and large size. The name Alcantarea is a tribute to Dom Pedro de Alcantara, Emperor of Brazil, who made Petropolis the Imperial City.
Alcantarea imperialis sometimes takes 40 years to mature and flower! This bromeliad is swiftly disappearing because of rampant deforestation, burning and exploitation. Although it takes so long to flower in the wild, it can be reproduced by seed and this is being done. When well-fertilized, a plant takes much less time to mature. Because it is used so much in landscaping, growing this plant will help reduce its exploitation and therefore slow down the extinction process.
Lets open our eyes to really see, to appreciate these plants and to stop their exploitation! The natural world is the responsibility of each and every one of us ... and this exhibit in Petropolis may have brought the first spark of awareness to many regarding these issues.

---

The fire - molasses-grass association and the disappearance of Alcantarea imperialis by Orlando Ricardo Graeff and Tara Valverde Pagani in Bromelia March 1996
Alienation, apathy, egotism and lack of civic spirit thrive today in the human race with a vigor that would be admirable in the many endangered species that are struggling to perform natural processes such as dispersal and maintenance, but are swiftly and inexorably approaching the end. Fire prevention should be a part of any ecologically correct citizenship manual, for there is no fire prevention program that is not based on common sense and conscience. Here is a brief summary of how native populations of Alcantarea imperialis - the royal bromeliad - have arrived at the brink of extinction because of the fire-molasses-grass association in the mountains of Petropolis.
We used to visit, occasionally, and with no special purpose in mind, the steep rocky slopes of the Posse district in Petropolis. We were shocked by the widespread destruction that we observed in the area, and also, in the midst of this calamity, we were astounded by intense pressures that were brought to bear on the remnant colonies of Alcantarea imperialis both by fire and by illegal extractivism. A visit to one of the main areas of extractivism, in the wake of the crime, revealed an appalling path of destruction with a huge number of bromeliads literally torn to pieces on the ground.
In early 1995, we made our first trip to the Maria Comprida mountains, also in Petropolis, to study the ecology of the region's last important remnants of tropical forest. This study of the Maria Comprida area would give us a new slant on the ecology of rupicolous communities within the atlantic forest domain -- massive ecosystem destruction by fire, the worst thing that could happen to the botanical treasures of this region. A. imperialis is not the only species headed down the road to extinction. Other very important species orchids, vellozias and bromeliads are also threatened. Worsleya rayneri is perhaps the most threatened of all these species. This beautiful plant of the Amaryllidaceae family, with its unusual blue flowers, is endemic to the region. A. imperialis, however, is an important point of reference to access the processes involved, since it has commercial value in landscape design. Although important botanically, this bromeliad has achieved the status of a true natural resource.

Observations carried out on the inland slopes of this mountain range have shown that around 80-90% of the rupicolous plant communities have changed drastically in physiognomy, plant frequency and dispersal and population turnover processes. The huge wild fire that swept the Maria Comprida mountains in late 1994, for example, destroyed practically all of the vegetation, leaving only a few insignificant remnants of primary forest. The main propagating agent of fire on these slopes is molasses grass (Melinis minutiflora), an exotic species that thrives in the climate and soils of the Petropolis region.
Seeds of M. minutiflora germinate rapidly during the rainy season, producing abundant plant biomass (up to lm tall). The vegetative cycle ends at the onset of winter, with the production of copious amounts of viable seed. The harsh dry season that invariably castigates the region from June to September brings a rash of fires that swiftly consume the plentiful fuel and cut short the dormant period of this grass, thus speeding up the pernicious cycle.
During the rainy season, the microclimate formed by the large amount of molasses grass biomass favors attack by fungi and bacteria on the bromeliads which are literally immersed in the thick grass, and also reduces the incident light essential for growth. These cyclic grass fires destroy huge numbers of adult plants as well as practically all the seedlings, thus interrupting the difficult process of population turnover.
We have reason to believe that the association fire-molasses-grass may bring about the imminent extinction of the royal bromeliad in the Petropolis area within the next 40 years. This is time enough for most living adult plants to complete their life cycle and die, leaving no descendents. We also believe that Mellinis alone is not capable of creating such a formidable barrier for these rupicolous plant communities but it maintains a dominant role because of its association with cyclic fires. Two important things should be done to avoid the imminent extinction of A. imperialis: large scale production of the species to satisfy the landscape design market, and organized fire prevention in the montane region of Petropolis.

---

VRIESEA IMPERIALIS by John Higgins in Bromeliaceae July 1994
Vriesea imperialis has long been a favourite plant. Early efforts to obtain it were frustrated by wrongly identified plants which came from a number of different sources. Included in the list of these plants were V. regina, V. gigantea and several unidentified, small, green-leaved vrieseas. Eventually I obtained a plant from Bill Morris in 1983 with assurances that this was the true,large, green-leaved form of V. imperialis (like many other bromeliads, V.imperialis has evolved several forms). Time has proven that these assurances were correct.
Early recollections of this plant include specimens in Grace Goode's garden at Alexandra Headlands - a plant which was later seen in flower with its magnificent inflorescence - a truly 'imperial' plant, and three very large specimens in the Sydney Botanic Gardens in 1983. These three plants were not in flower but were each 2 metres across and were planted in a group in the corner of the public display glasshouse. More recently Rolly Reilly flowered a specimen in Brisbane.
The plant obtained from Bill Morris was raised from an offset and was approximately 12cms in diameter when received. It gradually grew to hold pride of place in our collection, finally attaining a diameter of 2 metres in 1991. The next year in July/August 1992 the plant showed signs that it might flower. The centre became slightly swollen and the inner leaf tips took on a reddish tinge. This remained for a few weeks but did not develop into an inflorescence and finally reverted to a normal growth pattern with loss of colour on the inner leaf tips. The following year in July 1993 the plant began its flowering process in earnest and with dramatic changes. The number of leaves increased to almost double the normal and the plant glowed with health and fullness. The centre again became swollen and the inner leaf tips took on a reddish colour. The flowering head started to form deep in the centre of the rosette. The increase in the vigour and the size of the plant was in preparation for the massive drain of energy that was to accompany the flowering process. The flower spike rose to the top of the rosette (about 1 metre) and seemed to be accelerating each day. At this time the weather was fairly dry (August) and we were preparing to leave on holidays for the next 4 weeks. Watering is provided by automatic sprays and so we expected to find even greater size and development when we returned, but to our surprise the inflorescence was still sitting where it was when we left. Right on cue, when we returned, growth started again and continued until full development of the inflorescence. This was reached in mid November and the inflorescence stood at 2 metres above the rosette, giving an overall height above the soil level of 3.5 metres. Large white flowers with petals up to 10cms long opened successively at night and were visited by hundreds of night flying insects and ants. The nectary glands produced so much nectar to attract these pollinators that it formed large droplets at the edge of the floral bracts. The weather was still fairly dry and flowering continued under these conditions until early January. At this stage the fertile flower buds had been used up and only the sterile, non flowering terminal buds remained, signifying an end to the flowering process. Seed pods were developing on all the branches. Then about 4 weeks after the last flower, the rain started and continued through February/March with little relief. The branches of the inflorescence recommenced growth, providing more fertile flower buds, and increasing the length of the inflorescence branches by about half again. This continued until the end of March with more night flowers and more pollination, until eventually the flowering was finished. By this time the branches of the inflorescence numbered between 60 and 70 and each carried from 10 to 30 ripening seed pods. This gave about 1300 seed pods and the branches hung down like long thin bunches of grapes. The plant was so top heavy that stakes had to be driven through the pot into the ground and the inflorescence had to be supported by tying it to nearby trees. It remains in this condition, with the seed pods still ripening. A few of the base leaves have dried out to reduce the moisture loss stress due to transpiration.
Propagation of V. imperials is by seed or by vegetative offsets which mainly form on relatively small immature parent plants. Several offsets collected from this plant in 1989 have now reached about 25 cms across. Based on the performance of the mother plant, I can expect to flower these offsets in 1999/2000.
This realization has made the flowering of V.imperialis a bitter-sweet experience.

---
Updated 26/11/23
---