Alcantarea heloisae
Click thumbnails for full size, scaled to a new window.
---
Alcantarea heloisae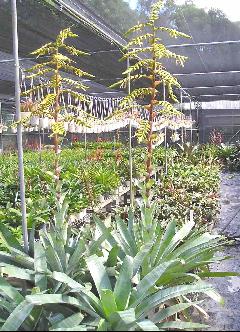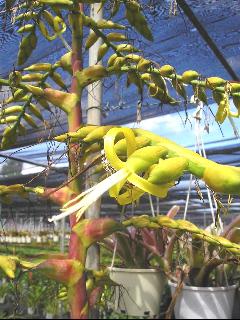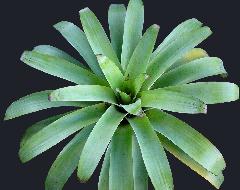 | | |
| --- | --- |
| Photo by Bruce Dunstan. Grown as "Black" edmundoi. | Richard Harper |
Alcantarea Black Edmundoi - As grown by Olive Trevor. This name was unofficially given to a plant that had edmundoi on the label but had dark leaves and didn't look like an edmundoi (as we know it). When it flowered in 2008 details were sent to Leonardo Versieux who is doing a Doctorate on the genus and he considered it to be Alcantarea heloisae.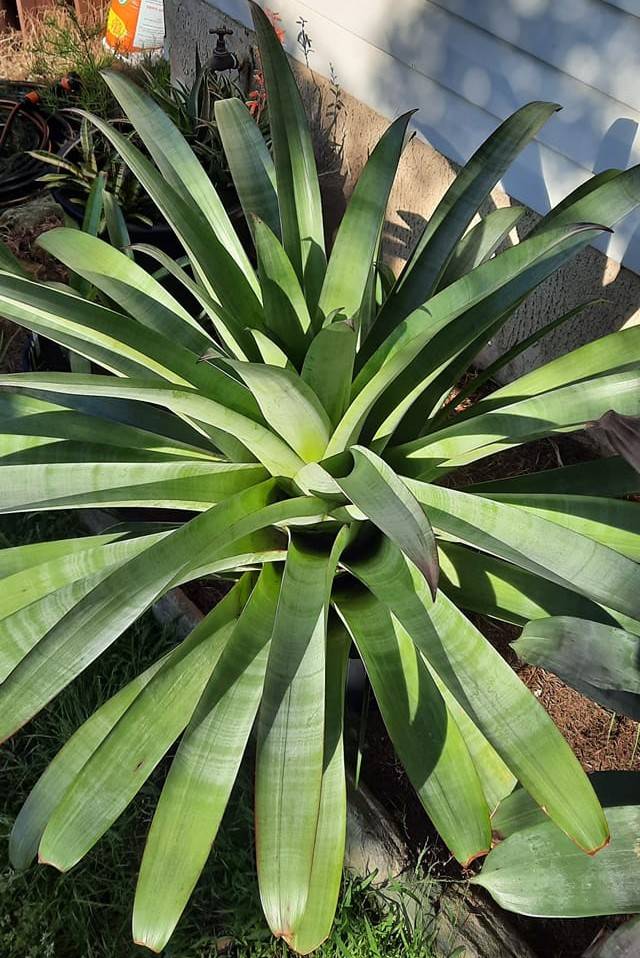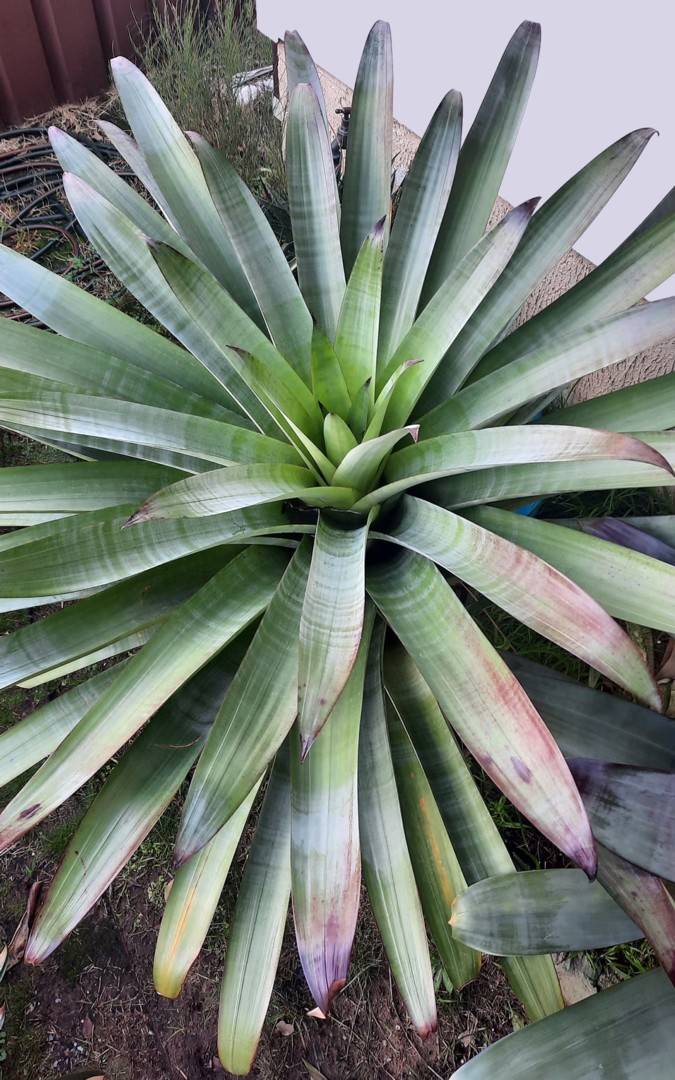 | | |
| --- | --- |
| Howard Martin 10/21 ex P.Tristram | Howard Martin 07/22 |
---

Alcantarea heloisae J.R. Grant, Vidalia 1(1): 31-33. 2003.

TYPE: Brazil. Rio de Janeiro, "Retiro de Triunfo", Triunfo, near Santa Maria Madalena, 22° 03'350" S, 041° 56'980" W, 26 March 1999, J. R. Grant 9903470 & E. Dias , collected sterile, bloomed in cultivation at the Universite de Neuchatel, Switzerland (May-August 2002) (holotype HB; isotype US).

A Alcantarea odorata (Leme) J. R. Grant similis sed laminis foliorum linearibus , apice acuminatis, inflorescentia spherica, latiore, pauciramosa, bracteis floriferis longioribus, flavis, sepalis acutis; a A. nahoumii (Leme) J. R. Grant laminis foliorum manifeste albo-cretaceis, bracteis scapigeris parvis linearis viridis, bracteis floriferis altitudinem sepalorum distincte brevioribus differt.

PLANT lithophytic, acaulescent to short caulescent, flowering to ca. 1.7 m tall. Leaves, scape, scape bracts, and primary bracts covered in a white powdery scale, quite pronounced on the upper scape bracts where three distinct colors are visible with the upper portion of the bracts being green, the lower portion red, and on the sides, and back side of the bracts a thick white coating.
LEAVES rosulate, erect to spreading, ligulate, (45) 55-62 (68) cm long, forming a large funnelform rosette to 1 m wide;
SHEATHS broadly ovate to elliptic, 14-16 x 11-13 cm, chestnut to brown adaxially and abaxially, with horizontal banding of lepidote scales;
BLADES linear, acuminate, apex recurved, 37-52 x 7.5-12.0 cm, green, with transverse striping of gray scales both abaxially and adaxially.
SCAPE erect, 114 cm long, 10-17 mm in diameter, much longer than the leaves, glabrous, red, exposed in the upper half otherwise entirely covered below by the scape bracts;
SCAPE BRACTS foliaceous in general, erect to slightly spreading, 7-26 x 3.06.5 cm, the ones in the lower half resembling the leaves (linear-long, foliaceous, and entirely green as in the leaves), and the ones in the upper half resembling the primary bracts above (more ovate, acuminate, red below and green above with the apex tip that is again red and recurved).
INFLORESCENCE erect, spherical in outline, short-paniculate, laxly bipinnate, ca. 41 x 34 cm;
PRIMARY BRACTS broadly ovate, apex acute to acuminate, 2.9-5 x 3.5-4.5 cm, generally equaling (slightly shorter to slightly exceeding) the peduncle, the lower few as in the upper scape bracts (where the lower 2/3 portion is red, the upper 1/3 green, except the apex tip that is again red and recurved back as in the leaves), otherwise most typically bright red and glabrous;
BRANCHES 7 in number (8 if terminal spike is included), 16-20 x 8-10 cm, flat, horizontal to spreading, not curved during anthesis, laxly flowered of 10 to 13 flowers (16 on terminal spike), the internodes between flowers 1-2 cm long, with a single red to reddish-yellow 2-2.2 em long sterile bract at the base;
PEDUNCLE 1.6-3.6 cm long, red;
RACHIS nearly straight to gently geniculate, green.
FLOWERS distichous, never secund, fragrant, sessile, 10-10.5 cm long.
FLORAL BRACTS broadly elliptic to slightly obovate, 32-35 x 24-26 mm, distinctly shorter than the sepals, glabrous, shiny golden yellow, ecarinate, apex rounded to obtuse, faintly mucronate.
SEPALS narrowly obovate, 30-33 x 14-16 mm, glabrous, light green to pale greenish yellow, ecarinate (though small traces are present), apex acute.
PETALS linear, 85-86 x 8-9.5 mm, 59-63 mm exserted, glabrous, bright golden yellow, strongly recurved at anthesis (where the 3 petals make the flower look like an anchor);
PETAL APPENDAGES 25 x 2.0-2.5 mm, lobe (or rather, the free portion) 5-7 mm long, light yellow where the adnate portion below hyaline.
STAMENS 72-74 mm long, 40-42 mm exserted;
FILAMENTS 64 mm long, filiform, dorsifixed at the base;
ANTHERS linear-long, 10-1 lx 0.5-0.75 mm.
GYNOECIUM 85-87 mm long, ca. 56 mm exserted;
OVARY 6-8 mm long, ca. 4 mm in diameter, light green;
STYLE 7779 mm long, ca. 2 mm in diameter, white;
STIGMA where each lobe is curved in a clockwise j formation, each lobe ca. 3 x 1 mm.

AFFINITIES
Alcantarea heloisae has similarities to A. nevaresii , A. nahoumii , and A. odorata . It resembles A. nahoumii in its bright yellow floral bracts and the lax arrangement of flowers on the branches, yet the scape bracts of A. heloisae are much smaller, linear-long, entirely green or green tipped in red, where A. nahoumii has large inflated red bracts. The scape bracts of A. nevaresii most closely approach those of A. heloisae , yet they recurve horizontally whereas those of A. heloisae are always erect. While the inflorescence of A. nevaresii appears to be quite similar to that of A. heloisae , its fewer flowers are much more densely compacted, the floral bracts are generally greenish yellow (vs. bright yellow in A. heloisae ), and are prominently carinate. Likewise, the leaves of A. nevaresii are narrower and shiny bright green, whereas those of A. heloisae are comparatively broader and covered with prominent whitish scales, even with significant whitish cross-banding. This leaf coloration of A. heloisae most closely approximates the leaves of A. odorata , yet leaves are much shorter (to 68 cm long in A. heloisae , and to 100 cm in A. odorata ). The foliage of A. odorata likely indicates the closest relationship to A. heloisae .

The genus Alcantarea has been previously summarized (Grant, 1995a; Grant, 1995b) yet now comprises 18 species including: A. benzingii Leme, A. brasiliana (L.B. Sm.) J.R. Grant, A. burle-marxii (Leme) J.R. Grant, A. duarteana (L.B. Sm.) J.R. Grant, A. edmundoi (Leme) J.R. Grant, A. extensa (L.B. Sm.) J.R. Grant, A. farneyi (Martinelli & Costa) J.R. Grant, A. geniculata (Wawra) J.R. Grant, A. glaziouana (Lemaire) Leme, A. hatschbachii (L.B. Sm. & Read) Leme, A. heloisae J.R. Grant, A. imperialis (Carriere). Harms, A. nahoumii (Leme) J.R. Grant, A. nevaresii Leme, A. odorata (Leme) J.R. Grant, A. regina ( Vel1.) Harms, A. roberto-kautskyi Leme, and A. vinicolor (Pereira & Reitz) J.R. Grant. I should expect the genus to continue to increase in species number as more remote regions are explored, and current polyphyletic species become better understood.

EPONYMY
This species is named in honor of Heloisa Burrowes Raposo Dias (1948-), English teacher and owner of Raposo Idiomas, a language school in Campos dos Goitacazes, RJ. Heloisa, my "mother #2", took great care of me while I was an American Field Service (AFS) exchange student to Brazil in 1985. It is now my great pleasure to dedicate a new species of bromeliad that I collected with her husband Eduardo Dias in 1999 in her honor as "Heloisa's Alcantarea".

---
Updated 07/07/22
---