Alcantarea geniculata
Click thumbnails for full size, scaled to a new window.
---
Alcantarea geniculata
*Note: Elton Leme 5/2008 suggests "dwarf plant or nevaresii"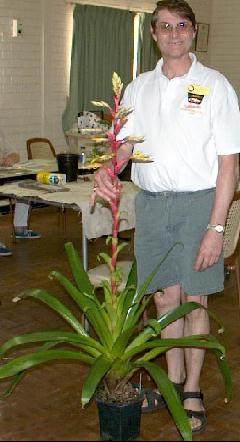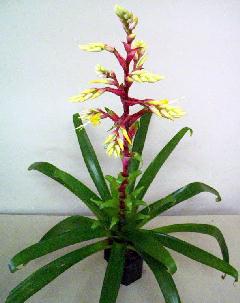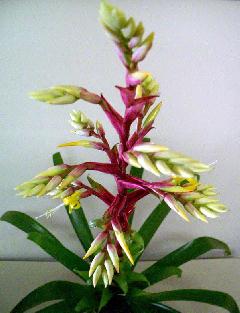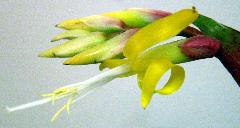 Vic Przetocki 11/06, WA. ("dwarf plant or nevaresii")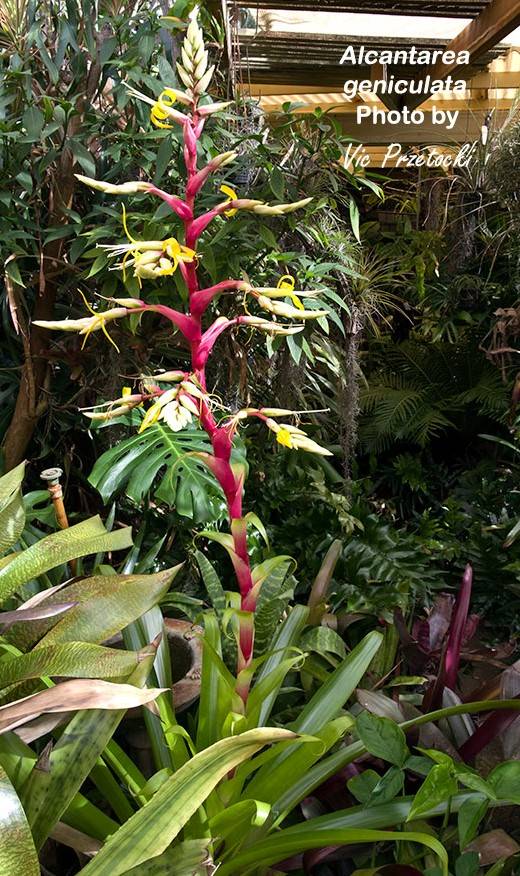 ---
Alcantarea geniculata
Alcantarea geniculata (Wawra) J. R. Grant, Abh. Akad. Wiss. Lit. Mainz Math.-Naturwiss. Klasse, Trop. Subtrop. Pflanzenwelt 91: 13, 1995.
Basionym: Platystachys geniculata Wawra, Osterr Bot. Z. II: 345. 1862.
Synonym:
- Vriesea geniculata (Wawra) Wawra, Bot. Ergebn. 156.1866.
- Vriesea regina var. glaziouana Wawra, Osterr Bot. Z. 30: 218. 1880.
Type: Rio de Janeiro, Rio de Janeiro, Pico da Tijuca, Wawra 242 (W ?).
Desc from Bromelia #2 June 1997 by E Leme.
PLANT lithophytic, flowering 150-200 cm high;
LEAVES ca. 30, densely rosulate, suberect, forming a large funnelform rosette at base;
SHEATHS broadly elliptic, 20 x 15 cm, densely brown-lepidote on both sides;
BLADES narrowly triangulate-attenuate, ca. 70 cm long, 8-10 cm wide near the base, not narrowed at base, apex acuminate-attenuate and recurved, subglabrous and green on both sides.
SCAPE ca. 100 cm long, 2-3 cm in diameter, rigid, erect, shorter or longer than the leaves, reddish to red, glabrous;
SCAPE BRACTS suberect with recurved apex, concealing the scape, distinctly longer than the internodes, the basal ones subfoliaceous, green, the upper ones resembling the basal primary bracts.
INFLORESCENCE long paniculate, laxly to subdensely bipinnate, 70-80 cm long, 30-40 cm in diameter, erect;
PRIMARY BRACTS with a broadly elliptic to suborbiculate base, 6-8 x 6- 7 cm, and abruptly and narrowly triangulate-attenuate, strongly recurved blade, 4-9 cm long, 4-7 cm wide at middle, glabrous abaxially, inconspicuously brown lepidote to glabrescent adaxially, the basal ones red toward base and green toward apex, distinctly exceeding the sterile base of the branches, the upper ones broadly ovate, acute and distinctly apiculate, 6-8 x 3.5-5.5 cm, equaling the sterile base of the branches or slightly longer, red;
BRANCHES 20 to 30, subspreading or slightly ascending toward apex, oblong to sublinear after anthesis, 6- 7 cm wide (excluding petals), subdensely flowered, the basal ones 20-25 cm long, with 10 to 14 flowers,
PEDUNCLE 58 cm long, ca. 0.7-0.8 cm in diameter, red, glabrous, bearing two sterile bracts near the apex, red toward base, whitish toward apex, strongly carinate, the upper ones 12-15 cm long, with 8 to 10 flowers, peduncle ca. 4 cm long, bearing a single sterile bract at apex;
RHACHIS distinctly geniculate, glabrous, green to reddish-green, 3-5 mm in diameter, slightly angulose, internodes ca. 10 mm long;
FLORAL BRACTS broadly ovate, 27 x 23-25 mm, apex subacute, slightly sulcate, rather thin in texture, the basal ones distinctly carinate, the upper ones carinate to ecarinate, whitish-green, glabrous, not completely enfolding the flowers, about equaling the midpoint of the sepals, the upper ones slightly imbricate before anthesis only.
FLOWERS distichous, not secund, suberect, 3.5-4 cm long (excluding petals), pedicels stout, ca. 6 mm long, ca. 8 mm in diameter;
SEPALS subsymmetric, narrowly obovate, obtuse, 30-35 x 13- 16 mm, glabrous outside, inconspicuously brown-lepidote inside, free, ecarinate, green toward base, whitish-green toward apex, coriaceous near the base;
PETALS sublinear, apex obtuse, 80-95 x 7-10mm, golden-yellow, strongly recurved at anthesis, then flaccidescent, bearing 2 linear, obtuse, 25-mm-long appendages at base with free lobes 5 x 2-3 mm;
STAMENS shorter than the petals but exposed at anthesis;
ANTHERS linear, ca. 10 mm long, base and apex obtuse, fixed near the base;
STYLE surpassing the anthers;
STIGMA simple-erect, white, blades spreading, 2-3 mm long.
TYPE: Rio de Janeiro, Petropolis, Wawra & Maly 419.
Holotype: W (destroyed).
Lectotype: Bot. Ergebn. 156, plate 25, 1866 [excluded the spring leaves on the left; designated in Smith & Downs(1977: 1265)].
Glaziou's specimen no. 15470, deposited at the Royal Botanic Gardens, Kew, England, has the following inscription: "Environs de Rio Janeiro et D'Ouro Preto, 15470, 1883-84, Coll. Mons. A. Glaziou. Comm May 1885." This is followed by two handwritten inscriptions:
"Vriesea glazioviana Lemaire" and "Vriesea geniculata", the first probably written by Glaziou and the second by Carl Mez. This plant is truly A. geniculata, but this material serves to illustrate the problems related to the often imprecise collection sites given by Glaziou.
Some of the synonyms cited by Smith & Downs ( 1977) were not dealt with here because they represent a conceptual potpourri, making it impossible to precisely identify the taxa involved. These synonyms are Vriesea gigantea sensu Regel, V. gigantea sensu Carriere and Tillandsia regina sensu Baker.
Alcantarea geniculata is easily recognized by the following characteristics: branches of the inflorescence with sterile bracts on the basal peduncule, rhachis clearly geniculate even at the beginning of anthesis, floral bracts distinctly carinate, especially those at the base, not completely enfolding the calyx, and golden yellow petals. Natural populations of this species are found mainly on granite cliffs in the Serra dos Orgaos, from 700 to 1,700 m altitude, especially in Petropolis, Teresopolis and Mage municipalities, but it also ranges to the municipality of Rio de Janeiro, where it is found on rocky slopes at higher elevations, such as the Pico da Tijuca in the heart of Rio de Janeiro.
The population from Pico da Tijuca is especially relevant because the original description of Vriesea regina var. glaziouana (treated here as a synonym of A. geniculata) was based on these plants. Although I did not collect specimens for the herbarium since this area lies within a national park, I examined several plants in loco and verified that this taxon is fully compatible with A. geniculata in its morphology.
The original concept of the species was broadened by Smith & Downs (1977) to include a long list of synonyms. Consequently, there was a conceptual overlapping of taxa - as can be seen from the material cited by these authors - including A. regina which, according to these authors, is a sympatric species. Although A. regina is excluded from this analysis (this species is considered, here, to be restricted to the southern part of Rio de Janeiro state, and will be discussed in the next part of this series), there is still another taxon that differs from A. geniculata and cannot be considered a synonym of this species.
This taxon was first reported in the literature by Lemaire, in May 1867, in the journal "l' Illustration Horticole". The author discussed the identity of Vriesea gigantea and produced a colored plate of a species (plate 516) which he labeled as V glaziouana, noting that he would describe and comment on this species in the following issue (June 1867) of the same periodical.

---
Updated 17/01/23
---