Aechmea macrochlamys
Click thumbnails for full size, scaled to a new window.
---
Aechmea macrochlamys
Species. Santa Teresa, Espirito Santo, Brazil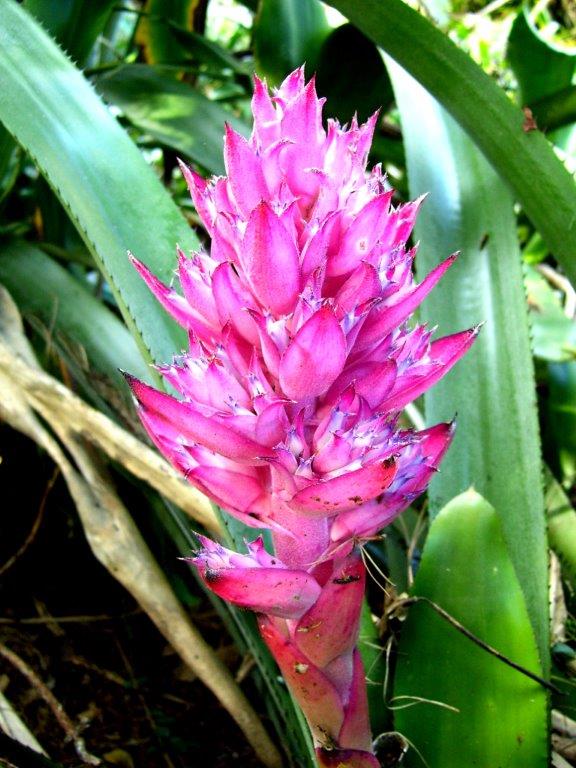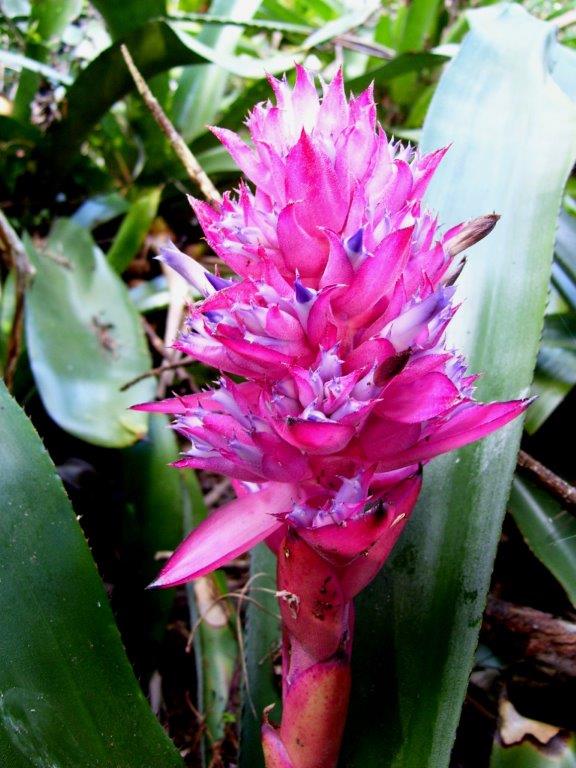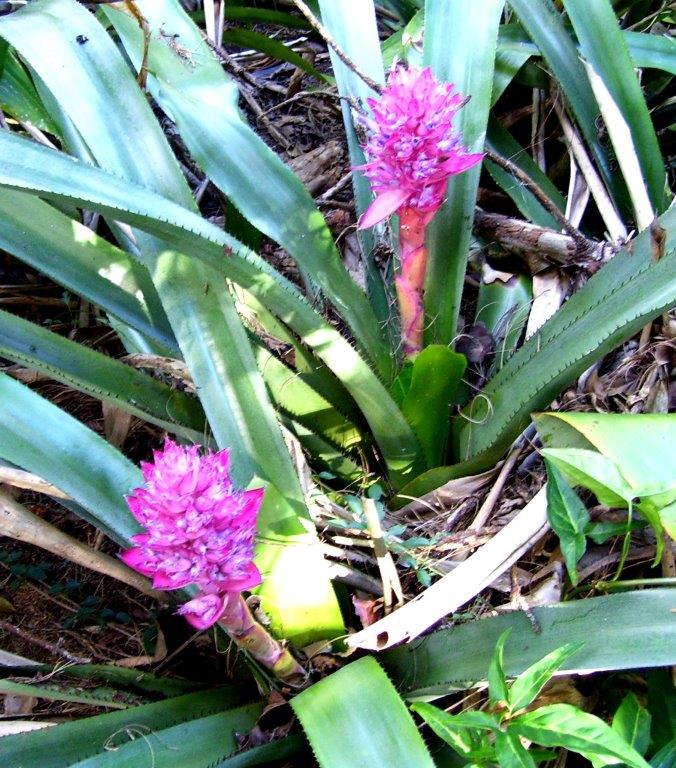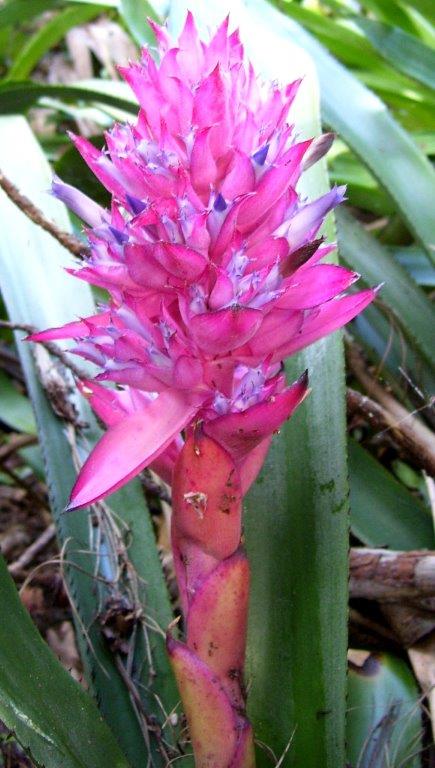 Ross Little ... "In Bromeletter Vol.59, No.5 - May 2021, page 11, Allan Beard's Aechmea macrochlamys is actually Aechmea 'Macfoster', attached are 4 photos of the real Ae. macrochlamys flowering in my garden at the moment for you to put in the BinA Photo Index and change the existing photos over to 'Macfoster'.
Note the large/ample pink floral bracts which is where it gets its name – macrochlamys (this means large cloak or mantle).
Ae. 'Macfoster' is distinctly different and doesn't have those large bracts."

---
Formerly listed here as macrochlamys, actually 'Macfoster'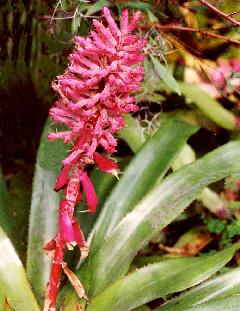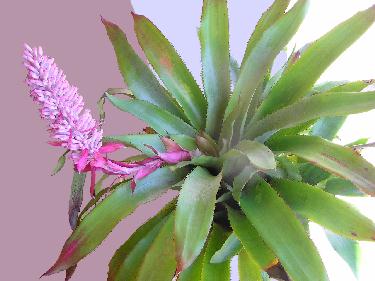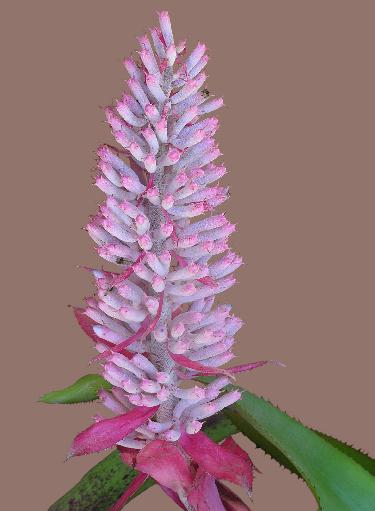 | | |
| --- | --- |
| Ken Woods 10/04 Ae. Macfoster | Ken Woods 04/11 Ae. Macfoster, previously as macrochlamys |
---

Aechmea macrochlamys L. B. Smith, Arq. Bot. S. Paulo II. I: 54, pl. 68. 1941.
Desc from S&D
Plant flowering to 1.2 m high.
Leaves funnelform-rosulate, 6-12 dm long;
Sheaths large, purple, covered with minute brown scales;
Blades ligulate, broadly acute and apiculate, pungent, 6-10 cm wide, punctulate-lepidote on both sides, subdensely serrate with straight or curved dark brown spines 5 mm long.
Scape decurved, stout, soon glabrous;
Scape-bracts erect, densely imbricate, large, broadly elliptic, acuminate, pungent, the upper entire, red, papyraceous when dry, densely punctulate-lepidote.
Inflorescence densely tripinnate, sub pyramidal, nearly 3 dm long, 15 cm in diameter, white-farinose;
Primary bracts like the scape-bracts, exceeding the lower branches;
Branches stoutly ovoid, of few spikes;
Spikes dense, of 4-6 distichous flowers, wholly fertile or rarely with sterile bracts at apex.
Floral bracts lanceolate, acuminate, ample, ecarinate, enfolding the flowers and exceeding the sepals;
Flowers sessile, suberect.
Sepals strongly asymmetric, 18 mm long without the 5 mm long terminal spine, connate for 5 mm;
Petals blue at apex, bearing 2 crenate scales at base;
Ovary 10 mm long, epigynous tube 3.5 mm long; placentae apical (?).
Type. Foster 244 (holotype, GH; isotype, US), Santa Teresa, Espirito Santo, Brazil, 25 Jul 1939.
Distribution. Known from the type locality only: 7 Aug 1940, Foster 837 (GH, US).

Letter from Marie Selby Bot Gardens 14 Sept 1988
Dear Mr. Butcher;
Enclosed are copies of Misc. New Taxa from Selbyana, No. III was in the Journ. of the Brom. Soc.
I am quite sure that your Aechmea aff. melinonii is undescribed but hesitate to publish it as I don't know anything about its origin, most likely Brazil. It differs from Ae. melinonii in certain flower dimensions and more conspicuously in habit, true A. melinonii is erect and tubular with a pale pink or flesh inflorescence. Perhaps Leme will re-find this in the wild. Unfortunately many plants defy quick and simple identification.
Regarding reprints of articles in Selbyana, each author is responsible for this, many don't bother as it is another out of pocket expense. I usually purchase 100 reprints, at least 40 are mailed out the first week and the rest don't last very long. I will put you on my mailing list.
I have heard good things about the S. Australia Conf., I probably should have come over. Maybe next time.
Harry Luther

Part of letter from Leme to Luther Oct 1993
Concerning the dried material, I thank you very much for them. the Aechmea (BIC 187) from Kathy Dorr s/n, resembles Ae. macrochlamys L.B.Smith, with a few discordant features, like spinulate primary bracts and narrower floral bracts which barely exceeds the ovary (the same must be said about the specimens in the xerox copies from D.Butcher s/n; A.Cantaino s/n, and J.Anderson s/n). I enclosed a plate of my book where you can see what I call Ae. macrochlamys, very close in appearance to the dried material. The original drawing reproduced by Smith & Downs is not very good, as do not show the correct dimensions of the primary bracts. I think those plants can carry the mentioned identity.

Marie Selby Bot Gdns 10 Dec 1993
Dear Derek;
The enclosed should be cause for a flurry of pen and paper for the Bromeletter, etc. A more "normal" Ae. macrochlamys is about, under this name. Seedlings ex Skotak are now being sold by Cathcart. They are similar and more "bracteose" (a new term coined here) and can even be ID'ed from Lyman's key to Aechmea. Where did the name 'Purple Globe' come from? I heard it was first used by Harvey Kendall in California in the 60s or early 70s.
Harry Luther
---
Updated 24/07/21
---