Aechmea cylindrata
Click thumbnails for full size, scaled to a new window.
---
Aechmea cylindrata
Species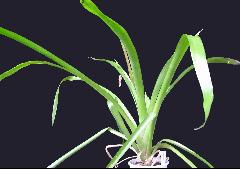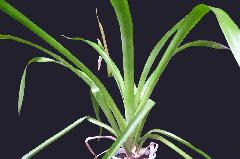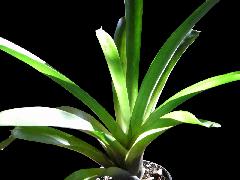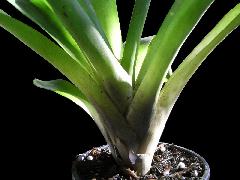 | | |
| --- | --- |
| Ian Hook 08/06, grown from seed by Ken Woods. | Ian Hook 08/08, from Dion Fourie. |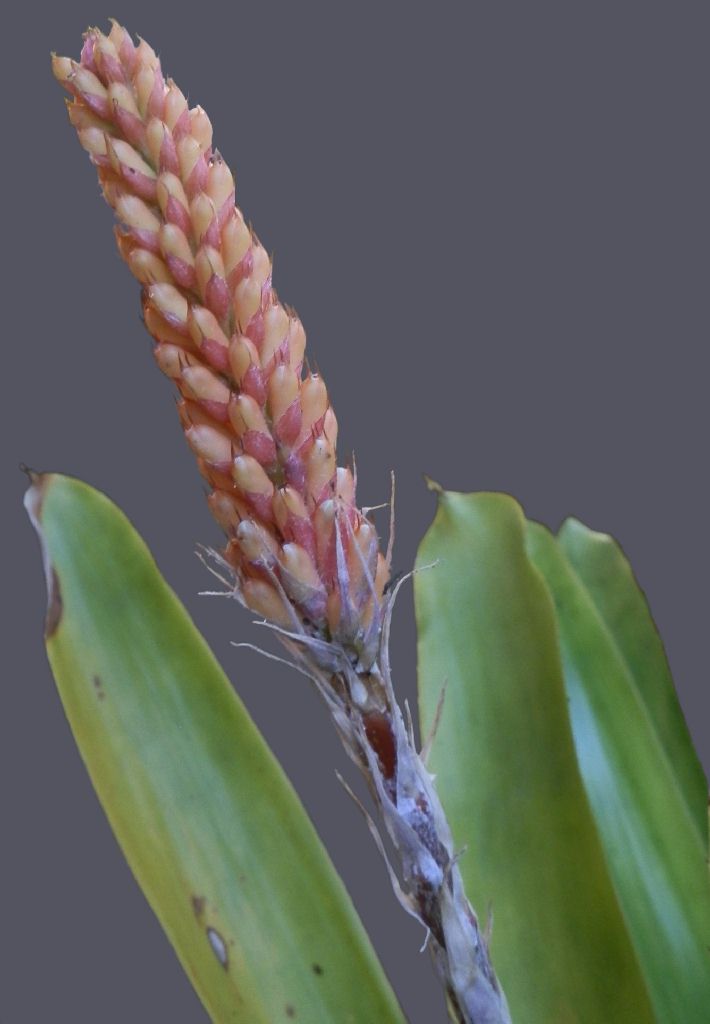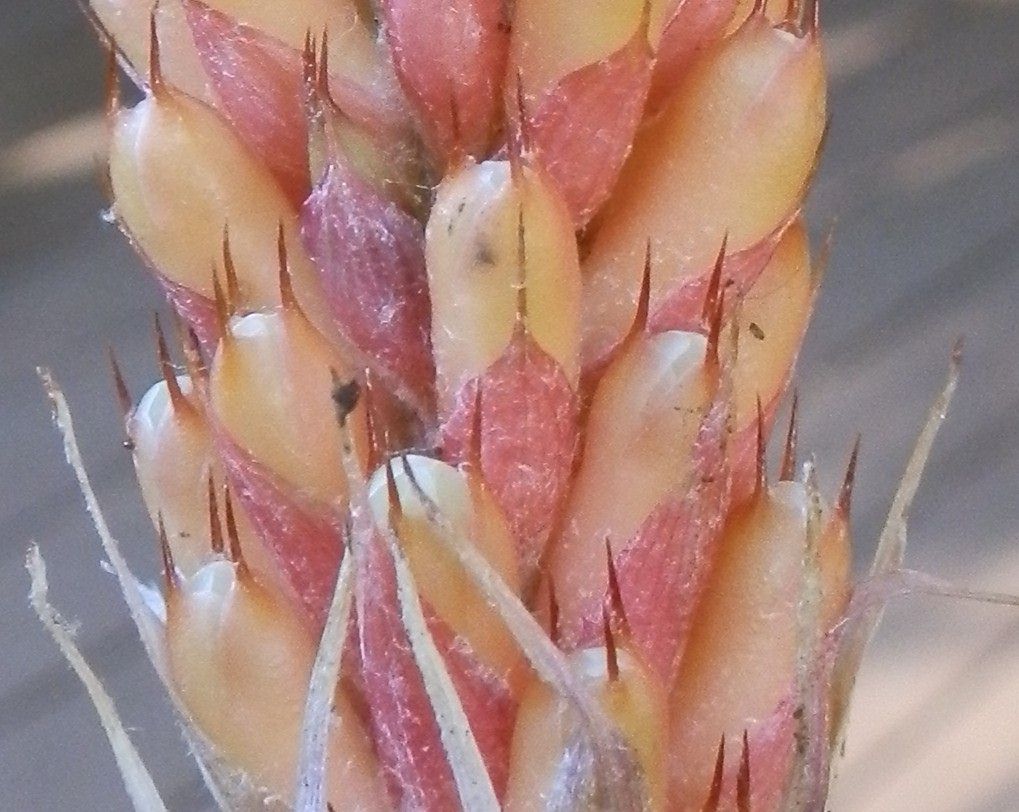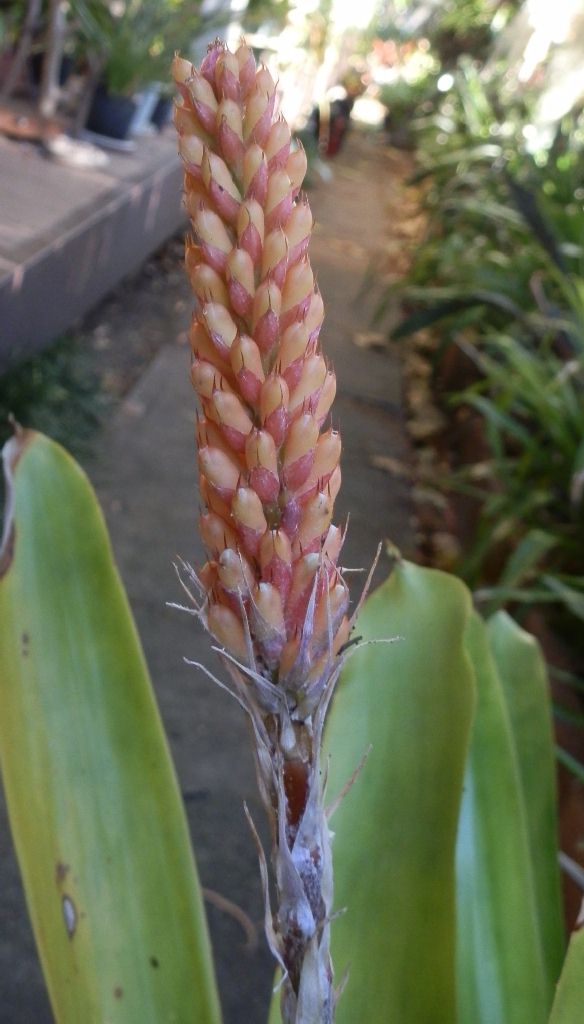 Ian Hook 09/17, grown from seed by Ken Woods. Note: Petals supposed to be pale blue to indigo !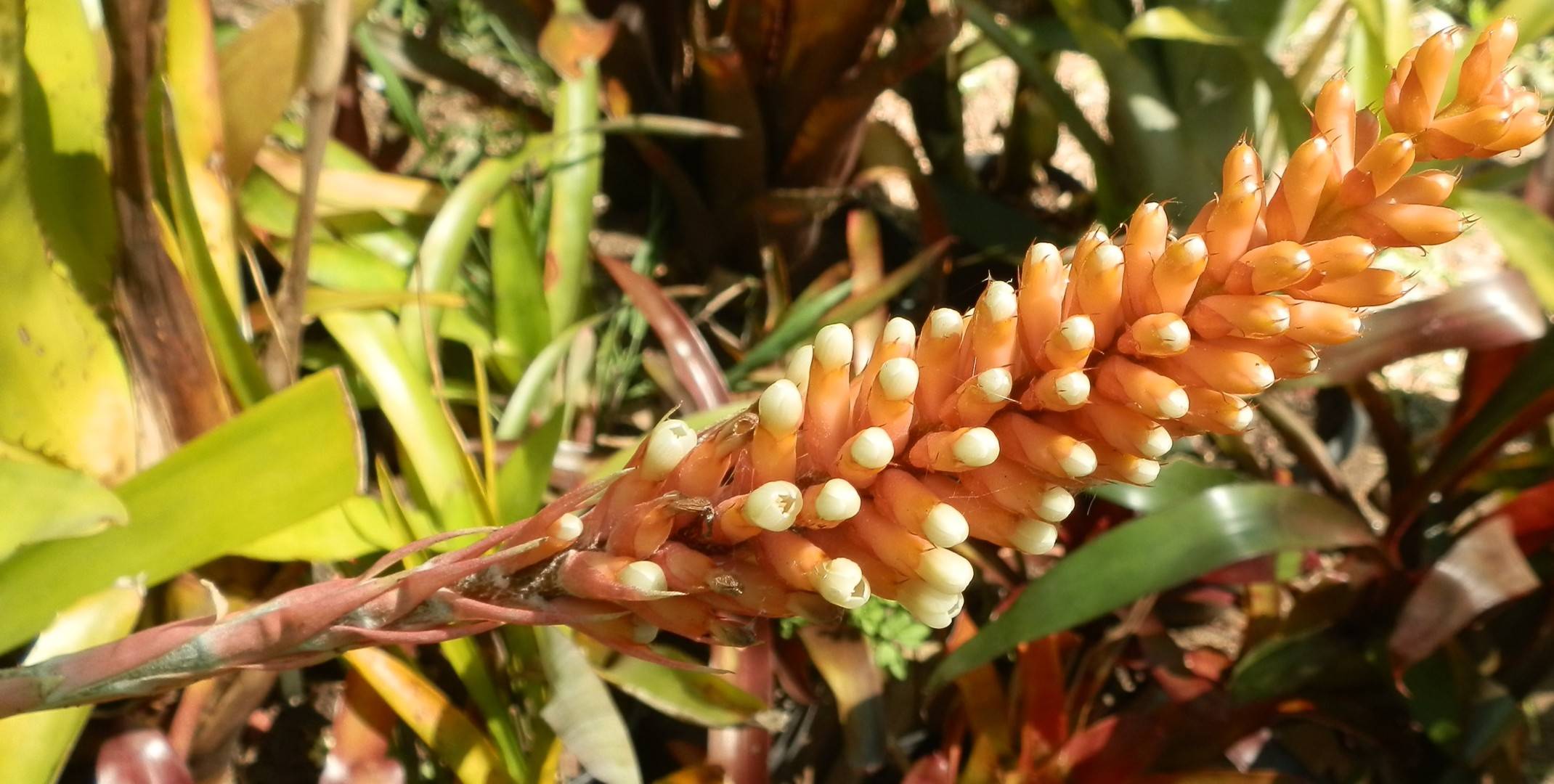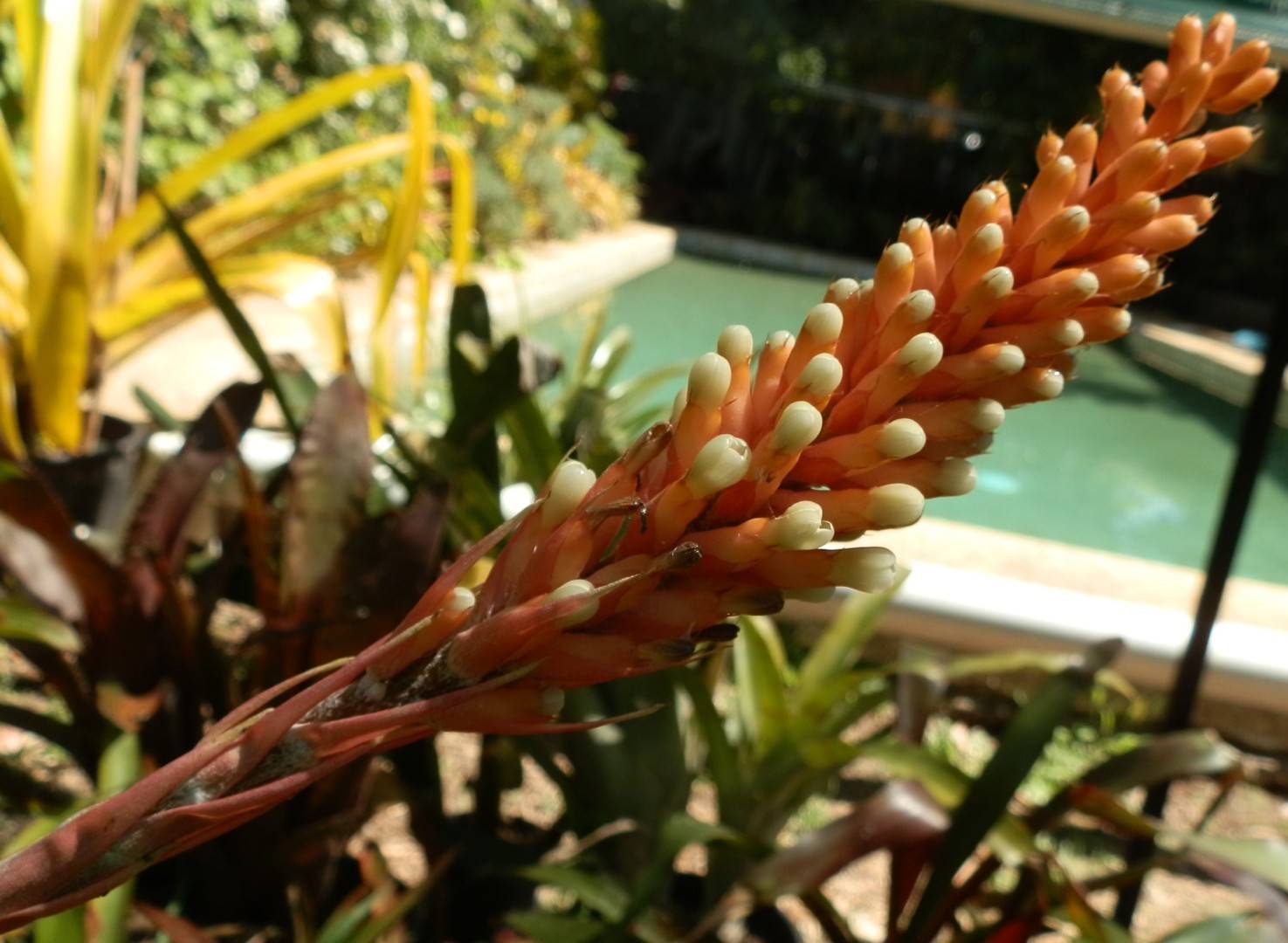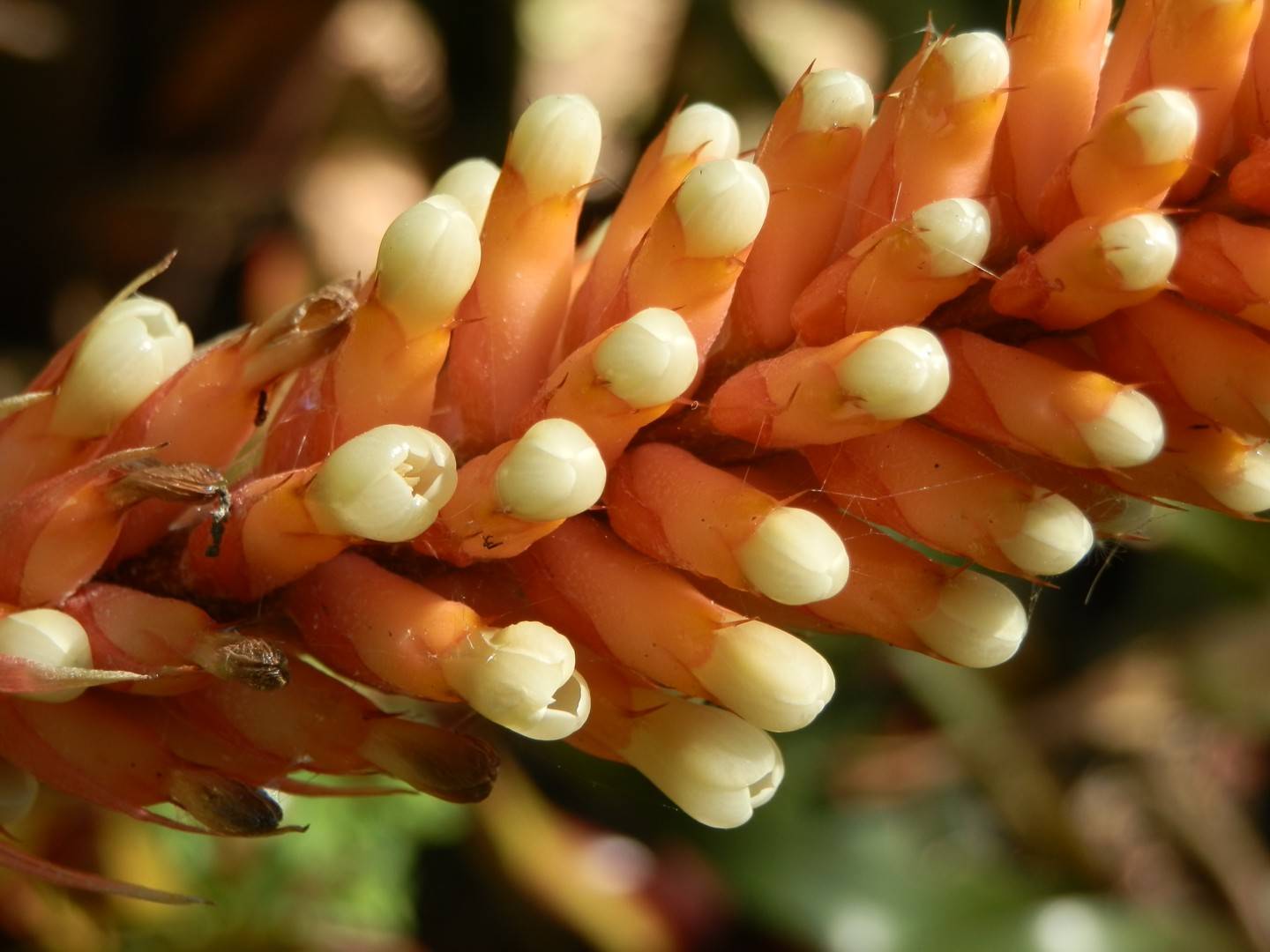 Ian Hook 10/21, grown from seed by Ken Woods. Note: Petals supposed to be pale blue to indigo !
---

Aechmea cylindrata Lindman, Sv. Vet. Akad. Handl. III. 24(8): 32, pl. 8, figs. 2835. 1891.
Aechmea cylindrata var micrantha Lindman, Sv. Vet. Akad. Handl. III. 24(8): 32, pI. 8, figs. 3640. 1891. Type. Rio Buturoca, Santos, Sao Paulo, Brazil, Mosen 3245 (S, photo GH), 1 Feb 1875.
Aechmea hyacinthus F. Mueller, Gartenflora 42: 717. 1893. Type. Blumenau, Santa Catarina, Brazil. (B, P, clonotypes ?).
Desc from S&D
Plant propagating by stout rhizomes 15-20 cm long, flowering 3-6 dm high.
Leaves 10-17 in a dense rosette, suberect, 2-8 dm long;
Sheaths large but usually not much wider than the blades, elliptic, entire, often tinged with dark purple, covered with minute appressed pale brown-centered scales;
Blades ligulate, broadly rounded and apiculate, 30-65 mm wide, pale-lepidote especially beneath, green except for the reddish apex, laxly and minutely serrate or nearly entire.
Scape erect, white-flocculose at first;
Scape-bracts narrowly lanceolate, attenuate, entire, pale rose, very delicate and soon deciduous.
Inflorescence simple, dense or lax at anthesis, 6-25 cm long, 25-55 mm in diameter, sparsely white-flocculose.
Floral bracts narrowly triangular, attenuate, thin with a slightly pungent apex, the lower exceeding the flowers;
Flowers polystichous, sessile, 14-20 mm long.
Sepals asymmetric, to 5 mm long without the brown terminal 2 mm spine, connate for 3 mm, pale rose;
Petals ligulate, obtuse, to 13 mm long, pale blue, bearing 2 fimbriate scales at base; Stamens included;
Ovary slenderly ellipsoid, strongly nerved, epigynous tube large; placentae central; ovules obtuse.
Type. Mosen 2975 (holotype, S; photo GH), bank of Rio Buturoca, Sororocaba, Santos, Sao Paulo, Brazil, 25 Dec 1874.
Distribution. Terrestrial and epiphytic, from near sea level to 1200 m alt, southern Brazil.
BRAZIL. Sao Paulo: Alto da Serra, 1 Feb 1932, Hoehne s n (GH, SP); 18 Aug 1939, Foster 382 (GH, US); Ribeirao do Tijuco, 3 Sep 1939, M. Kuhlmann s n (SP); Foster 464 (GH, R); Boracea, 21 Sep 1940, L. Silva s n (SP); Salesopolis to Boracea, 19 Nov 1949, M. Kuhlmann 2040 (SP). Parana: Monte Alegre, Ipiranga, 8 Feb 1904, Dusen 3491 (R); Jacarei, 27 Sep 1908, Dusen 6633 (S); 26 Mar 1909, 7890 (S); 2 Dec 1909, 9011 (S, US); 26 Sep 1914,14559 (S); 12 Dec 1914,16104 (S); 18 Sep 1915, 17196 (S, US); Morretes, 20 Oct 1928, Hoehne s n (GH, SP); 1 Sep 1939, M. Kuhlmann s n (SP, US); Foster 450 (GH, R, US); Sao Jose dos Pinhaes, 6 Nov 1949, Hatschbach 1592 (MBM, US); 30 Aug 1961, 8316 (MBM, US); Curitiba to Paranagua, 15 Sep 1953, Reitz 5758 (HBR, US); Guaratuba, 13 Oct 1957, Hatschbach 4172 (MBM, US); Cerro Azul, 27 Sep 1958, Hatschbach 5060 (MBM, US); Antonina, 18 Nov 1964, Hatschbach 11856 (MBM, US); Rio do Cedro, Guaraquecaba, 21 Nov 1968, Hatschbach 20350 (MBM, US). Santa Catarina: Herval do Oeste, Jun 1911, Dusen s n (S); Morro da Bateia, Brusque, 27 Oct 1947, Reitz C-1902 (HBR, US); Morro do Ball, Ilhota, 29 Jan 1948, Reitz C-2063 (HBR, US); 1 Nov 1951, 4/89 (HBR); Ribeirao do Ouro, May 1950, Reitz 3633 (HBR); Blumenau, Sep 1950, Reitz 3670 (HBR); Morro Spitzkopf, Blumenau, 2 Nov 1948, Reitz 2252 (HBR, US); Morro do Campo Alegre, Sao Francisco do Sul, 3 Sep 1960, Reitz & Klein 9745 (HBR, US).

Detail from Flora Il Catar Bromeliaceas 437-439. 1983
16. AECHMEA CYLINDRATA Lindman GRAVATA Est. 7
Lindman, Sv. Vet.-Akad. Handl. III. 24 (8): 32. tab. 8, figs. 28-35. 1891; Reitz, Anais Bot. Herb. Barbosa Rodrigues 2: 9. 1950, loc. cit. 3: 97. 1951, loc. cit. 4: 37. 1952, loc. cit. 4: 48. 1952, Sellowia 7: 126. 1958, loc. cit. 17: 45. 1965, loc. cit. 19: 101. 1987, Anais XV Congr. Nac. Bot. 236. 1967; L. B. Smith & R, J. Downs, Flora Neotropica 14 (3): 1882, fig. 64 A-B. 1979.
Aechmea cylindrata var. micrantha Lindman, Sv. Vet,-Akad. Handl. III. 24 (8): 32, tab. 8, figs. 36-40. 1891.
Aechmea hyacinthus F. Muller, Gartenflora 42: 717. 1893.

translated by Butcher
EPIPHYTE, acaule, floriferous, height 0.5-0.80m.
LEAVES disposed in a rosette, gathered together and forming a cistern below;
SHEATHS quite wide, long-oval, membranaceous on margins, covered internally and externally with many-angled scales, white-grey, dark purple less at the base where it is white, with dark purple grooves, green at the apex, entire, 23cm long, 7cm wide;
BLADES spreading, green, concave grooved, broad linear, 0.40-1.20m long, 4.7cm wide, narrowed for about 3mm above the sheath, with brown thorns, in general straight and lmm long., for the base and for the apex and more towards the centre 5mm apart, apex obtuse, round, always dry looking, sometimes almost reniform, with point not pungent, all the damaged parts as with the dry tips are bordered by dark purple colour.
INFLORESCENCE undefined, shorter than the leaves, 46cm long, multifloral, spike 12cm long, 5.5cm diam., cylindric, a little acute at the apex, with flowers at the base less densely apart and more so at the apex, sublax;
SCAPE emerges of the center of the rosette, thick (9mm diam. ), cylindrical, a little white floccose, base white, later yellow-greenish, ultimate 2/3 purplish;
SCAPE BRACTS, leaflike flaccid, lanceolate-linear-pointed, 1/3-amplexicaul, entire, pale rose;
RHACHIS with furrows and a few sterile bracts in the apex;
FLOWER BRACTS similar to the scape bracts, but much smaller and more narrow.
FLOWERS 24mm long, spreading;
SEPALS connate in a tube some 3mm from the base, pale-rose, with apex principally a spine tinged with a darker purple, broad triangular, with long and oblique or recurved spine;
PETALS 13mm long, 5.5mm wide, indigo, spreading, hooded concave, near the base 2 long-fimbriate ligules;
FILAMENTS interpetalous free, opposite to the petals, complanate, the epipetalous connate to the height of the ligules;
ANTHERS indigo, 5mm long, dorsifixed a little below the middle, apiculate;
GRAINS OF POLLEN normal;
OVARY subtrigonous, rounded below and narrowed upward;
Style grooved, indigo to the apex;
STIGMA indigo, with spiralled lobes;
PLACENTA joined in the medium part of the internal angle of the locules;
OVULES obtuse, without pedicel.
BERRY purple, formed from a little thickened ovary, with persistent sepals, 15mm long. (without the appendage), 6mm diam. SEEDS 1.5-2mm long, elongated, narrowed from the base, thickened and round at the apex, a little twisted.
Type - Brazil, São Paulo: margin of Rio Buturoca, Sorocaba, Santos, Mosen 2975 (holotype, S; Photo GH), on 25.12.1874.
---
Updated 21/11/21
---