Aechmea correia-araujoi
Click thumbnails for full size, scaled to a new window.
---
Aechmea correia-araujoi
Species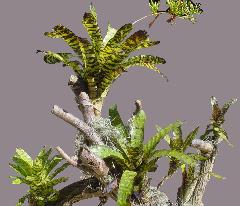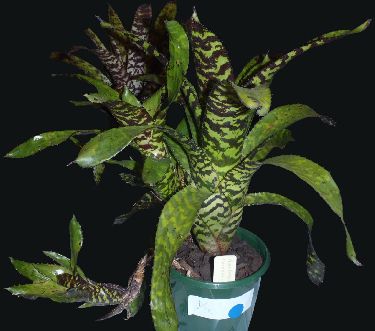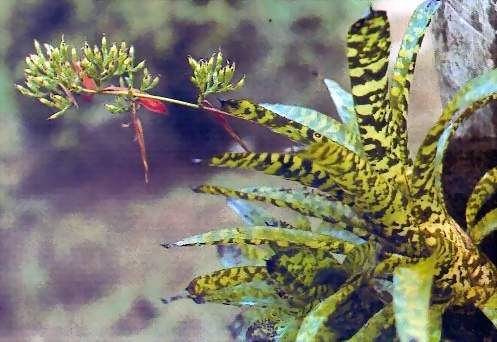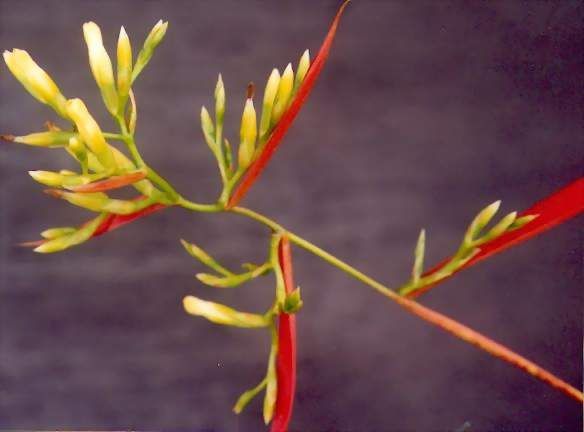 | | | |
| --- | --- | --- |
| Jan Townsend 05/05 | Robyn Firth 1st Class 1 BSA Show 06/12. Photo Terry Davis. | Photos ex. Derek Butcher |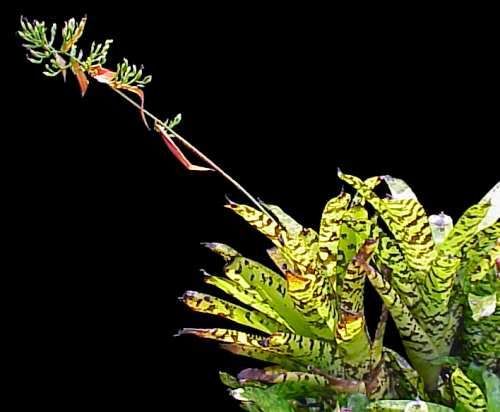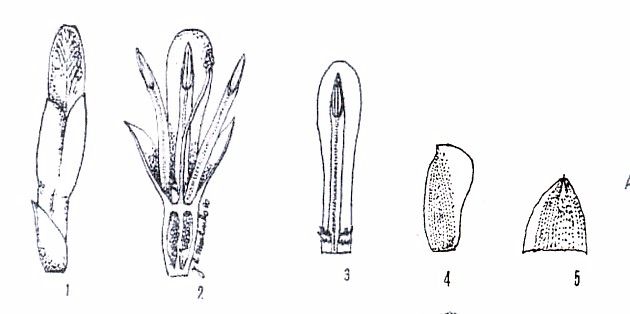 Aechmea correia-araujoi Pereira & Moutinho, Bradea 3: 85-6, 91. 1980
Florifera 70cm alta, epiphytica, stolonifera, stolonibus circiter 20cm longi; Folia circa 30 ligulata, utriculum infundibuliformem efficientia; vaginis ellipticis, 17cm longis, integris, interius atro-purpureis, exterius pallide viridibus utrinque lepidibus minutis adpressis, brunneis obtectis; limbis sublinearibus ad apicem sensim angustatis, 17 cm longis, 4-5cm latis, apice rotundato, mucrone molli retrorso et macula atro-purpurea aucto, utrinque inconspicue lepidotis, subtus epidermi dem nitentibus vittis irregularibus latis atro-viridibus ornatis, qui in facie superiore fusca translucidi sunt, margine spinis haud ultra 1 mm longis, 5-8mm inter se distantibus armata. Scapus solum cum binis internodiis, curvatus 35cm longus, in vivo 3mm diamet. viridis, leviter albo-floccosus; bractetis scapalibus binis, linearibus, integris, roseis, leviter albo-floccosis amplectentibus, 9cm longis, 9mm latis, apice breviter acuminato, valde brevioribus quam internodia sunt. Inflorescentia tripinnata vel ultra, 20cm longa, 5-6cm lata, subdensa, omnimo viridi, corollas et bracteas primarias tantum excepta, glabra; ramis subglobosis 5-6cm diamet, cum pedunculis lcm longis; spiculis 2-4 floribus, terminali pseudo longo-pedicelata, rachillis geniculatis; bracteis primariis lineari-lanceolatis, acuminatis, 10-15mm latis, integris, rubris, utrinque glabris, ramos aequantibus vel superantibus; bracteis secundariis, florigeris aequalibus; bracteis florigeris anguste-ovatis, 6mm longis, apice obtuse et tenuiter mucronulatis peradpressis ovariorum medium aequantibus. Flores 22mm longi, distiche dispositi; pedicellis 2mm longis; sepalis asymmetris liberis vel fere, ovato-lanceolatis, 8mm longis inconspicue lepidotis vel glabris, apice mucronulato; petalis pallide flavis, lineari-spathulatis, 14cm longis, apice obtuso, base ligulis binis denticulatis aucta; staminibus inclusis, filamentis complanatis seriei secundae cum petalis alte connatis; antheris linearibus 3mm longis, apice acuto, base sagittata, in medio dorsifixis; stilo cylindraceo; ovario subtrigono, laevi glabro, 6mm longo; tubo epigyno lmm longo; placentis prope medium loculis affixis; ovulis caudatis.
TYPUS: Leg. Luiz Knud Correia de Araujo, no 11, 19.Fev.1980. Holotypus HB no 70.668. Estado da Bahia, Itamaraju, BR 101. Pelo aspecto da inflorescencia lembra um pouco a A. bambusoides Smith & Reitz e A. milsteniana L.B.Smith & Read, diferenciando-se delas logo a primeira vista pelo habito da planta, ja pelo aspecto da planta tem semelhanca com A. fosteriana LB.Smith e A. orlandiana L.B.Smith, mas difere delas completamente pela inflorescencia e muitos outros detalhes enunciados na descricao.
English translation by Butcher
Plant flowering 70cm high, epiphytic, stoloniferous, stolons about 20cm long
Leaves about 30, ligulateformimg a funnel shaped utriculum
Sheaths elliptic, 17cm long, entire, inside black-purple, outsidepale green, both sides with appressed minute lepidote, brownish
Blades sublinear gradually narrowing to the tip, 17cm long, 4-5cm wide, tip rounded, soft retrorse mucron, with enlarged dark purple spots, both sides inconspicuously lepidote, underneath epidermis with shiny irregular wide dark green bands, with the upper face translucent brown, edges with spines not at all under 1mm long, 5-8 mm apart.
Scape only with paired internodes, curved, 35cm long, when living 3mm diam., green, lightly white floccose
Scape bracts amplexicaule, in pairs, linear, entire, pink, lightly white floccose, 9cm long, 9mm wide, tip short acuminate, clearly shorter than the internodes.
Inflorescence tripinnate or more, 20cm long, 5-6cm wide, sub-dense, totally green except only for corollas and primary bracts, glabrous.
Branches sub-globose, 5-6cm diam., with peduncle 1cm long.
Spikes 2-4 flowered, terminating in a false long pedicel, rhachis geniculate
Primary bracts linear-lanceolate, acuminate, 10-15mm wide, entire, red, both sides glabrous, equalling or exceeding the branches,
Secondary bracts equalling the flowers,
Floral bracts narrow ovate, 6mm long, tip obtuse, and slender very adpressed mucronulate, equalling the middle of the ovary
Flowers 22mm long, distichous, pedicels 2mm long,
Sepals asymmetric, free or almost, ovate lanceolate, 8mm long, inconspicuously lepidote or glabrous, tip mucronulate,
Petals pale yellow, linear spathulate, 14mm long, tip obtuse, at the base 2 denticulate ligules,
Stamens included, Filaments complanate, Series II high connate with the petals,
Anthers linear, 3mm long, tip acute, base sagittate, dorsifixed in the middle,
Style cylindrical,
Ovary subtrigonus, smooth glabrous, 6mm long, Epigynous tube 1mm long, Placenta joined near the middle of locule, Ovules caudate.
The inflorescense of this new species recalls a little those of A. bambusoides L.B.Smith & Reitz and A. milsteniana L.B.Smith & Read but the habit of the plant separates it immediately, being related to A. fosteriana L.B.Smith and A. orlandiana L.B.Smith from which it differs completely in the inflorescence and in many details as the description reveals.
---
Updated 06/12/19
---