Aechmea candida
Click thumbnails for full size, scaled to a new window.
---
Aechmea candida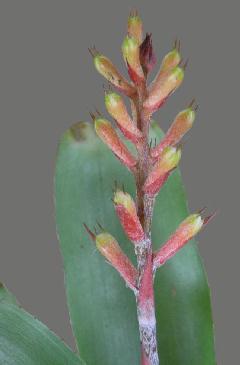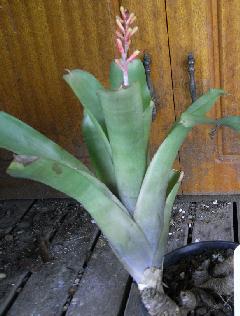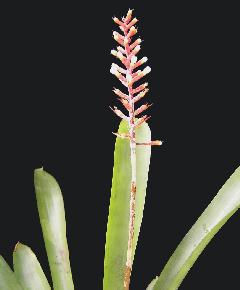 | | |
| --- | --- |
| Ian Hook 09/08. | Ken Woods, white flowers. |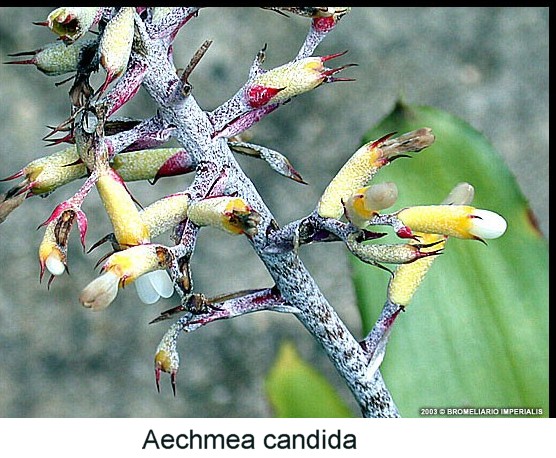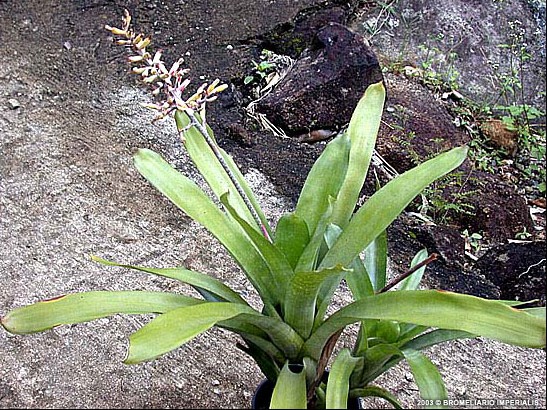 ---

Aechmea candida E. Morren ex Baker, Handb. Bromel. 41. 1889.
Desc from S&D
Plant flowering to 5 dm high.
Leaves 10-12 in a funnelform rosette 20-45 cm long.
Sheaths narrowly subovate, pale-lepidote especially above;
Blades ligulate, broadly rounded and apiculate, 35-55 mm wide, subglabrous above except the apex, densely pale-lepidote and somewhat banded beneath, laxly serrate with dark spines 1 mm long.
Scape erect, slender, white-farinose;
Scape-bracts erect, lance-ovate, acute, entire, membranaceous.
Inflorescence many-flowered, bipinnate to the middle and then simple of sometimes simple throughout, wholly fertile, narrowly pyramidal, white farinose;
Primary bracts like the scape-bracts, shorter than the branches but distinct;
Branches spreading, 4-9-flowered;
rhachis straight or nearly so, slender.
Floral bracts broadly ovate, then attenuate into a spine, 6-8 mm long, entire, the margins free from the rhachis, nerved, membranaceous;
Flowers sessile, subspreading, 15 mm long.
Sepals strongly asymmetric, 3.5 mm long without the 3 mm terminal spine, connate to the middle;
Petals erect, ligulate, obtuse, 10 mm long, white, bearing 2 scales at base;
Stamens included;
Ovary 5 mm long, 2 mm in diameter, slightly trigonous, epigynous tube evident;
placentae subcentral;
ovules obtuse;
berry 8 mm in diameter, white.

Type. Morren Icones (holotype, K), from cultivated material flowered in Liege in 1883 and 1885. Clonotypes: Apr 1884, Liege Hortus s n (LG, photo GH); 30 Nov 1911, Strauss in Berlin Hortus s n (B, photo F 11309).
Distribution. Southern Brazil.
BRAZIL. Santa Catarina: Araguari, Jan 1965, Guimaraes 28 (UPCB, US).

Protologue Baker 1889
28. AECHMEA CANDIDA E. Morren, inedit. (M.D.).
Leaves 10-12 in a utricular rosette, lorate from an ovate base, 12-16 in. long, 1.5 in. broad, plain green on the face, distinctly white-lepidote on the back, rounded to a cusp at the tip, the marginal teeth minute. Peduncle slender, floccose, under a foot long; bract-leaves small, adpressed, lanceolate, pale. Inflorescence moderately dense deltoid bipinnate panicle 4-6 in. long; branches few, spicate, patent, 1-1.5 in. long, 4-6-flowered, subtended by small lanceolate bracts; flower-bracts 0.25 in. long, ovate, with a large cusp, reddish. Ovary with calyx white, 0.5 in. long; sepals ovate, with an erecto-patent brown mucro. Petals shortly protruded. Berrv snow-white, 0.25 in. diam.
Hab. Probably Brazil. Described from two drawings of Professor Morren's made from plants flowered at Liege in 1883 and 1885. Closely allied to A. coelestis. Introduced by Devansaye in 1881.
---
Updated 23/01/21
---