THE BROMELIAD SOCIETY OF SOUTH AUSTRALIA, INC.

---
Mar/Apl 2008 :Bromeliad Gazette. Vol:32. Number:02
---
Coming Events.
Mar 9th, Summer Brag
Mar 15th, 16th, Show and Sales. Get involved by either bringing in plants or volunteering for duties
Apl 13th, Speaker from Neutrog.

January meeting from the Secretary's desk
Over 30 members attended so it must have been because of the 26C temperature. Normally it is much hotter. But what is normal. We had some very hot days in November and December which caught some members on the hop. Plants up high in the winter to catch the winter sun don't generally like to be high when it is hot. The answer is to regularly look at your plants and not leaving it to tomorrow and to assess what you should do regarding moving plants. You will still make mistakes but not as many. When this is linked to your watering regime under the new rules you are in for much cogitation. There is only one real no-no regarding watering and that is do not water when it is hot so think early morning. Bill Treloar goes further by only watering on a cool change!
It may have been that word had got around there would be freebie handouts. You see, Len had got a deal with Neutrog where he was given sample bags to hand out to members. Nobody refused the offer and we look forward to receiving a bit of feedback as to success or failures. If all else fails, read the instructions! Because we deal mainly in pot culture modifications will have to be made. At the April meeting we will have a speaker from Neutrog so get your questions ready.
There are recipes for fertilizer adding where it is better to start with small doses and build up as your confidence and your plant grows, than to start with big doses and get put off for life because the plant gets belly ache! There are also as many recipes for pot mixes as there are Bromeliad members. Try to stick to the one mix for your own collection because you do learn its water retention rate etc. by practice! That does not mean you can't experiment to improve your technique and improving the chances of your plants survival. For example someone had brought in a few bags of Sphagnum Peat for the raffle. This was used quite frequently in days of yore but availability and cost, saw most of us switch to pinebark.
Talking about the Raffle I must mention the surfeit of Cryptanthus sinuosus 'White Form' that Colin Anderson had brought in. we don't often have this genus available in raffles and we were able to give a few hints about growing them because they do have different growing requirements than other genera. An ideal way is in a terrarium as Colin pointed out. Terrarium is just another word for an aquarium with a crack in the bottom! Because this genus grows on the forest floor in the leaf litter you can always try them at the bottom of your shadehouse. The only problem here is that they don't like Adelaide winters, needing some warm protection.
Now for the important part that Colin was not aware of - there is no such thing as Cryptanthus sinuosus 'White Form'. 5 years ago we did a census on Cryptanthus being grown in Australia and our Maureen Hick said she was growing this plant. Head Office in Florida said they had never heard of such a plant and when I asked Maureen she was unable to help me as to where she got the plant or who had named it. It is currently in the 'Too hard basket' Is it a sinuosus? Is it a 'White form'?
Colin had fed his plants with too much fertilizer and the plants went berzerk! Where was he going to get rid of his spares. The raffle, of course! Maureen even took two home which shows she is such a good sardine packer she does not remember which sardines she has packed. Colin tells me he can spare one so I can take it to Cairns where the big brass can pore over it and make judgement as to its identity.

Adam went through the plants on display. First up were two plants of Aechmea 'Pink Rocket' one grown in Adelaide and the other in Strathalbyn. One was pinker than the other showing that culture can have a great bearing on the end result. Next were Guzmania hybrids which seem to be easier to grow in Adelaide than the species. One called 'Olive' which Wendy had allowed Adam to bring in. You see this was named after Olive Trevor and had been on Adam's want list for several years but only when visiting the Olive Branch with his wife, Wendy. He was surprised to hear Olive say to Wendy, "Would you like a plant?". So it is only Adam's plant by proxy. Another plant we do not often see in flower is Guzmania monostachia which is often associated with the Everglades in Florida. It is also found in the Caribbean and northern parts of South America in a range of climates. The easiest to grow in Adelaide are those from Peru in the drier areas. Adam's plant, from Peru had tougher leaves which one could say were brittle to the heavy handed. It has an odd cylindrical inflorescence where the base part has striped floral bracts with white flowers but the top half has totally red bracts with the white flowers. It is in flower for some time because it starts flowering from the bottom. This particular plant had been just sitting in Adam's collection but Adam knew that Mick Romanowski of Melbourne knew how to use ethrel in the proper proportions. By the way, ethrel is used by pineapple growers to promote fruiting but has to be used in the right proportions. Too much and the plant goes bananas which is what happened when we played with this chemical some years ago now. Anyway, Mick was able to spray Adam's plant and we saw it happily flowering.
We had just one Neoregelia on display. It was the variegated 'Jaws'. This has been in Margaret Butcher's possession for some 7 years and she has not dared to bring the plant in earlier because it just would not grow properly. It took that long to acclimatize as do many of the other Neoregelia hybrids linked to N. carcharodon. This name means shark's teeth because of the vicious spines on the edges of the leaves and I don't know that you would have known that the official zoological name for the 'Great White Shark' is Carcharodon! You will, by now, have guessed why Genny Vauhkonen called the plant 'Jaws'! No doubt it will take the same time to get an offset to the same standard. To be a Bromeliad grower you must be patient.
There were also several Vriesea and a xNeophytum 'Lymanii' in flower. One of George's unnamed 'GBH's ( George's B hybrids) was in flower and the feeling was that it was linked to some Vriesea hybrids that Peter Tristram had done many years ago and had been distributed by Maurie Kellett in Victoria. The closest we could get was 'Cupids Bow'. The reason why Margaret was certain in her identification was that we have one flowering too and there has been recent discussion in the Butcher household as to its links with 'Sanderiana' a hybrid done in Germany in the late 1800's. The plants certainly look similar and only on finding out that a plant called 'Sanderiana' had been imported by Pinegrove Nursery in northern NSW in 1986 from Florida. The use of similar parents could be the explanation of this problem even though done 100 years apart.
Several flowering Tillandsia were on display including the small rare T. peiranoi from Northern Argentina and T. kirschnekii from South Peru. I was surprised to see both the white flowered and blue flowered T. lorentziana in flower at the same time. The blue flowered one is much rarer than the white flowered one and we are fortunate to have both in Adelaide and that they like it so well here, they do offset. For the purist who reads Flora Neotropica by Smith & Downs you may have noticed that petals are described as only white and yet one of the quoted synonyms has blue flowers!
Despite what Bill Treloar had to say the white petalled T. reichenbachii did not have a scent according to our champion sniffers. This was at 15.00hrs. Bill was so keen about this scent business he telephoned me the following days saying that 3 females and 1 male maintained that his white T. reichenbachii did have a scent. I sent out my expert sniffers at about 11.00 hrs and they too reported a strong scent. So to keep Bill quiet is there a champion sniffer prepared to spend a day or two to find out if scent occurs early in the day or is it related purely to temperature.
The only hybrid on display was T. 'Curra' one of the better Paterson hybrids because the plant blushes beautifully when in flower.

And so to the main event – Aechmea nudicaulis.
This species has been known to botanists for a long time, over 300 years, and about the same time as the Pineapple. In those days the main stamping grounds were the West Indies. Although the first collections were made here, later explorations revealed that most A. nudicaulis are to be found in the area around Rio de Janeiro in Brazil.
Botanically there are 9 listed varieties or forms. Collectively they are easily identified because of a similar shaped flower head where some flowers may be clustered together and others wider apart. Another feature which also appears in other genera is the knuckle in the leaf. This happens because the leaf is thick and when it tries to bend outwards at the top of the leaf sheath, buckling occurs. There are 15 cultivars listed. Cultivars are easy to follow because you scrounge offsets and the name follows the plant. Plants grown from seed or allegedly collected in the wild are more difficult. Years ago Harry Luther warned me of the complexity of A. nudicaulis found around Rio de Janeiro. However, when Pereira and Reitz saw different looking plants they gave them varietal names. Tania Wendt reviewed the species in 1997 and concluded that there was too much variability to use varietal names. In trying to understand this variability I made up a key based on the differences quoted by the various taxonomists. Just when I thought I knew a particular variety I found some other factor to confuse me. So, for example I have given up trying to work out the difference between var. aequalis and say var. cuspidata . So I leave the name on the label without trying to 'correct' it!
There are 12 Aechmea nudicaulis varieties listed but only 4 are officially recognised. So in effect there are 8 names which I call nurseryman's names that only the nurseryman knows the identity.
They are neither recognised species nor recognised cultivars!
Not on the list was Aechmea nudicaulis var. rubra, yet another nurseryman's name which is known for its red vertical stripes which sometimes merge into totally red in good light. I did not like such a great plant being in limbo-land, so in collaboration with the Brazilians we came up with 'Xavante'. This is one of the larger tribes of aboriginal Brazilians who paint themselves red for some reason or another. So whenever you come across var. rubra and the plant has red lines please change the name to 'Xavante' – pronounce it as you will!
One plant that caught many members' eyes was called 'Zebra' that had been selected by Peter Tristram some few years back. Is it an improved form of var. aequalis? Dunno! Adam was growing his mounted as you would a Tillandsia and it was much smaller as you would expect but still flowered. This reminds me that this species would be one to consider growing attached to a tree branch here in Adelaide. I leave that sort of experimentation to the more arty type members.
Then there was 'Big John', a giant form named after John Anderson, a Texan, who found it in Brazil somewhere. This reminded me of the time when 10 years or so ago, we got seed from Elton Leme called A. nudicaulis 'Giant'. Our plants were large but not as large as 'Big John'!
There was only one hybrid brought in which I did not know what to call other than fasciata x nudicaulis. You see, there is an Aechmea 'Fascicaulis' and I was lucky to see one in the Singapore Botanic Gardens. The flower was half way between the two parents as you would expect. Keith Bradtberg had got seed from the American seed bank and we all should know that you can't give the same name to seed from 'Fascicaulis'. You may be able to do it with seed from a species but not a hybrid.
The plant I grow seems to be closer to A. fasciata.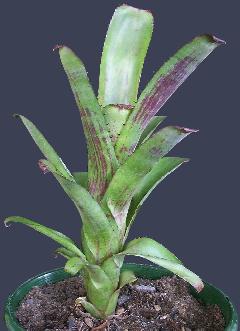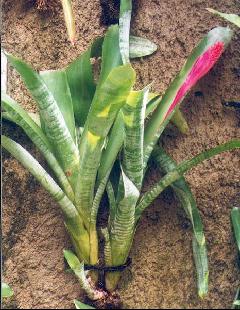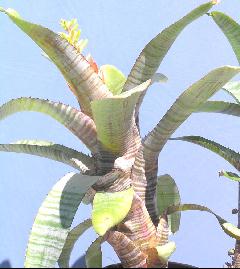 | | | |
| --- | --- | --- |
| Aechmea Xavante. | Aechmea Fascicaulis. | Aechmea Zebra. |
Click on thumbnails for full image.


Finally, one of our newer members rushed in at the end waving a plant with a dead inflorescence, wondering what it was. Both Bill and I knew it was an Aechmea in the Ortgiesia subgenus but which one? The petals were said to be yellow which suggested influence of Aechmea caudata in a hybrid of some sort. When you get into this area it becomes a guessing game because the subgenus Ortgiesia is known for being not only fecund but promiscuous!
We had a quick look at Alvim Seidel's list from 1976 – over 30 years ago. Think, you could buy an Aechmea fasciata var. albomarginata then at US$70 or an A. 'Mend' for just US$80. It shows how prices drop when you get offsets!

February meeting from the Secretary's desk
Another Annual General meeting bites the dust with little change in the 'workers'.
Those elected were :
PRESIDENT : Len Colgan
VICE PRESIDENT : Adam Bodzioch
SECRETARY Derek : Butcher
TREASURER : Bill Treloar
COMMITTEE : Margaret Butcher, Maureen Hick, Bev Masters, Colin Waterman, David Wecker
AUDITORS : Keith Bradtberg, Adam Bodzioch
ASSISTANT SECRETARY : Margaret Butcher
LIBRARIAN : Andrew Rawlinson
AFTERNOON TEA CONVENOR : Bev Masters
DOOR TICKETS : George Rudolph
RAFFLE TICKETS : George Rudolph and other helpers on the day.
TRADING TABLE CONVENOR : Maureen Hick
HOST/ESS : Colin Waterman/ Eileen Mullins.
POTS & LABELS : David Wecker
NAME TAG MAKER : Ron and Bev Masters
EDITOR : Derek Butcher

We now have over $9000 in the Bank which is the most we have ever had, preferring to spend it rather than saving for a rainy day – which we know is almost never! In this case we have a Conference coming up next year and we need money up front to get things moving.

Plant display was conducted by Adam.
First up was a Billbergia 'Domingos Martins' that Joan Williams had brought in. She had originally acquired an offset from Adam some time ago and here was a pot full of plants – none had a tired look- with one in flower. The flower was typical B. vittata and members are reminded that they should keep this shape and colour in the back of their mind. Many plants being grown with B. vittata on the label are really watered down hybrids with B. amoena! How did a B. vittata get the name of 'Domingos Martins'? 20 years ago Gross & Rauh described a beautifully spotted leaved Billbergia as B. domingos martinsis but almost immediately it was reduced to synonymy under B. vittata because of the flower. At about this time Don Beadle was laying the foundations for the Bromeliad Cultivar Register and as Mr Billbergia he was reluctant to lose this name for such a different plant – leafwise! So we decided to use 'Domingos Martins' as a Cultivar name and this plant has been used in numerous hybrids since that date. Joan's pot with many plants showed how much the leaf markings can vary from large spots or splotches to small spots to narrow barring. None of these markings are stable.
Next was a Vriesea friburgensis v. paludosa which was nearly as tall as George Rudolph. An impressive plant even though yellow was predominant in the inflorescence. The interesting thing was that it had Alcantarea geniculata on the label. 20 years or so ago plants came into Adelaide from Sydney with Vriesea geniculata on the label. The owner/s of this plant/s knew that this species was now an Alcantarea and dutifully changed the name but looked no further. Let us now go back 15 years ago when my Vriesea geniculata flowered and it did not agree with the description. Harry Luther soon put me on to the right track and the label got changed to Vriesea friburgensis v. paludosa. My motto has been for many years –Never trust the name on the label! Being inquisitive means you can get a warm, fuzzy feeling if the name is correct OR a warm fuzzy feeling if you find the correct name – a win, win situation!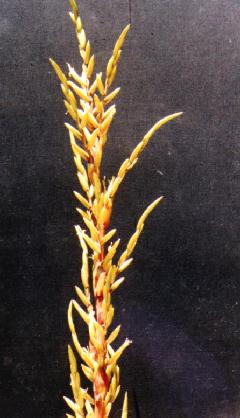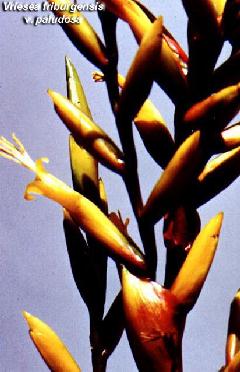 Vriesea friburgensis var. paludosa
Click on thumbnail for full image.
Then there was the unknown where I only got half a warm fuzzy feeling because I knew it was a bigeneric – either xNeomea (Neoregelia x Aechmea) or xNidumea (Nidularium x Aechmea). Both these bigenera have a cushion of flowers in bottom of the leaf rosette. Just for curiousity sake, when I got home, I checked the Cultivar data base on the Internet and found I had 71 names to look at and yet none rang a bell, so the plant will just have to be called xNeomea ?
I brought in a couple of species Neoregelia for interest sake and perhaps to show how intriguing identifying plants found in the wild can be. Many of the Neoregelia species have been described from Herbarium specimens based on collections made in areas now covered with houses. Collecting live material and linking them to old names is an intriguing exercise and one that Elton Leme seems to have a certain flair for. This does not mean he is always correct! For example I brought in a Neoregelia dungsiana which I had got complete with references from Selby Gardens and of which I was justly proud.
I had already, in my quasi-taxonomic fashion, keyed out an unknown species collected in Brazil from years past, as probably being N. dungsiana but it was different to my new acquisition. So when my Selby Gardens plant flowered and didn't agree with the description I referred it to Harry Luther. Harry was not prepared to make a comment as to the differences but did say this was Elton Leme's interpretation of what he believed this plant looked like.
Another plant was called N. uleana that had got to Australia from Florida but again it did not agree with the description made in 1896 from a plant found growing in Rio Bot Garden. Nobody knows where this latest N. uleana was found in Brazil or Florida OR who identified it. Because of this doubt, the only solution is to give it a cultivar name and wait for it to be re-found in the wild and properly identified. So I'll be calling this plant 'Yuletide' not only because it sounds like uleana but was a sort of Christmas present to Margaret!
Bill Treloar is moving from growing anything he can lay his hands on to be more species conscious. In other words he realises the current situation that if we are serious about the conservation of Bromeliads our priority must be species. It is getting harder and harder to get fresh material into Australia from countries of origin and the days of going back to the well to get more and more water are gone! As Adelaideans we are fully aware of the situation of the River Murray! Anyway, Bill had a couple of large Neos that he was anxious to get identified. Again, you have to wait for flowering before starting investigations. While N. marmorata and N. correia-araujoi can look similar, N. marmorata should have blue flowers and the other white.
We had a few Tillandsias but much less than usual because Len Colgan was in Dubai cheering on the Crows!
Finally there was Nidularium 'Roxo' grown from seed collected near Petropolis, Brazil ten years ago and we just have the first flowering. Not quite flowering because we have yet to see the petals but the colour of the primary bracts was not 'Roxo' which is Portuguese for purple/violet but Watermelon pink if we believe Adam. Nobody refuted the colour despite my prompting!
The main talk was Aechmea fasciata where I did the technical stuff and Bill Treloar tried to make it understandable to the less-technical minded.
It was originally described in 1828 and for such an outstanding and long-lasting flowering plant it did not take long for the Europeans to start growing it in earnest. They preserved the species by growing from seed by selecting for robustness and size of inflorescence and this selection continues to this day.
Botanically speaking there are 4 varieties, namely, fasciata, purpurea, pruinosa, and flavi-vittata.
The only one we seem to be growing is the var. purpurea that has any recent link with the wild. You see in the late 1960's early 1970's Adda Abendroth in Brazil was sending us Aussies seed from the wild and because var. purpurea outnumbered the green leaved variety by about 6 to 1, growing this seed on meant we got a lot of var. purpurea! Even then, Adda was complaining that imported A. fasciata were much bigger than their natural counterparts.
Commercialism means we are swamped with Cultivar names which expanded dramatically from about the mid 1970's when the Americans really got involved. So much so we now have 19 cultivar names for forms of A. fasciata!
Two of the more unusual ones on display were 'Ivory' which has white primary bracts instead of the usual pink/red and 'Kiwi' which also has white primary bracts (when it does flower!) but is more known for it variegation in red/brown stripes. This originated from a seedling grown by Bea Hanson in New Zealand many years ago. There was also the 'normal' variegated form on display. Over the years it has never stabilised with variegation getting weak by flowering time and sometimes disappearing in offsets. The other plants on display reflected how cultivars soon go out of vogue with only the latest ones being on display. I wonder how many of the 'oldies' are being grown. No doubt they are hidden in some back corner of someones backyard!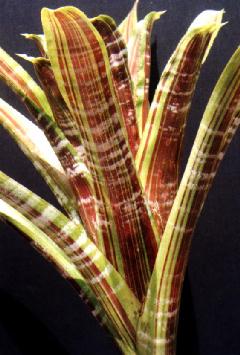 Aechmea Kiwi.


'Morgana' has been produced since the early 1990's by the million by Corn. Bak in Belgium from specially selected seed, has patents in Europe, and has spines on the leaf edges. 'Primera' is also produced by Corn. Bak for the spineless version but that did not stop 'Spineless Morgana' being sold.
In the USA we had the spineless 'DeLeon' said to be different again. Investigation in 2005 revealed that there were other spineless forms being grown prior to the promotion of either 'DeLeon' or 'Primera' and these were given the collective name of 'Smoothie'.
We do not know what plants were used by Chester Skotak in his hybridising. Chester had realised that the popularity of Guzmania and Vriesea in the lucrative European market was partly due to the spineless nature of their leaves and he wondered what he could do with Aechmea. Adam had brought in plants and photos of flowering plants of some of these newer hybrids such as 'Maya' and Mohican'. What is annoying from my point of view as International Bromeliad Cultivar Registrar is that the European market is tight lipped about parentage! So we guess!
There was one example on display which had irregular ridges or ribs to the leaves. Some referred to this as quilling but Chester prefers to call it 'ribbing'. Quilling has never been defined but generally refers to the sticking together of leaves in their growing cycle. This appears to occur in dry conditions and seems to be caused by exudation of sugars necessary in leaf production. Bill pointed out how he used gentle pressure of finger and thumb. I pointed out that I am not that dexterous and even with soapy water I would hear a crack of a leaf split. I would quickly move away in case Margaret had heard the noise!
Ribbing is different because it is part of the leaf and because of its irregularity is disliked by the purist. It often occurs in Neoregelia. Certainly Chester does not like it and considers it to be hereditary and can be bred out, even though difficult.

---
Vale - Marj Bamford
Many of our newer members did not meet Marj – a people person if there ever was one. The last few years of her life were spent at the Westminster Nursing home and she was unable to attend meetings.
In 1977 she was very involved being our inaugural Vice President and for the next 14 years was on the Executive Committee. During this period she spent 6 years as President.
In 1991 she was proud to be presented with a Certificate of Appreciation for Services rendered. It may be worth noting here that our Society has always maintained that Life membership does not convey the true worth of a member and that a suitably inscribed 'Certificate of Appreciation' is more appropriate. The only other time this was presented was to Marie Robinson just before her untimely death in 1998. So it is an award not given lightly.
Whereas I was more a plant person, Marj was a people person and had the gift of being able to encourage volunteers. Before moving into Bromeliads she, too, was keen on Cactus and all things prickly. This may have been the reason why her favourite Bromeliad was Aechmea recurvata!
Before she moved to the Nursing Home she offered her collection to the Society and Dave Wecker took away some 3 trailerloads to quickly enhance his young collection.
---
---
Updated 21/02/08
---