ILLAWARRA BROMELIAD SOCIETY Inc.
Club News.
---
MEETINGS:
The Society meets at 12.00 noon on the first Saturday of each month (except January and December) at the Berkeley Community Hall, Winnima Way, Berkeley, NSW 2506.

*NEWSLINK IS A QUARTERLY PUBLICATION - Distributed: January, April, July, October

VISITORS ARE ALWAYS WELCOME

Email: illawarrabroms@gmail.com
Facebook: https://www.facebook.com/IllawarraBromeliadSociety

President : David Hastings illawarrabroms.president@gmail.com
1st Vice-President : Judy Hunt
2nd Vice-President : David Hastings
Secretary : Romina Di Noro 0402-523-064
Treasurer : Glenn Martin
Life Members : Sharyn Baraldi, Margaret Bartley, Elizabeth and Graham Bevan, Sylvia and Ted Clare, Val Dixon, Eileen Killingley, Nina and Jarka Rehak, Phillip Robinson, Ann and Noel Kennon, Monica De Clouett, Barbara Jones-Beverstock, Beth and Jim Clague.

Society formed: February 1992.
Newsletter: The newsletter is distributed in January, April, July and October.


Applications for membership always welcome.
Subscriptions: Joining Fee-$2 + Single-$20 per year or Family-$30 per household. Due June 30th.

---

29th Annual Spring Show 23rd & 24th September 2023. Corrimal Uniting Church, 4 Russell St, Corrimal.
There will be Bromeliad Displays, Competition Plants on show and a huge sale of plants and literature. Admission is FREE. Refreshments will be available.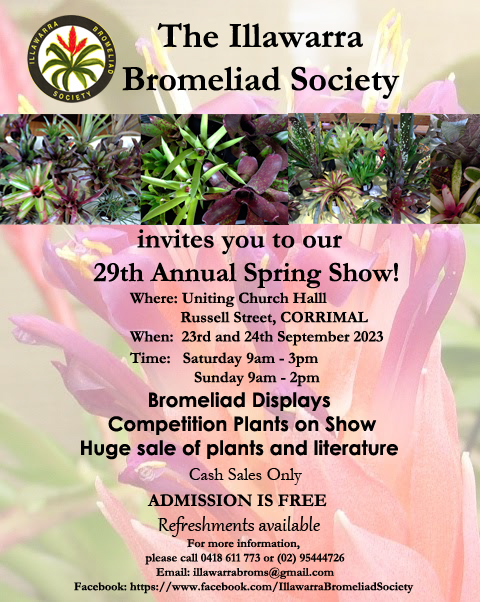 ---
Past NEWSLINK:
All Illawarra (& other clubs) newsletters are fully indexed in Google Docs, so you can now do a search for any NEWSLINK, article, genus, topic, particular plant, etc etc.
Just click this LINK
Alternately, the following Illawarra Newsletters are stored below:
---
Please select the latest 'NEWSLINK' above for up-to-date details of meetings, events, news, etc.
---
Updated 24/08/23
---