ILLAWARRA BROMELIAD SOCIETY Inc.
Club News.
---
Click HERE to return to Illawarra Bromeliad Society "Club News Page".

---
NEWSLINK
October 2016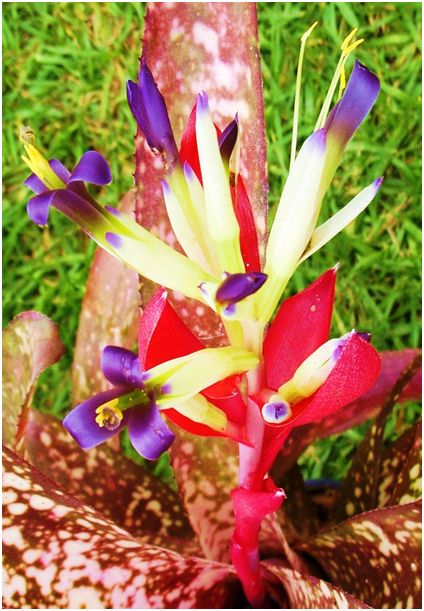 Billbergia 'Our Rena'
Photograph by Neville Wood
See cover story back page.
---
- Articles appearing in this issue of NEWSLINK are for information purposes only and are not necessarily endorsed by the Committee or the Illawarra Bromeliad Society.
- The Society is, by the holding of meetings, displays and competitions, to provide a forum for the people of the Illawarra region who are interested in the culture and collection of bromeliads.
- Under the provisions of the Privacy Act, use of names and references to private details, such as illness, holidays, birthdays and items of a similar nature, may only be published with the written permission of the person concerned.
---
MONTHLY RAFFLE PRIZE ROSTER:
October - June Smith, Sylvia Clare, Michael Drury, Steven Dolbel
November - Maria Jakobsen, Steve Wain, Monica De Clouett, Vicki Joannou
February, 2017 - Rhonda Patterson, Yvonne Perinotti, Bob Stephens, Beverley Irvine
---
CHANGE OF ROOM FOR OUR OCTOBER AND NOVEMBER MEETINGS:
As the floors in the area of our usual meeting room are being re-polished around the time of our October meeting and the Illawarra Lapidary Club's annual exhibit requires the use of our usual meeting room in November, we will switch to the Scribbly Gum Room, located to the right of the main entry of the Centre, on the Princes Highway side of the building for these two meetings.
---
CHRISTMAS PARTY:
Graham and Elizabeth's daughter and son-in-law, Leanne and Ken, have once again invited us to hold our Christmas party at their beautiful property in Buckley's Road, Dunmore. This year we have decided to have it partly catered, with a selection of carved meats, roast vegetables, and salads; however, we will be asking our members if they might be kind enough to supply some desserts, for which they will be reimbursed. The Society will supply punch but wine and beer will be on a BYO basis. Festivities will commence at 11.00 am, with lunch served at 12.30 pm. The subsidised cost will be $20 per person. As in past years please bring a small gift for sharing (around the $10 mark)—with men bringing presents suitable for men and women bringing presents suitable for women—and bromeliads always welcome! Suzanne will need to have numbers and monies in by our November meeting—and/or numbers by November 15 at the latest!
---
LIBRARY NOTE:
Would members who have books, videos or journals out on loan please return them by our November meeting as this allows for any stocktake, repair, etc. during the Christmas break.
---
MARCH 11, 2017 SALES DAY:
We are planning a sales day—similar to the one we conducted in February of this year—on Saturday, March 11 to be held at the Warilla Neighbourhood Centre which is located in the heart of Warilla, next to the Swimming Pool on Benaud Crescent and on the Corner of Lake Entrance and Shellharbour Roads. More details will be available at our meetings before that date!
---
UPCOMING EVENTS :

| | |
| --- | --- |
| Oct 1-9 | LEURA GARDENS FESTIVAL: Open daily 9.30 am to 4.30 pm. All gardens $25/$5 indiv. bluemts.com.au – For further information: 0431 095 279 |
| Oct 8-9 | BILPIN FLOWER SHOW AND SPRING FAIR – Bilpin District Hall, 2596 Bells Line of Road, Bilpin – Saturday 11 am – 5 pm/Sunday 10 am – 3 pm; Admission $4/Child: Free |
| Oct 13-16 | BERRY GARDENS FESTIVAL 10 am – 4 pm. $20 for 8 gardens (may be used over the 4 days)/$5 individual gardens. Free for children under 18. berrygardens.org.au |
| Oct 15-16 | CONCORD BROMELIAD FAIR |
| 2017 Feb 26 | HILLS DISTRICT ORCHIDS AUTUMN OPEN DAY – 183 Windsor Road, NORTHMEAD (Park in Mary Street or Windermere Avenue) 9 am–4 pm www.hillsdistrictorchids.com |
| 2017 March 30 - April 2 | SUNNYBROMS – 19TH AUSTRALASIAN BROMELIAD CONFERENCE – SUNSHINE COAST. www.sunnybroms.com |
| 2017 July 30 - April 2 | HILLS DISTRICT ORCHIDS WINTER OPEN DAY – 183 Windsor Road, NORTHMEAD |
---
UPCOMING TOPICS:
October 1, 2016: Bromeliads in Hawaii - Edwina Caruana
November 5, 2016: Alcantareas – Noel Kennon
February 4, 2017: Fertilising Bromeliads - Terry Davis
---
MONTHLY PLANT COMPETITION RESULTS:
July 2, 2016: Plant Results
OPEN
1st = John Toolan = Guzmania 'Akbar'
2nd = Noel Kennon = Orthophytum 'Starlights'
2nd = Yvonne Perinotti = Neoregelia 'Gunpowder'
3rd = Steve Wain = Cryptanthus 'Corinne'
3rd = Noel Kennon = Orthophytum 'Stellar Beauty'
3rd = Yvonne Perinotti = Neoregelia hybrid
3rd = Yvonne Perinotti = Billbergia 'Afterglow'
TILLANDSIA
1st = Noel Kennon = Tillandsia araujei
2nd = Steve Wain = Tillandsia tenuifolia
3rd = Barbara Jones-Beverstock = Tillandsia butzii
August 6 PLANT RESULTS
OPEN
1st = Lydia Chinnock = Hechtia texensis
2nd = Lydia Chinnock = Vriesea ospinae
3rd = Ann and Noel Kennon = Neoregelia 'Mini Skirt'
3rd = John Toolan = Aechmea distichantha
TILLANDSIA
1st = Noel Kennon = Tillandsia tenuifolia
2nd = Noel Kennon = Tillandsia latifolia var. divaricata
3rd = Maureen Wheeler = Mixed log
Sept 3 PLANT RESULTS
OPEN
1st = Jan Stammers = Aechmea recurvata
2nd = Lydia Chinnock = xNeophytum 'Galactic Warrior'
3rd = John Toolan = Billbergia amoena
NOVICE
1st = Sandra Carnie = Vriesea simplex
TILLANDSIA
1st = Noel Kennon = Tillandsia ionantha
2nd = Graham Bevan = Tillandsia mollis
3rd = Maureen Wheeler = Tillandsia filifolia (?)
---
SHOW RESULTS - 2016

CHAMPION BROMELIAD: OPEN
Neville Wood - Billbergia 'Tarantella

CHAMPION BROMELIAD: NOVICE
Rhonda Grant - Billbergia 'Hallelujah

BEST SPECIES
Ann and Noel Kennon - Tillandsia ionantha

DULCIE DOONAN MEMORIAL AWARD
Lydia Chinnock - 'Farmers' Market' Basket

CATHERINE (RENA) WAINWRIGHT MEMORIAL AWARD
Ann and Noel Kennon - Tillandsia ionantha

CATEGORY I – DIVISION I: HORTICULTURAL - OPEN
Class A - Aechmea (12 entries)
1st = Freda Kennedy = Aechmea recurvata
2nd = John Toolan = Aechmea caudata
3rd = John Toolan = Aechmea recurvata

Class B - Billbergia (12 entries)
1st = Neville Wood = Billbergia 'Tarantella'
2nd = Freda Kennedy = Billbergia 'Super Grace'
3rd = Beverley Irvine = Billbergia 'Hallelujah

Class C - Neoregelia (22 entries)
1st = Neville Wood = Neoregelia 'Charm' X 'Cracker Jack' X Self
2nd = Freda Kennedy = Neoregelia 'Lilac Prince'
3rd = Neville Wood = Neoregelia 'Bea Hanson' X 'Rosea Striata'

Class D - Miniature Neoregelia (7 entries)
1st = Neville Wood = Neoregelia 'Shamrock'
2nd = Neville Wood = Neoregelia 'Glauca'
3rd = Neville Wood = Neoregelia 'Turmoil'

Class E - Tillandsia (15 entries)
1st = Barbara Jones-Beverstock = Tillandsia butzii
2nd = Ann and Noel Kennon = Tillandsia geminiflora
3rd = Graham Bevan = Tillandsia recurvifolia

Class F - Vriesea/Guzmania (13 entries)
1st = Freda Kennedy = Vriesea altodaserrae
2nd = Sandra Carnie = Vriesea 'Purple Cockatoo'
3rd = Beverley Irvine = Vriesea platynema hybrid

Class G - Other Genera (14 entries)
1st = Elizabeth Bevan = Cryptanthus 'Marian Oppenheimer'
2nd = Ann and Noel Kennon = Acanthostachys strobilacea
3rd = Lydia Chinnock = Orthophytum gurkenii

CATEGORY I – DIVISION II: HORTICULTURAL – NOVICE
Class H - Aechmea (1 entry)
1st = Rhonda Grant = Aechmea 'Aztec Gold'

Class I - Billbergia (1 entry)
1st = Rhonda Grant = Billbergia 'Hallelujah'

Class J - Neoregelia (4 entries)
1st = Rhonda Grant = Neoregelia 'Screaming Tiger'
2nd = Bob Stephens = Neoregelia 'Bevvie Bee'
3rd = Rhonda Grant = Neoregelia 'Predator'

Class K - Miniature Neoregelia (3 entries)
1st = Rhonda Grant = Neoregelia 'Cayenne'
2nd = Rhonda Grant = Neoregelia ampullacea
3rd = Rhonda Grant = Neoregelia 'Cougar'

Class L - Tillandsia (2 entries)
1st = Rhonda Grant = Tillandsia tricolor var. melanocrater
2nd = June Casey = Tillandsia stricta 'Giant Silver'

Class M - Vriesea/Guzmania (1 entry)
1st = Bob Stephens = Guzmania hybrid

Class N - Other Bromeliad (3 entries)
1st = Michael Drury = Deuterocohnia brevifolia
2nd = Bob Stephens = Quesnelia 'Tim Plowman'
3rd = Rhonda Grant = Dyckia 'Starfish Red' (Unreg.)

CATEGORY I – DIVISION III: HORTICULTURAL - DISPLAY AND MULTIPLE PLANTS
Class O Colony – Aechmea/Neoregelia/Vriesea (16 entries)
1st = Freda Kennedy = Neoregelia 'Groucho'
2nd = Freda Kennedy = Neoregelia 'Gympie Delight'
3rd = John Toolan = Aechmea recurvata

Class P - Mounted Tillandsias (4 entries)
1st = Ann and Noel Kennon = Tillandsia ionantha
2nd = Graham Bevan = Tillandsia disticha 'Major'
3rd = Lydia Chinnock = Tillandsia bergeri

CATEGORY II - ARTISTIC
Class R - Basket or Decorative Container (5 entries)
1st = Lydia Chinnock = 'Farmers' Market Basket'
2nd = Elizabeth Bevan = 'Basket of Colour'
3rd = Lydia Chinnock = Copper Basket

Class S - Bromeliad Garden (10 entries)
1st = Lydia Chinnock = Frying Pan Garden
2nd = Elizabeth Bevan = Bromeliad (Vietnamese) Garden
3rd = Lydia Chinnock = Big Wine Glass Garden

Class T - Artistic Arrangement (7 entries)

1st = Elizabeth Bevan = 'Vivid Vista'
2nd = Freda Kennedy = Grey Bowl Bromeliad Arrangement
3rd = Elizabeth Bevan = 'Green and Gold'

COMPETITION STATISTICS
2012 20TH Show, 154 Entries, 15 Competitors
2013 21st Show, 158 Entries, 19 Competitors
2014 22nd Show, 170 Entries, 17 Competitors
2015 23rd Show, 166 Entries, 14 Competitors
2016 24th Show, 153 Entries, 18 Competitors
---
FROM OUR CHRISTMAS IN JULY – EDWINA'S 'THAI SWEET POTATO SOUP' RECIPE: - Serves 4
Ingredients:
• 750g sweet potato (kumara) peeled and chopped
• 2 cups water
• 2 teaspoons oil
• 1 medium onion, chopped
• 2 teaspoons red curry paste
• 2 tablespoons chopped lemon grass
• 1 teaspoon brown sugar
• 1-1/4 teaspoons salt
• 2 cups soy or dairy milk
• 1 cup lite coconut milk
• 2 teaspoons chopped fresh coriander
Method:
• Place sweet potato and water in a large saucepan. Bring to the boil, then reduce heat, cover and simmer until sweet potato is soft.
• Heat oil in a frypan. Sauté onion, curry paste and lemon grass until soft.
• Remove from heat and add to sweet potato.
• Add brown sugar, salt, milk and coconut milk. Blend or process mixture until smooth and creamy.
• Reheat but do not boil. Stir through coriander. Serve garnished with extra coriander.
---
LEARNING ABOUT THE GENERA: ORTHOPHYTUM
By Peter Waters
(Reprinted from the Bromeliad, the journal of the Bromeliad Society of New Zealand, Inc., May 2015 Vol. 555)
Orthophytum is an endemic species of Brazil, living in rocky habitats in Espirito Santo, Minas Gerais and Bahia states predominantly with a few north of there. They are exclusively terrestrial and saxicolous on rocky escarpments in the region of the Atlantic Forest. In 1979 there were only 17 species of Orthophytum, in 2004, 34 species, but by 2014 this number had swelled to 67.
In 2004 Elton Leme sorted them into subcomplexes: amoenum with a sessile or scapeless (no flower stalk) inflorescence, including navioides and burle-marxii; and subcomplex vagans, also with a sessile inflorescence but with a caulescent or long stem.
The other subcomplexes have an inflorescence on a scape; subcomplexes disjunctum and mello-barretoi have a distinct rosette but differ in some flower details, and subcomplex leprosum has no rosette but the leaves just grow as scape bracts.
Subcomplex disjunctum is the largest group with over 30 species and includes saxicola, magalhaesii and sucrei.
Many Orthophytum are rather small, one or two very small, but there are large ones as Orthophytum horridum can be 1.4 metres high when flowering. Because of their natural habitat they prefer warmer conditions, and can suffer during winter. They are found in the same general areas as Hohenbergia so need some protection from frosts. They can tolerate very bright light to full sun but can look better if given a little shade. While they grow in extremely harsh conditions in nature, and can survive much neglect, they will appreciate good watering and high levels of fertiliser to make them grow fast and produce more offsets. They are very like Cryptanthus in many respects and the formation of offsets is similar. If taken off too early they are quite reticent in rooting and grow very slowly.
There are not many Orthophytum spp. In New Zealand or Australia but you may come across the following:
Orthophytum burle-marxii and navioides have the distinctive flat appearance when flowering and their leaves turn brilliant shades of red; Orthophytum navioides has very fine leaves which are somewhat fragile. It is a parent of the hybrids 'Blaze' and 'Copper Penny' which are reasonably common.
Orthophytum vagans grows up a stem and becomes suffused with red as it nears flowering. It is the other parent of 'Copper Penny' and also has an attractive variegated form.
Orthophytum saxicola is a small-growing spiny plant that pups readily on stolons and makes a clump very quickly.
Orthophytum gurkenii is one of the most common species with its zebra banding on the succulent leaves and its elevated inflorescence. Offsets grow on the spike after flowering. A cultivar with silvery leaves is Orthophytum 'Warren Loose'.
Orthophytum sucrei has long stolons and is also one of the smaller species, but makes a great show if given good light.
Orthophytum disjunctum has silver-grey rigid leaves and can grow up to 400 mm when flowering.
Other species which have been seen here—but are much harder to come by—are foliosum, fosterianum, lemei, macroflorum, magalhaesii, maracasense and toscanoi.
---
THE TROUBLE WITH ORTHOPHYTUMS
By Ross Stenhouse
(Reprinted from Bromeliaceae, Brom Soc. Q'land Inc., Vol. XLI(2), March/April 2007)
I have been trying to grow Orthophytum 'Starlights', O. 'Warren Loose', and O. Magalhaesii offsets with varying degrees of success. The natural habitat for orthophytums is confined to a portion of Brazil (Bahia, Minais Gerais). Here they can be found growing in full sun and usually on rock ledges. The plants grow in cracks in the rocks where a small amount of soil has collected, thus the plants are terrestrials rather than epiphytes. Growing on rock lodges gives the impression that these plants don't require a lot of water, that they tolerate a dry environment; however that has not been my experience.
For some strange reason I like orthophytums. I acquired a couple of adult plants and looked after them and they grew well. Of course, pups appeared and I decided that I would grow them on. That was when my troubles started: I would plant them. Orthophytums are a bit different to other bromeliads in that their offsets develop on the inflorescence as well as at the base of the plant. The offsets at the base of the plant are easy enough to identify, but I used to experience trouble identifying the offsets around the inflorescence. These are known as viviparous offsets.
What has helped me greatly in understanding what these offsets in the inflorescence were, came from an understanding of the purpose of these offsets. The clue is in the genus name—'Orthophytum'. It is derived from the Greek words "ortho" for "straight" and "phylum", meaning "plant"—a reference to the lengthening of the stem that takes place during flowering. These long stems with the flowers and offsets serve a purpose; eventually the stems buckle and bend and allow the offset to come in contact with the ground, thus allowing it to take root some distance from the parent plant. The offsets at the base of the plant are there to replace the mother. Understanding this allows you to come up with a suitable regime for growing the offsets.
Before I understood the reason for the pups up near the inflorescence, I would try cutting off the offset with a long section of stem attached, then I would bury the stem. All appeared OK for the next eight weeks or so, then I would bump the offset and it would fall out of the pot; there was no root growth. I repotted it using the original technique and after a period of time, once again it got knocked over and still no root growth. I then decided to cut off a section of stem just below the leaf axil and I buried the leaf. The buried leaves made the plant firm in the pot and a lot less likely to fall out when knocked. More importantly, it included an offset and this took root. I noticed that I needed to water the planted offset very regularly. Originally I thought these plants didn't need to be watered often. However, when I watered them every day (foliar feeding) the offsets started to thrive. These plants seem to need plenty of water, especially when getting established.
---
ORTHOPHYTUM GURKENII – GROWING ON 'SIBLING PUPS'
By Graeme Barclay
(Reprinted from Bromeliad – J. Brom Society New Zealand Inc., July 2010 Vol. 507)
This species is one of the best looking and most desirable orthophytums around. With its dark brown/maroon leaves and zigzag silver banding very prominent on the upper leaf surfaces, it gives the impression and texture of 'snake skin', making it a great feature plant in either pots, or in the garden amongst succulents and ground covers.
Orthophytums like very free-draining soil (e.g., succulent mix with pumice is ideal) and lots of water, as they are a terrestrial bromeliad that have very extensive root structures, like other ground dwellers such as the Dyckia genus. Feeding them a few times a year (especially when young) is beneficial to attain good size, form and markings.
I've had my Orthophytum gurkenii growing in a north-facing pebble garden that gets a little shade but also a lot of heat in the summer. It has flowered twice from two different heads, after several pups sprouted like other broms do from the original plant's base. However, one of the unusual things about this species is that often it also has 'sibling pups' that appear along the spent flower spike, long after flowering. The flower spike extends from the centre of the plant, elevating the centre leaves upward with it as it grows. Numerous bright green, compact flower bracts then emerge at the leaf joints and near the tip of the spike. After flowering finishes, the spike droops and the green flower heads dry up, but sometimes if you are lucky the flower heads actually turn themselves into a baby plant—so don't cut it off and throw it away too early! The babies emerge from the centre of the green flower structure and go a light brownish colour like the mother plant, then the tiniest silver bands begin to appear on the leaves. When they reach around 3 inches or so in diameter they will have formed a number of small root nodules under the bottom leaves and can simply be 'popped' off the stem with a gentle tug. They can then be rooted in seedling mix in a small pot and a good idea is to use a rubber band around the pot and over the top leaves of the plant, to initially hold it firm in the pot. This is necessary for a few weeks while the first extended roots grows, as the recurved lower leaves will try to 'push' the plant out of the soil, making it unstable and root production difficult.
I've now had seven pups sprout along the original flower spike, and another pup has also decided to grow directly from the end of another spike that was knocked off by the kids' soccer ball before flowering even occurred! They sure are a resilient and determined species—so be sure to keep an eye on your flowering 'Gurks' in future.
---
XNEOPHYTUM
Quoting Andrew Steens (2003) from Bromeliads for the Contemporary Garden
By Jan Townsend
(Reprinted from the Hunter District Bromeliad Society Inc. newsletter, August 2007)
"xNeophytum is an intergeneric cross between Neoregelia and Orthophytum. Most of the xNeophytum crosses use Orthophytum navioides which has rosettes of numerous narrow spiny leaves that turn brilliant red when the plant flowers. The offspring carry over much of these characteristics, but combine them with the ease of growth of the neoregelia parents.
xNeophytums are best grown in soil which should be high in nutrients and humus. Although they can grow in full sun, slightly dappled shade gives the best-quality foliage."
The fcbs.org photo index lists thirteen xNeophytum crosses the BCR 2006 lists 17—Ed.; some of the commonly available types are:
• XNeophytum 'Burgundy Hill' (Neoregelia 'Royal Burgundy' X Orthophytum navioides)
• XNeophytum 'Firecracker' (O. Navioides X N. 'Fireball')
• XNeophytum 'Galactic Warrior' (sport of xNeophytum 'Ralph Davis')
• XNeophytum 'Gary Hendrix '(N. princeps X O. Navioides)
• XNeophytum 'Ralph Davis' (O. Navioides X N. 'Meyendorffii')
Most xNeophytums have 'long, glossy, thin, finely serrated edged leaves' which arch gracefully. Hence these bromeliads do not have the capacity to hold water so are more suited to a mix which will retain moisture. The addition of coco-peat to the mix can be beneficial. Commonly grown in hanging situations, the leaves have space to arch downwards. Plants in hanging baskets will tend to dry much quicker than those at lower levels and a common problem with xNeophytums is that the leaf ends die off when moisture levels are inadequate.
If you like 'different bromeliads' then try xNeophytums and when grown in bright light you will be surprised by their colour, shape and form.
---
A FOLLOW-UP—KINDLY SUPPLIED BY DEREK BUTCHER--ON THE ARTICLES ON THE GENUS FOSTERELLA WHICH APPEARED IN OUR JULY 2016 NEWSLINK.
FOSTERELLA VILLOSULA IS REALLY FOSTERELLA LATIFOLIA
By Derek Butcher, May 2007
I was prompted to write this article (in 2007) because plans are afoot to have a comprehensive review of this genus.
This all started for me about five years ago with me pondering why there was no hair on the flower of my F. villosula, as the name implies. This meant I had to argue against what was in Baensch's Blooming Bromeliads , page 158.
I had grown my plant from seed from the BSA seedbank from years before. Fosterella is one of the few genera that self-set seed easily and profusely AND never seem to hybridise. In fact I prefer to grow this genus than say Cryptanthus which has a plethora of hybrids of mixed up parentage. Here, at least, there are botanical descriptions and plants have a sort of pedigree. Needless to say, horticultural misnaming is rife, purely because owners do not check against the written records. In this particular case I was lucky that Len Colgan brought me back from one of his trips to Bolivia a copy of Revista de la Sociedad Boliviana de Botanica Volume 2(2), 1999. Luckily, most of the Bromeliaceae part was in English! Here Pierre Ibisch described the new Fosterella latifolia with no apparent link to other species. This did not raise suspicions at the time; however, in 2002 in Selbyana , Pierre Ibisch added to the knowledge of the species and mentioned F. villosula and even modified the description of this species from that in Smith & Downs. Now this did intrigue me! I even sent a plant to Pierre for him to flower in Germany. Was our plant F. latifolia as I thought? In 2007 Pierre said he believed our plant was F. latifolia, despite having narrower leaves than expected.
From a taxonomic point of view, collection data is essential, but where did I get my plant? Quoting the BSA seed list would not be much help!! Reference to the Journal of the Bromeliad Society 39(6): 269, 1989 showed that my mate Kenneth Quinn, then in California, had acquired a F. villosula in 1988. How, why, and where were vague but the plant description seemed to link with my plant and thus the plant in Baensch's book. We had a bit more historical data because it is strongly feasible that the Aussie plant had links to the USA rather than Bolivia. This does not satisfy the taxonomist but at least shifts the investigation from my backyard.
For photos visit: www.bromeliad.org.au DD0507 Fosterella latifolia because, as Derek says, "As far as I am aware the TRUE F. villosula is not in Australia".
Notes: July 2008: Fosterella latifolia is now treated as a synonym of F. penduliflora.
---
GROWING BROMS AS SEMI-AQUATICS
By Rob Smythe MSc, Townsville (Reprinted from Bromeliaceae, Vol. XLIV No. 1, January-February 2010)
I think this is a feature of broms not yet utilized enough in garden planning. Semi-aquatic just means the root system is under water. Previously I had reported growing orthophytums and xneophytums as semi-aquatics see Newslink July 2010; here I am reporting on Quesnelia arvensis as a perfect subject. The tag on my plant says September 2008 so its lower section has been under water for 14 months.
There is always something to learn and now when I find one of those disasters—neoregelias black with scale on the underside—I just throw them in the old back pond for a week. Works just like a thorough coat of oil but safe. I then treat the area above the water line by my preferred method. With such badly infested plants in the past I knew I could never win so I concentrated on getting clean pups then put mother in the bin. Not so now!
---
NAMING OF A NEW HYBRID: BILLBERGIA 'OUR RENA'
Neville Wood, July 2016

You may remember that in July 2014 I registered a billbergia hybrid from a crossing of Billbergia 'Fred Red' X Billbergia 'Hallelujah'. It was one of six billbergia seedlings obtained in a swap with a hybridiser friend. Five of these six billbergias were all dark in colour, like the maroon/purple colour of the 'Hallelujah' parent, but there was one exception: this had light pinkish-brown leaves, heavily splotched with white.

Although it was still a small plant, in 2014 I entered it in our spring show, mainly to show the colour difference between it and Billbergia 'Stephen Stone' (a previously registered dark-coloured plant from the same grex). There was quite a bit of interest shown in it, and none more so than from our very popular late member, Rena. She was particularly interested in anything to do with B. 'Hallelujah' as it was her favourite billbergia and, besides, she had just won 1st prize with her 'Hallelujah' plant over thirteen other entries.

She had always shown an interest in new hybrids that were being bred from 'Hallelujah' and it came as no surprise when looking at my new hybrid she said, "Oh, I like that, can I buy a piece from you?" I told her that at that stage I only had the one plant and it wasn't large enough to divide, but I told her I'd give her a piece when it was larger. And, of course, the argument then started that she'd have to pay for it and didn't want any charity … you all know as well as me how fiercely independent she was!

The plant is now large enough to divide and I'll do this in the spring. But, sadly, Rena isn't with us any more to collect the plant I promised her, so the next best thing I could think of was to give it to her daughter, Dianne, as I know she likes Bills as well, and she still has Rena's large B. 'Hallelujah' to keep it company. As a tribute to Rena, I've since registered the plant with the International Cultivar Registration Authority for Bromeliaceae and from now on it will be known as Billbergia 'Our Rena' and will be a living memorial to a wonderful lady and great friend who we liked and respected so much.
---
BROMELIAD FAIR
Hundreds of exotic bromeliads from beeautiful to bizarre
Rare and unusual Tillandsia, colourful Neos and Guzmanias, spectacular Vrieseas, dazling Aechmea....
Broms for all tastes !
Saturday/Sunday, October 15-16, 2016
You will find us at:
Concord Senior Citizens Centre:
9-11 Wellbank St, Concord, NSW 2137
Sunday 10-4, Sunday 9-12
FREE ENTRY - and bring a box
- EFTPOS - Visa, Mastercard, Debit Cards
- Books and fertilizer for bromeliads also available.
For more information please contact:
Garry Flemming - 02-6553-9868 / 0413-178-884
Peter Tristram - peter@bromeliads.com.au
---
Click HERE to return to Illawarra Bromeliad Society "Club News Page".

---
Updated 16/10/16
---