ILLAWARRA BROMELIAD SOCIETY Inc.
Club News.
---
Click HERE to return to Illawarra Bromeliad Society "Club News Page".

---
NEWSLINK
October 2010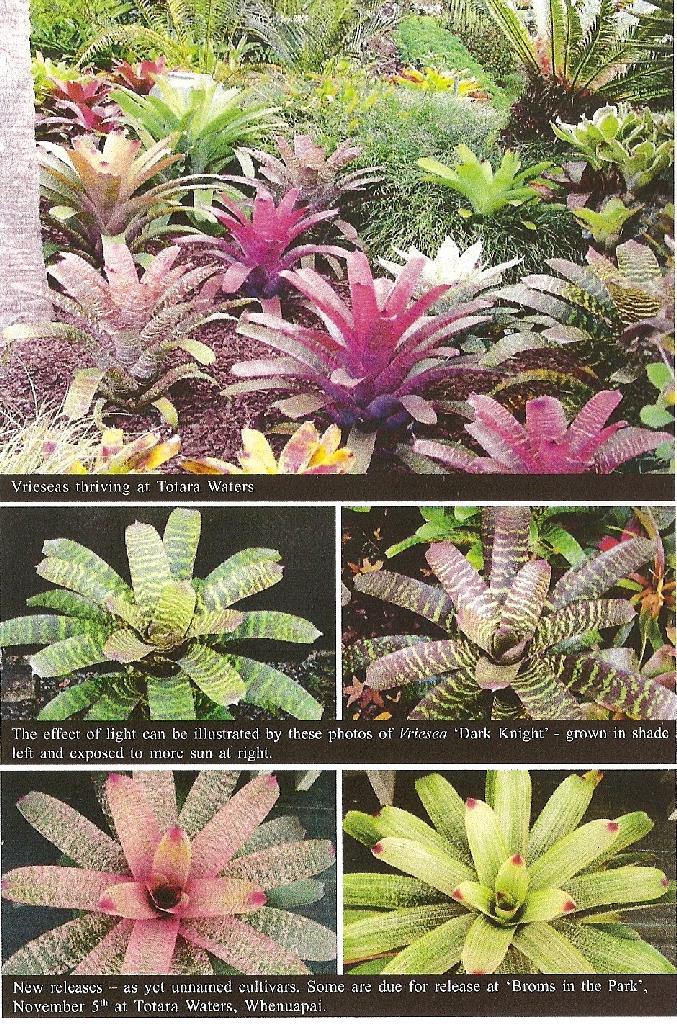 Growing Colourful Pattern-Leaf Vrieseas
Photos by Andrew Maloy, 'Kiwi Bromeliads'
See article this Newsletter.


---
- Articles appearing in this issue of NEWSLINK are for information purposes only and are not necessarily endorsed by the Committee or the Illawarra Bromeliad Society.
- The Society is, by the holding of meetings, displays and competitions, to provide a forum for the people of the Illawarra region who are interested in the culture and collection of bromeliads.
- Under the provisions of the Privacy Act, use of names and references to private details, such as illness, holidays, birthdays and items of a similar nature, may only be published with the written permission of the person concerned.
---
NEWS IN BRIEF . . .
NEW MEMBERS:
We would like to extend a very warm welcome to Freda Kennedy who joined our Society at our July meeting, to Gino Di Cesare and Carol and Karen Tieck who joined at our Show in September and to Tim and Ernie Berger of Cradle Nursery (see below for details of Cradle Nursery). We wish you a long and happy association with our Society.
---
MONTHLY RAFFLE PRIZE ROSTER:

| | |
| --- | --- |
| November | David Buxton, Ann Kennon, Janine Varley, Maadi McKenna. |
| February 2011 | Graham Bevan, Ted Clare, Joan Banks. |
---
NOVEMBER MEETING - CHANGE OF ROOM:
The Illawarra Lapidary Club's Annual Exhibit requires the use of our usual meeting venue in November. Therefore our meeting will be switched to the Scribbly Gum Room, which is located to the right of the main entry of the Dapto Ribbonwood Centre (off the Princes Highway) for November.
---
GARDEN VISITS:
Garden visits have been planned for Saturday, November 27 and what a treat you have in store! We will start out at Rena's garden around 9.30 – 10.00 am where Rena will supply morning tea and then on to Janine and Warwick Varley's. A BYO lunch will be at Maria and Jørgen Jakobsen's home. Jørgen will have his barbecue set up if you would like to use it, and tea and coffee will again be supplied.
---
CHRISTMAS PARTY:
Once again, Graham and Elizabeth have arranged for our Christmas gathering to be at their daughter and son-in-law's beautiful home. We will have the usual 11.00am start to give us the chance to enjoy this lovely location and to socialise with other members. Extra details will be worked out at our meetings before then, but, basically, it will be pretty much the same as past years: bring a plate and a small gift for sharing (men bring presents suitable for men and women bring presents suitable for women—and bromeliads always welcome!).
---
LIFETIME MEMBERSHIP AWARDS:
Nina and Jarka Rehak were recognised at our August meeting for their outstanding service to our Society for eighteen years (since being among the core founding members in March, 1992).
Nina was already experienced in bromeliads when our Society came into existence and has always been such a fount of information. This was particularly true in the earlier days but still remains so—as whenever we need a bromeliad ID we still always tend to say, "Ask Nina!"
Nina also, for many years, single-handedly supplied all of the plants for our raffle prizes each month. And each year she still exhibits beautiful—and often very different—plants for our competition tables, as well as some very showy plants for the displays. She does this with no idea of taking out top prize (which she so often does, however) but simply with the idea of helping to fill the tables and to introduce beautiful and interesting plants to our members and to the public.
When I attended my first Conference in Perth in 1997, the guest speaker, Thelma O'Reilly from California, told the audience that it was a good idea to have a "bromeliad buddy"—just one buddy with whom you could do research and talk bromeliads together. Nina became not only my "bromeliad buddy" in those early days of my association with the Illawarra Society, but a dear friend—someone I still turn to—not only when I need help in providing plants for my talks, Judging School duties, etc., but in my personal life as well.
Jarka is photographer extraordinaire and provided many of the photographs which we have in our reference photo albums. He was also the photographer at our 2001 Conference, taking pictures of the delegates, displays, etc., and then racing home each evening to have them developed so that they could be included in the Proceedings Book, which we were able to hand out at the conclusion of the Conference. You may also have noticed some of his beautiful photographs which we had blown up to poster size to use on our Show tables this year.
Like so many of the people upon whom we have come to depend in our Society, Jarka is another who works quietly in the background. But to my dear friends, Nina and Jarka Rehak, on behalf of the Illawarra Bromeliad Society I say a very fervent "Thank You" for all you have given to us over the years.
---
THANK YOU VAL DIXON/THANK YOU PHILLIP ROBINSON/THANK YOU ANN AND NOEL KENNON:
We need to say a huge "Thank You" to Val, who has been providing exquisitely hand-written records of our meetings for twelve years now (and personally I really could not have done my job without her!) and to Phillip who has headed up our Sales Tables (both at our monthly meetings and our annual Shows) for nearly 20 years. However, at our Annual General Meeting in August, Val stepped down and handed over her position of Minutes Secretary to Ann, while Noel is now heading up the Plants Sales tables (although Phillip is still there, lending his very willing helping hands). Many thanks to all of you!
---
THANK YOU TO DAVID BUXTON:
While I usually write a letter of thanks to David on behalf of the Society for the wonderful head carvings (though last year it was a lovely wall plaque with flannel flowers) he has produced for our Show raffle for quite some years now, I'm not sure if our newer members know just who is responsible for that.
David and Carolyn joined our Society in March 1998 and for many years were active members, regularly taking part in plant competition and helping out at our Shows. However, when things became busier for them (and the long drive down from Engadine probably a bit onerous) they have not been able to attend our meetings on such a regular basis, but David still turns up on the Friday for every Show, working with Sharyn to set up the display and he and Carolyn help out in different areas over the whole weekend.
Also for our Shows, it was David who made up the Perspex holders for the notices we have on our raffle and information tables and the ones we use on the kitchen counter advertising our tea, coffee and cakes, and he also made the plastic envelopes for the award cards (so that the ink doesn't run when plants are sprayed). Last year he built some tall tables for use behind the sales area, making it easier to place plants, sort money etc. during a sale and this year he made up another tall table to hold the trophy display plus three more tables for use in the display itself. These are all items which will continue to be used at our Shows over the years and which give a professional touch.
Thank you both—David and Carolyn.
---
LIBRARY:
A reminder that we would like to have library items returned by our November meeting so that Laurie can have an opportunity during the break to reorganise, repair, etc. before our February meeting.
---
COMING EVENTS:

| | |
| --- | --- |
| Oct. 14 - 17 | BERRY GARDENS FESTIVAL – 8 Gardens to visit - www.berrygardens.org.au |
| Oct. 22-Nov.2 | BRIGHT SPRING FESTIVAL: www.brightspringfestival.com.au Ph. 1800 111 885 |
| Oct. 23-24 | BROMELIAD SOCIETY OF NEW SOUTH WALES – SPRING SHOW – Concord Senior Citizens Centre, 9-11 Wellbank Street, CONCORD |
| Nov. 6 | BLOOMING BINDA GARDEN FESTIVAL, Including an Edna Walling Garden Ph:4832-1046(Secretary) or 4832-1988 or www.upperlachlantourism.com |
| Nov. 20 | HUNTER DISTRICT SOCIETY SHOW - Henderson Park Hall, 38 Lockyer Street, ADAMSTOWN |
| 2011 | . |
| April 7-10 | 16th AUSTRALASIAN BROMELIAD CONFERENCE - BROMS ON ARAFURA - For more details see below. |
| May 14–15 | BROMELIAD SOCIETY OF NEW SOUTH WALES AUTUMN SHOW - CONCORD |
| May 28-29 | BROMELIAD SOCIETY OF AUSTRALIA AUTUMN SHOW - BURWOOD RSL |
| Oct 29–30 | BROMELIAD SOCIETY OF NEW SOUTH WALES SPRING SHOW - CONCORD |
PLANT RESULTS - July 3
OPEN

| | | |
| --- | --- | --- |
| 1st | John Carthew | Aechmea Inca |
| 2nd | John Carthew | xGuzmania hybrid |
| 3rd | Jørgen Jakobsen | xNeoregelia hybrid |
NOVICE
| | | |
| --- | --- | --- |
| 1st | Warwick Varley | Billbergia |
| 2nd | Warwick Varley | Vriesea |
TILLANDSIA
| | | |
| --- | --- | --- |
| 1st | Sandra Southwell | umbellata |
| 2nd | Catherine Wainwright | albertiana |
| 3rd | Sue Burrows | paleacea |
---
PLANT RESULTS - August 7
OPEN

| | | |
| --- | --- | --- |
| 1st | Steve Morgan | xVriesea Bianca x fosteriana Red Chestnut |
| 2nd | John Carthew | Billbergia sanderiana |
| 3rd | John Carthew | Billbergia Hallelujah |
| 3rd | John Carthew | Neoregelia Lambert's Pride |
| 3rd | Catherine Wainwright | Aechmea pineliana var. minuta |
| 3rd | Catherine Wainwright | Orthophytum gurkenii |
| 3rd | Jørgen Jakobsen | Vriesea fosteriana |
| 3rd | Jørgen Jakobsen | Vriesea fosteriana Red Chestnut |
| 3rd | Nina Rehak | Billbergia Fascinator |
NOVICE
| | | |
| --- | --- | --- |
| 1st | Ann Kennon | Vriesea fosteriana Red Chestnut x ensiformis |
| 2nd | Ann Kennon | Vriesea fosteriana Red Chestnut |
| 3rd | Carissa Morgan | Vriesea platynema x hieroglyphica |
TILLANDSIA
| | | |
| --- | --- | --- |
| 1st | Catherine Wainwright | ionantha |
| 2nd | Sandra Southwell | fuchsii var. fuchsii |
| 3rd | Jørgen Jakobsen | flabellata |
| 3rd | Catherine Wainwright | tectorum |
---
PLANT RESULTS - September 4
OPEN

| | | |
| --- | --- | --- |
| 1st | John Carthew | xAechmea one of the spineless Skotak hybrids |
| 2nd | John Carthew | xNeoregelia Sunrise |
| 2nd | John Carthew | Neoregelia meyendorffii variegated |
| 3rd | John Carthew | Neoregelia Morris Henry Hobbs x Fireball |
NOVICE
| | | |
| --- | --- | --- |
| 1st | Sandra Southwell | Vriesea Elvira |
| 2nd | Ann Kennon | Vriesea Kiwi Sunset |
| 3rd | Sandra Southwell | Neoregelia Tiger Cub |
TILLANDSIA
| | | |
| --- | --- | --- |
| 1st | Catherine Wainwright | tenuifolia (Blue form) |
| 2nd | Sandra Southwell | bulbosa (red) + caput-medusa on wood |
| 3rd | Catherine Wainwright | tenuifolia |
| 3rd | Catherine Wainwright | tenuifolia (Blue form) |
---
SHOW RESULTS - July 3
CHAMPION BROMELIAD: OPEN

| | | |
| --- | --- | --- |
| . | Laurie Dorfer | Tillandsia tectorum |
CHAMPION BROMELIAD: NOVICE
| | | |
| --- | --- | --- |
| . | Freda Kennedy | Neoregelia hybrid |
BEST SPECIES:
| | | |
| --- | --- | --- |
| . | Nina and Jarka Rehak | Aechmea chantinii |
DULCIE DOONAN MEMORIAL AWARD:
| | | |
| --- | --- | --- |
| . | Catherine Wainwright | Dish Garden with Cryptanthus acaulis |
SECTION 1: OPEN
Class a - Aechmea (9 entries)
| | | |
| --- | --- | --- |
| 1st | Nina and Jarka Rehak | chantinii |
| 2nd | Neville Wood | recurvata |
| 3rd | Nina and Jarka Rehak | ramosa |
Class b - Billbergia (4 entries)
| | | |
| --- | --- | --- |
| 1st | Nina and Jarka Rehak | Dorothy Berg |
| 2nd | Warwick Varley | M. Tucchea x Bob Earl * |
| 3rd | John Carthew | Hallelujah |
Class c - Neoregelia (5 entries)
| | | |
| --- | --- | --- |
| 1st | Catherine Wainwright | marmorata |
| 2nd | Nina and Jarka Rehak | Screaming Tiger |
| 3rd | John Carthew | Gympie Delight |
Class d - Miniature Neoregelia (1 entry)
| | | |
| --- | --- | --- |
| 1st | Nina and Jarka Rehak | Mini Meyendorffii * |
Class e - Tillandsia (12 entries)
| | | |
| --- | --- | --- |
| 1st | Laurie Dorfer | tectorum |
| 2nd | Steve Morgan | seleriana |
| 3rd | Graham Bevan | bulbosa |
Class f - Vriesea/Guzmania (8 entries)
| | | |
| --- | --- | --- |
| 1st | John Carthew | Vr. hybrid |
| 2nd | Nina and Jarka Rehak | Guz. Fleur D'Anjou |
| 3rd | Nina and Jarka Rehak | Guz. wittmackii (Orange) |
Class g - Other Bromeliad (4 entries)
| | | |
| --- | --- | --- |
| 1st | Catherine Wainwright | Deuterocohnia brevifolia |
| 2nd | Suzanne Burrows | Cryptanthus bivittatus |
| 3rd | Nina and Jarka Rehak | Nidularium Litmus |
Class h - Colony Aechmea/Vriesea (2 entries)
| | | |
| --- | --- | --- |
| 1st | Neville Wood | Ae. recurvata Peach Parfait * |
| 2nd | Warwick Varley | Vr. rubyae |
Class i - Colony Neoregelia (6 entries)
| | | |
| --- | --- | --- |
| 1st | Catherine Wainwright | Heart's Blood |
| 2nd | Neville Wood | Guinea |
| 3rd | Jørgen Jakobsen | Tiger Cub |
SECTION 2: NOVICE
Class j - Aechmea (3 entries)
| | | |
| --- | --- | --- |
| 1st | Warwick Varley | Blood Stain |
| 2nd | Warwick Varley | orlandiana Dark Form |
| 3rd | Jørgen Jakobsen | recurvata var. recurvata |
Class k - Neoregelia (11 entries)
| | | |
| --- | --- | --- |
| 1st | Freda Kennedy | hybrid |
| 2nd | Jørgen Jakobsen | Bobby Dazzler |
| 3rd | Jørgen Jakobsen | Predatress |
Class l - Tillandsia (15 entries)
| | | |
| --- | --- | --- |
| 1st | Sandra Southwell | fuchsii var. fuchsii |
| 2nd | Sandra Southwell | punctulata Tanya Maree |
| 3rd | Sandra Southwell | straminea |
Class m - Vriesea/Guzmania (8 entries)
| | | |
| --- | --- | --- |
| 1st | Freda Kennedy | Hawaiian Beauty |
| 2nd | Ann Kennon | Red Chestnut x ensiformis |
| 3rd | Ann Kennon | Kiwi Sunset |
Class n - Other Bromeliad (4 entries)
| | | |
| --- | --- | --- |
| 1st | Ann Kennon | Nidularium fulgens |
| 2nd | Freda Kennedy | xNeophytum Galactic Warrior |
| 3rd | Freda Kennedy | Quesnelia arvensis |
SECTION 3: CREATIVE
Class o - Mounted Tillandsias (9 entries)
| | | |
| --- | --- | --- |
| 1st | Catherine Wainwright | ionantha |
| 2nd | Laurie Dorfer | fuchsii var. fuchsii |
| 3rd | Laurie Dorfer | tectorum Enano |
Class q - Basket/Decorative Container (2 entries)
| | | |
| --- | --- | --- |
| 1st | Elizabeth Bevan | Basket of Bromeliads – "Abundant Harvest" |
| 2nd | Christine Okoniowski | Yellow wheelbarrow with billbergias, etc. |
Class r - Bromeliad Garden (2 entries)
| | | |
| --- | --- | --- |
| 1st | Elizabeth Bevan | "Tropical" - A low basket filled with a pineapple, tropical birds and bromeliads |
| 2nd | Catherine Wainwright | Green bowl filled with Cryptanthus acaulis |
Class s - Artistic Arrangement (8 entries)
| | | |
| --- | --- | --- |
| 1st | Janine Varley | "Tri-Colour" – a bamboo tripod with tri-coloured bromeliads including: N. innocentii; A. 'Mary Brett" |
| 2nd | Catherine Wainwright | "Past Glory" – a beautiful collection of dried blooms In a 'volcano-shaped' tree-fern 'vase' |
| 3rd | Elizabeth Bevan | "Volcanic Eruption" – an explosion of colour using reds and purples, such as Aechmea weilbachii |
*Labelled as such, but not registered as such in Bromeliad Cultivar Registry [1998/2006]

---
SOME NOTES ON PLANTS BROUGHT TO OUR AUGUST/SEPTEMBER 2010 MEETINGS
Vriesea Elvira: A John Arden hybrid of V. bleherae x V. hieroglyphica, dating back to 1981. 'Elvira' has a large rosette with dark maroon leaves and an erect multi-branched inflorescence with a light green scape, pink-orange floral bracts and yellow-green petalled flowers.
Vriesea fosteriana Red Chestnut: An old favourite, which dates back to sometime before 1973, Vriesea 'Red Chestnut' is a cultivar of V. fosteriana var. seideliana. The Bromeliad Cultivar Registry tells us that is has a …"Large open arching rosette with distinctive reddish-brown, irregular transverse banding on a creamy pale green background. Many different cultivars exist, sharing the general form, but differing in colouration to rose, violet, lilac and bluish tints. It was originally discovered by Alvim Seidel and there is also a rubra form. Bromeliad Treasury said, "36-inch vase-like rosette of 2-1/2 inch x 36 inch green leaves banded by bright chestnut red glyphs and are gently arched and concave. The 7 foot inflorescence has a ¾-inch thick green spotted chestnut stem with spirally arranged green spotted chestnut bracts, merging into the similar floral bracts – 25 or so 1-inch diameter by 1-3/4-inch long pale yellow flowers with chestnut tips. Blooms at night."
Billbergia Fascinator: Nina's exquisite plant always attracts a lot of attention and, when on display, people always wish that they could have one. However, Nina tells us that it needs just the right light to reach this colouration and under different conditions 'Fascinator' can have a very different look. It looks best when grown as multiples and forms tight clumps of tall, slender, bronze tubes, blotched with cream spots--in high light it develops a pinkish tinge. The inflorescence has gentle arching stems, with brilliant red bracts and blue flowers. It dates back to 1930 and is a cross made by Richter of Billbergia 'Windii' x saundersii.
Tillandsia punctulata Tanya Maree: An update to information which appeared in our July, 2010 Newslink. This was kindly supplied by Chris Larson who is editor of the Bromeliad Society of Victoria's newsletter, the following article having appeared in their August 2009 issue. (Chris is heavily involved in the importation of tillandsias for his employer, Collectors' Corner in Melbourne.)
"It is amazing what you find in a tillandsia shipment from Guatemala. Not that many have the chance, but this is a marvelous benefit of my job. There are numerous forms of each plant coming from slightly different areas in Guatemala. One of these was a small form of T. punctulata which came in amongst the others more than 10 years ago. Of course, when we notice these things, we pull them out mainly just to see what they do. This one continued to stay small, and, like most T.punctulata, it pupped like crazy. We then registered it, naming it after one of our employees Tanya Ryall. I also encountered a similarly small form in Honduras at the nursery of Mr. Kamm (of T. kammii fame). He was growing it en masse. He told me he did trade with the Guatemalan tillandsia sellers, and of course Guatemala borders Honduras. Mr. Kamm told me he found his small form in the area of Copan, in Honduras, but that the area had been cleared and the habitat had been destroyed. He doubted that it was still there—he could not find it. Maybe this is one of his plants, but we will never know.
Recently I took a bright orange T.'Tanya Maree' home (out of the heated glasshouse) to photograph. I might add here there are distinctly orange, and a couple of different red clones, of the "normal sized" T. punctulata in Melbourne—we know these plants colour differently when grown side by side. What amazed me about the T.'Tanya Maree' I took home was that the colour of the bracts darkened to an almost red—a colour I had not seen before in this plant—due (I think) to the cold.
This plant is easy to grow in Melbourne, requiring an open potting mix (I use small orchid bark), bright shade, and it responds well to fertilizing and regular watering."
Vriesea Snow White: V. Snow White was brought to our September meeting and to give you a little of its background I am reprinting here an article by Derek Butcher, former BSI Registrar, adapted from The Bromeliad Society of Queensland's Bromeliaceae, February 2009 issue.
"Some yeas ago Cheryl Basic imported a Vriesea sp.53 from Pam Koide at Bird Rock Tropicals in California but it remained unidentified. Recently when Mick Romanowski was marauding in Queensland he was rather taken by this dainty vriesea in Cheryl's collection that did not fit the description of V. corcovadensis or V. lubbersii. My wife, Margaret, took an interest in this plant in Mick's collection on one of our trips to Melbourne and we scrounged an offset. Mick said it was reticent to flower! In 2008 it started to produce a flower scape. In 2009 we brought it indoors during the infamous heat wave. It flowered, so I took photos from all angles and even got permission from Margaret to remove ONE flower to scan. I was ready for a telephone brag to Mick when he said, "All mine are in flower too!" An email was sent to Harry Luther.
Harry,
You love challenges and have a good memory. This plant came to Australia from the USA several years ago as 'sp' but no-one queried it until now. I think it is a species rather than a hybrid. You will remember the saga of the corcovadensis versus lubbersii. The main problem is the white petals which lean me towards corcovadensis but the leaves lean me to lubbersii. I have given up on the distichousness of the flowers! Have you seen this around Florida? Any thoughts?
Derek
And the answer:
Derek,
As far as I can see, Vriesea lubbersii, not the old, broader leaf clone. Several Floridians collected it in the 90s or late 80s. There is also a V. aff lubbersii that I think is just a very large clone (more than 30 cm tall) that I've never seen flower. Vriesea corcovadensis seems more delicate or thinner but I've not seen enough of either. Harry Luther
PS: Why don't you ask Elton Leme?
So I asked Elton and he replied:
Derek,
You cannot imagine how many different plants of this group I have collected, all of them with specific discrepancies, which make identification inaccurate. At this very moment I have some of them flowering and I gave up trying to identify most of them. Apparently, few of them are new. Others look to be just variations of different populations. I agree with you that your plant looks closer to Vriesea corcovadensis, and I would not be much concerned with the rosette conformation at this point of the available knowledge. There is a PhD student trying to understand this group right now, so we wait to see what conclusions she makes.
Best, Elton
This information made me decide to bite the bullet because it is better to identify this clone with a cultivar name than just Vriesea sp. Margaret came up with 'Snow-White'. Anyone who knows their nursery stories will know that Snow-White had white skin and dressed in white (white petals), had ruby lips (red floral bracts) and black hair (colour of the leaf sheaths). Plant 20 cm diameter x 15 cm high, flowering to 30 cm high. We will be linking this name to both V. corcovadensis and V. lubbersii in the Cultivar Register for possible amendment in the future.
---
GROWING COLOURFUL PATTERN-LEAF VRIESEAS
Cover photograph and article By Andrew Maloy, 'Kiwi Bromeliads'
(Reprinted from Bromeliad, Journal of the Bromeliad Society of New Zealand Inc., October 2006, Vol. 46[10])
Their exotic colourful foliage conjures up visions of the lush tropics but these beauties are easier to grow in New Zealand than you might imagine—and they don't have prickles!
At Kiwi Bromeliads we specialise in breeding new colourful pattern-leaf vriesea varieties and here are some tips on how you can use them with confidence and success in your garden or as great indoor plants.
Besides architectural form, patterned foliage and colourful tones are their standout features. The three main factors affecting colour and pattern intensity appear to be genetics, age and light.
Genetics
Parents used in breeding will obviously pass on characteristics to the offspring. For example, V. hieroglyphica has shiny, recurved leaves with dark patterns, while V. gigantea has upright leaves with grey non-reflective foliage. Other varieties have a range of colour traits, such as red tips (fingernails), spots, or flushes of colour above or below the leaves. In some cases we can be fairly confident what the results of a cross between two parents will be, but in others it's simply a shot in the dark. We select out the good ones and only a few are finally offered for sale.
Age
Good things take time and as the plant matures the colour and patterning intensifies. At point of sale the plant is usually around two to three years old and only just beginning to reach its potential. As it grows larger and older the colour and patterning will only get better. And once they reach 2-3 years old vrieseas are not as slow growing as you might think. Once planted in the garden they can easily double or treble their size in 12 months.
Light
While they can grow well in shade (even heavy shade) they are equally as successful in quite bright light with the added benefit of more intense colouration. We realise now that many vrieseas can stand more sun than we had previously imagined. As a general rule, colour and patterns will be brighter and more intense in good light than in shade. But too much sun, for too long, will tend to bleach colours and may even cause yellowing and leaf burn. Of course, beauty is in the eye of the beholder. As a guide, partial shade with exposure to sun for part of the day seems best for most varieties. Genetics also plays some part here, in that a variety bred from a shade-loving species, such as V. hieroglyphica, may be less sun tolerant than others, or depending on the other parents involved it may have increased sun tolerance. I have also noticed that, given similar light intensities, outdoor grown vrieseas tend to have better colour than those grown in greenhouses, which may be the result of the filtering effect that glass and plastic are known to have on ultra-violet radiation.
Other factors that have a lesser effect are:
Nutrition
This can include the garden soil type, potting mix if you're growing in containers, and any fertiliser you might use. As a rough guide, once planted in reasonable garden soil vrieseas need very little, if any, extra feeding. If the foliage looks exceptionally pale or growth is very slow, then feed sparingly with a general garden fertiliser, preferably one containing relatively high levels of K (potassium). Excessive N (nitrogen) compared to K will lead to greener foliage with a loss of colour intensity but as the N is used up colours will return. So don't overfeed. If you apply fertiliser, do it during a period of active growth such as spring and early summer, when there's plenty of moisture in the soil. A mulch every now and then with sheep pellets, compost or other organic material will improve soil condition as well as provide some nutrients. In containers use a good quality potting mix and feed in spring with a 6-8 month slow release fertiliser and then occasional liquid feed if you want to encourage more growth.
Water
Once you've planted them in the garden, vrieseas are like most other bromeliads—they can withstand long periods of drought, but occasional watering will keep them in good condition. Likewise, in containers, you can forget about watering for weeks in winter and they'll survive quite happily, and during warmer conditions once a week watering should be plenty. More importantly, make sure they don't sit in water. In the garden make sure the soil is free-draining—build up raised beds of good soil or growing mix if necessary.
Temperature
We always used to think vrieseas needed to be protected from frost, but as time goes by we hear reports of how they have survived quite cold conditions. We've heard of them surviving temperatures as low as -40C (in Motueka, South Island) without damage, but I recommend you take that as the exception rather than the rule. Under the shelter of taller trees and shrubs, where frost isn't going to settle on the foliage, they should tolerate light frosts (-20C) without the need for frost cloth covers. And in more exposed areas a single or double covering of frost cloth should help considerably. This winter, in a range of situations, without protection, some of our vrieseas survived a series of frosts unscathed while Alcantarea imperialis, Vireya rhododendrons and other sub-tropical plants nearby showed significant damage.
Some vrieseas seem to respond to cold by colouring up (mostly red and pink tints), much in the same way as do some of the native coprosmas like 'Karo Red'.
Pests and Disease
Vrieseas are seldom affected by pests and disease. Root rot or stem rot, through poor drainage, can occasionally strike them down and sometimes the early symptoms are unusual but striking red colourations of the foliage. Once you diagnose the problem it's often too late to save the plant, so ensure free draining conditions right from the start.
Scale can infest the odd plant but seldom warrants attention in the garden. With scale on a container plant you could spray with Confidor®—it's systemic and has low toxicity to humans. Slugs and snails seldom cause damage.
New Releases from 'Kiwi Bromeliads'
This spring and summer [2006] will see the first ever release of 'Kiwi Sunset', 'Kiwi Dusk' and 'Kiwi Cream'. 'Kiwi Sunset' will be available first at 'Broms In The Park 2006' at Totara Waters garden on November 5th.
You can contact Andrew Maloy at info@kiwibromeliads.co.nz

---
VRIESEA FOSTERIANA
By Chet Blackburn, Auburn, California
(Reprinted with acknowledgment from J. Bromeliad Soc., 1999 Vol. 49, p. 261)
Preparing the fifty-year index to the Journal of the Bromeliad Society has brought forth a few surprises. The surprises usually related to the diversity of plants and topics that have been covered over the years and the number of photographs that exist of seldom seen species. One of the biggest surprises, however, concerns a plant that has not been covered at all. It seems astonishing that a plant as spectacular and as common in cultivation as Vriesea fosteriana has never been the subject of an article in the Journal. Furthermore, only two small black and white photographs have ever appeared (although there is also a colour photograph of the bottom half of a plant in a 1987 article on plant pupping).
Vriesea fosteriana is from southern Brazil. The type species was collected in full sun at about 1,000 metres (3300 feet) at Morro Do Sal in the state of Espirito Santo, Brazil in 1940. It has been widely grown in cultivation ever since.
There are many growers who, by design or by necessity, limit their bromeliad collections to small to medium-sized plants. Yet nearly everyone makes an exception for this handsome plant in spite of its size. On mature specimens, individual leaves can reach up to 1 metre (3.3 feet) and the inflorescence can attain a height of 2 metres (6.6 feet). No one grows the plant for its inflorescence, however. The symmetrical nature of the plant would give it a pleasing appearance even without colourful leaf markings, but it is the green to reddish reticular mottling on otherwise light green to whitish leaf blades that draws everyone's attention.
In Vriesea fosteriana var. seideliana Reitz, the white portions of the leaf are much more prominent than in the typical form.
The best known cultivar, Vriesea fosteriana Red Chestnut, is a cultivar of this variety according to the Bromeliad Cultivar Registry. In this cultivar, the red markings are quite prominent, hence the cultivar name. Another cultivar, 'Rubra Broadleaf', has even more red in its markings and has an overall maroon appearance. It grows larger than 'Red Chestnut'. Vriesea fosteriana Vista differs from other V. fosteriana cultivars in having nearly white foliage with finer striations of a reddish-chocolate colour. I have also seen plants similar to 'Vista' in which striations are dull green with very little red. This green and white form resembles Guzmania lindenii but is much easier to grow. The species is very variable.
The inflorescence extends well above the rosette; the flowers are greenish-white, produce quantities of nectar, and open at night: all traits commonly associated with plants pollinated by nectar-feeding bats.

---
THE GENUS VRIESEA
An overview by Stephen Flood (B.App.Sc.(hort)) MAIH
(Reprinted from the Sunshine Coast Bromeliad Society Newsletter, September/October 2010 No. 5/10)
The genus was named after the Dutch botanist Dr. W. De Vriese. The genus was created in 1889; until then vrieseas were a component of the genus Tillandsia. This is understandable because some vrieseas look like tillandsias and some tillandsias appear similar to vrieseas. The distinguishing botanical characteristic is subtle: Vrieseas have a small wing or flap at the base of the flower petals which is called a ligule; Tillandsias do not have this structure.
Vrieseas have been popular horticultural subjects since the early 18th century, probably because they share with all the other Tillandsioideae genera the distinction of not having leaf spines, making them attractive to plant enthusiasts who do not enjoy the scratches and bleeding that can occur with the Bromelioideae and Pitcairnioideae sub-families of the Bromeliaceae family.
There are approximately 120 species of vrieseas, naturally occurring in the tropical zones of Mexico, Central America and South America, with the majority of species being native to Brazil. Many hybrids have been created by breeders since their discovery.
They have adapted to a variety of altitudes, ranging from sea level to 3,500 m. They thrive in the shade, at a high humidity in mist or rainforests, and as epiphytes on bushes and trees, as well as growing terrestrially in permeable humus ground.
Being a genus in the sub-family Tillandsoideae, apart from spineless leaves, a characteristic is the parachute seeds which assist with widespread distribution of the seeds. The leaves have entire margins and in most species have a tank formed from a rosette of leaves which vary considerably in width and stiffness.
Like all tank broms they store water for a period of time, and water and nutrients are preferably absorbed through the leaves since the roots serve mainly as adhesion organs. However, when the adhesion roots are exposed to a permanently moist environment, as happens when the plants are grown in containers, the adhesion roots extend their function to include absorption of water and minerals.
The combination of colour of the simple or branched inflorescence may vary between light yellow through orange to bright red, with the flowers being white, green, yellow or bluish violet. Some species—in particular the night flowerers—are noteworthy for their striking mosaics, banded patterns, or speckles of the rosette.
The inflorescences of many night bloomers produce large bell-shaped flowers whose fruit-like smell and sweet secretion attracts bats and moths for the purpose of pollination. Day-flowering species are usually pollinated by hummingbirds. For simplicity, vrieseas can be divided into three broad groups, namely:
• Flowering vrieseas
• Foliage or patterned-leaf vrieseas
• Silver tillandsia-type vrieseas
Some plants—e.g., V. splendens—fit both the foliage and flowering categories.
Early hybridists paid more attention to the flowering types because the inflorescences were popular in the European cut flower market. Most vrieseas grow best in a shady, mesic environment; however, a few will grow in full sun.
Flowering types grow well either in a pot—using a well-drained potting mix—or planted directly into well-drained, organically enriched garden soil. Foliage vrieseas can be treated similarly, but also grow well epiphytically.
The silver leafed tillandsia-types are best treated as tillandsias by being grown in an airy location, mounted on timber or a similar substrate.
Vrieseas respond well to regular fertiliser application and, like many other genera, prefer a formulation with higher proportions of potassium than nitrogen.
Propagation of vrieseas by offset or pup removal is not always straightforward and is best done after the pups reach a reasonable size. In our climate [Sunshine Coast] avoid removal of pups during winter.
Vrieseas can be grown from seeds, although obtaining a reasonable sized plant can take a long time. Seedlings need to be carefully tended as they are often eaten and are prone to damping off fungal diseases.
The most commonly occurring pest problem with vrieseas is the fly speck scale.

---
BROMELIAD SCALE – Those little black dots ………………..
(By Lynn Hudson , Reprinted from Bromelcairns, 2009 #4)
Flyspeck, pineapple, pinspot, blackspot, whatever you call it, Grace Goode said it best: "It is the scourge of bromeliads."
Gymnaspis aechmeae is only found on bromeliads. They are insects that can crawl. They attach themselves to the plant and suck. They secrete a black, hard protective cover and lay eggs. These usually hatch in Spring. One can hatch 100 babies! If you scratch them off, these babies will be released into the plant!
Most plant scale is treated with white oil but bromeliads respire through the top of their leaves and straight white oil will choke them. Some growers use the very toxic Rogor; I use Chemspray brand 'Antiscale', which is also toxic. Abide by the manufacturers' safety instructions and use gloves and a mask.*
You will need to treat your plants on a regular basis.
You should quarantine plants when you bring them into your collection to first ensure they have no scale.
*Another article suggests that using Confidor® is a preferred method while the more "green" Natrasoap and Clensel are also satisfactory but need constant repetition of the treatment. Clensel can be somewhat hard to find in Sydney but Natrasoap is available at Bunnings.
Natrasoap is a soap spray made from potassium derived from vegetable oils. It is more effective than homemade soap sprays, leaves a zero residue, is totally biodegradable and will control most soft-shelled insects on contact, including aphids, two-spotted mites, whiteflies, fungus gnats, thrips and mealy bugs. It works by blocking the insect's breathing pores and dissolving its outer covering, resulting in dehydration. There is no withholding period and it is non-toxic to mammals, birds and bees. Using ordinary soap as a spray should be avoided, as it will build up undesirable levels of sodium in the soil and risks burning the leaves. Do not apply Natrasoap when temperatures are above 30°C. Suggested application rate is 10-20 ml per litre of water.

---
TO FEED OR NOT TO FEED
By Victoria Padilla
(Reprinted from The Bromeliad Society Bulletin, March-April, 1962 Vol. XII(2))
When this writer first started to grow bromeliads about 20 years ago [around the 1940s], fertilising these plants was not considered necessary. It was believed that because bromeliads were epiphytes they did not need feeding, unlike regular plants that had their roots in the ground. Little by little, however, the fallacy of this way of thinking became apparent until today about 90% of those who grow bromeliads feed them at regular intervals.
In their need for minerals vital to their existence, bromeliads are no different from other plants. Marston Bates, in his fascinating book "The Forest and The Sea" brings out this point and makes some interesting comments on the air plants that grow in the tropical rainforests of South America. As these plants have no direct access to the ground, they are faced with the great problem of obtaining enough food and water to keep them alive.
Mr. Bates tells us they are fortunate in having solved this problem by the formation of their leaves into water-tight tanks that make first-rate containers for water and rotting organic matter. In fact, bromeliads can hold so much water that they have been referred to as "marshes in the treetops".
It is the common belief that the roots of epiphytes serve only as a means of supporting the plant to the host tree. According to Mr. Bates the roots of bromeliads and other air plants are also a means of absorbing food. This food may be obtained from the humus or debris that may collect in the cracks in the bark of the tree, or from the fungi that are found living in close relationship with the roots of many plants.
As many plant explorers well know, the roots of epiphytes also serve as the nesting sites for ants, which Mr. Bates says benefits the plant in two ways. First, the material that the ants collect to build their nest acts as food for the plant, and second, the ants provide a means of defence for the plant against those avid human beings that desire to bring the plant home to their greenhouse.
If bromeliads need food in their native habitat, it would most certainly seem that they need fertilising when brought under cultivation. For those who grow their bromeliads outdoors on trees, or in the ground, feeding is probably not necessary; but for those who must raise their plants in pots under artificial conditions, fertilising must be resorted to if the plant is to reach its optimum beauty.
Practically all the members who feed their bromeliads use a liquid fertiliser, weakly diluted. What kinds of fertiliser are used? The answers most frequently submitted were as follows: "anything I have around the house", "the same as I feed my orchids", fish emulsion, Orthogro, Rapid-grow, and Hyponex. It would seem from the wide diversity of answers that "anything goes" so far as feeding is concerned, as long as the fertiliser is a well balanced one and is applied regularly.

---
FERTILISERS FOR GROWING BROMELIADS
By Stephen Flood (B. App.Sc.(hort)) MAIH
(Reprinted from Sunshine Coast Bromeliad Society Newsletter, September/October 2010 No. 5/10)
Readers of this article should be aware that the views expressed are those of the author based on research and experience. If plants are already growing well is there a need to change the growing system including the choice of fertilisers? If drastic changes to nutrient applications are to be made it is probably wise to experiment with a few plants to observe the effects.
A fertiliser is a product that has the ability to provide to plants one or more of the thirteen mineral elements essential for plant growth. A wide range of both organic and inorganic products are available to growers. Simple fertilisers provide only one nutrient whereas compound fertilisers supply a number of the nutrients required by plants. Granular, pelletised and coated products exist for application to the soil or potting media: these may be quick-acting or of a controlled release nature, supplying minerals to the root zone over time. Soluble products, often referred to as foliar fertilisers, are designed to be dissolved in water and sprayed onto foliage or applied as a drench to the growing media. With so many products and brands it is understandable that some growers become confused as to which product(s) to purchase and apply to the plants.
It is believed by many plant scientists that more harm is done by overuse of fertiliser than by under-application—that is, a toxicity causes more harm than a deficiency.
The choice of fertiliser(s) to use is influenced by a number of factors, including the species being grown and stage of growth, the nature of the potting media and the quality of the water used.
Many growers prefer to use a fertiliser product higher in potassium (K) than nitrogen (N). It is well known that with many plants that are naturally epiphytic—e.g., neoregelias—excessive levels of N result in loss of foliage colour. The role of K in flower production and quality is well researched; hence the assumption that adequate levels are required for good quality, lasting inflorescences in genera such as Guzmania.
Controlled release products for adding to growing media:
On the container a low, medium and high rate of application is provided; the rate chosen should consider the time of year, media used and whether supplementary foliar feeding shall be used.
• Osmocote exact 5-6 months release period
15% Nitrogen, 4.8% Phosphorous, 14.9% Potassium plus trace elements
• Osmocote exact 8-9 months release period
15% Nitrogen, 4.8% Phosphorous, 14.9% Potassium plus trace elements
• Plantacote 6 months release period
10% Nitrogen, 4.3% Phosphorous, 12.5% Potassium plus trace elements
Soluble products suitable for foliar application and/or media drench:
Note: The author recommends that these products be used at half-strength.
• Searles Flourish Orchid Booster
16% Nitrogen, 6% Phosphorous, 23% Potassium plus trace elements
• Thrive Flower and Fruit
15% Nitrogen, 4% Phosphorous, 26% Potassium
• Manutec Orchid Bloom Booster
15.8% Nitrogen, 6.7% Phosphorous, 25.3% Potassium plus trace elements
• Natrakelp
65% seaweed plus NPK 5% Nitrogen, 6% Phosphorous, 19% Potassium
• Searles Liquid Potash
20% Potassium as carbonate

---
SEAWEED EXTRACTS
A Commentary by Stephen Flood (B.Appp.Sc.(hort)), Sunshine Coast
(Reprinted from the Sunshine Coast Bromeliad Society Newsletter, Aug-Sep, 2009 No. 05/09)
A number of products exist that contain extracts of seaweed. These include Seasol, Natrakelp and Maxi-crop. The first thing growers need to understand about these products is that they are not fertilisers and are in no way a substitute for balanced nutrition based on a mix of macro and trace elements best suited for the particular plants being cultivated. The naturally occurring levels of the mineral elements in seaweed products are too low to make a significant difference to the nutrient regime of any plant. There are, however, seaweed products available that have mineral elements added which give these products the status of a fertiliser.
Seaweed extracts are useful and powerful tonics which, correctly used, assist with the cultivation of high quality plants. Seaweed or kelp is the richest natural source of a plant growth regulator or hormone called Cytokinin and this hormone exists in a concentrated form in the seaweed extracts. All plants produce Cytokinin in the root tips and translocate the Cytokinin in the sap flow to all parts of the plant where it is involved with many of the essential functions which promote plant health and vigour.
Cytokinin is involved in many internal plant functions including:
• Cell division. For plants to remain in active growth, which is a result of continued cell division, a minimum level of Cytokinin is required; the speed with which wounded plant tissue heals is directly related to levels of Cytokinin.
• Mobilization of mineral nutrient. Plants with high levels of Cytokinin are able to use nutrients more efficiently, are less likely to develop deficiencies and hence need less fertiliser.
• Floral development is to an extent controlled by this hormone and plants with a high level usually produce larger and longer-lasting flowers. Seed germination and seedling growth is strongly influenced by Cytokinin.
When plants enter a state of stress, which is usually caused by sub-optimal growing conditions, the production of root tips is compromised and the subsequent level of Cytokinin in the plant tissue is reduced. Plant stress can be caused by many factors, such as too hot or cold, too wet or dry, too much or insufficient nutrients, too much or inadequate light, etc. Artificially applying Cytokinin in the form of seaweed extract will boost the internal levels and assist stressed plants survive, and reduce the likelihood that healthy plants will enter a state of stress. Appropriately diluted seaweed extracts can be applied to the growing media and/or foliage; however, avoid applying the product to dry media.
CRADLE NURSERY – COBARGO, NSW
The Cheapest Bromeliads on the Internet!
Cradle Nursery is a small wholesale nursery on the NSW far south coast, currently selling via their website and on eBay, as well as at the local markets in the area:
- Moruya Market - Every Saturday
- Candelo Market - 1st Sunday
- Pambula Market - 2nd Sunday
- Batemans Bay Market - 3rd Sunday
- Bermagui Market - Last Sunday
Tim and Ernie Berger - Phone: 04 4758 7618
Email: sales@cradlenursery.com.au
Website: www.cradlenursery.com.au

JUDGING SCHOOL
The new Judging School will commence early in 2011.
If you are interested in joining this group please contact Eileen
Phone: (02) 9544 4726/Email: stagra7@ozemail.com.au
BROMS ON ARAFURA
Darwin NT - 7th – 10th April 2011
Registration: Early Bird $220 before 31/10/10; $280 1/11/10 to 6/4/11
Thereafter $300
Venue: Holiday Inn 'Esplanade' – 116 The Esplanade, Darwin, NT
Room Rate: Superior Queen/Twin $159/night
There will be garden tours and plant competition
Contacts: Registrar: Ross broms16@bigpond.com
Information: Harry acacia@octo4.net.au

---
Click HERE to return to Illawarra Bromeliad Society "Club News Page".

---
Updated 16/10/10
---