ILLAWARRA BROMELIAD SOCIETY Inc.
Club News.
---
Click HERE to return to Illawarra Bromeliad Society "Club News Page".

---
NEWSLINK
October 2008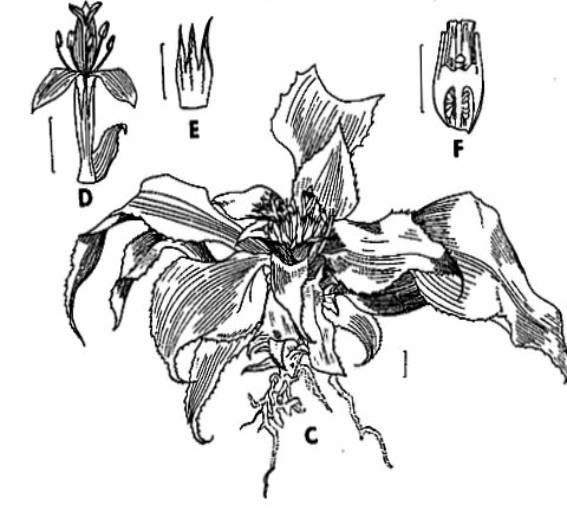 Cryptanthus sinuosis
C. Habit; D. Flower; E. Sepals; F. Section of Ovary


---
- Articles appearing in this issue of NEWSLINK are for information purposes only and are not necessarily endorsed by the Committee or the Illawarra Bromeliad Society.
- The Society is, by the holding of meetings, displays and competitions, to provide a forum for the people of the Illawarra region who are interested in the culture and collection of bromeliads.
- Under the provisions of the Privacy Act, use of names and references to private details, such as illness, holidays, birthdays and items of a similar nature, may only be published with the written permission of the person concerned.
---
NEW MEMBERS:
A very warm welcome to our new members Joan Banks, Cameron Johnstone, Robert McGuire, Maadi McKenna, Chris and Heather Osborne, Robert Smith, Anne and Richard Westera, Steve Wain and Edwina and Tamara Caruana who have all joined our group since the last issue of Newslink went out in early July. We wish you all a long and very happy association with our Society.
---
MONTHLY RAFFLE PRIZE ROSTER:

| | |
| --- | --- |
| November | Bruce Cluff, Dot Stephenson, Laurie Dorfer, Carol Carthew |
| February(2009) | Elizabeth Bevan, Carolyn Buxton, Eileen Killingley, Neville Wood |
---
GET WELL WISHES:
We send our very best wishes for a speedy recovery to Ailsa McDonald who has been spending quite a bit of time in hospital recently.
---
CHRISTMAS PARTY:
This year's Christmas celebrations will be held at the Kembla Grange Golf Club, a very popular venue when we held our Christmas party there in 2006. Our Society will subsidise the luncheon so that members and their partners will pay only $16 each (drinks, however, will be at your own expense). Festivities will begin at 11.00 am - Bring a small present to share. Elizabeth will need to have money and numbers attending by our November meeting date.
Directions for finding the venue:
- - Exit Southern Freeway at Northcliffe Drive and head west to Kembla Grange.
- - Turn south (left) at Old Princes Highway and proceed down past racecourse.
- - Turn left at next street—Kembla Grange Place.
---
COMING EVENTS:

| | |
| --- | --- |
| Dec 7 | HILLS DISTRICT ORCHID OPEN DAY. 183 Windsor Rd Northmead, Email: davidpbanks@veritel.com.au or (02) 9674-4720 |
| April 10-13(2009) | BROMADELAIDE2009 Brom. Conference. |
| May 2-3(2009) | BROM.SOC.NSW AUTUMN SHOW Concord |
| May 16-17(2009) | BROM.SOC.AUSTRALIA AUTUMN SHOW Burwood RSL |
| Oct 10-11(2009) | BROM.SOC.AUSTRALIA SPRING SHOW Burwood RSL |
---

UPCOMING TOPICS:
October 4, 2008: "My Garden, My Way!" - Dick Jamieson
November 1, 2008: "Christmas Decorating with Bromeliads" - Jenny McKenzie
December 6, 2008: Christmas Party - see details above.

---
PLANT RESULTS - July 5th, 2008
OPEN

| | | |
| --- | --- | --- |
| 1st | Suzanne Burrows | Neoregelia Meyendorffii |
NOVICE
| | | |
| --- | --- | --- |
| 1st | Rhonda Patterson | Billbergia - A pot with 3 lovely inflorescences |
TILLANDSIA
| | | |
| --- | --- | --- |
| 1st | Catherine Wainwright | Tillandsia recurvifolia v. subsecundifolia |
| 2nd | Muriel Baldwin | 4 Plants on wood |
| 3rd | Muriel Baldwin | Tillandsia funckiana |
PLANT RESULTS - August 2nd, 2008
OPEN

| | | |
| --- | --- | --- |
| 1st | Neville Wood | Neoregelia concentrica X [Charm X Crackerjack]* |
| 2nd | Neville Wood | Vriesea Red Chestnut |
| 2nd | Nina and Jarka Rehak | Guzmania Neon |
| 3rd | Graham Bevan | Tillandsia recurvifolia v. subsecundifolia |
| 3rd | Bruce Cluff | Aechmea orlandiana |
| 3rd | Bruce Cluff | xVriesea sucrei |
| 3rd | Bruce Cluff | xGuzmania lingulata |
NOVICE
| | | |
| --- | --- | --- |
| 1st | Noel Pearce | Neoregelia Gold Lotto |
| 2nd | Noel Pearce | Neoregelia Stormy Forest |
| 3rd | Noel Pearce | Neoregelia Pepper |
TILLANDSIA
| | | |
| --- | --- | --- |
| 1st | Catherine Wainwright | Tillandsia albertiana |
| 1st | Graham Bevan | Tillandsia fasciculata |
| 1st | Dick Jamieson | Tillandsia recurvifolia |
| 2nd | Muriel Baldwin | Tillandsias mounted on wood |
| 2nd | Sandra Southwell | Tillandsia jucunda |
| 2nd | Dick Jamieson | Tillandsia ixioides |
PLANT RESULTS - September 6th, 2008
OPEN

| | | |
| --- | --- | --- |
| 1st | Bruce Cluff | Vriesea gigantea |
| 2nd | Bruce Cluff | Neoregelia |
| 3rd | John Carthew | Guzmania hybrid - red |
NOVICE
| | | |
| --- | --- | --- |
| 1st | Coral Baldwin | Aechmea recurvata v. recurvata |
| 2nd | Rhonda Patterson | Billbergia |
| 3rd | Noel Pearce | Neoregelia Hojo Rojo |
TILLANDSIA
| | | |
| --- | --- | --- |
| 1st | Graham Bevan | Tillandsia recurvifolia v. subsecundifolia |
| 2nd | Rhonda Patterson | Tillandsia velutina ? |
| 2nd | Graham Bevan | Tillandsia aeranthos |
| 2nd | Catherine Wainwright | Tillandsia tenuifolia |
| 3rd | Catherine Wainwright | Tillandsia butzii |
*A plant Neville has grown up from seed.
---
SHOW RESULTS - 2008


CHAMPION BROMELIAD: OPEN

| | |
| --- | --- |
| Graham Bevan | Tillandsia recurvifolia v. subsecundifolia |
CHAMPION BROMELIAD: NOVICE
| | |
| --- | --- |
| Bruce Cluff | Vriesea Red Chestnut X Bianca |
BEST SPECIES:
| | |
| --- | --- |
| Russell Dixon | Deuterocohnia brevifolia |
DULCIE DOONAN MEMORIAL AWARD:
| | |
| --- | --- |
| Elizabeth Bevan | Neoregelias in basket - "Bromeliad Harvest" |
SECTION 1: OPEN
Class a - Aechmea (4 entries)

| | | |
| --- | --- | --- |
| 1st | Neville Wood | Aechmea recurvata |
| 2nd | Neville Wood | Aechmea orlandiana |
| 3rd | Lucas Morgan | Aechmea lueddemanniana Mend |
Class b - Billbergia (2 entries)

| | | |
| --- | --- | --- |
| 1st | Nina and Jarka Rehak | Billbergia Fascinator |
| 2nd | Eileen Killingley | Billbergia distachia |
Class c - Neoregelia (17 entries)

| | | |
| --- | --- | --- |
| 1st | Neville Wood | Neoregelia concentrica X [Charm X Crackerjack] |
| 2nd | Neville Wood | Neoregelia Amazing Grace |
| 3rd | Neville Wood | Neoregelia concentrica X [Charm X Crackerjack] |
Class d - Miniature Neoregelia (1 entry)

| | | |
| --- | --- | --- |
| 1st | Neville Wood | Neoregelia Fanfare |
Class e - Tillandsia (16 entries)

| | | |
| --- | --- | --- |
| 1st | Graham Bevan | Tillandsia recurvifolia v. subsecundifolia |
| 2nd | Graham Bevan | Tillandsia fuchsii |
| 3rd | Ailsa McDonald | Tillandsia bulbosa |
Class f - Vriesea/Guzmania (6 entries)

| | | |
| --- | --- | --- |
| 1st | Neville Wood | Vriesea fosteriana |
| 2nd | John Carthew | Vriesea Splenriet |
| 3rd | John Carthew | Guzmania hybrid |
Class g - Other Bromeliad (9 entries)

| | | |
| --- | --- | --- |
| 1st | Russell Dixon | Deuterocohnia brevifolia |
| 2nd | Catherine Wainwright | xNeophytum Galactic Warrior |
| 3rd | Lucas Morgan | Nidularium Ruby Lee |
Class h - Mounted Tillandsias (3 entries)

| | | |
| --- | --- | --- |
| 1st | Graham Bevan | Tillandsia kolbii |
| 2nd | Graham Bevan | Assorted tillandsias mounted on grape vine wood |
| 3rd | Catherine Wainwright | Tillandsia ionantha mounted on twisted root |
Class j - Colony: Aechmea/Vriesea (2 entries)

| | | |
| --- | --- | --- |
| 1st | Carissa Morgan | Vriesea ospinae |
| 2nd | Neville Wood | Vriesea guttata |
Class k - Colony: Neoregelia (4 entries)

| | | |
| --- | --- | --- |
| 1st | Catherine Wainwright | Neoregelia pauciflora |
| 2nd | Warwick Varley | Neoregelia Chiquita Linda |
| 3rd | Neville Wood | Neoregelia Candelabra |
SECTION 2: NOVICE
Class l - Aechmea (3 entries)

| | | |
| --- | --- | --- |
| 1st | Bruce Cluff | Aechmea orlandiana |
| 2nd | Warwick Varley | Aechmea recurvata |
| 3rd | Carissa Morgan | Aechmea Mirlo |
Class m - Neoregelia (5 entries)

| | | |
| --- | --- | --- |
| 1st | Bruce Cluff | Neoregelia hybrid |
| 2nd | Steve Morgan | Neoregelia carolinae Tricolor |
| 3rd | Bruce Cluff | Neoregelia Hannibal Lector |
Class n - Tillandsia (3 entries)

| | | |
| --- | --- | --- |
| 1st | Steve Morgan | Tillandsia butzii |
| 2nd | Steve Morgan | Tillandsia floribunda |
| 3rd | Steve Morgan | Tillandsia disticha |
Class o - Vriesea/Guzmania (3 entries)

| | | |
| --- | --- | --- |
| 1st | Bruce Cluff | Vriesea Red Chestnut X Bianca |
| 2nd | Bruce Cluff | Vriesea gigantea |
| 3rd | Warwick Varley | Vriesea saundersii X bituminosa |
Class p - Other Bromeliad (1 entries)

| | | |
| --- | --- | --- |
| 1st | Bruce Cluff | Nidularium purpureum |
SECTION 3: CREATIVE
Class q - Basket/Decorative Container (3 entries)

| | | |
| --- | --- | --- |
| 1st | Elizabeth Bevan | 'Bromeliad Harvest' - A Basket of Neoregelias |
| 2nd | Catherine Wainwright | 'Prickle Patch' - Using Aechmea gamosepala |
| 3rd | Elizabeth Bevan | 'Surprise Package' - Chocolate Box of Bromeliads |
Class r - Bromeliad Garden (4 entries)

| | | |
| --- | --- | --- |
| 1st | Graham Bevan | Bromeliad Rock Garden |
| 2nd | Elizabeth Bevan | 'Dulcie's Favourite' - Cryptanthus in Bowl. |
| 3rd | Janine Varley | Tree Fern Arrangement |
Class s - Artistic Arrangement (4 entries)

| | | |
| --- | --- | --- |
| 1st | Elizabeth Bevan | Arrangement of Flowers with Macaw |
| 2nd | Steve Morgan | "Cliff Tops" - Featuring Tillandsias |
| 3rd | Suzanne Burrows | Palm frond with Ae. Lucky Stripes and N. carolinae Tricolor |
COMPETITION STATISTICS
| | | | |
| --- | --- | --- | --- |
| 2005 | 13th Show | 114 entries | 17 competitors |
| 2006 | 14th Show | 97 entries | 19 competitors |
| 2007 | 15th Show | 104 entries | 13 competitors |
| 2008 | 16th Show | 90 entries | 17 competitors |
---
MY HOBBY TAKES OFF . . . By Neville Wood 2006
After deciding that my hobby would be bromeliads, I decided to start by renovating my old shade house in which I had grown orchids for many years. Originally I had built the shade house framework from galvanised pipe which I thought would last forever. However, I underestimated the effects of salt air on steel (even galvanised steel), and living only one street back from the ocean after a couple of years corrosion soon became apparent. By the time I was ready to start growing broms, the framework needed totally rebuilding and I decided to use CCA treated pine for the framework as it was guaranteed to withstand weather and insect damage for 20-30 years, plus it was easy to work with. So after quite a bit of work, the shade house was finally renovated to my satisfaction and I started to stock it with various ferns and indoor plants to complement my half dozen bromeliads.
One day while driving around nurseries we were looking through Swanes Nursery when I spotted an 8" pot of Aechmea gamosepala which, although in flower, was quite untidy and pot-bound. When I asked the price, I was told it was waiting to be divided and cleaned up and wasn't really for sale, but if I wanted to take it as it was I could have it for five dollars. I quickly produced the five dollars and duly made my first bromeliad purchase. (That same plant is still one of my favourites but unfortunately it can become quite invasive and that original plant which I planted beside the trunk of a peppercorn tree eventually expanded to a clump about eight feet across and took over the whole of the garden bed.)
My next big purchase was at a market near Umina where a grower was selling bromeliads which he had displayed on a tarp. I selected four reasonably priced, well advanced plants which were: Aechmea winkleri, Neoregelia concentrica, Billbergia 'Kip' and a yellow Vriesea with no name, which I have since been told is probably a Vriesea barilletii hybrid. They were paid for and loaded into the car for our trip home: I had finally been bitten by the "Bromeliad Bug" and after that I started collecting whenever I had the chance. My purchases were usually from the various markets and garage sales as I couldn't afford the prices often asked by the large nurseries and I didn't know of any other collectors.
I was driving past a house at Barrack Heights one day when I spotted a sign, "For Sale Pot Plants Cheap", so I went into the yard and discovered most of the "pot plants" were bromeliads. They belonged to an elderly gentleman who had been growing them for years and was now selling them all for very reasonable prices as his health was deteriorating and he wasn't physically able to maintain his large yard and collection any longer. During this period I became a frequent visitor and although his plants had been "let go" a bit they were still very reasonably priced and I spent quite a bit of money buying plants I didn't have. He told me he had previously dabbled in a bit of hybridising and quite a few of the plants he was selling were his own hybrids and, although not officially registered, carried the names of both parents. I bought several of these which at that stage were small un-flowered seedlings and it was a bit like buying a lottery ticket as I wouldn't know what I had until they matured and flowered. After flowering a few of these seedlings I became interested in having a go to grow some from seed myself as I saw it as a cheap way to acquire more plants with little financial outlay, and so the wheels started to turn about how I would start out on this different venture sometime in the future.

THE NEXT PHASE OF MY HOBBY & THE PITFALLS ALONG THE WAY . . . By Neville Wood 2007
One morning when reading the local newspaper I came to a section called "My Club" where members from different clubs and organizations gave a brief rundown about their particular club and this day it was about the Illawarra Bromeliad Society. After reading the article I made up my mind to join as I had found with my previous hobbies such as orchid growing and finch breeding that the knowledge you pick up and the friends you make in these clubs is very worthwhile. I made a phone call to the secretary and was informed when and where the next meeting would be held and arranged to attend.
When I attended the first meeting I was given a very warm welcome and immediately found that I knew two of the members. The president I knew from my latter years working at the steelworks and another member I had worked with when I started my apprenticeship in the Steelworks Carpenter's Shop sixty years before, so I guess there may be some truth in the saying that "what goes around comes around". The routine of the meeting was almost identical to the Orchid Society I was once a member of--i.e., there were plant sales, a monthly points score, a raffle, a library, guest speakers, etc. and it didn't take me too long to fit in and feel quite at home.
During my time in the Society I have made many friends and found there are many very knowledgeable members who are only too happy to pass on their knowledge to anyone willing to listen. I also found another member who was interested in growing plants from seed and we now bounce ideas off each other and swap seed and plants. My collection has grown considerably as the plants offered for sale at the monthly meetings are of good quality and very reasonably priced. I am now able to swap plants with other members as well as purchase often hard to get plants.
I suppose bromeliads are like most things inasmuch as the more you learn the more you find you need to learn and I regularly attend meetings and question my grower friends in an attempt to quench my never-ending thirst for knowledge about bromeliads. What with all of the new plants I have bought, won in raffles and swapped I now find I need to expand and build suitable accommodation for them and they are gradually taking over the grassed area of the back yard. I have constructed a couple of shade cloth shelters (roof only) using the fences as back walls as well as converting an old bird aviary into an area to house some of my seedlings.
Like most things in life, just when everything seems to be going well there is a hitch in things and after problems with the CCA treated timber the next hitch I was confronted with was a hailstorm with hailstones the size of golf balls and larger. Fortunately my best plants, which were under shade cloth, weren't affected but the ones in the garden were shredded and ended up looking like green confetti scattered all over the grass. Just to see all those beautiful plants so badly damaged was enough to make me want to give it all up, but when I realised I was much better off than a lot of other people I decided to stop feeling sorry for myself and just get on and clean everything up and see what could be salvaged. After everything was cleaned up I decided to give the broms a helping hand so to speak and late that afternoon everything got a really good dousing with Seasol. I had read where Seasol isn't a fertilizer as such but more like a "tonic' which was supposed to be good to help plants overcome all sorts of stress and build up their resistance to disease. I used the spray pack that just clips onto the hose fitting and sprayed the whole lot on every brom in the yard.
What really amazed me was the ability of the bromeliads to survive, and after a couple of months even plants that were almost devoid of leaves were putting up at least two pups each. Maybe this is Nature's way of ensuring the "survival of the species" or maybe it was the result of the drenching with Seasol : I didn't know nor did I care, all I cared about was that my broms were going to survive.
At about twelve months after the hail episode, everything was growing beautifully; we were well into summer, and then came January and the horrible New Year's Day heatwave. I did my best to protect what broms I could and when inspecting them a few days later everything looked OK. However, after a week the effects of the heat were becoming apparent with burn marks seeming to appear daily. Here I was with my collection going backwards once again. I cut off all the damaged leaves and this left a very sorry looking lot of bedraggled plants, almost as bad as they had been after the hailstorm. Once again I got a container of Seasol and gave them a good drenching just on sunset. Again after a couple of months things were again starting to look up with no more signs of the heat damage and also evidence of new pups starting to emerge once again.
No sooner did things seem to be back to normal when we had a week of really severe westerly winds. I thought I was pretty safe from westerly winds as our house protects the western side of the back yard where my broms are. How wrong I was to be proven as the winds funnelled between the house next door and a block of flats on the north of that and when it came up against a group of large trees in the back yards of these places it swung around and came at my yard from a northerly direction. Once again I suffered from the effects of nature with plants blown out of trees, off benches and leaves stripped off some of the others. I must say the damage wasn't as severe as my previous encounters with Mother Nature but the worst thing was that all of the plants I had been preparing for our Show were blown off their bench onto the floor. The end result was mainly broken leaves, not on the bottom of the plant where they could have been removed unnoticed, but right in the middle of the plants making them unsuitable for showing. Once again the tidying up began and out came the Seasol once more. A few months down the track and once more the plants were showing signs of recovery with new growth visible again.
The following year the plants suffered damage from the cold as it was the coldest winter I had experienced in sixty years living in this area. I thought I was pretty safe from the cold as I live on a hill only one street back from the sea and we usually have reasonably mild winters, but for two days in a row this winter we had frosts and my dog's water dish had ice on the top, something I had never witnessed before. Subsequently the plants suffered also with the odd cold damage here and there on the Neoregelias but the plants to suffer the worst were my Guzmanias and almost without exception they all had some degree of cold damage to their leaves which made them also unsuitable for exhibition. Again after I had cleaned up the damage I drenched them with Seasol and again after a few months they began to show signs of recovery with new growth evident.
So after all of the pitfalls I have had while growing broms I have learnt two very important lessons: one, that broms are the most amazing plants with resilience beyond compare, and whatever Mother Nature throws at them they seem to be able to make a comeback and I guess you could say they are the great survivors. To give an example, I had a plant of Aechmea miniata var. discolor which had suffered badly with rot after contact with CCA- treated timber and after I cut off all of the rotten leaf parts I decided it was beyond help and threw it on the rubbish heap. Sometime later, when I was loading up some rubbish for the local tip, I again spied the remains of the plant devoid of leaves and covered with the other rubbish, grass clippings and other bits and pieces. When I looked at it more closely it had a small pup growing from the side and a small flower spike coming from the top. Amazingly, this was nature's way of a final attempt at plant survival. The second thing I have learnt is that in my opinion Seasol assisted greatly in the recovery of my broms from their various setbacks. I think it is a wonderful product that can assist in turning failure into success and I recommend it for all types of plants, even ferns.

---
REMINDERS !
: Library books, journals, videos, etc. are to be taken out on a one-month basis only.
: Please return library items at or before our December meeting so that Pat can have an opportunity to reorganise/repair them before our February meeting.
: Our new supply of pots, labels and hangers is now in!
: Membership fees were due and payable as at June 30, 2008!
---
A FERTILIZER TRIAL
. . . By Neville Wood - (Notes for a talk given at our September, 2008 meeting)
Since I began growing bromeliads I have heard numerous conflicting arguments regarding types and quantities of fertilizer to use to obtain the best results with these plants. In the end I was totally confused about what I should and shouldn't use and decided the best thing to do was to hold a trial and see what worked best for me.
To perform an accurate trial it would have been ideal if I had had access to a dozen or more pups from the same type of plant and of the same size, but given my resources this was impossible. The closest thing I could think of was to use species seedlings of the same size and vigour. As I had a number of Aechmea lueddemanniana seedlings which were surplus to my requirements I decided to use these for the trial. They were divided into six groups of twelve plants with a different fertilizer to be used on each group. Another group of plants was also used as a control group which received no fertilizer at all.
The fertilizers I used are all commonly used brands and are readily available at Bunnings and other garden centres. There was no additional foliar feeding of the trial plants and all plants were watered in the morning, once weekly in colder weather and twice weekly in the warmer weather.
The plants selected were all approximately 75 mm in height and of equal vigour. I removed them from the 50 mm tubes in which they were growing and washed most of the growing medium from the roots. They were then re-potted into new 10 cm plastic pots using a fresh potting mix comprising the following ingredients:
+-+ 4 parts fine pine bark
+-+ 1 part 3-5 mm charcoal
+-+ 1 part 3-5 mm polystyrene foam pieces
+-+ 1 part fine coco peat
+-+ 1 part "Pot-O-Peat" potting mix
I potted them by adding the potting mix to ¾ of the depth of the pot, sprinkled 1g of the specific fertilizer on top of the mix and finally topped up with more mix (I used a plastic measure of the type provided with Phostrogen fertilizer, where one end holds 5g and the other holds 1g).
With *3, Osmocote Plus (1g), I also mixed 1g of Zeolite through each 10cm pot full of mix used for this part of the trial.
With **7, Potash (3g). This was used as an extra trial on a spare batch of seedlings, just out of my own curiosity to see what the results would be.
Fertilizers Used:
1. Brunnings N.P.K. All Purpose Fertilizer (1g) - N.P.K. = 15.0:4.3:12.4
2. Osmocote Plus–Slow Release Fertilizer (1g) - N.P.K. = 15.0:4.4:10.0
*3. Osmocote Plus (1g) and Zeolite (1g) - N.P.K. = 15.0:4.4:10.0
4. Richgro Gro-Cote Slow Release Ferilizer (1g) - N.P.K. = 17.0:3.0:14.0
5. Debco Sea Organic Slow Release Seaweed Fertilizer (1g) - N.P.K. = 8.0:3.4:6.6
6. No Fertiliser at all.
**7. Brunnings Potash (3g)
Record Keeping:
Keeping records of what fertilizers were used on what plants is the most important aspect of this type of trial. I found the easiest way was to simply record the information I needed on the back of each plant name label using the same system I use for all my other plants. This way the record stays with the plant at all times and it's immediately available if you want to check something. I find this much easier than keeping records in books away from the plants.
When I re-pot a bromeliad I record as much useful information as I can on the rear of the label in a simple coded form which I can understand. This helps me establish what type of culture works best for that particular plant and the following explanation is how I do it:
Firstly, I record the stage of the plant's maturity — e.g., Mother plant(M), established plant(PL), pup(P) or unflowered seedling(S). I then record the month and year of re-potting followed by what (if any) type of fertilizer and the quantity used in the potting mix. Next I note if the plant is just topped-up(TU) or potted on(PO) — which is the exception rather than the rule at my place because the majority of my plants are usually re-potted, and for this they are not given a symbol.
If there is some problem with the plant that is recorded as well — e.g., Small stunted seedlings(SSS), badly sunburnt(BS), cold damage(CD), insect damage(ID), etc. Finally, I record the origin of the plant (if known) by using a suitable symbol to identify the person, nursery or organisation from where the plant was purchased or swapped.
Say a seedling(S) used in this trial was potted during September 2007(09.07) and fed with Richgro Grocote fertilizer(R.G.) at the rate of 1g(X1) then the entry on the back of the label would be S/09.07/R.G.X1. This is a very simple and easy to follow code once you become familiar with it.
A second example could be like the following information taken from the rear of another plant label: PL/04.08/SEA ORG. X5 + P X5/TU/(B.S.P.S.)
The interpretation of this is as follows: I selected an established plant(PL) in April 2008(04.08) and applied 5g Brunnings Sea Organic Fertilizer plus 5g Potash(SEA ORG. X5 + PX5) and then topped up(TU) the pot with potting mix. The plant was purchased from the Bromeliad Society Plant Sales (B.S.P.S.).
The above is the sort of system I use, but it doesn't matter what sort of code or system is used as long as it's one that you can understand.
Growing Conditions:
All plants were grown beneath 50% shade cloth and supported on a sloping (approx. 650) sheet of weld mesh (10cm x 10cm mesh) 2.4m long by 1.2m high. The bottom of the mesh was 1.0 m above the ground and the plants were evenly distributed between the top and bottom of the mesh and were grown facing a westerly aspect.
Findings:
After the first three months the difference in size of the various plants became very obvious; this wasn't surprising as this had been during the warmer months of December to February. After the next three months — March to May — the growth had slowed down somewhat as we were approaching the cooler months. At the end of the trial period in May there was quite a variation in the plant sizes which are shown on the table below with the biggest starting at (1) and the smallest at (7).
The leaf length was measured from the top of the potting mix to the tip of the leaf. The smallest and largest plants were taken from each group. The leaves of both were measured and the average length between the two was recorded as the leaf length for that group. The width and thickness of all leaves appeared to be in proportion to their length with the longest being just as sturdy as the shortest and not thin and weak which I initially suspected due to the rate of growth of the larger plants.
| | | |
| --- | --- | --- |
| # | Name of Fertiliser | Leaf Length |
| 1. | Osmocote Plus and Zeolite | 36 cm |
| 2. | Osmocote Plus | 30 cm |
| 3. | Potash | 28 cm |
| 4. | Richgro Grocote | 27 cm |
| 5. | Sea Organic | 17 cm |
| 6. | N.P.K. | 15 cm |
| 7. | No fertilizer at all | 12 cm |
Although the growth with the Osmocote Plus with Zeolite was the most vigorous, the most unexpected result was from just the plain Potash, which came in at No. 3 on the result list. At this stage the plants fed with Osmocote Plus with added Zeolite were all showing the emergence of between one and three new pups on each plant. However, there was no evidence of pups with any of the other plants. The plants in the first three places all showed a greener leaf colour than the remainder, which showed more of a light brown colour.
Conclusions:
For my growing conditions, and used on young seedlings, Zeolite added through the mixture, with Osmocote Plus added just below the surface of the mix, produced much better results than all other forms of fertilizer.
Note: A fellow grower had previously told me the best way to use Zeolite was to just sprinkle it over the surface of the potting mix. I had previously tried this method with a test batch of similar seedlings as those used in the above trial. I found after twelve months, where the plants were fed monthly with a weak liquid fertilizer, there was no visible difference in size between the ones with Zeolite and the ones without. Based on the trial above, my view is that the Zeolite is best added through the potting mix.
*** Late footnote, just discovered ***
Unexpected result from Potash:
To throw more light on the unexpected result from the plants fed with Potash - I had previously purchased my Potash through a friend from a Co-Op and have since found out that it had been re-bagged from bulk supplies. However on checking more closely, it was found to be named incorrectly as it was Superphosphate and not Potash which explains why these seedlings grew better than expected!

---
TILLANDSIAS CLOSE UP!
...(Part 2—continued from July 2008 Newslink)
By Laurie Dorfer, Illawarra Bromeliad Society
Water Storage
Atmospheric tillandsias have also devised ways to store water within, as once the plants have absorbed the water and minerals they then need to keep the water within, particularly against the hot radiant heat.
Most xeric species have thick, leather-like, succulent leaves which contain water storage tissue; these are located within the mesophyll, towards the centre of the leaf. This tissue varies in density (volume) and storage capacity between species which reflects their climatic origins. The development of a thick layer of water storage tissue—e.g., T. edithae enables them to survive longer periods without rainfall. This would give an indication that extended periods of time may pass between moisture availability. T. xerographica is a prime example: it grows in the deserts, from southern Mexico to Guatemala, where they need to survive up to nine months with no rainfall. However, what also sustains these plants are the cool nights which often produce morning dew (Isley 1987, p. 126).
Many of the xeric species have elongated stems; however some are short with leaves arranged in a typical rosette or are bulbous in appearance. T. fuchsii var. gracilis, T. filifolia, T. atroviridipetala, etc. have narrower leaves but thick leaf bases which function as water reservoirs (Rauh 1990, p.57). Some have tightly overlapping sheaths and form an onion-like water storing device - e.g. T. sprengeliana. The broad leaf bases fit tightly together and hollow spaces exist between these which are thought to hold water. With only a very small opening at the top, the remainder is tightly closed, which therefore minimises water loss. These species can also go longer periods without water.
The shape of the actual leaf can also give an indication of growing requirements. The succulent growth, with reduced leaf size and narrower leaves - e.g. T. ionantha - results in a leaf shoot with a low leaf surface to leaf volume ratio; transpiration rates are reduced, thus increasing drought resilience. The ratio of leaf surface to volume is much less in xeric species than that found in more mesic species such as T. imperialis and T. deppeana which have wider and thinner leaves. However, the narrow (filiform) leaves which are also thin mean less water storage and therefore they dry out much quicker e.g. T. fuchsii var. gracilis and T. filifolia - so that more frequent water or humidity is required. Because of this additional moisture requirement (humidity), tillandsias with narrower, thin leaves without the water storage ability need extremely good air movement. Therefore, they generally do not do very well indoors because of the usual lack of light, humidity and air movement. Ironically, these are usually the most common species you see as fridge magnets or attached to an ornament for indoor culture !
CAM Photosynthesis
Photosynthesis is the process by which plants make their food. This process involves the absorption of CO2 and water, which is chemically combined using sunlight to produce simple sugars. These are transported around the plant and form the basic ingredients for all other processes which enable the plant to grow, flower and reproduce.
There are three (3) types of photosynthesis utilised by plants: C3 photosynthesis, which is the most common and used by everyday plants in our garden, and this is what we are generally taught about at school. Then we have C4 and CAM photosynthesis, which are both adaptations to arid conditions due to their better water use efficiency. Xeric tillandsias use the CAM photosynthesis.
CAM stands for Crassulacean Acid Metabolism. Crassulacean is in reference to its initial discovery in the Crassulaceae family, and the acid refers to the fluctuations in leaf acidity.
As previously mentioned, CO2 needs to be absorbed from the atmosphere which is done through the stomata (breathing holes on the leaf surface). However, when they are open, gases move freely in and out of the leaf as well as water. Xeric species can't afford to lose water; therefore they need to keep their stomata closed through the day when the sun's heat can cause the most damage, as this is when transpiration is at its greatest. This inhibits the exchange of both gas and water during the hours when temperature is high which is the reason for CAM photosynthesis. As photosynthesis needs sunlight, it can only operate throughout the day; therefore the plant needs to obtain the CO2 by other means. They do this by opening the stomata at night. Since temperature is lower at this time, less water is lost through transpiration, but allows CO2 to be absorbed. This CO2 is synthesised into malic acid and stored. Once the sun emerges, the stored malic acid is degraded by enzymes which release CO2 enabling photosynthesis to take place. The rest of the process is the same as for C3 plants. By the end of the day, the stored malic acid has been used up, which with the photosynthesis having taken place, there is enough energy to repeat the procedure that night, along with sufficient energy to sustain growth and maintenance (Isley 1987, p. 194).
So, as previously mentioned for trichomes, when they are wet the wings depress over and cover the stomata. If this occurs at night, gaseous exchange is prevented: no CO2, no photosynthesis takes place. This is why watering should always be undertaken in the early part of the day, or early enough so that the leaf surface is dry by evening when CAM commences.
As the stomata are open at night, transpiration occurs at this time, but as temperatures are cooler and usually made more humid by fog, water loss is much less. The advantage is to enable the plants to grow in harsh environments with low rainfall and hot conditions; however, the disadvantage is that the CAM process is not as good at producing sugars and therefore the plants grow more slowly and are generally smaller in size.
When conditions are extremely arid, CAM plants may even CAM-idle, where they close their stomata both night and day. The oxygen given off in photosynthesis is used for respiration and CO2 given off in respiration is used for photosynthesis. It is a kind of internal recycling, but they cannot CAM-idle forever. It allows the plant to survive very dry spells, and it allows the plant to recover very quickly when water is available again. Therefore, xeric tillandsias are generally very forgiving if you forget to water them or decide to holiday for a couple of weeks.
Most soft-leaved mesic tillandsias such as T. leiboldiana, T. imperialis, T. punctulata, T. deppeana, etc. use the conventional C3 photosynthesis path called the Calvin-Benson Pathway, named after the two scientists who figured out the reactions involved. C3 plants require large amounts of water, because during the day the plants are photosynthesising and the stomata are open. This system is efficient at producing sugars which is why the mesic tillandsias are generally larger in size than your xeric species.
Studies have found that the ideal night-time temperature for this type of metabolism to function is around 5C-15C. The influence of temperature on this type of metabolism may explain why bromeliads brought down from the mountains do not adapt well to cultivation in low regions. Perhaps it may be this higher night-time temperature that prevents their metabolism from working properly, with insufficient carbon dioxide absorption rates, causing death (Leme & Marigo 1993, p. 73).
So, if you have even a slight understanding of these morphological adaptations, you can easily determine how to better look after your plants. Plants with similar requirements when grouped together will not only simplify and speed your maintenance time, but will enable your plants to grow and thrive.
These are just some practical guidelines directed by morphological mechanism and processes which may assist a grower in plant care and cultivation. However, each species has different tolerances and abilities to withstand deviations from their preferred growing environment. Some will still grow in substandard conditions; however some may slowly decline and eventually die. Also, within nature there are also exceptions to the rule. Experimentation is essential if you are attempting to achieve the best conditions possible.
References
1. - Benzing D.H. (1977) The Structure of the Bromeliad Trichome, Journal of the Bromeliad Society, 27(4).
2. - Benzing D.H. (1977) Bromeliad Trichomes: Structure and Function, Journal of the Bromeliad Society, 27(3).
3. - Crayn D. (2000) Growing on Air, In the News, Australian Broadcasting Corporation http://www.abc.net.au/science/slab/airplant/default.htm taken 29 February 2008.
4. - Gerwick C. (1977) Night-time Carbon Uptake in Bromels and Other Flowering Plants, Journal of the Bromeliad Society, 27(2).
5. - Heine U. (1979) The Preparation and Observation of Tillandsia Trichomes Using the Scanning Electron Microscope, Journal of the Bromeliad Society, 29(2).
6. - Hromadnik L. (2005) In: Die Bromelie – The Tillandsia Tectorum Complex, Deutsch Bromelien-Gesellschaft e.V. Frankfurt Deutschland, pp. 2-3.
7. - Isley P.T. (1987). In: Tillandsia, Botanical Press, Gardena, California, pp. 126, 190, 194, 206, 208.
8. - Leme E.M and Marigo L.C. (1993) In: Bromeliads in the Brazilian Wilderness, Marigo Comunicao Visual Ltda, Rio de Janeiro, pp 22, 73.
9. - Rauh W. (1979, 1990). In: The Bromeliad Lexicon, Sterling Publishing Co. Inc. New York pp. 54, 57
10. - Rauh W., Schill R., Ehler N. and Barthlott W. (1973) Some Remarks on the Water Supply of Bromeliads, Journal of the Bromeliad Society, 23(3).

---
SOME NOTES ON GROWING CRYPTANTHUS
...By Phillip Robinson, Illawarra Bromeliad Society
Cryptanthus are small-growing members of the bromeliad family that are terrestrial (grow in soil). This means that they are not only unsuitable for growing on trees or for mounting on wood, but will die if given such treatment.
Most species come from eastern Brazil and are easy to grow in our climate in the Illawarra provided that they have warm, humid conditions and bright light (but not direct sunlight) in order to develop the best colours in the foliage.
Cryptanthus species have a well-developed root system extending out as far as the tips of the leaves in well-grown plants. This is in contrast with many other bromeliads where the root system is much smaller in comparison to the size of the plant.
Such species enjoy being under-potted, but cryptanthus should not be under-potted. A squat, 15cm (6") pot should prove to be adequate for the purpose.
African violet mix, or a similar loose, porous potting medium, is recommended for cryptanthus. The mixture should never be allowed to become completely dry even in winter. Many species will tolerate a very wet soil mixture, especially during the warmer months, when overhead watering is acceptable provided that the foliage dries out before nightfall. During the cooler months, watering can be achieved by standing the pot in shallow water until the soil becomes damp. This method prevents the foliage becoming wet and holding residual water in the centre of the rosette. If the centre of the rosette does not dry out before a cold night, the centre of the plant is likely to rot. For this reason, most cryptanthus plants succeed under cover, which excludes winter rains and where their water requirements can be strictly controlled.
Cryptanthus plants respond to frequent fertilizing. A successful method that I have used is to make up an orchid fertilizer solution to half the recommended strength. The pot containing the plant is then placed in a shallow dish containing the fertilizer solution until the soil is saturated. Allow the plant to drain before placing back in its growing position.
Miscellaneous Jottings on Selected Species
1. C. bivattatus is a rewarding species which will survive without overhead protection during winter but it does better if this is provided. Being a smaller growing species, it can be used in a dish garden or terrarium. Best allowed to grow into a colony where a most attractive pot will result in time. Good light is required to give the best colour. A colony developing from a single plant seems to give a better effect than placing several plants in the same pot, but it will take longer.
2. C. sinuosis 'Cascade' should be placed in a hanging basket where the new plantlets on the long stolons can cascade downwards. These stolons can hang downwards for 50 cm in a well-grown plant.
3. C. bahianus is quite different from most other species. It comes from a dry area of Brazil and should be grown as a succulent in full sun. The potting mixture should have extra coarse river sand or gravel added so that it can never remain really wet. The rosette is supported by a stiff, stout stem rising about 10 cm above the soil.
4. C. zonatus, C. fosterianus and their hybrids look best when grown as single plants where the leaves extend beyond the edge of the pot and allow the rosette to stay flat. Competing offshoots tend to push each other's rosettes out of shape.
---
Below is an article titled "Sphagnum Moss" but as it had such a good hint regarding the growing of cryptanthus, I have included it as an extra bit of information—Ed.
SPHAGNUM MOSS - By Kit Hilberts in The Atlanta Bromeliad Society Offset,
(Reprinted from the Central Coast's Bromelia Post, July, 1997 issue)

Sphagnum moss is most familiar as a floral dressing or as a growing medium for orchids and bog plants.It is probably more familiar in the form of peat moss, used as a potting and seedling medium. It is a friendly plant, very beneficial, readily available and well worth knowing.

There are more than 350 species of sphagnum moss in the northern temperate zone, most commonly found in bogs, usually in the sun. Sphagnum forms dense mats, varying in colour from almost white to light green and yellow, and all shades of pink to deep red and brown. It sometimes grows more than a foot high. It is soft and spongy, not dependent on the soil for water as it has no true roots, but draws water through the walls of its stems and leaves, retaining the moisture in a system of delicate capillary tubes.

Like a sponge, water can be squeezed out of the moss, yet the moss will not collapse, but will be ready to absorb water again. It is this property that makes sphagnum in its fresh, dried and decayed states valuable in horticulture.

My introduction to sphagnum in its fresh state came with the purchase of a very large bag to use as dressing in a terrarium. These needs did not make a dent in my bag. As cryptanthus are my first love among the bromeliads, I remembered reading something about growing cryptanthus in moss in Kathy Dorr's 'Cryptanthus'. I tried it with excellent results: after six months my cryptanthus in moss were growing as well, or better, than those in soil mix.

The true test came another six months later when we returned from five months in Ireland. My cryptanthus fell into two categories: dead and alive. I lost every one that had been in a soil mix and every one that was in moss was alive, in spite of the rock hard state of the moss.

---
RECIPES FROM OUR MEMBERS
APRICOT ROUGH SLICE : (Loreen's recipe from our 'Christmas in July' party)
- 3/4 cup SR flour
- 3/4 cup brown sugar
- 3/4 cup coconut
- 90g melted butter
Combine these ingredients, mix well. Press mixture into base of 18cm x 28cm (7" x 11") lamington tin.
Bake in 1800 oven 12 minutes until light golden. Remove from oven and cool slightly.
Filling:
- 125g dried apricots – chopped
- 2 cups coconut
- 3/4 cup condensed milk
Place apricots in pan, cover with water, bring to boil, then simmer for 2 minutes.
Remove from heat, cool, drain. Combine apricots, coconut and condensed milk and spread over base.
Topping: Melt 125g chocolate and 30g Copha and spread over top.
ZUCCHINI SLICE : (Steve's recipe for the lunch dish he provided at our September Show.)
- 375g zucchini - grated
- 1 large onion - finely chopped
- 3 rashers bacon - finely chopped
- 1 cup grated cheese
- 1 cup self-raising flour
- 1/3 cup oil
- 5 eggs
- salt & pepper
Combine zucchini, onion, bacon, cheese, flour, oil and lightly beaten eggs, season with salt & pepper.
Pour into well greased lamington tin (16cm x 26cm). Bake in moderate oven 30 to 40 minutes.
---
Click HERE to return to Illawarra Bromeliad Society "Club News Page".

---
Updated 30/10/08
---