ILLAWARRA BROMELIAD SOCIETY Inc.
Club News.
---
Click HERE to return to Illawarra Bromeliad Society "Club News Page".

---
NEWSLINK
October 2006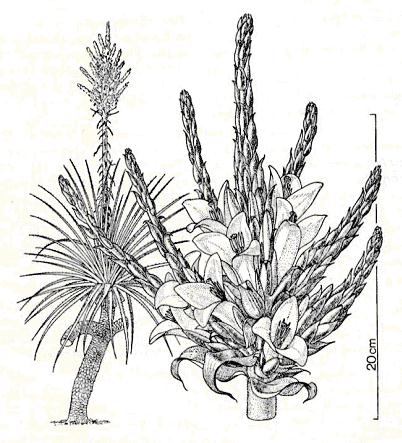 Puya chilensis
- Articles appearing in this issue of NEWSLINK are for information purposes only and are not necessarily endorsed by the Committee or the Illawarra Bromeliad Society.
- The Society is, by the holding of meetings, displays and competitions, to provide a forum for the people of the Illawarra region who are interested in the culture and collection of bromeliads.
---
NEW MEMBERS:
We extend a very warm welcome to our new members Naomi Hurst, Colette Jackson and Jenny McKenzie who joined in July and Janice and Bruce Cluff, Les Flatman, June Smith and Glenise Weston who joined at our Show in September.
---
MONTHLY RAFFLE PRIZE ROSTER: (2 plants/prizes from each person on the list - thanks!)

| | |
| --- | --- |
| October | Keith/Eileen/Val |
| November | John Fleming/Meri/Carolyn |
| February | Sue/Graham/Ted |
---
SHOW RAFFLE PRIZES:
The raffle was very successful, thanks to very generous donations.
We would like to say a heartfelt "Thank You" to David for another of his wonderful carved heads; ...to Pat Alton for 3 pretty coat hangers; ...to Elizabeth and Dawn for 3 more coat hangers—Elizabeth doing the knitting and Dawn the flowers and ribbons; ...to Graham and Elizabeth for the 3 plants; ...to Nola Frankham (a friend of Dawn's) for the lovely decorative bed pillow; ...and to Sharyn for approaching, and Elok Interiors for donating, the very nice lamp and mirror. (Many of the Balinese-style decorations which Sharyn used in our display came from Elok Interiors and they have offered to supply more for next year's display.)
---
ROYAL BOTANIC GARDENS:
Due to a rebuilding program of their propagation and shade/glasshouse areas the Sydney Royal Botanic Garden will be selling a large number of mature epiphytes, particularly bromeliad species (but also a large range of tube stock).
The sale will take place on Saturday 28th and Sunday 29th October to the rear (north) of the Administration buildings in Mrs. Macquarie's Road. Email: Friends@rbgsyd.nsw.gov.au.
---
CONFERENCES:
"BROMELIADS 14 - BEACHSIDE" - PORT MACQUARIE - September 21-23, 2007
- See details later in this Newsletter.
RAFFLES:
- Monster Raffle: Tickets $1 each (Offered by Cairns Bromeliad Society Inc.)
Closing Date: November 23, 2006 - Drawn November 25, 2006
Tickets will be available at our October and November meetings.
Prizes: 1st - Set of "Jewels of the Jungle" by Jose Manzanares
(2 books – Part 1: Bromelioideae and Part 2: Pitcairnioideae, preprint price $322 – donated by Lynn Hudson)
2nd - $100 of Bromeliads - from The Olive Branch
3rd - $50 of Tillandsias - donated by Bob Hudson
4th - Frog-on-a-Log - log 46 cm x 16 cm - donated by Bob Hudson
5th - Mystery Box of Cairns - from Cairns Society Members
6th - Mystery Gardening Box - from Cairns Society Members
- Tillandsia Raffle: Tickets $2 each (Offered by The Bromeliad Society of Australia Inc. in support of the 14th Australian Bromeliad Conference and generously donated by Margaret Draddy who has supported all of our conferences.)
Prizes: 1st - 3 plants - Tillandsia tectorum 'Enano', T. recurvifolia var. subsecundifolia, and T. ehlersiana
2nd - 2 plants - Tillandsia dura (large form) and T. hammeri
3rd - 1 plant - Tillandsia 'Houston' (select form)
Drawn: December 9 - Tickets may be ordered at our October/November meetings.
- BROMELIADS 14 - BEACHSIDE
Early Bird Registration Discounts: See details below.
- Very Early Bird - $165 when paid before January 31, 2007
EIGHTEENTH WORLD BROMELIAD CONFERENCE - "BROMELIADS DOWNUNDER"
CAIRNS - June 24 - 29, 2008
- Early Bird Registration Discounts: (see details later in Newsletter)
- Very Early Bird - $US125 (+ $US40 membership fee) when paid before December 30, 2006. (Membership includes 6 journals per year)
---
CHRISTMAS PARTY:
We are going to try a new venue this year — The Kembla Grange Golf Club — and it is one which we hope everyone will enjoy. The Society will subsidise the luncheon so that members and their partners will pay only $10 each (drinks, however, will be at your own expense). Festivities will begin at 11.00 AM — Bring a small present to share. For directions on how to get there, see Graham's 'mud map' (copy supplied). Elizabeth needs to have money and numbers attending by our November meeting date.

---
LIBRARY REMINDERS:
- Books, journals, videos, etc. are to be taken out on a one-month basis only.
- A reminder that we would like to have library items returned at or before our December meeting so that Pat can have an opportunity during the break to reorganise things before our February meeting.

---
WANTED TO BUY
Aechmea pectinata
Neoregelia 'Lone Pine'
Neoregelia 'Noble Descent'
Fresh bromeliad seed
Contact Neville Wood - Phone: (02) 4296 2713
---
Coming Events :
| | |
| --- | --- |
| Oct. 12 - 15 | BERRY AND DISTRICT GARDEN CLUB'S FESTIVAL – 7 GARDENS TO VISIT 10 AM – 4 PM. Enquiries: (02) 4464 1191 www.berrygardensorg.au |
| Oct. 14 - 15 | BROMELIAD SOCIETY OF AUSTRALIA – SPRING SHOW – BURWOOD RSL, Cnr. Shaftesbury Road and Clifton Avenue. 10AM to 5PM |
| Oct. 21 - 22 | GALSTON DISTRICT GARDEN CLUB SpringFest - OPEN GARDENS 9.30AM – 4.30PM www.geocities.com/galstongarden (02) 9653 1864 |
| Oct. 28 - 29 | BROMELIAD SOCIETY OF NEW SOUTH WALES - SPRING SHOW - Senior Citizens Centre, 9-11 Wellbank Street (Cnr Bent St), CONCORD. |
| Nov. 11 – 12 | QUEENSLAND BROMELIAD SOCIETY BROMELIAD BONANZA – MT COOT-THA (BRISBANE) AUDITORIUM – Bob Reilly Phone (07) 3870 8029. |
| 2007 | |
| April 28 – 29 | Bromeliad Society of New South Wales – Autumn Show - CONCORD. |
| Sep. 21 – 23 | BROMELIADS 14 – BEACHSIDE, Rydges Resort Hotel, PORT MACQUARIE. |
| Oct. 27 - 28 | Bromeliad Society of New South Wales - Spring Show - CONCORD. |
| 2008 | |
| June 24 - 30 | 'BROMELIADS DOWNUNDER' - The 18th World Bromeliad Conference, CAIRNS, QLD. |
---
A REPORT ON OUR FOURTEENTH ANNUAL SHOW, HELD AT THE UNITING CHURCH HALL, CORRIMAL, SEPTEMBER 9-10, 2006:
All I can say is "Wow! What a wonderful job everyone did!"
After the different kinds of weather our plants had gone through this year - starting out with New Year's Day reaching 47C in Sydney, and then the cold, wind, rains and hail during winter - I was not sure what kind of Show we would be able to put on. But you all rallied - Thank You! - and while the overall number of plants was down (97 entries from 19 competitors) we again had a lovely display and a very good selection of sales plants as well.
There were some beautiful and interesting arrangements entered into the Creative Section and I would like to thank all those members who went to so much trouble to create them - and to get them safely to the hall!
But all of those members who participated - and most of our local members did! - deserve a great deal of thanks: from those preparing their plants for competition and display, to the ladies who fed us so well over the 3 days, the helpers who struggled with the hessian covering on the tables, manned the raffle, sales and information tables, put up such a beautiful display, helped me with registering of plants and their placement on the competition tables, and to those who travelled such long distances to make our Show a success. Thank you! Thank you! Thank you!
There's always so much done behind the scenes, as well - and I won't go into detail here - but we must be very grateful to Graham, Elizabeth, Rena and Phillip for all of the effort that they put in towards our Show, our meetings and all of the other special events that we have during the year - our Christmas in July and end-of-year Christmas parties among them.
We make a great team!
PS: Don't forget the other Shows that are coming up this month:
- October 14-15 - Bromeliad Society of Australia's Spring Show at Burwood RSL
- October 28-29 - Bromeliad Society of New South Wales' Spring Show
SHOW RESULTS - 2006
CHAMPION BROMELIAD: OPEN

| | |
| --- | --- |
| Nina and Jarka Rehak | Aechmea chantinii |
CHAMPION BROMELIAD: NOVICE
| | |
| --- | --- |
| Neville Wood | Vriesea Splenriet |
BEST SPECIES:
| | |
| --- | --- |
| Suzanne Burrows | Tillandsia recurvifolia var. subsecundifolia |
DULCIE DOONAN MEMORIAL AWARD:
| | |
| --- | --- |
| Janine Varley | Artistic Arrangement: Colourful Creation |
SECTION 1: OPEN
Class a - Aechmea (1 entry)

| | | |
| --- | --- | --- |
| 1st | Nina and Jarka Rehak | Aechmea chantinii |
Class b - Billbergia (2 entries)
| | | |
| --- | --- | --- |
| 1st | Nina and Jarka Rehak | Billbergia Fascinator |
| 2nd | Alan Kirkby | Billbergia amoena var. viridis |
Class c - Neoregelia (16 entries)
| | | |
| --- | --- | --- |
| 1st | Ted Clare | Neoregelia Rosea Striata |
| 2nd | Nina and Jarka Rehak | Neoregelia Fosperior 'Perfection |
| 3rd | Ted Clare | Neoregelia carolinae x concentrica |
Class d - Miniature Neoregelia (9 entries)
| | | |
| --- | --- | --- |
| 1st | David and Carolyn Buxton | Neoregelia Alley Cat |
| 2nd | Nina and Jarka Rehak | Neoregelia Meyendorffii Minor |
| 3rd | Ted Clare | Neoregelia Rien's Pride |
Class e - Tillandsia (12 entries)
| | | |
| --- | --- | --- |
| 1st | Suzanne Burrows | Tillandsia recurvifolia var. subsecundifolia |
| 2nd | Graham Bevan | Tillandsia gardneri x meridionalis |
| 3rd | Graham Bevan | Tillandsia gardneri var. rupicola |
Class f - Vriesea/Guzmania (1 entry)
| | | |
| --- | --- | --- |
| 1st | Nina and Jarka Rehak | Vriesea Sunset |
Class g - Other Bromeliad (4 entries)
| | | |
| --- | --- | --- |
| 1st | Russell Dixon | Deuterocohnia brevifolia |
| 2nd | Graham Bevan | Orthophytum vagans |
| 3rd | Catherine Wainwright | xNeophytum Galactic Warrior |
Class h - Established Colony (13 entries)
| | | |
| --- | --- | --- |
| 1st | Warwick Varley | Neoregelia Chiquita Linda |
| 2nd | Nina and Jarka Rehak | Neoregelia Chiquita Linda |
| 3rd | David and Carolyn Buxton | Vriesea corcovadensis |
SECTION 2 - NOVICE
Class i - Aechmea (3 entries)

| | | |
| --- | --- | --- |
| 1st | Neville Wood | Aechmea orlandiana |
| 2nd | Neville Wood | Aechmea recurvata |
| 3rd | Neville Wood | Aechmea Aztec Gold |
Class j - Neoregelia (13 entries)
| | | |
| --- | --- | --- |
| 1st | Neville Wood | Neoregelia Beefsteak |
| 2nd | Neville Wood | Neoregelia Thunderbird |
| 3rd | John Carthew | Neoregelia Sunrise |
Class k - Tillandsia (7 entries)
| | | |
| --- | --- | --- |
| 1st | Stephen Morgan | Tillandsia butzii |
| 2nd | Stephen Morgan | Tillandsia seleriana |
| 3rd | Warwick Varley | Tillandsia recurvifolia var. subsecundifolia |
Class l - Vriesea/Guzmania (6 entries)
| | | |
| --- | --- | --- |
| 1st | Neville Wood | Vriesea Splenriet |
| 2nd | Lucas Morgan | Vriesea fosteriana Red Chestnut |
| 3rd | Stephen Morgan | Vriesea platynema x hieroglyphica |
Class m - Other Bromeliad (3 entries)
| | | |
| --- | --- | --- |
| 1st | Neville Wood | Billbergia hybrid |
| 2nd | Lucas Morgan | Billbergia Hallelujah |
| 3rd | Stephen Morgan | Canistrum fosterianum |
SECTION 3 - CREATIVE
Class n - Mounted Tillandsias (2 entries)

| | | |
| --- | --- | --- |
| 1st | John Fleming | Tillandsia stricta on wood |
| 2nd | John Fleming | Tillandsia tectorum on piece of log |
Class o - Mounted Bromeliad (2 entries)
| | | |
| --- | --- | --- |
| 1st | Graham Bevan | Billbergia amoena var. stolonifera |
| 2nd | Ted Clare | Neoregelias on driftwood |
Class p - Basket/Decorative Container (3 entries)
| | | |
| --- | --- | --- |
| 1st | Beth Churton | Large basket |
| 2nd | Elizabeth Bevan | Large basket |
| 3rd | Elizabeth Bevan | Small basket |
Class q - Bromeliad Garden (2 entries)
| | | |
| --- | --- | --- |
| 1st | Graham Bevan | "The Living Dead" (Dish garden with tillandsias) |
| 2nd | Elizabeth Bevan | "Swan Song" (Cryptanthus in Swan container) |
Class r - Artistic Arrangement (5 entries)
| | | |
| --- | --- | --- |
| 1st | Janine Varley | "Colourful Creation" |
| 2nd | Janine Varley | "Reach for the Stars" |
| 3rd | Graham Bevan | "Babylonian Garden" |
COMPETITION STATISTICS
| | | | |
| --- | --- | --- | --- |
| 2001 | 9th Show | 84 entries | 14 competitors |
| 2002 | 10th Show | 110 entries | 16 competitors |
| 2003 | 11th Show | 147 entries | 18 competitors |
| 2004 | 12th Show | 102 entries | 21 competitors |
| 2005 | 13th Show | 114 entries | 17 competitors |
| 2006 | 14th Show | 97 entries | 19 competitors |
---
PLANT RESULTS - June 3, 2006
OPEN
| | | |
| --- | --- | --- |
| 1st | Ted Clare | Vriesea fosteriana Red Chestnut |
| 2nd | Alan Kirkby | Guzmania Decora |
| 3rd | Graham Bevan | Ananas Red Pineapple |
TILLANDSIA
| | | |
| --- | --- | --- |
| 1st | Graham Bevan | Tillandsia cacticola |
| 2nd | Catherine Wainwright | Tillandsia albertiana |
| 3rd | Ted Clare | T. ehlersiana/T. streptocarpa on mount |
---
PLANT RESULTS - July 1, 2006
OPEN
| | | |
| --- | --- | --- |
| 1st | Alan Kirkby | Aechmea pineliana var. minuta |
| 2nd | Alan Kirkby | Neoregelia Blast |
| 2nd | Ted Clare | Aechmea lueddemanniana Rodco Inverta |
| 3rd | Graham Bevan | Cryptanthus garden |
| 3rd | Ted Clare | Aechmea weilbachii forma leodiensis |
NOVICE
| | | |
| --- | --- | --- |
| 1st | Rhonda Patterson | Vriesea ? |
| 2nd | Warwick Varley | Aechmea David Barry |
TILLANDSIA
| | | |
| --- | --- | --- |
| 1st | Graham Bevan | Tillandsia tenuifolia var. surinamensis |
| 2nd | Ted Clare | Tillandsia tricolor |
| 3rd | Graham Bevan | Tillandsia cacticola |
---
PLANT RESULTS - August 5, 2006
OPEN
| | | |
| --- | --- | --- |
| 1st | Ted Clare | Neoregelia Bob and Grace |
| 2nd | Ted Clare | Neoregelia Rosea Striata |
| 2nd | Alan Kirkby | Neoregelia Bubbles |
| 3rd | Ted Clare | Neoregelia Iyah |
NOVICE
| | | |
| --- | --- | --- |
| 1st | Neville Wood | Guzmania Cherry Ripe |
| 2nd | Neville Wood | Aechmea orlandiana cv Ensign |
| 3rd | Neville Wood | Vriesea Purple Cockatoo |
| 3rd | Jan Stammers | Neoregelia Stormy Forest |
TILLANDSIA
| | | |
| --- | --- | --- |
| 1st | Graham Bevan | Tillandsia meridionalis |
| 2nd | Ted Clare | Tillandsia gardneri |
| 2nd | Laurie Dorfer | Tillandsia subteres |
| 3rd | Catherine Wainwright | Tillandsia albertiana hybrid |
| 3rd | Laurie Dorfer | Tillandsia tectorum |
---
PLANT RESULTS - September 2, 2006
OPEN
| | | |
| --- | --- | --- |
| 1st | Ted Clare | Neoregelia Royal Cordovan |
| 2nd | Rena Wainwright | Neoregelia Painted Desert |
| 2nd | Graham Bevan | Quesnelia liboniana |
| 2nd | Ted Clare | Neoregelia Predator |
| 2nd | Phillip Robinson | Billbergia sanderiana |
| 3rd | Graham Bevan | Aechmea Foster's Favorite |
| 3rd | Alan Kirkby | Aechmea Bert |
| 3rd | Alan Kirkby | Neoregelia Bubbles |
NOVICE
| | | |
| --- | --- | --- |
| 1st | Neville Wood | Vriesea Splenriet |
| 2nd | Warwick Varley | Aechmea Pie in the Sky'*(labeled A. comata Variegata) |
| 3rd | Neville Wood | Neoregelia (labeled Beefsteak but possibly Sunrise) |
TILLANDSIA
| | | |
| --- | --- | --- |
| 1st | Graham Bevan | Tillandsia recurvifolia var. subsecundifolia |
| 2nd | Rena Wainwright | Tillandsia tenuifolia |
| 3rd | Ted Clare | Tillandsia jucunda |
| 3rd | Ted Clare | Tillandsia aeranthos |
---

*Aechmea 'Pie in the Sky':
This plant came to our meeting as Aechmea comata Variegata (a plant not listed in the Binomial List), but with its softer and more broad variegated leaves I thought that it looked more like A. Pie in the Sky.
The Bromeliad Cultivar Registry (1998) tells us that Pie in the Sky is a cultivar name for an imported plant labeled Aechmea pimenti-velosoi Variegata — Butcher said, "Probably a cultivar? of a comata? hybrid?" Aechmea comata var. makoyana is a variegated species, but the leaves are stiffer and considerably longer than A. Pie in the Sky and have a peach - coloured blush to the new pups.
(Refer to www.fcbs.org or www.bromeliad.org.au for reference photographs and discussion)
---
"Bromeliads 14 – Beachside" Rydges Resort Hotel, Port Macquarie.
21st to 23rd September 2007
Hosted by
Cairns Bromeliad Society Inc.
P. O. Box 28 Cairns Qld 4870


The 14th Australian Bromeliad Conference "Beachside" is for all bromeliad lovers, but it is especially for those members who cannot for many reasons come to Cairns in June 2008 to attend the 18th World Bromeliad Conference.

Port Macquarie is a beautiful holiday playground regardless of your age. Visit historic sites, museums, wineries and wildlife parks, go whale watching or cruising.

"Beachside" Guest Speaker will be Pamela Koide of "Bird Rock Tropicals" Nursery, California. Many of you have already enjoyed Pamela's presentations and here is a great chance for those who have not met Pamela. Other seminar presenters are from the wealth of knowledge we have in Australia. Seminars on varied topics are planned, from practical demonstrations to collecting trips and plant access.

Detailed information will follow.

Travel Options – Road, Rail, Air or Coach.
- XPT Train to Wauchope with a coach connection to Port Macquarie.
Country Link Reservations 132232.
- Coach – Greyhound Pioneer and McCaffertys have daily services from Sydney and Brisbane.
Reservations on 131499.
- Air – QantasLink have several daily flights.
Reservations 131313.

Registration - (Includes Morning Tea and Lunch on Friday, Saturday and Sunday; and the Sunday night Banquet, plus a copy of the Proceedings Book)
- Very Early Bird - $165.00 when paid before 31st January, 2007.
- Early Bird - $180.00 from 1st February to 30th June, 2007.
- $200.00 from 1st July, 2007 and at the door.
- For partners not attending seminars, the banquet cost is $50.00 per person.
- See Eileen for Registration Forms*
*These need to have phone number/Email address added to the form.

Accommodation - Rydges have been very generous in reducing the room rates for us:
- City View Deluxe Rooms (1 queen size bed) @ $140 per night
- City View Deluxe Twin Rooms (2 double beds) @$140 per night
- Water View Rooms (1 queen size bed) @ $160 per night
- Water View Rooms (2 double beds) @ $160 per night
- Water View Balcony Rooms (1 queen size bed) @ $180 per night
- Water View Balcony Rooms (2 double beds) @ $180 per night

There will be a Bus Trip to Nurseries, a Plant Show and Plant Sales.
Monster Raffle - We are planning a raffle, with six large prizes, to be drawn on 25th November, 2006 (see above for details).

Funds are needed to help cover guest speaker costs; Speakers' Gifts; Show prizes and the Proceedings Book. All donors may specify where their donation is to be allocated.

Lynn Hudson - Secretary and Australian Bromeliad Conferences Coordinator.
Email: lynnie@ledanet.com.au

---
SPECIAL DISCOUNTED RATE FOR WORLD BROMELIAD CONFERENCE (WBC)
- (From Lynn Hudson)

BSI President Joyce Brehm has advised a special rate for current members of Societies affiliated with the Bromeliad Society International (BSI) and for current members of these societies the WBC 2008 registration rate, if paid before December 30, 2006, is $US125.00.

To be eligible to take part in a BSI-WBC you must be a current BSI member, and if not already a paid-up member of the Bromeliad Society International, and wish to attend the World Bromeliad Conference to be held in Cairns in June 2008, then a membership fee must be added to the registration amount. Current membership is $US40.00 single/ $US45 dual membership.

Explanation for Completing the Registration Form
1. From Name(s) to E-mail is self explanatory. "Zip or Country Code" = Postcode.
2. Telephone (For Sydney area, for example): – Australia's code from overseas is 61, so my number from USA is: 61 + 2 9544 4726 (omit the 0 and put the rest) Fax – complete in the same way.
3. BSI Member (circle one) Yes-No. If you are not yet a member, circle 'No'
4. Name on badges - Write the name you want on your name badge for the conference.
5. Your BSI Affiliate – write Illawarra Bromeliad Society Inc.
6. Total Amount Due – must be in US dollars.
- For example, for one person $US125.00 + $US40 = $US165.00
7. Payment: You cannot send a personal Australian cheque. You can send an International Bank Transfer but it is easier and cheaper to send an International Money Order from Australia Post – charge $8.65.
They will ask how much in US Dollars and their computer will convert it to the current exchange rate.
Have it made payable to "WBC 2008" - mailing will cost $A1.80.
(As the $8.65 charge by Australia Post is for amounts up to $1,000 US, if you and a friend(s) each complete a form, you can share the charge and the postage.

If paid by Credit Card, your card provider will charge a transfer fee, and use THEIR exchange rate.

8. Sign and send to: WBC 2008
Dan Kinnard, BSI Membership Secretary
6901 Kellyn Lane
Vista, CA 92084
USA

The current exchange rate can be accessed on www.xe.com/ucc/convert.cgi

Alternatively the following rates apply:
These are in United States Dollars, plus your BSI membership fee.
$140.00 -- 30 September 2006 to 30 June 2007
$165.00 -- 1 July 2007 to 30 April 2008
$200.00 -- after 1 May 2008 and at the door

All registrations paid before 30 April 2007 are 100% refundable.
All registration fees paid after 1 May 2007 and until 1 May 2008 are 70% refundable.
After May 1 2008 no refund will be given (except in cases of illness or death)

---

GROWING BROMELIAD SEED – TWO APPROACHES
By Russell Dixon.

You can't grow bromeliad seed on sphagnum moss because the moss grows over the seedlings! But you can -- It's all in the technique!

- Firstly, spread the moss out in seedling trays or broad pots; it can be either pure moss or moss laid over a sterile seedling mix (e.g. 2 parts coir peat to one of Perlite, or similar). The medium has to be thick enough to prevent drying out. Next, place the wet sphagnum trays out in full sun to kill off any growing moss; this can take several days in cool weather, or half a day during mid-summer. Cooking the sphagnum tends to make it water-repellent; soak or water thoroughly to make the moss take up moisture again. You can now sow seeds successfully.

Moss will grow after 12-18 months, but it isn't sphagnum, it's another low-growing type that colonizes the sphagnum's surface. Generally by the time this happens the seedlings are ready for pricking out. Also, watch for a velvet-like algae that can colonize potting mixes and sphagnum; it tends to kill off plants as it creeps across the medium and is promoted (especially) by organic fertilizers. This method is good for raising most broms.

- Tillandsias like a slightly drier mix in my experience. I use a peat (or coir), Perlite and propagation sand mix in trays or dishes, overlain by elkhorn fibre. Cut the fibre 'plates' into 5-10 cm thick sections and arrange across the top of the tray or pot. The layers should be stacked edge-on (i.e., vertically), otherwise they will dry too easily with subsequent seedling death. An initial trial with both vertical and horizontally-arranged elkhorn 'plates' saw survival only on vertical sections as they carried moisture from the potting mix below; horizontal sections just dried out and baked in summer.

So, there's two methods of seed sowing: one for neos, vrieseas, etc., the other for species with drier preferences.

---
RADIAL REDS REVISITED
By Geoff Lawn
Since the author wrote about Radial Reds in 1986 considerably more cultivars have been bred or developed among this select group admired for their beautiful red-lined foliage. Termed botanically as vertical cyanic pin stripes, these longitudinal red lines have anthocyanin-laden epidermal cells extending from their leaf bases for various distances along the blades. Both upper and lower leaf surfaces are usually involved, as evident in Tillandsia cyanea and Guzmania lingulata, two species not normally considered striped. The purpose of these pinstripes is not fully understood but it is believed to assist photosynthesis and possibly carbon gain.
From imported seed Aechmea 'Kiwi' is a New Zealand-raised form of A. fasciata with red striations, silver crossbands and a paler pink inflorescence than usual. Probably the mutation evolved from a seedling meant to become var. purpurea. Aechmea 'Electrica Redline' is a tissue cultured mutant with red-lined foliage reverse from A. 'Electrica'. Unfortunately this sport is prone to distorted inflorescences. A sport from A. 'Foster's Favorite' is 'Red Ribbon', rather soft, mossy green rosettes and striated reverse, together with the pendant spike of ruby berries. Cryptanthus bivittatus 'Ruby' is an attractive small star-like flat rosette with double crimson stripes per leaf and a central cluster of white flowers.
Basic green comes alive when marked with red and numerous similarly thin-lined neoregelia hybrids abound, each with subtle differences emanating possibly from only two or three common ancestors. Neoregelia 'Rosea Striata', renamed in the BSI's Bromeliad Cultivar Registry, is an enigma and was never defined. It was often listed as a form of Neoregelia carolinae, which may be correct, though one clone's inflorescence and plant form was linked to N. farinosa by the Bromeliad Identification Centre. Thus there is confusion amongst growers and uncertainty whether quoted parents in relevant crosses are accurate. 'Rosea Striata' may be an open rosette of few but strap-like leaves lineated red with a pinkish red centre or more a smaller multi leaf-layered and compact rosette like meyendorffii. According to the Bromeliad Cultivar Registry, progeny bred from 'Rosea Striata' include N. 'Aristocrat', 'Boldstreak', 'Eleganza', 'Electric Red', 'Royal Salute', 'Stardom', 'Sultan', 'Sultana', 'Sundowner', 'Sundowner Delight', 'Sundowner Queen', 'Triumph' and 'With Love'. Their cup colours range from mid-pink to dark red and the leaves are finely spined. Few are farinose (dusty leaf surface or scape bracts) to any degree but one noted exception is N. 'Birdrock'.
Medium-sized, as are most cultivars featured here, Neoregelia 'Burbank' from Queensland's Burbank Nursery is considered a Neoregelia carolinae cultivar. Its wire-thin red lines upon bronze green leaves are complemented by scarlet scape bracts. N. 'Burbank' is parent to 'Fireworks', 'Jet Age' and 'Red Romance'. More complex crosses in this mould with known parentage include N. 'Champagne Romance', 'Grace Darling' and 'September Eleven'. Crosses using Neoregelia concentrica created broader, leathery-leaved rosettes with some purple barring, fine lines and purplish red nests, such as N. 'Rob Roy', 'Rosa Delight', 'Rosa Deluxe' and 'Rosa Yvonne'. Red flecking and pink or red "fingernails" are extra colours bred into some of these hybrids, though excellent culture/ climate invariably shows their potential also. Others with unidentified N. carolinae cultivars or hybrids in their background which produce fine red lines include N. 'Jimmy Scott', 'Mary's Favorite', 'Nina Rehak' and 'Pinstripe', all with cup colour.
A third group of neoregelias produce irregular random red to chocolate stripes of varying widths. Neoregelia carolinae produced a striking sport in its offspring, N. 'Peppermint Stick', a chocolate-striped rosette with carmine bracts. A frustrating, unstable plant for some growers, new pups often revert to all-green. It's sibling N. 'Peppermint Candy' is similar. One dark sport of N. 'Amazing Grace' ('Vulkan' x carolinae hybrid) is more consistently wide-striped reddish-brown. N. 'Maya' ('Catherine Wilson' x carolinae) is a lime green rosette with central reddish brown stripes in medio-picta form, but no flushed centre. Raised by Shelldance Nursery from the BSI Seed Bank is the unusual N. 'Shelldance' (reputedly 'Fairy Paint' F2) with wavy, bronze green tapering leaves edged brick red in strong light.
A race apart, variegates with albino tissues generally produce pink pigment overlaying the white rather than red, a seasonal colouring unless one lives in the tropics or sub-tropics where these stripes are more intense and permanent. However culture, particularly the duration and intensity of available light, plays a key part. Aechmea 'Foster's Favorite Favorite' is fairly reliable in temperate climates, especially the blackish-wine leaf Australian clone with the rosy-red margins. Aechmea 'Purple Heart' (A. 'Mirlo' variegated) is a sure winner with red lines in medio-picta form, running along the burgundy leaves. Many neoregelia variegates are capable of producing red stripes, more so those which have a dark foliage base colour. The celebrated Neoregelia 'Perfection' is another stunning bromeliad with brilliant central cherry red bands overlaying the plum foliage in bright light. N. 'Kahala Dawn', 'Pemiento', 'Red Pride' and 'Zoe' are similarly marked. N. 'Mixed Emotions' suffuses blood red all over the obverse, contrasting with irregular cream stripes beneath.. Werauhia 'Edna Shiigi' is a median scarlet-streaked variegate which arose as a chance seedling from normally solid maroon W. sanguinolenta.
At their flowering peak, red-lined foliage bromeliads are a joy to behold, particularly the neoregelias whose glowing hearts and out-spreading foliage rays of colour remind one of a summer sunrise. Growers can count on a few of these striped types to light up any bromeliad display or collection and their inflorescences are an extra bonus. Certainly a good specimen gives the impression of a red plant sporting green stripes and vice versa, a remarkable phenomenon in a predominantly green plant world.
References:
Benzing D. 1980. The Biology of the Bromeliads. Mad River Press Inc. Eureka, California.
BSI Bromeliad Cultivar Registry online and Photo Index link. 2006. Florida Council of Bromeliad Societies Website: http://fcbs.org/
Luther H. 1988. Misnamed Bromeliads 1. Neoregelia carolinae "var. roseostriata". J. Brom. Soc. 38:5:209

---
SOME BROMELIADS ENCOUNTERED DURING MY TRIP TO ENGLAND: NOTES FROM A TALK GIVEN AT OUR AUGUST 2006 MEETING
By Eileen Killingley
During our trip to England in June/July of this year I was constantly delighted by the blooming hedgerows, brilliant red poppies in canola fields, roses frothing their way to rooftops on beautiful old stone buildings, and also the brilliant flower baskets which hung outside every pub and from lamp posts in cities and villages alike.
However, it was not until we visited Tresco Abbey Garden on one of the 5 inhabited islands in the Isles of Scilly --30 miles off the coast of Cornwall--that I was completely fascinated by what I found there.
(The Isles of Scilly—an archipelago of 40 islands, with 5 inhabited, 28 miles off the tip of Land's End.)
The Garden dates back to 1834 when the then lord proprietor of Tresco--Augustus Smith--began building a garden around the ruins of St. Nicholas Priory (which in turn dates back to 964 AD).
I am sure that when he began, Lord Smith would have appreciated the wonderful old arches and stone walls of the ruined Abbey as protection for his plants. However, over forty years he imported and planted many of the sometimes large and exotic species seen in the gardens today, and his descendants--the Dorrien-Smith family-- have continued to develop the gardens for more than a hundred years so that today it has grown to cover 17 acres, and also houses a magical collection of figureheads (known as Valhalla) from the many wrecks around the Scillies. It has been described as 'a perennial Kew—without the glass' and is one of the most remarkable sub-tropical gardens in the world, where even bananas, date palms and citrus flourish in this south-west extremity of England, which owes its relatively mild climate to the influence of the warm Gulf Stream.
There are some 20,000 species from 80 countries and include the lovely Monterey and cypress pines from California, with their distinctive silhouettes, forming part of an important wind break, allowing some of the more tender plants to flourish. (Unfortunately, the fierce gales in 1990 destroyed many of these trees but they have since been replanted.) Succulents appear everywhere in the garden and are grown in such interesting ways, including mesembryanthemums which give wonderful patches of colour as they grow on and over the lovely old grey stone walls.
There are so many beautiful and interesting features to this garden, but what really excited me were the bromeliads—and not just any old bromeliads--but some of the biggest, most fascinating specimens that I have ever seen.
These included the giant Puya chilensis, P. alpestris, with their metallic blue flower spikes (blooming at the time of our visit) and P. berteroniana. (This latter species is so similar to P. alpestris that it has often been mistaken for it; however, P. berteroniana is a much larger and showier plant, with leaves reaching 4 to 5 feet.)
Puyas, which belong to the sub-family Pitcairnioideae, are reputed to be the most primitive members of the bromeliad family and also to have the largest species—Puya raimondii which reaches a height of 35 feet. It is said that this species can take up to 150 years to develop a flower spike in the wild, although it has taken as little as 28 years to develop a flower spike in cultivation.
In a lovely article on puyas, Alasdair Moore of the Tresco Abbey Garden, tells us that, "The basic form of these species is a large rosette of slender, pale green, blade-like leaves, which make for a plant both striking and graceful. Over the years they form extensive clumps, spreading along the contours of the land, the rosettes standing up to 2 m high".
(Moore, A. (2003)Puya )

Puya chilensis was first introduced on Tresco in 1848 and was planted on a terraced bank in the middle of the garden. It now occupies, to the exclusion of all vegetation except the wily bramble, a commanding site over 30 m long and 8 m deep. This thick swathe of puya has inched its way down the bank over the past 154 years, leaving behind it snaking trails of stout brown trunks. (In fact, we saw where it had been trimmed in one area, that the remaining brown trunks formed a wall about 4 feet tall and 10 or 12 feet long, behind the guard rail along the pathway.)

Each spring the clumps of puyas [P. chilensis] send up great spikes, 2-3 m high, atop which cluster the flowers. The actual flower head is about 1 m long and packed with racemes of chunky flowers, the sterile tips of which stick out, affording a perch for thirsty birds. In silhouette, the ensemble is akin to a huge medieval mace. The individual waxy blooms are 6-8 cm long, providing a deep receptacle for the nectar that the birds, bees and even some gardeners find so compelling.

Moore goes on to say that "The individual puya flower is a thing of beauty and wonder. The flowers of P. chilensis are a strident green-yellow, bright without being lurid, as if lit from within. Puya berteroniana has one of the most improbably coloured flowers that I have ever seen. It is a deep shade of metallic blue-green, which luxuriantly offsets the orange pollen tipped stamens."

Moore also explains that it is this lush burden of pollen which causes the starlings, sparrows, blackbirds, and thrushes to appear orange-crested in the spring as they are attracted to these magnificent puya flowers for their nectar. In their native habitats, it is more likely to be hummingbirds which are attracted.

But it is not only birds that like the nectar from puyas — apparently, the spectacled bear in Ecuador also enjoys this sweet treat, which they obtain by biting off the top foot or so of the inflorescence which they can then sit down to enjoy. (Butt, L. (2004) The Puya and the Bear, Bromelia Post (Central Coast Bromeliad Soc.), October 2004.) Bears also apparently brave the spiny tips and long, hooked spines to graze on the leaves, but these spines can also be deadly, especially for the sheep of the Andes. Their woolly fleeces become easily entangled and the poor animal can find itself helplessly pinned at the edges of the huge clumps, so that they die there. Birds, also, are often impaled on the spikes!

While there are nearly 200 species of Puya (199 species and 11 varieties, Luther 2002),(Manzanares, J. M. (2005)The Genus Puya, In: Jewels of the Jungle – Bromeliaceae of Ecuador, Part II: Pitcairnioideae, p. 288.) because of their size and harsh growing conditions (native to the Andean highlands of Colombia, Ecuador, Peru, Bolivia and northern Chile where the upper habitats of the genus are perpetually humid, cloudy and wind-swept, often with snow storms, while the lower habitats are the high, cold, arid plateaus of Peru, Bolivia and Northern Chile where winter temperatures can reach as low as -20C, and at other times are exposed to intense solar radiation and month-long droughts).
(Rauh, W. (1990) Part II: Genera and Species, In: The Bromeliad Lexicon, pp. 397-398.)
Because of their growing conditions, large size and spiky nature, few are seen in cultivation. However, 8 species are to be found at the Tresco Abbey Garden, including Puya alpestris, an alpestris hybrid, P. berteroniana, P. chilensis, P. coerulea, P. mirabilis, P. spathacea and P. venusta) and I have been able to find around 14 species listed in Australia, including three of the giant Puya raimondii which are growing at the Adelaide Botanic Garden. Others include Puya alpestris, P. berteroniana, P. butcheriana, P. chilensis, P. coerulea (and varieties monteroana and violacea), P. ferruginea, P. floccosa, P. laxa, P. mirabilis, P. sanctae-crucis, P. spathacea, and P. venusta.

Therefore, although puyas would look at home in a cactus and succulent garden, and are terrestrials rather than epiphytes--they are actually cool weather plants. When I checked with the Royal Botanic Garden here in Sydney I was told that while, with the exception of Puya chilensis, all of the bromeliads which I had noted on Tresco (Puya alpestris, P. berteroniana, P. chilensis, Fascicularia bicolor and Ochagavia carnea) were represented in the Sydney location, they were also grown at Mt. Tomah in the Blue Mountains, where the cooler winters better suited them, and they are also grown at the botanic gardens in Adelaide and Tasmania. Apparently they also flourish in parts of Ireland.

At Tresco, apart from puyas, there were other bromeliads, including massive clumps of Ochagavia carnea and Fascicularia bicolor, although, unfortunately, neither were in bloom at this time, they were still large enough to make impressive displays.

Ochagavia carnea, which is another species which has fascinated me (from journal photographs) has a pink, tennis-ball size inflorescence with rose-colored bracts, pink/lavender petals and bright yellow stamens that nests in a loose rosette of shiny, succulent, barbed, recurved leaves which are about 18 inches long. A native of the Chilean coast, it grows on rocks and on the ground in sunny locations at elevations of 150 to 2800 feet.

While O. carnea looks very similar to O. litoralis, O. carnea is the larger of the two species, and can be recognized by its very long, more slender pointed leaves and the very large well-developed stem and flower head.

Ochagavia litoralis, which has apparently been around for a long time in New Zealand (where it blooms every year in full sun and no special treatment) appears to have stouter, wider leaves. It is, however, more difficult to flower in Australia, except in the south and Tasmania, although an Internet site on Ochagavia in the Royal Botanic Gardens (Sydney) shows one in brilliant colour.

The genus Ochagavia, belonging to the subfamily Bromelioideae, lists four species (Ochagavia andina, O. carnea, O. elegans and O. litoralis) and is endemic to Chile. Like the genus Puya, while the rosette is quite dense, the plants do not form tanks that hold water.
(Zizka, G. and Novoa, P. (2004) Ochagavia: Very Attractive Chilean Endemics, JBS 54(5))

Closely allied to Ochagavia is Fascicularia (from central and southern Chile)—a genus currently represented by only the one species--and history shows that there was much confusion in the past when only herbarium specimens were available for comparison.

I had been fascinated by this plant since seeing it featured on the cover of the May-June 2005 issue of the Journal of the Bromeliad Society and so I was excited to see it on Tresco. Like Ochagavia, the inflorescence nests low in the centre of dense foliage that has sharp-toothed margins. However, unlike Ochagavia, the inner leaves of this species colour up a bright crimson at anthesis, forming a beautiful contrast with the pale blue, woolly-appearing, flower bracts and the sky-blue petals and yellow stamens as the individual flowers open up.

I saw Fascicularia bicolor again a couple of days later when invited to Gugh, a smaller island attached by a sandbar to St. Agnes island (which itself is only about 1 mile long by half-a-mile wide). It was growing in a garden behind a low dune near to the beach, and there among the sea thrift, heather and chamomile daisies, was a thriving clump of this species. It was not blooming at the time, but had healthy new pups forming all around the edge of the quite large clump.

While the Scillies do have the warming influence of the Gulf Stream they are also subject to cold winter gales, with fierce seas, and, growing where they were, just feet from the sea, these Fascicularias would collect spray from the ocean at regular intervals. In the article accompanying the JBS cover photograph, the author, Dutch Vandervort from Ventura, California, had written …."These plants are tough and resilient……Their natural habitat is the littoral area [meaning pertaining to the shore of a lake, sea or ocean] of Chile, central and southern coast. They may tolerate salt, but I no longer add it to the water I give mine—not even as an occasional treat. Though they are shy bloomers, when they do bloom they are magnificent! The secret is benign neglect! Ignore them, do not actively try to kill them, but leave them somewhat stressed and they bloom much more frequently."

This 'find' on Tresco was really a delightful surprise, as the only other bromeliad that I saw on the trip was Aechmea fasciata — in a conservatory, and as indoor decorations in Hong Kong airport — and seeing these 'quite different from the usual' bromeliads on Scilly gave me such a thrill that I wanted to let other people to know about them.
---
1. NO, NOT A BROM ARTICLE—BUT IT COULD SAVE YOUR LIFE!
(From Bromeliad Society of Australia's Bromeletter, Vol. 44(3), May/June, 2006)

Tired and frustrated, your frustration increasing going home in peak hour at about a quarter past six in the evening. You are very stressed after a horrible day at work: you are really stressed and do not feel well.

Suddenly, you have a sharp pain in your chest: it develops towards your left arm and even towards your jaw. The nearest hospital is at least 5 km away and you are wondering if you will be able to reach it.

You received instruction on how to carry out CPR (Cardio Pulmonary Resuscitation) to help other people but not a single word on how to help yourself.

What to do?
Reply: NO PANIC

* Start to cough repeatedly, very deeply and vigorously. A very deep breath between each cough. The coughing must be deep and long, as if you wanted to get rid of some phlegm lodged deeply in your lungs.

* The coughing must be deep and repeated every two seconds without fail until you receive help, or you feel that your heart is again beating regularly!

* Deep breathing brings oxygen to the lungs and the repeated coughing compresses the heart to maintain the circulation; this helps your heart to regain its normal rhythm and gives you a chance to reach hospital in time.

(This article was originally published in Journal No. 240 of General Hospital, Rochester. It was then translated into French by Claude Lariviere and translated back into English by The Onlooker.)

2. RECOGNIZING A STROKE - a True Story
Susie is recuperating at an incredible pace for someone who suffered a massive stroke, and all because Sherry saw Susie stumble—and then she asked Susie three questions. So simple!

These three questions literally saved Susie's life. Susie failed all three, so "911" (000) was called. Even though she had normal blood pressure readings, and did not appear to be having a stroke as she could converse to some extent with the Paramedics, they took her to the hospital right away.

Sometimes symptoms of a stroke are difficult to identify. Unfortunately, lack of public awareness can spell disaster. The stroke victim may suffer brain damage when people nearby fail to recognize the symptoms.

Now doctors say a bystander can recognize a stroke by asking three simple questions:
· Ask the individual to SMILE.
· Ask him or her to RAISE BOTH ARMS.
· Ask the person to SPEAK A SIMPLE SENTENCE (coherently—e.g., "It is sunny out today").

If he or she has trouble with ANY of these tasks, call 911 (000) immediately and describe the symptoms to the dispatcher.

After discovering that a group of non-medical volunteers could identify facial weakness, arm weakness and speech problems researchers urged the general public to learn the three questions.

They presented their conclusions at the American Stroke Association's annual meeting last February. Widespread use of this test could result in prompt diagnosis and treatment of the stroke and prevent brain damage.

A cardiologist says if everyone who gets this e-mail sends it to 10 people you can bet that at least one life will be saved.
---



Click HERE to return to Illawarra Bromeliad Society "Club News Page".

---
---
Updated 19/10/06
---