ILLAWARRA BROMELIAD SOCIETY Inc.
Club News.
---
---
Click HERE to return to Illawarra Bromeliad Society "Club News Page".
---
NEWSLINK
OCTOBER 2004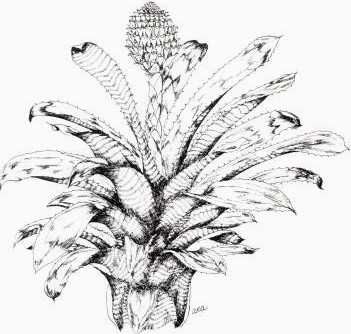 Quesnelia arvensis
---
- Articles appearing in this issue of NEWSLINK are for information purposes only and are not necessarily endorsed by the Committee or the Illawarra Bromeliad Society.
- The Society is, by the holding of meetings, displays and competitions, to provide a forum for the people of the Illawarra region who are interested in the culture and collection of bromeliads.
---
NEW MEMBERS: A very warm welcome to our new members, Neville Wood of Shellharbour, Jude Pullin of Andergrove (Mackay), Queensland, and Deborah Hurst of Penrith, who all joined our Society in September, and also a warm welcome back to Jan Stammers of Oakdale, who rejoined at our September Show.

Jude is a member of the Bromeliad Study Group in Mackay, known as the Pioneer River Orchid and Plant Association – Bromeliad Study Group, and in an earlier correspondence she extended a personal invitation for anybody from our Society to call in and see her and husband John's collection of Bromeliads or to join them at their meetings. Thanks, Jude!

I must apologise now for not mentioning previously Mal and Rhonda Symonds of Bundaberg who joined in March—new friends of Maureen, with a wonderful collection of bromeliads. Mal and Rhonda, Bundaberg sounds like Bromeliad Heaven—and we hope that some of us might be able to meet up with you one day! You would, of course, be most welcome to look us up and to attend our meetings if ever you are in the area.

Maureen also gave us information on another contact in Bundaberg: Keith and Betty Pohlman of 'Bromeliad Showcase'. Phone: (07) 4151 5395. Betty and Keith put out a little brochure, titled "Have Fun with Bromeliads" which provides information on the range and culture of bromeliads, and invite us to visit if we are in the area.

MONTHLY RAFFLE PRIZE ROSTER:
October - Rosetta/Fred/Carolyn B.
November - Dawn/John/Joan
February - Rhonda/Fred/Pat McIntyre

BROMELIAD SOCIETY OF NEW SOUTH WALES INC. – CHANGE OF ADDRESS:
The New South Wales Society has a new venue – The Concord Senior Citizens Centre, 9-11 Wellbank Street, CONCORD (Corner Bent Street) - where its regular meetings will be held on the second Tuesday of each month, commencing at 7.30 PM. Their 2004 Spring Show will be held at the above venue from 9.00 am to 5.00 pm on Saturday, 30 October and 9.00 am to 3.00 pm on Sunday, 31 October.

BROMELIADS XIII CONFERENCE – BRISBANE - 14-17 OCTOBER, 2005:
Information packages will be mailed direct to all members of Australian Societies later on in the year, and updates may be obtained from the website at: www.bsq.org.au

| | |
| --- | --- |
| To be held at: | The Conference Centre, Simpsons Road, Bardon—onsite accommodation (70 rooms) is available at the Centre which is set in bushland gardens and is accessible from the Brisbane CBD by local council buses. |
| Featuring: | Lectures on the mornings of Friday 14th through Monday, 17th October, with after-dinner feature lectures on the Friday and Sunday evenings. Two international speakers: David Shiigi from Hawaii and Bruno Rezende Silva from Brazil. |
| Cost: | 'Earlybird' registration (up to 30/06/05) will be $200 which includes all lectures, morning teas and lunches. Double registration (partners/spouses) for 'earlybirds' will be $380. Registration after 30/06/05 will be $220 for singles and $420 for doubles. A banquet on the Saturday evening will cost $50 per attendee. |
| Bus Trips: | Bus trips to major local collections on the Friday, Saturday and Sunday afternoons will cost $50 per attendee for three (3) trips. This includes fares and afternoon teas. Single bus trips $20 each. |

CHRISTMAS PARTY: Once again Leanne and Ken Smith have offered their lovely home as the venue for our Christmas party this year which we have been delighted to take them up on. The usual time—an 11.00 AM start, to give us a chance to enjoy this lovely location. For those new to our Society, the address is: 31 Redall Parade, LAKE SOUTH (Phone: 02 4295 6898)—and to find Redall Parade, when heading south, after passing through Windang, take an immediate left after the bridge. Extra details on our party will be worked out at our November meeting, but, basically, it will be pretty much the same as past years: bring a plate and a small gift for sharing.

OUR CHRISTMAS IN JULY GET-TOGETHER: It really couldn't have been a prettier day for our picnic in the Garden and we had an excellent turnout of members. Beth had kindly picked up Bob Gray and brought him along and it was lovely for all of his old friends to be able to catch up with him. The food was great—as usual—and we're thinking that we might have to turn it into a tradition! What do members think?

LIBRARY REMINDERS:
- Books, journals, videos, etc. are to be taken out on a one-month basis only.
- A reminder that we would like to have library items returned to our Library at or before our December meeting so that our new librarian, Pat McIntyre, can have an opportunity during the break to reorganise, update our Library list, etc. etc., ready for when our meetings start up again in February.

A REPORT ON OUR TWELFTH ANNUAL SHOW, HELD AT THE UNITING CHURCH HALL, CORRIMAL, SEPTEMBER 11-12, 2004: A huge 'Thank You' to all who worked on our Show, and although we all worked pretty hard over the 3 days, I feel that our Shows always have a good social side to them—during the quieter moments a chance for our members to talk and get to know each other over teas, coffees and those delicious cakes, slices, sandwiches, etc. We really have some great cooks, and I think that we should think seriously about putting together a recipe book. What do you think?

The display was lovely and a bit different this year, using some wonderfully decorative logs and a windmill supplied by Keith; arch, fountain and plants from Graham and Elizabeth; one of David's great carved 'heads'; Sharyn's Balinese garden ornaments; those glorious orchids from Dawn, and, of course, some beautiful bromeliads supplied by our members.

The raffle was very successful, thanks to the generous and wonderful donation of prizes: another of David's carved heads; Dulcie's Cryptanthus garden; a tole picture of flowers from Sylvia; a bromeliad-filled log from Keith; and a pot of Aechmea weilbachii from Alan.

Fred was lucky enough to win the carving, and Maureen the Cryptanthus. Congratulations!

Entries were down a little over last year but 21 members entering into competition set a new record, and this is what we like—getting more members involved in showing their beautiful plants.

Thank you everyone for making this a very successful Show!

SHOW RESULTS - 2004



CHAMPION BROMELIAD: OPEN
Carolyn Bunnell
Aechmea recurvata var. ortgiesii
CHAMPION BROMELIAD: NOVICE
Russell Dixon
Abromeitiella brevifolia
BEST SPECIES:
David and Carolyn Buxton
Vriesea flammea
SECTION 1: OPEN
Class a - Aechmea (11 entries)
1st Carolyn Bunnell
2nd Graham Bevan
3rd Nina and Jarka Rehak
Aechmea recurvata
Aechmea recurvata'Aztec Gold'
Aechmea chantinii
SECTION 1: OPEN
Class b - Billbergia (2 entries)
1st Nina and Jarka Rehak
2nd Pat Alton
Billbergia 'Fantasia'
Billbergia nutans (miniature) ex Selby Gardens
SECTION 1: OPEN
Class c - Neoregelia (16 entries)
1st Ailsa McDonald
2nd David and Carolyn Buxton
3rd Nina and Jarka Rehak
Neoregelia 'Manoa Beauty'
Neoregelia 'Predatress'
Neoregelia 'One and Only'
SECTION 1: OPEN
Class d - Miniature Neoregelia (5 entries)
1st Nina and Jarka Rehak
2nd Ted Clare
3rd Ted Clare
Neoregelia 'Domino'
Neoregelia 'Little Rosita'
Neoregelia 'Clyde Wasley'
SECTION 1: OPEN
Class e - Pot or Mounted Tillandsia (9 entries)
1st Catherine Wainwright
2nd John Fleming
3rd Graham Bevan
Tillandsia tenuifolia
Tillandsia straminea
Tillandsia variabilis
SECTION 1: OPEN
Class f - Vriesea/Guzmania (10 entries)
1st Nina and Jarka Rehak
2nd Ailsa McDonald
3rd Alan Kirkby
Guzmania wittmackii x sanguinea
Vriesea fosteriana
Vriesea hieroglyphica
SECTION 1: OPEN
Class g - Other (6 entries)
1st Eileen Killingley
2nd Nina and Jarka Rehak
3rd Ailsa McDonald
Orthophytum 'Warren Loose'
Dyckia hybrid
Deuterocohnia brevifolia
SECTION 1: OPEN
Class h - Stoloniferous Colony (9 entries)
1st Nina and Jarka Rehak
2nd Ailsa McDonald
3rd Ailsa McDonald
Neoregelia ampullacea x 'Fireball'
Neoregelia ampullacea (rubra)
Neoregelia 'Candelabra'
SECTION 2: NOVICE
Class i - Aechmea (2 entries)
1st Pat McIntyre
Aechmea orlandiana
SECTION 2: NOVICE
Class j - Neoregelia (6 entries)
1st Sharyn Baraldi
2nd Dawn Climent
3rd Dawn Climent
Neoregelia concentrica var. albo marginata
Neoregelia 'Avalon'
Neoregelia 'Maggie's Pride'
SECTION 2: NOVICE
Class K - Tillandsia (1 entry)
1st Dawn Climent
Tillandsia stricta var. nigra
SECTION 2: NOVICE
Class l - Vriesea/Guzmania (2 entries)
1st Sue Burrows
2nd Sue Burrows
Vriesea 'Nova'
Vriesea platynema
SECTION 2: NOVICE
Class m - Other (6 entries)
1st Russell Dixon
2nd Catherine Wainwright
3rd Sue Burrows
Abromeitiella brevifolia
XNeophytum 'Galactic Warrior'
Hechtia texensis
SECTION 3: CREATIVE
Class n - Mounted Tillandsias (5 entries)
1st Ted Clare
2nd John Fleming
3rd Ted Clare
Tillandsia tree with 10 plants
T. recurvata var subsecundifolia/T .araujei x stricta
Tillandsia tree with 10 plants
SECTION 3: CREATIVE
Class o - Mounted Bromeliad (Other than Tillandsias) (5 entries)
1st Graham Bevan
2nd Ted Clare
3rd Graham Bevan
N. ampullacea / N. cyanea / N. Golden Grace
Neoregelias mounted on driftwood (9 plants)
Quesnelia marmorata 7 plants/pups on wood.
SECTION 3: CREATIVE
Class p - Basket or Decorative Container (4 entries)
1st Beth Churton
2nd Ted Clare
3rd Dulcie Doonan
Large basket arrangement
Large ceramic bowl arrangement
Tall basket arrangement
SECTION 3: CREATIVE
Class q - Bromeliad Garden (3 entries)
1st Maureen Wheeler
2nd Graham Bevan
3rd Graham Bevan
Rainforest garden
Pond garden – with Tillandsias
Bowl garden using Puya/Dyckia/Deuterocohnia and Cryptanthus

COMPETITION STATISTICS
2000 - 8TH Show - 109 entries - 16 competitors
2001 - 9th Show - 84 entries - 14 competitors
2002 - 10th Show - 110 entries - 16 competitors
2003 - 11th Show - 147 entries - 18 competitors
2004 - 12th Show - 102 entries - 21 competitors

COMING EVENTS . . .
October 30 - 31
BROMELIAD SOCIETY OF NEW SOUTH WALES - SPRING SHOW
Senior Citizens Centre, 9-11 Wellbank Street [Cnr Bent St], CONCORD
PLEASE NOTE CHANGE OF ADDRESS and DATES

November 6, 2004:
Trichomes: After reading the article on trichomes in our April, 2004 issue newsletter Phillip decided to take a look at some of his plants under the microscope and thought that what he could see was pretty interesting. He has kindly agreed to bring along his microscope — as has Jarka who will bring along a second microscope - so that we can have an opportunity to take a look at these very important features of bromeliads.

Trichomes, absorbing scales on the leaves of bromeliads, are critical to epiphytic species. They have multiple functions. They facilitate the absorption of water and nutrients (from decaying matter) through the leaves, much as roots do in other plants. Water loss is also reduced in bromeliads by overlapping trichome caps that densely cover leaf surfaces and effectively reduce transpiration from stomatal pores. It is also thought that the thick-walled, air-filled, cells of the trichomes help to reflect sunlight and provide insulation against sudden large changes in temperature. ( Brown, M.L. (1972) Bromeliad Trichomes, J. Brom Soc. Vol. XXII(5), Sep/Oct, 1972, pp 111-118 )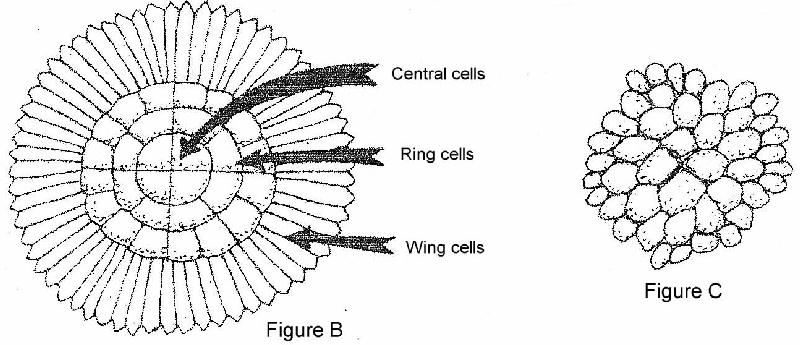 Structures of trichomes differ between bromeliad sub-families. For example those of Tillandsioideae look typically like those in Figure B whereas for Bromelioideae the trichome patterns (Figure C) are less symmetrical and more variable in shape. The Pitcairnioideae trichomes are even more variable and random in their shapes and patterns.
December 4, 2004: Christmas Party - see page 4 for details.
February 5, 2005: Topic: Small and Miniature Neoregelias
July, 2004: Plant Results

OPEN :
1st Alan Kirkby
2nd Alan Kirkby
3rd Nina Rehak
3rd Nina Rehak
Vriesea hieroglyphica
Guzmania Decora
Nidularium antonianum
Vriesea hybrid
Tillandsia :
1st John Fleming
2nd Graham Bevan
3rd John Fleming
Tillandsia punctulata
Tillandsia tectorum
Tillandsia vernicosa
August, 2004: Plant Results

Open :
1st Alan Kirkby
1st Nina Rehak
2nd Alan Kirkby
2nd Nina Rehak
3rd Ted Clare
3rd Phillip Robinson
Neoregelia 'Grand Fantastic'
Neoregelia carolinae
Guzmania Decora
Guzmania Fleur D'Anjou
Neoregelia 'Inferno'
Deuterocohnia brevifolia
Novice :
1st Sue Burrows
2nd Sue Burrows
3rd Sue Burrows
3rd Sue Burrows
3rd Sue Burrows
Orthophytum 'Warren Loose'
Aechmea recurvata x orlandiana
Orthophytum 'Warren Loose'
Aechmea benrathii
Vriesea flammea
Tillandsia :
1st Rena Wainwright
2nd Graham Bevan
Tillandsia ionantha
Tillandsia kirchhoffiana
September, 2004: Plant Results

Open :
1st Alan Kirkby
1st Alan Kirkby
2nd Ted Clare
2nd Graham Bevan
3rd Phillip Robinson
Vriesea splendens(1)
Guzmania Decora
Aechmea 'Burgundy'
N. ampullacea/N. cyanea/N. Golden Grace on wood(2)
Billbergia macrocalyx
Novice :
1st Rena Wainwright
2nd Dawn Climent
3rd Dawn Climent
Neoregelia 'Aztec'
Neoregelia 'Painted Desert'
Vriesea 'Costa Rica'
Tillandsia :
1st Rena Wainwright
2nd Ted Clare
3rd Ted Clare
Tillandsia tenuifolia
Tillandsia duratii
Tillandsia stricta
(1) Looked like Vriesea splendens, but Nina commented that V. splendens does not produce pups, which this plant was doing!
(2) A clever combination as Neoregelia Golden Grace is a Grace Goode hybrid, using N. ampullacea x N. cyanea

QUESNELIA (kwess-NEE-lee-uh)

Quesnelia was established as a genus by Gaudichaud--Beaupré in 1842 and is named for M. Quesnel, French consul at Cayenne, French Guiana, who was responsible for introducing this genus into cultivation in France in 1840.

It is a small, but spectacular genus of about 30 species, although perhaps only about one-third of these are in cultivation. All are indigenous to eastern Brazil, where they are to be found growing mostly in great masses close to the seashore. Some, like Quesnelia quesneliana, in the vicinity of Rio de Janeiro, grow in the sand, almost at the ocean's edge, forming impenetrable mats 3 to 4 feet deep, but are also found growing on trees in open pastureland. Others grow farther back in swampy forests, living in damp peat bogs, mostly in the shade of trees. A few are to be found growing as epiphytes in the mountains bordering the coastline.

The genus is divided into 2 subgenera: quesnelia and billbergiopsis. The coastal varieties, which would include Quesnelia arvensis, Q. quesneliana and Q. testudo, have medium-large, green rosettes with sturdy floral heads of brilliant pink. The small, tubular species, some of which resemble billbergias, are to be found on trees or on rocks in the coastal mountains and include Quesnelia humilis, Q. lateralis, Q. liboniana and Q. marmorata, and give us some quite stunning flower spikes.

Quesnelia arvensis (arvensis=of cultivated fields): I saw a giant clump of this stunning plant with perhaps 6 to 8 flower spikes at a Show I attended earlier on this year. It was immediately put on my "must have" list! The stiff, dark green leaves, which can measure up to 2 feet long and 2 inches wide, are lightly banded with silver on the undersides, and edged with stiff spines. At flowering, a turtle-shaped flower head of shocking deep pink appears, which can stay in colour for up to eight weeks, putting out numerous violet petals. While Padilla's book, Bromeliads, tells us that this plant is normally found growing freely on a thick layer of moss and organic material in swampy forests, where it is shady, humid, and wet, I have also seen it pictured, in habitat, growing in full sun on almost otherwise bare, rocky outcrops. In his book, "Bromeliads for the contemporary garden" Andrew Steens describes it as a robust plant which can take full sun if allowed to acclimatize slowly.

Quesnelia marmorata (marmorata=marbled) and the beautiful cultivar, 'Tim Plowman', are quite distinctive, with tall tubes of black mottled and banded leaves, with lovely rolled tips and a pink and blue flower spike. Graham had a beautiful display of Q. marmorata mounted on wood at our Show, and this is a particularly good way to grow them as they are quite epiphytic, often not adapting well to growing in soil.

Quesnelia lateralis is a very cute little plant when in flower, with azure-blue flower petals contrasting beautifully with scarlet-pink flower bracts and stem. It is a winter-flowering Quesnelia and is unusual in that the inflorescence can emerge from the base of the plant (hence the name, lateralis), as well as from the centre of its tubular rosette of green leaves.

Quesnelia humilis (humilis=low--growing, dwarf) is a terrestrial, found in the state of São Paulo from sea level to an altitude of 2500 feet. It is one of the smallest members of the genus, growing only 8 to 10 inches high, with plain, blue-green leaves. At flowering, the plant is transformed by the most vivid flower spike, with each flower bright orange at the base, shading to bright red and then tipped with purple. The plant has a semi-trailing or creeping habit, sending out many pups on short stolons, which are ideal for hanging baskets, for growing epiphytically and over rocky banks, or as pot plants.

References:
Padilla, V. In: Bromeliads, A Descriptive Listing of the Various Genera and the Species Most Often Found in Cultivation, Crown Publishers, Inc., New York
Steens, A. (2003) In: Bromeliads for the contemporary garden, Random House, New Zealand

---
GROWING BROMELIADS EPIPHYTICALLY IN THE GARDEN
Extracted from a talk given by Arno King at the Bromeliad Conference, Auckland, March 8th-10th, 2003 and recorded in their Report on Proceedings book. (Condensed and edited with permission from Mr. King, who is a landscape architect, urban designer and horticulturist, based in Brisbane—Ed.)
My talk today is up and away with bromeliads and just looking at growing bromeliads epiphytically. It is also mainly about what I wish people had told me many years ago! There are a few things here that many of you, I'm sure, are very familiar with; however, I would just like to remind people of this information, especially those who are just starting out in bromeliads. Also, things I've found along the way that didn't work or things that have worked better and, yes, giving you an overview and making you enthusiastic to try and grow bromeliads the way many grow in nature--that is, up on the trees.
Why mount plants or grow them epiphytically? There are a few reasons:
· Firstly, it adds interest in a garden. You can grow plants in pots or on the ground, but putting them up in the trees adds that third dimension.
· I've found over the years that many epiphytic plants just look better, develop better colour and also develop better form. Again and again, I find plants like Aechmea pineliana just don't colour so well when grown in pots, but when you mount them, and even if the light isn't ideal, they seem to naturally colour up and really look great. Also, as far as form, I think many plants don't look so good when they are in a pot.
· Quesnelia marmorata is a different plant when you put it on a tree. It forms a clump and each of the individual rosettes starts growing outwards and, to me, it just looks far more interesting and this is often lost when you put them in a pot or on a bench.
· Many epiphytic bromeliads tend to flower more profusely. It's just the natural way and it works in with their natural form.
· Certain plants such as Aechmea orlandiana have to be seen from below to be really appreciated. Yes, it looks great from on top but there are also those beautiful undersides to the leaves. Various plants, such as Aechmea chantinii, can't really be appreciated unless you are looking up at them. Mounted on a tree, or mounted on a piece of driftwood, and it's right away in your face and you can see those beautiful markings.
· Another good thing about getting the plants up is that it can help with improving your growing conditions. In many cases, by putting the plants up on trees or on mounts, it can help those that are just a little bit tender by providing air flow in the coldest parts of the winter and they are less likely to get frost or cold damage. Similarly, in hotter areas, plants mounted high are less likely to get heat damage.
· Another big thing is that by growing plants on mounts or trees, you can leave a lot more space in your greenhouse; plus you don't have to do so much re-potting. Certain mounts break down but other mounts seem to last a long, long time.
· Mobility is another good thing in mounting plants. Often, in Brazil, I saw them planting their bromeliads on stakes, particularly with orchids, which meant you could see a lot of them together. A big pot with a few stakes can have many orchids and bromeliads on show. I saw a few collectors who had these big urns by their front door and when things were in flower, they just took out a big stake and poked it into the pot near the door where everyone could appreciate it. In Brazil they often used the stems of the Lady or Raphis palm and bamboos, but I've found that we can buy hardwood stakes in Australia very cheaply for about $1 each and they have been excellent.
· Other options include growing them on rocks, or, as I saw in Brazil, growing them on plaques. There, retail nurseries will often have these plaques with established plants, and they are ready to be hung on a wall, giving an instant bromeliad garden. In Roberto Burle-Marx's garden in Rio de Janeiro he grew plants on walls, and you can grow them on other things, as Grace Goode has done with Tillandsia mallemontii, which she has growing along her fence line en masse, and you sort of walk under it and it's quite fantastic, the perfume from the flowers being quite incredible.
And getting on to other issues …
Bromeliads grow in virtually any climate. In northern Argentina they grow on cacti, so don't think that just because you don't live in a wet area or you have a difficult climate, that you can't do it. As I have found again and again it's just getting the right plants for the right place. Principally, I find that light is the limiting factor. To grow the most plants and get the best colours generally, a bright, filtered light seems to be ideal and picking the right plant gives you so many more options. I think many of us aren't in the situation where we can choose and we often have certain trees in the garden that we just have to work with. But sometimes there are things that you can do such as canopy lifting and taking out some of the lower branches on trees, or opening out the trees with selected pruning just to get a little bit more light in. It seems that there are certain plants that are better for growing bromeliads on and one that stands out is the palm. Often, certain palms are ideal for that filtered light. Frangipani serves as an excellent tree and I have been surprised how good citrus trees are, also jacarandas. But, principally, you are after a tree that is very open, has filtered light, and one that the bark doesn't peel too badly.
Having said that, I always thought that you couldn't grow bromeliads on trees with peeling bark and books keep telling you that that's the case. However, around Rio de Janeiro, where eucalypts grow wild, there are bromeliads growing in the crotches of the trees and this helps to overcome the problem of a tree with peeling bark. So always think twice. Don't think no, I can't do it, because there are always options. For example, if you have a tree that is darker and denser, then you may have to look at plants that prefer darker growing conditions.
Some ideas when it gets round to what you do not do …
I mentioned tanalisation earlier, and I think a lot of us have had experience with pine where the chemicals really affect the bromeliads badly. When we attach them there is another issue in using wire or metallic objects. I generally avoid tying on with any wire or metal labels, just to be doubly sure. Another thing I have found [to watch for] is tree ferns. Often tree fern fibre — when it's aged or when it's not quite so acidic—can be a great mount, but I haven't yet seen bromeliads growing really well on living tree ferns. Again, somebody may be able to prove otherwise.
Now, which plants do you use, that's a big question …
I would suggest that first of all you think about what's really hardy for you and if it's working well that may give you an idea of what may grow well epiphytically in your garden or greenhouse. Now sometimes it doesn't and I have had many cases where I can grow a plant well in a pot or in the ground, but when I try to grow it epiphytically it doesn't respond as well.
One plant, which I hadn't been impressed with when seeing it grown in a pot or mounted, was Hohenbergia disjuncta. [At the time I saw it [in Rio de Janeiro] its name was Hohenbergia disjuncta but I think the plant which I bought is Australia is called Hohenbergia strobilacea.] I don't know what the current name is but seeing it in a pot or in a hanging basket it looks a bit straggly, but when you see it mounted on trees, the way the flower stem sort of lightly blows in the wind, I am always enchanted by it. It is a stoloniferous plant and I think that's a good guide when you are looking for plants for putting on trees. Two reasons: they tend to crawl and climb with the rhizome and attach themselves to a tree, and, also, they don't congest on themselves. There are certain bromeliads that start pupping away and grow into dense masses and this can make them look less than ideal. Let's face it, you don't want to be continually dividing and working plants once you have mounted them. You just want them to grow on their own.
One good plant for growers virtually anywhere is Aechmea recurvata. It's so hardy and can take frost, cold winds, virtual drying out and a whole range of other conditions, and so this would be a plant I would recommend to anyone to start with — but there are many more.
Now, getting on to aesthetics …
When you are mounting your plants, there are a few issues to think about. One is avoiding the 'fruit salad', where you have one plant of this and one plant of that and one plant of the other. You may have one or two plants which are going to be your highlights, and you know your key plants that really make a statement, but, generally, a mass of just the one plant is often more in scale with your garden, and I think this applies particularly to growing plants epiphytically where a mass looks so much better.
Also, you need to think about how plants grow. For example, Tillandsia somnians just pups away at the top of the spike and goes up, up and away, but others, such as some aechmeas and billbergias send out stolons that just go straight up. When attaching them, they will need to be put where they can go up quite a way, for example a tree trunk. Quite a few of the stoloniferous neoregelias, such as Neoregelia pauciflora, just start hanging and scrambling down. They are good for branches that grow laterally, where they can form a 'curtain'. There are also other plants, such as many aechmeas, that, when you attach them the rhizome goes down. I find that Aechmea flavorosea, and a whole range of others, will sort of work their way down the mount and it's really quite a strange way of growing. There are also many aechmeas that, if you mount them on top of a laterally growing branch, they will actually grow down to the underside of it.
Then there is what I call the snaky type of plants, such as Aechmea orlandiana, which also tend to send their stolons under the branch and then pop out with a rosette on the other side. I've had some mistakes, such as using Aechmea orlandiana in a dry rock wall and the plant sent stolons between the stones and only about one in four of the rosettes would pop out into daylight.
Finally, some like Neoregelia compacta, just go straight out sideways, and I find that Aechmea nudicaulis is also a sort of sideways type of plant.
So, knowing how these plants grow can save you a bit of time as it took a few years for me to work out that Aechmea orlandiana is not a plant to grow on a dry rock wall.
The next thing to think about as far as aesthetics go is how you should view your plant. It's really crazy if you have something like a neoregelia or a nidularium which you want to look down into, and you put them on a branch at or above eye-level, because then you just won't see them flowering. They need to be placed on a lower mount so that you can look down into them.
We have certain plants where you have a little leeway. Vriesea hieroglyphica is a wonderful plant to look down on but is equally striking when you are looking at it sideways. Aechmea orlandiana is another plant like that, but it also looks good too when you look up at it because the light shines through and it has almost the effect of a stained glass window.
As far as displaying the flowers, I think that many bromeliads look better when they are mounted, particularly those with a hanging or reclining flower stem. While they may look lost or lopsided in a pot, get them up in a tree, and particularly once they form a big clump, they look just fantastic.
Plants like a beautiful vriesea, with very fine details on the leaf, need to be mounted where they can be seen up close, as beside a pathway, or on a mount where people can be encouraged to walk past and at a level where that detail can be appreciated.
Now getting on to preparation …
I think this is very, very important, and to do this I make sure I have a few of the same species so that I don't get the 'fruit salad' effect and I lift them out of the pot and the potting mix, placing them somewhere where I can water them. This encourages a different kind of growth and a different kind of root system, with the roots becoming much more dense and matted and also more rigid and harder. Then you gradually move the plant into the kind of light and conditions that they will experience on their final host plant.
Once mounted, I usually find that it takes another generation before they really become acclimatized to the changed conditions.
Attaching the plants …
I have a few ideas on this. There are all sorts of material people use but I would strongly recommend stockings, as they are just fantastic. I generally find that the common standard brands will last about two years; however, the better brands, like Schiaparelli and a lot of the European brands, will last for about five years.
The wonderful thing about stockings is that you can tie them tight and their elasticity is just fantastic. They will hold the plant firmly, even when the winds are blowing or possums or other animals knock the plants about. Some people use nylon or nylon rope, which may work for very small broms, and in Brazil I saw a lot of fine electrical wire used. However, they just do not seem to have the holding power that stockings have — they are what you need!
While I have seen numerous articles in books that suggest putting moss, potting mix or coconut fibre around plants to help them get established, I would say, whatever you do, don't do it, as I've found that it's dreadful for the plants and it doesn't help them. I think that if you can go through that period where you prepare them as above, and after being attached by the stocking around the plant rather than the root system, they start getting used to their existence on the tree and within a few weeks they know what to do and begin to attach right away.
Another thing to take into account is aspect, which is really important as different aspects can have a totally different effect on plants. A northerly aspect may be great for plants needing a bit more sun and warmth but can totally burn a plant that requires a shady, cooler position. I find easterly aspects are great, and even southerly aspects for certain plants, where they really thrive, but for me, in Australia, western is the really harsh burning side of a tree or mount and I find that the hardest to deal with.
Something else that might need to be studied is the actual placement on a tree. For example, there might be what I call rain trails or moss trails, because there is often a pattern that happens when it rains, and water will have established a path as it comes down the tree. Check after a rain and often there will still be moisture on the tree, or look for moss or lichen, which will give you an idea. Those spots are great for growing bromeliads as they are guaranteed to get moisture when it does rain. On the other hand, you may find that an overhanging branch protects an area from ever getting any benefit from the rain and so your plants may not thrive as well as they might.
Maintenance is critical for establishment …
Obviously watering is the main thing and it's surprising how fast the plants dry out when mounted, much more so than in a pot. Also, if you have them out in the open, where there is a bit of a breeze, you would be really surprised how much you have to top up. So keep the water up for the plant in its first couple of months as it really does make a difference.
As far as feeding goes, here are a few thoughts on this subject. Obviously a plant when it is mounted on a tree or where it's semi-natural does have more options to get various detritus. Birds put their droppings in, but I often spray with a very weak food, which helps the plants to thrive and seems to make just all the difference. Once the plant is established, some organic — or some recommended liquid food, at a very, very reduced rate — can be applied, although I would really only do this about a year later.
When it comes to pests, I find that probably my biggest pests are possums which have certain routes up trees, and where, if you place a plant on their kind of possum road, they get quite aggravated and they will rip the plant off or give it a hard time. Other than that, possibly grasshoppers are my biggest problem; however, I know that there would be local problems that you may have to deal with. What I do find is that you tend to get fewer pests when plants are mounted. We have a very big problem with pin spot scale in Brisbane and I find that virtually none of my mounted plants get it and I think that the improved growing conditions help the plants to be more resistant.
Then there are things like wind and storms and it is important to trial. I find that after a strong wind my big plants can get ripped off their mount because they are so heavy, but that tends to be unusual and I am continually surprised at the root systems the plants have and how well attached they become. You know that within a couple of years it's actually very hard to dislodge a bromeliad. You virtually have to cut it off the mount.
Finally, just a few thoughts as to growing your plants epiphytically …
I would say observe, see what other people are doing, or, if you have a chance, see how bromeliads grow in the wild. Experiment, as that's the only way you learn. You will have wins and you will have losses, but you have to keep at it, and believe me, the wins are usually more likely than losses. Sometimes things may not work and you will need to review things. Talk with people about it and just see what works and what doesn't work.
Some years ago, Joan Money, an Aucklander and writer for the Woman's Weekly, told me she always believed that gardening was like a game of chess. You're continually moving plants, and you have to move them at least three times before you get it right. I believe she is right, it's sort of like a chess game and you just have to keep at it, and eventually you hit the goal, where things really are worthwhile.

---
REPOTTING AND POTTING ON
By Peter Paroz.
(Article taken from Bromeliad Society of New Zealand Inc.'s Journal 'Bromeliad', March 2003 issue, Vol. 43 No. 3—with their acknowledgement to Bromeliaceae, and Queensland Bromeliad Society.)
When a plant outgrows its container, the question arises as to whether the plant should be repotted or potted on.
The first action is to gently tap the plant out of the pot and inspect the roots and the potting mixture. The ideal situation is where the potting mixture still looks fresh and well aerated with no breakdown, and the mixture is held in shape by a network of fine roots with white roots. This indicates that all is well and the plant can be potted on. If these conditions are not found, then a closer inspection is called for. If the roots have not filled the pot, then check the size of the pot, the quality of the potting mix and the watering schedule. If the roots lack white tips, this indicates lack of active root growth. The roots and mixture should be checked for insect pests: ants, mealy bugs or symphylids. (A magnifying glass is a great help — symphylids are small insects a little like miniature centipedes to about 1 mm.) If the mixture has broken down, causing water logging and poor aeration, check the composition of the mixture and its time in use.
In any of these latter instances, repotting of the plant is required. This involves washing the old mixture away from the roots and trimming away any old or dead roots. If insect infestation is apparent, drench the roots with an insecticide, such as Folimat. Repot, working the fresh mixture between the healthy roots. This will cause some shock to the plant but in the long run is better than doing nothing.
When potting on is appropriate, this involves putting the plant, with the root ball undisturbed, into a larger pot size and filling in the extra space with fresh mixture.
(Depending on the vigour of the plant, one or two pot sizes larger is appropriate.) Disturbance to the plant is minimal, and growth usually proceeds without interruption.
NZ Editor's Note: Looking after Mum …
After taking pups off, remember to look after the mother plant. Behind each leaf axil, there is a dormant eye or bud and after pups are removed the mother plant then decides which one of these she will allow to form, hopefully it will be from the bottom, but it could well be from somewhere near the top. If your mother plant has, say, twenty-six leaves, then theoretically you could expect twenty-six pups. Your mother plants become your breeding stock. If they are looked after, cleaned up, repotted, dead leaves removed, and given a special place in your collection, they will continue to reward you with further pups.
WARNING: TREATED PINE AND BROMELIADS DO NOT MIX!
After speaking recently with a friend who was heartbroken by the damage done to her bromeliads after placing them in a newly built shadehouse made of treated pine, I wondered if there might also be others out there who needed to know about the problems associated with treated pine.
The following is a report by Elaine Jones of New South Wales which appeared in the September/October 1992 issue of BROMELETTER, Vol. 30 No. 5, and although it was written over 10 years ago, the problem still persists.
In June, 1988 after several years living in rented houses in Sydney, we purchased a home in the suburb of Dundas. It was an old house needing renovation and after several months working indoors we started on the garden.
One of the requirements was a shadehouse for my bromeliads. As we were using treated pine in the landscaping we decided to use the same for a pergola/shadehouse.
Knowing that bromeliads are copper sensitive, I checked with the supplier as to whether there was any risk of the salts leaching from the timber. I was assured that problem only occurred if the wood was burned.
Everything went well for a few months until I noticed brown marks about the size of a one-cent coin at the base of some of my bromeliads. The affected spots gradually became "mushy" and sometimes could be removed by scraping out, each leaving a hole in the outer leaf. Removing the leaf entirely only made the next leaf more susceptible to the problem. If not removed, the mark spread across the leaf causing it to break off, revealing another spot on the leaf inside. Draining plants and flushing with fresh water seemed to delay the emergence of the marks but nothing stopped them appearing.
To add to the confusion, not all plants were affected. Tillandsias which were growing to one side and not directly under the frame were quite healthy. Nidulariums didn't seem to show as much damage as Neoregelias. Other pot plants were unaffected and a tub of parsley needed a lawn mower over it every week to keep it under control. The vase-shaped bromeliads seemed to suffer most and the tough-leaved genera most of all, particularly Neoregelias and Billbergias. Tillandsia usneoides hanging on pots was not affected but where it was in direct contact with the timber it desiccated and died.
Eventually I felt I should again contact the timber suppliers to see if they could shed any light on the problem. They assured me that nothing in their timber would be the cause. They explained that many vegetable growers used their product without adverse effects to plants or consumers. Finally I took some of the affected plants to them and they analyzed water samples. Their findings were that the levels of salts in the water were not above the accepted levels and could not help me any further. Meanwhile, plants were still dying. Pups would appear, grow quite normally until they reached a reasonable size, and then begin to develop the same trouble as their parents. Even newly purchased plants would show signs of damage within a few weeks.
We then decided to move to the Central Coast, so we gathered all our plants and put them in shadehouses already standing on the property. These were built of hardwood and the survivors and bromeliads purchased since then are now doing fine. Admittedly, some of the leaves have grown with holes in them where I was able to remove damaged parts, but after 18 months the problem has not re-occurred.
I feel there may have been several reasons for the damage. The shadehouse was a new structure and any excess salts on the surface of the timber had not washed away. We had extremely wet weather during this time which may have caused abnormal leaching of the salts. However, my advice is - DO NOT USE TREATED PINE NEAR BROMELIADS.
Another article written by a John Moreland (Bromeliad Society of New Zealand's Journal, "Bromeliad", March 2003 issue, Vol. 43 No. 3.) told a similar story and it was footnoted by the editor of the New Zealand Journal, Gerry Stansfield, who wrote:
There are a number of other materials one can use for construction and these will vary depending on just how much you are prepared to spend. They all come with their own advantages and disadvantages and, of course, the cost factor is an issue. However, do not entirely rule out treated timber construction. It will be the cheapest by far, and the easiest to work with, and it will almost last forever, but the downside is the treating.
Because the copper cyanide treatment is DEATH TO ALL BROMELIADS it is imperative that the timber is properly sealed. There are a number of proprietary lines available and your local Hardware/Paint DIY can advise. Fence stain is no good. After sealing, two good top coats of enamel paint should be applied, making sure the ends of the timber are also coated to stop the timber from bleeding. Don't be fooled into thinking that old treated timber will not leach out. This is not true, and it could even be worse, as much stronger 'brews' were used in days gone by. Regard all treated timber, both new and old, as requiring special treatment before putting your precious bromeliads under it.

---
WHERE BROMELIADS REALLY COME FROM
By Tom Koerber, Berkeley, California
(Article reprinted from the Journal of The Bromeliad Society, Vol. 47(1), January-February, 1997)
Readers of this Journal (BSI) know that most bromeliads in cultivation originate in Central and South America and more knowledgeable readers would know that Tillandsia cyanea, for example, is native to the low elevation forests of Ecuador. However, it is very unlikely that a Tillandsia cyanea you bought from your favorite plant dealer came from Ecuador. It is much more probable that it started life in a large commercial greenhouse in Holland or Belgium.
The largest of these bromeliad producers is Corn. Bak B.V. located at Assendelft, near Amsterdam, Holland. On a recent trip to Europe, my wife and I made a point of stopping by that firm to see where many of our favorite bromeliads really come from.
Corn. Bak is a family business founded by Cornelis Bak in 1929. Initially it was a general nursery producing flower and vegetable plants for the local market. In 1958 his son, Jacob Bak, started specializing in bromeliads. Since then Jacob's son Peter and daughter Elly Bak have been added to the management team and the business has grown until at present a staff of 65 people produces between 18 and 20 million bromeliad plants per year.
Hybrid guzmanias are a major specialty with 22 cultivars (including 9 patented varieties) in production. These include Guzmania 'Samba', G. 'Morado', and G. 'Torch'. Seven Vrieseas including V. 'Splenriet', V. 'Poelmanii' and V. 'Elan' are offered along with 20 varieties of Tillandsia including long-time favorites T. cyanea and T. dyeriana. The popular Aechmea fasciata 'Morgana' is also a high-volume component of production. Most plants are grown from seed with meristem culture providing a minor amount of production.
Located on the North Sea at 53 degrees north latitude, Holland does not have a very favorable climate for growing tropical plants such as bromeliads. Winter days are short and cool. Cloudy weather prevails much of the year. Offsetting the inherent climatic disadvantages requires large capital investments in facilities and equipment and a lot of ingenuity. The production facilities at Corn. Bak B.V. consist of 320,000 square feet (7.35 acres) of climate-controlled greenhouses. A large natural gas-fired heating plant brings temperatures in the greenhouses up to the required tropical levels. A system of electronic sensors located throughout the greenhouses and also outside is linked to a computer system that holds the temperature, humidity and light within the greenhouses at predetermined levels. Reversible electric motors open and close roof vents and adjust the position of shade curtains. During dark winter periods supplementary light is provided for especially light sensitive seedlings. The computer also keeps a continuous record of conditions within the system.
Producing millions of plants with a closed system requires constant vigilance to avoid devastating pest outbreaks. Biological control is employed in the form of predatory nematodes added to the growing medium.. Constant pest monitoring and selective pesticide applications detect and eliminate any pests before they become serious problems.
Although Corn. Bak B.V. produces 18 to 20 million bromeliads per year, you have probably never seen one of their labels in a bromeliad pot. The reason for this is that nearly all the plants produced are marketed to other growers as seedlings. The seedlings are sold in Styrofoam flats that, depending upon the variety, hold from 100 to 250 plants each. Plants ready for sale look more like patches of especially lush lawn than familiar bromeliads. The seedlings are sold to commercial growers who transfer them to pots and grow them on to maturity, requiring from eight months to two years, depending upon the variety. The mature plants, usually in spike, then reach the retail market carrying the label of the commercial grower who grew them on. The location of the Corn. Bak nursery, just a few miles from Schiphol International Airport, enables them to deliver shipments anywhere in the world within 72 hours. In keeping with a worldwide client roster the Corn. Bak catalogue and detailed growing directions are printed in five languages.
The staff at Corn. Bak is constantly working to improve production methods. There is a continuous research program investigating growing conditions with the objective of producing uniform, strong, fast-growing plants. There is also a very active hybridization and selection program. At any time there will be eight to ten new varieties under development. New, soon-to-be-marketed plants include such items as a spineless Aechmea fasciata and a new Tillandsia cyanea variety which has an inflorescence that glows like a neon light. Peter Bak is especially interested in developing new Guzmania hybrids. To that end he makes several collecting trips to South America each year in search of new breeding stock. A special greenhouse section houses a large selection of breeding tock and large numbers of new crosses under evaluation.
It's proper to remember that bromeliads originate in Central and South America and to appreciate the efforts of the intrepid explorers and collectors who brought them into cultivation. I hope you will also appreciate the hard work and ingenuity of those folks in Holland who do such a fine job of producing and making them readily available.
---
Click HERE to return to Illawarra Bromeliad Society "Club News Page".
---
---
Updated 23/01/05
---