ILLAWARRA BROMELIAD SOCIETY Inc.
Club News.
---
Click HERE to return to Illawarra Bromeliad Society "Club News Page".

---
NEWSLINK
July 2017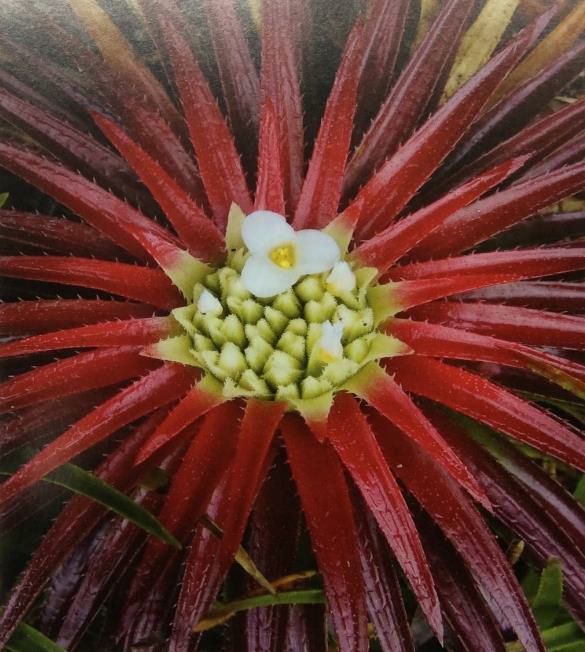 Sincoraea mucugensis – Photo Rafael Louzada – BSI 66(1)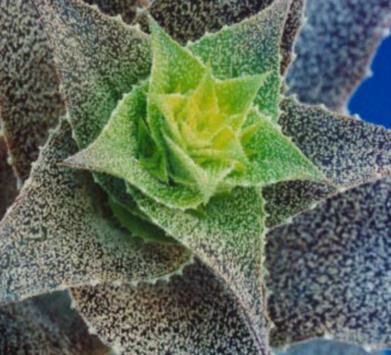 Orthophytum 'Warren Loose" – Photo: Ross Stenhouse
---
- Articles appearing in this issue of NEWSLINK are for information purposes only and are not necessarily endorsed by the Committee or the Illawarra Bromeliad Society.
- The Society is, by the holding of meetings, displays and competitions, to provide a forum for the people of the Illawarra region who are interested in the culture and collection of bromeliads.
- Under the provisions of the Privacy Act, use of names and references to private details, such as illness, holidays, birthdays and items of a similar nature, may only be published with the written permission of the person concerned.
---
NEWS IN BRIEF:
MONTHLY RAFFLE PRIZE ROSTER:
- July - Max Williams, Mary Bennis, Doreen Netting, Noel Kennon
- August - Neville Wood, Melissa Talbot, Lydia Chinnock, Rhonda Grant
- September - Lorraine Mirande, Graham Bevan, Jack Crutchley, Jan Stammers
- October - Beth Clague, Barbara Jones-Beverstock, Ted Clare, Steve Wain
- November - Noel Kennon, Michael Drury, Deniece Crutchley, Maadi McKenna
- February 2018 - Fred Burrows, Monica De Clouett, Meri Stefanidakis, Maria Jakobsen
---
MEMBERSHIP RENEWAL:
Fees were due and payable by June 30th and, hopefully, to make it more convenient for our members who do not attend meetings on a regular basis, we have arranged for a direct transfer system to make payment. Our bank details are:
Illawarra Credit Union; BSB Number 802249; Account Number 249 039 602.
---
LUCKY DRAW PRIZE:
At every monthly meeting for the rest of this year and for 2018 a bromeliad plant will be won by a fortunate member as the Lucky Draw Prize. The name of the winner will be drawn from the names of all members but must be present to collect the prize. Should the member not be present another name will be drawn.
---
ANNUAL GENERAL MEETING AND ELECTION OF OFFICERS:
Notice is hereby given that the Annual General Meeting and Election of Officers of the Illawarra Bromeliad Society Inc. will be held on Saturday, August 5th. Nominations for office-bearers and members of the committee are to be lodged with Ann or Barbara who will have the relevant forms available at our July meeting.
---
WORKSHOP #2 – Saturday, July 15 – PLEASE NOTE CHANGE OF VENUE:
This workshop will now be held at Sharyn Baraldi's home [25 Antrim Avenue, Warilla]. We will start at 10.00 am and finish around 2.00 pm. Bring your own lunch, and cake or slice to share for morning tea and lunch. Sharyn will provide tea and coffee.
The workshop will be concerned with "Preparing Entries for Artistic Category II" in the Show. The tutors will be Elizabeth Bevan and Sharyn Baraldi. All you need to bring is your interest, questions and a notebook and pen for the answers.
---
GENERAL MEETING/ANNUAL GENERAL MEETING – Saturday August 5th:
For the General Meeting there will be no presentation but all other activities will be as usual. The Annual General Meeting will be held following closure of the General Meeting and will comprise: Minutes of the 2016 AGM, President's Report, Treasurer's Report and election of Officers and the Committee for 2017-18.
---
WORKSHOP #3 – Saturday August 12th – CHANGE OF DATE AND VENUE:
This workshop will be held at the home of John Toolan, 5 Rondanella Drive, Kanahooka. We will start at 10.00 am and finish around 2.00 pm. John will provide a sausage sizzle for lunch but you are asked to bring cake or slice for morning tea and lunch and salads to share for lunch. John and Rita will provide tea and coffee.
The workshop will be concerned with "Preparing Plants for the Show" with tutors Neville Wood, Graham Bevan, and Ann and Noel Kennon. You need to bring a hat in case of sunny weather, questions, plants you might want to enter in the competitions and a notebook and pen.
---
GENERAL MEETING – Saturday September 2nd – "Bromeliad Terms" – presented by Neville Wood and Ann Kennon.
This presentation will be concerned with providing members with explanations of the myriad terms that are used in the descriptions and naming of bromeliad plants. Neville will explain the terms and Ann will tell us how plants' names are correctly written.
---
ANNUAL SHOW – September 9 – 11 – see back pages for details
---
GENERAL MEETING – Saturday October 7 – "Unusual Genera" – Display and discussion led by Steve Wain
---
VALE - PATRICIA (PAT) ALTON
It is with much sadness that I report the passing of Pat Alton who died on April 5th after a long and brave battle with cancer.
Pat and her husband, Tom, joined our Society in its very early days but Tom had been hybridising and growing from seed well before then, having a collection of bromeliads numbering around 3,000. Pat had always been a gardener, coming from farming stock in England (her son tells the story of her digging potatoes from the garden while watching bombs raining down on the nearby town) and competed in garden competitions in the Campbelltown/McArthur Districts where she took out many awards, including "Best Garden" in the McArthur District. I can remember stopping off at her home in Wedderburn on one of our bus trips shortly after one of these competitions and her garden then was a picture and an inspiration.
After Tom's too early death Pat dropped out of society activities for a few years, but returned in 2003, when she used to travel with her friends, Joan and Eric Jordan, to our meetings when they were held in the Wollongong Botanic Garden.
I will remember Pat as a very kind and nurturing person whose gifts and thoughtfulness benefited many, including our Society. She will be missed greatly by her family and friends.
~
---
UPCOMING EVENTS :

| | |
| --- | --- |
| September 9-10 | ILLAWARRA BROMELIAD SOCIETY SPRING SHOW – Uniting Church Hall, Russell Street, CORRIMAL |
| September 23-24 | BROMELIAD SOCIETY OF AUSTRALIA – SPRING SHOW CASTLE HILL SHOWGROUNDS – Sat 9am–4pm/Sun 10am–3pm. Cash Only! |
| September 23-24 | KARIONG PLANT LOVERS FAIR Kariong Mountains High School. See www.plantloversfair.com.au |
| Sept 30-Oct 8 | LEURA GARDENS FESTIVAL Open daily 9.30 am to 4.30 pm. All gardens $25/$8 indiv. Further information: leuragardensfestival.com.au/Phone: 0431 095 279 |
| Oct 12-15 | BERRY GARDENS FESTIVAL 10 am – 4 pm $20 for 8 gardens (may be used over the 4 days/$5 indiv. gardens. Free for children under 18. berrygardens.org.au |
| Nov 11-12 | BROMELIAD FAIR Concord Senior Citizens Centre, 9-11 Wellbank Street, Concord. Saturday 10 am – 4 pm/Sunday 9 am – 12 noon EFTPOS/VISA/MASTERCARD available |
---
MONTHLY PLANT COMPETITION RESULTS:
April 1,: Plant Results
OPEN
1st = Gary Claydon = Guzmania conifera
2nd = Gary Claydon = Aechmea 'Del Mar'
3rd = Neville Wood = Neoregelia 'Ladd's Gem'
3rd = Yvonne Perinotti = Billbergia 'Fred Gerber'
NOVICE
1st = Anne Mobbs = Guzmania 'Sunnytime'
2nd = Anne Mobbs = Guzmania hybrid
---
May 6, PLANT RESULTS
OPEN
1st = Lydia Chinnock = xSincoregelia 'Galactic Warrior'
2nd = Suzanne Burrows = Guzmania sanguinea 'Tricolor'
3rd = Noel Kennon = Cryptanthus (a large clump in a terracotta pot)
NOVICE
1st = Anne Mobbs = xSincoregelia 'Ralph Davis'
2nd = Michael Drury = Neoregelia sarmentosa X chlorosticta
3rd = Michael Drury = Neoregelia 'Lambert's Pride'
TILLANDSIA and allies (Barfussia, Josemania, Lemeltonia, Racinaea, and Wallisia)
1st = Lydia Chinnock = Wallisia cyanea
2nd = Suzanne Burrows = Wallisia cyanea
3rd = Noel Kennon = Tillandsia punctulata
---
June 3, PLANT RESULTS
OPEN
1st = Neville Wood = Neoregelia 'Royal Pepper' *
2nd = Noel Kennon = Cryptanthus 'It'
2nd = Jørgen Jakobsen = Vriesea
2nd = John Toolan = Billbergia 'Curly Top' x leptopoda
2nd = John Toolan = Neoregelia 'Purple Glaze'
3rd = Neville Wood = Guzmania 'Ice Cream'
NOVICE
1st = Michael Drury = Vriesea 'Evita'
2nd = Michael Drury = Neoregelia 'Apricot Nectar'
3rd = Anne Mobbs = Aechmea gamosepala 'Lucky Stripes'
TILLANDSIA and allies (Barfussia, Josemania, Lemeltonia, Racinaea, and Wallisia)
1st = Noel Kennon = Tillandsia punctulata
---
PLANTS BROUGHT TO OUR JUNE 2017 MEETING:
* Neoregelia 'Royal Pepper' [N. 'Pepper X 'Royal Flush']: In the 2006 Revised Electronic Version of The Bromeliad Cultivar Registry I found that this plant, circulating in Western Australia [and apparently New South Wales] under the parentage formula—N. 'Pepper' X 'Royal Flush'—has now been given the cultivar name of N. 'Royal Pepper' by the registrar, Geoff Lawn. However, there is little detail, the hybridist and origin being unknown.
Guzmania 'Ice Cream': This somewhat miniature guzmania comes from the Corn. Bak Nursery (Netherlands) and dates back to some time before 1987. It is a cultivar of the form of G. lingulata var. minor with bold variegation—wide, deep green margins and clear ivory centres. There is a clear and pronounced contrast between the white and the green, and the inflorescence is orange-red and long-lasting. 'Ice Cream' has bolder and more intense variegation than the other cultivar, G. 'Ice Milk' which is described in the BCR as: "Thin leafed upright arching rosette of green edged cream leaves—upright type inflorescence in red with white flowers.
---
BROMELIAD CULTIVAR REGISTRY GENERA CHANGES: ORTHOPHYTUM/SINCORAEA
Extracted and reprinted from Far North Coast Study Group Newsletter, April 2017
The following is a list of new bigeneric name changes compiled by Geoff Lawn, BSI Cultivar Registrar, March, 2017. I.C.N. Rules (Melbourne Code 2011) Article H.6, Clause H.6.2: The nothogeneric name of a bigeneric hybrid is a condensed formula in which the names adopted for the parental genera are combined into a single word, using the first part of the whole of one, the last part or the whole of the other (but not the whole of both) and, optionally, a connecting vowel. [Examples include: x Guzgoudaea; x Vriesgoudaea; x Vrieslutheria; x Barvriesea; x Guzlutheria; x Luthandsia; x Racindsia; x Wallandsia; x Walfussia; x Zizkagoudaea; x Sincortanthus; x Nidusincoraea; x Sincorphytum; x Sincoraechmea]

| | | |
| --- | --- | --- |
| Old Name | New Name | Hybrid |
| x Neophytum | x Sincoregelia | 'Andromeda' |
| x Neophytum | x Sincoregelia | 'Aurora' |
| x Neophytum | x Sincoregelia | 'Blushing Bride' |
| x Neophytum | x Sincoregelia | 'Burgundy Hill' |
| x Neophytum | x Sincoregelia | 'Burgundy Thrill' |
| x Neophytum | x Sincoregelia | 'Cosmic Blast' |
| x Neophytum | x Sincoregelia | 'Ecstasy' |
| x Neophytum | x Sincoregelia | 'Firecracker' |
| x Neophytum | x Sincoregelia | 'Galactic Warrior' |
| x Neophytum | x Sincoregelia | 'Gary Hendrix' |
| x Neophytum | x Sincoregelia | 'George H. Anderson' |
| x Neophytum | x Sincoregelia | 'Lisanne Kiehl' |
| x Neophytum | x Sincoregelia | 'Lymanii' |
| x Neophytum | x Sincoregelia | 'Medalist' |
| x Neophytum | x Sincoregelia | 'Mollie S.' |
| x Neophytum | x Sincoregelia | 'Ralph Davis' |
| x Neophytum | x Sincoregelia | 'Rising Tide' |
| x Neophytum | x Sincoregelia | 'Shiraz' |
| x Neophytum | x Sincoregelia | 'Supernova' |
| Orthophytum | Sincoraea | 'Andrea' |
| Orthophytum | x Sincorphytum | 'Blaze' |
| x Orthotanthus | x Sincortanthus | 'Blazing Bonsai' |
| x Orthoglaziovia | x Sincorglaziovia | 'Rosita' |
| x Ortholarium | x Nidusincoraea | 'Selby' |
| x Orthomea | x Sincoraechmea | 'Powderpuff' |
---
SPECIES CHANGES: ORTHOPHYTUM/SINCORAEA
Reference: BSI Journal Vol. 66(1) pp. 6-19 (Jan-March, 2016)
Extracted from Bromeliaceae, J. BSQ, Vol. LI Second Quarter 2017
From Geoff Lawn: "Only [the following] 11 Orthophytum species are reclassified as Sincoraea species—all are "sunburst" types with sessile inflorescences (no stem or peduncle), in contrast to the "pedunculated" (visible flower stem) of other species in the genus Orthophytum. A key to Sincoraea species is present in the BSI Journal, botanical descriptions of all 11 species and their synonyms.
Species changing to Sincoraea are: albopicta; amoena; burle-marxii; hatschbachii; heleniceae; humilis; mucugensis; navioides; ophiuroides; rafaelii; ulei.
---
BROMELIAD EXPOSE: ORTHOPHYTUMS
By Larry Giroux
Reprinted from Gold Coast Bromeliad Society's Bromlink, January-February 2009, in turn reprinted, in part, with permission from the Caloosahatchee Bromeliad Society's newsletter, Meristem, September 2007.
The genus Orthophytum was first named by Beer in 1854. The name comes from the Greek—ortho, which means straight, and phytum, which means plant; the entire name refers to the erect inflorescence. Since the mid-1800s, when this genus was given its name, several additional species have been included in this group, whose appearances no longer adhere to the meaning of their genus name.
That being said, the majority of plants of this genus have an upright inflorescence which bears the floral bracts and flowers. These tend to have soft spines along the edges of the easily fractured leaves. The stalk of the inflorescence is usually 6 to 15 inches (15 to 30 cm) tall with small rosettes of floral bracts with predominantly white-petalled flowers. Pale and bright green petals are found on a few of this group of species.
In contrast, there is a small group which have the flowers and floral bracts nestled in the centre of its flattened rosette [this group recently moved to the genus Sincoraea—Ed.]. This group has been considered to include some of the most eye-catching bromeliads. Most have 40 plus narrow pointed leaves edged with sharp, hard spines. At blooming, the centre of the plant, and sometimes the entire flattened rosette, can flush with red, rose, pink or coral leaves with similar shaded floral bracts. The visually contrasting white flowers draw pollinators from miles away.
There is a third set of plants in which the inflorescence is only slightly elevated above the rosette and has a spreading growth habit. One of these is Orthophytum supthutii. It is very unique in that it has large yellow flowers within the centre of a green rosette that does not change colour at anthesis. For nearly four decades after its description was first published it was considered to be a cryptanthus.
The natural habitat of these terrestrials mimics closely that of another terrestrial genus, Cryptanthus. The 35 or so species grow from sea level to about 3000 feet (900 m) along the north and central eastern coastal areas of Brazil. Orthophytums tolerate cold better than their closest relatives—the Cryptanthus—and if provided sufficient moisture will endure higher temperatures.
Orthophytums require as much moisture as do Cryptanthus and are usually found growing in moist areas near rivers, streams and waterfalls. Although they may be found clustered on rocky ledges basking in the sun, these environmentally hostile areas during the dry season are most likely watered by mountain mists. On a recent trip to this area of Brazil I did note species of Orthophytums growing on rocky outcrops where they were receiving infrequent waterings; in addition, I also saw Orthophytums growing along the dusty roadside among cacti.
Some horticulturists consider many bromeliads, including Orthophytums, as semi-succulents or succulents. Penrith Goff, of the S.E. Michigan Bromeliad Society, has answered the question "What is a Succulent Bromeliad?" "Logically, any bromeliad capable of storing large amounts of water in the leaves is a succulent. Thus it is fair to call the atmospheric Tillandsias, the air plants, succulent, as J. Riha and R. Subik do in their book, The Illustrated Encyclopaedia of Cacti and Other Succulents (London: 1992). However, the term succulent has become so closely associated with earth-bound desert dwellers that we will use the term for those terrestrial bromeliads which have developed succulence as an adaptation to a hostile climate (sunny landscape) to which they have adapted. In general they do not develop the degree of succulence which is common to agaves and aloes, yet there are many which can easily be mistaken for these because the plant structure is so similar."
Orthophytums, especially from the States of Minas Gerais and Bahia, Brazil, along with other terrestrial bromeliads such as Encholiriums, Cryptanthus and Dyckias, have adapted using succulence for survival during their winter months of June, July and August when the only moisture is mountain mists, fog or the rare rainfall. With consideration of their natural habitats, for optimal growth of this terrestrial genus a medium which is able to retain moisture while still able to drain well should be utilized. I have noticed, however, that there is a slight difference in the type of growing medium preferred by most of the Orthophytums and that small group, which includes Orthophytum (Sincoraea) burle-marxii, which has an inflorescence nestled in the centre of its rosette. In habitat these plants were noted growing in rocky ground with their roots invading the crevices of the rocks. The soil at locations where others were growing was more sandy or coarse than the loamy soil one would expect; this suggests that these prefer a less water-retentive mix in cultivation. This will prevent the biggest problem with growing the group—rot! Epiphytic mixes are, however, to be avoided.
Orthophytums, like Cryptanthus, are fertilizer hogs. A time-release formula such as Nutricote—either 6 or 9 months—is ideal, with an occasional soluble ¼-strength dosing of something like Peters for good measure. The desire for N-P-K is so great with Orthophytums that we see with bigenerics of Orthophytums and Neoregelias (Neoregelias routinely should not be fertilized due to loss of colour and lanky growth) that these hybrids such as x Neophytum [now x Sincoregelia] 'Galactic Warrior', flourish with heavy feedings.
Once you have the aptness of growing these variable plants they will reward you with offsets on the scape, from underground stolons, and from the base of the mother. Seeds are easily set from species or new hybrids.
To date bigeneric crosses have been made with Aechmeas (x Orthomea—now x Sincoraechmea), Cryptanthus (x Orthotanthus—now x Sincortanthus), Neoregelias (x Neophytum—now x Sincoregelia) and Nidulariums (x Ortholarium—now x Nidusincoraea); many are worth owning.
So, with water, fertilizer, sun and a selective growing medium for the type of Orthophytum [Sincoraea] you have, you can easily grow and enjoy for generations this unusual and quite distinct group of plants, either outdoors in the warmer climates or indoors in seasonal areas under lights.
---
ORTHOPHYTUMS ARE EXTRAORDINARY
By Carol Johnson, Longwood Florida. (Reprinted from J. BSI, January-February 1999, Vol. 49(1))
Orthophytums respond more readily to light and culture than probably any other of the bromeliads. Generally quite spiny with brittle leaves, the plants (according to the Brazilians) are related to Cryptanthus, but have a more pronounced bloom spike and elongated growth. Their native habitat is primarily in the states of Bahia and Minas Gerais, Brazil. These are areas which suffer harsh, dry conditions much of the year. However, here in Florida at least, any attempted or accidental exposure to drought conditions results in dismal failure for the plants. Over the years I have become convinced that the plants stall during our cold months, yet our recent cool, wet November has resulted in miraculous rejuvenation of all my orthophytums. In the last 10 years Brazilian collectors have brought us several new species and there are probably many more yet to come. Beware of seedlings. When grown on the same bench, orthophytum species have a tendency to cross-pollinate with like forms and produce some weird progeny. I use a heavy, rocky mix and fertilize heavily at least once a year. Favourite species include:
Orthophytum alvimii, an erect form with the bloom carried on a fairly tall bright red stem. The flowers are white. It is fairly new to cultivation and pups freely, but is not stoloniferous.
Orthophytum (Sincoraea) burle-marxii has an open, low rosette with brilliant red centre leaves and white flowers. It is not easy to grow and has a tendency to get progressively smaller with each generation of offsets, at least in Florida. I work a little lime into the pot periodically.
Orthophytum glabrum does very well in Florida. It has a raised bloom spike, is extremely stoloniferous, and is a beautiful, glistening red in the summer sun. Too much fertilizer destroys foliage colour. This species is larger than most.
Orthophytum gurkenii caused quite a stir when it was introduced into cultivation. In 1983 I was offered a tiny plant of this species for $US220. Now, 14 years later, nearly everyone has it. It is a large plant with brown and silver wide foliage and a tall chartreuse bloom spike bearing tiny white flowers. The plant self-seeds liberally, but seedlings should be selected out carefully to avoid perpetuation of inferior forms.
Orthophytum fosterianum has softer spines than most of the Orthophytums, but reminds me of the old "walking iris" as it puts out a stolon, the end of which forms a new plant when it becomes heavy enough to touch the soil. It drops to the ground, roots, and moves on with another stolon. These plants are very tough. I have yet to lose one to cold, though they have succumbed to drought.
Orthophytum (Sincoraea) navioides is a low-growing, open rosette type which I find difficult to grow in Florida. Perhaps it likes air and soil with similar humidity to thrive. O. navioides is the seed parent of several beautiful bigeneric x Neophytums.
Orthophytum saxicola is in nearly everyone's collection. "Saxicola" means "growing on rocks", but that has not worked out for me. I tried growing it on a piece of feather rock but the plants all died. Otherwise, the plants are prolific, colourful and tough as nails. I use this small plant sometimes to grow around the base of tubular plants in larger pots to keep the weeds down. There is a variegated form available.
Orthophytum vagans is another of the tall, stoloniferous forms. Its lower leaves regularly deteriorate and expose definite sections of stem-bearing roots. The plant can be broken off and the sections planted to produce new stock. It has a distinct tendency to sprawl and soil does not seem to support the stem. It turns fiery red, with fairly large (for the genus) white flowers. There is also a variegated form of this plant.
Hybrids in my collection include Orthophytum (x Sincorphytum) 'Blaze' (O. vagans X S. navioides) by Nat DeLeon and Orthophytum 'Copper Penny' (O. saxicola X O. vagans) by Hendrix, which is a really great dish garden plant.
---
REMOVING AND REPOTTING ORTHOPHYTUM OFFSETS
By Narelle Aizlewood, Queensland
(Reprinted from the Gold Coast Succulent and Bromeliad Society Inc.'s Bromlink, April-June, 2003)
Orthophytum is a small genus of semi-succulent plants that grow in clusters on rock ledges. The name refers to the erect inflorescence.
The plant shown was Orthophytum 'Starlights'—a hybrid done by Margaret Paterson at Gympie. Orthophytums are a little unusual in that not only do they offset at the base of the mother plants, as do most bromeliads, but they also produce offsets from the flower head after the flowering. Offsets should be approximately 70 mm long and be a well-formed rosette.
To remove the offsets from the flower head, simply pull away in a downward motion. Do a general tidy up of the offset by removing the prickly leaves on the base of the stalk. The potting mix we use is a mixture of fine bromeliad potting mix (bark, charcoal, perlite and peat moss) mixed with a commercial potting mix, probably in a proportion of two parts bromeliad mix to one part regular potting mix, with a little slow-release fertilizer added in.
After planting the exposed stalk into the mix, we then secure the plant to the pot with four or more rubber bands. The bands help to secure the plant and hold it in place until the small offset takes root and steadies itself. Without the bands in place you will most probably find that the plant is pushed out of the pot and becomes unstable, thus not allowing roots to form.
These are very interesting plants to grow, always generate a lot of interest in the garden, and would be an asset to anyone's collection.
This little trick was shown to us by Rhonda Symonds of Bundaberg on one of our trips north.
---
MISSING NAME TAGS
By Neville Wood, Illawarra Bromeliad Society
Where I live in the Illawarra there's a local native bird called a Satin Bower Bird which is well known for its habit of stealing and collecting all things blue.
Unfortunately, the Bower Birds in my area have also developed a liking for white plastic name labels of the type used by bromeliad growers. In a single weekend I had all the name tags vanish from my collection of Aechmea orlandiana plants and it was just pure luck that I actually saw a Bower Bird with one in its beak, otherwise I never would have suspected it as the culprit.
To overcome this problem initially I pushed the labels right down below the surface of the potting mix, but it quickly became apparent that this was very much an inconvenience to me and I had to think of another more practical solution.
I had noticed that a couple of the plants still had their name tags and, on checking, I found these were temporary improvised tags I had once made out of old aluminium Venetian blind slats one day when I ran short of my usual name tags.
It seemed that the Bower Birds didn't like the aluminium tags so ever since then I have always made and used tags made from recycled aluminium blind slats, and never lost a name tag since. I use a fine, permanent, overhead projection marker to write the names which I find will remain quite legible for at least five to seven years.
These birds are indigenous to the East Coast of Australia from southern Queensland to Victoria so if you live on the coast of New South Wales there's a chance there may be some in your area. If you don't live in this area and have a disappearing name tag problem, don't dismiss the idea of another different type of bird with similar habits as being the culprit.
---
SOMETHING TO PONDER!
Extracted [with permission] from Andrew Steens' book, Bromeliads, the connoisseur's guide (2007)
[First published by Random House in New Zealand and in Australia by Florilegium, St John's Road, Glebe, NSW. Advised by the publisher that this book is now out of print.]
? Growing Bromeliads in a Subtropical Landscape:
"Although I have given it the most attention, and deservedly so, light is not the only factor of importance in the subtropics. In many subtropical regions around the world water is critically important, over and above the requirement of all plants for a regular supply. Subtropical and tropical regions can have extremely heavy rainfall at certain times. This tends to wash nutrients and organic matter out of the soil, and where the natural forest cover has been removed, as in most suburban areas, the resulting soil can be heavy and poor in nutrients. In temperate regions, soils are often richer and more amenable to growing bromeliads directly in them. In subtropical regions it is often easier, particularly in new gardens that have not built up a mulch layer, to keep the bromeliads in their pots and bury these in the soil or in bark.
With their ability to be grown for months or even years in a pot without having to be constantly repotted, fertilised and titivated like many other plants, bromeliads can be shifted in and out of a garden display with ease.
This technique is widely used among bromeliad enthusiasts in all climatic zones. In warm regions, it has the advantage of being able to shift plants around to cope with increasing light levels as the season changes, while in colder regions the shifts are done in response to dropping temperatures. Plants can be taken out of the greenhouse during the warmer months and put back in during the colder months. Old mother plants can be easily removed and tucked away out of sight, and plants can be layered in front of each other for maximum effect. There is also nothing like showing off your best plants in one fabulous display!"
---
THE ILLAWARRA BROMELIAD SOCIETY'S 25TH ANNUAL SPRING SHOW, SEPTEMBER 8 – 10, 2017
Yes, this year we celebrate the holding of our 25th Annual Show and I believe it is something to be celebrated as our early members really got things up and running very quickly, our Society having only been formed in March of 1992. I do hope that our newer members won't be frightened off at the idea of competing because there have been some absolutely gorgeous plants entered into our monthly competitions in the Novice section. Also, our workshop at John and Rita Toolan's home on Saturday, August 12th will be geared toward helping members with any questions or concerns they might have regarding entering plants into competition and 'old hands' like Neville, Graham, and Ann and Noel Kennon will be there to impart their help and advice.
For our newer members, I feel that show time is a very good opportunity for our members to get to know each other better and there are all types of jobs going over the 3 days—from setting up the display and competition and sales tables (from 9.30 am on the Friday) to packing up on the Sunday afternoon. As we provide tea/coffee/cakes/slices to visitors (plus lunch for workers and judges) on the Friday and Saturday, providing goodies and/or some time in the kitchen could be one way of helping, or manning the information and raffle tables another. Sales plants are always welcome and we also need plants suitable for the display area. It goes without saying that we also need your lovely plants entered into competition.
Below I have extracted some "Instructions to Exhibitors" from The Handbook for Judges, Affiliates & Exhibitors, Revised August 2012 which includes much of the information passed on by Edwina and Laurie in their very interesting presentation in June on "What Judges Look For".
* Before the judges ever view the plant(s) exhibited in the show, every plant there has been judged by the plant's first and most critical judge, THE EXHIBITOR, who selected it and deemed it worthy of competition. This section is written for you, the exhibitor, to help you wisely evaluate what plants constitute your best entries, and to show you how you can increase their chances of winning.
* Judges begin their evaluation of a plant by assessing condition. Condition is considered under Cultural Perfection and simply means that the actual physical state of appearance at the time of judging is evaluated. Under condition, judges penalize artificial plant shine, bruising, immaturity, age, weather and insect damage, soil and uncleanliness of foliage, torn or brown-tipped edges, dried or old florets, cracked, dirty, salt-stained or algae-stained pots, leaves or weeds, over-grooming, such as trimming of leaves with no finesse, and lack of trimming of brown tips on leaves when, and if, needed.
* The exhibitor can do much to improve and refine the appearance of his plant in advance. Start at least two weeks before the show and evaluate the possible entries. Look at the plants critically to find one that has symmetry, good sheen to its foliage (if applicable), clear, rich colour and markings, and is of a size and appearance that conforms to the description of that particular species or hybrid. Is it centred in the pot? Does a pleasing proportion exist between the size of the plant and the size of the pot? Is the pot clean and intact? Is there damaged foliage? If so, can it be trimmed carefully so that the conformation of the plant doesn't suffer? If leaf damage is relatively minor take a small scissors and trim the leaf so that its new shape resembles the leaves of that variety. Never cut bluntly across or to an extreme, unnatural form. Do the trimming the day you enter the plant so that the trimmed portion doesn't appear brown for judging.
* Be sure to wipe off the leaves. Hose them well to be sure they are soil and dust free. Be sure that all spray residue is removed. Check to see if there is any "fauna" aboard. This includes scale, grasshoppers, etc., and even the "friendlies"—the frogs and lizards.
* Many a blue ribbon is lost on the road to the show by the exhibitor who doesn't take the time to pack his plants properly to prevent injury from a sudden turn or bump on the way. Pack your bromeliads carefully and tightly to prevent overturning. Place like plants together—spiny leaved with spiny leaved; smooth leaved with smooth leaved.
I very much look forward to seeing—and registering—your entries in September!
---
Please click the link below for our next Show Schedule, in a printable form....

ILLAWARRA BROMELIAD SOCIETY - SHOW SCHEDULE
---
---
Click HERE to return to Illawarra Bromeliad Society "Club News Page".

---
Updated 03/07/17
---