ILLAWARRA BROMELIAD SOCIETY Inc.
Club News.
---
Click HERE to return to Illawarra Bromeliad Society "Club News Page".

---
NEWSLINK
July 2012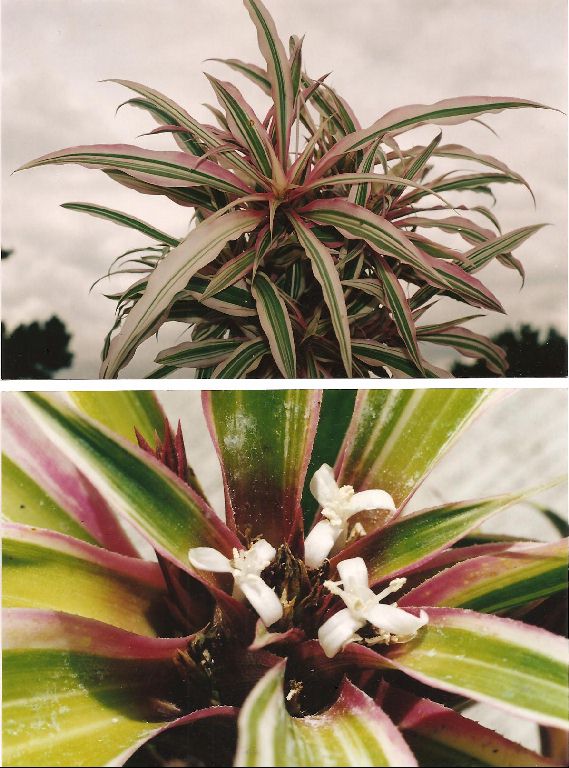 Cryptanthus 'Rainbow Star'
Photograph by Jarka Rehak
---
- Articles appearing in this issue of NEWSLINK are for information purposes only and are not necessarily endorsed by the Committee or the Illawarra Bromeliad Society.
- The Society is, by the holding of meetings, displays and competitions, to provide a forum for the people of the Illawarra region who are interested in the culture and collection of bromeliads.
- Under the provisions of the Privacy Act, use of names and references to private details, such as illness, holidays, birthdays and items of a similar nature, may only be published with the written permission of the person concerned.
---
NEWS IN BRIEF . . .
NEW MEMBER:
A very warm welcome to Redelle and Terry Stedman, Gloria Purdon and Beverley and Laurie Irvine who have recently joined our Society. We wish them a long and happy association with us.
---
MONTHLY RAFFLE PRIZE ROSTER:

| | |
| --- | --- |
| July | Vicki Joannou, Anna Stewart, Phillip Robinson, Steve Morgan, Hetty Kerstholt |
| August | Freda Kennedy, Dot Payne, Elizabeth Bevan, Jarka Rehak, Sandra Southwell |
| Sept | June Smith, Yvonne Perinotti, Christine Okoniowski, John Carthew, Russell Dixon |
| Oct | Fred Burrows, Maadi McKenna, Sharyn Baraldi, Eunice Spark, Loreen Whiddett |
---
MEMBERSHIP FEES:
These are due and payable by June 30th of each year. Remember that you must be a financial member to be eligible to vote, to be elected to the committee, enter plants into competition, receive our quarterly newsletter, etc.
---
RESIGNATION OF JOHN CARTHEW AS PRESIDENT:
Due to some health problems, John tendered his resignation as President at our Committee meeting in May. However, he looks forward to continuing as an involved member of our Society and we thank him for all he has done since being elected at our AGM last August. Graham kindly agreed at that May meeting to take on the role of President, until new elections are held at our upcoming AGM.
---
WORKSHOP:
Another of our popular workshops has been tentatively arranged for Saturday, August 25 at Sharyn Baraldi's home at 25 Antrim Avenue, Warilla (Phone: 4296 2166) from 10.00 am until 2.00 pm. It is hoped that by holding it on a Saturday this time, it might make it easier for those members who still work to attend. Bring your lunch—and something for morning tea would be appreciated—tea and coffee will be supplied.
---
NOTICE TO MEMBERS
NOTICE OF MOTION
Members of the Society have been informed that the Committee has been revising our Constitution to incorporate certain matters arising from recent New South Wales Government legislation concerning incorporated associations and to bring it into line with the current activities of the Society. Additionally, the Committee has been revising the By-Laws which are the detailed rules setting out how the Society functions. The two revised documents are now tabled and copies are available to members wishing to examine them in detail before they are presented for adoption.

In accordance with current Constitution requirements, members are hereby given 28 days notice of the following resolutions to be put to the August General Meeting. Please be aware that approval of the resolutions requires an affirmative vote of not less than three quarters of the Members present.

Resolution 1
It is moved that the revised Constitution of the Illawarra Bromeliad Society Incorporated be adopted to replace the existing Constitution and the Secretary be directed to submit that Constitution to the New South Wales Department of Fair Trading for registration in accordance with requirements for continuation of Incorporation.
Moved: (signed) N Kennon
Seconded: (signed) M Wheeler

Resolution 2
It is moved that the revised By-Laws of the Illawarra Bromeliad Society Incorporated be adopted to replace the existing By-Laws.
Moved: (signed) N Kennon
Seconded: (signed) M Wheeler

COMING EVENTS :

Sep. 8 - 9

ILLAWARRA BROMELIAD SOCIETY – SPRING SHOW – Uniting Church Hall, Russell Street, CORRIMAL

Sep. 8

HIGHLANDS GARDEN SOCIETY BOWRAL INC. – CAMELLIA SPECTACULAR
Uniting Church Hall, Cnr Boolwey and Bendooley Streets, BOWRAL – 9.45 am
Enquiries: Claire Daggett (02) 4869 1246/www.highlandsgardensociety.org.au

Oct. 20 - 21

BROMELIAD SOCIETY OF AUSTRALIA SPRING SHOW – BURWOOD RSL
10am-5pm & 10am-3pm

Oct. 27 - 28

BROMELIAD SOCIETY OF NEW SOUTH WALES SPRING SHOW - CONCORD 9am-3:30pm
ORLANDIANA '12
20TH World Bromeliad Conference - Orlando, Florida - Caribe Royale Hotel
September 24 – October 1, 2012
Registrations March 1-August 24, 2012: Member US$175/Non-member US$225
After 25 August 2012 and at the door: Member US$200/Non-member US$250

'COOL BROMS' BROMELIAD CONFERENCE
AUCKLAND, NEW ZEALAND. FRIDAY MARCH 15 - MONDAY MARCH 18, 2013
Register your interest at: coolbroms@bsnz.org for all the latest conference news or visit www.bsnz.org.
Early Bird Offer: April 1 to December 31, 2012 $NZ$280
World Class Conference Presenters Already Confirmed: Elton Leme [renowned author and collector of bromeliads], Brazil
Michael Kiehl [growing, creating and supplying wonderful bromeliads for over 20 years], USA
Jose Manzanares [author of the beautiful books, Jewels of the Jungle], Ecuador.
Andrew Maloy [New Zealand's leading hybridizer of exotic patterned leaf vrieseas]
Also, Harry Luther, USA, Nigel Thomson, Australia, and Hawi Winter, New Zealand
---
MEETINGS:
PLANT RESULTS - April 7, 2012
OPEN
1st = Stephen and Laila Astill = Guzmania sanguinea
2nd = Laurie Dorfer = Aechmea nidularioides
2nd = Jørgen Jakobsen = Neoregelia Fosperior 'Perfection'
3rd = Laurie Dorfer = Catopsis compacta
3rd = Graham Bevan = Neoregelia 'Morris Henry Hobbs' X 'Fireball'
NOVICE
1st = Gary and Colleen Claydon = Guzmania hybrid
2nd = Gary and Colleen Claydon = Guzmania 'Neon'
3rd = Stephen and Laila Astill = Vriesea hieroglyphica
TILLANDSIA
1st = Laurie Dorfer = Tillandsia rothii
2nd = Laurie Dorfer = Tillandsia xerographica
3rd = Jørgen Jakobsen = Tillandsia cyanea - a big clump, with about 10 inflorescences
PLANT RESULTS - May 5, 2012
OPEN
1st = Graham Bevan = Aechmea purpureorosea
2nd = Suzanne Burrows = Aechmea weilbachii
2nd = Graham Bevan = Billbergia 'Hallelujah'
3rd = Graham Bevan = Neoregelia zonata
NOVICE
1st = Sandra Southwell = Neoregelia ' Pemiento'
2nd = Lydia and Ian Chinnock = Aechmea recurvata var. benrathii
2nd = Freda Kennedy = Aechmea 'Seneca'
3rd = Lydia and Ian Chinnock = Aechmea gamosepala
3rd = Freda Kennedy = Vriesea ospinae var. gruberi
TILLANDSIA
1st = Lydia and Ian Chinnock = cyanea – variegated
2nd = Lydia and Ian Chinnock = cyanea
2nd = Sandra Southwell = caerulea
2nd = Sandra Southwell = caliginosa
3rd = Sandra Southwell = crocata
PLANT RESULTS - June 2, 2012
OPEN
1st = Suzanne Burrows = Vriesea hybrid
NOVICE
1st = Yvonne Perinotti = Vriesea hieroglyphica
2nd = Carissa Morgan = Edmundoa lindenii
3rd = Sandra Southwell = Aechmea dealbata
TILLANDSIA
1st = Steve Morgan = velutina X fasciculata
2nd = Steve Morgan = butzii
3rd = Lydia and Ian Chinnock = lindenii
3rd = Laurie Dorfer = tectorum
SOME COMMENTS ON PLANTS BROUGHT TO OUR MAY/JUNE MEETINGS:
Aechmea dealbata (dealbata = 'Whitish', in reference to the flower bracts and leaves): The cultivation of A. dealbata dates back to 1889 when it was discovered growing epiphytically in woods in Guanabara, southern Brazil at altitudes of 600 feet. For over 100 years it was thought that Guanabara was the only location where the species was to be found; however, in 1986 Elvira Gross and Werner Rauh described A. esseri, found in northeast Paraguay, and as this later turned out to be A. dealbata it has provided another locality thus broadening the range for this species. Despite it being a very pretty, interesting, and undemanding plant which flowers readily, it is not one that we see often at our meetings and Shows. It is of medium size, somewhat resembling A. fasciata, but its petals are red instead of blue and heavily dusted with silver. The purple-brown underside of the leaves is also marked with silvery bands.
Aechmea 'Seneca': From what I can find out, this seems to be a fairly recent Chester Skotak hybrid of unknown parentage. When grown in good light the leaves colour up to a lovely bronze-orange, the long-lasting flower spike being a bright orange with yellow flowers, not too dissimilar to Aechmea ramosa var. festiva and A. 'Pink Phase'. It can be frost tender.
---
FERTILISER ATTACK – MY POINT OF VIEW
Notes from a talk given at our June 2012 meeting by Steve Morgan
1) - Why don't we fertilise?
. a) Want to grow a natural plant.
. b) Don't want to burn or kill plants.
. c) Don't know how to go about it.
2) - Why do we fertilise?
. a) Grow a stronger plant
. b) Plants grow faster??
. c) Grow a bigger plant
3) - How much fertiliser?
. a) Small doses, often.
. b) Make sure you use the right mix of fertiliser (NPK ratio) for what you want to achieve, e.g., growth, flowers, plant strength: N (Nitrogen) - leaves; P (Phosphorous) – roots; K (potassium) – flowers.
. c) Your climate and conditions – do you fertilise all year or only in the warmer months? This will determine how often you fertilise--e.g., in colder weather you fertilise less because plants tend to slow growth in cold conditions.
4) - Foliar or terrestrial – pot
. a) Depends on plants, potted or mounted
. b) Neoregelias, aechmeas, etc. or tillandsias
. c) Foliar: Mix fertiliser in hot water to dissolve and spray over plants–don't spray in one place for too long. You should water your plants beforehand so they will absorb the fertiliser at a faster rate.
. d) Pots: Use granular fertiliser—a small amount in the top section of potting mix will last the life of most plants. Exception—for large vrieseas and slow growing plants such as alcantareas, fertilise every year. I use Dynamic Lifter pellets combined with foliar feeding.
5) - It will take at least 12 months to show results
. a) Stick with it!
The Value of Charcoal
• I use charcoal in my potting mix. First you crush the charcoal into 2 cm chunks, then soak it in a large container with about a half a cup of Charlie Carp (Nitrogen) mixed in water. I usually leave this soaking for 48 hours. I then combine this with the potting mix.
• Charcoal is full of carbon. It is porous and has small cavities which will absorb nutrients. Plants can access these nutrients. Charcoal can keep your potting mix open and also act as a filter—e.g., like a fish tank's filters. GOOD STUFF!!
• Charcoal will also absorb any harmful toxins that may be present in your potting mix. This makes it a great asset and will only benefit your plants.
Costs:
Pots: - Brunning's Rose food - $5 - $10
- Sulphate of potash - $15
- Dynamic Lifter - small bag - $8
Foliar: - Seasol - $8 litre
- High K (Horticultural Solutions) - $10 kg
- Orchid fertiliser - $8
- Thrive - $12
Application of fertiliser
1) Mix pellets into potting mix when potting – only use a small amount of pellets (teaspoon) and spread through the top layer of mix.
2) Foliar sprays: Spray pack size and approximate cost
- 2 litres - $8
- 8 litres - $30 and upwards
- 16 litres - $170 for a knapsack fitted with a small rechargeable electric pump.
I prefer to use the knapsack as it does the job much faster and easier—well worth the investment. Even though you might think it is too heavy, you can strap it to a $20 trolley and simply pull it around, spraying at the same time–Works a treat! The first time I used it to fertilise my plants, I was surprised to discover that the spray pressure was enough to force grasshoppers out of their hiding places inside the plants.
Enjoy your plants!
---
SOME NOTES ON GROWING CRYPTANTHUS
By Phillip Robinson, Illawarra Bromeliad Society
Cryptanthus are small-growing members of the bromeliad family that are terrestrial (grow in soil). This means that they are not only unsuitable for growing on trees or for mounting on wood but will die if given such treatment.
Most species come from eastern Brazil and are easy to grow in our climate in the Illawarra provided that they have warm, humid conditions and bright light (but not direct sunlight) in order to develop the best colours in the foliage.
Cryptanthus species have a well-developed root system, extending out as far as the tips of the leaves in well-grown plants. This is in contrast with many other bromeliads where the root system is much smaller in comparison to the size of the plant. Such species enjoy being underpotted but cryptanthus should not be underpotted—a 15 cm (6 inch) squat pot should prove to be adequate for the purpose.
African violet mix or a similar loose, porous potting medium is recommended for cryptanthus. [Scotts Osmocote brand in the blue bag was recommended by Vic Przetocki after many years of trialling different mixes—Ed.] The mixture should never be allowed to become completely dry, even in winter. Many species will tolerate a very wet soil mixture, especially during the warmer months when overhead watering is acceptable provided that the foliage dries out before nightfall. During the cooler months, watering can be achieved by standing the pot in shallow water until the soil becomes damp. This method prevents the foliage becoming wet and holding residual water in the centre of the rosette. If the centre of the rosette does not dry out before a cold night, the centre of the plant is likely to rot. For this reason, most cryptanthus plants succeed under cover which excludes winter rains and where their water requirements can be strictly controlled.
Cryptanthus plants respond to frequent fertilizing. A successful method that I have used is to make up an orchid fertilizer solution to half the recommended strength. The pot containing the plant is then placed in a shallow dish containing the fertilizer solution until the soil is saturated. Allow the pot to drain before placing it back in its growing position.
Miscellaneous Jottings on Selected Species
1. Cryptanthus bivittatus is a rewarding species which will survive without overhead protection during winter but it does better if this is provided. Being a smaller-growing species, it can be used in a dish garden or terrarium. Best allowed to grow into a colony where a most attractive pot will result in time. Good light is required to give the best colour. A colony developing from a single plant seems to give a better effect than placing several plants in the same pot, but it will take longer.
2. Cryptanthus sinuosis 'Cascade' should be placed in a hanging basket where the new plantlets on the long stolons can cascade downwards. These stolons can hang downwards for 50cm in a well-grown plant.
3. Cryptanthus bahianus is quite different from most other species. It comes from a dry area of Brazil and should be grown as a succulent in full sun. The potting mixture should have extra coarse river sand or gravel added so that it can never remain really wet. The rosette is supported by a stiff stout stem rising about 10cm above the soil.
4. Cryptanthus zonatus, C. fosterianus and their hybrids look best when grown as single plants, where the leaves extend beyond the edge of the pot and allow the rosette to stay flat. Competing offshoots tend to push each other's rosettes out of shape.
---
CRYPTANTHUS
By Greg Aizlewood, Queensland
What are they? Where do they come from? How do you grow them?
These are just a few of the questions we hear from time to time as we present the plants at different venues. Those that know them appear to have mixed feelings following some early disasters, but generally most people agree they are different and when given favourable conditions the plants flourish and produce some wonderful colour combinations in the foliage. This, coupled with the shape of the leaves and the crinkled edges, give rise to some extremely attractive specimens that display various shades of brown, red, silver, grey, pink, white, and combinations of these colours.
The plant is endemic to the east coast of South America, in particular the northern areas of Brazil and southern extremities of Venezuela. They typically grow in both dry and moist areas in and around the understory below trees. On average cryptanthus grow up to 30cm in diameter, have between eight and twelve leaves, and generally form a rosette shape. The flowers are predominantly white, with the odd green or blue, and some can be fragrant. The flowers are not the most attractive, last only a short time, and are rather small. However, they are interesting in that they can contain both male and female parts, or contain either totally male or totally female parts which can present some challenges to the seed grower or hybridist.
My mentor for this species was Bob Paulsen. He seemed to produce fine specimens with monotonous regularity and with relative ease. His mentor was Grace Goode and he maintained that she had forgotten more about cryptanthus than he could remember, and encouraged me to also seek her advice on cultivation of the species. So, as you can appreciate from this, I had some very good tutors with whom I had some very long and enjoyable discussions.
They both maintained that the potting mix for cryptanthus should be able to hold more moisture than a regular bromeliad potting mix. Bob used a well-known commercially produced premium potting mix to which he added some 15mm of composted bark or Jumbo Perlite so as to increase the air content in the mix. One thing they both did stress was not to let the mix dry out completely. Bob also liked to keep the mix "sweet", and to achieve this he would add a small sprinkle of Dolomite. A slow or controlled release fertilizer was applied at a rate on one teaspoon per 160mm pot at potting time and reapplied as per the discharge rate—i.e., if using 6 months slow release, every six months. Both Grace and Bob agreed that cryptanthus responded well to food. Bob did not foliar feed; however I find that by applying the foliar fertilizer with a higher than normal percentage of potassium, my plants which live under shade cloth seem to suffer less leaf damage through the cooler winter months when our temperature can drop to 20C. Bob grew his plants under 70% shade cloth in a 150mm bed of hoop pine bark into which his potted plants were sunk. This area received morning sun and the moisture which was also applied in the morning, provided humidity. Early morning watering seems to work for me as I find if the leaves are left wet overnight they tend to damage and those watered early in the morning dry out during the day prior to the cooler night temperatures.
Grace would also water in the morning and avoid wetting leaves to minimise the possibility of damage caused by the sun magnifying through the water droplets. Also, excess water has a tendency to induce bacterial rot in the base of plants and therefore it is important to ensure the plants are relatively dry prior to nightfall and receive adequate air circulation. Watering in the saucers under the pot, as with African Violets, seems to be beneficial in maintaining an adequate amount of moisture while avoiding the issues with wet leaves.
Offsets can and usually do form from the base of any leaf axil, but tend to appear around the centre of the plant. Generally cryptanthus offset post-flowering yet can produce at any time. The offsets survive better if left on the mother plant until at least two-thirds the size of the parent plant, when a gentle twist and side to side movement will detach them. Some plants produce offsets on long stolons which are detached by severing close to the offset leaving sufficient stolon to use for anchoring the plant in the pot. As with all bromeliads, security in the pot is paramount. If the plant can wobble around there is a tendency for it not to develop a healthy root system and therefore it is important that a system of securing the plant in the pot be devised. There are several methods which include those using bamboo skewers, medium sized gravel or other similar objects to support and stabilize the plant. Some people use rubber bands or pantyhose tied around the pot to secure the plant and to prevent any wobble.
I like to use squat pots for cryptanthus as the root system seems to stay relatively close to the surface and therefore you don't need deep pots, and as a consequence you save on potting mix. Bob preferred 140 ml diameter pots and I do too as this size appears to balance with the general plant size. I tend to avoid larger pots as over-potting keeps the plants too wet for too long, which can give rise to fungal and bacterial rot problems. Plants which show signs of fungal problems I treat with a systemic fungicide containing Furalaxyl (Fongarid), while any plants showing signs of insect infestation I treat with a systemic insecticide containing Acetamiprid (Scotts, Crown 225 SL).
Cryptanthus have reappeared in some collections, and people are now realising that with a little effort these plants do respond, produce some outstanding specimens, take up very little space, and can be grown comfortably indoors. They are very generous with their offsets and take little looking after. I recommend that you access the Cryptanthus Society Website which can be seen under the Florida Council of Bromeliad Societies' Website (http://www.fcbs.org/ cryptanthussociety), and while there gain access to the photo index and browse through the photos of the cryptanthus species and cultivars. You will be amazed at the number and quality of the plants.
If you would like to join the Cryptanthus Society please contact me at g4naizle@ qld.chariot.net.au for details.
Happy Cryptanthus growing!
---
GROWING CONDITIONS
By Neville Wood
I have been requested to write a few notes, based on a recent talk I gave to the members of the Illawarra Bromeliad Society about growing conditions for some of the more commonly grown bromeliads in our local area. As I said at the start of the talk, I can only comment on what I have found to be the requirements for the broms that I grow in my own environment and consequently I will confine these notes to aechmeas, billbergias, guzmanias, neoregelias, nidulariums, and vrieseas. I won't be commenting on tillandsias for two reasons: firstly, I don't grow them; and, secondly, there are other society members who have a far greater knowledge of these plants than I.
Probably the most important things to know about any plants are the required growing conditions, and bromeliads are no different. So let's start analysing what is meant by "growing conditions": What are they and how are they defined?
I guess to answer the above questions one could safely say there is no such "magic bullet" which describes growing conditions as just "one thing". Growing conditions are a combination of many different things, which I interpret as location, position within that location, type of containers (if used), potting mixes, temperatures, degree of available light, humidity, watering and fertilizing.
Growing conditions will vary from plant to plant, from grower to grower and from location to location and there's no such thing as one set of growing conditions that will fit all situations. Each of these conditions is a complete topic on its own, and impossible to deal with thoroughly in these short notes, so I will just touch briefly on some of the more important aspects of each, as I have found they apply to the way I grow my plants.
Location: The bromeliads mentioned above may be grown in many different locations: I find that all of my neoregelias, aechmeas and billbergias will grow well under the protection of 50% green or 75% beige shade cloth. Most of them will also do well outside in the garden if they are protected by trees or large shrubs from severe elements. I find that the dark leaved aechmeas such as 'Royal Wine', 'Mirlo', 'Big Stuff', etc., and discoloured types like miniata var. discolor and victoriana var. discolor and similar types, are usually cold sensitive and need extra protection during the colder weather to prevent cold damage. However some of the more hardy aechmeas such as recurvata, orlandiana, bromeliifolia and other tough leaf varieties will even thrive in a fully open and exposed position.
My vrieseas, guzmanias, and nidulariums will do well in slightly less light than the neoregelias—e.g., 75% green shade cloth or equivalent. Nidulariums will also grow and flower in lower light still, thriving in shady locations where other plants won't grow.
So, to sum up, there is a bromeliad for all situations ranging from heavy shade right through to bright light and anything in between depending on the genera grown.
Position within the location: I'm fortunately able to successfully grow my broms in a wide range of positions in my yard: they grow in the garden with other plants; on benches in a shade house; mounted on trees; attached to rocks; or suspended in pots or baskets at various heights either in the shade house or suspended from trees. However, I'm always mindful of the fact that in habitat they all mostly grow on trees which suggests that they don't like over-crowding and they require good air movement around the whole plant at all times.
Because there are plastic pots and the compatible plastic hangers sold at our Society, these make it possible for me to suspend plants from my shade house roof at three different levels and I like to think I'm replicating, in some small way, the way these plants grow at different levels in habitat; and besides, ever since I've been growing this way I've experienced no rot problems which I put down to the increased air circulation which the plants seem to enjoy.
Containers: These may vary as there are many possible options, and can be pots made of terra cotta, concrete or plastic, hanging baskets, or simply none at all where the plants are mounted on pieces of bush timber, trees and/or rocks. Any broms I have that aren't mounted are all grown in black plastic pots of the type available for sale at our Bromeliad Society. I use these for a number of reasons: they are cheap, light, and keep everything looking uniform. In my opinion, black pots don't detract from the appearance of the plant like coloured pots do and by having the same type of pots it's much easier to estimate watering requirements which vary greatly if using a mixture of plastic, terra cotta or concrete pots as the drying time varies greatly between the different types.
Potting Mixes: These are many and varied and it is said there are as many different potting mixes as there are growers, and from what I've read and picked up in conversation this appears to be true. Some of the most commonly used materials for potting mediums are pine bark, commercially made potting mixes, gravel, charcoal, coco peat, polystyrene, scoria, Perlite, and crushed bricks, as well as many different combinations using the above materials.
The one thing we all need to be mindful of is that the commonly grown bromeliads mentioned above are all suitable candidates for mounting on trees, just like they grow in habitat, and this tells us that they like plenty of air around the roots. These plants are only planted in pots for the growers' own convenience so we must be sure that the potting mix is sufficiently open to allow perfect drainage and air around the roots inside the pot as well as the rest of the plant outside of the pot. Success depends greatly on good drainage of potting mixes and of that I am sure.
Temperature: Bromeliads growing in their natural habitat come from many different areas ranging from beaches to very high mountains and many areas in between. Likewise these areas all have varying temperatures; however it is generally accepted that bromeliads ideally prefer a range of between a minimum of 13 C and a maximum of 29 C. The good news is that bromeliads are also highly tolerant of temperature variations and enormously resilient to change. Some growers are very precise and go to the trouble of measuring temperatures in various parts of their yard with a thermometer to find the most suitable place for various plants. When I first started growing bromeliads I too decided to do the same; I bought a thermometer which hangs in my shade house to this day and I can honestly say that I have never yet looked at it to check the temperature. I know this probably sounds a bit "slack" on my part but I've found it suits me better to estimate the temperature by what I personally feel: if I feel comfortable then I've found my plants are generally comfortable as well; if I am cold, then I know my plants will be cold; likewise if I am uncomfortably hot, my plants will be the same.
The main thing is that it's sufficient that you are able to recognise these temperature changes by whatever means at your disposal and decide whether you have provided the most comfortable conditions possible with the resources available to you. Sometimes you can temporarily change the conditions you have provided by a little manual adjustment like adjusting the amount of light by moving plants to different locations, misting plants in late afternoon on a hot day to cool them down, and damping down floors and under benches to increase humidity. But generally your plants will be able to tolerate these varying conditions without help as this is what they have to do in nature. You don't want to "molly coddle" your plants and become a slave to them as this then becomes a chore and takes the fun out of growing them.
Degree of light: There is no such thing as one spot that will ideally provide sufficient light to suit all bromeliads because they grow in such varied conditions in habitat. The type of locations in which they are found in the wild can be used as a guide to the light requirements of the particular genus you are growing, but I have found the best guide is to just look at the plant itself and assess what you see by using the following two extremes as a guide. If, for instance, the leaves appear short and stocky and "washed out" or bleached of colour, this indicates the plant is getting too much light; if the on the other hand the leaves are long and thin and very green and devoid of the colour they should be, the plant is not getting enough light.
The example below shows the effects of "light" and its bearing on the leaf colour of Neoregelia 'Strawberry Cream'. The two plants pictured were grown in different parts of the shade house; the left plant was grown suspended high up in strong light while the plant on the right was grown on a low bench in low light. Both plants are divisions from the same mother plant and are the same age and were the same size when potted.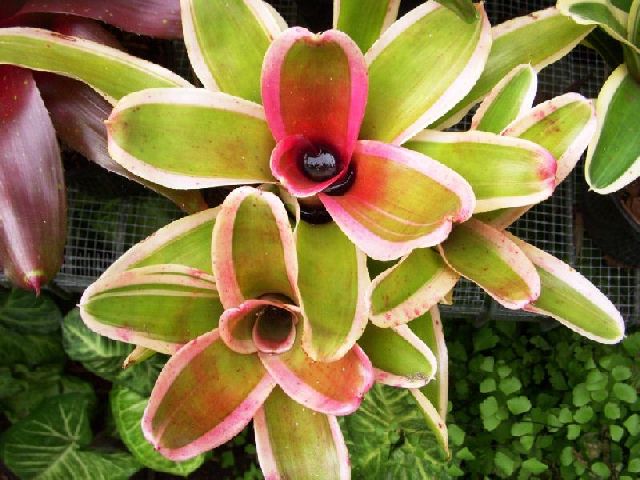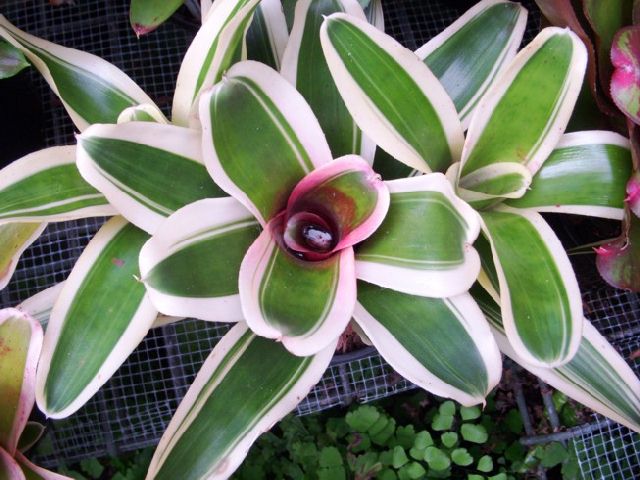 Light is probably the most important factor controlling successful cultivation of bromeliads. Adequate light is required to produce good strong plants which will provide good colour in coloured leaf types as well as promoting large strong inflorescences in the plants that are grown specifically for their flowers.
Humidity: Different areas have different levels of humidity--for example, the area where I live (just one street back from the ocean) has much higher humidity than where I previously lived thirty five years ago, which although only about five kilometres south, was away from the ocean.
The amount of humidity has a large bearing on the water requirements of the plants and I have found that bromeliads growing where I live require much less watering than they did where I lived previously and this is simply explained by the fact that the humidity is now higher because of my proximity to the ocean and the fact that the prevailing wind is now a moist "north-easterly". Previously, I lived away from the ocean and the prevailing wind was then very often a warm "westerly" so consequently these two locations provided very different levels of humidity. Your local environment therefore plays a very important role in the level of humidity where you grow your plants. In my opinion, the most important thing to be aware of regarding humidity is that it will dictate how quickly the potting mix will dry out and therefore have a bearing on the amount and frequency of water you need to give your plants.
Watering: Any good nurseryman will tell you that more plants are lost due to over-watering than any other cause, and that the second greatest cause of plant loss is due to the plants being left standing in a saucer of water. Many inexperienced growers wrongly believe this will make the plants grow better as they have a continuous supply of water and won't dry out; however quite the opposite applies, as all this does is "waterlog" the potting mix thus preventing the flow of air through the mix which eventually starves the roots of air and encourages the start of rot.
As well as the frequency of watering there are other things to consider such as the volume of water and the method of application—e.g., heavy or light watering, hose spraying or sprinklers. Should we water just the plant foliage, just the mix, or the plant and the mix? I personally prefer to water the "total plant" heavily: that is, I wet the leaves, fill the cup of the plant to overflowing and then water the mix until the water runs right though and out of the bottom of the pot. This heavy watering has two main purposes: firstly, it indicates that the mix is still well drained and hasn't broken down to the extent that it has consolidated in the bottom of the pot and blocked the drainage; secondly, it is flushing any excess salts from the pot which may have built up from the breakdown of any fertilizer used in the mix and if not removed could prove detrimental to the health of the plant.
I water in this way usually once every two weeks in summer and once a month in winter. This may seem insufficient to some growers but I live just one street back from the ocean and consequently the humidity is reasonably high all year round and this amount of watering is usually sufficient for my plants. If in doubt as to whether the plant needs watering, I always leave it for an extra day as I prefer to "under water" rather than "over water".
In cold weather I always water in the morning on the rising temperature so plants aren't left wet during the cold nights, and in the summer I also water in the early morning before the sun becomes too hot to prevent scalding when the hot sun shines on wet leaves.
During extremely hot weather I water more often and if it is abnormally hot weather I'll dampen the floor and under benches throughout the day to maintain a suitable humidity. Also I'll water in late afternoon as absorption will be better. In between watering days in very hot weather I will sometimes mist spray the plants of a late afternoon if necessary, but this is only during extremely hot weather which is not very often.
Fertilizing: Firstly let me say that I have found that bromeliads will grow reasonably well without any fertilizer at all, but given a reasonably well balanced fertilizer, they will grow much better, so whether or not you fertilize your plants is entirely up to you.
There are many choices of fertilizers and methods of application. There are organic or non-organic, solid or liquid, fast release, slow release or controlled release, and there are also different methods of application such as in the mix, on top of the mix, applied in water as liquid fertilizer to the potting mix or foliar sprayed, or a combination of the two. The choices are endless and completely confusing to the new grower. However, what you use and how you use it is up to the individual and new growers would be well advised to ask more experienced growers in their local area what they recommend.
As well as the type of fertilizer, there is also the very important N:P:K ratio to consider. This is usually printed on all fertilizer containers and is a method of showing the ratio of the three most important ingredients in the fertilizer: N = nitrogen; P = phosphorous; and K = potassium which are always shown as a percentage. For example, a very good soluble fertilizer I use has an N:P:K. ratio of 14.0 : 4.4 : 22.4 which means it contains 14% nitrogen, 4.4% phosphorous and 22.4%. potassium. The remainder of ingredients are trace elements in very small percentages. I usually use fertilizers with low nitrogen (N) and high potassium (K). This way the foliage colours can be more easily maintained, whereas if the nitrogen is much higher than potassium, the foliage colour in a lot of cases may revert to green and won't return until the nitrogen has been used up.
I only fertilize the majority of my plants when I am potting; when the pot is three quarters full of mix I sprinkle the selected quantity of fertilizer on top of the mix taking care that it doesn't contact the plant and then cover it and top up with the remaining potting mix. I then water well to settle the mix and that is all the fertilizer the plant will get until it is repotted again. The only exception to this is with my small seedlings which I foliar feed weekly at a rate of only one quarter of the manufacturer's recommendations.
Summary: I would simply say that I have found that my potted bromeliads need to be grown in a well draining mix, they must have good air movement around them and not be overcrowded, they mustn't be overwatered or over fertilized and generally I try and provide the same type of environment for them that I find comfortable for myself.
---
ILLAWARRA BROMELIAD SOCIETY'S 20TH SPRING SHOW
SEPTEMBER 8-9, 2012
This year, as well as celebrating our 20th year as a Society in March, this will also be our 20th Show, and as such I hope that it will be something really special. Judging from the beautiful plants we've seen on our monthly competition tables in past months, I feel that we can put on a very special event this year—especially with the help of newer members who have been outdoing our older members of late!
Going through my files I came across some notes written by Moyna Prince which had appeared in the January 2000 issue of BromeliAdvisory, the newsletter of the Bromeliad Society of South Florida. Among her 'Sneaky Tricks for Winning Blue Ribbons' one of the things she shared was regarding entering plants into the 'Creative Section' of competition and I would like to pass on some of her ideas.
"The distorted plant: Everyone knows that the perfect single specimen plant must be completely symmetrical, not lean to one side and should be centred in the pot. Last year we had a beautiful blooming tillandsia that had sent its long, wavy leaves in mostly one direction (the result of total neglect). Ed found a green sea shell. He inserted the tillandsia, holding it in place with florists' clay, and entered it in the decorative container category. It won Silver for Best Decorative Container. This is a category sadly under-represented in our shows. It includes non-standard pots, baskets, ornamental wood, ceramic figures, decorative dish gardens and terrariums, etc. etc. Careful thought should be given to the selection of the container, especially its colour, texture, shape and size. Originality is important. Ed's sea shell worked well because it echoed the green of the leaves. The distortion of the plant was irrelevant as the opening of the shell was on the side.
Some important facts with Decorative Container entries: 1) The exhibitor may place the entry on the table himself. If clerks or Placement have to move it, they will take great care to replace it in the same position; 2) You can use immature plants in this category without being penalized; 3) You can use any number of plants of the same or different genera, species or varieties; 4) They may be blooming or non-blooming.
Garage sales are a great source of unusual pots that could be used as decorative containers. When planning your entries, try and create a partnership between appropriate plants and containers. And have fun doing it!"
---
ILLAWARRA BROMELIAD SOCIETY INC.'S
twentieth ANNUAL SHOW
September 8 and 9, 2012
SCHEDULE
| | |
| --- | --- |
| | • SECTION 1 - OPEN |
| a. | Aechmea - Individual specimen plant |
| b. | Billbergia - Individual or multiple permitted |
| c. | Neoregelia - Individual specimen plant |
| d. | Neoregelia - miniature – Individual specimen |
| e. | Tillandsia - Individual/Multiple permitted |
| f. | Vriesea/Guzmania - Individual specimen plant |
| g. | Bromeliad not listed above - Individual or Multiple permitted |
| h. | Established colony: Aechmea/Vriesea Minimum of 3 plants |
| i. | Stoloniferous Colony: Neoregelia Minimum of 3 plants |
| j. | Mounted Tillandsias – minimum of two (2) established plants which may be the same or different |
| k. | Mounted Bromeliad(s) other than Tillandsias – Established plants which may be the same or different |
| | |
| --- | --- |
| | • SECTION 2 - NOVICE |
| l. | Aechmea - Individual specimen plant |
| m. | Neoregelia - Individual specimen plant |
| n. | Tillandsia - Individual or multiple permitted - May be potted or mounted |
| o. | Vriesea/Guzmania - Individual specimen plant |
| p. | Bromeliad not listed above - Individual or multiple permitted |
| | |
| --- | --- |
| | • SECTION 3 - CREATIVE |
| q. | Basket or Decorative Container – minimum of three (3) plants which may be the same or different – no embellishments |
| r. | Bromeliad Garden – Any Container – Embellishments may be used. |
| s. | Artistic Arrangement – to consist of predominantly bromeliad material – Embellishments may be used. |
• In classes covering "Individual Specimen Plants", pups are permissible on the adult plant only if they are so small that their removal might jeopardize their survival.
• When allowing for multiple plants the key word is "interconnected"—i.e., they must all originate from a single plant.
• Entries In the 'Miniature Neoregelia' class should not exceed 200 mm (8 inches) diameter.
• In Sections 1 and 2, individual specimen plants (excepting tillandsias) should be potted, unless otherwise noted.
• In Classes j and k there must be evidence that this is the well-established home of these bromeliads.
---
Click HERE to return to Illawarra Bromeliad Society "Club News Page".

---
Updated 19/08/12
---