ILLAWARRA BROMELIAD SOCIETY Inc.
Club News.
---
Click HERE to return to Illawarra Bromeliad Society "Club News Page".

---
NEWSLINK
July 2011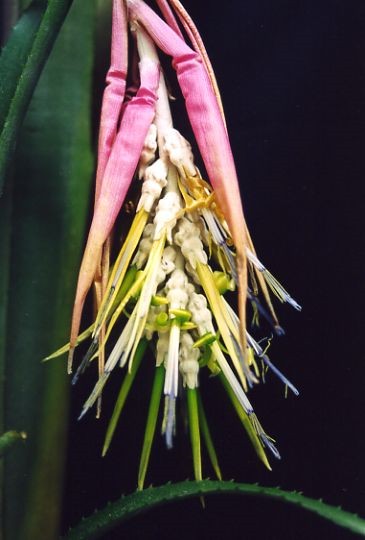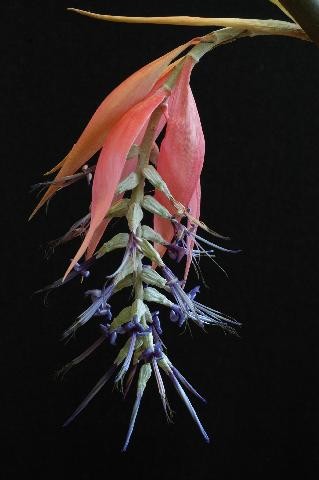 Left: Billbergia zebrina, showing developing seed pods. Photograph reprinted with permission from Siegrid Stern, Garden Web World (featuring bromeliads, cacti/succulents, orchids and conifers) http://bromeliads.gardenwebs.net/
Right: Billbergia brasiliensis showing recoiled petals. Photograph by Eric Gouda.
---
- Articles appearing in this issue of NEWSLINK are for information purposes only and are not necessarily endorsed by the Committee or the Illawarra Bromeliad Society.
- The Society is, by the holding of meetings, displays and competitions, to provide a forum for the people of the Illawarra region who are interested in the culture and collection of bromeliads.
- Under the provisions of the Privacy Act, use of names and references to private details, such as illness, holidays, birthdays and items of a similar nature, may only be published with the written permission of the person concerned.
---
NEWS IN BRIEF . . .
NEW MEMBER:
A very warm welcome to Lara Killingley, Elizabeth Clagul, Hetty and Carol Kerstholt, and Dot Payne who have all joined since the last issue of Newslink went to press. We wish them a long and happy association with our Society.
---
MONTHLY RAFFLE PRIZE ROSTER:
We will again be using the roster system for providing prizes for our monthly raffles. Bromeliads are preferred, but if you are unable to spare one then items such as potted herbs, cuttings, garden tools, etc. are acceptable. Also, if you are unable to attend the meeting—and/or are unable to supply a raffle prize when rostered—it would be appreciated if you would either 'work a swap' or speak to Elizabeth about getting a fill-in for your month. As our membership fees are kept very low, we rely on these raffles to help defray the costs involved in the running of our Society, and so your support is very necessary and very much appreciated.

| | |
| --- | --- |
| July | Jenny McKenzie, Phillip Robinson, Steven Dolbel, Jan Stammers |
| August | Gino Di Cesare, Jenny Godin, John Carthew, Val Dixon |
| September | Doreen Netting, Steve Morgan, Maadi McKenna, Vicki Joannou |
| October | Glenise Weston, Warwick Varley, Ann Kennon, Eunice Spark |
| November | Loreen Whiddett, Yvonne Perinotti, Meri Stefanidakis, Sharyn Baraldi |
---
MEMBERSHIP FEES : A reminder that membership fees were due and payable by June 30th.
---
WORKSHOP : Another of our popular workshops will be held on Thursday, July 14 when it is planned to talk about pests and diseases associated with bromeliads. This is an opportunity for you to bring along any plants that you may be having problems with—or need an identity for—and also to meet and to chat with other members on a friendly, informal basis in a lovely garden setting. Again it will be held at Sharyn Baraldi's home at 25 Antrim Avenue, Warilla (Phone: 4296 2166) from 10.00 am until 2.00 pm and anyone interested is invited to attend. Bring your lunch—and something for morning tea would be appreciated—tea and coffee will be supplied.
---
VALE - AILSA McDONALD
Ailsa, who had been a member of our Society for the past ten years, passed away on May 23 after a long illness.
She was an active member, often helping out at the Welcome Desk, and regularly putting plants on the monthly competition tables as well as competing at our annual Shows, even after her health had begun to fail. In fact she was so keen on her broms that even when she was very sick in hospital prior to our show in 2008, she asked Neville to clean up one of her tillandsias for her which she had been grooming for the show and to enter it to "help fill a hole on the tables." It was a Tillandsia bulbosa which won an award in this highly contested class--and that, sadly, was the last of her plants to ever be shown.
Neville remembers Ailsa from school days when they had both attended school in Kiama and Neville's Mum, who often played the piano for school functions talked fondly of her and remembered that she was a very good tap dancer. I had often admired Ailsa's creativity, especially with her needlework and sewing, and apparently she sometimes spoke of the time when she was the local "Avon Lady" and how she taught craft classes in the local area.
---
We miss you at our meetings, Ailsa!
'COOL BROMS' BROMELIAD CONFERENCE
AUCKLAND, NEW ZEALAND. FRIDAY MARCH 15 - MONDAY MARCH 18, 2013
Register your interest at: coolbroms@bsnz.org for all the latest conference news and 'early bird' offers.
World Class Conference Presenters Already Confirmed: Elton Leme [renowned author and collector of bromeliads], Brazil
Michael Kiehl [growing, creating and supplying wonderful bromeliads for over 20 years], USA
Jose Manzanares [author of the beautiful books, Jewels of the Jungle], Ecuador.
Andrew Maloy [New Zealand's leading hybridizer of exotic patterned leaf vrieseas]
---
COMING EVENTS :

July 16-17

CAMELLIAS ILLAWARRA – TAFE FUNCTION CENTRE, FOLEY'S LANE
(OFF NORTHFIELD'S AVENUE) Saturday: 2pm-5pm/Sunday 9.30am-4.30pm

Aug. 12-14

NATIONAL ORCHID EXTRAVAGANZA – Dural Recreation Centre, "Ellerman Park", 25a Kenthurst Road, Round Corner Dural (entrance Pellitt Lane) 9am-5pm

Sept. 3

HIGHLANDS GARDEN SOCIETY BOWRAL INC. – CAMELLIA SPECTACULAR. Uniting Church Hall, Cnr Boolwey & Bendooley Streets, BOWRAL 9.45am-4.30pm

Sept. 8-11

CENTRAL COAST BROMELIAD SOCIETY SHOW - KARIONG

Sept 10–11

ILLAWARRA BROMELIAD SOCIETY SHOW – Uniting Church Hall, Russell Street, CORRIMAL

Sept 10–11

BROMELIAD SOCIETY OF AUSTRALIA SPRING SHOW - BURWOOD RSL

Oct 13–16

BERRY GARDENS FESTIVAL – EIGHT GARDENS TO VISIT – 10am – 4pm. www.berrygardens.org.au Mary Seelis 4464 1191/Jennifer Swan 4464 2563

Oct 29–30

BROMELIAD SOCIETY OF NEW SOUTH WALES SPRING SHOW - CONCORD
---
MEETINGS:
PLANT RESULTS - April 2, 2011
OPEN

| | | |
| --- | --- | --- |
| 1st | Chris Butler & Anna Stewart | Vriesea barclayana var. minor |
| 1st | John Carthew | Neoregelia Rosy Morn |
| 2nd | John Carthew | Quesnelia Tim Plowman |
| 3rd | John Carthew | Vriesea Splenriet |
| 3rd | John Carthew | Billbergia vittata |
NOVICE
| | | |
| --- | --- | --- |
| 1st | Chris Butler & Anna Stewart | Aechmea purpureorosea |
| 2nd | Chris Butler & Anna Stewart | Aechmea ramosa 'Pink Phase' |
| 3rd | Chris Butler & Anna Stewart | Vriesea barclayana var. minor |
| 3rd | Chris Butler & Anna Stewart | Vriesea philippo-coburgii |
| 3rd | Yvonne Perinotti | Vriesea fosteriana |
TILLANDSIA
| | | |
| --- | --- | --- |
| 1st | Chris Butler & Anna Stewart | fasciculata (Purple) |
| 2nd | Chris Butler & Anna Stewart | araujei var. minima |
| 2nd | Chris Butler & Anna Stewart | 'Nashville' |
| 3rd | Suzanne Burrows | stricta (Hard leaf form) |
---
PLANT RESULTS - May 7, 2011
OPEN

| | | |
| --- | --- | --- |
| 1st | Nina Rehak | Aechmea 'Del Mar' |
| 2nd | Chris Butler | Vriesea (labeled as V. elata, but identity queried) |
| 2nd | Graham Bevan | Aechmea 'Fulgo-Ramosa' |
| 3rd | Graham Bevan | xGuzvriesea 'Jeannie' |
| 3rd | Jørgen Jakobsen | A bromeliad ensemble |
NOVICE
| | | |
| --- | --- | --- |
| 1st | Chris Butler | Vriesea (elata – identity queried) |
| 2nd | Laurie Dorfer | Neoregelia 'Red Macaw' |
| 3rd | Laurie Dorfer | Neoregelia 'Burnsie's Spiral' |
| 3rd | Sandra Southwell | Vriesea fosteriana |
TILLANDSIA
| | | |
| --- | --- | --- |
| 1st | Laurie Dorfer | tectorum (small clone) |
| 2nd | Chris Butler | fasciculata var. densispica |
| 3rd | Lydia Chinnock | (Labeled T. cyanea but possibly T. 'Emilie'—see note below. |
---
PLANT RESULTS - June 4, 2011
OPEN

| | | |
| --- | --- | --- |
| 1st | Chris Butler | Billbergia brasiliensis |
| 1st | Jørgen Jakobsen | Guzmania wittmackii |
| 2nd | Chris Butler | Vriesea gigantea (smaller, compact form) |
| 2nd | Graham Bevan | Guzmania 'Candy Corn' |
| 2nd | Warwick Varley | xNidumea 'Claret Cup' |
| 3rd | Chris Butler | Neoregelia 'Small World' |
| 3rd | Graham Bevan | Neoregelia 'Plutonis' |
NOVICE
| | | |
| --- | --- | --- |
| 1st | Chris Butler | Aechmea 'Eileen' |
| 2nd | Chris Butler | Vriesea gigantea (smaller, compact form) |
| 2nd | Lydia Chinnock | Aechmea calyculata (with 2 very cute inflorescences) |
| 3rd | Chris Butler | xNeophytum 'Firecracker' |
| 3rd | Chris Butler | Aechmea 'Charles Hodgson' |
| 3rd | Lydia Chinnock | Aechmea 'Primera' |
TILLANDSIA
| | | |
| --- | --- | --- |
| 1st | Chris Butler | kirchhoffiana |
| 2nd | Sandra Southwell | capitata |
| 3rd | Chris Butler | subteres |
| 3rd | Chris Butler | cyanea 'Triflor' |
---
SOME NOTES ON TO OUR APRIL/MAY/JUNE 2011 MEETINGS :
Aechmea 'Del Mar': Nina's plant was certainly a stunner with its glorious cobalt blue, white and hot pink inflorescence. This is a patented bromeliad made in 1994 with patent applied for in 2001. It is an A. fendleri cross with A. dichlamydea var. trinitensis and was made by Patricia Gomez of Bullis Nursery in 1996 ('Del Mar' has been referred to as the dwarf 'Blue Tango' [another cross made at the same time], maturing at around 2 feet). It was brought to Australia by Olive Trevor. The US Patent Office describes it thus: "The new Aechmea is a product of a planned breeding program conducted by the inventor in Princeton, Florida. The objective of the breeding program was to create new Aechmea cultivars with compact plant habit appropriate for container production, desirable inflorescence colouration and good postproduction longevity." [The inflorescence lasts for from 5 to 7 months and the objectives were certainly accomplished with this beautiful plant!—Ed.]
Aechmea ramosa 'Pink Phase': This is a cultivar which came out of the Shelldance Nursery some time before 1971 and is a very showy plant with its salmon-pink foliage (which stays in colour all year), prominent black teeth, and bright orange flower bracts and yellow flowers. Added to this, when the seed pods form to a bright yellow, they last for many, many months. When I bought my plant at a Gardening Australia exhibition and was carrying it home on the train, I was [jokingly] threatened with mugging to take it from me and there were many appreciative comments from other passengers. However, I did buy it as Aechmea ramosa var. festiva, but as the fcbs site shows 'festiva' to have green leaves, I do believe that my plant, as was the one at our June meeting, to be 'Pink Phase'.
Billbergia brasiliensis: This was a magnificent specimen, brought into our June meeting by new member, Chris Butler. B. brasiliensis is a large plant with tough, thick, banded, spine-edged leaves, forming a handsome tubular rosette almost 3 feet in height. The top side of the leaves is green and the underside is heavily banded with white scurf. When in bloom, the vivid, pendulous inflorescence is surrounded by coral coloured bracts and the petals are dark, satiny blue purple. This belongs to the Helicodea sub-genus of Billbergia which have petals that become tightly recoiled and for that reason are called 'watch spring' or helicoids. However, Chris' plant had reached the seeding stage, and like some of the other members of this sub-genus a bunch of large seed pods had formed, marble-sized and yellow in colour, with a dusting of white, which form an attractive display for many weeks.
Tillandsia cyanea 'Triflor': This cultivar, which seemingly has come into our collections only fairly recently, was named by Dennis Cathcart of Tropiflora Nursery (Sarasota, Florida) and described in the BCR (Bromeliad Cultivar Register) as a "tristichous flower of cyanea), meaning that it looks like a 3-pointed version of the more usual 'flat-paddled' or branched T. cyanea. (This description possibly comes from "tricorn", a hat with its brim turned up on three sides, making three points, worn by men in the 18th century.)
Tillandsia 'Emilie': A cross made by David Barry between T. lindenii and T. cyanea some time before 1960. The BCR tells us that it is "A perfect intermediary between the parents, with large deep violet flowers." T. 'Duvalii', another cross between these same two parents, made by Leon Duval in 1899, is said to show the blunt spike of cyanea and the long scape of lindenii.
Tillandsia kirchhoffiana: (Not to be confused with T. krukoffiana, another of the larger tillandsias!) A somewhat grassy-looking, but very decorative species because of its almost black leaf sheaths, which, in its non-blooming stage can easily be confused with T. punctulata. T. kirchhoffiana is endemic to Mexico where it grows epiphytically at heights of 1500 to 2000 m, preferring moderately damp, semi-shaded areas.
Tillandsia 'Nashville': A hybrid made by Margaret Paterson (the Australian hybridist from Gympie in Queensland) in 1982, being a cross between T. tricolor and T. brachycaulos. The BCR tells us: "Intermediate hybrid favouring the tricolor parent. Centre of the scurfy green, many-leafed rosette blushes red and elongates at maturity. Compound dense inflorescence with extended upper scape bracts and large purple tubular flowers. Identical to reverse cross 'Wolvi' but with narrower, harder leaves."
Tillandsia subteres: This beautiful species is native to only a couple of isolated canyons in central Honduras. A large upright grower to 30 inches or more, T. subteres has stiff, reddish leaves and an interesting inflorescence of long pink, upright smooth, cylindrical, tapering branches. In nature it grows as a terrestrial, but in cultivation it can be kept bare rooted, mounted, or may be potted in a well- drained medium.
---
ODE TO THE BILLBERGIA


Billbergias flower during Winter and Spring,
Blink and you'll miss the whole blooming thing.
...John Catlan


Twelve months ago, we repotted all our billbergias with very open mix, no bits of mix under 1 cm and conditions (under sandstone cloth, it only comes in one grade). They are looking fine. One unusual thing is that they did not go back this winter but then it was not a bad winter. We are growing these plants as clumps, which means that with staggered flowering we are often getting displays that last a month. As a group of plants, with their colourful foliage and flowers, they put on a fine display during winter and spring. They are a very rewarding group of plants.

Dividing Billbergias : People do foliage billbergias a disservice when they hit them with too much fertilizer and divide the plants up so they can have a dozen pots of each plant, with one green plant in each pot. Yes, I do divide the clumps, but pot them back into the same pot (better organized for future growth) and if the clump is big, split it between two pots. My ideal way when starting off a new pot of billbergias is to start with at least three (and four if possible) pups, pot them up in the centre of a 200 mm pot (as if they were a bundle of pups tied together) with all the growth eyes facing outwards. When they flower, the first year you get a staggered flowering, but as the clump settles down you get a flowering pattern that is more synchronized.

Back cutting of Billbergias : To break up a pattern of synchronized flowering, cut through the rhizome once the pups (in an established clump) have rooted. Leave the pups where they are. If you can do this two or three times a year, the synchronized pattern of flowering will not only be disrupted (meaning you will get extended flowering periods) but the clumps will multiply quicker.

(Extract from 'Under the Mango Tree' by John Catlan, courtesy of the Gold Coast Succulent and Bromeliad Society Inc. Newsletter Bromlink, January/February 1999)

---
THE WATCH SPRING BILLBERGIAS IN CULTIVATION
By Lyman B. Smith, Smithsonian Institution, Washington, D.C.
(Reprinted from The Journal of the Bromeliad Society, January/February 1983, Vol. XXXIII(1))
One of the easiest groups of bromeliads to distinguish is that of the watch spring or helicoid billbergias, because their tightly recoiled petals are unique in the family (see fig.1). In fact some botanists have favoured separating them as a genus, Helicodea, but intermediates with true Billbergia, like B. brasiliensis, make this separation appear undesirable.
Besides their curious petals, the helicoid billbergias have a number of other characteristics in common. Their few leaves form a long, tubular rosette, their scape bracts are very large and a beautiful shade of rose, and their inflorescence is always simple and usually pendent. In fact there are so many similarities that we have little left to distinguish the species from each other except the shape of the sepals and the ovary. However, as a sort of compensation, these vary more than in most other bromeliad genera.
The oldest cultivated helicoid on record is Billbergia zebrina (fig.1) published in 1826 as a Bromelia in plate 2686 of the 'Botanical Magazine' and transferred to Billbergia the next year. It is also one of the easiest to recognize because of its top-shaped ovary with large protuberances above that soon lose the white down covering the rest of the ovary and the sepals. The bare areas are very dark, giving the effect of a ring of black spots around the swollen top of the ovary. The green to yellow petals are not particularly noteworthy, but the snowy white covering of the remainder of the inflorescence, plus the brilliant rose scape-bracts, make this a most attractive species for cultivation. It is a native of eastern Brazil.
Their warty sepals and ovary distinguish B. rosea and B. venezuelana from other helicoids, and this character, although not unique with them, is at least very rare elsewhere among bromeliads. B. rosea (fig.2) has narrowly triangular unequal sepals and floral bracts that are not more than 4 mm long. It was described by Beer in 1857 from cultivated material from Trinidad but seems to have died out since. B. venezuelana (fig.3) has elliptic equal sepals and at least the lowest floral bracts are long and exceed the sepals. It is a relative newcomer, having been descried by Mez in 1914, and is still known in cultivation.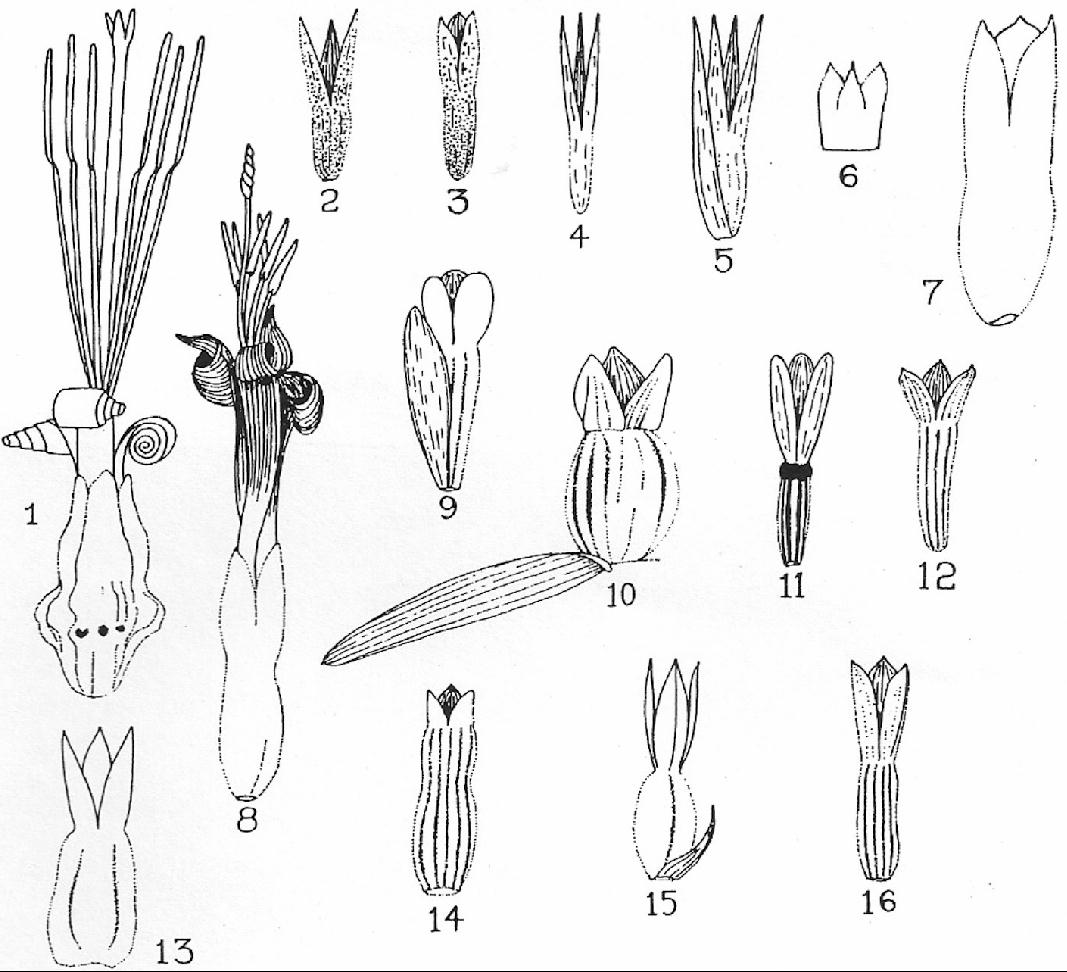 (Click on picture for larger version)
Fig.1: Billbergia zebrina (complete flower); fig. 2: B. rosea (ovary and sepals); fig. 3: B. venezuelana (ovary and sepals); fig.4: B. violacea (ovary and sepals); fig.5: B. meyeri (floral bract, ovary and sepals); fig.6: B. alfonsi-joannis (sepal); fig.7: B. decora (ovary and sepals); fig.8: B. brasiliensis (complete flower); fig.9: B. magnifica (floral bract, ovary and sepals); fig.10: B. macrolepis (floral bract, ovary and sepals); fig.11: B. rubicunda (ovary and sepals); fig.12: B. cylindrostachya (ovary and sepals); fig.13: B. velascana (ovary and sepals); fig.14: B. porteana (ovary and sepals); fig.15: B. cardenasii (floral bract, ovary and sepals); fig.16: B. pallidiflora (ovary and sepals).
Billbergia violacea and B. meyeri have long tapering sepals unlike the remaining helicoids that we have to consider. B. violacea (fig.4) has a long open inflorescence and short floral bracts. Like B. rosea, it was described by Beer in 1857 from cultivated material and has disappeared since, although wild plants have been collected in Guiana. B. meyeri (fig.5) is a native of eastern Bolivia and interior Brazil where Mulford Foster found it showing a preference for palm 'boots'. Its floral bracts are large and it has the shortest, most compact, inflorescence of all the helicoids.
The remaining helicoids all have broad sepals with broad tips, but B. alfonsi-joannis, discovered and described by our honorary trustee, Padre Rauline Reitz, has a three-pointed sepal (fig.6) unmatched in bromeliads. The unusual hyphenated specific name is in honor of his two brothers and fellow padres. The species is one of the handsomest of all billbergias but unfortunately Padre Reitz has not been able to propagate it to any extent.
Billbergia decora (fig.7) and B. brasiliensis (fig.8) have evenly rounded ovaries while those of all the remaining species are prominently grooved and ridged. B. decora was discovered in Peru by Poeppig on his Amazonian expedition in 1829, but it did not reach cultivation until later under the name of B. baraquiniana. Its petals are green and form the typical tight coils.
B. brasiliensis, on the other hand, has dark blue petals that vary greatly in their amount of coiling. It was originally described as B. leopoldii, but as that name had already been used for another species, this one had to be given a new name.
The lower flowers of Billbergia magnifica and B. macrolepis are subtended by large bracts.
B. magnifica (fig.9) is a native of Paraguay and southern Brazil and has rather rounded sepals, where B. macrolepis (fig.10) of Central America and northwestern South America has broadly ovate acute sepals. Both are relatively recent arrivals, dating from 1903 and 1936 respectively.
Billbergia rubicunda (fig.11) stands out because of its glabrous axis, but its cylindrical ovary and equally large elliptic sepals are also distinctive. Mez named this one in 1916 from material cultivated in Vienna but did not know where it was native.
Billbergia cylindrostachya and B. velascana have blue or violet petals, whereas the remaining species, B. porteana, B. cardenasii and B. pallidiflora, all have yellow or green ones.
B. cylindrostachya (fig.12) has rounded apiculate sepals and a cylindric ovary, while the sepals are acute and the ovary stoutly ellipsoid in B. velascana (fig.13), see Bromeliad Society Bulletin, Vol. 7, p.35). B. cylindrostachya was one of Glaziou's numerous discoveries described by Mez. It came from Rio but whether it was native or cultivated there we do not know as it has not been collected since. I strongly suspect that B. maxima (see Bromeliad Society Bulletin, Vol. 4, p.39) is the same as B. cylindrostachya, but so far have been unable to verify.
In Billbergia porteana (fig.14) the lower part of the flower has an hourglass figure because of the large epigynous tube (epi, upon, and gynous, ovary) between the ovary and the unusually short broad sepals. This is another species described by Beer in 1857. It is a native to eastern Brazil and is well known both in the wild and in cultivation.
Billbergia cardenasii (fig.15) of Bolivia has clear yellow petals and equal sepals, while
B. pallidiflora (fig.16) of Mexico has green petals and unequal sepals.
B. cardenasii was described in 1953 from material sent us by Dr. Cardenas, and does not appear to be well known in cultivation yet.
B. pallidiflora was described in 1854 by Liebmann, a famous plant explorer of Mexico and Central America, but until recently it has not been known in cultivation.
Reprinted from The Bromeliad Society Bulletin Vol. 13 No. 1 (1963)

---
PRACTICAL GARDEN SKILLS CLASSES
Includes: Planting what and where? Plus that vegetable bed.
Fertilizing when and how to make your own green manures and compost;
Propagating: Seeds, cuttings, division, grafting, and more; Espaliering;
Improving your soil type and bed preparation; Pests and Diseases
(Once a month on Saturday afternoons and running over 12 months, commencing in August--dates to be confirmed)
$25 per class of 4 hours includes afternoon tea and free gifts each month
Contact: Richard Moran, a qualified horticulturist and owner of BLOOMING GARDENS
Phone: 0414573796 Email: richardpracticalgardener@gmail.com

ORLANDIANA '12
20TH World Bromeliad Conference - Orlando, Florida - Caribe Royale Hotel
September 24 – October 1, 2012
Early Bird Registration Rate (before 28 February 2012) for BSI Member: US$160
For non-member (countries outside US) US$210 (includes BSI membership for 1 year)
Registrations March 1-August 24, 2012: Member US$175/Non-member US$225
After 25 August 2012 and at the door: Member US$200/Non-member US$250

---
HOW I IMPROVED MY GUZMANIAS
By Neville Wood, Illawarra Bromeliad Society (2009)
Up until recently I had about six or more guzmanias in my shade house which I had accumulated over a few years, having previously purchased them in flower at markets. I really never saw myself as a guzmania grower, but thought of them more as a substitute for a bunch of flowers to brighten up the inside of the home. When you consider that a reasonable bunch of flowers costs a minimum of $30 these days, and any I've ever bought seldom lasted more than a week, a flowering guzmania which could be bought for around $20 and often lasted in flower for 2-3 months was a much better financial proposition, don't you think?
After they had finished flowering and the old inflorescence was removed, they were relegated to an unused corner of the shade-house and allowed to just do "their own thing", as I really didn't have much interest in them as a plant. They were never fed and only watered when I watered the other broms. They continued to grow and occasionally would put up a pretty ordinary- looking inflorescence which was never anywhere near as spectacular as the one on the original plant had been. I simply put this down to a couple of things: either I just couldn't grow them or my conditions didn't suit them--or maybe it was a combination of both.
A couple of years back I read an article in (I think) a back issue of a BSI journal. It was by a guzmania grower in the US and gave details of his methods of culture and included a picture of him standing up to his waist in the centre of a group of beautiful flowering guzmanias. These beautiful plants were the best looking guzmanias I had ever seen, with their healthy green leaves and beautiful large inflorescences. What he said, basically, was to: never let them dry out completely; to grow them in lower light to neoregelias, aechmeas, etc.; to give them a warm environment with good air circulation--and the bit that really caught my attention was to FEED THEM AS OFTEN AS YOU FEED YOURSELF! This man only grew guzmanias and was known by local growers as somewhat of an expert, with the nickname of "Mr. Guzmania".
Until I read that article I treated my few guzmanias in a similar manner to my neoregelias. The plants never really looked "happy" and I only ever got the occasional inflorescence of average quality. My success was such that I threatened to toss the plants out if they didn't perform better the following year. The plants were moved to another area on the southern, shadier side of our house beneath 75% green shade cloth. This area is in a higher part of the yard and is protected from winds by the house on the north side and re-cycled charcoal coloured Laser Light on the walls of the other three sides. Because it is so protected from the elements and is a bit higher than their previous location it also appears to be slightly warmer in the cold weather.
After being moved to their new location, all were re-potted, using a mix of six parts of Brunnings Cymbidium Orchid Mix to one part of fine Coco Peat. During re-potting, when the pot was about 3/4 full of mix, I added Osmocote at the rate of 1 level teaspoon to a 5" pot, plus some Blood and Bone at the same rate, making sure the fertilizers didn't directly contact any part of the plants. Sufficient mix was then added to come up almost to the top of the pot and they were then thoroughly watered until the water flowed from the bottom of the pot.
I foliar fed these plants each two weeks, alternating between Manutec and Phostrogen right throughout the whole year along with a monthly application of Seasol. The results were amazing: the plants picked up and grew beautifully and this year I had a better show of flowers than I could have ever imagined. There's only two things which could have caused such a dramatic improvement, and that was the new location with extra fertilizer or the threat to "bin them" if they didn't perform better. As I don't think the guzmanias heard the threat "to bin them", I think it had to be the change of location and the increase in feeding.

---
HANDY HINT :
(From Alice Williams, The Bromeliad Society of New South Wales' Bromeliad Newsletter, August 1998, Vol. 16(8))
I find Tea Tree oil lotion a boon when treating cuts and scratches received when preparing and potting plants. As well as being soothing the oil is a valuable antiseptic. Keep a bottle handy and rub in during and after working on your plants.

---
WHY BROMELIADS?
By Lyman B. Smith, Associate Curator, Division Phanerogams, Smithsonian Institution
(Reprinted from The Bromeliad Society Bulletin 1(2), 1951)
Obviously 'Bromeliad' is simply a shortening of the scientific name 'Bromeliaceae' to indicate any member of the Pineapple family. We might call them all pineapple since they are members of that family, and not bother to find a new term. However, it would cause confusion to associate such diverse forms as the giant Puya and the Spanish moss under a name for which we have already a sharp and narrow concept. As the Bromeliaceae were unknown before the discovery of America, we did not have any such ancient general term for the family as there was in the case of grasses, sedges, lilies or orchids, and one had to be manufactured.
It is not possible to say now who first coined the word 'Bromeliad' but it was probably some fairly recent botanist or horticulturist who was tired of having to use the phrase 'species of Bromeliaceae' after the cumbrous and stately fashion of the old school. French and German botanists of the 19th century regularly used such single words for members of one family, had a standard way of making them, and seemed to find nothing undignified in the process.
The second step in tracing our genealogy is to find the origin of 'Bromeliaceae' and this is very clear. With few exceptions the scientific name of a plant family is derived by combining the name of one of its genera with the ending 'aceae'. Thus in 1805 the French botanist, Jaume Saint-Hilaire, defined the Bromeliaceae and formed the family name from the genus Bromelia.
Our next step takes us back to Linnaeus, the father of systematic botany, for he it was who established the genus Bromelia in 1754 according to the rules we now follow in making scientific names. The name was taken from the family name of Olaf Bromelius, a Swedish botanist. Since Linnaeus also was Swedish, we might at first suppose that he had named the genus for a friend, but Bromelius died before Linnaeus was born.
Actually it was Plumier, the early French explorer of the West Indies, who first had the idea of renaming for Mr. Bromelius the genus that previously had gone by the Indian name of Karatas, and Linnaeus so credited it. Plumier was on familiar terms with the genus Bromelia in the West Indies. Bromelius, on the other hand, was famous mainly for the fine Flora that he wrote for his home town of Goetheborg and it is by no means certain that he ever laid eyes on a single plant of the great group that was to bear his name.

---
FROST INJURY
By K.W. Allen in BSI Journal Vol. 40(5), 1990 (Reprinted from Potpourri, March 1988, newsletter of the Greater New Orleans Bromeliad Society)
We often hear people say they have lost plants due to frost damage but is this really the reason? Before we can safely say a plant has been damaged by frost, we must first ascertain what frost is. It is quite possible that our plants may have only been injured by very low or near-to-freezing temperatures or by very cold winds.
The damage done to plants by freezing temperatures depends upon the nature of the plant, its stage of growth, the conditions under which it is or has been growing, and the speed and severity of freezing. Because of all these varying conditions, it is impossible to state that a certain plant will withstand a predetermined degree of freezing.
In early spring, a plant might be severely damaged by freezing temperatures when 2 or 3 weeks earlier it might have escaped unscathed. It is quite a common occurrence for a plant to survive 2 or 3 very hard frosts in the winter months and yet in the spring be badly damaged or even killed by a comparatively light frost or sudden spell of cold weather.
It is important to understand that there are two main types of frost:
First is the familiar air frost of winter, which is caused by a mass of polar air covering a large area, the temperature of which is very low. This mass of cold air may sometimes occur quite later in spring after a period of mild weather. This mild weather would have started plants into growth, and consequently, under these circumstances, there can be wide and extensive damage.
The second type of frost is associated with a clear, sunny day, where the surface of the earth and surrounding vegetation is heated by the direct rays of the sun, but the air, being transparent as far as the sun's heat rays are concerned, does not warm up to the same extent. The air that is in contact with the ground, however, is easily heated by conduction, and being warm is lighter, hence it begins to rise, replaced by cold air. The warm air, when it rises, cools by expansion and sinks back to the surface again; this gives us a continuous circular motion.
When the sun goes down, the air nearest to the ground is warmest, and gradually becomes colder the higher one goes. If the night were to remain clear without a cloud in the sky, the surface of the ground would radiate heat into space and its temperature would fall rapidly. Naturally, when this occurs the air in contact with the ground becomes very cold and heavy and will not move.
If the night is long, the heat loss by radiation from the surface may be enough to drop the temperature below freezing point, causing the moisture in the cold layer of air to be deposited as ground frost. This layer of freezing air will gradually deepen on level ground and drift down into hollow and low-lying areas and accumulate, especially where it becomes blocked by the terrain of the surrounding countryside. When this happens, it can build up into what appears to be a 'sea' or 'cloud' of freezing air, covering up plants and even trees.
The movement of dense cold air is likened to that of water, where it finds its own level, can be diverted or even stopped by a natural or man-made barrier being placed across the sloping terrain—i.e., a hedge, brick wall or some other such barrier.
The presence of an expanse of water tends to modify the extent of the frost and to equalize the temperature.
Radiation frost generally causes damage to low growing plants first and as the freezing air deepens by prolonged radiation or by drifting colder layers, starts to affect shrubs and finally trees. They may occur at any time during the year, but during the summer months the nights are short and the soil is too warm for the temperature to fall to a freezing level.
Cloud during the night can act as a blanket, preventing radiation and sudden falls in temperature.
Both types of frost can occur together, and if this happens, particularly when spring growth has started, there may be considerable damage caused by the temperature dropping very fast and severely.

---
ILLAWARRA SPRING SHOW AS PART OF THE 'SPRING INTO CORRIMAL FESTIVAL' SEPTEMBER 10-11, 2011
- A combination of "A GROWER'S GUIDE TO BROMELIAD JUDGING" by Don Woods (Bromelia 2(2):21-22, 1995)
and current Australian interpretation by Eileen Killingley, Australian Judging School.
Because I feel that our members are interested in learning just what a Judge is looking for when assessing entries in a Show, I have included below a table by a Mr. Don Woods of Western Australia. While the table does give quite a comprehensive listing, I would like to add under "Conformation" two more considerations: Have the leaves been neatly trimmed and/or removed cleanly? While Mr. Woods offered just 2 point penalties for a dirty or damaged pot and incidence of pests/diseases, today's Judges tend to frown on these a bit more and, for example, if evidence of scale is present then the plant could be disqualified and removed from the table. I have also removed two categories, "Difficulty of Cultivation" and "Rarity" from the table which accounted for 5 points each. While not so applicable these days, a judge might still take them into account if he/she knows that a plant is comparatively "rare" because of its "difficulty of cultivation" and so give it extra consideration. While everyone should take note of the cleanliness of pots and freedom from pests/disease, for our novice members, the other elements are usually looked at with more leniency.
Don Woods... "In selecting entries for a competitive show I have found there are hundreds of opinions as to what impresses a judge. A must for every serious exhibitor is the Handbook for Judges, Exhibitors and Affiliates, A Bromeliad Society Inc. publication. Technically this handbook is superb, as it defines how the point scoring system works and provides excellent information as to typical growth habits and problems found in particular genera, species and hybrids."
- "This is excellent information for a trained and experienced bromeliad judge. However, for the enthusiastic but inexperienced novice it can be confusing. In an effort to remove the mystics of descriptions, I have broken the large grouping of points down into elements that the average grower can handle and have allocated point loading that I consider appropriate. The judging style form is not intended to replace the training and experience of a respected judge but should enable a competent grower to make a reasonable assessment of which plant he/she should choose."
Show time is a very good opportunity for our members to get to know each other better and there are all types of jobs going over the 3 days—from setting up the display and competition and sales tables (from 2.00 pm on the Friday) to packing up on the Sunday afternoon. As we provide tea/coffee/cakes/slices to visitors (plus lunch for workers and judges) on the Saturday, providing goodies and/or some time in the kitchen could be one way of helping, or manning the information and raffle tables another. Sales plants are always welcomed—and could earn you a little extra pocket money—and we also need plants suitable for our display. It goes without saying that we also need your lovely plants entered into competition as visitors love to see all of the different varieties and artistic arrangements using bromeliads—so, please don't be shy about bringing your plants for either competition or display to help make this year's Show very special.
The Don Woods Style Judging Form
Reprinted in part from Bromelia 2(2):21-22, 1995
| | |
| --- | --- |
| Judging Elements | Scores for plant with: |
| | | |
| --- | --- | --- |
| CULTURAL PERFECTION | Foliage | Inflorescence |
| - Clean, healthy foliage? | 0 to 5 | 0 to 5 |
| - Is plant free of damage, burns, etc.? | 0 to 10 | 0 to 10 |
| - Free from effects of pests/diseases? | 0 to 2 | 0 to 2 |
| - Is plant devoid of malnutrition? | 0 to 2 | 0 to 2 |
| - Is plant centrally potted? | 0 to 4 | 0 to 4 |
| - Is pot dirty or damaged? | 0 to 2 | 0 to 2 |
| | Maximum 25 | Maximum 25 |
| | | |
| --- | --- | --- |
| CONFORMATION | Foliage | Inflorescence |
| - Does rosette lean off-centre? | 0 to 5 | 0 to 3 |
| - Are most leaves on one side of rosette? | 0 to 5 | 0 to 3 |
| - Different lengths of leaf growth? | 0 to 5 | 0 to 3 |
| - Many leaves removed? | 0 to 5 | 0 to 3 |
| - Typical growth habit for named plant? | 0 to 10 | 0 to 6 |
| - Typical inflorescence habit for plant? | - | 0 to 2 |
| | Maximum 30 | Maximum 20 |
COLOUR AND MARKING

- Good colour for named plant?

0 to 5

0 to 3

- Good marking for named plant?

Maximum 30

Maximum 20
| | | |
| --- | --- | --- |
| SIZE AND MATURITY | | |
| - Size typical for named plant? | 0 to 1 | 0 to 5 |
| - Maturity stage | 0 to 4 | - |
| | Maximum 5 | Maximum 5 |
DIFFICULTY OF CULTIVATION

- Needs high/low light
- Light value not important

1
0

1
0

- Needs high/low humidity
- humidity not important

1
0

1
0

- Need warm/cool conditions
- Temperature not important

1
0

1
0

- Needs high water quality
- Water quality not important

1
0

1
0

- Needs heavy feeding/detrimental
- Feeding not critical

1
0

1
0

Maximum 5

Maximum 5
RARITY (Locally)

- Only in major collections (new introductions) = 5
- Only seen in members' collections (been around for some time) = 4
- Only available at club meetings = 3
- Only available to general public through Shows and sales = 2
- Available at many nurseries. (easily obtained) = 1
- Commonly grown and traded = 0

0 to 5

0 to 5

Maximum 5

Maximum 5
INFLORESCENCE

- Colour excellent = 2
- Colour Good = 1
- Colour Poor = 0

-

0 to 2

- Just emerging = 1
- 50% growth = 2
- Branching just started = 6
- Fully developed, no flowers = 10
- 25% of buds flowered = 12
- 50% of buds flowered = 10
- 75% of buds flowered = 8
- Last flowers open = 6
- Flowering finished = 4

-

1 to 13

- Dead and spent petals removed

-

0 to 1

- Infl. has colourful berries and/or bracts

-

0 to 2

- Small/Average/Large size for named plant?

-

0 to 2

-

Maximum 20

Total Points Awarded

100

100
---
TILLANDSIA CONTAGION
By Brad Gillis, M.D.
Chris Butler has kindly forwarded on this posting from a recent member of the Tillnuts Group – Dr Brad Gillis. I think that we can switch the words 'Tillandsia' and 'Tills' to 'Bromeliads' if we prefer, but basically I think we've probably all been bitten by the same bug.—Ed.
I've taken it as a given that humour is positively encouraged on admission to the Tillnut funny farm and all those who do not converse with a smirk on their face [while typing] risk expulsion, or at least measured for a straight jacket plus some Helium to deeply breath in.
Being a doctor [GP variety--not one of those pretender PhD types--apologies to anyone with a PhD in the group] I am available and would be honoured to become the honorary medical adviser for the Tillnut group as all of us have been afflicted by the Tillandsia contagion and may need therapy either sooner or later [individuals can decide which group they fit in].
I am led to believe that the contagion infects slowly and early symptoms include:
• being able to pronounce Tillandsia and appearing smug about it
• not being able to walk past one without checking it out [talking about Tills here]
• rescuing plants from chain stores to save them from certain death on someone's fridge door
• inability to throw any Till into the rubbish unless dead brown all over and falls apart in hand [hands up all those who keep plants with centre rot even when the centre falls out]
• impulse buying of Tills
• talking to Tills
• looking besotted gazing at a Till in full bloom
• learning Latin as a second language so you can try and pronounce Till names correctly
• frequent pilgrimages to Brom Society meetings/shows
• Tills taking over any hanging space around the home
• playing with them for hours at a time-gluing, tying etc instead of working on spouse's chore list
• friends and family not understanding your obsession with Tills [my brother calls them green sticks--how unkind]
• and it gets worse-before you know it you end up on a Tillnut list and you start playing God [a.k.a. hybridizing]--that makes us positively certifiable
Fortunately for us, and unfortunately for everybody else, there is no cure. Once afflicted by the contagion there is no going back. It's until death do we part! Hmmm-do Tills go to heaven?

---
FOREST DRIVE NURSERY
Located at REPTON, south of COFFS HARBOUR

SPECIES AND VARIEGATES
All quality plants at reasonable prices
Plants for all levels of collectors

Beautiful TILLANDSIAS, VRIESEAS, NEOREGELIAS, AECHMEAS, ETC.

Visitors welcome but phone first:
(02) 6655 4130 A.H.
For mail order send S.A.E.
P.O. Box 2, BONVILLE, NSW 2441
Proprietor: Peter Tristram
PINEGROVE BROMELIAD NURSERY
Ross Little and Helen Clewett
114 Pine Street, WARDELL
P.O. Box 385, WARDELL, 2477
Phone/Fax: (02) 6683 4188
pinegrovebromeliads@bigpond.com

AECHMEAS, ALCANTAREAS, GUZMANIAS, VRIESEAS, TILLANDSIAS, NEOREGELIAS AND MORE

Open 7 days - Visitors welcome but please phone first.
CRADLE NURSERY – COBARGO, NSW
The Cheapest Bromeliads on the Internet!
Cradle Nursery is a small wholesale nursery on the NSW far south coast, currently selling via their website and on eBay, as well as at the local markets in the area:
- Moruya Market - Every Saturday
- Candelo Market - 1st Sunday
- Pambula Market - 2nd Sunday
- Batemans Bay Market - 3rd Sunday
- Bermagui Market - Last Sunday
Tim and Ernie Berger - Phone: 04 4758 7618
Email: sales@cradlenursery.com.au
Website: www.cradlenursery.com.au

---
---
ILLAWARRA BROMELIAD SOCIETY INC.'S
nineTEENTH ANNUAL SHOW
September 10 and 11, 2011
SCHEDULE
| | |
| --- | --- |
| | • SECTION 1 - OPEN |
| a. | Aechmea - Individual specimen plant |
| b. | Billbergia - Individual or multiple permitted |
| c. | Neoregelia - Individual specimen plant |
| d. | Neoregelia - miniature – Individual specimen |
| e. | Tillandsia - Individual/Multiple permitted |
| f. | Vriesea/Guzmania - Individual specimen plant |
| g. | Bromeliad not listed above - Individual or Multiple permitted |
| h. | Established colony: Aechmea/Vriesea Minimum of 3 plants |
| i. | Stoloniferous Colony: Neoregelia Minimum of 3 plants |
| | |
| --- | --- |
| | • SECTION 2 - NOVICE |
| j. | Aechmea - Individual specimen plant |
| k. | Neoregelia - Individual specimen plant |
| l. | Tillandsia - Individual or multiple permitted - May be potted or mounted |
| m. | Vriesea/Guzmania - Individual specimen plant |
| n. | Bromeliad not listed above - Individual or multiple permitted |
| | |
| --- | --- |
| | • SECTION 3 - CREATIVE |
| o. | Mounted Tillandsias – minimum of three (3) established plants which may be the same or different |
| p. | Mounted Bromeliad(s) other than Tillandsias – Established plants which may be the same or different |
| q. | Basket or Decorative Container – minimum of three (3) plants which may be the same or different – no embellishments |
| r. | Bromeliad Garden – Any Container – Embellishments may be used. |
| s. | Artistic Arrangement – to consist of predominantly bromeliad material – Embellishments may be used. |
• In classes covering "Individual Specimen Plants", pups are permissible on the adult plant only if they are so small that their removal might jeopardize their survival.
• When allowing for multiple plants the key word is "interconnected"—i.e., they must all originate from a single plant.
• Entries In the 'Miniature Neoregelia' class should not exceed 200 mm (8 inches) diameter.
• In Sections 1 and 2, individual specimen plants (excepting tillandsias) should be potted, unless otherwise noted.
---
Click HERE to return to Illawarra Bromeliad Society "Club News Page".

---
Updated 17/07/11
---