ILLAWARRA BROMELIAD SOCIETY Inc.
Club News.
---
Click HERE to return to Illawarra Bromeliad Society "Club News Page".

---
NEWSLINK
July 2007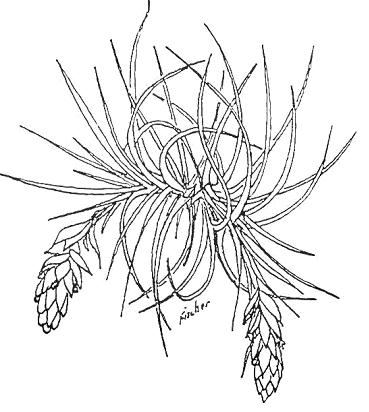 ---
- Articles appearing in this issue of NEWSLINK are for information purposes only and are not necessarily endorsed by the Committee or the Illawarra Bromeliad Society.
- The Society is, by the holding of meetings, displays and competitions, to provide a forum for the people of the Illawarra region who are interested in the culture and collection of bromeliads.
---
NEW MEMBERS:
We extend a very warm welcome to our new members Coral Baldwin and Paul and Jenny Godin, who joined in May, and Valda Beckett and Tom Cross who joined at our June meeting.
---
MONTHLY RAFFLE PRIZE ROSTER: (2 plants/prizes from each person on the list - thanks!)

| | |
| --- | --- |
| July | Sharyn/Janine/Doreen Netting/Lucas |
| August | Jarka/Naomi/Russell/Joan |
| September | Steve/Warwick/David/Pat Alton |
| October | Phillip/June/Bruce/Rhonda Patterson |
---
MEMBERSHIP FEES:
A reminder that membership fees were due and payable on June 30.
Single Membership $8, Family Membership $12.
---
COMING EVENTS:

Aug. 24 - 26

2007 GARDENING AUSTRALIA EXPO - See details below

Sept 6 - 9

CENTRAL COAST BROMELIAD SOCIETY – SPRING SHOW – Flora Festival, KARIONG

Sept 8 - 9

ILLAWARRA BROMELIAD SOCIETY – SPRING SHOW, Uniting Church Hall, CORRIMAL

Sept 21 - 23

BROMELIADS 14 – BEACHSIDE, Rydges Resort Hotel, PORT MACQUARIE

Sept 30

GARDEN LOVERS' FAIR – BERRY SHOWGROUND

Oct 6 - 7

BROMELIAD SOCIETY OF VICTORIA – 40TH ANN. BROMELIAD SHOW, Phoenix Park Community Centre, CHADSTONE, VIC. Details below.

Oct 6 - 7

BROMELIAD SOCIETY OF AUSTRALIA - SPRING SHOW - Burwood RSL
(Please ignore any other dates you may have seen.)

Oct 27 - 28

BROMELIAD SOCIETY OF NEW SOUTH WALES - SPRING SHOW, Wellbank St, CONCORD

2008

.

June 24 - 30

'BROMELIADS DOWNUNDER' - The 18th World Bromeliad Conference, CAIRNS, QLD. Visit the Web Site at: www.bromeliadsdownunder.com for both the 2007 and 2008 Conferences.
GARDENING AUSTRALIA EXPO
FRIDAY AUGUST 24 – SUNDAY AUGUST 26 - 9.30 AM – 5.00 PM DAILY
SYDNEY SHOWGROUND, SYDNEY OLYMPIC PARK, HOMEBUSH
ADULTS: $16/PENSIONER-SENIOR $13/FAMILY $38
CHILDREN 5 -16 YEARS $6/CHILDREN UNDER 5: FREE
Pre-booked tickets ($13) available for groups of 15 people or more: Call (02) 9452 7575 Tickets available at the door (Cash only) or on-line at www.abcgardeningexpo.com.au
GARDEN LOVERS' FAIR
Presented by Members of Shoalhaven Garden Club, Nowra
SUNDAY SEPTEMBER 30 - 9.00 AM TO 4.00 PM – BERRY SHOWGROUNDS
ENTRY FEE $4 adult
Further details: Mrs. Jan Roper (02) 4422 4118/ajroper@tpg.com.au
BROMELIAD SOCIETY OF VICTORIA INC.
40TH ANNIVERSARY BROMELIAD SHOW
SATURDAY OCTOBER 6TH AND SUNDAY OCTOBER 7TH - 9.00 am to 5.00 pm both days
Phoenix Park Community Centre, Rob Roy Road, CHADSTONE, VICTORIA
Melway map ref: 69 D2
Contact Brian Eagle: (03) 5966 7402 or 0412 345 682
Interstate visitors will receive free admission, a warm coffee, free eats and a huge welcome.
Showing of 'Membership Card' entitles you to a 10% discount at Collectors' Corner.
---
MEETINGS:
PLANT RESULTS - April 7th, 2007
OPEN
| | | |
| --- | --- | --- |
| 1st | Neville Wood | Aechmea orlandiana Ensign |
| 2nd | Rena Wainwright | XNeoregelia Red on Green |
| 3rd | Rena Wainwright | Guzmania lingulata variegated |
| 3rd | Ted Clare | Neoregelia Gunpowder |
| 3rd | Sue Burrows | Vriesea saundersii x platynema |
| 3rd | Sue Burrows | Aechmea chantinii X |
Novice
| | | |
| --- | --- | --- |
| 1st | John Carthew | Guzmania Hybrid |
| 2nd | John Carthew | Guzmania Hybrid |
| 2nd | Bruce Cluff | Neoregelia Hannibal Lector |
| 3rd | Bruce Cluff | Neoregelia Break of Day |
TILLANDSIA
| | | |
| --- | --- | --- |
| 1st | Rena Wainwright | Tillandsia leiboldiana purple |
| 2nd | Ted Clare | Tillandsia caerulea |
| 3rd | Graham Bevan | Tillandsia caput-medusae |
---
PLANT RESULTS - May 5th, 2007
OPEN
| | | |
| --- | --- | --- |
| 1st | Neville Wood | Guzmania Sunnytime |
| 2nd | Rena Wainwright | Billbergia Hoelscheriana |
| 2nd | Neville Wood | Billbergia Hallelujah |
| 3rd | Ted Clare | Vriesea psittacina |
| 3rd | Ted Clare | Aechmea Big Stuff |
| 3rd | Rena Wainwright | Orthophytum gurkenii |
NOVICE
| | | |
| --- | --- | --- |
| 1st | Honda Patterson | Vriesea philippo-coburgii |
| 2nd | Bruce Cluff | Guzmania Indian Night |
| 2nd | John Carthew | Aechmea fasciata Primera |
| 3rd | Graham Bevan | Puya laxa |
TILLANDSIA
| | | |
| --- | --- | --- |
| 1st | Sue Burrows | Tillandsia harrisii |
| 1st | Graham Bevan | Tillandsia tricolor var. melanocrater |
| 2nd | Ted Clare | Tillandsia disticha |
| 3rd | Graham Bevan | Tillandsia brachycaulos x streptophylla |
---
PLANT RESULTS - June 2nd, 2007
OPEN
| | | |
| --- | --- | --- |
| 1st | Ted Clare | Vriesea fosteriana |
| 2nd | Neville Wood | Billbergia Hybrid |
| 3rd | Neville Wood | Aechmea orlandiana Ensign |
| 3rd | Nina Rehak | Guzmania Irene |
NOVICE
| | | |
| --- | --- | --- |
| 1st | Carissa Morgan | Neoregelia Pink |
| 2nd | Lucas Morgan | Neoregelia Fireball x compacta |
| 3rd | Lucas Morgan | Vriesea platynema var. variegata |
TILLANDSIA
| | | |
| --- | --- | --- |
| 1st | Rena Wainwright | Tillandsia stricta |
| 2nt | Graham Bevan | Tillandsia tenuifolia |
| 2nd | Graham Bevan | Tillandsia somnians |
| 3rd | Sue Burrows | Tillandsia juncea |
---
July 7, 2007 - CHRISTMAS IN JULY
August 4, 2007 - We are to have a very special guest at this time, John Gabriele, who is well known in the Illawarra for his extensive knowledge of horticulture and for his contributions towards the talk-back gardening programme, "COMPOST HEAP' on ABC radio, solving gardening problems for listeners.
Annual General Meeting
September 1, 2007 - The Look-Alike Tillandsias: T. cyanea, T. lindenii, etc.
Plant Preparation for Show.
---
OUR FIFTEENTH ANNUAL SHOW
As part of the
'SPRING INTO CORRIMAL' FESTIVAL
September 8 – 9, 2007
In recent months we have been having an unprecedented number of beautiful plants entered onto our monthly competition tables and I am trusting that this bodes well for our Show in September.
There has also been a significant increase in member numbers (18, in fact) in the past twelve months and I would like to let you know how much your membership is appreciated and that if you have the time to help out at our Show this can give us all a very nice opportunity for getting to know each other better and perhaps what your particular interests in bromeliads might be.
There are all types of jobs going over the 3 days--from setting up the display and competition and sales tables from 2.00 pm on the Friday to packing up on the Sunday afternoon. As we provide tea/coffee/cakes/slices to visitors (plus lunch for workers and judges) on the Saturday, providing goodies and/or some time in the kitchen could be one way of helping, manning the information and raffle tables another. We also need sales and display plants, so if you have any extra bromeliads at home that might be suitable we hope that you will bring them along.
Our Show Schedule, which I will put out a little later, gives details regarding times/venue/how to present your plants, etc. etc., but if you have any questions before then please don't hesitate to ask at any of our meetings.
We cater to both novice and more experienced growers at our Show and a copy of the schedule of classes we will be using is printed on the back page of this Newslink. An additional class has been added this year (Established Colony: Aechmea/Vriesea – minimum of 3 plants] and the class which had previously catered mainly to neoregelias has been changed slightly to reflect this: [Stoloniferous Colony: Neoregelia – minimum of 3 plants]. See further details p. 12.
---
WOLLONGONG WHOLESALE NURSERY
Cnr Illawarra and Princes Highways, Albion Park Rail (02) 4257 6222
Offering Members 15% discount (when they show membership badge) on Everything!
This offer applies every day - Open 7 days 8.00 am to 5.00 pm

---
APRIL 7, 2007 MEETING:
At our April meeting Graham spoke about mounting plants, something that he has had a good deal of success with. Anyone who has visited his garden can't help but be impressed by how well those broms are doing that he has mounted onto the bottlebrush tree out the front of his house. As well as clumping up beautifully, some have even seeded into the tough bark.
Other mounts can include very old timber (suggested by Fred Burrows) so that there are no residual harmful toxins which can affect your plants, old fence palings, driftwood, cork, and some do particularly well on sandstone rocks. Cork works well for tillandsias, but larger slabs of fence palings work better for larger plants — e.g., Graham had a lovely clump of Quesnelia marmorata, which initially had been attached to a piece of tree root, but had outgrown that so that a piece of weathered wood had been added to the base to give room for the plants to continue to spread (I have found that Q. marmorata hates to grow in pots, soon 'walking' over the edges of them and into adjoining pots or onto the bench.)
As bromeliads, tillandsias in particular, like to be anchored firmly until they have a chance to hold fast with their own roots, Graham has looked at different ways of doing this.
Unfortunately he has found that there can be lots of failures when using glue (although Ted has had good success with "Shoo Goo" - but don't cover the end of the plant because then roots can't grow!), and while Graham has sometimes used jute string to tie them on, his favoured method at the moment is to use cable ties (sold very cheaply at "$2" shops), first drilling holes on either side of the stem at the point of attachment and then threading and fastening the ties at the back of the mount. Rena also has gone exclusively to mounting her tillandsias using the cable ties and short lengths of old pickets and she finds that her plants love these, with the new roots very happily making their way into the weathered surfaces. One look at Rena's lovely plants and we can see how successful this type of mounting has been!
Some people still prefer gluing their plants to mounts and in a 1986 article by Herb Plever of New York City, Herb had had the most success (for tillandsias) with the then fairly new product, "Liquid Nails All-Purpose Adhesive". Over the previous 20 years he had tried all kinds of other methods for mounting tillandsias — strips of nylon stockings (which tended to stretch out and loosen too soon), model airplane dope and silicone rubber cement (deadly to the plants), Duco Cement (which didn't kill the plants but when a tillandsia sent out roots they would arch up in the air an inch above the Duco to get past it before touching down onto the plain cork!).
(Plever, H. (1986) (Liquid) Nail Them On, Journal of the Bromeliad Society Vol. XXXVI(3), May-June 1986)
Also tried was insulated telephone wire (but this could not be used for very small or tender plants), and hot glue (with this method some of the plants died while others became shaky because their outer leaves had died and dried off from the hot glue). However, using the "Liquid Nails" Herb had found that even a heavy plant like T. xerographica did well, although he suggests that it is a good idea to tie it temporarily while the adhesive sets and to keep the plant horizontal on top of the cork [or other mount] for 18 to 24 hours before hanging it vertically. He went on to say that "Liquid Nails is especially useful in mounting tiny, tender plants which can't be tied down. It is pale brown in color and blends nicely with the cork."
(Beware! A friend told me that he uses copper telephone wire but copper can be deadly to bromeliads, especially tillandsias!—Ed.)
---
'TAIN'T NECESSARILY SO
By Kathy Dorr
(Reprinted from JBS 1985 Vol. XXXV(6), which in turn was reprinted, by permission, from the Long Beach- Lakewood Bromeliad Study Group [Bulletin], 10(3): 29-32; 1974)
Perhaps brainwash is too strong a term to use, but I could find no other word in Webster that was as apt to the situation. One of the definitions of brainwash is "persuasion by propaganda or salesmanship" and although it was, in my opinion, lack of actual growing knowledge, as well as a necessity for Mother Nature to be taken as gospel, this would apply.
From time immemorial, it has been written, taught and exhorted that, basically, tillandsias are epiphytic. Apparently, no one considered the various theories that bromeliads may have originated from one or a few terrestrial species. The possibility of the statement "you can take the boy out of the farm, but you can't take the farm out of the boy," applying to bromeliads apparently has not been tested too thoroughly.
Benzing writes: "Some bromeliads are facultative epiphytes — in other words, they can grow as terrestrials. A substantial number, like many tillandsioids, are obligate epiphytes, i.e., they cannot grow in soil."
Every grower has found that the "soft" leaved tillandsias, for the most part, grow much more happily as terrestrials. These would include such plants as Tillandsia flabellata, T. multicaulis, T. lucida, T. viridiflora var. variegata, etc. T. cyanea and T. lindenii are native to areas that make them conducive to growing terrestrially. Experimentation has shown that the list does not stop with only these.
About three years ago I decided to test or establish this hypothesis. I started with sixteen tillandsias acknowledged to be epiphytes. They included two varieties of Tillandsia ionantha, T. araujei, T. didisticha, T. stricta, T. caput-medusae, T. bulbosa, T. streptophylla, T. argentea, T. schiedeana, T. tectorum, T. victoriana, T. albida, T. bergeri, etc.
I planted all these as terrestrials in four-inch pots. I used a terrestrial mix of humus and sand (commercial azalea mix). They were watered the same as all the terrestrials. The plants were placed where they had slight protection and received strong light, but very little direct sun, perhaps only an hour a day. They were fertilized (some of them) with Jobe's sticks.
Results were very interesting. First, they developed a terrestrial type of root and most produced an abundant supply of them. I had previously found that when some of these, such as T. caput-medusae, were laid in a pot with another plant, they would immediately send down roots even though they were not actually planted.
Tillandsia stricta has flowered for the past two years and set offshoots. The plants are lush appearing. The inflorescences are no larger than those on plants grown epiphytically. This year there were three inflorescences and I was surprised when they appeared smaller than usual until I noted that all the mounted ones were also smaller than usual this year.
Photo, Ian Hook.
Tillandsia ionantha var. ionantha flowered last year and it was a most attractive plant. It opened out more than T. ionantha grown epiphytically, showing the inflorescence to a better advantage — in my opinion. It has set offsets and I would venture to say it will flower again this year.
Photo, Birgit Rhode.
Tillandsia caput-medusae grew larger and definitely more vigorous appearing. It is now on its third generation and each generation has been larger than the last! If the third generation offshoot grows into its present appearance, it is really going to be a great one.
There are two offsets showing and they are large, lush, and beautiful! The inflorescence also was larger than the ones on plants grown epiphytically.
Photo, Ken Woods.
Tillandsia didisticha is unquestionably happier in a pot in my growing area. I always had problems with this plant as an epiphyte and it has produced a lovely plant grown in this manner. It has not flowered yet, but is large enough (larger than most grown as epiphytes) to flower.
Photo, Ken Woods.
Tillandsia tectorum delighted in being a terrestrial. It flowered last year and has produced two beautiful offshoots, which have grown much faster than the offshoots which appeared at the same time on a Tillandsia tectorum grown as an epiphyte.
Tillandsia streptophylla took to terrestrial growing like a fish to water. It has gotten nice, and fat, and happy. It would give one the impression that it possibly preferred growing as a terrestrial.
Photo, Ian Hook.
Both varieties of T. schiedeana are getting ready to flower. The plants are healthy, sturdy plants and perfectly content growing as terrestrials.
Photo, Ian Hook.
Tillandsia araujei has been very interesting in that when the plant had been potted for about a year, approximately an inch of the tip of the plant was accidentally broken off. I simply stuck it in the soil beside the original plant, expecting it to wither and die. Surprisingly, it rooted and started growing! Some time later, I deliberately broke off another piece and stuck it in the soil and it, too, began to grow. Neither of these pieces had any sign of a "base" or root when planted. If the two pieces had not been broken off, I believe this plant would have flowered by this time.
Photo, Ian Hook.
Tillandsia argentea is fascinating. It was a very small plant when planted and has not flowered as yet, but it is a beautiful little, fat, fuzzy plant at the present time and will probably flower this year.
Tillandsia victoriana grew a little larger than one of the same size that had been mounted on cork. They both flowered about the same time.
Several months ago, I planted a number of different species and intend to continue the experiment. Such information as I have gleaned so far tends to dispute some accepted hypotheses and has become a source of controversial theories.
---
A GEOGRAPHY LESSON
By Carol Johnson
(Reprinted from Journal of The Bromeliad Society January-February 1989 Vol. 39 No. 1)
Prospective bromeliad buyers most often ask:
1. How much light is best for this plant?
2. Will it take cold if planted outdoors?
Rarely do they ask, "Where does this plant come from?" Yet, this is the most important of all information required to grow bromeliads successfully and the answer to this question will also settle the first two. Geography plays a major role in the growing of our plants — altitude, moisture, and heat go along with this.
Bromeliads from south-eastern Brazil generally do very well in FLORIDA. That is because their latitude is very similar to ours, their altitude is not too far out of line and Brazil does have definite winter and summer seasons just as we do. I have always made it a practice, when ordering bromeliads to be shipped by mail from Brazil, to do so either in the spring or fall so that the plants will not be coming from extreme heat into our coldest season, or vice versa. Think about it. Vrieseas, nidulariums, neoregelias, quesnelias, our toughest species, are from south-eastern Brazil.
Altitude is perhaps the greatest determining factor in the success or failure of plants imported into Florida. Most high altitude plants are tillandsias, vrieseas, guzmanias, or pitcairnias, and puyas. Most of the bromeliads that are grown successfully in collections are those found growing under 5,000 ft. If you doubt me, check your Padilla. It is often possible to get high altitude plants through a first blooming, but then they fail to pup and just die. Tillandsia imperialis, perhaps the most beautiful bromeliad of all, grows and blooms in the cloud forests of Mexico. In October 1984, we brought back blooming specimens which lasted for months, but we had to regard them as cut flowers and know that the growing plants could not survive or reproduce at sea level. On our recent trip to Ecuador, it was a great temptation to collect the beautiful pitcairnias, guzmanias and tillandsias found blooming at 8-10,000 ft. however, it has been painful to watch those I could not resist wither and die, one by one, in our Florida summer. In borderline cases, plants brought back to Florida from high altitudes during our winter months stand a better chance of survival.
Humidity is perhaps the least understood of all the factors influencing bromeliad growth. Humidity is not just water, it is atmosphere. Terrestrial plants (hechtia, dyckia, puya, cryptanthus) need water. Epiphytic plants require humidity and are engineered to retain it in some fashion. Many bromeliads are murdered because of the misunderstanding about humidity vs. water. Example: some years ago I made an investment in a stock of Tillandsia tectorum and was told they must be kept very dry — no watering whatsoever. Of course, in our dry season and in the greenhouse, they all died. The misunderstanding is reasonable. The habitat of T. tectorum is perhaps the driest in South America. In Lima, Peru, in 1983, a woman at our hotel told me that her six-year-old child had never seen rain. However, every night heavy fog rolls in from the Pacific and drenches the plants, which soak up the moisture like sponges. Now my tectorums get soaked by every rain and as long as they dry out between waterings and have plenty of air circulation, they thrive. Most culture information in print still lists the dyckias as dry growing plants "suitable to be grown with cacti." For pot culture this is absolutely untrue. Dyckias, pitcairnias, hechtias are all terrestrial plants and must have a water source to produce sustaining roots. They will tolerate dry, hot conditions overhead as long as the roots are kept moist. Hechtias collected in Honduras were growing on cliffs where water poured over them constantly. Pitcairnias (and they have been present everywhere we have collected) were all growing along wet creek banks or on moist, dark cliffs.
Light. For many years I struggled to grow Tillandsia punctulata without much success. It neither lived nor died. Then, in Mexico, at about 3,500 feet, we collected Tillandsia punctulata. It was growing in the tree tops in cool, dense shade and nurtured by wet, rooted leaf mould. That taught me a lesson about the tillandsias. All those years I had lumped all tillandsias together, as sun-loving, dry-growing epiphytes. Now I know that every tillandsia, in fact every bromeliad, should be researched before becoming part of a collection.
It is fairly easy to classify plants as tender or hardy when you know the native habitat:
1. Plants from Mexico, Central America and the Caribbean are all extremely cold-sensitive. Examples: Aechmea lueddemanniana, A mexicana, A. smithiorum.
2. Plants from Brazil, Argentina, Chile and Bolivia adapt best to our North American growing conditions and extremes of heat, cold, wetness and dryness. Examples: Aechmea distichantha, Vriesea carinata, Vriesea schwackeana, the Nidulariums and most Quesnelia.
3. Plants from the Amazon Basin, its tributaries, in fact all of sea level equatorial South America, will tolerate no cold and would prefer a stable, constant growing environment. Examples: Aechmea chantinii, A. zebrina, all the Streptocalyx, Neoregelia eleutheropetala.
4. Items 1 through 3 presuppose that the plants in question originate at an altitude acceptable for Florida culture.
Every bromeliad grower should make a point of securing a copy of Bromeliads for Home, Garden and Greenhouse by Werner Rauh and reading the first 18 pages of the book. He says the same as I, but has the space to do it much better.
(Reprinted from Florida Council of Bromeliad Societies Newsletter, Nov. 1988.)
---
BROMELIADS BREAK THE MOVIE BARRIER
By Louis F. Wilson
(Originally appearing in The South Eastern Michigan Bromeliad Society Newsletter, this article was reprinted from the Journal of The Bromeliad Society, May-June 1983 issue, Vol. XXXIII No. 3)
In the two popular movies Star Trek II and E.T., bromeliads are brought into the story in an interesting way. In Star Trek II, you'll have to wait until the last film sequences to see them but it's well worthwhile. Mr. Spock dies at the end of the movie and his coffin is jettisoned and sent to a planet that just shortly before had been energized to hasten plant evolution. As the coffin settles down into a carpet of "primitive" green plants it becomes surrounded by a multitude of bromeliads -- mostly neoregelias. This very attractive site, I'm sure, was chosen by the movie makers to instill in the viewers a feeling of early evolution, and as such they chose relatively unknown plants. I think it was a wise choice!
The movie E.T. portrays bromeliads in another way. E.T., the extraterrestrial, is a botanist from another world who by the time he is discovered in North America had collected plants in South America. Early in the movie the camera pans across E.T.'s plant collection in the ship, and lo and behold there are bromeliads among his booty. I liked the movie for this and other reasons and especially thought E.T. was a wise botanist to collect such fascinating plants. Actually I was a bit jealous because I wished I had been along with him.
I'm certain most people didn't notice the bromeliads, other than being just some more green plants, but they would have been obvious to bromeliophiles like us. Even my kids spotted the bromeliads the same time I did. Of course, what do you expect from kids that have been "brainwashed" most of the lives!
(Editor's [JBS] Note: The location for the scene in Star Trek II was Golden Gate Park, San Francisco, California and the bromeliads were provided by Shelldance Nursery.)
(Webmaster's Note: A few years ago, doing a search for "Bromeliads" on GOOGLE would deliver many sites pertaining to our hobby. Listed in order of most visited or referenced, and going on for a few pages.
Doing the same NOW, will deliver umpteen pages full of references to "Harry Potter"!
With the Horticultural references burried deeply within them.)
---
ILLAWARRA BROMELIAD SOCIETY INC.'s
fifteenth ANNUAL SHOW
SEPTEMBER 8 AND 9, 2007
SECTION 1 - OPEN CLASS

| | |
| --- | --- |
| a. | Aechmea - Individual specimen plant |
| b. | Billbergia - Individual or multiple permitted |
| c. | Neoregelia - Individual specimen plant |
| d. | Neoregelia - miniature (under 200 mm) - Individual specimen plant |
| e. | Tillandsia - Individual or multiple permitted - May be potted or mounted |
| f. | Vriesea/Guzmania - Individual specimen plant |
| g. | Bromeliad not listed above - Individual or multiple permitted |
| h. | Established colony: Aechmea/Vriesea Minimum of 3 plants |
| i. | Stoloniferous Colony: Neoregelia Minimum of 3 plants |
SECTION 2 - NOVICE CLASS
| | |
| --- | --- |
| j. | Aechmea - Individual specimen plant |
| k. | Neoregelia - Individual specimen plant |
| l. | Tillandsia - Individual or multiple permitted - May be potted or mounted |
| m. | Vriesea/Guzmania - Individual specimen plant |
| n. | Bromeliad not listed above - Individual or multiple permitted |
SECTION 3 - CREATIVE
| | |
| --- | --- |
| o. | Mounted Tillandsias – minimum of three (3) established plants which may be the same or different. |
| p. | Mounted Bromeliad(s) other than Tillandsias – Established plants which may be the same or different. |
| q. | Basket or Decorative Container – minimum of three (3) plants which may be the same or different – no embellishments. |
| r. | Bromeliad Garden – Any Container – Embellishments may be used. |
| s. | Artistic Arrangement – to consist of predominantly bromeliad material – Embellishments may be used. |

- In classes covering "Individual Specimen Plants", pups are permissible on the adult plant only if they are so small that their removal might jeopardize their survival.
- When allowing for multiple plants the key word is "interconnected" — i.e., they must all originate from a single plant.

---
Click HERE to return to Illawarra Bromeliad Society "Club News Page".

---
---
Updated 16/07/07
---