ILLAWARRA BROMELIAD SOCIETY Inc.
Club News.
---
Click HERE to return to Illawarra Bromeliad Society "Club News Page".

---
NEWSLINK
January 2018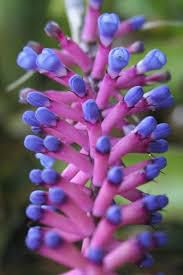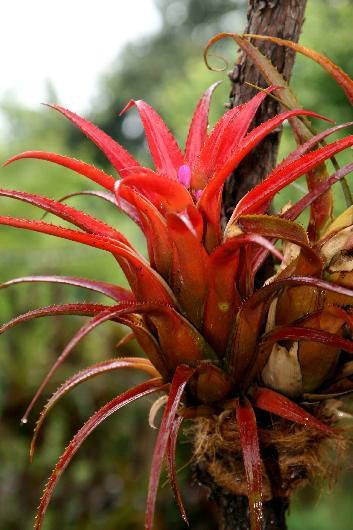 Aechmea gamosepala . . . . . . . . . . Aechmea recurvata . .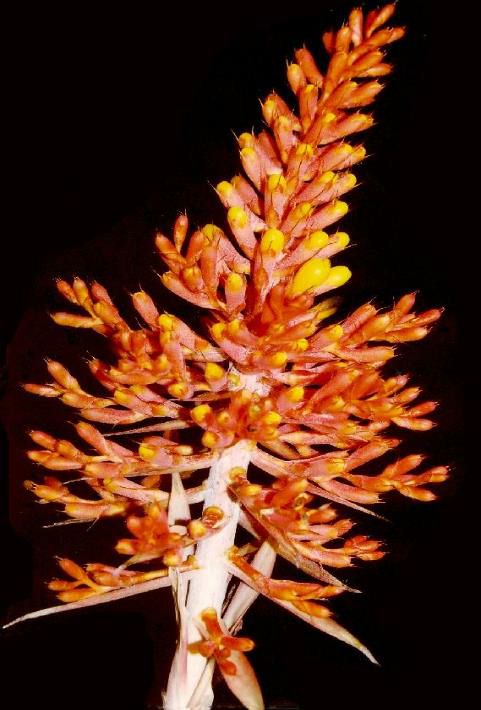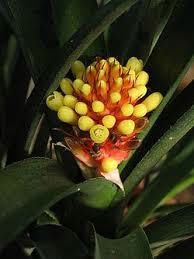 Aechmea caudata . . . . . . . . . . Aechmea calyculata
Examples of the Aechmea subgenus Ortgiesia – see Article pp. 7-8
- Articles appearing in this issue of NEWSLINK are for information purposes only and are not necessarily endorsed by the Committee or the Illawarra Bromeliad Society.
- The Society is, by the holding of meetings, displays and competitions, to provide a forum for the people of the Illawarra region who are interested in the culture and collection of bromeliads.
- Under the provisions of the Privacy Act, use of names and references to private details, such as illness, holidays, birthdays and items of a similar nature, may only be published with the written permission of the person concerned.
---
NEWS IN BRIEF:
NEW MEMBERS:
A very warm welcome to our new member, Suzanne Watt, who joined our Society in October.
---
POINTS SCORE WINNERS: Hearty congratulations to our Points Score winners for 2017.
Open - Lydia Chinnock
Novice - Michael Drury
Tillandsia - Noel Kennon
---
MONTHLY RAFFLE PRIZE ROSTER:
- February - Fred Burrows, Monica De Clouett, Maria Jakobsen, Meri Stefanidakis
- March - Noel Kennon, Sylvia Clare, Lorraine Mirande, Lydia Chinnock
- April - Sharyn Baraldi, June Casey, Belinda Drury, Neville Wood
- May - Beth Clague, Elizabeth Bevan, Rhonda Grant, Steve Wain
- June - Anne-Marie Brun, Ted Clare, Barbara Jones-Beverstock, John Toolan
- July - Suzanne Burrows, Michael Drury, Eileen Killingley, June Smith
- August - Sandra Carnie, Edwina Caruana, Freda Kennedy, Pam Townsend
- September - Carol Burgdorf, Deniece Crutchley, Beverley Irvine, Brian Smith
- October - Maadi McKenna, Val Miller, Fred Mirande, Rhonda Patterson
- November - Jørgen Jakobsen, Yvonne Perinotti, Jan Stammers, Christine Stephens
- February 2019 - Graham Bevan, Jim Clague, Ann Kennon, Maureen Wheeler
---
ROSTER FOR CLEANING UP AFTER THE MEETING:
As announced at last September's meeting, a roster for cleaning up after the meeting has been introduced. This helps share the load and it is expected that each member will only be called on two or three times each year.
- February - Glenrae Barker, Christine Stephens, Gary Claydon, Colleen Claydon, John Toolan, Maureen Wheeler, June Smith
- March - Edwina Caruana, Steve Wain, Pam Townsend, Jan Thoroughgood, Yvonne Perinotti, Elizabeth Bevan, Graham Bevan
- April - Melissa Talbot, Maadi McKenna, Sandra Carnie, Sharyn Baraldi, Lydia Chinnock, Jørgen Jakobsen, Joy Scholz
---
LIFE MEMBERSHIP AWARDS:
At our October 2017 meeting it was time to officially recognise all that Sylvia and Ted [Clare] have given to our Society when they were awarded Life Membership. After joining in April 2001 they were part of our Brom-A-Warra Conference team [October 2001] and Ted was elected to the position of Vice-President at our AGM in 2004, a position he held for three years. He was also Assistant Librarian for a number of years. For the past ten years or so he and Sylvia have helped Sharyn with the registration and setting up of our monthly competition plant tables—"A joy to work with" Sharyn told me, and I know this to be true because Sylvia has always been my trusted helper during Spring Show competition, being there for very long hours over the three days to help me when needed, and to give me support when the going got tough! Over the years Ted must have supplied hundreds, if not thousands, of beautifully grown plants for our sales tables—all at ridiculously low prices, which must have helped newer members to be able to afford to set up their own collections at very minimal cost. There has never been any hesitation when asked to open up their beautifully neat and compact garden for visits and it is full of interesting ideas for us to take home.
Thank you Sylvia and Ted—you are treasured members!
---
GENERAL MEETING – SATURDAY, FEBRUARY 3rd:
Noel Kennon will talk about three innovations for 2018: "Photographic Competition", "Saving a Species" and "Growing Challenge", followed by a short talk by Neville Wood on "Caring for Seedlings".
---
GARDEN VISITS – SATURDAY, 17TH FEBRUARY:
We will visit three gardens on this day, starting at 10 am at Sylvia and Ted Clare's home (3/2 Gillwinga Avenue, Caringbah—Phone: 9525 9259). Sylvia will be providing tea, coffee and morning tea and Ted will have plants for sale—bring a bag or box. From there, at approximately 11.15 am, we will leave for Edwina and Steve's home at 43 Coonong Road, Gymea Bay (Phone: 9524 7296) where lunch will be provided.
To get to Edwina and Steve's from Sylvia and Ted's take Wilga back to South Willarong Road where you will make a right turn, then left at the T-junction onto President Avenue. Continue 3.8 km, then make a left turn at the lights at Gymea Bay Road. Go through one roundabout and at the second roundabout (after the left curve in the road) take the 1st exit onto Coonong Road.
We will leave at 1.15 pm for Eileen and John Killingley's home in Bundeena, taking Gymea Bay Road back to President Avenue, continue for 3.4 km to Princes Highway, and then make a left turn, heading south. Take Farnell Avenue into the Royal National Park, turning left onto Bundeena Drive after about 15 km (no need to pay any Park fees if heading to Bundeena). Continue for a further 10 km to the T-junction at Brighton Street, make a right and at the bottom of the street turn left into Eileen and John's—92 Brighton Street (Phone: 9544 4726). Eileen will provide afternoon tea. We will leave at about 3.30 pm.
Edwina and Steve will provide lunch but all visitors please bring cake or slice to share for lunch, and also to share for morning and afternoon teas.
---
MARCH 10, 2017 SALES DAY:
To be held at the Warilla Neighbourhood Centre (same as last year) which is located in the heart of Warilla, next to the Swimming Pool on Benaud Crescent, with entry from Lake Entrance Road. Set-up time will commence at 7.30 am with sales being opened to the public at 9.00 am.
---
WORKSHOP - APRIL 14:
The first workshop of the year will be held at John and Rita Toolan's property at 5 Rondanella Drive, Kanahooka (4261 1773) which will feature: 1) breaking up a clump of broms; 2) taking pups; 3) preparing plants for potting and potting up; 4) preparing potting mix; 5) using old plants; 6) mounting tillandsias and other bromeliads; 7) preparing the label. Members who would like to learn how to pot, please bring a pot and some potting mix; we will provide the plant, the fertiliser and the name tag. For members who would like to learn how to mount a tillandsia please bring a plant and something to mount it on. While this is a workshop especially for novice growers there will be experienced growers there to provide advice and help and all members are welcome.
This will kick off at 10 am with morning tea and for lunch John will do a sausage sizzle, with bread and sauces also provided, but it would be appreciated if you could bring salads, and cakes or slices to share. We will finish around 2 pm.
---
BANK ACCOUNT DETAILS: Illawarra Credit Union, BSB Number 802249; Account Number 249 039 602.
---
UPCOMING EVENTS :

| | |
| --- | --- |
| April 7-8 | COLLECTORS' PLANT FAIR – HAWKESBURY RACE CLUB, CLARENDON Saturday 8 am – 4 pm/Sunday 9 am to 4 pm - www.collectorsplantfair.com |
| April 14-15 | BROMELIAD SOCIETY OF AUSTRALIA – AUTUMN SHOW AND SALES – FEDERATION PAVILION, CASTLE HILL SHOWGROUNDS – Saturday 9am–3pm/Sunday 10am–3pm |
| April 28-29 | BROMELIAD FAIR - Concord Senior Citizens Centre, 9-11 Wellbank Street, Concord. Saturday 10am–4pm/Sunday 9am–12noon. |
| Sept. 8-9 | ILLAWARRA BROMELIAD SOCIETY SPRING SHOW – Uniting Church Hall, CORRIMAL |
---
2018 PROGRAM :

February 3
- Photo Competition/Growing Challenge/Save a Species*
- "Caring for Seedlings"
Noel Kennon
Neville Wood
February 17
Garden Visits – Sydney
.
March 3
"Save a Species"
Neville Wood
March 10
Plant Sale – Warilla Neighbourhood Centre
.
April 7
The Society Library
Michael Drury
April 14
Workshop #1 and Sausage Sizzle
.
May 5
"Bromeliad Conference 2001"
Elizabeth and Graham Bevan
May 19
Garden Visits - Wollongong North
.
June 2
"Changing Bromeliad Names"
Eileen Killingley
July 7
Christmas in July Social Function: "Soup n' Sweets"
Entertainment: Bromeliad Quiz - Noel Kennon
.
July 14
Workshop #2 and Sausage Sizzle
February 3
August 4
Annual General Meeting with election of officers
.
August 18
Workshop #3 and Sausage Sizzle
.
September 1
Eco Products
.
September 7-9
Annual Show – Uniting Church Hall, Corrimal
.
October 6
"My Garden"
Lydia Chinnock
October 20
Garden Visits - Wollongong South
.
November 3
"My Favourite Plants" – 1 each by six members
Submissions for Photographic Competition
Judging of Growing Challenge
.
November 17
Workshop #4
.
December 1
Christmas Party and Judging of Photographic Competition
.
*2018 PROGRAM
* Saving a Species: This is a serious matter which individuals and societies world-wide are beginning to address. The habitats of species bromeliads in the Central Americas are becoming seriously depleted by land clearing and, consequently, the biodiversity of many species is becoming diminished. This is a problem for all bromeliad growers and we, as a Society, can help by growing one species from seed in a project that, hopefully, will be ongoing.
* Growing Challenge: One member has offered to donate 10 to 15 identical seedlings of a common bromeliad genus. Members at the February and March meetings will be invited to participate and each participating member will be given one of the seedlings. Neville Wood will give a short talk on how to grow the seedlings. The members will then grow the seedlings during the year and bring the plants to the November meeting. The plants will be judged and the winner will receive a prize.
* Photographic Competition. While we conduct monthly competitions for many genera plants are suitable for entry only when in flower. Sometimes this happens at inappropriate times between meetings and, additionally, large plants usually cannot be transported easily. Therefore it is proposed that a Photographic Competition be held, with entries submitted at the November meeting and displayed at the Christmas Party and judged by popular vote.
---
MONTHLY PLANT COMPETITION RESULTS:
October 7, 2017: Plant Results
OPEN
1st = Jørgen Jakobsen = Neoregelia 'Lambert's Pride'
2nd = Lydia Chinnock = Aechmea caudata
3rd = John Toolan = Aechmea distichantha
NOVICE
1st = Michael Drury = Billbergia 'Party Pink'
TILLANDSIA
1st = Michael Drury = stricta
2nd = Steve Wain = raackii
3rd = Graham Bevan = seleriana
---
November 4, PLANT RESULTS
OPEN
1st = Noel Kennon = xSincoregelia 'Galactic Warrior'
2nd = Colleen and Gary Claydon = xSincoregelia 'Galactic Warrior'
3rd = Neville Wood = Neoregelia 'Orchid' X concentrica
3rd = Yvonne Perinotti = Neoregelia 'Thunderbird'
NOVICE
1st = Michael Drury = xGuzvriesea 'Happa'
2nd = Anne Mobbs = Guzmania
TILLANDSIA
1st = Gary and Colleen Claydon = fuchsii forma gracilis
2nd = Steve Wain = racinae
3rd = Noel Kennon = butzii
---
FOLLOWUP TO OUR OCTOBER 2017 NEWSLINK
When I used the term 'Grex' when referring to Neville's plants on the cover and on page 10 of that edition I knew that it should no longer be used when referring to bromeliads, but what other term to use and I had wondered why 'grex' had fallen out of favour. On reading the article, Derek Butcher kindly contacted me to let me know why the term is no longer used in the bromeliad world, although it remains valid for orchids.
From his email: "Grex is a term of importance. I try to envisage all those ovules in an ovary waiting to be fertilised. There may be 20 or more. Each one has to have its own bit of pollen to become fertile. One bit of pollen to fertilise the lot is just not on and all must pass through the stigma lobes. Who knows what foreign pollen gets through? In other words it is complicated but essential for the hybridist to know about BEFORE he unleashes the progeny to other growers. Natural selection happens in the wild so why not in captivity? It does happen over time in collections where plants lose their popularity or do not have the vigour to survive.
We know that species crossed species is F1 and all progeny should look similar and somewhere between either parent. If a hybrid is one of the parents you get F2 and there are myriad differences in the progeny of the grex! If a hybridist lists the resulting seedlings as a grex, then supporting evidence is necessary. Did they come from the same berry? If the parents are not said to be hybrids, but forms of species, you would expect F1 seedlings. But if you have great variability then surely you have F2.
The term we should now use in place of 'Grex' is 'Group' which covers plants which look similar irrespective of parentage. Just look up 'Group' in the BCR for examples. Remember that a formula is a grex and is frowned upon too because no selection has taken place."
---
SUBGENUS ORTGIESIA – THE ADAPTABLE AECHMEA*
By Andrew Steens (Reprinted from Bromeliad, J. Bromeliad Soc. NZ Inc., June 2004, Vol. 44 No. 6)
One of the more confusing groups of bromeliads is the Aechmea genus. Some aechmeas seem so tropical as to disintegrate at the first hint of cold air. Others are amongst the most hardy of bromeliads and are capable of coping with several degrees of frost. Some can take howling salt laden sea gales, while other need cosseting inside. What is an easy way of telling which aechmea will be hardy? After several decades of observation, I have found a simple answer. Many of the hardiest and most adaptable aechmeas belong to the subgenus Ortgiesia.
The name Ortgiesia was first used in 1867 to describe a bromeliad called Ortgiesia tillandsioides, which was named after the head gardener of the Zurich Botanic Gardens. This plant is now known as Aechmea recurvata. The Ortgiesia subgenus originates in the Santa Catarina State of Brazil, which has a warm temperate to subtropical climate. Some of the group is found throughout Southern Brazil and down to Northern Argentina. Some of them, such as Aechmea calyculata, are endemic to altitudes of 1000 m or more, while others such as Aechmea recurvata and Aechmea kertesziae can be found on the beaches.
So, how do you tell what aechmeas belong to this subgenus? The most reliable characteristic is the presence of the three (occasionally four) little spikes that surround the flower petals before they emerge. These are sepals which, in this group of plants, are fused together at the base to form a spiky tube out of which the petals emerge. They are often brightly coloured, and the contrast between the sepal colour and petal colour is what makes many of these flowers so beautiful. Within this subgenus are approximately 20 to 25 species, including: alegrensis, apocalyptica, blumenavii, calyculata, candida, caudata, comata, coelestis, cylindrata, gamosepala, gracilis now 'Graceful', guaratubensis, kertesziae, kleinii, organensis, pimenti-velosoi, pseudonudicaulis, recurvata, seideliana and winkleri.
Name confusion
As well as these species, there are many hundreds of cultivars and hybrids. Indeed, these plants hybridize so easily that there is much confusion over names and even whether or not some of the species are true species or natural hybrids and whether or not some of the hybrids may in fact be species. This state of confusion over their names shouldn't discourage bromeliad fanciers from enjoying these plants in their garden, with or without the correct name. Most members of this group have fairly ordinary foliage when compared to the intricacies of beauties such as Aechmea orlandiana and Aechmea fasciata. However, they do have a tendency to produce variegated plants, of which there are a number of quite stunning cultivars.
Unfortunately, these can be unstable, reverting back to the plain green leaves unless the grower takes care to remove these reversions. One of the most well-known of the variegated Ortgiesia is the cultivar Aechmea gamosepala 'Lucky Stripes' which has striking stripes of cream running up the leaves. The variegation varies from plant to plant, which makes it more interesting. Some plants have only a single stripe down each side, while other plants are so heavily striped as to appear almost white.
Easy to Grow
Without exception, the members of this group are easy to grow, pup freely, are very free-flowering and capable of adapting to a wide range of conditions. This, combined with their vibrant flower colours, has made them very popular and widespread around the world. Nearly every collector has some of these plants in their collection.
However, because they are relatively common, they are also often overlooked and their true potential in the garden is often not realized. One of their best characteristics is their ability to acclimatize to almost any level of sunlight. In the shade a hybrid such as Aechmea 'Covata' (A. recurvata X A. comata) produces long, deep green leaves, while in the sun it produces stocky, olive green leaves mottled with autumnal colours. While this group is so adaptable, some such as Aechmea recurvata and its varieties are best in full sun where their colours at flowering are most intense. Others such as Aechmea gamosepala look best in full shade where dark, glossy, arching green leaves develop.
All the members of this group make fantastic ground cover plants. Typically these plants hold their pups close to the mother plant so once established the clump forms an effective ground cover. One plant will produce 2 to 5 pups per year, with the clump typically doubling in size each year. In fact, one of the biggest problems with growing these is to keep the clump from taking over too much garden. An easy and effective way of overcoming this delightful problem is to grow these plants in a confined space. They will happily adapt to growing in pots, or on tree fern stumps, in trees as epiphytic clumps or between rocks. The only limit to the range of places they can grow is the gardener's imagination.
Salt Tolerant
Another great characteristic of these plants is their incredible salt tolerance. Many are indigenous to the beaches of Brazil where regular Atlantic storms cover them with salt spray. As a consequence, they have no trouble growing in coastal gardens, even down to the sand dunes. Some of the most spectacular clumps of Aechmea caudata I have seen are grown in near pure sand a stone's throw from the beach. The metre tall leaves turn a golden green in full sun and the tropical effect is enhanced by the vibrant reddish bracts and lime yellow florets.
Although many of this group has fairly short-lived flowers, often after flowering the flower spike colours up further, producing vibrant colour which lasts for months. This is a bonus, as most of this group flower in late autumn and winter, giving bright, sunny colour for that dreary part of the year. A few, such as Aechmea coelestis and Aechmea apocalyptica, form long-lasting berries which are so dark as to be almost black. Cold resistance is an important feature of these plants and one that transfers readily to any hybrids made with them. Some, such as Aechmea recurvata and Aechmea pimenti-velosoi, can take several degrees of direct frost, down to -5C. Others such as Aechmea gamosepala will take these temperatures, but only if growing under trees; in the open they will still handle light frosts with ease.
With all these attributes, the Ortgiesia subgenus of Aechmea is well worth a place in any bromeliad fancier's garden and is a great, foolproof, introduction to bromeliads for the rest of the gardening community.
*Aechmea is a genus in the botanical family Bromeliaceae, subfamily Bromelioideae. The name comes from the Greek aichme (a spear). Aechmea has eight subgenera and 255 species distributed from Mexico through South America. The subgenera include: Aechmea, Chevaliera, Lamprococcus, Macrochordion, Ortgiesia, Platyaechmea, Podaechmea and Pothuava.
---
THE IMPORTANCE OF PAINTING CCA TREATED PINE
By Jacob Koning (Reprinted from Far North Coast Brom. Study Group NSW December 2017 newsletter)
CCA or Copper, Chromium, Arsenic-treated timbers is a treatment design to make timbers very durable against rotting and termite/borer attack; however, this solution (which is water based and applied under great pressure for penetrating into the timber) has a downside and, that is, it is very destructive to bromeliads of every type. It is not just the copper; the chromium and the arsenate are also a problem for bromeliads and in combination with the copper can certainly spell death.
The best and easiest way to prevent this from happening is to paint the timbers used in construction of the growing houses. Paint all surfaces INCLUDING any cuts, etc. before assembly. You need a good quality Acrylic paint like Dulux weather shield or similar (DO NOT USE CHEAP PAINT—it will not work!)
Only one good coat is needed but it's up to the individual if a second coat is applied. The treatment of the CCA timber is water-based and so a water-based paint locks it up very well without affecting the durability of the treatment. I have always done it this way and have never had a problem. Do not thin the paint more than specified on the tin. Also, use only galvanized nails and screws, etc. I personally cannot stress the importance of painting all timbers/surfaces/cuts enough: a bit of extra care/expense will save your plants and your money in the long run.
---
OVERVIEW OF BROMELIADS
By True Grant – Wholesale Bromeliads of Australia (Reprinted with permission from

The term 'bromeliad' is a simplification of the scientific name Bromeliaceae (bro-meel-ee-ay-see-eye) which covers any member of the pineapple family. The genus Bromelia, and indeed the whole group, is named after the Swedish medical doctor and botanist, Olaf Bromelius (1639-1705).

History
We don't know who first used the term, but it was probably a botanist or grower who tired of the cumbersome phrase 'species of Bromeliaceae'.

How long ago the ancestral archetype of bromeliads first evolved can't be determined, but the oldest bromeliad-like fossil found in South American rock sediments has been dated as 30 million years old and has been named Karatophyllum bromelioides. The conclusion from this is that Bromeliaceae is a relative newcomer in the plant kingdom.

Bromeliads entered recorded history about 500 years ago when Columbus introduced the pineapple (Ananus comosus) to Spain upon returning from his second voyage to the New World in 1493. He found it cultivated by the Carib Indians on the island of Guadeloupe in the West Indies.

The cultivation of pineapples in Europe began in the 1600s when heated glasshouses were used. It took time for additional bromeliads to enter cultivation. In 1753 Linnaeus listed 14 bromeliads in the Species Planetarium which were listed under Bromelia (plants with spines) and Tillandsia (spineless). Other botanists subdivided these two genera and introduced Pitcairnia and Ananus. The French botanist, August Jaume de Saint Hilaire, established the family Bromeliaceae in the late 1700s.

During this time, and the early 1800s, there was a marked increase in interest in finding and cultivating these plants. Some of the first introduced after the pineapple were Bromelia pinguin, Guzmania lingulata (1776), Bromelia humilis, Bromelia chrysantha and Bromelia karatas. These were followed in the early 1800s by Billbergia pyramidalis, Billbergia zebrina, Aechmea fasciata (1828), Aechmea pectinata, Cryptanthus bromelioides and Vriesea splendens (1840).

In the 1800s much of the interest was centred in France and Belgium and growers in these countries, plus The Netherlands, started hybridizing plants for the wholesale trade. This interest continued until the outbreak of World War I which put a stop to these activities. Many of the large European collections were lost during this period. There was little revival of interest between the two World Wars.

After WWII, except for Professor Werner Rauh at the University of Heidelberg and Walter Richter in East Germany, the main interest was in the USA. However, Julian Marnier-Lapostolle (1902-1976) had the largest private collection in France.

The person responsible for collecting and introducing more bromeliads than anyone else is Mulford Foster (1888-1978) of Orlando, Florida, USA. His enthusiasm and introduction of new plants was primarily responsible for the formation of The Bromeliad Society as an international organization.

At the present time we are seeing an upsurge in interest by botanists, mainly directed towards identification and conservation of species before destruction of the habitat of many of these plants occurs.

Introduction of Bromeliads into Australia
There are no records of the early introduction of bromeliads into Australia. Some have been grown here for a long time, such as Billbergia nutans (commonly known as "Queen's Tears) and Billbergia pyramidalis concolor. Australian botanic gardens have had collections, including Aechmea miniata var. discolor, A. fasciata, Billbergia vittata, B. zebrina, Aechmea weilbachii, Tillandsia lindenii and Nidularium innocentii.

Major collectors of note have been Charles Hodgson of Melbourne who began collecting in the 1930s, Charles Webb of Sydney who began collecting after WWII, and Bill Morris of Warners Bay, NSW who collected in the late 1950s and early 1960s.

In 1963 a group of about 35 people formed an Australian Society and the numbers since then have rapidly increased. From this time on, numerous people have imported bromeliads, plus local hybridists have added to the variety available and the number of bromeliads grown in Australia has rapidly increased.

Hybridisation in Australia
The foremost hybridizer in terms of quantity and quality in Australia has been Grace Goode (OAM) of Queensland. Starting around 1970 she has made around 600 crosses, mainly in Neoregelia, Cryptanthus and Billbergia.

Since the 1950s Bill Morris had been developing and growing hybrids (billbergias and mini neoregelias). Two other hybridists worthy of particular mention are Clyde Wasley and Olwen Ferris. Other Australian hybridists of note include Margaret Paterson, Bob Larnach, John Buchanan and Jack Koning.
---
SEASOL
By True Grant, Wholesale Bromeliads of Australia (Reprinted with permission from Wholesale Bromeliads Newsletter No. 15 - November 2013)

When I was giving a talk to the Ipswich Bromeliad Society recently the subject of using Seasol, and also of using soluble Calcium for bromeliads, came up in discussion. This prompted me to research these topics and to reassess what we are doing in relation to them in our own nursery. I would like to share with you the information I have accessed about Seasol in this article. I will be writing a follow-up article on Calcium.

What is Seasol?
Seasol is a brand name for a 100% organic seaweed extract. It is made from two species of seaweed—Bull Kelp (Durvillaea potatorum) and Knotted Kelp (Ascophyllum nodosum)—both of which are sustainably sourced. The Bull Kelp is grown in the clean oceans around King Island and the west coast of Tasmania where it is collected from the shores of remote beaches. Knotted Kelp grows in shallow intertidal waters. The base of the plant is left intact so that the kelp regrows.

Seaweed contains a complex mixture of biochemicals including hormones that regulate plant growth. An analysis conducted at the Australian National University scientifically identified hormones called cytokinins and auxins. Cytokinins are known to stimulate cell division and new shoot initiation and have a general effect on shoot growth. Auxins have wide-ranging effects on plant growth, particularly stimulating the formation of new roots.

Seasol is a plant tonic (conditioner) and is not, by definition, a fertiliser as it contains only very small amounts of nitrogen and phosphorus.

Basic Analysis
Nitrogen = 0.2% (Ammonia and Nitrate form)
Phosphorus = 0.58%
Potassium = up to 4.3%
Sodium = 0.9%
Plus many other natural compounds and almost every known trace element.

The amount of Potassium is beneficial for bromeliads and the trace elements contribute to overall plant nutrition. Sodium will be discussed later in this article.

Summary of Benefits of Seasol (as listed by the producing company).
- Increases cell division, thereby stimulating plant and root growth.
- Enhances cell 'strength' resulting in increased tolerance to heat, drought and frost conditions.
- The effects of dehydration can be reversed after a single foliar application.
- As Seasol contains so little nitrogen and phosphorus it won't interfere with other nutritional inputs and it can be used all year round.
- Optimised plant health reduces the incidence and severity of some pest and disease problems.
- The natural compounds in Seasol also help to increase nutrient uptake, so when fertilisers are applied they are much more effective.

Word of Caution
I was advised by an experienced horticultural chemist that Seasol should not be used for bromeliads due to its high sodium content (0.9%) and its high pH (10). High levels of sodium are known to be harmful to bromeliads, with leaf tip die back usually one of the first symptoms. This problem can be experienced with high levels of sodium in the water supply.

We've used Seasol in our nursery for years without any signs of damage to the leaves. I've also mainly heard of positive results from other brom growers. A few people have reported problems (one grower experienced damage to the centre of the plants using full strength dilution in water). Another grower reported using a stronger dilution than recommended without any damage.

So I rang Seasol and spoke to their Marketing Agronomist. He said that they had not tested Seasol specifically on bromeliads. However, they had never received any negative feedback from brom growers. He was of the opinion that the dilution of the concentrate in water for foliar application reduces the amount of sodium to a non-harmful level. He also stated that the pH of leaf surfaces helps to neutralize the high pH.

Compatability
This is an important issue—will the physical properties of soluble fertilisers remain stable if mixed with Seasol?

The same horticultural chemist as before says no and that Seasol must be applied separately from other fertilisers, insecticides and fungicides. The Seasol agronomist said that the main nutrient that causes problems is phosphorous and it is therefore best to avoid mixing Seasol with any phosphorous-containing compound. We have decided to apply Seasol separately.

Seasol has been tested with several insecticides and fungicides and found to be compatible with quite a few. The insecticides commonly used for bromeliads weren't on the list. The fungicide Mancozeb was listed as OK.

Dilution and Application
Recommended [as per container]: 25 ml per 9 litres of water every 2-4 weeks.

We use half strength (12.5 ml per 9 litres) as an extra precaution due to the high sodium level and apply every 4 weeks.
The level of dissolved salts present in the water supply also affects the dilution that should be used (tank water having the least).

- Dilution and how often applied is a personal decision. Just be aware of the level of sodium and watch carefully for any damage.
- There are other seaweed products on the market which I haven't researched. The benefits are probably similar, but the information above relates specifically to Seasol.
- Powerfeed is also made by the same company. It's a fertiliser with a higher level of nitrogen than potassium (N 12%:P 1.4%: K 7%).
---
WHOLESALE BROMELIADS OF AUSTRALIA
Bob and True Grant
A specialist nursery situated in The Pocket (a valley 30 minutes north of Byron Bay and two hours south of Brisbane), currently specializing in alcantareas and neoregelias, but also having a range of collector bromeliads. They sell to businesses and the general public.
Contact for Bromeliad Price List which details bromeliads currently available.
Visits to the nursery are welcome by appointment.
14 Sherringtons Lane,
The Pocket via Billinudgel, NSW 2483
Phone: (02) 6684 5374/Fax: 02) 6684 5168
Email: plants@ausbroms.com.au
Website: ausbroms.com.au

COLLECTOR'S PLANT FAIR
HAWKESBURY RACE CLUB
1 Racecourse Road, CLARENDON
80 + Stalls
Plants – Planters – Books – Flowers - Coffee
Saturday – April 7, 2018 - 8 am – 4 pm
Online ticket $14 ($15 at gate), under 16 free
Sunday – April 8, 2018 – 9 am – 4 pm
Online ticket $12 ($13 at gate), under 16 free
Weekend Pass Online Ticket $20 ($25 at gate)
(Big discounts for coach group bookings—Minimum of 10 tickets per booking)
Bookings: www.trybooking.com/OGJG
Web site: www.collectorsplantfair.com
For more information:
Phone: Linda Ross 1300 133 100
Email: convenor@collectorsplantfair.com

BROMELIAD FAIR
Hundreds of exotic bromeliads from beautiful to bizarre. Rare and unusual Tillandsias. Colourful Neos and Guzmanias. Spectacular Vrieseas, dazzling Aechmeas!
Saturday/Sunday April 28-29, 2018
Saturday 10 am – 4 pm/Sunday 9 am – 12 noon
CONCORD SENIOR CITIZENS CENTRE
9 – 11 Wellbank Street, CONCORD
EFTPOS – Visa, MasterCard, debit cards
Books and fertilizer also available
For more information please contact:
Garry Flemming - (02) 6553 9868/0413 178 884
Peter Tristram – peter@bromeliads.com.au

2018 SAN DIEGO WBC MAY 29 - JUNE 3
The San Diego Bromeliad Society will be hosting the 2018 World Bromeliad Conference –
Fiesta de las Bromelias
Paradise Point Resort on Mission Bay.
Registration: All registrations reduced to US$290
Scott Sandel (sandel-marich@cox.net) Nancy Groves (nancygroves@me.co
---
---
Click HERE to return to Illawarra Bromeliad Society "Club News Page".

---
Updated 07/02/18
---